Advisory: Be careful of what you read on social media. The algorithms used by these platforms have no regard for Biblical truth. They target your emotions to keep you engaged on their site so their advertisers can drop more ads. These platforms exist to enrich their stockholders. Consider God's promise to Believers in James 1:5, "If any of you lacks wisdom, you should ask God, who gives generously to all without finding fault, and it will be given to you."
Proxy Our Police To Target Americans For Their Ideological Beliefs And Behaviors, The Silencing Of The Lambs "Censorship" by Death — Tribulation…
Last week Silicon Valley silenced the president. In unison, the social media giants, with an assist from Amazon and Apple, also eliminated their most popular conservative competitor and announced that their own moderation policies would now extend to other companies. Meanwhile, CNN openly called for Fox News to be banned from cable, while a major talk radio network issued new speech rules to its hosts, extending tech's moderation policies to the offline world. Beyond all this, Congress and the European Union called for powerful new regulation of online speech.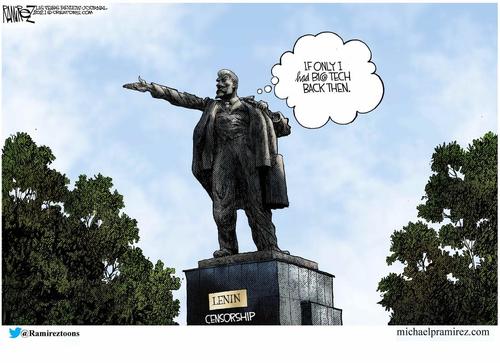 As a handful of unelected billionaires declare sovereignty over digital speech, where might the coming months take us?
Twitter once touted itself as "the free speech wing of the free speech party" and rebuked Congress' calls for it to ban terrorists, proclaiming that "the ability of users to share freely their views — including views that many people may disagree with or find abhorrent" — was its mission. Indeed, most of the early social platforms emphasized unfettered speech above all other considerations. Over the years, this utopian dream has given way to an emphasis on "healthy conversation" and ever-changing enforcement.
Yet for most of their existence, social media platforms have largely avoided censoring elected officials in the U.S. even as they have deleted the accounts of foreign leaders. That all changed last year as Silicon Valley for the first time began labeling President Trump's tweets as "disputed" and "false." As progressive segments of the public embraced this new censorship, platforms moved from merely fact-checking posts to deleting them entirely and threatening to ban some lawmakers.
The courts have repeatedly ruled that Trump's Twitter account is an official government outlet and thus he is prohibited from blocking users with whom he disagrees. How then is a private company able to establish "acceptable speech" rules for a government publication or silence it entirely?
Perhaps more troubling is that speech rules no longer just govern social spaces. Uber, Lyft and Airbnb have all banned their services from being used by those whose online and offline political speech was deemed unacceptable. Facebook last year extended its reach to the offline world, banning certain kinds calls for protest while permitting others.
It was a remarkable sight to behold Democratic lawmakers and the press lamenting that Congress does not have the power to silence voices with which it disagrees and instead urging Silicon Valley to exercise the power only it holds: the ability to silence any voice from the digital world. And this plea came from the very lawmakers who had once condemned social platforms as dangerous monopolies.
Moreover, the companies' announcements that they were permanently suspending the president referenced not potential illegal activity banned by law but rather the companies' decision that permitting him to continue communicating with the nation posed too great a risk to democracy.
The companies themselves had little choice but to remove Trump or face even greater wrath from the new Democratic majority in Congress. Even the ACLU, in its condemnation of Twitter's suspension of Trump, acknowledged the "political realities" of the incoming administration. Activist groups rushed to claim credit for silencing Trump, touting the high-level discussions they had had with Twitter leadership.
While there has been widespread support for Silicon Valley's actions, German Chancellor Angela Merkel warned of the dangers in silencing a democratically elected head of state. Moreover, while Democrats are narrowly focused on the present, in a world in which lawmakers and activist groups can wield the monopoly power of social media to mute dissenting voices, what is to stop a future Republican Congress from using those very same powers to silence Democrats? Such is the slippery slope we find ourselves on.
And what about alternatives to Silicon Valley's platforms? Social media companies have long argued that they are not monopolies because it is possible for competitors to challenge them.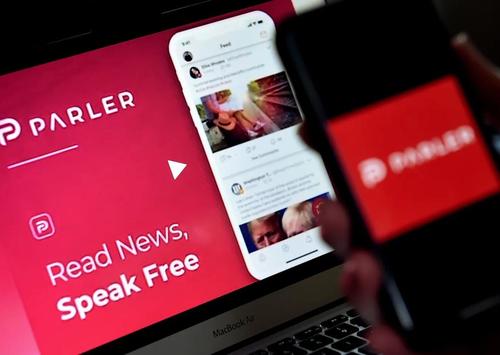 Twitter clone Parler had emerged as just such a competitor, reaching number one on Apple's App Store this week as conservatives flocked to its minimally moderated platform. Yet within days Apple and Google had banned the sale of it from their respective app stores and banishing it from mobile devices. Parler's cloud hosting provider, Amazon Web Services, evicted it, taking the site offline until a conservative cloud provider agreed to host it. Yet even if it can rebuild in some fashion, without a smartphone app and blacklisted by most service providers, Parler will be merely a shadow of its former self.
In taking these steps, Silicon Valley cited Parler's lack of strong content moderation as grounds for elimination. In their letters to Parler, the companies demanded that it adopt acceptable speech policies identical to their own.
Even offline media are not immune. Television channels must contract with cable carriers to transmit them into homes, syndicated radio shows must be hosted by stations, and even independent newspapers must have websites and mobile apps. With local news outlets diminishing, it is important to note that no matter how editorially independent some may be, all are still dependent on cloud providers, app stores, Internet service providers, etc. In the aftermath of Wednesday's events at the Capitol, CNN openly called for cable carriers to drop Fox News, while Cumulus Media issued new acceptable speech rules to its conservative talk radio hosts.
Where does this leave us?
The nation's founders chose not to give Congress the power to silence even a madman in the Oval Office, other than to remove him through impeachment. This week taught us that a handful of billionaires in California essentially have that power. Trump's near-total disappearance from the digital world since his ban serves as a stark reminder of this.
The near-unanimous support from the new Democratic majority for this ban means Silicon Valley is now emboldened to eliminate any voice, no matter how powerful. It creates a dangerous normalization of the silencing of dissent.
The willingness of Uber, Lyft and Airbnb to ban some users for political speech shows that as technology companies' tentacles reach into other industries, a new era of permanent societal exclusion, much like China's "social credit" program, is emerging.
To some, the newfound emphasis on combating "misinformation," with private companies as curators of permissible speech and definers of "truth," might seem like a positive development. After all, threats of violence, racism, sexism, doxing, sedition, harmful medical advice and the like are damaging to society. Yet billionaires that can silence presidents, a Congress that can silence dissent and private companies deciding what is "best" for the nation and what constitutes "truth" pose an existential threat to democracy. In the end, the very future of our shared society hinges on the ability of Silicon Valley to balance thoughtful moderation with freedom of speech. Perhaps the answer is for the tech companies to become democracies themselves and let society decide what is best. Source: ZeroHedge
Matthew 23:13
"But woe to you, scribes and Pharisees, hypocrites! For you shut the kingdom of heaven in people's faces. For you neither enter yourselves nor allow those who would enter to go in. "BeWarned"
Recently Brannon House, the leader of the Christian ministry Worldview Weekend had several seminars canceled at hotels in the upper Midwest. Mr. House's ministry is designed to alert and inform Christians about the enemies of Christianity that are currently working over-time to undermine Christianity.
Here is a firsthand account of what the Islamists and the Marxists did to Mr. House and his organization. In a nutshell, Christ-hating groups organized to shut down Mr. Houses' events at hotels that he had legally contracted with to hold his seminars. The hotels canceled his events and left his ministry holding the bag for nearly $20,000 in expenses he had hoped to recoup from offerings taken at the seminars.
This censorship of Christian values is happening all across America. One need looks no farther than Facebook, Youtube, and Google have been caught doing with "conservative" groups on their social media platforms.
Dear StevieRay Hansen, Your account has been removed by the Vimeo Staff for violating our Guidelines. Reason: Vimeo does not allow videos that depict unlawful acts or excessive violence. For more information on our content and community policies, please visit: https://vimeo.com/guidelines. If you believe this was an error, please reply to this message as soon as possible to explain. (Please be aware that Vimeo moderators take action as violations come to our attention. "I see other people doing it" is not a valid explanation.) Otherwise, we hope that you find a video platform better suited to your needs. Sincerely,
Vimeo Staff
Google, Reddit, Twitter, and FaceBook are Demonization or Demonisation is the reinterpretation of polytheistic deities as evil, lying demons by other religions, generally by the monotheistic and henotheistic ones. The term has since been expanded to refer to any characterization of individuals, groups, or political bodies as evil…
For those of you who care, Google and your favorite social media platforms have misled you, and now we all pay a heavy price for trusting the ungodly, Google and company knew exactly what they were doing, removing our history while preparing you to accept the New World Order playbook, Enjoy
(LifeSiteNews) – Popular video hosting site Vimeo removed the account of Fairview Baptist Church, located in Oklahoma after the organization hosted a conference criticizing homosexuality.
The "God's Voice" conference, hosted by Fairview Baptist in Oklahoma City on February 22–23, 2019, was intended to "bring biblical clarity to the recent confusion surrounding the issues of 'revoiced' sexuality and 'LGBTQ+ Christians.'" Fairview Baptist calls God's Voice a "response to the liberalizing message from evangelical elites on matters of sexual ethics."
Speakers at the God's Voice conference included syndicated radio host Janet Mefferd, Rev. Thomas Littleton of the Southern Baptist Convention, and Peter LaBarbera of Americans for Truth about Homosexuality.
Michael Gryboski of the Christian Post reported Friday, March 15 that Vimeo had restored the account and some 300 of Fairview Baptist's videos, but all of the videos from God's Voice conference remain deleted.
The news site Reformation Charlotte posted Vimeo's letter canceling Fairview Baptist's account. "Specifically," wrote Marty of Vimeo's "Trust and Safety" department, "Vimeo moderators will generally remove accounts or content" according to the following criteria:
Make derogatory or inflammatory statements about individuals or groups of people
Are intended to harm someone's reputation
Have an overall mean-spirited vibe
It is unclear from the Vimeo letter whether accounts must meet all of the criteria or only any one of them to be deleted.
Fairview Baptist responded firmly to Vimeo's action in a Facebook post on March 12. "Christians should be worried. It is only getting worse in America. Churches using Vimeo should be aware and consider other options if (and when) the censors come for them."
David Kyle Foster of Pure Passion Media, an organization combating a number of social ills from pornography to homosexuality to child sex-trafficking, went through a similar ordeal. On March 24, 2017, Vimeo deleted Pure Passion's account, comprising 850 videos. According to Foster, a Vimeo spokesperson explained that "we don't believe that homosexuality requires a cure and we don't allow videos on our platform that espouse this point of view."
The idea that homosexuality can be overcome, according to Vimeo, constitutes "a demeaning attitude toward a specific group, which is something that we do not allow."
Foster told LifeSiteNews, "They also demanded we take down all the videos that were offensive to them, but would not tell us what they all were." Some of Pure Passion's videos "also helped child sexual abuse and sex-trafficking victims. They couldn't have cared less — they took all 850 of them down! So it would appear that helping those other victims is also offensive to Vimeo."
On the other hand, Foster said, those running Vimeo "allow videos with horrible content on their sites, such as a positive video about known pedophile Allen Ginsberg and porn videos."
The God's Voice conference, footage of which got Fairview Baptist removed from Vimeo, offers a rebuke to the Revoice Conference, an annual event at the forefront of mainstreaming homosexuality among Evangelicals.
The organizers of Revoice join Catholic priest and Vatican communications consultant Fr. James Martin in proclaiming that homosexuality is innate, "one of the deepest parts of a person." Nate Collins, who founded Revoice, has condemned "Christian versions of heteronormativity" and called for Christians "to subvert straight privilege when it causes difficulties for gays." Gregory Coles, who was the worship leader for the 2018 conference, wondered if a homosexual orientation, "before the fall, was meant to be a gift in appreciating the beauty of my own sex." Wesley Hill, the 2018 keynote speaker, said, "Perhaps celibate gay and lesbian Christians, precisely in and out of their celibacy, are called to express, rather than simply renounce and deny, same-sex love."
Robert Oscar López, a professor at a Southern Baptist seminary who has written extensively on LGBT organizations and the homosexual lifestyle, takes issue with Revoice's approach. He told LifeSiteNews, "From a pastoral perspective, it's cruel to people who are walking into a church, who are struggling with that, who want help. The bottom line is, the church is then telling them that the activists from the gay community are right, and the Bible's wrong, and they're not going to help them."
"They just fail to understand the really specific situation for people who are struggling with it," López continued. "A lot of times, they know it's wrong, and they want to get out, and they just need some encouragement. They need somebody to tell them, 'It's okay. The opposite sex will find you attractive. There are people out there for you. You can overcome this, and we're going to support you in it.' But that's not what they hear."
Asked whether Revoice has been infiltrated by LGBT activists, López replied, "Absolutely. Revoice is gay activists. This is their battleground. This is their battle headquarters to get into the churches."
In June of last year, López with MassResistance Texas submitted a resolution at the Southern Baptist Convention's annual meeting to condemn the "false ideology that homosexuals are 'born gay,' 'have no choice' in their sexuality, and 'cannot change' even if they want to." Convention leaders refused to bring the resolution to a vote.
Christian talk show host Janet Mefferd, a speaker at the God's Voice conference, came to Fairview Baptist's defense, calling Revoice a "Trojan horse." Mefferd also blasted Vimeo, tweeting, "This is blatant admission of Vimeo viewpoint discrimination, not just objections to specific content. They removed SERMONS that had nothing to do w/SOCE [Sexual Orientation Change Efforts]."
"You may not care about us," Mefferd wrote, "but this is an attack on Christianity. Period." Source
Gospel song, "What Would Heaven Look Like" by Zion's Joy!, which is described as "a purely spiritual Christian praise song" was censored by Facebook. Why? Supposedly for "political content." Ironically, the song envisions heaven as a place where "bigotry and hate are absent, only love and peace are present."
•YouTube, owned by Google, has censored many PragerU videos because of their conservative content. So talk host, Dennis Prager, is suing them. He commented to D. James Kennedy Ministries: "Delta Airlines cannot announce conservatives cannot fly on our planes, and that's what [Google-YouTube is] saying; conservatives cannot fly on our planes. And by the way, Delta would be less pernicious, because there are alternatives to Delta, but there is no alternative to Google-YouTube."
•Google, Facebook, and Twitter interfered in a May 2018 abortion-related election in Ireland. LiveAction.org notes, "Google announced that it would suspend all advertising related to the subject. The move has been condemned by pro-life groups as an attempt 'to rig the election.'" The voters in Ireland only heard pro-abortion rhetoric in their mainstream media, and big tech cut off alternative media (including ads) providing the pro-life side. The voters consequently voted for abortion.
•Ex-gay David Kyle Foster had 700 videos of sensitive, Christian testimonies of formerly sexually broken people (including ex-gays) pulled from Vimeo as allegedly "hateful" and "offensive."
•Steven Andrew, a conservative Christian Silicon Valley entrepreneur (apparently a rare breed), experienced 98% censorship by Facebook of his Christian material after the election of Trump. So he's creating USA.life (as an alternative to Facebook) and 1776.free (to compete with Google).
•Perhaps the craziest example of social media censorship: Facebook flagged as "hate speech" the Declaration of Independence on July 4<sup>th and pulled it down, until the backlash hit. The very document that gave birth to our nation—which then gave us free speech, which the big tech companies thrive on—was pulled as "hate speech." This example says it all.
•Meanwhile, an example of what was not censored from Facebook (at least not for a while) posted actually calling for violence against pro-life Republicans.
And on it goes.
Joseph Farah, the founder of WorldNetDaily, argues that the social tech elites are like a cartel. He writes, "The danger posed to freedom of speech, freedom of the press and freedom of religion in America by Google, YouTube, Facebook, Twitter, Amazon, Apple, et al., cannot be overstated….If the 'Speech Code Cartel' wins, America loses."
To Facebook, et al., apparently the only news fit print or share is that which the left agrees with. These examples keep piling up. So do the dead bodies—at least of the unborn or perhaps the victims of jihad—thanks to social media's commitment to political correctness, as opposed to the truth.
Gary Bauer made a fascinating remark (End of the Day, 8/24/18). He said the left doesn't want to win the debate. They want to shut the debate down. That, in a nutshell, is what seems to be happening with the high tech censorship in our day. Source
With the news last week that Amazon has banned Mohammed's Koran: Why Muslims Kill for Islam, co-authored by British activist Tommy Robinson and Peter McLoughlin, Amazon has crossed a very dangerous and precarious line.
Two immediate questions come to mind. First, why ban a book critiquing Islam when a host of other books critiquing – no, harshly attacking – other religious faiths are available on Amazon? Second, why ban this book and not other books that critique Islam? Why draw the line here?
When McLoughlin, who helped expose the "grooming" crimes committed by some British Muslims, received word that the book had been removed from Amazon, he wrote, "This is the twenty-first century equivalent of the Nazis taking out the books from university libraries and burning them.
"Can you think of another scholarly book on Islam that has been banned by Amazon? Mein Kampf is for sale on Amazon. As are books like the terrorist manual called The Anarchist Cookbook."
Yet Mohammed's Koran gets banned?
According to Robert Spencer, who has authored scholarly works critiquing the Koran, Robinson and McLoughlin's book "endeavors to illustrate how violent jihadists justify their actions by referring to Islamic texts and teachings — and that's all. Robinson and McLoughlin call for no violence. Their book is accurate."
Indeed, one could readily ask, if their book was banned by Amazon, why not ban Spencer's related books, such as: The Truth About Muhammad: Founder of the World's Most Intolerant Religion; or, The Complete Infidel's Guide to the Koran; or The Politically Incorrect Guide to Islam (And the Crusades); or The History of Jihad: From Muhammad to ISIS? (Note that this last title, released in 2018, is currently #1 on Amazon under the category, "Muhammad and Islam.")
Do you see where this is going?
More disturbingly, why ban Mohammed's Koran while allowing books to be sold on Amazon like these, by Christian author Texe Marrs? Among his many books are: Holy Serpent of the Jews: The Rabbis' Secret Plan for Satan to Crush Their Enemies and Vault the Jews to Global Dominion (published in 2016); and Blood Covenant With Destiny: The Babylonian Talmud, the Jewish Kabbalah, and the Power of Prophecy(published in 2018).
According to Marrs, "The Jews are on the fast track to their occult fate. They have made an agreement with hell, a covenant with death, and payments on their debt to Satan must be made in accordance with that contractual agreement."
Yes, "The ultimate goal of the Jews is the annihilation of almost every Gentile man, woman, and child and the establishment of a satanic Jewish-led global dictatorship (the Jewish Utopia) encompassing the planet. This goal is expressed by the Jews in their most sacred books, the Babylonian Talmud and the Kabbalah." (For the record, I'll be addressing the writings of Marrs in the revised and updated version of my book Our Hands Are Stained with Blood: The Tragic Story of the 'Church' and the Jewish People, due out in September).
I own the Kindle version of Mohammed's Koran, having purchased it in 2017. And although I haven't read all of it, I can tell you that nothing I have seen in the book comes anywhere close to Marrs's insidious attacks on the Talmud and Kabbalah.
Why are his books available while Mohammed's Koran is not?
Is it that Robinson has become a marked man? Is it because of pressure from Islamic activists? Whatever the reason, it is not good enough.
By banning this book, Amazon is opening up one of two possibilities: Either Amazon will not be consistent, thereby demonstrating extreme hypocrisy. Or Amazon will start banning many other books, leading to a very dangerous precedent.
Which books and authors will be next? And what can conservative, Bible believers expect? Perhaps our books opposing LGBT activism or exposing the evils of abortion will be next?
Amazon has no problem publishing atheistic attacks on religion, like Richard Dawkins' bestseller The God Delusion.
In this book, Dawkins famously claimed that, "The God of the Old Testament is arguably the most unpleasant character in all fiction: jealous and proud of it; a petty, unjust, unforgiving control-freak; a vindictive, bloodthirsty ethnic cleanser; a misogynistic, homophobic, racist, infanticidal, genocidal, filicidal, pestilential, megalomaniacal, sadomasochistic, capriciously malevolent bully."
How many Bible believers did this offend, including both Jews and Christians? How many find these words to be ugly and bigoted? Should Amazon then ban The God Delusion? And again, I found nothing in Mohammed's Koran attacking Allah with this same level of vitriol.
An almost endless stream of objectionable volumes could be listed here, including books like, The Talmud Unmasked: The Secret Rabbinical Teachings Concerning Christians; or Jesus the Sorcerer; or There Was No Jesus, There Is No God: A Scholarly Examination of the Scientific, Historical, and Philosophical Evidence & Arguments for Monotheism.
If Mohammed's Koran is banned, why not ban these?
To repeat: Amazon has crossed a very dangerous and precarious line, and this Bezos-owned mega-company needs to revere course quickly, issuing an apology and reinstating the book.
Anything less than this is a cause for real concern.
If you agree – even if you are a Muslim or an atheist – I encourage you to let Amazon know. Source
WASHINGTON — One of the biggest promises of the Internet was that it would have unfettered free speech for all.
However, a new study released Thursday revealed that Christians are one of the few groups being censored online.
The new media platforms of our world — Facebook, Google, Apple, and MySpace — all promise a world filled with much more free speech and democracy.
But the National Religious Broadcasters has warned these platforms could well be the new anti-religious censors of our day. Source
PragerU Files Appeal in Censorship Case Against YouTube
LOS ANGELES, California, April 26, 2018 (LifeSiteNews) — Conservative Commentator Dennis Prager's educational video organization Prager University (PragerU) has announced it has filed an appeal of a prior ruling dismissing its lawsuit against YouTube and parent company Google for improperly restricting several of its videos.
On Monday, attorneys for PragerU filed an appeal with the Ninth Circuit Court of Appeals, according to a Thursday press release. PragerU is being represented by the law firm of Browne George Ross LLP.
Last fall, Prager announced a lawsuit against YouTube for placing more than fifty of PragerU's videos in "restricted mode," meaning they were inaccessible from accounts that employed parental controls to shield children from violent, sexual, or otherwise inappropriate content. The restricted videos include a moral case against abortion and an overview of European abortion laws.
U.S. District Judge Lucy Koh threw out the suit last month, ruling that YouTube has absolute discretion to restrict content on its platform as a private entity, and that its stated justification for restricting the videos, that they were age-inappropriate for unspecified reasons, did not constitute false advertising.
"From the beginning of this process, we've been prepared to pursue our lawsuit against Google/YouTube as far, and for as long as it takes to secure every Americans' right to freedom of speech and expression online," PragerU CEO Marissa Streit declared in Thursday's press release.
Lamenting that case law on the intersection of free speech and the internet was either "woefully inadequate or completely non-existent," Streit expressed hope that PragerU's lawsuit, as well as actions by other conservatives censored by major social media platforms, would help "establish the legal precedents necessary to protect this sacred right for generations of Americans to come."
"The time is now for the courts to address this glaring hole in case law and to hold big tech accountable for trying to tell us what is acceptable to think, say, or watch," she declared. "We are increasingly optimistic about the merits of our lawsuit and we look forward to arguing our case before the Ninth Circuit court of appeals."
Streit also laid out the stakes of their fight in a statement to Breitbart News.
"We cannot allow companies like Google/YouTube to operate as authoritarian tyrants who control the flow of information in a time in history we call the information age," she warned, otherwise the "information age will become a dark age" and the United States would "risk losing this uniquely American heritage, which is really the foundation of our democracy."
PragerU consists of weekly five-minute videos in which a variety of thinkers and policy experts explain a wide range of subjects, such as politics, religion, history, philosophy, and personal improvement. The group has previously noted that none of its videos contain "mature" content of any kind that could possibly be construed as violating YouTube's Terms of Use and Community Guidelines, yet YouTube insists that the restricted videos "aren't appropriate for younger audiences."
On his radio show, Dennis Prager has framed the case as a matter of truth in advertising, stating that he would have "no issue" with YouTube's censorship if the platform honestly admitted it was left-wing rather than claiming to be a neutral forum.
In response to the previous ruling, a statement on Prager's official website noted that the judge made a "startling omission" when she described YouTube's own self-description as a "community where everyone's voice can be heard" no matter their "point of view" as non-binding "mere 'puffery.'"
YouTube is just one of several leading internet platforms at the center of ongoing censorship scandals.
According to a recent report from the conservative Media Research Center, YouTube has either deleted or demonetized videos from conservative columnist Michelle Malkin, pro-Donald Trump video bloggers Diamond and Silk, and several pro-gun channels, as well as entirely terminated the accounts of the conservative blog Legal Insurrection and foreign policy commentator Pamela Geller.
YouTube has since reversed itself in most of those cases (except for PragerU and Diamond and Silk), but conservatives also criticize YouTube for empowering the Anti-Defamation League (ADL) and Southern Poverty Law Center (SPLC), which have both labeled mainstream conservative organizations as "hate groups," to flag "hateful content" for restriction.
Reported by: Life Site News
On Thursday, National Religious Broadcasters (NRB) President Jerry Johnson sent a final ultimatum to the CEOs of Apple, Facebook, Google, and Twitter, warning that if the big tech companies do not cease their censorship of Christian and conservative viewpoints, he would lead his organization's 60 million members in a campaign to remove legal protections Congress gave these companies under Section 230 of the Communications Decency Act.
The companies deny their patterns of bias against conservatives and Christians, but Johnson begged to differ.
"We have documented over many years that they are consistently censoring political debate between conservatives and liberals, religious and philosophical debate between Christians and non-Christians, on issues like life, marriage, and Islamic terrorism," Johnson told PJ Media on Monday. He also insisted that none of the companies responded to his letter.
That letter reiterated an ultimatum from September, in which Johnson set a concrete deadline of December 31, 2018.
If Apple, Facebook, Google, and Twitter "do not take concrete action against censorship of Christian and conservative viewpoints by the end of this calendar year, the NRB will be calling for new hearings," Johnson said in a statement Monday. "Specifically, we will call for a review of the 'Good Samaritan' section of Section 230 of the Communications Decency Act."
"We prefer not to do that," the NRB president told PJ Media. "We are asking them to acknowledge the problem and adopt a voluntary free speech charter which would say, 'This is a free speech zone.'"
The companies did not acknowledge the problem, however. "We'll review the letter, but I want to emphasize that we apply our rules equally across the platform," a Twitter spokesperson told PJ Media. The representative pointed to a post from July denying the practice of "shadow banning" on Twitter and a link to Twitter CEO Jack Dorsey's September testimony.SPONSORED
The spokesperson also addressed the suspension of radio host and former congressional candidate Jesse Kelly, the latest act of Twitter censorship on Internet Freedom Watch's timeline. "The account was temporarily suspended for violating the Twitter Rules and has been reinstated. We have communicated directly with the account owner," the representative said.
Kelly has used his reinstated Twitter account to call out the continued censorship of conservative voices across the tech sphere. On Monday, he warned that YouTube's ban on Proud Boys founder Gavin McInnes should concern all "right-leaning" people who make they're living in the media world.
If you are in any way a right-leaning person, you make your living in the media world, and this trend doesn't concern you, well, "short-sighted" doesn't adequately describe your state of Source existence. https://t.co/5TMTUxgkdz
Facebook's response proved even vaguer and unsatisfactory than Twitter's. "We want to hear from all organizations regarding their concerns and always want an open conversation about how we can build trust," a spokesperson told PJ Media. "We do everything we can to make sure our teams uphold the integrity of our products."
The Facebook spokesperson did not address the company's most recent act of censorship, rejecting the Susan B. Anthony List's pro-life ads.
Apple and Google did not respond to PJ Media's requests for comment. The responses from Facebook and Twitter essentially repeated the denials of any wrongdoing.
Contrary to the denials, Johnson insisted "it's very clear there is a pattern, and that pattern does not exist on the Left."
"Marsha Blackburn obviously was a sitting U.S. congresswoman announcing her campaign; they pulled the Twitter link of her campaign announcement that day because she mentioned Planned Parenthood!" he lamented.
The NRB president also noted that if Americans go to the public library to access PragerU videos on Google's video platform YouTube, "they're put in the pornography and gambling classification," because access to the videos is restricted.
YouTube also flagged and deleted NRBTV's live stream last January. "They never gave an adequate explanation. It had something to do with terrorism," Johnson said.
"When you see Marsha Blackburn, [former Arkansas Governor] Mike Huckabee, and [Fox News columnist] Todd Starnes, … is there a comparable list on the Left? Is [MSNBC host] Al Sharpton being blocked? Has the ACLU been blocked? Has Planned Parenthood been blocked? They're not censoring [MSNBC host] Rachel Maddow," Johnson said.
The NRB president also faulted big tech companies for working with the Southern Poverty Law Center (SPLC), a far-Left organization that lists mainstream conservative and Christian groups along with the Ku Klux Klan on the same "hate group" list. That list actually inspired a terrorist attack in 2012.
"The man who attacked the Family Research Council [FRC] and shot up their security guard and meant to shoot up their employees said he got their address from the SPLC 'hate map,'" Johnson recalled. "It's fascinating that they would be using their platform to label haters but then actually haters are using that platform to attack conservative and Christian organizations."
The NRB president noted that conservatives and liberals are considering a few different proposals to rein in the power of big tech companies. He rejected the ideas of "trust-busting" and using a legal "transparency regime" — because both of those would increase government control. Source
SPLC Leads Soros-Funded Groups in 'Orwellian' Attempt to Ban 'Hate Speech' on Social Media
"Given the strong liberal bias of the companies' leaders and employees, it's highly unlikely that they will change their current practices based on objections any conservative might raise," Epstein argued.
Indeed, a Recode analysis last month revealed that 98.7 percent of Twitter employees, 97.5 percent of Apple employees, 96 percent of Google (and Alphabet) employees, and 94.5 percent of Facebook employees gave to Democrats. Previous studies reported by PJ Media have found similarly skewed results, along with a culture of self-censorship among conservative employees in Silicon Valley.
Importantly, Epstein added, "By the way, I'm not a conservative, and I think the censorship issue is so important that all Americans should be concerned about it, even if, at the moment, it serves their purposes." Indeed, Epstein supported Hillary Clinton in 2016, but he still consistently warns about Google's influence over public opinion — his research suggested that Google's bias explains Clinton's victory margin in the popular vote.
The psychologist admitted that big tech "sometimes" does "hide behind CDA 230, but they also hide behind the First Amendment when it suits them."
Epstein is hard at work setting up a technological monitoring system — tech monitoring tech — on the premise that the government will never be able to catch up to technological advancement.
Despite Epstein's criticisms, an alteration of Section 230 that removes immunity from big tech companies may indeed unleash a torrent of lawsuits, and that would at least bog the companies down for a time. It would be wise for Apple, Facebook, Google, and Twitter to attempt to avoid this situation, but can anything break the liberal bubble? Source
For the wrath of God is revealed from heaven against all ungodliness and unrighteousness of men, who by their unrighteousness suppress the truth.
StevieRay Hansen
Editor, HNewsWire
John Wesley who said that what we tolerate in our generation, will be embraced by the next. Wesley is 100% correct! We are living in sick times.
Justice is a word that stands alone, adding anything to it demeans it….
It is impossible to find anyone in the Bible who was a power for God who did not have enemies and was not hated.
Children are being misplaced or lost in our foster care system, we must demand more openness and accountability from each state.
If you have information or believe there is a child in danger that's being exploited please contact The 127 Faith Foundation
[email protected]
The 127 Faith Foundation

Please help me help these kids(orphans) that are in trouble, PLEASE 80% of the book sales goes directly to The 127 Faith Foundation
HNewsWire Radio
3.8K Views On YouTube
"It is better to be divided by truth than to be united in error. It is better to speak the truth that hurts and then heals, than falsehood that comforts and then kills. Let me tell you something, friend, it is not love and it is not friendship if we fail to declare the whole counsel of God. It is better to be hated for telling the truth than to be loved for telling a lie. It is impossible to find anyone in the Bible who was a power for God who did not have enemies and was not hated. It's better to stand alone with the truth, then to be wrong with a multitude. It is better to ultimately succeed with the truth than to temporarily succeed with a lie. There is only one Gospel and Paul said, 'If any man preaches any other gospel unto you than that which we have preached unto you, let him be accursed."
Proverbs 31:8 (NIV)
Speak up for those who cannot speak for themselves,
for the rights of all who are destitute
MY MISSION IS NOT TO CONVINCE YOU, ONLY TO INFORM YOU…
Jesus come quick, there is nothing left in society that's sacred….
HNewsWire: Let's review everything we've learned so far: Evil people are in charge. They're all liars. They take pleasure in misery. On the inside, they…
Read More
We make every effort to acknowledge sources used in our news articles. In a few cases, the sources were lost due to a technological glitch. If you believe we have not given sufficient credit for your source material, please contact us, and we will be more than happy to link to your article.