Advisory: Be careful of what you read on social media. The algorithms used by these platforms have no regard for Biblical truth. They target your emotions to keep you engaged on their site so their advertisers can drop more ads. These platforms exist to enrich their stockholders. Consider God's promise to Believers in James 1:5, "If any of you lacks wisdom, you should ask God, who gives generously to all without finding fault, and it will be given to you."
Auris Has Now Been Documented…
in More Than 30 Countries, and More Than 1,500 U.S. Cases Were Reported to the CDC as of Oct. 31 of Last Year, WION Reported…
have turned out to be correct The word translated "pestilence" is often translated as "plague" or "disaster" …
There is a March to death and social media is leading the charge, they are withholding the truth about the coronavirus, You are Marching lockstep into the death spiral…
Update 2/1/21
In 2018, for example, the Kern County Fire Department sought a $100,000 grant to get assistance in cutting fuel breaks — which disturb the soil — because their firefighters would get sick after doing the work. Data show that Valley fever cases spike on the county's valley floor every fall, just as fire season is underway in the surrounding hills.
"Aerosolized, microbes, spores, or fungal conidia … have the potential to travel hundreds of miles, depending on fire behavior and atmospheric conditions, and are eventually deposited or inhaled downwind of a fire,"
Yet, determining what pathogens exist in wildfire smoke has been difficult.
The National Oceanic and Atmospheric Administration, NASA and team of chemists, physicists, biologists and forest and fire ecologists from a number of universities have been collaborating for years to study wildfire smoke around the country, under the assumption that nobody will be immune to its effects in the future.
"As the climate changes, as the temperature warms up, as we build houses in places that are surrounded by human populations and housing development expand into regions susceptible to fires, it's a matter of time," said Berry Lefero, manager of NASA's Tropospheric Composition Program, which includes a DC-8 jetliner that circles the globe studying wildfire smoke, ozone and aerosols in the atmosphere's lower layer.
Through the combined work of these researchers, scientists hope, the public and healthcare workers will one day be able to receive timely, accurate forecasts on where wildfire smoke will go, what specific health hazards it poses, and what people in its path should do to prepare beyond the boilerplate advice to stay indoors.
To solve the riddle of what microbes are in the smoke and to understand what type of fuel is burning, like a grass, shrub, or tree; how much of it there was initially; how severely it was burned (was it just scorched black or completely reduced to ash or something in between?); and where the smoke originated.
Once those variables are determined, there's the complicated task of actually capturing the smoke, which is by no means uniform.
In September, Kobziar, a former firefighter, used a drone to capture samples of the air over Idaho when it was inundated with smoke from fires in Eastern Washington and Oregon. She then placed the samples in a petri dish, added some food that microbes like to eat and waited to see what would happen.
"Even a couple hundred miles away from the source of the smoke, it was still significant," Kobziar said. "We're still trying to isolate all the things we found."
Tim Edwards, president of the firefighters union Local 2881, which represents thousands in the California Department of Forestry and Fire Protection, hope the scientists' work can boost his own efforts to get wildland firefighters respirators, since they typically just rely on face masks or bandanas — unlike their urban firefighting counterparts.
It's not only the dust kicked up in a fire that gets crews sick, Edwards said.
"Now, in a wildland conflagration, you have 1,000 homes burning," he said. "You burn the house, you don't know what chemicals they have in that house, all that is on fire and that's going in your lungs."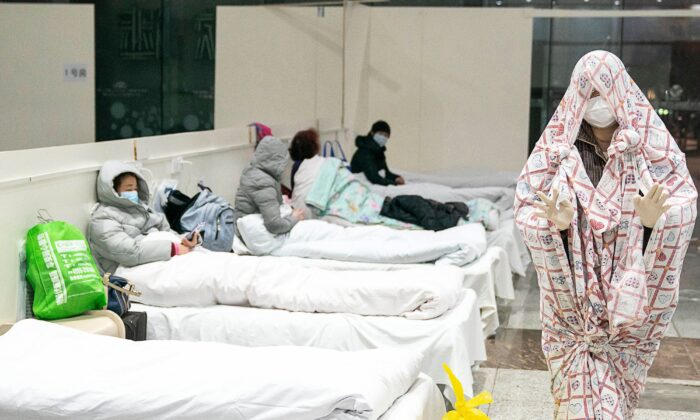 "The LORD will make the pestilence cling to you until He has consumed you from the land where you are entering to possess it, Australia, China "The LORD will smite you with consumption and with fever and with inflammation and with fiery heat and with the sword and with blight and with mildew, and they will pursue you until you perish.
Plagues are also a sign, along with hostility to Christians, that we are and have been in the End Times, as Jesus Himself says:
10 Then he said to them, "Nation will rise against nation, and kingdom against kingdom. 11 There will be great earthquakes, and in various places famines and pestilences. And there will be terrors and great signs from heaven. 12 But before all this they will lay their hands on you and persecute you, delivering you up to the synagogues and prisons, and you will be brought before kings and governors for my name's sake. 13 This will be your opportunity to bear witness. (Matthew 24)
And the Book of Revelation describes the judgments of the apocalypse in terms of pestilence and plagues:
7 When he opened the fourth seal, I heard the voice of the fourth living creature say, "Come!" 8 And I looked, and behold, a pale horse! And its rider's name was Death, and Hades followed him. And they were given authority over a fourth of the earth, to kill with sword and with famine and with pestilence and by wild beasts of the earth. (Rev. 6:7-8)

15 Then I saw another sign in heaven, great and amazing, seven angels with seven plagues, which are the last, for with them the wrath of God is finished. (Rev 15:15)
But, along with this terrifying judgment of the Law, we also see the Gospel expressed in an Intercessor who stands between us and the plagues.
The next pandemic could be a sometimes deadly fungal infection called Candida auris, according to experts with the U.S. Centers for Disease Control and Prevention (CDC).
The yeast-like fungus can be fatal if it enters the bloodstream, experts said, namely if it enters the body via healthcare and hospital settings.
According to reports, the deadly infection has become the cause of hospitalizations in Florida in recent months and has spread in COVID-19 wards.
"Candida auris can spread in healthcare settings through contact with contaminated environmental surfaces or equipment, or from person to person. More work is needed to further understand how it spreads," said the CDC's report.
Earlier this month, the CDC and Florida Department of Health carried out a joint investigation focused on infection prevention. They said that enhanced cleaning and disinfection measures killed off the Candida auris.
"Outbreaks such as that described in this report highlight the importance of adhering to recommended infection control and PPE practices and continuing surveillance for novel pathogens like Candida Auris," the report concluded, reported WION.
"One of the things that makes Candida auris so scary is the fact it can linger on inanimate surfaces for long periods and withstand whatever you throw at it," Johanna Rhodes, an epidemiologist with London's Imperial College, told the New Scientist several weeks ago.
Dr. Tom Chiller, who runs the CDC's anti-fungal division, said it's unclear where the fungus originated.
"It is a creature from the black lagoon. It bubbled up and now it is everywhere," he said, according to the New York Post over the weekend.
Experts said it's time to invest and develop treatment methods against Candida auris.
"We need to invest more in research and development, and prepare our defenses—against all types of infectious pathogens," said Mahmoud Ghannoum, a fungal disease specialist at Case Western Reserve University in Ohio, as reported by the Post.
The fungus has now been documented in more than 30 countries, and more than 1,500 U.S. cases were reported to the CDC as of Oct. 31 of last year, WION reported.
There's a Big Difference Between COVID-19 (Flu) and a Pestilent, If It Kills It's a Pestilent, the COVID 19 Flu Is a Common Occurrence in Society, Time Will Tell What the Death Angel Has Prescribed
have turned out to be correct The word translated "pestilence" is often translated as "plague" or "disaster" …
There is a March to death and social media is leading the charge, they are withholding the truth about the coronavirus, You are Marching lockstep into the death spiral…
Source: HNewsWire theepochtimes HNewsWire
PLEASE DO NOT POST HNEWSWIRE ARTICLES ON PARLER, FACE BOOK, REDDIT OR TWATTER SOCIAL MEDIA PLATFORM, WE ARE NOT COMFORTABLE WITH THEIR ANTI-CHRISTIAN — ANTI-AMERICAN NAZI PHILOSOPHY…STEVIERAY HANSEN
StevieRay Hansen
Editor, HNewsWire.com
Watchmen does not confuse truth with consensus The Watchmen does not confuse God's word with the word of those in power…
We make every effort to acknowledge sources used in our news articles. In a few cases, the sources were lost due to a technological glitch. If you believe we have not given sufficient credit for your source material, please contact us, and we will be more than happy to link to your article.