If we are to take the scriptures seriously, then we must believe that demons are at work amongst us. We are in a war, whether we believe in it or not or whether we like it or not. In the last passage, Eph. 6:11-12, we see a reference to rulers, powers and world forces. These are all references to demonic rulers, demonic powers and demonic world forces. We see this most clearly in Daniel 10, where the angel Gabriel is delayed 21 days in bringing an answer to Daniel's prayers because he is intercepted by and engaged in battle with the "Prince of Persia." Clearly this was not a human prince Gabriel was fighting with. Nations have human rulers, but they also have demonic rulers that govern certain regions and work havoc in the territory allotted to them.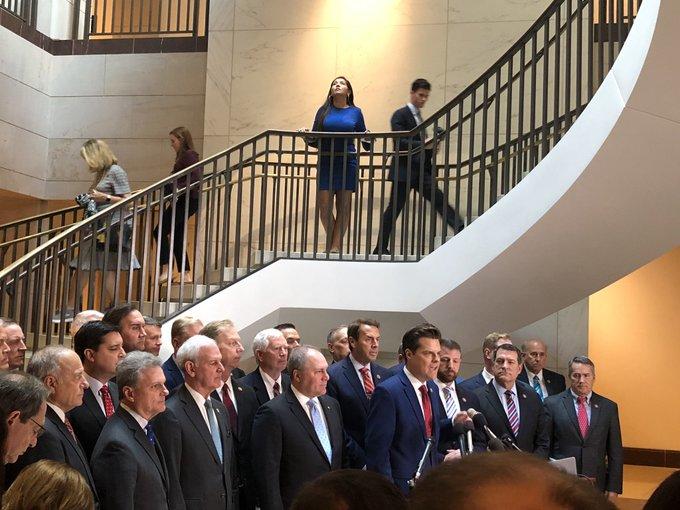 A group of House Republicans stormed a closed-door impeachment inquiry hearing Wednesday morning to lodge a protest against the secretive deposition of a top Defense Department official who was testifying about President Trump's dealings with Ukraine, The Hill reports.
"They crashed the party," said Rep. Harley Rouda (D-CA), who sits on the House Oversight Committee, one of three House panels participating in the impeachment probe.
Dozens of Republicans, including some members of leadership, barged into the secure hearing room in the Capitol basement where Laura Cooper, the deputy assistant secretary of defense for Russia, Ukraine and Eurasia, was providing private testimony.

Several lawmakers said that, in response to the Republican protest, House Intelligence Committee Chairman Adam Schiff (D-Calif.) had left the room with Cooper, postponing the interview indefinitely. –The Hill
According to Rep. Roger Marshall (R-KS), Rep. Adam Schiff ssaid "nothing" when the members sat down.
Rep. Mark Walker✔@RepMarkWalker
UPDATE: We are in the SCIF and every GOP Member is quietly listening.

Meanwhile, Adam Schiff, clearly peeved that he will no longer be able to hide his impeachment sham, is threatening Ethics punishment for all of us.

His fake intimidation can't hide his lies–Open the process!2,59010:51 AM – Oct 23, 2019Twitter Ads info and privacy5,680 people are talking about this
"He doesn't have the guts to come talk to us," said Marshall. "He left, he just got up and left. He doesn't have the guts to tell us why we can't come in the room, why he doesn't want this to be transparent. It's the biggest facade, biggest farce of my life."
Olivia Beavers✔@Olivia_Beavers
Republicans trying to "storm the SCIF"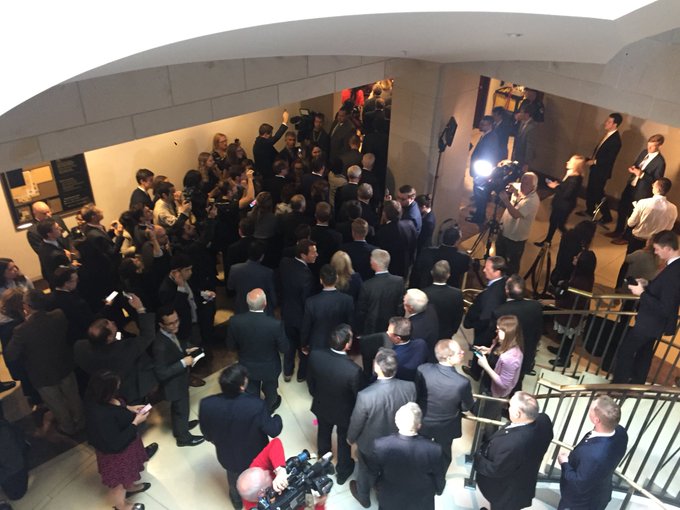 Schiff then reportedly threatened GOP members with ethics violations after 25 Republican lawmakers remained in the room, per Rep. Debbie Wasserman Schultz (D-FL), adding that the Democrats' impeachment probe has "far too much fact for their comfort level, so they have to try to stop it from moving forward." (So much fact, in fact, that they have to conduct the probe in secret!)
The move by House Republicans comes a day after another witness, top diplomat William Taylor, testified that Trump withheld military aid to Ukraine to pressure the country to conduct a pair of investigations — one into the 2016 election hacking, the other into the family of former Vice President Joe Biden — that might have helped Trump's reelection campaign next year.

Some of Republicans who barged into the hearing room were in possession of cellphones, a violation of the rules governing the so-called sensitive compartmented information facility, known as the SCIF, where the depositions have been taking place.

Wassermann Schultz said Cooper was not in the room at the time the Republicans entered. It's unclear, she added, what will happen next in terms of Cooper's testimony. –The Hill
"We want this to continue," said Rep. Chris Stewart (R-UT), who added that Republicans aren't trying to stop the hearing.
"We want to hear from this witness but so do the other members of Congress," Stewart continued. "This may be within House rules, that's not the question. The question is, is it a good idea to try and impeach the president in secret hearings."
Let Me Make This Abundantly Clear. (I Am Apolitical) While I Have a General Distaste for Politicians No Matter the Party They Belong To, I Am Unashamedly Politically a Bible Believing Conservative Christian. I Have a Severe Distrust of Government. I Believe It Is the Most Inefficient and Ineffective Way to Accomplish Most Things. While I Strongly Disagree with Liberals/Progressives and Conservative on Most Political Issues, and While I Believe Liberals/Progressives and Most Politicians Are Terribly Misguided and Naive About What Big Government Will Eventually Result In, I Strive to Not Question Their Motives. at the Same Time, While I Find Myself in Agreement with Conservative Politicians on Some Issues, I Do Not Believe Electing Republicans Is the Answer to Everything. for Me, Very Sadly, the Main Difference Between Republicans and Democrats Is How Quickly They Want to Drive the Car Towards the Cliff. Simply Put, I Do Not Believe the Government Is the Solution for Everything. I Do Not Place Any Faith, Trust, or Hope in Any Politicians to Fix What Is Wrong with the World. "Come Lord Jesus!" (Revelation 22:20) StevieRay Hansen
Many of the problems facing us are insurmountable. How can the immigration problems be solved? How will we ever pay back trillion in debt? How do we get rid of Obamacare and if we do, how do we solve dramatically rising health care costs? Crime problems? Lunatics or demon-possessed people who shoot our children in schools? Rampant sexual immorality? The bullying homosexual activists? Rogue justices who legislate from the bench? Corrupting lobbyists and special interest groups? Muslim terrorists?
We are not dealing with human problems. Our problems are demonic and until we start calling on God above to come to our aid and have mercy, there will be no end in sight and no solutions. Things will get worse and worse until we are completely destroyed. Elections will not fix what ails us. Better policies will not avail us. We need God, and until we humble ourselves before Him and beg His mercies and repent of our sins, God will continue to let us drown as we continue to make futile attempts at being our own saviors. Most elected officials seem to be clueless as to the real problem and the real enemy. When asked how they would fix the problems, they all have their great ideas, but repentance and calling on God for mercy is not one of them.
When one knows the truth and refuses to obey it, he is subject to any lie, any deception, any untruth that man can conjure up. "For although they knew God, they neither glorified Him nor gave thanks to Him, but their thinking became futile and their foolish hearts were darkened. Although they claimed to be wise, they became fools" (Romans 1:21-22). Paul goes on in the next few verses to describe the mindset and behaviors of those who disbelieve (see Romans 1:29-31). As a result of man's foolishness and his arrogant disdain of the things of God, "God gave them over to a depraved mind, to do what ought not to be done" (Romans 1:28). And correspondingly, "Although they know God's righteous decree that those who do such things deserve death, they not only continue to do these very things but also approve of those who practice them" (Romans 1:32).
In order for sin to work, there has to be a "suppression of the truth."
StevieRay Hansen
Editor, HNewsWire.com
The Birth Pains Are Growing Stronger….
"Unless God has raised you up for this very thing, you will be worn out by the opposition of man and devils"…
My name is Steve Meyers and I need to share a vision and warning that the Lord showed me back in April 2007….
Many of you will ask why I waited so long to share the warning. I didn't. I shared the story with everyone that would listen from pastors to friends to family to colleagues. Immediately following the initial vision, I called a close friend. I told him to sit down that I had something to tell him. I needed it documented as I knew this was supernatural and from God. As I witness events unfolding today, I need to share the vision again.
The light went out in the church, and that's the reason the world got dark. Dark times were perpetuated by the "last one out, turn out the lights" "The church lights have gone OUT".
Tagged Under: hnewswire stevie ray hansen, HNewsWire, antichrist, antichrists, Apple, Bible, Big Tech, bigotry, Christian baker, Christianity, Christians, Colorado, Colorado Civil Rights Commission, conservatives, deep state, demonic assault, end of days, end times, Facebook, First Amendment, free speech, Google, hate groups, Hate speech, hatred, hostility, insanity, Instagram, intolerance, Jack Phillips, jesus, Jesus Christ, left cult, Leftists, LGBT mafia, Liberal Mob, lunatics, persecution, Pinterest, prophecy, Southern Poverty Law Center, SPLC, Tribulation, Twitter,Anti Christ, Bible, Blame Game, California, deception, demonic, fascism, free speech, freedom of religion, gender confused, hypocrisy, insanity, insidious gender war, left cult, LGBT, lgbtq, Liberty, lies, Mental illness, nra, oxymoron, religion, religious groups, San Francisco, suicides, terrorists, Tyranny,Big Tech, deception, disinfo, disinformation, Facebook, fake news, freedom of speech, Google, Journalism, lies, mainstream media, manipulation, Microsoft, news cartels, online speech, propaganda, Silicon Valley, tech giants, Twitter