Advisory: Be careful of what you read on social media. The algorithms used by these platforms have no regard for Biblical truth. They target your emotions to keep you engaged on their site so their advertisers can drop more ads. These platforms exist to enrich their stockholders. Consider God's promise to Believers in James 1:5, "If any of you lacks wisdom, you should ask God, who gives generously to all without finding fault, and it will be given to you."
Point With COVID-19 Cases…
I Believe It's Safe to Say, There Are Some Sinister Individuals That Are Intent on Destroying Humanity, Bill Gates the Media and Most of Our Elected Officials Are Aggressively Working on Destroying the People's Will Through a Plandemic…
The Plandemic Has Been Designed to Make Society Suffer. They Know If They Crush Society, They Will Be Able to Implement the New World Order. The Alternative Would Be FEMA Food Lines, Satan Soldiers, and Billionaire Financier George Soros in Full Stride.
"People who grew up with the Internet saw what a wonderful thing it was for free expression, giving everyone access to a global audience. That's been completely flipped on its head, and now it's one of the most tightly controlled, manipulated places to find information that you could imagine. It's a complete 180 from what it used to be, and that's incredibly sad, because it was, initially, this challenge to old information gatekeepers, this place of free expression, of democratized information, and now it's just controlled by a handful of increasingly authoritarian ideologically partisan tech companies that haven't been held to account by officials in D.C. and aren't bound by any regulation preventing them from who censoring people or interfering in elections."
Technology companies like Google, Facebook, and Twitter and growing increasingly sophisticated in anticipating, intercepting, and suppressing information with the likelihood of going viral
Summary:
Dr. Gottlieb warns US has hit "dangerous tipping point"
Italy reports another record
Netherlands reports 10k+ new cases
Bulgarian PM tests positive
Italy confirms new restrictions
US sees back-to-back COVID-19 case records
Spain imposes 6-month state of emergency
French official warns of possible lockdown as Paris ICUs strain
Hungary sees another record
Global cases top 400k on Sat, down from Friday
Iran sees another daily record
Poland cases decline for 2nd day
* * *
Update (1450ET): NY just became the 4th US state to top 500k confirmed COVID cases. New York added 1,632 cases, after surpassing 2,000 twice this week, an increase that's in line with daily increases over the prior seven days. Total hospitalizations topped 1,000 for the third day in a row, while another 12 people died.

Andrew Cuomo@NYGovCuomo·Today's update on the numbers: Of the 120,829 tests reported yesterday, 1,632 were positive (1.35% of total). Total hospitalizations are at 1,015. Sadly, there were 12 COVID fatalities yesterday.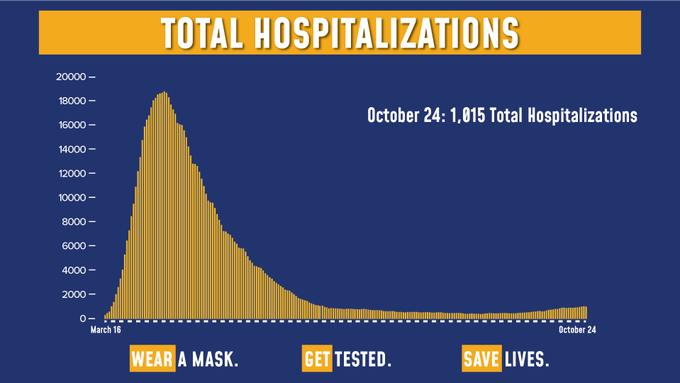 Dr. Scott Gottlieb warned that COVID-19 hospitalizations are reaching a "dangerous tipping point". Meanwhile the7-day average of US deaths has topped 800 again for the first time since September.
The Netherlands reported 10,211 new cases during its latest daily update from health agency RIVM, according to Dutch news agency ANP. The latest numbers included some cases that were not in Saturday's update due to IT issues at the public health departments, the company said.
Italy reported a record 21,273 new infections on Sunday just as PM Conte introduced the strongest virus restrictions since the end of a national lockdown in May. Across Italy, more than 1,200 people are being treated across the country's ICUs.
Finally, Bulgaria's Prime Minister Boyko Borissov tested positive for the coronavirus and is presently feeling a "general malaise," according to a statement from his FB page.
* * *
Update (1120ET): As expected, Italy's governing council has announced the immediate closure of all bars and restaurants (beginning in a few hours, at 1800 local time) along with the suspension of many sports and other 'nonessential' activities. Students will be sent back to online-only education.
"The objective is not to bring the contagion curve down to zero, but to bring it under control," Conte said during a Sunday morning news conference.
He appealed to Italians to obey the new rules so that daily life can return to normal by the Christmas holiday, reminding the country "the objective isn't to bring the contagion curve down to zero, but to bring it under control."
As riots spread across the country, Conte acknowledged the worsening public frustration, but said the new measures were the only alternative to another lockdown that could very well crush Italy's fragile economy.
* * *
For the second day in a row, US COVID-19 cases surpassed 84k, a record back-to-back showing as the current wave of the US outbreak has officially surpassed the worst of the July numbers from Florida, Arizona, California and Texas.
Hospitalizations have been steadily moving higher since the beginning of October; most recently, they've reached levels unseen since mid-August. After remaining largely flat for weeks, deaths have finally started to creep higher.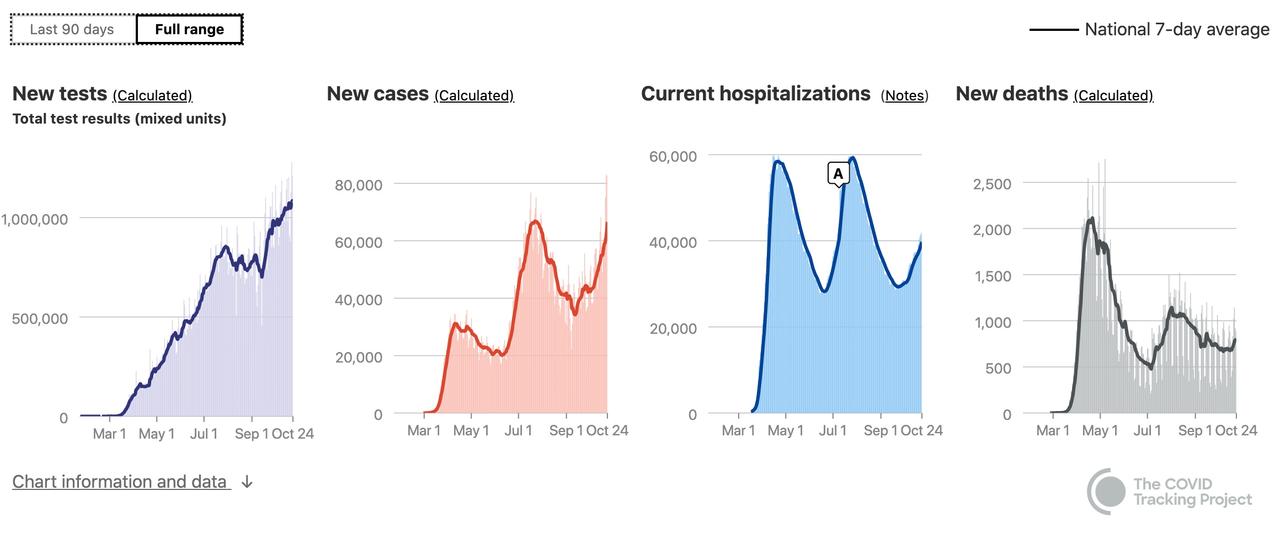 Source: the COVID-19 Tracking Project
Measuring by rate of spread, New Jersey has slid back into the lead with 1.37 (rates above 1 mean the virus is expanding, as each infected individual is passing the virus to more than 1 additional person). Ohio, which saw several record highs in terms of new cases in the past week, has seen its "R" rate hit a record 1.22.
Rates have been rising across the Midwest and the West, with North Dakota, South Dakota and New Mexico all well above 1.20. Illinois, another populous Midwest State, has seen its rate climb to 1.20.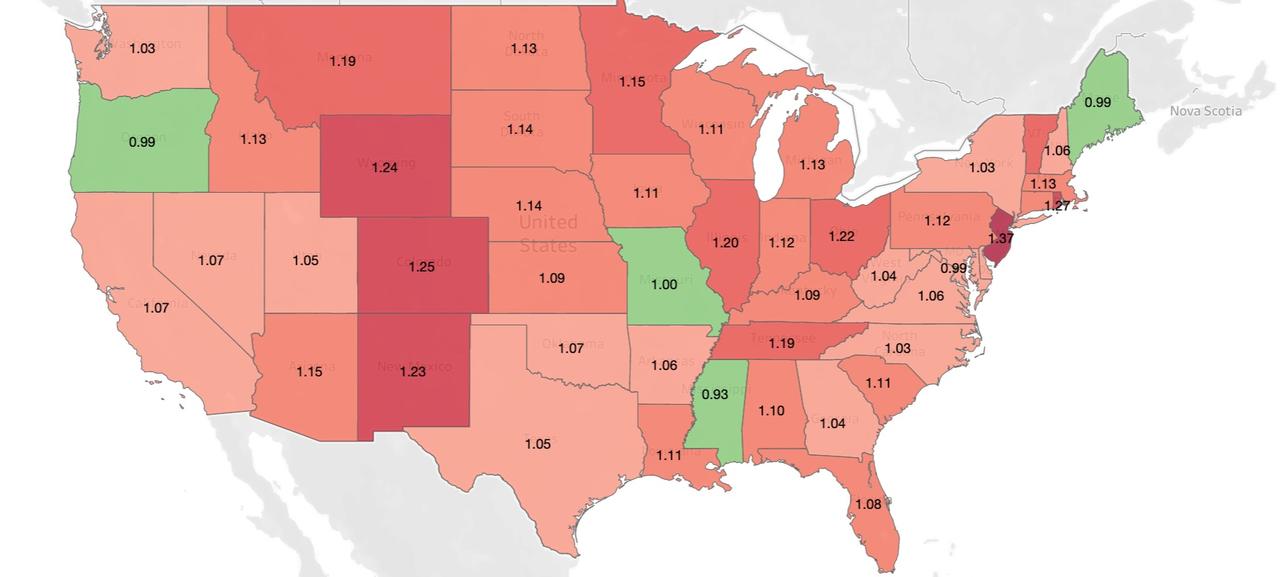 Source: mSightly
The US reported 85,317 new cases on Saturday, a record for the second day in a row. But on Sunday morning, attention turned back to Europe, as Spain on Sunday approved a new national state of alarm, marking an end to a contentious row with local officials in Madrid, who chafed at being singled out for curfews and restrictions.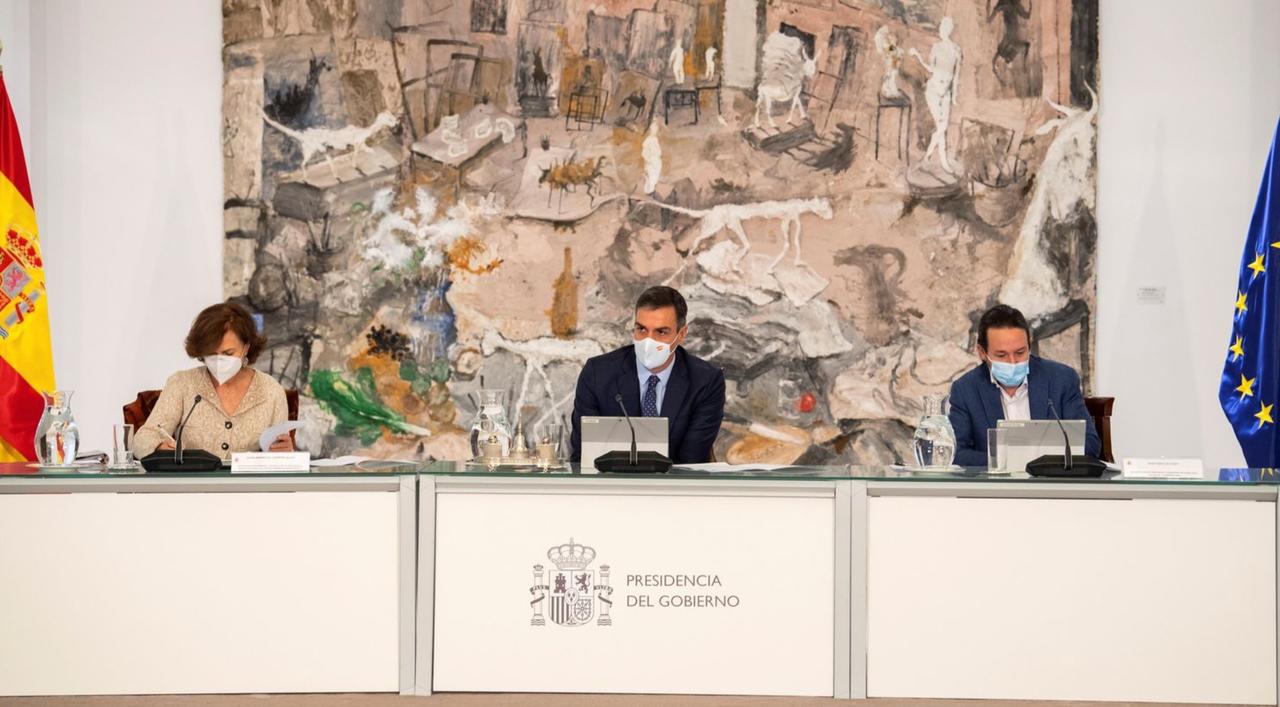 El País reports that the new national state of alarm, designed to allow local authorities more autonomy to limit mobility and business activity (particularly nightlife) as they see fit. However, an obligatory curfew beginning at 2300 – 0600 for the entire country (though regional officials will have power to move it forward or back).
Crucially, regional officials will have the power to restrict movement into and out of their territories, aside from 'essential' reasons. Notably, Spain's borders will remain open (unlike during the first wave, when Spain's borders closed).
"The whole of Europe is now taking measures to limit mobility," said the prime minister on Sunday to justify the decision. "The situation in which we are in is extreme."
According to El Pais, this is the second time in seven months where Spain's coalition government has invoked its constitutional authority to use the lowest of three emergency measures that are set out in the Spanish Constitution.
This will be the second time in seven months that the coalition government – headed by the Socialist Party (PSOE) with junior partner Unidas Podemos – has made use of the emergency measure, the lowest of three that are set out by the Spanish Constitution.

Unlike in March, when the state of alarm was used to subject Spaniards to one of the world's strictest coronavirus lockdowns, this time it will be used in a much less severe manner, in particular to introduce the curfew. Nearly all of the regions want to use such a measure in order to slow the second wave of the pandemic in Spain as quickly as possible, and reach the Christmas season with figures that are more under control.

Another difference between now and March is that the government is making clear its duration from the outset, and wants the measure – which will initially be established for 15 days – to remain in place until May 9, 2021.

The first state of alarm had to be extended every two weeks by Spain's lower house of parliament, the Congress of Deputies, something that turned into a political headache for Prime Minister Pedro Sánchez of the PSOE given that the coalition lacks a working majority and he thus needed the support of opposition parties to prolong the measure. The state of alarm came to an end in June when it was clear the government no longer had the votes it needed for another two-week extension and full powers to control the epidemic were returned to the regional governments.
Here are some more COVID-19 headlines from overnight and Sunday morning:
Iran reported a record number of daily cases for the fourth time this week at 6,191, taking the total to 568,896. The death toll reached 32,616 with 296 more fatalities in the past 24 hours, down from 335 a day earlier (Source: Bloomberg).
Poland registered a second day of declines in coronavirus cases, to 11,742 on Sunday versus the Friday record of 13,632. Covid-19 deaths halved to 87 today from a record 179 on Saturday, as the pandemic resurgence pushed Poland to impose new restrictions from this weekend. Polish President Andrzej Duda tested positive for coronavirus. He said on Saturday he's feeling fine (Source: Bloomberg).
Hungary reported a record 3,149 new infections Sunday. A further 35 people died in the past day, bringing the death toll to 1,425, with 2,449 patients being treated in hospital. The country has lagged neighboring countries in imposing restrictions, opting to keep its economy open. One soccer game in Budapest alone hosted more than 15,000 spectators Saturday, highlighting the lax attitude of authorities, with virus testing also generally behind peers (Source: Bloomberg).
* * *
Looking ahead, French Transport Minister Jean-Baptiste Djebbari warned Sunday morning that the government was prepared for all possibilities, including the possibility of another lockdown, something President Emmanuel Macron has said he would do his best to avoid. On Sunday morning, patients in southern France were shuffled between hospitals as ICUs strained under the pressure of newly sick patients. Djebbari issued the warning during an interview one Europe 1 radio that region-to-region patient transfers likely wont' be as helpful as they were earlier in the epidemic because it's spreading so rapidly across the entire country. In Italy, Prime Minister Giuseppe Conte is also expected to unveil the most restrictive new measures since the country exited lockdown over the summer.
COVID19: A Junk Science Tool For A Technocratic 'Great Reset' AKA Plandemic Scamdemic…
People living in the western world are in the greatest fight for the future of pluralist and republican forms of governance since the rise and fall of fascism 75 years ago. As then, society had to be built up from a war.
Today's war has been an economic war of the oligarchs against the republic, and it increasingly appears that the coronavirus pandemic is being used, on the political end, as a massive coup against pluralist society. We are being confronted with this 'great reset', alluding to post-war construction.
But for a whole generation people have already been living under an ever-increasing austerity regimen. This is a regimen that can only be explained as some toxic combination of the systemic inevitabilities of a consumer-driven society on the foundation of planned obsolescence, and the never-ending greed and lust for power which defines whole sections of the sociopathic oligarchy.
30,000+ Health Experts Sign Declaration Opposing Covid-19 Lockdowns
Tens of thousands of health practitioners, scientists and other medical experts have signed a declaration opposing any further Wuhan coronavirus (Covid-19) lockdowns.
Co-authored by Dr. Martin Kulldorff, a Harvard University professor and epidemiologist with expertise in detecting and monitoring infectious disease; Dr. Sunetra Gupta, a University of Oxford professor and epidemiologist with expertise in immunology; and Dr. Jay Bhattacharya, a Stanford University professor and epidemiologist who specializes in infectious disease and vulnerable populations, the petition has one simple request: end the lockdowns.
"Coming from both the left and right, and around the world, we have devoted our careers to protecting people," the Great Barrington Declaration, named after the Massachusetts town where it was authored on Oct. 4, explains.
"Current lockdown policies are producing devastating effects on short- and long-term public health."
Forcing people to stay at home and avoid others is causing a spike in chronic illness and death, the petition contends.
Cardiovascular disease outcomes are worsening, fewer people are getting screened for cancer, vaccination rates are on the decline – this one is a good thing – and mental health is deteriorating, among many other disastrous outcomes.
"Keeping students out of school is a grave injustice," the petition goes on to explain.
Rather than shut things down, governments – or more accurately, We the People – need to open everything back up and pursue "herd" immunity, much in the same way as Sweden did.
This will ensure that people are no longer being harmed by the "cure" for the Wuhan coronavirus (Covid-19), which is doing far more damage than good.
"Fortunately, our understanding of the virus is growing," the declaration states.
"We know that vulnerability to death from COVID-19 is more than a thousand-fold higher in the old and infirm than the young."
"Indeed, for children, COVID-19 is less dangerous than many other harms, including influenza," it adds.
Compassion Is Allowing People To Live Their Lives, Not Forcing Them To Stay Holed Up Forever
Signed by more than 32,000 medical doctors and health scientists from around the world – you know, the types of people that support science – the declaration aims to protect the most vulnerable populations while also supporting the God-given right of everyone else to "resume life as normal" rather than be forced to "protect the vulnerable" with draconian restrictions on movement and civil liberties.
These are the latest survival rate estimates from the Center for Disease Control:
Age 0-19 … 99.997%
Age 20-49 … 99.98%
Age 50-69 … 99.5%
Age 70+ … 94.6%
Source: CDC.gov
"The most compassionate approach that balances the risks and benefits of reaching herd immunity is to allow those who are at minimal risk of death to live their lives normally to build up immunity to the virus through natural infection, while better protecting those who are at highest risk," the declaration further states.
A better way to help the vulnerable would be to minimize staff rotations at nursing homes, for instance, as well as deliver groceries and other essential items to retired people who live at home.
Basic hygiene, just as we have long been doing, is another healthy habit that will help to protect those most at risk of infection.
"Arts, music, sport, and other cultural activities should resume," the declaration further says, noting that young, low-risk adults should be allowed to work as normal outside the home.
Schools, it also says, should open back up as normal, as should sports.
"People who are more at risk may participate if they wish, while society as a whole enjoys the protection conferred upon the vulnerable by those who have built up herd immunity," it concludes.
It is also important to remember that the goal was never to eliminate the virus completely, but rather to "flatten the curve" and prevent an overload of health care facilities.
Now that this has been accomplished, it is time to end the plandemic and move on with our lives.
The World Is In Big Trouble, for Those That Believe We Will Go Back to Some Sense of Normal Life Here on Earth, You Will Be Sadly Disappointed, Seven Years of Hell on Earth Which Began January 1, 2020
"Our courts oppose the righteous, and justice is nowhere to be found. Truth stumbles in the streets, and honesty has been outlawed" (Isa. 59:14, NLT)…We Turned Our Backs On GOD, Now We Have Been Left To Our Own Devices, Enjoy…
While Mainstream Media Continues to Push a False Narrative, Big Tech Has Keep the Truth From Coming out by Shadow Banning Conservatives, Christians, and Like-Minded People, Those Death Attributed to the Coronavirus Is a Result of Those Mentioned, They Truly Are Evil…
Source: HNewsWire humansarefree HNewsWire ZeroHedge HNewsWire HNewsWire HNewsWire HNewsWire
StevieRay Hansen
Editor, HNewsWire.com
Watchmen does not confuse truth with consensus The Watchmen does not confuse God's word with the word of those in power…
In police-state fashion, Big Tech took the list of accused (including this site), declared all those named guilty and promptly shadow-banned, de-platformed or de-monetized us all without coming clean about how they engineered the crushing of dissent, Now more than ever big Tech has exposed there hand engaging in devious underhanded tactics to make the sinister look saintly, one of Satan's greatest weapons happens to be deceit…
The accumulating death toll from Covid-19 can be seen minute-by-minute on cable news channels. But there's another death toll few seem to care much about: the number of poverty-related deaths being set in motion by deliberately plunging millions of Americans into poverty and despair.
American health care, as we call it today, and for all its high-tech miracles, has evolved into one of the most atrocious rackets the world has ever seen. By racket, I mean an enterprise organized explicitly to make money dishonestly.
All the official reassurances won't be worth a bucket of warm spit. The Globals are behind the CoronaVirus, It Is a Man-Made Bioweapon.
Science is a process, not the dissemination of truth. If it's truth you want, read the Bible.
Satan Soldier Dr. Fauci because that scientific process is full of errors , bad guesses, inaccurate scenarios, and faulty models. But it's a process and the more we learn about this scientific BS, the more effective our responses to it will be.
Dinesh Kaushiva Septmeber 30 , 2023 The Democrat Party and Democrat Party controlled Federal Agencies and all other Administrative Agencies and Departments have refused to…
Read More
We make every effort to acknowledge sources used in our news articles. In a few cases, the sources were lost due to a technological glitch. If you believe we have not given sufficient credit for your source material, please contact us, and we will be more than happy to link to your article.