Advisory: Be careful of what you read on social media. The algorithms used by these platforms have no regard for Biblical truth. They target your emotions to keep you engaged on their site so their advertisers can drop more ads. These platforms exist to enrich their stockholders. Consider God's promise to Believers in James 1:5, "If any of you lacks wisdom, you should ask God, who gives generously to all without finding fault, and it will be given to you."
Churches, Pastor's Are Targets…
GraceLife Pastor Takes Church Underground: 'The Church Isn't A Building, It's a Blood-Bought People'
By Source April 13, 2021
Canadian Pastor James Coates of GraceLife Church held services this weekend. Normally, this would be an unremarkable fact – but given he was recently been released from jail only to see his church fenced off and shut down by authorities, it's made this worship service all the more impactful.
Earlier today, GraceLife published their service online, with congregants faces blurred out of the picture.
Pastor Coates greeted those in attendance at the "undisclosed location" by saying, "they can take our facility, but we'll just find another one."
A few moments later, two gentlemen (who were only identified in the video as Joe and John) came forward to lead the congregation in song. One of the men began by saying, "Did you ever think you'd be part of the underground church?"
A few songs in there's a beautiful rendition of "It is Well With My Soul" in which the congregation can be clearly heard singing, despite their profiles being intentionally blurred out so as not to be identified on video.
After singing concluded, Pastor Coates took to the microphone to deliver his sermon. Coates said he had been planning to preach from Psalm 56, but said he'd had a nagging feeling that it wasn't the right Psalm for the upcoming service. After the church was shut down, he said it was confirmation he needed to change course.
Where did he end up?
"We need a Psalm more appropriate for an occasion like this. We need to hear a 'Jesus is Lord' kind of sermon," he explained. That led Coates to Psalm 2, in which he says "As we read Psalm 2, I want you to consider that what we see taking place in this Psalm though it really describes something yet future to us, is a sense in which this is taking right now at present," Coates said.
He then went on to read Psalm 2, which says:
Psalm 2:1-12 KJV – "Why do the heathen rage, and the people imagine a vain thing? The kings of the earth set themselves, and the rulers take counsel together, against the Lord, and against his anointed, saying, Let us break their bands asunder, and cast away their cords from us. He that sitteth in the heavens shall laugh: the Lord shall have them in derision. Then shall he speak unto them in his wrath, and vex them in his sore displeasure. Yet have I set my king upon my holy hill of Zion. I will declare the decree: the Lord hath said unto me, Thou art my Son; this day have I begotten thee. Ask of me, and I shall give thee the heathen for thine inheritance, and the uttermost parts of the earth for thy possession. Thou shalt break them with a rod of iron; thou shalt dash them in pieces like a potter's vessel. Be wise now therefore, O ye kings: be instructed, ye judges of the earth. Serve the Lord with fear, and rejoice with trembling. Kiss the Son, lest he be angry, and ye perish from the way, when his wrath is kindled but a little. Blessed are all they that put their trust in him."
He titled the sermon "A Vain Thing" and after explaining the context of Psalm 2, went on to discuss how Psalm 2 paralleled today in various ways. He said, "governments all over the world are counseling together in a unified effort to oppress the people they govern."
"In that context, those who are faithful, those who follow Christ and confess that Jesus is Lord are going to be the ones they have to silence and get out of the way because everyone else is going to fall in line."
"It's going to be the Lord's people who stand and herald him as king and call governments to submit to him as king and to govern in accord with the very Word that will judge them on judgement day. Even as we think about our own government, we have called them to their duty. Unmistakably, we have directed them to their duty. They know they are going to be judged in accord with the Word of God, that the Word of God is going to be the standard with which they are assessed and evaluated and they still continue to persevere in their obstinacy. This is defiance."
After the sermon and prayer, the service closed with a singing of How Great Thou Art and a word from 2 Thessalonians 2:16-17, which reads:
"Now may our Lord Jesus Christ himself, and God our Father, who loved us and gave us eternal comfort and good hope through grace, comfort your hearts and establish them in every good work and word."
Officers with the Royal Canadian Mounted Police came out en masse Sunday as protesters descended on GraceLife Church in Alberta, Canada, where police barricaded the worship center last week, barring congregants' access to the church.
In a statement issued to the media Sunday, the RCMP said it was on the scene in Edmonton to preserve "peace" and "maintain public safety," claiming — as it has been barring the free exercise of religion — that it recognizes "everyone has a right to peaceful freedom of expression."
One video circulating on social media showed what appeared to be a great deal of RCMP officers at GraceLife on Sunday.
The RCMP — at the behest of Alberta Health Services — erected the three-layer fence around the Edmonton church's building last Wednesday and, on Sunday, locals disturbed by the raid and subsequent closure tore down the chain-link barrier as they protested the government and police.
Somewhere between 300 and 400 demonstrators reportedly showed up at the church's facility Sunday and began singing Christian hymns.
The Justice Centre for Constitutional Freedoms, the law firm representing GraceLife and its formerly jailed pastor, James Coates, said in a statement that, while they appreciate "the public outpouring of support to fully open churches in Alberta," GraceLife congregants did not participate in the demonstration outside the facility.
"GraceLife Church has no control of our church or grounds at this time," read the statement. "The church grounds are fully under the responsibility and control of the RCMP and Alberta Health Services. The closing of the GraceLife facility has understandably resulted in significant public outrage and caused even larger crowds to gather in one place."
"Albertans have a constitutional right to assemble, associate, and worship," it continued. "By taking the measures the government has, while the matter is still pending before the courts, the Alberta government has created an even more divisive situation."
MacArthur pointed out that, of the 4.4 million people living in Alberta, the province has recorded 2,013 COVID-19 deaths, more than half of which were people aged 80 years and older.
Citing those statistics, MacArthur said the Albertan government has "no legitimate reason" to forcibly shutter GraceLife for continuing to hold worship services in defiance of an Alberta Health Services order mandating the church limit its attendance to just 15% of its facility's total occupancy.
"This is a first for the Western world," MacArthur said, "to have the government lockout believers from a church."
As protesters began tearing down the fencing around GraceLife, which was allegedly first approved by Alberta Health Minister Tyler Shandro, RCMP officers starting putting the barrier back up, according to a report from Western Standard. The outlet noted that "dozens of RCMP cruisers" blocked access to the roads leading to the GraceLife worship center.
Shandro, it should be noted, has denied approving the barricade.
Ahead of his sermon Sunday, MacArthur read a letter from Coates, a graduate of the seminary affiliated with Grace Community Church, thanking the California congregation for its steadfast support of him and GraceLife.
The provincial government has dropped most of its charges against Coates, who was released from jail in late March after spending a little more than a month behind bars. The pastor does, however, still face a fine of $1,500 and a charge for violating health orders on capacity limits.
His trial is scheduled to begin May 3, but government officials are attempting to delay the court hearings.
John Carpay of the Justice Centre is arguing there is no reason for a delay because the government has known "for many months" that it would be called to make the case in court for its burdensome lockdowns and COVID-19 restrictions. In a statement issued last week, Carpay said the government has had more than a year "to assemble proper medical and scientific evidence to justify lockdowns" and does not need more time.
He went on to rebuke the restrictions as "unconscionable and completely undemocratic."
"Why is the government afraid of tough questions?" Carpay asked. "And why, in our 13th month of lockdowns, with three months' notice of the trial set for May 3, does the government require until July 2021 to assemble medical and scientific evidence?"
JUDGE REFUSES TO TOSS CASE AGAINST DEFIANT LOUISIANA PASTOR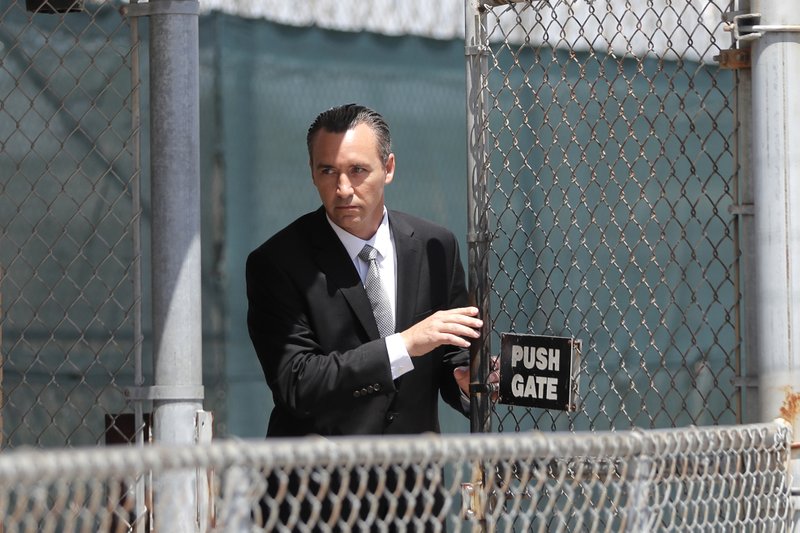 APNews BATON ROUGE, La. — A judge has refused to toss out six criminal complaints filed against a Louisiana pastor charged with violating coronavirus gathering capacity rules put in place during the early days of the pandemic.
Nineteenth Judicial District Judge Eboni Johnson-Rose on Monday dismissed pastor Tony Spell's motion to have the case against him dropped, news outlets reported.
The judge's ruling sided with a special assistant to the District Attorney who argued that when the charges were filed in the early days of the outbreak, New Orleans was a national coronavirus hotspot and Louisiana was under a declared emergency, The Advocate reported.
Prosecutors alleged Spell violated public gathering capacity limits Gov. John Bel Edwards put in place during that emergency last spring by continuing to host worship services at his Life Tabernacle Church in Baton Rouge with hundreds in attendance. He was accused six times in March 2020 of violating the orders, which limited public gatherings first to 50 people, then to just 10.
Spell contended the First Amendment protected his right to gather in large groups, and his attorney, Jeff Wittenbrink, argued that Edwards' orders illegally singled out and restricted religious organizations.
The pastor said he did not attend his hearing Monday because he refused to wear a mask inside the courthouse. He and more than a dozen of his supporters and church members instead gathered across the street to protest the charges, with Spell later telling The Advocate that the judge "ruled against God" by not voiding his offenses.
Spell has pleaded not guilty to the misdemeanor charges and, if convicted, could face jail time and up to $3,000 in fines. He was set to appear in court again in March.
Spell said he would appeal the decision.
Police in Greenville, Miss., issued $500 tickets to Christians who gathered in a church parking lot to worship together in the safety of their cars on Wednesday. The Christians at Temple Baptist Church intended to honor coronavirus social distancing restrictions while gathering to worship God, but the police cracked down, regardless.
Charles E. Hamilton Jr., pastor of King James Bible Baptist Church, raised the alarm on Facebook Wednesday evening.
"The police in Greenville, MS went to Temple Baptist Church this evening and gave everyone there a ticket for $500 because they had a drive in service," Hamilton posted. "Everyone was in their cars with the windows up listening to pastor Arthur Scott preached on the radio. What is harmful about people being in their cars listening to preaching with their windows up? Christians do you all see what is going on?"
Parishioner Chris Owens shared a video of a police officer giving him a citation for attending the drive-in worship service. In the video, Owens explains that the church wanted to comply with social distancing rules while still meeting for worship. The officer issues the citation, regardless.
"One of the police officers said the mayor wanted to make an example of our church," Temple Baptist Church Pastor Arthur Scott told Todd Starnes. "I told them to get some more tickets ready because we will be preaching Sunday morning and Sunday night."
The elderly pastor said that as many as 25 cars were in the parking lot for the service and everyone in the cars was ticketed. Scott has pastored the church for 45 years.
"The police officer said I might go to jail," Scott added. "If it means going to jail and if it takes that for me to keep preaching, I'll be glad to go to jail."
Gov. Tate Reeves (R-Miss.) issued a stay-at-home order on April 1. On Wednesday, Reeves said he will not shut down churches, but he did encourage them not to hold Easter services in person.
"The government does not have the right to shut down places of worship," the governor said. "If you start taking people's rights away, very rarely does the government ever give them back to them."
He encouraged churches not to meet, but would not enforce a rule.
"Mississippi is not China, and it never will be," Reeves insisted.
Earlier, the governor had acknowledged that some churches were holding drive-in services, allowing cars to park outside the sanctuary to have socially distant prayer and listen to a pastor's message on the radio. Reeves said he does not believe the government has the power to shut down churches, but he discouraged drive-in services.
"It's just hard to overcome our natural tendency to get out and say hello," he said last week.
Yet Greenville Mayor Errick Simmons, a Democrat who has endorsed Joe Biden, and the city council banned churches from hosting drive-in services on Tuesday.
"The City of Greenville put in place an Executive Order that orders all church buildings closed for in person and drive in church services, until the State of Mississippi's Shelter In Place Executive Order No. 1466 is lifted by Governor Tate Reeves. Churches are strongly encouraged to hold services via Facebook Live, Zoom, Free Conference Call, and any and all other social media, streaming, and telephonic platforms," the order read.
On Thursday, the religious freedom law firm First Liberty sent Simmons a demand letter, urging the mayor to retract the order. First Liberty represents Hamilton, pastor of the nearby King James Bible Baptist Church, who is also hosting drive-in services on Easter Sunday. The demand letter claims that Simmons' order violates the First Amendment right to free exercise of religion by singling out churches for unusual restrictions.
"Religious liberty is not suspended during a pandemic. American's can tolerate a lot, if it means demonstrating love for their fellow man, but they will not—nor should not—tolerate churchgoers being ticketed by the police for following CDC guidelines at church. This has to stop now," Jeremy Dys, special counsel for litigation and communications at First Liberty, told PJ Media in a statement on Thursday.
Tyler O'Neil is the author of Making Hate Pay: The Corruption of the Southern Poverty Law Center. Follow him on Twitter at @Tyler2ONeil.
There is no doubt that persecution is a stark reality of living the Christian life. Christian persecution is to be expected: the apostle Paul warned that "everyone who wants to live a godly life in Christ Jesus will be persecuted" (2 Timothy 3:12). Jesus said that, if they persecuted Him, they will also persecute His followers (John 15:20). Jesus made it clear that those of the world will hate Christians because the world hates Christ. If Christians were like the world—vain, earthly, sensual, and given to pleasure, wealth, and ambition—the world would not oppose us. But Christians do not belong to the world, which is why the world engages in Christian persecution (see John 15:18–19). Christians are influenced by different principles from those of the world. We are motivated by the love of God and holiness, while the world is driven by the love of sin. It is our very separation from the world that arouses the world's animosity (1 Peter 4:3–4).
Christians must learn to recognize the value of persecution and even to rejoice in it, not in an ostentatious way but quietly and humbly because persecution has great spiritual value. First, the persecution of Christians allows them to share in a unique fellowship with the Lord. Paul outlined a number of things he had surrendered for the cause of Christ. Such losses, however, he viewed as "rubbish" (Philippians 3:8) or "dung" (KJV) that he might share in the "fellowship of [Christ's] sufferings" (Philippians 3:10). The noble apostle even counted his chains as a grace (favor) that God had bestowed upon him (Philippians 1:7).
It's worth noting that the spirit of Antichrist is already at work even now, and this growing Christian persecution is certainly an indicator of the nearness of the Lord's return and may very well be setting the stage for end time persecution that's certainly coming. What you are witnessing now in the increased hostility toward true Christians here in the West is but a sampling of the all-out persecution that will take place as history comes to a close. John 15:18
Look at the trend in recent years: Florists, bakers, photographers, and other business owners being fined and made to attend sensitivity or diversity training as a result of standing firm in their faith. Then there is the squelching of the faith our children have in Jesus. There are numerous examples of how free speech and freedom of creative expression are just fine in the classroom and all subjects are on the table except one: Jesus.
This world celebrates the lives of the wicked and vilifies the lives of the righteous. We are certainly living in a day when evil is called good and good is called evil. Christians are increasingly vilified because we won't bow the knee and join in the celebrating of what this world calls acceptable. Isaiah 5:20
In parts of Europe and Canada, verses from the Bible and sermons containing them are being labeled as hate speech. Pastors in Scotland and the Netherlands have been arrested and fined for hate speech because they read from verses in the book of Leviticus or elsewhere.
Times are changing and so are western views regarding religion. Pluralism and tolerance of religious expression and beliefs increasingly apply to all but one group: Christians. The World Council of Churches promotes a culture of multi-faiths and denounces Christian 'religious superiority.'
Second, in all truth, Christian persecution is good for believers. James argues that trials test the Christian's faith, develop endurance in his life, and help develop maturity (James 1:2–4). As steel is tempered in the forge, trials and persecution serve to strengthen the character of believers. A Christian yielding graciously to persecution demonstrates that he is of superior quality as compared to his adversaries (see Hebrews 11:38). It's easy to be hateful, but Christlikeness produces kindness and blessing in the face of evil opposition. Peter says of Jesus, "When they hurled their insults at Him, He did not retaliate; when He suffered, He made no threats. Instead, He entrusted Himself to Him who judges justly" (1 Peter 2:23).
Third, Christian persecution enables believers to better value the support of true friends. Conflict can bring faithful children of God together in an encouraging and supportive way they might not have known otherwise. Hardship can stimulate the Lord's people toward a greater resolve to love and comfort one another and lift one another to the throne of grace in prayer. There's nothing like an unpleasant incident to help us reach a greater level of brotherly love.
Even in the face of Christian persecution, we can press on. We can thank God for His grace and patience with us. We can express gratitude for those whom we love in the Lord and who stand with us in times of distress. And we can pray for those who would accuse, misuse, or abuse us (2 Corinthians 11:24; Romans 10:1).
Federal district court: "Louisville has targeted religious worship by prohibiting drive-in church services, while not prohibiting a multitude of other non-religious drive-ins and drive-throughs — including, for example, drive-through liquor stores.
"Judge grants Louisville church's temporary restraining order against Mayor Fischer to allow…Judge Justin Walker called Fischer's decision "stunning," and "beyond all reason, unconstitutional."wdrb.com
"Are evangelical Christians rapidly becoming one of the most hated minorities in America?"
The reluctance of evangelicals to speak out against homosexuality is often cited as proof they are being forced into the closet.
Joe Carter, editor for The Gospel Coalition, an online evangelical magazine, wrote a blog post entitled "Debatable: Is the Christian Church a 'Hate Group'?" He warned that young people will abandon "orthodox" Christian churches that teach that homosexuality is a sin for fear of being called haters.
"Faux civility, embarrassment, prudishness and a fear of expressing an unpopular opinion has caused many Christians to refrain from explaining how homosexual conduct destroys lives," Carter wrote.
Some Christians fear that opposing homosexuality could cause them to lose their jobs and "haunt them forever," Carter says.
"It's easier to just go along," says Carter, who is also author of "How to Argue Like Jesus." "You don't want to be lumped in with the bigots. That's a powerful word."
Edward Johnson, a communication professor at Campbell University in North Carolina, says we are now living in a "postmodern" era where everything is relative and there is no universally accepted truth. It's an environment in which anyone who says "this is right" and "that is wrong" is labeled intolerant, he says.
There was a time when a person could publicly say homosexuality was wrong and people could consider the statement without anger, he says. Today, people have reverted to an intellectual tribalism where they are only willing to consider the perspective of their own tribe.
"They are incapable of comprehending that someone may have a view different than theirs," Johnson says. "For them anyone who dares to question the dogma of the tribe can only be doing so out of hatred."
Sprigg, from the Family Research Council, says his condemnation of homosexual conduct does not spring from intolerance but a desire to protect gays from harmful conduct, he says.
Sprigg, a senior fellow for policy studies at the council, wrote in a council pamphlet that homosexual men are more likely to engage in child sexual abuse than are straight men. He also wrote that gay men are also afflicted with a higher rate of sexually transmitted diseases and mental illness as well.
Sprigg says he does not believe homosexuality is a choice and that "personal testimonies" and "clinical experience" show that some people "can and do change from gay to straight."
"Maybe we need to do a better job of showing that we are motivated by Christian love," Sprigg says. "Love is wanting the best for someone, and acting to bring that about."
'That's a lie'
Potok, from the Southern Poverty Law Center, has little use for the love Sprigg talks about.
He calls it hatred, and his voice rose in anger when he talked about the claims by Sprigg and other Christian groups that gay men are more predisposed to molest children and that homosexual behavior is inherently harmful.
He says the Southern Poverty Law Center didn't designate the Family Research Group a hate group because they view homosexuality as a sin or oppose same-sex marriage, Potok says. There are plenty of Christian groups who hold those beliefs but are not hate groups, he says.
A group becomes a hate group when it attacks and maligns an entire class of people for their "immutable characteristics," Potok says. The Family Research Council spreads known falsehoods about gays and lesbians, he says, such as the contention that gay men are predisposed to abuse children.
"That's a lie," Potok says. "These guys are engaging in straight-up defamation of a very large group of people. There are not many things much worse than you can say in America about somebody than they are a child molester."
Potok scoffed at Spriggs' claim that the council and other evangelical anti-gay groups are victims of intolerance.
"That's whining on the part of people who spend their days and nights attacking gay people and then some people criticize them and they don't like it," he says. "That's pathetic. It reminds me of slave owners complaining that people are saying ugly things about them."
What the Bible says
What about the popular evangelical claim, "We don't hate the sinner, just the sin" – is that seen as intolerance or hate speech when it comes to homosexuality?
There are those who say you can't hate the sin and love the sinner because being gay or lesbian is defined by one's sexual behavior; it's who someone is.
"Most people who identify as gay and lesbian would say that this is not an action I'm choosing to do; this is who I am," says Timothy Beal, author of "The Rise and Fall of the Bible: The Unexpected History of an Accidental Book."
Beal, a religion professor at Case Western University in Ohio, says it should be difficult for any Christian to unequivocally declare that the Bible opposes homosexuality because the Bible doesn't take a single position on the topic. It's an assertion that many scholars and mainline Protestant pastors would agree with.
Some people cite Old Testament scriptures as condemning homosexuality, such as Leviticus 18:22 – "If a man lies with a male as with a woman, both of them have committed an abomination." But other Christians counter by saying they are not bound by the Old Testament.
There are those who also cite New Testament scriptures like Romans 1:26-27 – "… Even their women exchanged natural sexual relations for unnatural ones. In the same way the men also abandoned natural relations with women and were inflamed with lust for one another. Men committed shameful acts with other men. …"
Beal, however, says Jesus said little about sex. And the Apostle Paul, who wrote Romans, was probably referring to male prostitution and men having sexual relations with boys, a practice in the Greco-Roman world.
"Paul does not understand genetics and sexual orientation the way we understand it now as something much more than a choice," says Beal.
Some evangelicals say Christians can't change their view of biblical truth just because times change. But some scholars reply:
Sure you can. Christians do it all the time.
Denying a woman's ability to preach in church was justified by scriptures like 1 Timothy 2:11-12 – "… I do not permit a woman to teach or to assume authority over a man; she must be quiet." But many churches have abandoned that teaching – and some scholars say a woman preached the first Christian sermon, when Mary Magdalene proclaimed that Jesus had risen.
Slaveholders in 19th century America justified slavery through a literal reading of the Bible, quoting Titus 2:9-10 – "Teach slaves to be subject to their masters in everything. …" And anti-Semitism was justified by the claims that Jews killed Jesus, such as Matthew 27: 25-26 – "Let his blood be on us and on our children."
Litfin, from Moody Bible Institute, acknowledged that the Bible once sanctioned slavery, but he said that practice was a "cultural expression" that changed over time. Evangelicals who oppose same-sex marriage by citing the Bible are on more solid ground, he says.
"Marriage is a universal and timeless institution that God set up for maximum human flourishing. He set it up in the first book of the Bible with the story of Adam and Eve. It is consistent throughout the whole Bible. … Marriage is in a different category than those cultural things."
Public jousts over the Bible's stance on homosexuality rarely change people's minds. What changes is when people get to know gay and lesbian people as friends and hear their story, says Beal, author of "The Rise and Fall of the Bible."
"If you open up to that other person genuinely, you basically come to a point where you have to sacrifice them to your ideology or crack open your ideology to make a hospitable place for them," Beal says.
One Christian pastor who is gay says the uproar over the ESPN commentator's comments can actually be good, because debates help settle moral disputes.
"What appears to us as antiquated and prejudicial now was once a disputed issue that required debate," says the Rev. Richard McCarty, a minister in the United Church of Christ and a religious studies professor at Mercyhurst University in Pennsylvania.
Until the debate over homosexuality is settled – if it ever is – there may be plenty of evangelical Christians who feel as if they are now being forced to stay in the closet.
https://hnewswire.com/the-signs-are-all-around-christian-persecution-coming-to-america/
Carter, the evangelical blogger, says he foresees a day when any church that preaches against homosexuality will be marginalized. Just as many churches now accept divorce, they will accept sexual practices once considered sinful.
"It's getting to the point," he says, "where churches are not going to say that any sexual activity is wrong."
Is it wrong to live lives as secret Christians for fear of reprisal or even death? Should Christians be willing to die for confessing the name of Jesus? Should we keep our faith secret in order to preserve our lives? This is a question that is only hypothetical for Christians in many parts of the world, with the worst persecution they could receive being ridicule and/or insults. However, for Christians in some parts of the world, this question is very real and practical—their lives literally are at risk. It is one thing to not be as bold as you would like in order to protect your own life and/or the lives of your family. It is another thing entirely to make your own life a higher priority than serving, honoring, worshipping, and obeying Christ. So, with that said, is it wrong to keep your faith in Christ a secret?
Jesus Himself gives us the answer: "Therefore whoever confesses Me before men, him I will also confess before My Father who is in heaven. But whoever denies Me before men, him I will also deny before My Father who is in heaven. Do not think that I came to bring peace on earth. I did not come to bring peace but a sword" (Matthew 10:32-34). Christ made it clear to us that "if the world hates you, you know that it hated Me before it hated you. If you were of the world, the world would love its own. Yet because you are not of the world, but I chose you out of the world, therefore the world hates you" (John 15:18-19). So, while it is understandable for someone to keep his/her faith in Christ a secret in order to save his/her life, for a Christian, a secret faith is simply not an option.
In the passage above, the word "world" comes from the Greek kosmos. It refers to an evil, fallen world system of godless, immoral people whose hearts and minds are controlled by Satan (John 14:30; 1 John 5:19; Ephesians 2:1-3). Satan hates God. He also hates those who follow Christ. Christians are the focal point of Satan's wrath. His goal is to "devour" them (1 Peter 5:8; Ephesians 6:11). We should not be surprised that the world's rulers hate believers simply because we "are not of the world." The reason why Christians are being persecuted and killed daily for their confession of Christ is that our godly lives serve to condemn this world's wicked deeds (Proverbs 29:27). It has been this way from the beginning of time with the first murder ever recorded when Cain killed Abel (Genesis 4:1-8). Why did Cain do this? "Because his own actions were evil and his brother's were righteous" (1 John 3:12). Correspondingly, the world today cheers those who practice evil (Romans 1:32) and condemns those who would live righteously.
Another message that Jesus brought to the world: "They [the world] will deliver you up to tribulation and kill you, and you will be hated by all nations for My name's sake" (Matthew 24:9). Jesus has promised us this: at the end times Christians will suffer severe persecution by this ungodly world. We will be profaned, abused, and cursed. The phrase "will deliver" comes from the Greek word meaning "giving over," as in the sense of being arrested by the police or military (Matthew 4:12). Many will be murdered. We will be "hated by all nations" for His name's sake. In the parallel passage of Mark, Jesus declares, "But watch out for yourselves, for they will deliver you up to councils, and you will be beaten in the synagogues. You will be brought before rulers and kings for My sake, for a testimony to them" (Mark 13:9). As we are witnessing today throughout the world, being identified with the name of Christ will cost us our freedoms, our rights, our respect, and sometimes our lives.
Christians have a mandate from Christ to "go therefore and make disciples of all the nations, baptizing them in the name of the Father and of the Son and of the Holy Spirit" (Matthew 28:19). Paul echoes Christ's directive with this query: "How then shall they call on Him in whom they have not believed? And how shall they believe in Him of whom they have not heard? And how shall they hear without a preacher? And how shall they preach unless they are sent? As it is written: 'How beautiful are the feet of those who preach the gospel of peace, who bring glad tidings of good things!'" (Romans 10:14-15). In order for the gospel to be proclaimed, even in the darkest corners of the earth, someone must do the proclaiming. Our purpose on earth is to be the light of the world and the salt of the earth, telling others the life-saving news of Jesus Christ. Yes, sometimes we risk persecution in doing so, and sometimes we risk our own lives. But we know it is God's will that we share His truth with others, and we also know He is powerful enough to protect us until our mission on earth is completed.
Living for Christ in this world can be difficult, even brutal. This world is not our home. The world is a battlefield. The trials of life are the tools God uses for building us up and making us more like Jesus. It is in those dark times that we look to Christ and let His power work within us. Just before His ascension into heaven, Jesus gave us His final command to spread the gospel to the world. With that He also gave us His final promise. "And lo, I am with you always, even to the end of the age" (Matthew 28:20). And that is all that matters.
Every year, Open Doors USA, a bipartisan grassroots organization, has released a list of the 50 most dangerous countries for Christians. North Korea topped the list for the 19th year in a row, but China became the focus this year because of its forced labor camps and oppression of Uighur Muslims that's expected to spread and worsen.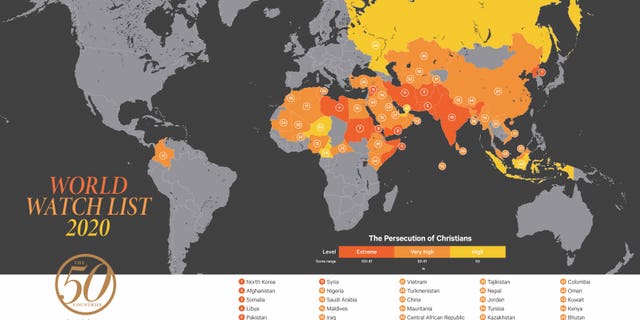 Watchdog organization Open Doors USA released its annual "World Watch List" on Christian persecution, which is largely concentrated in Africa, the Middle East and Asia. (Open Doors USA)
Source: pjmedia.com HNewsWire
StevieRay Hansen
Editor, HNewsWire.com
HNewsWire- "All political language is designed to make lies sound truthful and murder respectable." Just look at some of our modern day examples: torture is "enhanced interrogation techniques"; murder is "collateral damage"; the aggression initiation of war is a "pre-emptive strike"; the theft of taxpayers' money is a "bailout"; and the theft of depositors' money in a bank is a "haircut" or "bail-in".In a blatant example of Newspeak, the New World Order controllers (through the psychiatric DSM V) have tried to rename pedophiles as "minor-attracted persons" and redefine pedophilia as a "sexual orientation". This makes no sense, since sexual orientation has to do with gender not age, with whether you are attracted to males or females, not how old they are. There are even organizations (like B4UAct.org) which are claiming that pedophiles are being unfairly stigmatized for their feelings!
MY MISSION IS NOT TO CONVINCE YOU, ONLY TO INFORM…
Jesus come quick, there is nothing left in society that's sacred….
"Have I therefore become your enemy by telling you the truth?"
The 127 Faith Foundation: We do not solicit donations from "those on disability, on a fixed income, or those who cannot afford to give." Please Pray!
Or, make checks payable to:
The 127 Faith Foundation
PO Box 127
Pontotoc, TX 76869
The number of Orphans aging out of Child Protective Custody has grown at an alarming rate. The 127 Faith Foundation receives many requests each week to house them at our ranch. Our prayer is that the good people of our country will step up to the challenge and offer financial support for "the least among us." We need your help! StevieRay Hansen, Founder, The 127 Faith Foundation
We make every effort to acknowledge sources used in our news articles. In a few cases, the sources were lost due to a technological glitch. If you believe we have not given sufficient credit for your source material, please contact us, and we will be more than happy to link to your article.