Advisory: Be careful of what you read on social media. The algorithms used by these platforms have no regard for Biblical truth. They target your emotions to keep you engaged on their site so their advertisers can drop more ads. These platforms exist to enrich their stockholders. Consider God's promise to Believers in James 1:5, "If any of you lacks wisdom, you should ask God, who gives generously to all without finding fault, and it will be given to you."
Looking to Bring Gates Into Court for Crimes Against Humanity This Guy Is a Psychopath…
Bill Gates insisted last week that 'conspiracy theories' involving the Gates Foundation and the Microsoft founder's alleged hidden agenda to use vaccines as a cover for his nefarious micro-chipping project were utter nonsense. Apparently, Gates failed to grasp that this is exactly the kind of denial that a villainous billionaire might give.
Whether or not you take the Gates-related 'conspiracy theories' seriously, the Microsoft founder clearly sees them as enough of an annoyance that he felt compelled to address the trend again during a Tuesday morning appearance on CNBC.
Responding to a question from interviewer Andrew Ross Sorkin about social media's role in spreading the conspiracies, Gates on Wednesday denied conspiracy theories that accuse the tech mogul and philanthropist of wanting to use coronavirus vaccines to implant tracking devices in people, and also said he hoped that the public's understanding of "the truth" would improve as the world gets closer to a vaccine.
"Very incorrect things that are very titillating…can spread much faster than the truth on social media, and we've always seen that with vaccines….social media can make that even worse…these social media companies can see what is being said on their platform and take things that are absolutely wrong and remove those things from the platform."

"How you divide that up, and draw that line…these are complex issues. It has been a spreader of lot of things…and how do you strike a balance?"
Would Gates take a harder line, the Sork asked, citing Mark Zuckerberg's commitment to be "all over" this type of misinformation.
Gates responded that Facebook can't intervene on Whatsapp since communications between users are encrypted. "Is that appropriate?" Gates said, expressing some skepticism about the risk of fostering criminal activity, though he said he doubted it would come up in tomorrow's hearing.
Asked to weigh in on the anti-trust push targeting Silicon Valley, Gates offered a mealymouthed response that was tantamount to a soft-endorsement of the status quo as far as 'Big Tech' is concerned.
"I do think people underestimate that natural competitive forces do come into this space…as mobile phones came in that was very competitive…even without massive regulation, there will be a lot of innovation," Gates said.
Is that really a surprise? After all, Gates and his wife may have donated nearly $2 billion to the vaccine research cause over the past few months. Gates insists that all he wants is to help defeat the coronavirus, and that may be true. But intelligent, capable people can still fall victim to their own biases. And whether a vaccine will ultimately bring about the end of the global pandemic still remains to be seen.
In February, the Bill and Melinda Gates Foundation said it was donating $100 million to vaccine research and treatment efforts for the coronavirus. It was announced as part of the WHO's request for $675 million in contributions to fight the spread of the virus. In June, the foundation pledged an additional $1.6 billion to the Gavi vaccine alliance, an organization focused on efforts to immunize children amid the coronavirus pandemic.
But whatever Gates hoped to accomplish with these responses, adding his voice to the growing chorus of people calling for expanded censorship on social media certainly isn't going to help dissuade his critics.
If anything, that just leads to unnecessary controversies like this: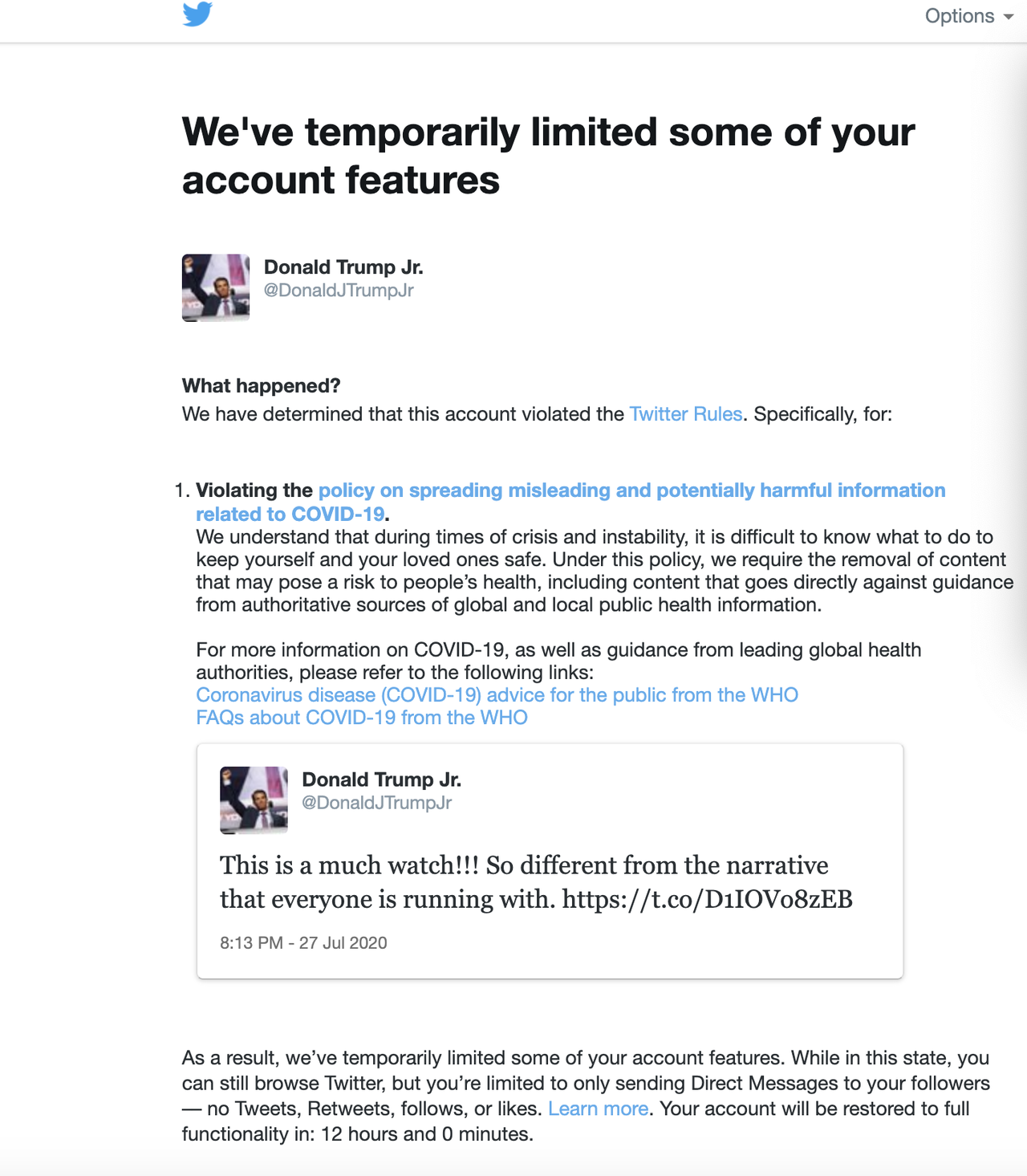 "Truth is the first casualty of war."
India Holds Bill Gates Accountable For His Vaccine Crimes
As Bill Gates faces a lawsuit for the illegal testing of tribal children in India, it appears that his crimes against humanity have finally caught up with him.
A recent report published by Health Impact News has reported that the Gates Foundation has found itself facing a pending lawsuit, due to an investigation that is being carried out by the Supreme Courts of India.
Health Impact News stated:
"While fraud and corruption are revealed on almost a daily basis now in the vaccine industry, the U.S. mainstream media continues to largely ignore such stories. Outside the U.S., however, the vaccine empires are beginning to crumble, and English versions of the news in mainstream media outlets are available via the Internet.
One such country is India, where the Bill & Melinda Gates Foundation and their vaccine empire are under fire, including a pending lawsuit currently being investigated by the India Supreme Court." [1]
The Health Impact News article centered largely on a four-page report that was recently published by Economic Times India.
Eager to know more, I investigated their story and discovered that the World Health Organization, the Gates Foundation and two organizations funded by them, PATH (Program for Appropriate Technology in Health) and GAVI (Global Alliance for Vaccines and Immunization), have found themselves under fire, after a writ of petition originally submitted to the Supreme Court of India, by Kalpana Mehta, Nalini Bhanot and Dr. Rukmini Rao in 2012, was finally heard by the courts.
The petitioners submitting the petition stated:
"BMGF, PATH and WHO were criminally negligent trialling the vaccines on a vulnerable, uneducated and under-informed population school administrators, students and their parents who were not provided informed consent or advised of potential adverse effects or required to be monitored post-vaccination." [2] [adrotate banner="9″]
Young Tribal Girls Tested With HPV Vaccines
The Economic Times India published their report August 2014. They stated that in 2009, tests had been carried out on 16,000 tribal school children in Andhra Pradesh, India, using the human papiloma virus (HPV) vaccine, Gardasil.
According to the report written by KP Narayana Kumar, within a month of receiving the vaccine, many of the children fell ill and by 2010, five of them had died. A further two children were reported to have died in Vadodara, Gujarat, where an estimated 14,000 tribal children were vaccinated with another brand of the HPV vaccine, Cervarix, manufactured by GlaxoSmitheKline (GSK).
Shockingly, the report stated that many of the consent forms used to vaccinate the girls were signed "illegally," either by the wardens from the hostels where many of the girls resided, or using thumbprints from illiterate parents.
This travesty was not discovered until a team of health activists from the non-government organization SAMA, an organization specializing in women's health, decided to investigate what had been going on.
According to the report, they were shocked to discover that a total of 120 girls had been taken ill, suffering from a variety of symptoms, including "epileptic seizures, severe stomach aches, headaches and mood swings."
The Economic Times stated:
"The Sama report also said there had been cases of early onset of menstruation following the vaccination, heavy bleeding and severe menstrual cramps among many students. The standing committee pulled up the relevant state governments for the shoddy investigation into these deaths.
It said it was disturbed to find that 'all the seven deaths were summarily dismissed as unrelated to vaccinations without in-depth investigations …' the speculative causes were suicides, accidental drowning in well (why not suicide?), malaria, viral infections, subarachnoid hemorrhage (without autopsy) etc."
This information is even more shocking when you discover that the organization funding the study was none other than the Bill and Melinda Gates Foundation, who declared the project a total success.
Kumar wrote:
"According to the BMGF, the WHO, the International Federation of Gynaecology and Obstetrics, and the Federation of Obstetric and Gynaecological Societies of India have all recommended vaccination 'as a proven and highly effective preventive measure for cervical cancer.' The project used vaccines that are licensed in India and that have been administered safely around the world tens of millions of times, preventing countless cases of cervical cancer illness and death, 'maintains a BMGF spokesperson in an emailed response (see GAVI & PHFI create incentives …'"
He continued:
"BMGF's role in funding the controversial studies, however, has led to many healthcare activists in India voicing their apprehensions. 'BMGF has to take full responsibility because PATH is funded by them. It is also unethical when people championing the cause of vaccines are the same ones who are also investing in vaccine development,' said V Rukmini Rao, one of the activists who filed a writ petition before the Supreme Court in connection with the HPV vaccine studies." [3]
Absolutely, and this is not the first time that these organizations have been caught illegally testing vaccines in developing countries.
Gates Foundation, WHO, PATH, GAVI, UNICEF Behind Chad Vaccine Disaster
In December 2012, in the small village of Gouro, Chad, Africa, situated on the edge of the Sahara Desert, five hundred children were locked into their school, threatened that if they did not agree to being force-vaccinated with a meningitis A vaccine, they would receive no further education.
These children were vaccinated without their parents' knowledge. This vaccine was an unlicensed product still going through the third and fourth phases of testing.
Within hours, one hundred and six children began to suffer from headaches, vomiting, severe uncontrollable convulsions and paralysis. The children's wait for a doctor began. They had to wait one full week for a doctor to arrive while the team of vaccinators proceeded to vaccinate others in the village.
When the doctor finally came, he could do nothing for the children. The team of vaccinators, upon seeing what had happened, fled the village in fear.
The original report written in a small, local newspaper called La Voix, the only newspaper to have published the original story, stated that forty children were finally transferred to a hospital in Faya and later taken by plane to two hospitals in N'Djamena, the capital city of Chad.
After being shuttled around like cattle, many of these sick, weak children were finally dumped back in their village without a diagnosis and each family was given an unconfirmed sum of £1000 by the government. No forms were signed and no documentation was seen. They were informed that their children had not suffered a vaccine injury.
However, if this were true, why would their government award each family £1000 in what has been described as hush money?
The only mainstream news channel to have highlighted the plight of these poor children was a local channel called Tchad, which filmed footage of the then-Prime Minister of Chad visiting the children in hospital.
VacTruth has copies of both reports, along with medical and government documents.
Despite this evidence and VacTruth's detailed and extensive coverage, including highlighting television footage, once again, the vaccine program was hailed a success. To watch videos reporting the story, see the references at the end of this article. [4] [5]
The groups involved with this project were PATH, WHO, UNICEF, and the Gates Foundation. During investigations, it was discovered that the whole project was being run by the Bill and Melinda Gates Foundation.
In a press release, the Gates Foundation stated:
"MenAfriVac is a tremendous success story for the global health community. It is the first vaccine developed specifically for Africa, and it proves that global partnerships can develop and deliver high-quality, low-cost vaccines.
Ten years ago, we invested in the Meningitis Vaccine Project, an innovative model that brought together PATH, the World Health Organization, African health ministers and the Serum Institute of India today, we celebrate the result: a modern vaccine selling for less than US 50 cents per dose with the potential to end Africa's deadly meningitis epidemics.
We believe that vaccines are one of the best buys in global health. In January, Bill and Melinda Gates called on the global community to make this the Decade of Vaccines. There is no better way to launch this decade than with a new vaccine that will improve and save lives." [6]
VacTruth can prove otherwise.
Government Inquiry Holds GAVI Accountable for Multiple Deaths
Despite the fact the Gates Foundation call vaccines "one of the best buys in global health," a government inquiry in Pakistan has found the complete opposite.
In 2011, the Express Tribune published a story stating that:
"ISLAMABAD: A government inquiry has found that polio vaccines for infants funded by the Global Alliance for Vaccination and Immunisation are causing deaths and disabilities in regional countries including Pakistan.
The startling revelation is part of an inquiry report prepared by the Prime Minister's Inspection Commission (PMIC) on the working of the Expanded Programme on Immunisation (EPI). The PMIC, headed by Malik Amjad Noon, has recommended that Prime Minister Yousaf Raza Gilani immediately suspend the administration of all types of vaccines funded by the GAVI."
According to the Express Tribune, the main vaccinations in question were the polio vaccine and the 5-in-1 pentavelent vaccine, which were said to be responsible for the deaths and disability of a number of children in Pakistan, India, Sri Lanka, Bhutan and Japan.
The vaccines were funded by the Global Alliance for Vaccination and Immunization (GAVI) an organization financed by the Bill and Melinda Gates Children's Vaccine Program, the International Federation of Pharmaceutical Manufacturers Association, the Rockefeller Foundation, the United Nations Children's Fund (UNICEF), the World Health Organization (WHO) and the World Bank.
Writing on the official report, made exclusive to the newspaper, the Express Tribune stated:
"The report states, 'The procured vaccines are not tested in laboratories to confirm their efficacy and genuineness. This leaves room for use of spurious and counterfeit vaccines.'" [7] (emphasis added)
If this is true, then once again the Gates Foundation has been linked to mass vaccination initiatives using untested, unsafe vaccinations.
The Gates Foundation and WHO Labeled Unethical by Medical Experts
In 2012, Ramesh Shankar Mumbai, an author writing for the Pharmabiz website, reported that two medical experts from India had accused the Gates Foundation and WHO of being unethical.
In his report, Mumbai stated that Dr. Neetu Vashisht and Dr. Jacob Puliyel of the Department of Pediatrics at St. Stephens Hospital in Delhi, wrote the following information in their report in the April issue of Indian Journal of Medical Ethics.
"It was unethical for WHO and Bill Gates to flog this program when they knew 10 years back that it was never to succeed. Getting poor countries to expend their scarce resources on an impossible dream over the last 10 years was unethical."
Pharmabiz.com reported that Dr. Vashisht and Dr. Puliyel had continued their report by stating:
"Another major ethical issue raised by the campaign is the failure to thoroughly investigate the increase in the incidence of non-polio acute flaccid paralysis (NPAFP) in areas where many doses of vaccine were used. NPAFP is clinically indistinguishable from polio paralysis but twice as deadly."
Pharmabiz.com continued:
"The authors noted that while India was polio-free in 2011, in the same year, there were 47500 cases of NPAFP. While data from India's National Polio Surveillance Project showed NPAFP rate increased in proportion to the number of polio vaccine doses received, independent studies showed that children identified with NPAFP 'were at more than twice the risk of dying than those with wild polio infection.'" [8]
The corruption and deceit by these organizations does not stop there.
The Gates Foundation Blamed for 10,000 Vaccine-Related Deaths
In 2013, yet another report named the Gates Foundation and GAVI as being responsible for multiple deaths using untested vaccinations on children from the developing world.
The report, published on the website Occupy Corporatism and written by Susanne Posel stated:
"It was found out through an investigation, that GAVI was using an untested vaccine; giving this dangerous vaccine to Pakistani children shows the lack of empathy associated with these organizations.
GAVI was blamed for the deaths of 10,000 children in Pakistan when they came in and administered polio vaccines that resulted in casualties." [9]
As we know, GAVI is heavily funded by the Gates Foundation. [10]
So, what was the name of the organization that investigated GAVI and found them using untested polio vaccinations in Pakistan?
According to the Express Tribune article, which I referred to earlier in this article, it was none other than the Indian government, who, upon discovering the shocking truth, recommended the immediate suspension of the administration of all types of vaccines funded by GAVI. [7]
In a recent radio show hosted by Sallie O. Elkordy, Susanne Posel gave her frank and honest views on the whole sorry mess that we find ourselves in today.
Warning: This report is not for the faint-hearted. [11]
Conclusion
It is difficult to believe that, despite the mounting evidence outlining the many crimes against humanity that have been committed by the Gates Foundation, GAVI, UNICEF and PATH, Bill Gates is portrayed as a hero among many.
However, according to the definition of hero in the Oxford Dictionary, the word hero means:
"A person, typically a man, who is admired or idealized for courage, outstanding achievements, or noble qualities." [12]
The dictionary I used said nothing about vaccinating innocent, vulnerable children with untested and unsafe vaccinations, causing them to suffer agonizing, untimely deaths.
Force is now the only rule remaining in deep state-controlled America. Everything else has collapsed….
Italian Lawmaker Demands Bill Gates Be Investigated for 'Crimes Against Humanity'
An Italian lawmaker has managed to bring the conspiracy blame-game to an entirely new level, exercising her parliamentary privilege to blast Bill Gates as a "vaccine criminal" and globalist tool.
Bill Gates and his latest anti-coronavirus efforts have been at the center of the wildest theories that explore possible sinister motives behind the billionaire's activities. In arguably the most high-profile outcry last week, an Italian MP for Rome Sara Cunial delivered a speech rarely (if ever at all) heard in any parliament.
In her passionate address, Cunial called upon fellow lawmakers to defy any plans for compulsory vaccination against Covid-19. Such endeavors are being pushed by the corrupt elites – the Deep State – she claimed, pointing the finger at Bill Gates as one of the main culprits behind the vaccination drive, if not the pandemic itself.
For decades, Gates has been working on depopulation policy and dictatorial control plans on global politics, aiming to obtain the primacy on agriculture, technology and energy.
Being a well-known anti-vax activist, Cunial singled-out Gates as the villain primarily because of the vaccination campaigns that his foundation has been conducting for years in less-developed countries. But while boldly accusing the billionaire of sterilizing millions of women in Africa and paralyzing hundreds of thousands of children in India, she also added a good pinch of GMOs and 5G tech to the dense conspiracy mix of his 'sins.'
The Italian politician also harshly criticized the anti-coronavirus lockdown measures that her country was among the first to impose. According to Cunial, the isolation serves the globalist agenda too, while the Italians have been subjected to a "holy inquisition of false science."
"It is our children who will lose more, who are 'raped souls,'" Cunial said. "In this way, the right to school will be granted only with a bracelet to get them used to probation, to get them used to slavery and involuntary treatment."
The real goal of all of this is total control. Absolute domination of human beings, transformed into guinea pigs and slaves, violating sovereignty and free will.
When hecklers attempted to interrupt her, the president of the chamber called to order – because in a "free parliament anyone has the right to express their opinion" – and scored a round of applause.ALSO ON RT.COM'Bill Gates seeks to microchip humanity!' Russian Oscar-winning director pushes vaccine conspiracy… loosely-based on REAL patent
Allowed to finish her speech, Cunial raised the stakes even further, pleading with the Italian PM to submit Gates to international justice – unless of course Giuseppe Conte is himself part of the global Deep State conspiracy.
Next time you receive a phone call from the philanthropist Bill Gates, forward it directly to the International Criminal Court for crimes against humanity.
While Bill Gates has often been a target of assorted conspiracy theories in the past, the ongoing coronavirus pandemic has ramped up interest in his persona. His quest for a vaccine against the Covid-19, as well as a recent Microsoft patent vaguely describing a device that tracks 'body activity,' caused a lot of fuss.
Despite the fact that Bill Gates has technically stepped down from Microsoft's board and is no longer associated with the corporation, while the 'sinister' patent WO/2020/060606 never mentioned any implants, some deduced the billionaire might be planning to sneakily microchip humanity under the guise of coronavirus vaccination… for reasons.
While Cunial's tirade might sound unprecedented, it's not particularly shocking coming from a fierce anti-vax activist who was expelled from the 5-Star Movement party last year over her dissenting views.
She also wouldn't be the first high-profile figure to scapegoat Gates. Russian Oscar-winning director Nikita Mikhalkov made headlines earlier this month after he, just like Cunial, sounded the alarm on national TV about an alleged plot to decimate and control the population of the planet. ALSO ON RT.COMCensors crack down on 'Plandemic' conspiracy documentary. What's so dangerous about it?
I'm sure the FEMA reeducation camps will welcome us with open arms.
The World Is In Big Trouble, for Those That Believe We Will Go Back to Some Sense of Normal Life Here on Earth, You Will Be Sadly Disappointed, Seven and Half Years of Hell on Earth Which Began January 1, 2020
"Our courts oppose the righteous, and justice is nowhere to be found. Truth stumbles in the streets, and honesty has been outlawed" (Isa. 59:14, NLT)…We Turned Our Backs On GOD, Now We Have Been Left To Our Own Devices, Enjoy…
While Mainstream Media Continues to Push a False Narrative, Big Tech Has Keep the Truth From Coming out by Shadow Banning Conservatives, Christians, and Like-Minded People, Those Death Attributed to the Coronavirus Is a Result of Those Mentioned, They Truly Are Evil…
Source: HNewsWire ZeroHedge vactruth www.rt HNewsWire HNewsWire
StevieRay Hansen
Editor, HNewsWire.com
Watchmen does not confuse truth with consensus The Watchmen does not confuse God's word with the word of those in power…
In police-state fashion, Big Tech took the list of accused (including this site), declared all those named guilty and promptly shadow-banned, de-platformed or de-monetized us all without coming clean about how they engineered the crushing of dissent, Now more than ever big Tech has exposed there hand engaging in devious underhanded tactics to make the sinister look saintly, one of Satan's greatest weapons happens to be deceit…
The accumulating death toll from Covid-19 can be seen minute-by-minute on cable news channels. But there's another death toll few seem to care much about: the number of poverty-related deaths being set in motion by deliberately plunging millions of Americans into poverty and despair.
American health care, as we call it today, and for all its high-tech miracles, has evolved into one of the most atrocious rackets the world has ever seen. By racket, I mean an enterprise organized explicitly to make money dishonestly.
All the official reassurances won't be worth a bucket of warm spit. The Globals are behind the CoronaVirus, It Is a Man-Made Bioweapon.
For those of you who care, Google and your favorite social media platforms have misled you, and now we all pay a heavy price for trusting the ungodly, Google and company, They knew exactly what they were doing, removing our history while preparing you to accept the New World Order playbook, Enjoy.
This mask shaming business has gone too far. I remember an America where everyone minded their own business and didn't invade the personal space of total strangers. But the mask shaming movement is a perfect opportunity for every busybody in the country to make everything their business.
Shaming people for what they believe, what they think, what they do has never been easier — or more popular. Soon those who don't participate in the shame game will be overwhelmed by those who do.
I'm sure the FEMA reeducation camps will welcome us with open arms.
Mainstream media mass Media is an irresistible psychological method of brainwashing that no person can escape from over a period of time. Mass Media, even…
Read More
We make every effort to acknowledge sources used in our news articles. In a few cases, the sources were lost due to a technological glitch. If you believe we have not given sufficient credit for your source material, please contact us, and we will be more than happy to link to your article.