Advisory: Be careful of what you read on social media. The algorithms used by these platforms have no regard for Biblical truth. They target your emotions to keep you engaged on their site so their advertisers can drop more ads. These platforms exist to enrich their stockholders. Consider God's promise to Believers in James 1:5, "If any of you lacks wisdom, you should ask God, who gives generously to all without finding fault, and it will be given to you."
The Bible Indicates That There Will Be a Great Apostasy During the End Times, Jerry Falwell Jr, the "Great Apostasy" That Is Mentioned in 2 Thessalonians 2:3. the Kjv Calls It the "Falling Away," While the Niv and Esv Call It "the Rebellion." and That's What Apostasy Is: A Rebellion, an Abandonment of the Truth. The End Times Will Include a Wholesale Rejection of God's Revelation, a Further "Falling Away" of an Already Fallen World.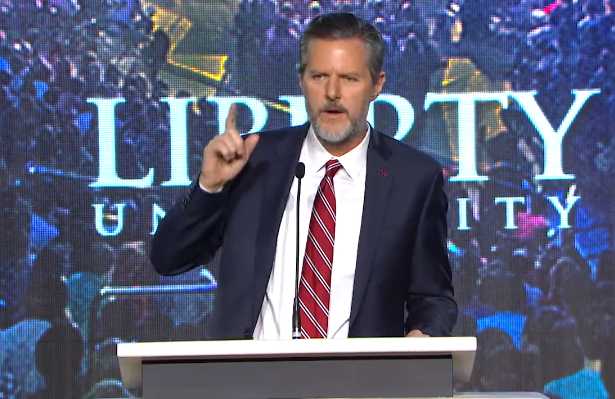 LYNCHBURG, Va. — Jerry Falwell Jr., the president of Liberty University, which touts itself as the world's largest Christian university, wrote a letter on Tuesday to a Republican congressman who recently received a no-confidence vote from a local GOP committee after he "happily" officiated a same-sex "wedding." Falwell, also seeing that some leaders of the Republican Party within the district were backing away from Rep. Denver Riggleman, asserted that it is wrong for the congressman to be excluded over "social issues." He advised that he plans to endorse Riggleman for reelection as he believes the party needs to be a "big tent" and unite.
"It is my understanding that certain leaders of the Republican Party in the 5th District are attempting to exclude you and others because of social issues," Falwell wrote. "I was told that they are assuming that because you officiated at a gay marriage recently, that you are not socially conservative."
"I believe that excluding other conservatives over issues that have already been decided by the U.S. Supreme Court does nothing but help the liberals gain more power," he opined. "There is nothing that anyone in the House of Delegates or the Virginia Senate can do to change the law on gay marriage or abortion until the U.S. Supreme Court reverses its previous positions, WRONG.
Falwell asserted that his logic is "common sense," and that if Republicans do not unite and think pragmatically, the liberals will win. He said that he wants to see Republicans retain control of the House of Delegates and the state Senate in November.
"I hope that the less pragmatic members of the party will wake up and realize that, in the words of Ben Franklin, 'We must all hang together or most assuredly we will all hang separately,'" Falwell wrote. "I intend to endorse you in your bid for reelection in 2020 in light of your liberty-minded conservatism and our shared values."
He also expressed the hope that he would see Riggleman at an upcoming fundraiser, which will also be attended by Robert Hurt, the executive director of Liberty University's Center for Law and Government. Riggleman had been invited to Liberty University in March by student groups such as Young Americans for Liberty, College Republicans, and Students at Liberty for Gun Rights.
Reports outline that on July 14, Riggleman officiated the "wedding" of campaign volunteers Alex Pisciarino and Anthony LeCounte, and expressed that he was "proud" to do so.
"My real belief is that government shouldn't be involved in marriage at all, but if it is, everybody has to be treated equally before the law," the congressman told the Washington Post. "And that is part of our Republican creed. And it also comes down to love is love. I'm happy to join two people together who obviously love each other."
Affiliate Links
Trending Authors
However, Riggleman also opposes the proposed Equality Act because of concerns about infringing parental rights, and he believes that the matter of transgenders serving the military needs additional study.
Because of his participation the ceremony, Wendell Johnson of the Fifth Congressional District Republican Committee presented a motion to formally rebuke Riggleman.
"I move that the committee censure Denver Riggleman for failing to uphold the Republican Party platform, [which] states 'marriage is between one man and one woman,'" he said, according to Newsweek.
While his initial effort was not successful, member Diana Shore put forward a vote of no confidence with the Cumberland County Republican Committee, which she chairs. It passed unanimously.
Mainstream Media Won't Tell You the TRUTH!
"I make this motion of no confidence in Congressman Denver Riggleman for his recent act in officiating a homosexual marriage and his lack of support for stronger border security and immigration policies," it read.
Riggleman's campaign responded to the vote by stating that the congressman was happy to officiate "and he is proud of these two young people who found their life partner."
As previously reported, Falwell has been an ardent supporter of President Trump, repeatedly asserting throughout Trump's presidential campaign that the then-candidate bears the fruit of one being born again because of his characteristic good deeds.
"I've seen his generosity to strangers, to his employees, his warm relationship with his children," he said on CNN's "Legal View With Ashleigh Banfield" on February 2016. "I'm convinced he's a Christian. I believe he has faith in Jesus Christ."
Falwell asserted that those who expressed concerns about Trump's behavior were violating the "judge not" clause in Matthew 7:1. WRONG…
"Jesus said, 'Judge not, lest ye be judged. Let's stop trying to choose the political leaders who we believe are the godliest because, in reality, only God knows people's hearts. You and I don't, and we are all sinners," he said in an interview with the Liberty University newspaper that same year.
He also told the Washington Post earlier this year that he doesn't believe that the teachings of Christ were meant to be used for public policy, but that the government should rather be "free of religious association."
"Jesus never told Caesar how to run Rome," Falwell told the Washington Post. "He went out of his way to say that's the earthly kingdom, I'm about the heavenly kingdom. And I'm here to teach you how to treat others, how to help others, but when it comes to serving your country, you render unto Caesar that which is Caesar's."
"You almost have to believe that this is a theocracy to think that way — to think that public policy should be dictated by the teachings of Jesus." Source
As Christian apologist Ravi Zacharias puts it, "The fact is, the truth matters – especially when you're on the receiving end of a lie." And nowhere is this more important than in the area of faith and religion. Eternity is an awfully long time to be wrong.
The people spreading concrete information on the dangers of globalism are accomplishing far more than those sitting around buying bitcoin or passing around Q-cult nonsense.
The man of lawlessness, according to 2 Thessalonians 2:4, is the one who "will oppose and will exalt himself over everything that is called God or is worshiped, so that he sets himself up in God's temple, proclaiming himself to be God." Clearly, this has not yet happened; no one since Paul's time has set himself up as God in the Jewish temple. Two thousand years have passed since the epistle was written, and the "day of the Lord" has not yet come. Paul assures us that it will not come until the falling away comes first.
The Greek word translated "rebellion" or "falling away" in verse 3 is apostasia, from which we get the English word apostasy. It refers to a general defection from the true God, the Bible, and the Christian faith. Every age has its defectors, but the falling away at the end times will be complete and worldwide. The whole planet will be in rebellion against God and His Christ. Every coup requires a leader, and into this global apostasy will step the Antichrist. We believe this takes place after the church has been raptured from the earth.
Jesus warned the disciples concerning the final days in Matthew 24:10–12: "At that time many will turn away from the faith and will betray and hate each other, and many false prophets will appear and deceive many people. Because of the increase of wickedness, the love of most will grow cold." These are the characteristics of the great apostasy of the end times.
StevieRay Hansen
Editor, HNewsWire.com
Let Me Make This Abundantly Clear. (I Am Apolitical) While I Have a General Distaste for Politicians No Matter the Party They Belong To, I Am Unashamedly Politically a Bible Believing Conservative Christian. I Have a Severe Distrust of Government. I Believe It Is the Most Inefficient and Ineffective Way to Accomplish Most Things. While I Strongly Disagree with Liberals/Progressives and Conservative on Most Political Issues, and While I Believe Liberals/Progressives and Most Politicians Are Terribly Misguided and Naive About What Big Government Will Eventually Result In, I Strive to Not Question Their Motives. at the Same Time, While I Find Myself in Agreement with Conservative Politicians on Some Issues, I Do Not Believe Electing Republicans Is the Answer to Everything. for Me, Very Sadly, the Main Difference Between Republicans and Democrats Is How Quickly They Want to Drive the Car Towards the Cliff. Simply Put, I Do Not Believe the Government Is the Solution for Everything. I Do Not Place Any Faith, Trust, or Hope in Any Politicians to Fix What Is Wrong with the World. "Come Lord Jesus!" (Revelation 22:20)
Education is useless without the bible (Daniel Webster)
Usually, the Lord doth no great thing for or against his people, without giving warning of it before it comes.
John Wesley who said that what we tolerate in our generation, will be embraced by the next. Wesley is 100% correct! We are living in sick times.
Evil Exists So Spiritual Warfare Becomes Necessary!
Corinthians 4:8-11 New King James Version (NKJV)
We are hard-pressed on every side, yet not crushed; we are perplexed, but not in despair; 9. persecuted, but not forsaken; struck down, but not destroyed— 10. always carrying about in the body the dying of the Lord Jesus, that the life of Jesus also may be manifested in our body. 11. For we who live are always delivered to death for Jesus' sake, that the life of Jesus also may be manifested in our mortal flesh.
Satan has power over (LGBTQE-TRANS PEOPLE). The "sons of disobedience" referred to in Ephesians 2:2 are those who have not trusted Christ as Lord and Savior (cf. Acts 26:18; 2 Corinthians 4:4; Revelation 13:12). The demons are also under the rule of Satan (Matthew 12:24), and one of his titles is "prince of demons" (Matthew 9:34). Satan has a kingdom (Matthew 12:26) and a throne (Revelation 2:13). Satan is called a prince because he is a ruler and possesses the power to manifest evil in the world through influencing people and commanding demons.
HNewsWire- "All political language is designed to make lies sound truthful and murder respectable." Just look at some of our modern-day examples: torture is "enhanced interrogation techniques"; murder is "collateral damage"; the aggression initiation of war is a "pre-emptive strike"; the theft of taxpayers' money is a "bailout", and the theft of depositors' money in a bank is a "haircut" or "bail-in".In a blatant example of Newspeak, the New World Order controllers (through the psychiatric DSM V) have tried to rename pedophiles as "minor-attracted persons" and redefine pedophilia as "sexual orientation". This makes no sense since sexual orientation has to do with gender, not age, with whether you are attracted to males or females, not how old they are. There are even organizations (like B4UAct.org) which are claiming that pedophiles are being unfairly stigmatized for their feelings!
Daily Devotional: Now, world oligarchs are attempting to reorganize the world's geography, install new leaders, and establish a "New World Order." But, according to C.S.…
Read More
We make every effort to acknowledge sources used in our news articles. In a few cases, the sources were lost due to a technological glitch. If you believe we have not given sufficient credit for your source material, please contact us, and we will be more than happy to link to your article.