Advisory: Be careful of what you read on social media. The algorithms used by these platforms have no regard for Biblical truth. They target your emotions to keep you engaged on their site so their advertisers can drop more ads. These platforms exist to enrich their stockholders. Consider God's promise to Believers in James 1:5, "If any of you lacks wisdom, you should ask God, who gives generously to all without finding fault, and it will be given to you."
Must Go–"He is a Big Problem"…
Association Of American Physicians Says 'Trump-Touted' Drug Has 90% Chance Of Helping COVID-19 Patients
In a letter to Gov. Doug Ducey of Arizona, the Association of American Physicians and Surgeons (AAPS) presents a frequently updated table of studies that report results of treating COVID-19 with the anti-malaria drugs chloroquine (CQ) and hydroxychloroquine (HCQ, Plaquenil®).
To date, the total number of reported patients treated with HCQ, with or without zinc and the widely used antibiotic azithromycin, is 2,333, writes AAPS, in observational data from China, France, South Korea, Algeria, and the U.S.
Of these, 2,137 or 91.6 percent improved clinically.
There were 63 deaths, all but 11 in a single retrospective report from the Veterans Administration where the patients were severely ill.
The antiviral properties of these drugs have been studied since 2003. Particularly when combined with zinc, they hinder viral entry into cells and inhibit replication. They may also prevent overreaction by the immune system, which causes the cytokine storm responsible for much of the damage in severe cases, explains AAPS. HCQ is often very helpful in treating autoimmune diseases such as lupus and rheumatoid arthritis.
Additional benefits shown in some studies, AAPS states, is to decrease the number of days when a patient is contagious, reduce the need for ventilators, and shorten the time to clinical recovery.
Peer-reviewed studies published from January through April 20, 2020, provide clear and convincing evidence that HCQ may be beneficial in COVID-19, especially when used early, states AAPS. Unfortunately, although it is perfectly legal to prescribe drugs for new indications not on the label, the Food and Drug Administration (FDA) has recommended that CQ and HCQ should be used for COVID-19 only in hospitalized patients in the setting of a clinical study if available. Most states are making it difficult for physicians to prescribe or pharmacists to dispense these medications.
As the letter to Gov. Ducey notes,
"Many nations, including Turkey and India, are protecting medical workers and contacts of infected persons prophylactically. According to worldometers.info, deaths per million persons from COVID-19 as of Apr 27 are 167 in the U.S., 33 in Turkey, and 0.6 in India."
After Morocco and Algeria began using HCQ, a trend break and sharp reduction in their COVID-19 case fatality rate occurred.
Vaccines and results of randomized double-blind controlled trials of new drugs are at best months away. But patients are dying now, while affordable, long-used drugs would be available except for government restrictions, AAPS states.
The Association of American Physicians and Surgeons (AAPS) has represented physicians of all specialties in all states since 1943. The AAPS motto is omnia pro aegroto, meaning everything for the patient.
…time for Twitter and Facebook to ban/block/suspend more of America's physicians and surgeons…
Dr. Fauci The WHO, CDC, and Bill Evil Gates MouthPiece Says US COVID-19 US Deaths Could Be As Low As 60K After Warning "Millions Could Die" He Is Drunk On Evil Powers.
A few weeks ago, Dr. Anthony Fauci sat down in front of Congress and warned that millions of Americans could die if the federal government didn't take the outbreak seriously.
And now, after the Trump administration scrambled to ramp up testing capacity and the states worked with the Feds, private entities, and others (including in some cases foreign nations) to distribute ventilators as Gov. Andrew Cuomo painted a horrifying portrait of sickened New Yorkers suffocating to death in hospital hallways because there were no ventilators available.
Well, yesterday, NYC Mayor de Blasio said that, after a few days of near-capacity numbers, hospitalizations have dropped by such a steep degree that the city believes it has enough ventilators on hand, and won't need anymore.
Now on Thursday, Dr. Fauci is taking to cable news to spread the message of optimism that has lifted US stocks over the past few days: Instead of the 240k figure used by President Trump as recently as two weeks ago, Dr. Fauci told NBC News that if the public continued to stick to the "mitigation efforts", that the death toll might be as low as 60k.
To be sure, while lockdown conditions are in place around the world, there are still a dozen or so states who don't have mandatory closure or curfew orders in place.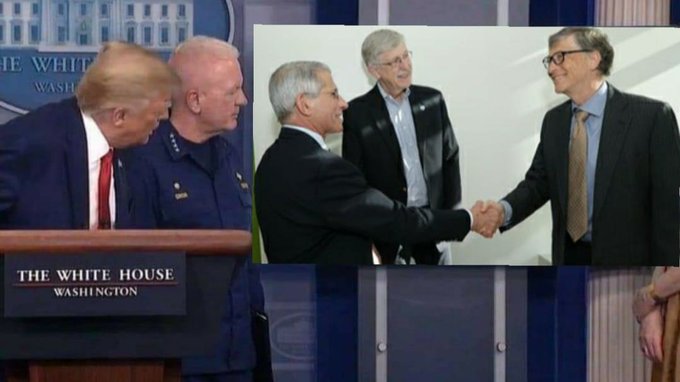 Watch @savannahguthrie's full interview with Dr. Anthony Fauci, who talks about efforts to control the spread of coronavirus, and how much longer social distancing will last. pic.twitter.com/GLZAy5Ox39— TODAY (@TODAYshow) April 9, 2020
Dr. Fauci, director of the National Institute of Allergy and Infectious Diseases, said he's "cautiously optimistic" that the US might soon see cases reach the back-side of the curve as the "turnaround and that curve not only flatten but are coming down." He made clear, however, that the virus is never going to disappear, and things will still be different even after we've finished going "back to normal".
"When we attempt to get back to normal, we have to have in place the ability, when it starts to try and rear its ugly head, we can absolutely suppress it by identification, isolation, contact tracing," he said.
He also warned that this outbreak is a "wake up call", warning that more serious outbreaks might occur in the future.
"When you're talking about getting back to normal, we know now that we can get hit by a catastrophic outbreak like this," he said. "It can happen again, so we really need to be prepared to respond in a much more vigorous way."
Additionally, during an interview with CBS News (the good doctor routinely makes at least 2-3 appearances on cable news a day, an extremely rigorous media schedule in light of his many responsibilities), Dr. Fauci warned that Americans might be able to take their summer vacations if we continue sticking to the "mitigation strategies", and prevent a full-one "resurgence" of the virus, he said on "CBS This Morning".
"It can be in the cards," he said.
But, Dr. Fauci warned, "and I say that with some caution, because as I said when we do that, when we pull back and try to open up the country, as we often use that terminology, we have to be prepared that when the infections start to rear their heads again that we have it in place a very aggressive and effective way to identify, isolate, contract trace and make sure we don't have those spikes we have now. So the answer to your question is yes if we do the things that we need to do to prevent the resurgence."
Getting back to normal is not like a light switch that you turn on and off, Fauci said, adding it'll be gradual and depend on where in the country you live.
"The bottom line of it all is, that what we see looking forward, it is very likely that we will progress towards the steps towards normalization as we get to the end of this thirty days. And I think that's going to be a good time to look and see how quickly can we make that move to try and normalize. But hopefully, and hopefully, by the time we get to the summer we will have taken many steps in that direction," he added.
Asked if he would be taking a vacation, Fauci smiled and laughed: "I don't take vacations," he replied.
Dr. Fauci and MR. Gates Are "Evil", The Truth Is That All of the Warnings of Alleged 'Conspiracy Theorists' Have Turned out to Be Correct the Word Translated "Pestilence" Is Often Translated as "Plague" or "Disaster" …
Dr. Anthony Fauci doesn't want Americans taking hydroxychloroquine, or chloroquine, to treat the virus, and many people are wondering why not?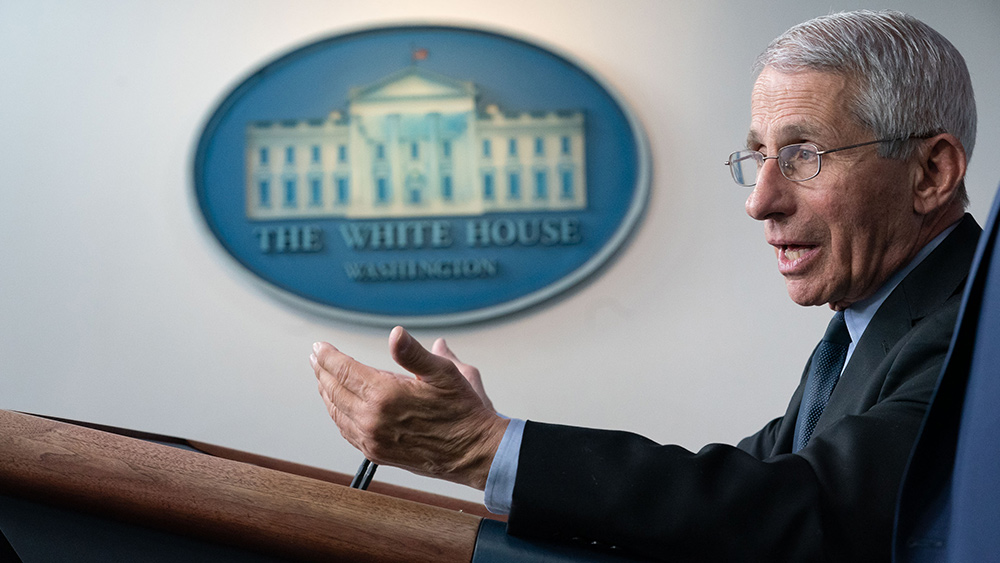 One of them is White House economic advisor Peter Navarro, who reportedly exploded at Fauci the other day for trying to downplay the benefits of this extremely inexpensive generic drug for malaria while emphasizing the alleged superiority of some future vaccine for the Wuhan coronavirus (COVID-19) that doesn't even exist yet.
Chronology: – Jan 21, Dr. Fauci said #COVID19 is NOT a major threat to US: https://twitter.com/i/status/1246100596257632256… – Mar 29, Fauci predicted COVID19 would kill 100,000-200,000 & lockdown is NECESSARY: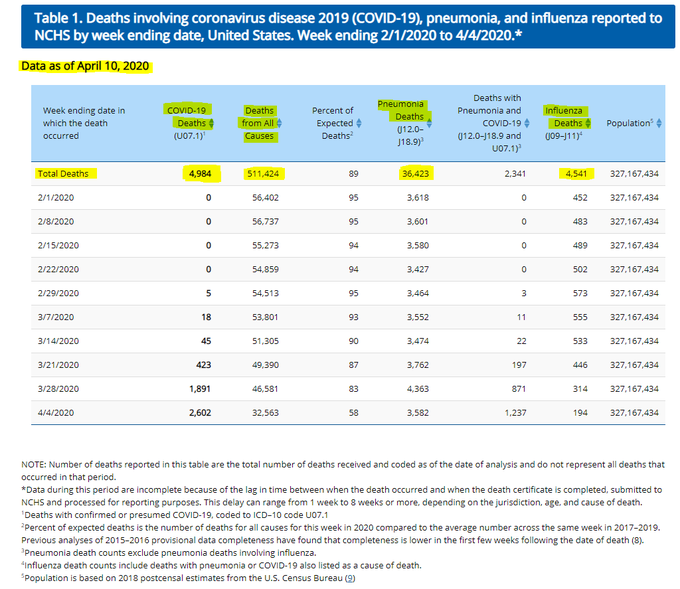 https://npr.org/sections/coronavirus-live-updates/2020/03/29/823517467/fauci-estimates-that-100-000-to-200-000-americans-could-die-from-the-coronavirus… – Apr 10, CDC only confirmed 4,984 COVID deaths. Is Fauci incompetent?Quote Tweet

Even though hydroxychloroquine is shaping up to be the most effective weapon in the arsenal – at least from a pharmaceutical perspective – for treating this coronavirus, Fauci isn't having any of it. And that's because, as he's now proven, he works for Big Vaccine and not for the American people.
During a recent roundtable, which was reportedly attended by Wuhan coronavirus (COVID-19) response coordinator Deborah Birx, Jared Kushner, acting Homeland Security Secretary Chad Wolf, and Food and Drug Administration (FDA) acting commissioner Stephen Hahn, Navarro passed out folders containing data on the benefits of hydroxychloroquine.
According to Navarro and what he passed out, the studies he's seen, mostly from overseas, show that this malaria drug shows "clear therapeutic efficacy" against the Wuhan coronavirus (COVID-19), and it can be procured for just pennies per dose.
Almost immediately, Fauci began pushing back against Navarro's claims, stating that "there's only anecdotal evidence" that hydroxychloroquine works against COVID-19. This "just set Peter off," according to one of the others who were present, prompting Navarro to explain that "science, not anecdote" shows that hydroxychloroquine does, in fact, work against the Wuhan coronavirus (COVID-19).
Listen below to The Health Ranger Report as Mike Adams, the Health Ranger, talks to Dr. Eduard Fatakhov about how to beat the coronavirus through nutrition:
Navarro also called out Fauci for opposing Trump's early travel restrictions
In his heated rant against Fauci's nonsense, Navarro went on to chastise Fauci for being one of the earliest voices to oppose President Donald Trump's early travel restrictions with China, emphasizing that Fauci had claimed that "travel restrictions don't work."
The group ended up agreeing that the best path forward is to get the drug to the "hot zones" because it does help and to allow patients to make the decision whether or not to use hydroxychloroquine themselves with the guidance of their physicians.
During a recent press conference, President Trump also indicated that he had ordered 29 million doses of hydroxychloroquine to be placed into the Strategic National Stockpile.
"There has never been a confrontation in the task force meetings like the one yesterday," claimed a source about Navarro's outburst at Fauci. "People speak up and there's robust debate, but there's never been a confrontation. Yesterday was the first confrontation."
When polled about the effectiveness of hydroxychloroquine, about 37 percent of some 6,227 doctors in 30 countries indicated that it is currently the "most effective therapy" that they have at their disposal. This is compared to at least 14 other potential treatment options that are currently available.
A whopping 72 percent of COVID-19 cases in Spain have had hydroxychloroquine prescribed, while almost half of all cases in Italy have had the drug prescribed. Hydroxychloroquine is also being used in about 41 percent of Wuhan coronavirus (COVID-19) cases in Brazil, 39 percent of cases in Mexico, 28 percent of cases in France, and 23 percent of cases in the United States.
Overall, almost 20 percent of physicians are now prescribing hydroxychloroquine for their high-risk patients, while a mere eight percent are prescribing it for their low-risk patients.
This Pestilent Is Revealing to All What Many of Us Have Known for a Long Time: This Godless Nation Was Designed by the Un-Godly to Fail and so Its Failure Was Not Just Predictable but Inevitable
Dr. Fauci: I Don't Think We Should Shake Hands "Ever Again"
Dr. Anthony Fauci, the director of the National Institute of Allergy and Infectious Diseases (NIAID) was optimistic yesterday (and the media crowed about his sudden about-face) as he said he hopes to see a "light at the end of the tunnel" by the end of April in the fight against COVID-19.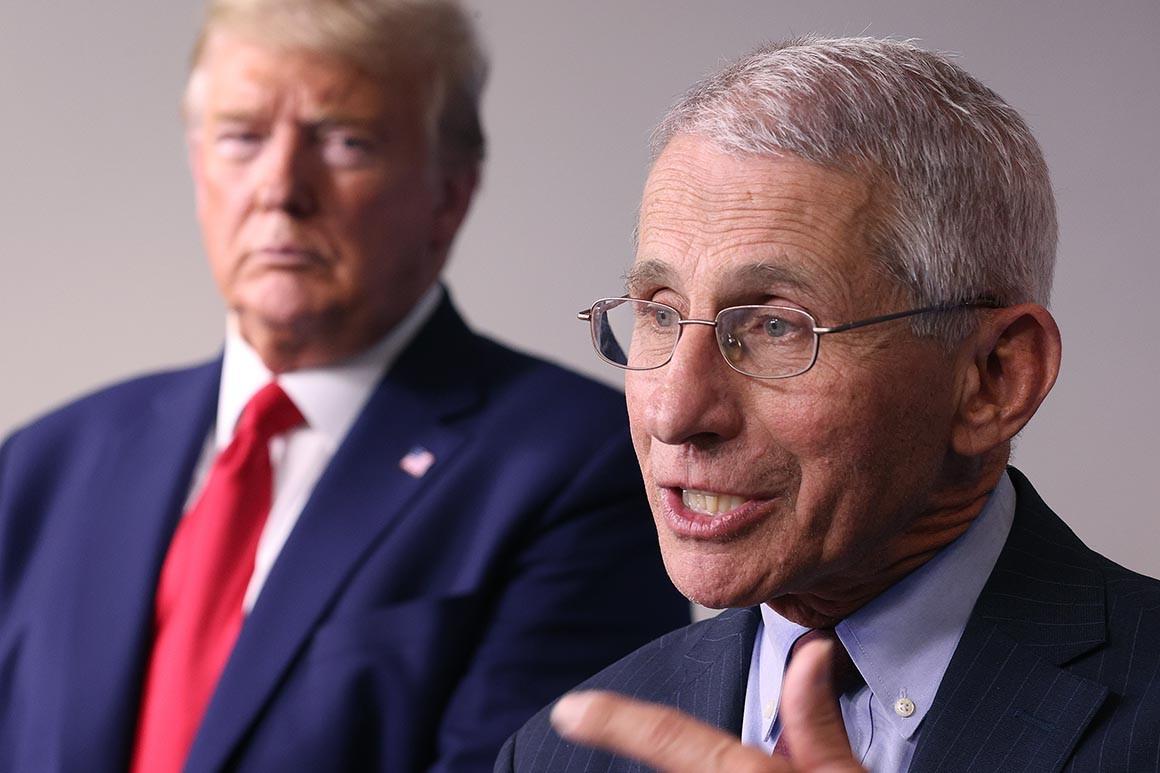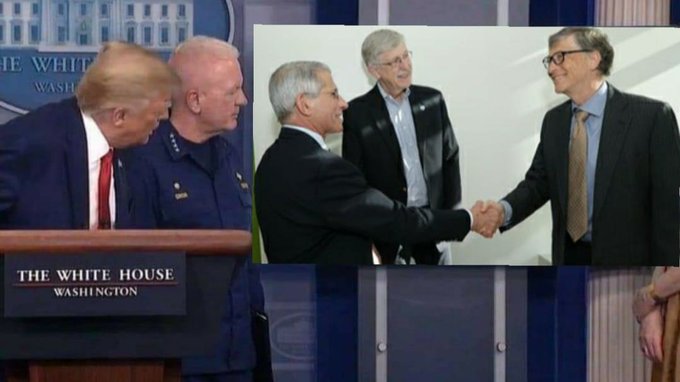 However, what went under-reported was a comment he made on a Wall Street Journal podcast. Specifcally, the best-known member of the White House coronavirus task force, on Wednesday suggested that Americans should never shake hands again.
"When you gradually come back, you don't jump into it with both feet. You say, what are the things you could still do and still approach normal? One of them is absolute compulsive hand-washing. The other is you don't ever shake anybody's hands."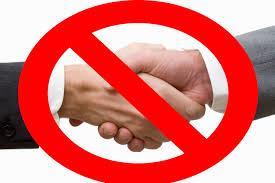 "I don't think we should ever shake hands ever again, to be honest with you. Not only would it be good to prevent coronavirus disease; it probably would decrease instances of influenza dramatically in this country," the doctor added.
So, there is "light" at the end of the tunnel that we will return to normal but that 'new normal' will mean no handshakes, hugs, or venturing outside without full PPE?
Receive a daily recap featuring a curated list of must-read stories.
Remember, 'no' means no!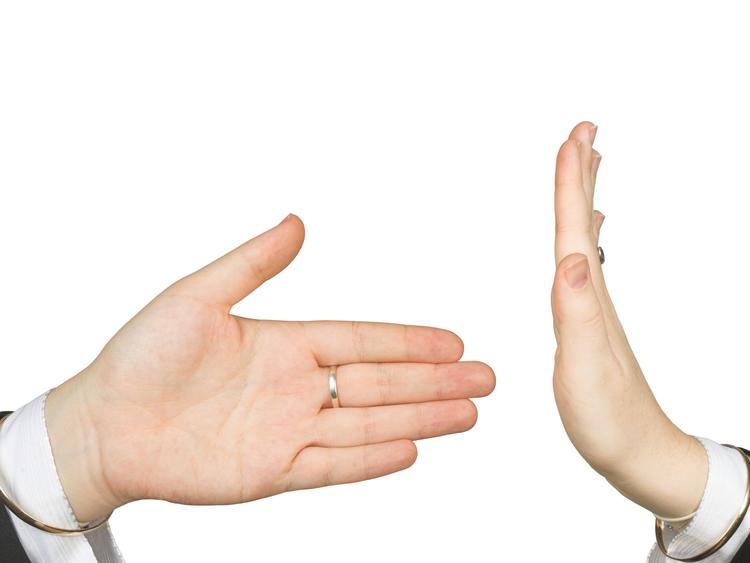 Source: HNewsWire CensoredNews ZeroHedge ZeroHedge
StevieRay Hansen
Editor, HNewsWire.com
Watchmen does not confuse truth with consensus The Watchmen does not confuse God's word with the word of those in power…
All the official reassurances won't be worth a bucket of warm spit. The Globals are behind the CoronaVirus, It Is a Man-Made Bioweapon.
The Bill and Melinda Gates Foundation Have NOT Got The Memo Yet, "Pestilences" Has No Cure
The Coronavirus Was Most Certainly Produced by Crazy (Un-Godly) Men in Laboratories, WGO and CDC Knew All Along That the Coronavirus Was a Bioweapon, There're in Charge?
Well-known medical expert Bill Gates did an AMA on Reddit https://www.gatesnotes.com/Health/A-coronavirus-AMA?WT.mc_id=20200319223000_Coronavirus-AMA_BG-LI&WT.tsrc=BGLI&linkId=84658834 (transcribed here), in which he casually drops some chilling ideas into the conversation: Ummm, people of God! Am I late? Did I miss this? Did we see this already? Digital certificates to identify those who got the #Covid19 vaccines and TO DO BUSINESS?
Eventually, we will have some digital certificates to show who has recovered or been tested recently or when we have a vaccine who has received it.
All in all, our freedoms are being swamped. Big corporations and states alike are setting boundaries on individual rights on a flimsy pretext.
Is anyone in the media reporting that? Of course not. Instead, we're getting fawning celebrity-based drivel like this in the Independent, trying to convince us "we're all in this together", or weasel-worded nonsense like this from Jonathan Freedland in The Guardian where he mourns Johnson's "libertarian" spirit and reluctance to impose social control. That would be the mass-surveilling, drone executing, war-supporting type of libertarian. A crass and obvious example of narrative management.
The 127 Faith Foundation understands the pain and sorrow associated with being a throwaway child, We push this throwaway child towards bettering their education, be it junior-college are going for a Masters's degree. This program is about them because they determine by the grace of God if they're going to be a pillar in the community or a burden on society. Some of the strongholds orphans deal with are: fear, resentment, bitterness, unforgiveness, apathy, unbelief, depression, anxiety, lust, anger, pride, and greed. Many of these strongholds do open the door to addiction. Please Help The 127
We make every effort to acknowledge sources used in our news articles. In a few cases, the sources were lost due to a technological glitch. If you believe we have not given sufficient credit for your source material, please contact us, and we will be more than happy to link to your article.