Advisory: Be careful of what you read on social media. The algorithms used by these platforms have no regard for Biblical truth. They target your emotions to keep you engaged on their site so their advertisers can drop more ads. These platforms exist to enrich their stockholders. Consider God's promise to Believers in James 1:5, "If any of you lacks wisdom, you should ask God, who gives generously to all without finding fault, and it will be given to you."
Bible Prophecy
I Have Never Seen The Righteous Forsaken or Begging For Rain…
Severe Weather Threatens 90 Million People In Midwest And Northeast States
The Storm Prediction Center has warned that severe thunderstorms are forecasted across the Midwest and Northeast on Wednesday.  
"Damaging winds, along with some hail threat, are expected with thunderstorms across the upper Midwest later this afternoon and evening. Isolated damaging winds are also possible across parts of the Northeast," Storm Prediction Center wrote in a 0737 ET statement.
CNN estimates as many as "90 million people across the Midwest and Northeast" could be affected by today's storms.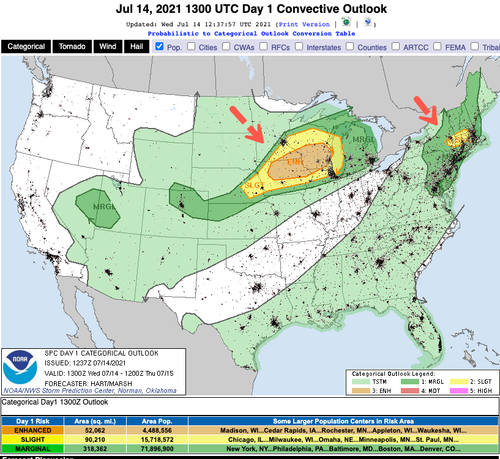 Wisconsin; Cedar Rapids, Iowa, and Rochester, Minnesota are at risk of intense storms. This could be great news for the corn belt in desperate need of water, but a constant stream of wind could damage crops. Wind damage could snap the corn plant and also dislodge the roots from the ground. There are additional risks for cities like Chicago, Minneapolis, Milwaukee, Des Moines, and Omaha.
The severe thunderstorms will shift into the central Plains and lower Midwest on Thursday.
In a separate storm, severe weather risks could be seen in the Northeast. The Storm Prediction Center said New York and New England, including Albany and Springfield, may experience severe weather today. There are also severe weather risks in cities like New York, Washington, Baltimore, Philadelphia, and Boston.
"A severe storm cannot be ruled out with the main threat damaging winds," said the New York National Weather Service office.
Despite the severe weather risks, the good news is that the corn belt will be getting some much-needed rain.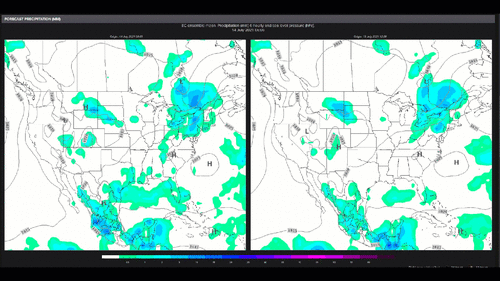 But if winds are strong enough, there is a risk of crop damage.
This dreary picture is echoed in the New Testament. Jesus said it will be a time of tribulation "such as has not occurred since the beginning of the world until now, nor ever shall" (Matthew 24:21). In fact, Jesus said it will be so terrible that if it were not stopped at the end of seven years, it would result in the destruction of all life (Matthew 24:22). The Apostle John states that the chaos will be so great that the leaders of the world will crawl into caves and cry out for the rocks of the mountains to fall upon them (Revelation 6:15-16).
A distortion of end-time prophecies. There is a general denial among dominions of a deteriorating world at the end of the church dispensation, leading to the tribulation period and the revelation of the man of sin. They do not accept the fact of a great falling away in the end-time (2 Thess. 2:3) and the proliferation of evil and wickedness to unprecedented levels (Matt. 24:12; 2 Tim. 3:1-5; Rev. 22:11). Instead of this biblical scenario, they promote a view of a united and peaceful world under the control of the revived church of the end-time. They refuse to make any statements that would jeopardize the man-made ecumenical ties that hold Christianity together. Religious deception is not investigated and uprooted as it would offend some of the participating churches in the ecumenical movement. For this reason, doctrinal purity is not pursued, thereby leaving the door wide open to deceiving spirits and doctrines of demons (1 Tim. 4:1). Nothing is said on the rise of the Antichrist and global preparations for the war of Armageddon as that do not fit into their kingdom vision for the world. They can only offer to people the false hope of a man-made Utopia, Catholic Garbage !
End Time Signs are on the increase for those who study the bible. Here is some very recent Extreme Weather that Meteorologists are baffled by. Photos and video chronicling these strange events. And when these things begin to come to pass, then look up, and lift up your heads; for your redemption draweth nigh. Luke 21:25-28
It really does appear that the Lord is out of patience with America interfering with his prophetic plan for Israel.
Extreme Weather
There will be a great plague of snow coming upon the Earth
"Have you entered the treasury of snow,
Or have you seen the treasury of hail,
Which I (God) have reserved
for the Time of Trouble (Tribulation),
For the Day of battle and war?" (The coming Apocalypse)
(Job 38:22-23)
There will be a great plague of hail coming upon the Earth
"And great hail from heaven
fell upon men, ("mankind".. men and women)
each hailstone about the weight of a talent.
(A "talent" ≈ 85 – 114 pounds!!)
Men blasphemed God because of the plague of the hail,
since that plague was exceedingly great."
(Revelation 16:21)
It's interesting to note that chronologically speaking, many believe the book of Job and the book of Revelation were the first book and the last book written in the Bible.
A great heat from the Sun will scorch the people on Earth
"Then the fourth angel poured out his bowl on the Sun,
and power was given to him to scorch men with fire.
And men were scorched with great heat,
and they blasphemed the Name of God
who has power over these plagues;
and they did not repent and give Him glory."
(Revelation 16:8-9)
In studying Bible Prophecies, it appears any global "Climate Plans" trying to legislate or control global warming will be just as fruitless as trying to eliminate wars (or diseases) anytime before the coming "Time of the end."
An ancient Bible Prophecy even gives us an accurate Environmental forecast for planet Earth around the time of the coming Apocalypse …
"The Earth will wear out (grow old) like a garment,
And those who dwell in it will die in like manner;
But My (God's) salvation will be forever,
And My righteousness will not be abolished."
(Isaiah 51:6)
There will be unimaginable and exceedingly great storms and hurricanes
"And there will be signs
in the Sun, in the Moon,
and in the Stars;
and, on the Earth
distress of nations, with perplexity,
the sea and the waves roaring"
(Luke 21:25)
Extreme Weather, Nearly everyone knows something is up with the global weather events. Earthquakes, Tornadoes Outbreaks, Hurricanes, Volcanoes, Famines are all in the bible. While these have always been naturally occurring phenomena. Jesus points out that the increase of these "Fearful Sights" Luke 21:11 would precede His Second Coming like birth pangs. Birth Pangs increase before the big event with increased intensity.
For those who do not know the bible or prophecy in general we encourage you to study and make an informed decision. Bible prophecy is Gods warning and last call to a sin sick world. Soon a answer man will appear to be a messenger of peace. He will be an incredibly evil man. The Antichrist. Here is an excellent place to study how the bible covers human history in one tiny little book. (Daniel)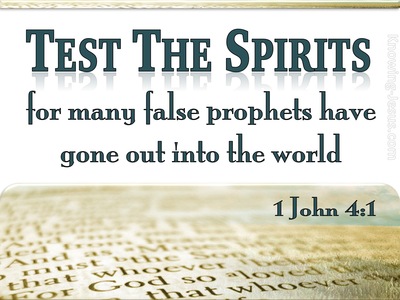 Update (1500 ET): On Friday, BAMWX's meteorologists have posted numerous weather models that suggest frigid air is headed for some parts of the US.
"This is the NAEFS which is the North American ensemble forecast system. This is a loop of 5 day chunks over the next 14 days. I have never seen this product forecast even close to this level of cold it's forecasting," said BAMWX's Twitter account.
Readers may recall that natural gas prices erupted earlier in the week as weather models shifted to a much colder setup for the next two weeks.
Expanding more on what's to come is BAMWX's meteorologist Kirk Hinz who published an in-depth update on Thursday describing how temperatures over the next couple of weeks will be well below average, thus boosting heating degree days, a sign that natgas demand will surge as people turn up their thermostats to stay warm.
"Multiple drivers aligning for big cold to develop over the next few weeks," BAMWX's meteorologist Kirk Hinz said.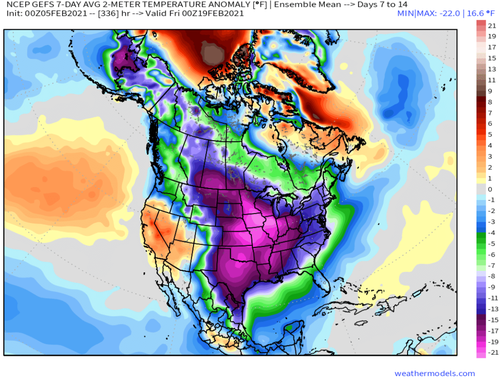 For week one, Hinz outlines:
No changes in our week 1 forecast vs this AM.
Over the next week we expect temperatures vs normal to average 15 to 20
degrees below normal on a widespread scale from Montana to Kansas City, Chicago, near Indianapolis, and all areas in between.
The cold vs normal is also expected to drop all the way down to near Dallas and Houston, and extend as far east as New York City.
The extent of location of the cold vs normal will continue to allow national gas weighted heating demand to run much above normal and continue to rise for week 1 in the coming days.
Week two, he said:
BAM forecast change: We've trended our forecast even colder this afternoon, from 255 to 265.
The data trended widespread colder once again on 12z today, especially the Euro ensemble that trended over 25 GWHDDs colder vs Oz.
We didn't trend our forecast as high as the Euro ensemble, keeping it closer to the more consistent American ensemble solution.
With the Polar Vortex looking to remain in a very favorable position for arctic blasts of air, expect additional notable cold behind storm systems into the week 2 period. We think that this continues throughout week 2, especially as the colder air sinks further south related to MJO phase 8.
One risk we will need to watch is what the MJO does after phase 8. If it lingers in phase 8 this more widespread cold pattern for the Central and Eastern US will linger. If we move Into MJO phase 1, the southeast US ridge may try to return late week 2. Regardless, the colder air to the north should persist, but it could allow for HDDs to tick down a bit late week 2.
BAMWX's PM Energy Check-Up report dated Feb. 4 shows week 2 (between Feb.11-17) temperature forecast could be trending well below normal for much of the US.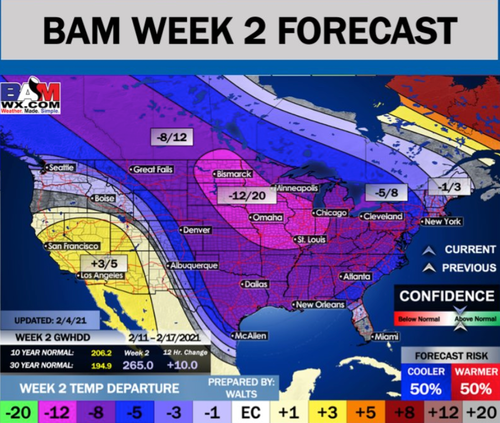 Much of the colder air for week 2 could be positioned across the US' central and eastern parts.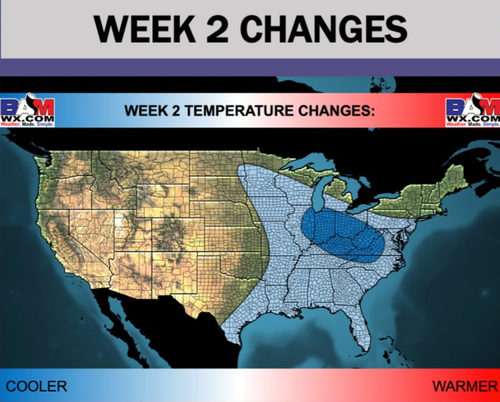 Heating degree days for weeks 1 and 2 show a large surge beginning early next week, which means it will take more energy to heat a residential or commercial structure as temperatures dive.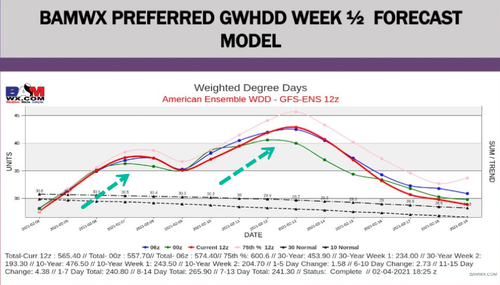 Natural-gas futures weekly hold above the 200 exponential moving average and have reclaimed the $3 handle on Friday morning.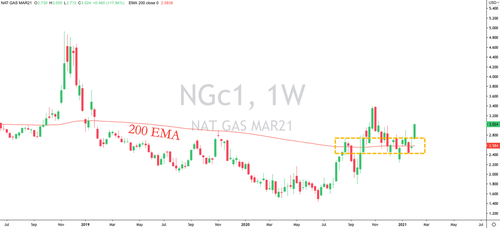 Here's the full outlook: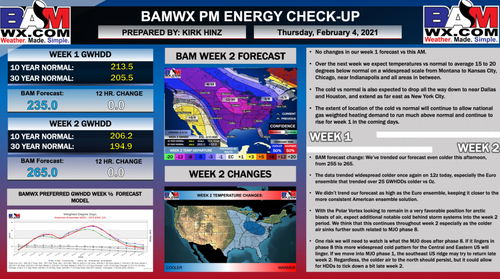 As a reminder, please do not post HNewsWire articles on Christian News Network, Now the End Begins, Shoebat, Parler, FakeBook, Reddit or Twatter social media platforms, We are not comfortable with their anti-Christian, anti-American, Nazi philosophy. ~Stevieray Hansen
StevieRay Hansen
Editor,
HNewsWire.com

Watchmen does not confuse truth with consensus. The Watchmen does not confuse God's word with the word of those in power…
In police-state fashion, Big Tech took the list of accused (including this site), declared all those named guilty and promptly shadow-banned, de-platformed or de-monetized us all without coming clean about how they engineered the crushing of dissent. Now more than ever, Big Tech has exposed their hand. They engage in devious underhanded tactics to make the sinister look saintly. One of Satan's greatest weapons happens to be deceit.
The accumulating death toll from Covid-19 can be seen minute-by-minute on cable news channels. But there's another death toll few seem to care much about: the number of poverty-related deaths being set in motion by deliberately plunging millions of Americans into poverty and despair.
American health care, as we call it today, for all its high-tech miracles, has evolved into one of the most atrocious rackets the world has ever seen. By racket, I mean an enterprise organized explicitly to make money dishonestly.
All the official reassurances won't be worth a bucket of warm spit. The Globalists are behind the Corona-virus. It Is a Man-Made Bio-weapon.
HNewsWire Live Stream 24/7 News UpDates and World Events Go Live HNewsWire: By Frank Bergman March 19, 2023 New York's Democrat Governor Kathy Hochul……...
Read More
We make every effort to acknowledge sources used in our news articles. In a few cases, the sources were lost due to a technological glitch. If you believe we have not given sufficient credit for your source material, please contact us, and we will be more than happy to link to your article.