Advisory: The editorial board of HNewsWire adopted the official policy to bypass many social media platforms. Some of these include: Facebook, Instagram, Twitter, Parler, and YouTube. We believe these companies are responsible for many of the spiritual ills our world faces today. In some cases, however, we have allowed our guest contributors to include content from their YouTube channel while we search for alternatives.
You Have Now Become a Part of the Plandemic, Wear Your Mask and Obey…
There Is No Denying the New World Order Has Reached Its Goals. They Will Take Every Human on the Planet, Put Them in a Position to Submit or Be Punished, Some Severely, and Be a Slave to These Ungodly Parasites Known as the One-World Government (The Beast). the Big Question Now, Will You Submit.?
Summary:
Global deaths top 500k
Dallas asks for stay at home order to be reinstated, as Dallas County reports record high in daily cases
Cali Gov orders bars in 7 counties to close, while recommending 8 counties do the same
Texas Gov warns outbreak taken a dangerous turn
DHHS Azar warns window is closing to stop COVID-19
Cali sees encouraging drop
Mexico reports another ~4,400 cases, ~600 deaths
Arizona reports another daily record
Miami Beach mayor calls meeting on mask compliance
Global total tops 10 mil
Deaths near 500k
Florida reports record weekly case numbers
NY reports just 5 deaths
China locks down 500k
Philippines surpasses Singapore as worst outbreak in Southeast Asia
* * *
Update (1730ET): We have some important updates on the COVID-19 front early this evening. The global death total, which was just 700 shy of the mark when we published our first Sunday morning update, has surpassed 500,000, just as the WHO, and pretty much everybody else who has been paying attention these last few months, expected.
Over 10 million people have been diagnosed with COVID-19, the disease caused by the virus SARS-CoV-2, according to JHU data. The actual numbers are believed to be much higher due to uneven testing availability, not to mention suspicions of government interference on both the local and national level in many places. The exact number of deaths as of 1730ET was 500,108. One out of every 4 COVID-19 deaths confirmed around the world is in the US.
For both cases and deaths, the US is presently the worst-affected country, with more than 2.5 million diagnosed cases and at least 125,747 deaths. Though Brazil is rapidly closing the gap, despite the surge in new US cases.
Texas followed California on Sunday by reporting a smaller daily case total than the day before. Sunday's number was also less than the 7-day average.
Dallas County health officials reported 570 cases and one death Sunday, while Tarrant County reported 393 new cases and one death.
Health officials reported more than 900 new coronavirus cases in Tarrant and Dallas counties on Sunday, with Dallas reporting a record 570 new cases for the county, a record high since the coronavirus outbreak began. Tarrant reported 393. Dallas County officials, after asking the governor to reinstate a statewide mask order, are now asking for a 'stay at home' order to be reimposed for Dallas County.
COVID-19 Man-Made in China, the larger health organizations, the who, CDC, Bill Gates and to some extent the United Nations has been able to predict this virus, that's troubling they knew exactly what this virus is going to do, CDC says it's more like 23 million making this .005 mortality rate. Scamdemic
Update (1530ET): DHHS Secretary Alex Azar underscored the GOP shift toward taking the coronavirus outbreak more seriously, and moving away from a policy of tacitly encouraging Americans who rejected social distancing rules (after a set of polls showed President Trump falling behind Joe Biden, who hasn't spoken publicly in weeks), when he declared on Sunday that "the window is closing" to stop the spread of the cornavirus in the South and the West before the deaths start to rise once again.
In Florida, Gov. Ron DeSantis blamed the resurgence in new cases on 24-34 year olds in South Florida, especially the Miami–area, for "socializing," he said during a news briefing Sunday. While Florida's decision to open bars has led to stories like the 16 friends who all got COVID-19 during their first night out in months, we wonder, what were south florida's 24-34 year olds doing 2-4 weeks ago?
DeSantis also blamed a "backlog in tests", echoing his claim on Friday that a "testing dump" was largely responsible for the jump in new infections.
Cities in Broward County will follow Miami Dade and close all its beaches for the July 4th weekend, between the 3rd and the 5th.
In California, Gov Gavin Newsm on Sunday ordered seven counties including LA to immediately close their bars and any their nightlife spots (clubs, etc), and recommended that 8 other counties take these actions on their own without necessitating a state order. That's roughly a quarter of the state's 58 counties. He cited the "raid spread of the virus in some parts of the state" as the reason for his decision, according to the LAT.
The counties facing mandatory closures include: Los Angeles, Fresno, San Joaquin, Kings, Kern, Imperial and Tulare counties. The other eight counties are Contra Costa, Santa Clara, Sacramento, Riverside, San Bernardino, Ventura, Santa Barbara and Stanislaus.
Per the LAT, "…the decision by Newsom stands in contrast to recent decisions to leave more of the decision-making authority to local officials. The governor has said it is possible additional sectors of the state may need to scale back on openings, but has been hesitant to make those decisions in Sacramento."
The statewide case total topped 211,000 on Sunday, as the rate of daily cases slowed. Hospitalizations and infection rates are also rising, and officials cite several likely factors including reopenings, people having private social gatherings, and the recent protests over George Floyd's death while in police custody.
On Friday, Newsom said he was recommending that Imperial County reinstitute more strict stay-at-home orders, as it continued to see the highest positivity rate and per-capita infection rate in the state, though no actions have yet been taken. In San Bernardino, officials have warned that hospitals are approaching "surge capacity" and are making plans to open "alternate" sites.
In Latin America, Chile – home of the 3rd biggest outbreak in the region – reported 4,216 new cases of coronavirus and 162 new deaths Sunday, per Chile's Health Minister Enrique Paris. Paris praised the effort made by the Chilean people to comply with lockdown procedures, but warned that the numbers would likely keep going up.
In Texas, finally, Gov Greg Abbott warned Sunday during a press briefing in Dallas where he was accompanied by VP Pence that the outbreak in his state had taken a "swift and dangerous" turn.
Pence added: "I want to commend the governor for your decisive action reopening this economy."
* * *
Update (1320ET): California reported a slowdown in new COVID-19 cases on Sunday, likely due to the typical slowdown in new cases seen over the weekend.
CALIFORNIA COVID-19 CASES RISE 2.3% VS 2.8% 7-DAY AVERAGE
As cases continue to surge in Florida, CNN reports that Miami Beach's mayor has called for a special commission meeting on Monday to discuss mask usage compliance as millions of Floridians seemingly eschew social distancing requirements.
Meanwhile, Health and Human Services Secretary Alex Azar said Sunday that a rise in deaths and hospitalizations is "an appropriate thing" to be concerned about, a sentiment that was echoed by Dr. Scott Gottlieb, the former FDA Commissioner under Trump who has become a frequent guest on CNBC and other channels. The doctor told CBS Sunday that we're "likely to see total daily deaths start to go back up again."
South of the border, Mexico reported 4,410 new cases, bringing the total case count for the country to 212,802. There were also 602 additional deaths on Saturday, bringing the country's death toll to 26,381.
* * *
Update (1250ET): Arizona just reported 3,858 new cases on Sunday, a new record high, and the 7th time in the past 10 days that the number of new infections has topped 3k. The percent positive rate climbed to 9.6%. The state also reported 9 new deaths.
Maricopa County, where Phoenix is situated as the county seat, remains the most hard-hit county in the state by far.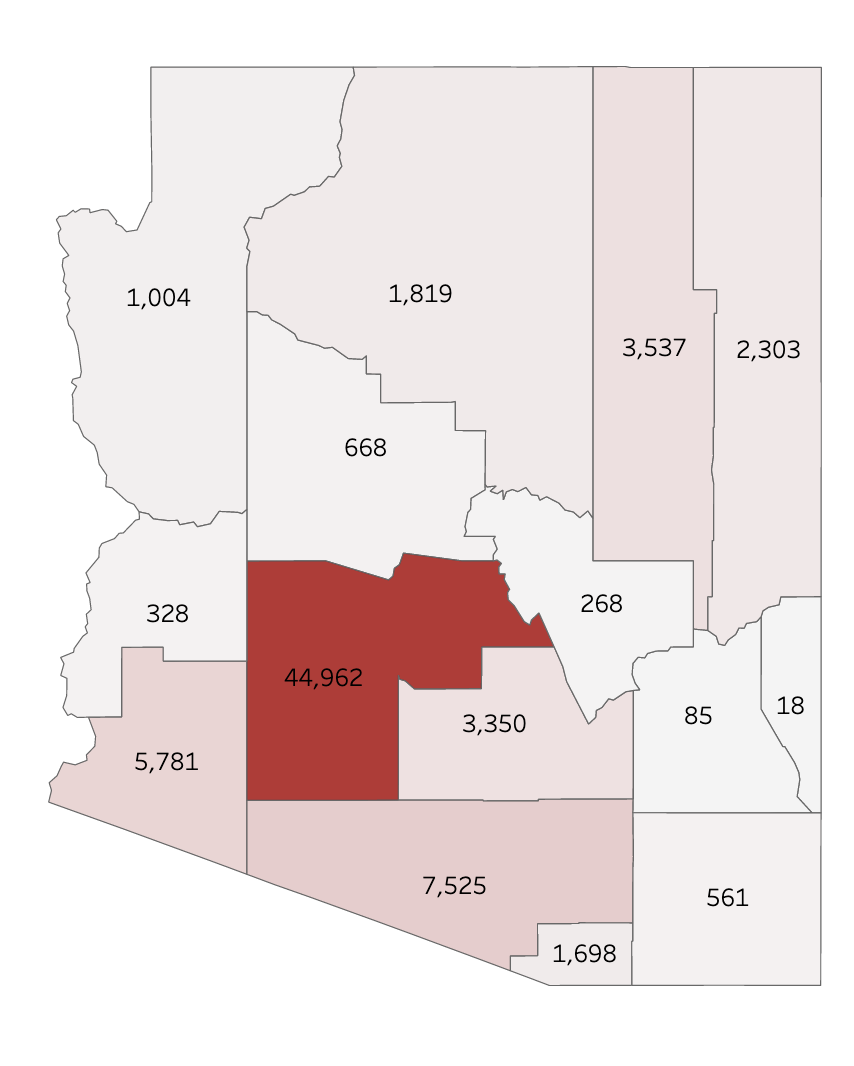 According to the AP, some Arizona hospitals have started activating their COVID surge plans to make more room for COVID-19 patients as cases and hospitalizations surge, while deaths remain low.
* * *
Update (1145ET): Sunday has already brought the US a handful of major coronavirus-related headlines. While Florida's total newly confirmed cases released Sunday declined slightly from the record number reported the day before, the state as a whole cemented its largest weekly increase yet, with 43,784 new cases reported over the past week, according to an analysis of state data by the Orlando Sentinel.
Here's a chart of daily cases including Sunday's print of 8,530, which is less than Friday's total of 8,942, and Saturday's record 9,858.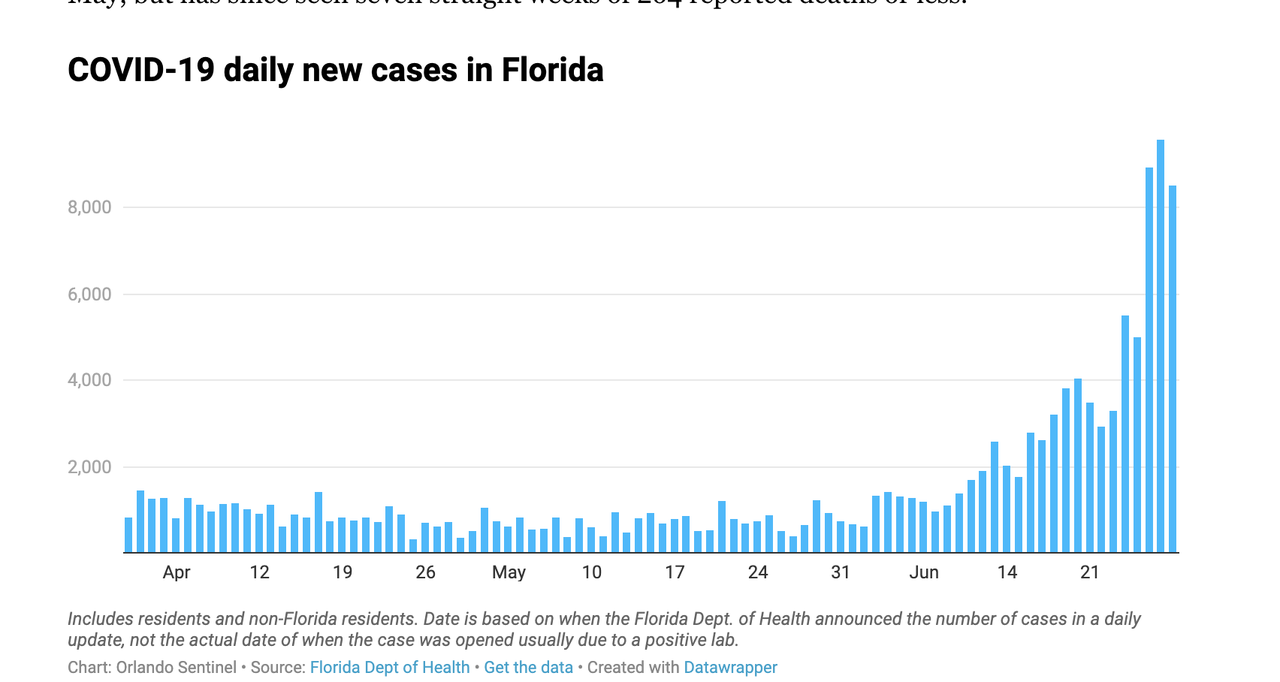 From Sunday to Sunday, Florida recorded 43,784. Only 258 deaths were reported in that time, and 282,909 tests were administered, the most tests administered in a single week.
The state health department has now counted 141,075 positive cases since the outbreak began, with a death toll of 3,419, up 29 from the day before. It has also tracked 14,244 hospitalizations, up 108 from Saturday's report.
The latest statewide update on Sunday showed that 12.4% of those tested came back positive, lower than a record 15.9% recorded earlier this week. The health department tabulates the percent positive figure by taking the number of people who test positive for the first time and dividing that number by the total number tested that day. Critics, including a whistleblower publishing her own alternative set of data, have argued that the state should exclude people who aren't testing negative for the first time from the total tested. Some nurses and other workers are tested weekly. By refusing to remove these people from the count, the state is artificially lowering its percent positive number, critics say.
New York State reported another record on Sunday when Gov Cuomo revealed that just five people had died in the past day, a record low.
Cuomo is still facing a deluge of criticism led by the WSJ editorial board, which claimed over the weekend that NY's decision to send COVID-19-positive patients back to nursing homes was the single biggest policy blunder of the entire US outbreak.
* * *
The global coronavirus total topped 10 million late Saturday night in the US as a handful of Asian nations reported their case totals for Sunday morning, finally pushing the total over the top. To be sure, there are likely millions of cases that have gone uncounted. But reaching the eight-figure mark is certainly an important psychological milestone, particularly since daily totals for new cases continue to climb.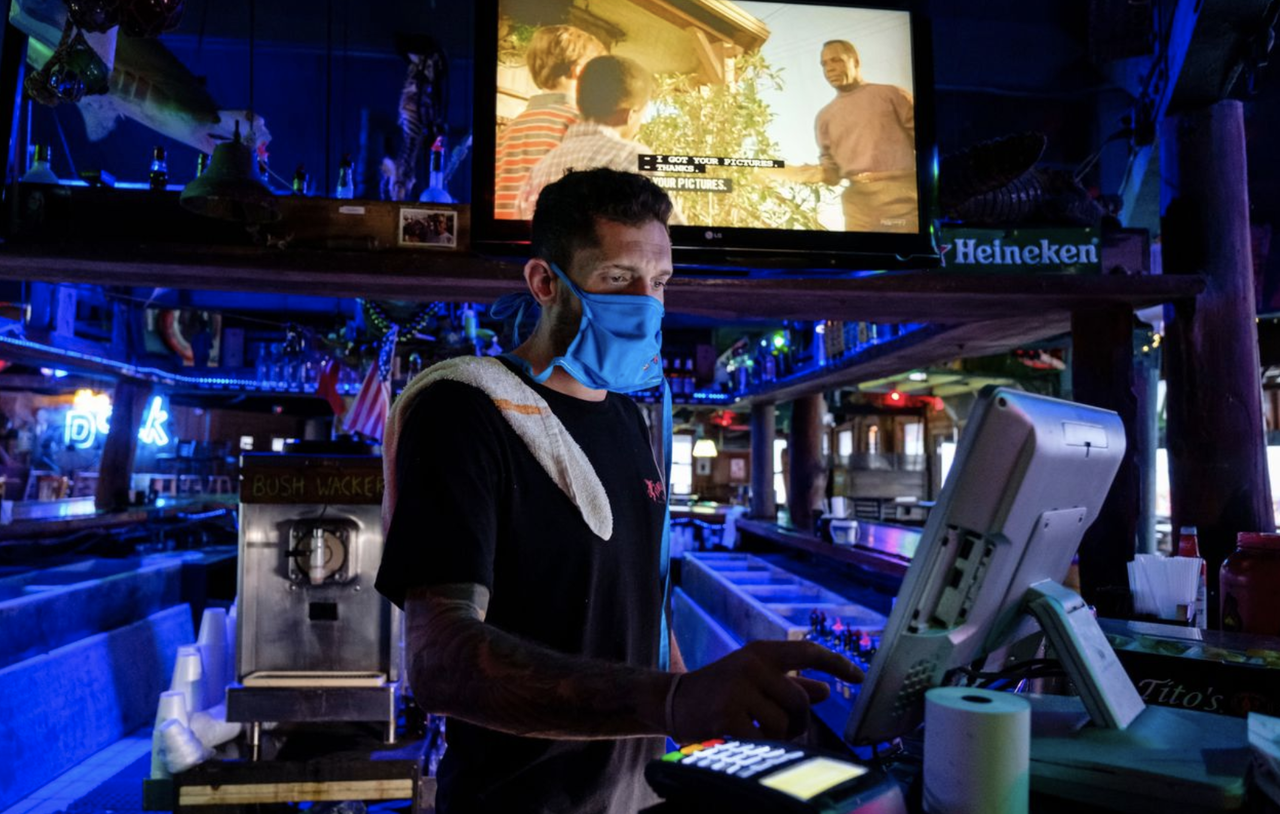 Roughly a quarter of these cases have been confirmed in the US, which has seen its case total pass 2.5 million, while US deaths are ~125k. JHU counted 499,342 deaths globally as of 1030ET on Sunday.
As more Republicans turn on President Trump and press him to step up and "lead", or risk allowing Joe Biden to win the election without leaving the basement, the Atlantic-run (and Laurene Powell Jobs-funded) COVID-19 Tracking Project has made an interesting point.
The number of cases confirmed during the outbreak in the northeast represents only a small portion of the total, while the timing of the outbreak in the south and west means more of the actual case total is being captured.
With that in mind, even when it comes to the number of cases being reported daily, the current outbreak probably isn't as severe as the outbreaks we saw in New York City and the Greater New York area (and surrounding states), even though the daily US national case totals are ~technically~ at fresh all-time highs.
The US saw ~43k new cases reported yesterday, a near-record total and the second straight (some say fourth-straight) day of 40k+ cases.
Another round of rumors about Dr. Fauci being "muzzled" by the White House (despite the fact that he just made another round of interviews) is hitting on Sunday. At this point, the stories are nothing new.
Testing has remained above 500k tests a day, a sign that testing has continued to improve (perhaps more 'protesters' are finally taking Gov Cuomo's advice and getting tested?) despite President Trump's remarks about trying to slow testing during the early days of the epidemic (there's no evidence he did, though the sentiment isn't exactly encouraging).
Deaths declined for the fourth day in a row, according to the numbers reported yesterday (which – remember – are reported with a 24-hour delay).
Florida reported a record jump in cases yesterday, its second record increase in a row, and at least the third in the past five days.
Outside of the US, perhaps the biggest news overnight arrives from China, where the Xiongan New Area south of Beijing has been locked down on Saturday, with measures including closing villages, communities and buildings to anyone who doesn't legally reside in the area, . Hebei province surrounds the federally administered capital city of Beijing. More than half a million people have been placed on a strict lockdown due to this latest outbreak.
Beijing has ramped up coronavirus testing efforts and has tested about one-third of the capital city's population. It's believe this outbreak is an extension of the cases stemming from the Xinfadi food market in southwestern Beijing, detected earlier this month.
As of midnight in the US on Sunday, Beijing had run nearly 8 million tests according to, Zhang Qiang, an official from the Beijing municipal committee.
The governor Australia's second-most-populous state said Sunday that his government is considering targeted stay-at-home orders and locking down suburbs to contain coronavirus clusters in Melbourne. Australia reported 53 new cases on Sunday, 49 of them in Victoria, which raised the country's total to 7,686 cases and 104 deaths. The latest cluster comes as Australia and neighboring New Zealand had mostly eradicated the virus. Victoria, the state which Melbourne serves as the capital, has reported new cases during 5 of the last 6 days, and was regularly reporting 0 cases a day as recently as June 9. About 40k residents of the state have been tested since Friday.
Iran is also struggling through a rebound in cases, and the hard-hit country is making masks mandatory in public. But the WHO on Sunday declared that the Philippines has seen the fastest increase in COVID-19 cases in the Western Pacific region. According to GMA News Online, between June 16 and 28, the total number of new cases in the Philippines was 9,655; that's nearly 4x Singapore, which came in second with 2,610 new cases.
NEW DATA SHOWS 8.7 MILLION AMERICANS LIKELY HAD CORONAVIRUS IN MARCH, LOCKDOWNS WERE WORTHLESS
According to a bombshell peer-reviewed study by Penn State released this week, the "number of early COVID-19 cases in the U.S. may have been more than 80 times greater" in March than originally believed. By the time governors in the U.S. forced lockdowns, COVID-19 had already extended beyond a point in which lockdowns could be effective in slowing the spread, according to the Centers for Disease Control and Prevention's (CDC) own research on pandemic virus mitigation strategies.
Translation? Lockdowns in the United States were never going to work.
About 100,000 cases were officially reported in the U.S. in March, according to the study published Monday in the journal Science Translational Medicine. However, the newly-published study estimates there were over 8.7 million Americans infected with coronavirus in March that health officials and the public never knew existed.
"The findings support a scenario where more than 8.7 million new SARS-CoV-2 [coronavirus] infections appeared in the U.S. during March and estimate that more than 80% of these cases remained unidentified as the outbreak rapidly spread," Justin Silverman of Penn State University, Alex Washburne of Montana State University, and colleagues at Cornell University and elsewhere wrote.
The CDC's own research on the spread of flu virus indicates that "the effectiveness of pandemic mitigation strategies will erode rapidly as the cumulative illness rate prior to implementation climbs above 1 percent of the population in an affected area." The Penn State study indicates that the virus had already hit 4% of the nationwide population by March and 9% of New York residents. (This likely solves the mystery as to why 66% of New Yorkers who were hospitalized with the virus were people who had been staying at home.) According to the study, the overwhelming majority of states were already at more than 1% prevalence when governors began mandating mass-business closures, shuttering schools, and lockdown orders.
The World Is In Big Trouble, for Those That Believe We Will Go Back to Some Sense of Normal Life Here on Earth, You Will Be Sadly Disappointed, Seven and Half Years of Hell on Earth Which Began January 1, 2020
"Our courts oppose the righteous, and justice is nowhere to be found. Truth stumbles in the streets, and honesty has been outlawed" (Isa. 59:14, NLT)…We Turned Our Backs On GOD, Now We Have Been Left To Our Own Devices, Enjoy…
While Mainstream Media Continues to Push a False Narrative, Big Tech Has Keep the Truth From Coming out by Shadow Banning Conservatives, Christians, and Like-Minded People, Those Death Attributed to the Coronavirus Is a Result of Those Mentioned, They Truly Are Evil…
Source: HNewsWire ZeroHedge Maness
StevieRay Hansen
Editor, HNewsWire.com
Watchmen does not confuse truth with consensus The Watchmen does not confuse God's word with the word of those in power…
In police-state fashion, Big Tech took the list of accused (including this site), declared all those named guilty and promptly shadow-banned, de-platformed or de-monetized us all without coming clean about how they engineered the crushing of dissent, Now more than ever big Tech has exposed there hand engaging in devious underhanded tactics to make the sinister look saintly, one of Satan's greatest weapons happens to be deceit…
The accumulating death toll from Covid-19 can be seen minute-by-minute on cable news channels. But there's another death toll few seem to care much about: the number of poverty-related deaths being set in motion by deliberately plunging millions of Americans into poverty and despair.
American health care, as we call it today, and for all its high-tech miracles, has evolved into one of the most atrocious rackets the world has ever seen. By racket, I mean an enterprise organized explicitly to make money dishonestly.
All the official reassurances won't be worth a bucket of warm spit. The Globals are behind the CoronaVirus, It Is a Man-Made Bioweapon.
For those of you who care, Google and your favorite social media platforms have misled you, and now we all pay a heavy price for trusting the ungodly, Google and company, They knew exactly what they were doing, removing our history while preparing you to accept the New World Order playbook, Enjoy.
The 127 Faith Foundation: We do not solicit donations from "those on disability, on a fixed income, or those who cannot afford to give." Please Pray!
Or, make checks payable to:
The 127 Faith Foundation
PO Box 127
Pontotoc, TX 76869
The number of Orphans aging out of Child Protective Custody has grown at an alarming rate. The 127 Faith Foundation receives many requests each week to house them at our ranch. Our prayer is that the good people of our country will step up to the challenge and offer financial support for "the least among us." We need your help! StevieRay Hansen, Founder, The 127 Faith Foundation
We make every effort to acknowledge sources used in our news articles. In a few cases, the sources were lost due to a technological glitch. If you believe we have not given sufficient credit for your source material, please contact us, and we will be more than happy to link to your article.