Advisory: Be careful of what you read on social media. The algorithms used by these platforms have no regard for Biblical truth. They target your emotions to keep you engaged on their site so their advertisers can drop more ads. These platforms exist to enrich their stockholders. Consider God's promise to Believers in James 1:5, "If any of you lacks wisdom, you should ask God, who gives generously to all without finding fault, and it will be given to you."
New York State Lawmaker Has Introduced a Bill That Would Allow the Government to Detain People That They Deemed to Be a Potential Public Health Risk…
Could this be the soon coming great deception spoken of in the bible? Never in the past have we been at a crossroads such as this, where the entire world is in a "lockdown" situation, cowering in fear due to a supposed "pandemic". Many seem willing to trade their freedom for a promised measure of safety, and a way out of this predicament.
Could we be approaching this "strong delusion" which God had promised, so that those would trust Him would be called out, and those that side with the new world system would show their allegiance to a false Messiah. Which side will you be on? A follower of the Lord Jesus Christ, the soon coming King who will judge all and eventually win the final battle? Or will you join the new world order, and pledge your allegiance to a false Christ, one who was foretold long ago, and who days are numbered. You will have to choose. .

A bill brought forward by a Democrat New York lawmaker would allow the governor to detain or force-medicate anyone they deemed to be a public health threat.
"So disturbing. NY bill allows for the *removal and detention* of anyone who 'may be a danger to public health.' Yes, that's purposely undefined," conservative podcast host Allie Beth said in reaction to the proposed legislation. "Yes, it will be used, at least one day, to forcibly remove you or your children from your home for whatever reason the state sees fit."
here's a New York State Senate proposal to put disease carriers in detention camps. https://nysenate.gov/legislation/bills/2021/a416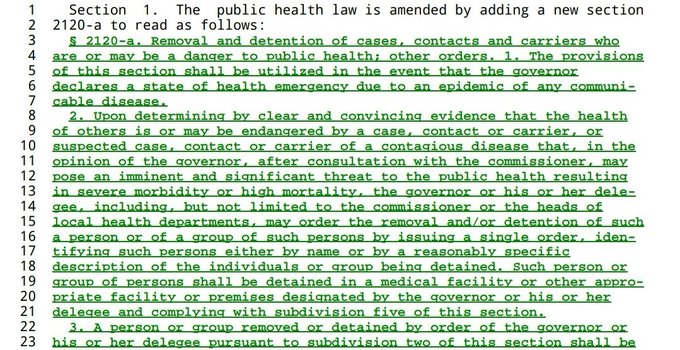 While the law does not specifically mention coronavirus, it comes amid increasing concerns that the Covid-19 crisis could be used to usher in authoritarianism.
RT reports: Authored by a Democratic member of the New York State Assembly N. Nick Perry, Bill A416 calls for the "removal and/or detention" of individuals who are identified as a "case, contact or carrier" of a contagious disease.
Such person or group of persons shall be detained in a medical facility or other appropriate facility or premises.
The sweeping powers would be employed in the event of the state government declaring a health emergency due to an epidemic of any communicable disease, the bill proposes. The legislation states that the government must provide "clear and convincing evidence" that the health of others is in danger before ordering a person or group to be detained. People being "removed" will have the right to legal representation and are allowed to supply the telephone numbers of friends or family to receive notification of the individual's detention.
The law apparently allows the governor or health official to unilaterally approve such detentions but a court order is required within 60 days of confinement, and judicial review is also required if the individual is still in detention after 90 days.
Citizens that are placed in detention will be released once health authorities determine that they are no longer contagious, the proposed law states.
The bill also allows the governor or relevant health authorities to require people deemed potential health risks to submit to medical examinations as well as undergo a "prescribed course of treatment, preventative medication or vaccination."
The law does not specifically mention coronavirus. On his website, Perry says A416 "Relates to the removal of cases, contacts and carriers of communicable diseases who are potentially dangerous to the public health."
In fact, the Democratic lawmaker introduced a nearly identical bill during the 2015-2016 legislative session, but it appears to have gone nowhere.
The current iteration of the proposed law will be reviewed by the assembly's health committee next week.
Although the legislation is still a long way off from adoption, it caused considerable consternation on social media.
here's a New York State Senate proposal to put disease carriers in detention camps. https://nysenate.gov/legislation/bills/2021/a416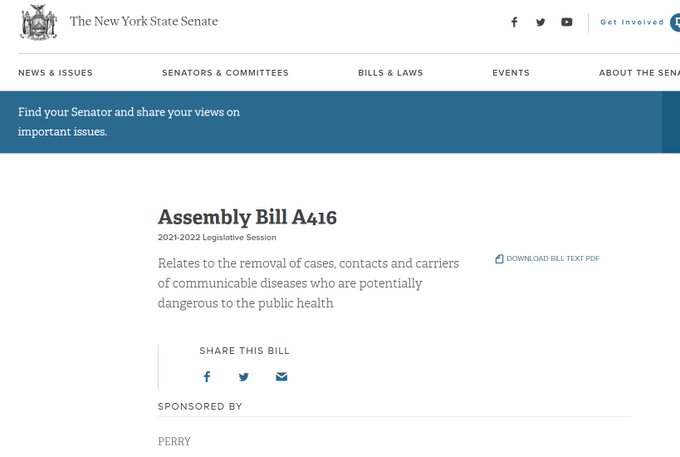 I knew Cuomo was a bit of an authoritarian anti-Semite but I never thought the state would go literal Nazi," Conservative commenter Ian Miles Cheong wrote, referring to New York governor Andrew Cuomo. The governor has previously been accused of imposing draconian crackdowns on New York City's Jewish community, which has resisted many of the Covid-19 restrictions imposed across the state.
"This was a conspiracy theory, like many other things, 9-10 months ago,"
Since the initial lockdown of the entire country in March of this year, democratic run states have been increasingly maintaining them in spite of their promises that they would end when the curve of the COVID 19 flattened. In New York, on March 25, the day that President Trump announced that "FEMA's progress building hospitals in New York were coming along "ahead of schedule." The governor ordered nursing homes and other long – term elderly care facilities to accept COVID positive patients even though they were screaming they didn't have the capabilities of taking care of them. This action resulted in over 40% of the deaths in NY taking place in these facilities. Another reason this was unnecessary was that the USNS Comfort was docked at Pier 90 in Manhattan to take COVID patients after being retooled, as the Javits Center was too, to take these patients.
In the wake of all of these deaths and millions of dollars donated to his upcoming campaign for re-election from the nursing home owners, the governor had a law passed making him and the nursing home execs immune from prosecution or lawsuits stemming from their actions which got over 11,000 people killed. In a speech at the Democratic National Convention, he claimed that the response in NY was beautiful. If it was so beautiful, why did he need to protect himself and his donors and cronies from being sued for their actions?
What he forgets is that if it wasn't for President Trump, many more New Yorkers would have died from the lack of ventilators and other PPE which he was told in 2015 by his OWN HEALTH DEPARTMENT he needed to purchase. Instead, he spent $750 million on a Solar Panel factory that failed and $600 million on a computer chip factory which also failed. While the mayor of NYC was spending $90 million on a failed lightbulb factory. No, he remembers, he just chooses to take the credit for someone else's actions. What he'll never admit to is that in April he was praising President Trump for what he did for New York
Even after the disease and death curves flattened in NY, the governor continued the lockdowns, which has led to many small businesses going out of business. As well as restricting religious gatherings, cancelling graduations and other annual events. While Alexandria Ocasio Cortes, was telling him and other democratic state governors they should leave their states locked down. "It's vital that Governors maintain restrictions on businesses until after the November Elections because economic recovery will help Trump be re-elected. A few business closures or job losses is a small price to pay to be free from his presidency. #KeepUsClosed." He and the mayor of NYC, while restricting the aforementioned events, allowed protests and riots to take place, with total disregard for mask rules, social distancing and not singing or screaming which they said would cause a super spread of the disease in houses of worship, using that as an excuse to keep New Yorkers from gathering to worship. A Federal Judge said New York Governor Andrew Cuomo is wrong to limit worship services yet condone mass protests. After telling Thomas More Society attorneys in a June 18 hearing that he was "troubled by" the government's responses, Senior U.S. District Judge Gary L. Sharpe issued a preliminary injunction on June 26, 2020, prohibiting Governor Cuomo, his Attorney General Letitia James, and New York City Mayor Bill de Blasio from ordering or enforcing COVID-19 prompted restrictions on outdoor religious worship gatherings. We must remember that the allowances of certain events while now allowing others boils down to one basic idea. If it fits their narrative and agrees with their political view, it's okay, damn the torpedoes, full steam ahead. If it doesn't, IT MUST BE STOPPED AND YOU WILL SERVE JAIL TIME FOR VIOLATING THE RULES.
Lest we forget that the mayor of NYC was out in front of Trump Tower helping to paint BLACK LIVES MATTER on the street with no social distancing and no mask wearing.
In a VIN news article from June 26, 2020, Thomas More Society Special Counsel Christopher Ferrara remarked, "We are pleased that Judge Sharpe was able to see through the sham of Governor Cuomo's 'Social Distancing Protocol' which went right out the window as soon as he and Mayor de Blasio saw a mass protest movement they favored taking to the streets by the thousands. Suddenly, the limit on 'mass gatherings' was no longer necessary to 'save lives.' Yet they were continuing to ban high school graduations and other outdoor gatherings exceeding a mere 25 people. This decision is an important step toward inhibiting the suddenly emerging trend of exercising absolute monarchy on pretext of public health. What this kind of regime really meant in practice is freedom for me, but not for thee."
With this decision going against the governor and the mayor, the NYS Assembly has before it, a way that can be used to get rid of any people opposing their agenda. It is Assembly Bill A99 which Relates to the removal of cases, contacts and carriers of communicable diseases who are potentially dangerous to the public health. This bill will lead NY to exercising absolute monarchy on pretext of public health that Senior U.S. District Judge Gary L. Sharpe warned us about in his decision.
2120-A REMOVAL AND DETENTION OF CASES, CONTACTS AND CARRIERS WHO ARE OR MAY BE A DANGER TO PUBLIC HEALTH OTHER ORDERS.
THE PROVISIONS OF THIS SECTION SHALL BE UTILIZED IN THE EVENT THAT THE GOVERNOR DECLARES A STATE OF HEALTH EMERGENCY DUE TO AN EPIDEMIC OF ANY COMMUNICABLE DISEASE.
This governor declared a health emergency when New York became the epicenter for COVID. So, step one is already complete. Now this could be used against people even if they simply have a common cold, flu, measles, chicken pox not solely COVID 19 (which is never mentioned in this bill).
UPON DETERMINING BY CLEAR AND CONVINCING EVIDENCE THAT THE HEALTH
OF OTHERS IS OR MAY BE ENDANGERED BY A CASE, CONTACT OR CARRIER, OR
SUSPECTED CASE, CONTACT OR CARRIER OF A CONTAGIOUS DISEASE THAT, IN THE
OPINION OF THE GOVERNOR, AFTER CONSULTATION WITH THE COMMISSIONER, MAY
POSE AN IMMINENT AND SIGNIFICANT THREAT TO THE PUBLIC HEALTH RESULTING
IN SEVERE MORBIDITY OR HIGH MORTALITY, THE GOVERNOR OR HIS OR HER DELEGEE, INCLUDING, BUT NOT LIMITED TO THE COMMISSIONER OR THE HEADS OF LOCAL HEALTH DEPARTMENTS, MAY ORDER THE REMOVAL AND/OR DETENTION OF SUCH A PERSON OR OF A GROUP OF SUCH PERSONS BY ISSUING A SINGLE ORDER, IDENTIFYING SUCH PERSONS EITHER BY NAME OR BY A REASONABLY SPECIFIC DESCRIPTION OF THE INDIVIDUALS OR GROUP BEING DETAINED. SUCH PERSON OR GROUP OF PERSONS SHALL BE DETAINED IN A MEDICAL FACILITY OR OTHER APPROPRIATE FACILITY OR PREMISES DESIGNATED BY THE GOVERNOR OR HIS OR HER DELEGEE AND COMPLYING WITH SUBDIVISION FIVE OF THIS SECTION.
According to this section all they have to do is SUSPECT you or a group of people of having a communicable disease and they can detain you. Take you out of your home and put you in any "medical or other appropriate facility" they want to.
This law can be weaponized by people to get rid of people they don't like. Person A hates person B and calls the government health department and tells them he/she suspects that person B has a communicable disease even though it is not true. The government comes and picks up and problem for person A…GONE. It can also be used as a political weapon to get rid of people in opposing political parties who don't agree with the government.
Section 7 of this bill explains the detention time. It begins at 3 BUSINESS, not CALENDAR days. It jumps to 5 days and then 60 days ending with 90 days all based on court orders. They put that in to make it look like a legal detention. Of course, with the courts in NY under the control of the same political party as the governor and the majority of the Assembly and Senate, they would back the detention and issue the order. They can continue to detain you for 90 days at a throw pending subsequent court orders. The section says the governor or his delegee shall prove the particularized circumstances constituting the necessity for such detention by clear and convincing evidence. The problem with this is multifold. First, they can originally detain you on mere suspicion. So how can they now all of the sudden have clear and convincing evidence? Second, the detention time grows based on court orders to maintain the detention that would never be denied. Third, what compelling evidence would they use to keep you detained? The results of any tests they do would be suspect as to their legitimacy because of the circumstances of the original detention. They show the courts a "positive" test for a communicable disease which may or may not be one they did on you.
WHEN A PERSON OR GROUP IS ORDERED TO BE DETAINED PURSUANT TO SUBDIVISION TWO OF THIS SECTION FOR A PERIOD EXCEEDING THREE BUSINESS DAYS, AND SUCH PERSON OR MEMBER OF SUCH GROUP REQUESTS RELEASE, THE GOVERNOR OR HIS OR HER DELEGEE SHALL MAKE AN APPLICATION FOR A COURT ORDER AUTHORIZING SUCH DETENTION WITHIN THREE BUSINESS DAYS AFTER SUCH REQUEST BY THE END OF THE FIRST BUSINESS DAY FOLLOWING SUCH SATURDAY, SUNDAY, OR LEGAL HOLIDAY, WHICH APPLICATION SHALL INCLUDE A REQUEST FOR AN EXPEDITED HEARING. AFTER ANY SUCH REQUEST FOR RELEASE, DETENTION SHALL NOT CONTINUE FOR MORE THAN FIVE BUSINESS DAYS IN THE ABSENCE OF A COURT ORDER AUTHORIZING DETENTION. NOTWITHSTANDING THE FOREGOING PROVISIONS, IN NO EVENT SHALL ANY PERSON BE DETAINED FOR MORE THAN SIXTY DAYS WITHOUT A COURT ORDER AUTHORIZING SUCH DETENTION. THE GOVERNOR OR HIS OR HER DELEGEE SHALL SEEK FURTHER COURT REVIEW OF SUCH DETENTION WITHIN NINETY DAYS FOLLOWING THE INITIAL COURT ORDER AUTHORIZING DETENTION AND THEREAFTER WITHIN NINETY DAYS OF EACH SUBSEQUENT COURT REVIEW. IN ANY COURT PROCEEDING TO ENFORCE AN ORDER OF THE GOVERNOR OR HIS OR HER DELEGEE FOR THE REMOVAL OR DETENTION OF A PERSON OR GROUP ISSUED PURSUANT TO THIS SUBDIVISION OR FOR REVIEW OF THE CONTINUED DETENTION OF A PERSON OR GROUP, THE GOVERNOR OR HIS OR HER DELEGEE SHALL PROVE THE PARTICULARIZED CIRCUMSTANCES CONSTITUTING THE NECESSITY FOR SUCH DETENTION BY CLEAR AND CONVINCING EVIDENCE.
The bill tries to make an ILLEGAL detention legal in section 8.
ANY DETENTION ORDER OF THE COMMISSIONER ISSUED PURSUANT TO SUBDIVISION TWO OF THIS SECTION SHALL SET FORTH:
(I) THE PURPOSE OF THE DETENTION AND THE LEGAL AUTHORITY UNDER WHICH THE ORDER IS ISSUED, INCLUDING THE PARTICULAR SECTIONS OF THIS ARTICLE OR OTHER LAW OR REGULATION
(II) A DESCRIPTION OF THE CIRCUMSTANCES AND/OR BEHAVIOR OF THE DETAINED PERSON OR GROUP CONSTITUTING THE BASIS FOR THE ISSUANCE OF THE ORDER
(III) THE LESS RESTRICTIVE ALTERNATIVES THAT WERE ATTEMPTED AND WERE
UNSUCCESSFUL AND/OR THE LESS RESTRICTIVE ALTERNATIVES THAT WERE
CONSIDERED AND REJECTED, AND THE REASONS SUCH ALTERNATIVES WERE REJECTED
How can an ILLEGAL detention be made legal by having a legal government authority authorizing it? It also points to a person's behavior as a "legal" reason to detain people. Basically, person A yells at person B and person B reports that person A's behavior is not proper. Person A is now detained for what the government constitutes as improper behavior.
Sub – Section III requires the government proves that less restrictive alternatives were attempted prior to detention. All they have to say is that this was done under the initial lockdown and as such the requirements of this section were met.
To add to the "legitimacy" of this bill, subsections V allows you to contact legal counsel which will be facilitated to the "extent feasible under the circumstances". This means that they can tell you that at this time the circumstances do not allow you to be represented by legal counsel. Or they'll tell you that they contacted your counsel, when they really didn't. This can go on until they decide to let you have a lawyer. IF THEY LET YOU HAVE A LAWYER!!!
(V) A NOTICE ADVISING THE PERSON OR GROUP BEING DETAINED THAT THEY HAVE A RIGHT TO BE REPRESENTED BY LEGAL COUNSEL AND THAT UPON REQUEST OF SUCH PERSON OR GROUP ACCESS TO COUNSEL WILL BE FACILITATED TO THE EXTENT FEASIBLE UNDER THE CIRCUMSTANCES.
Section VI says you can supply the government with a list of friend's and family's phone numbers and/or addresses to let them know you have been detained. Great. Now it will be easier for the government to find your friends and family and detain them as well. Again, this is pursuant to the "extent feasible and a reasonable number of people to be contacted." They can tell you they are going to contact these people, detain them and not tell you they were detained as well.
(VI) A NOTICE ADVISING THE PERSON OR GROUP BEING DETAINED THAT THEY
MAY SUPPLY THE ADDRESSES AND/OR TELEPHONE NUMBERS OF FRIENDS AND/OR
RELATIVES TO RECEIVE NOTIFICATION OF THE PERSON'S DETENTION, AND THAT
THE DEPARTMENT SHALL, AT THE DETAINED PERSON'S REQUEST AND TO THE EXTENT
FEASIBLE, PROVIDE NOTICE TO A REASONABLE NUMBER OF SUCH PEOPLE THAT THE
PERSON IS BEING DETAINED.
A PERSON WHO IS DETAINED IN A MEDICAL FACILITY, OR OTHER APPROPRIATE FACILITY OR PREMISES, SHALL NOT CONDUCT HIMSELF OR HERSELF IN A DISORDERLY MANNER, AND SHALL NOT LEAVE OR ATTEMPT TO LEAVE SUCH FACILITY OR PREMISES UNTIL HE OR SHE IS DISCHARGED PURSUANT TO THIS SECTION.
People in general comport themselves in orderly manners. Section 9 tells detainees that they shall not conduct themselves in a disorderly manner. What is considered a "disorderly manner"? Who gets to decide if you are being disorderly? If you voice your dissatisfaction at being ILLEGALLY detained, is that disorderly? If you ask for the proof of their "suspicions" that you have a communicable disease, is that disorderly? This is another of the bill's vague statements. And what is the "punishment" to be for your "acting in a disorderly manner?" Jail? Oh wait. YOU'RE ALREADY IN JAIL!! Solitary confinement?
Under this section you are also forbidden to attempt to leave the facility. Technically, this is legalized kidnapping. At minimum it is being held against your will. It is he job of people held against their will ILLEGALLY to attempt to escape the captivity. You have not been convicted of breaking any law. You have not been PROVEN, ONLY SUSPECTED to be a danger to society due to any mental, physical or medical issue you DON'T ACTUALLY have.
Section 11 of this excludes orders pursuant to subsection 11.21 of the NYC Health Code. The reason it does not apply to this is because this subsection actually talks of a doctor treating a case of ACTIVE tuberculosis. NOT A SUSPECTED CASE OF A NON – EXISTENT COMMUNICABLE DISEASE.
THE PROVISIONS OF THIS SECTION SHALL NOT APPLY TO THE ISSUANCE OF ORDERS
PURSUANT TO § 11.21 OF THE NEW YORK CITY HEALTH CODE.
11.21 Tuberculosis; reporting, examination, treatment, exclusion, removal and detention. (a) Reports; treatment plan review; approval of hospital discharges; and contact examination. (1) Reports. A physician who attends a case of active tuberculosis, or the person in charge of a hospital, dispensary or clinic giving out-patient treatment to such a case, shall report to the Department at such times that the Department requires.
Section 12 REQUIRES testing of people who MAY HAVE BEEN EXPOSED to a contagious disease or again MAY HAVE BEEN EXPOSED to or contaminated with dangerous amounts of radioactive material or toxic chemicals. There have been concerns that the 5G network that is being worked on puts out radiation only 800 rads lower than a microwave oven does. Schools are being fitted with 5G networks to speed up internet access. This is another excuse to now be able to take our children out of school because of an ALLEGED exposure and place them in facilities for more intense indoctrination to the democratic liberal, progressive, socialist, communist agenda of the left. This will also allow them to force treatment on you for the disease or contamination that THEY deem appropriately prescribed preventative medication or vaccination for as long as THEY feel you MAY PRESENT a danger to others.
…TO REQUIRE THE TESTING OR MEDICAL EXAMINATION OF PERSONS WHO MAY HAVE BEEN EXPOSED TO OR INFECTED BY A CONTAGIOUS DISEASE OR WHO MAY HAVE BEEN EXPOSED TO OR CONTAMINATED WITH DANGEROUS AMOUNTS OF RADIOACTIVE MATERIALS OR TOXIC CHEMICALS; TO REQUIRE AN INDIVIDUAL WHO HAS BEEN EXPOSED TO OR INFECTED BY A CONTAGIOUS DISEASE TO COMPLETE AN APPROPRIATE, PRESCRIBED COURSE OF TREATMENT, PREVENTIVE MEDICATION OR VACCINATION, INCLUDING DIRECTLY OBSERVED THERAPY TO TREAT THE DISEASE AND FOLLOW INFECTION CONTROL PROVISIONS FOR THE DISEASE; OR TO REQUIRE AN INDIVIDUAL WHO HAS BEEN CONTAMINATED WITH DANGEROUS AMOUNTS OF RADIOACTIVE MATERIALS OR TOXIC CHEMICALS SUCH THAT SAID INDIVIDUAL MAY PRESENT A DANGER TO OTHERS, TO UNDERGO DECONTAMINATION PROCEDURES DEEMED NECESSARY BY THE DEPARTMENT.
As I said earlier in this article, this is a blatant attempt to make getting rid of political opposition legal, to control the society, get people they deem to be "undesirable and deplorable out of the way to make sure their agenda moves forward smoothly.
Even though it does not say it in the bill, the vagueness of the reasons for detention and the ability to detain people based SOLELY on SUSPICION would allow the government to detain people who have pre – existing conditions such as asthma or diabetes, which could lead to contracting a "communicable" disease more likely!!!
The phrases MAY BE or suspicion of or suspected of are used many times in this bill. This is just further proof that this is an attempt to control the citizens of New York illegally.
Finally as I pointed out in the beginning, in this day and age of attempts by certain segments of our society to squash our rights and freedoms, one would hope that a legislative body would not try to totally usurp the Federal Constitution and the Bill of Rights as well as the NYS Constitution and Bill of Rights which affords more protections against government intrusion into our rights than the Federal one does.
This is a time of tribulation upon the earth. Its severity is without historical precedent. Concerning this time, the angel, Gabriel, told Daniel, that it "will be a time of distress such as never occurred since there was a nation until that time" (Dan 12:1a). This time of tribulation is in keeping with unfulfilled prophecy given to Daniel that pertains to Israel (Dan 9:24-27). It is during this time that God's wrath will be poured out upon the world—specifically those who are hostile to Him and His people.
We are doomed as a nation if we continue to obey Satan Soldiers .
Source: HNewsWire rocklandtimes HNewsWire HNewsWire HNewsWire HNewsWire
StevieRay Hansen
Editor, HNewsWire.com
Watchmen does not confuse truth with consensus The Watchmen does not confuse God's word with the word of those in power…
To get an idea of how great a warrior our Commander is, remember that He let men do their worst, allowed Satan and his demons to fight Him with His hands and feet nailed in place, and He still won. He walked out of the grave with the keys of death and hell. He is the greatest of all warriors. And if we want to learn to fight this spiritual battle, we look to how He fought it with the Word of God as His weapon. He didn't do anything on His own. He looked to see what the Father was doing. (John 5:1932). Learn from the best! Listen to the Commander of heaven's armies, and do what He says (Luke 1:3833; James 1:2234).
We make every effort to acknowledge sources used in our news articles. In a few cases, the sources were lost due to a technological glitch. If you believe we have not given sufficient credit for your source material, please contact us, and we will be more than happy to link to your article.