Advisory: Be careful of what you read on social media. The algorithms used by these platforms have no regard for Biblical truth. They target your emotions to keep you engaged on their site so their advertisers can drop more ads. These platforms exist to enrich their stockholders. Consider God's promise to Believers in James 1:5, "If any of you lacks wisdom, you should ask God, who gives generously to all without finding fault, and it will be given to you."
Truth Is, Something Is Going to Happen to America, It's Called Tribulations, and Nothing Will Be able to Stop This Coming Event, Not Even Trump Winning Reelection…
The far-left Washington Post blackmailed the country Thursday with a threat framed as analysis that says only a landslide victory for Joe Biden can save us from violence.
Because the Post piece is both fake news and irresponsible, I'm not going to compound those sins by linking it here. The Post's tweet advertising the piece (which I also won't link) sums up the threat perfectly: "The election will likely spark violence — and a constitutional crisis," the tweet reads. "In every scenario except a Biden landslide, our simulation ended catastrophically."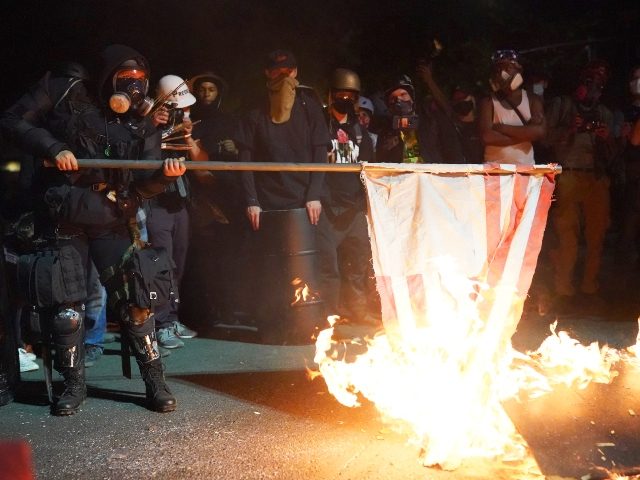 Only a Biden landslide can save America from a national catastrophe.
In other words…
That's a nice country you got there. Be a shame if anything happened to it.
The Post's bald-faced threat is couched in a piece of analysis that does not even attempt to be serious, especially in a country where, as I write this, countless Democrat-run cities are on fire thanks to Black Lives Matter and Antifa, two left-wing terrorists groups who operate as Brownshirts for the Democrat Party and media outlets like the Washington Post — who regularly encourage and protect these domestic terrorists.
Even more ludicrous, the Post's threat is only made possibly by way of its cherry-picking of "experts."
They make it all so official-sounding. I've emphasized the howlers:
President Trump has broken countless norms and ignored countless laws during his time in office, and while my colleagues and I at the Transition Integrity Project didn't want to lie awake at night contemplating the ways the American experiment could fail, we realized that identifying the most serious risks to our democracy might be the best way to avert a November disaster. So we built a series of war games, sought out some of the most accomplished Republicans, Democrats, civil servants, media experts, pollsters and strategists around, and asked them to imagine what they'd do in a range of election and transition scenarios.

A landslide for Joe Biden resulted in a relatively orderly transfer of power. Every other scenario we looked at involved street-level violence and political crisis.
I swear I'm not making that up. I know it sounds like something I'd make up, especially something as hilarious as a "Transition Integrity Project" operating from the same Washington Post hellhole that led the fake news propaganda jihad for the Russia Collusion Hoax coup plotters. But it's all real. I swear. Look it up if you don't believe me.
Anyway, the Transition Integrity Project's war games (can you believe they used the term "war games?") are staffed only with ringers. The "accomplished Republicans" are all — and I do mean all — bitter, half-witted, Trump haters: Michael Steele. Bill Kristol. Trey Grayson.
On the other side are only Biden loyalists: John Podesta. Donna Brazile. Jennifer Granholm.
Not even one disgruntled Bernie Bro.
Not even one.
So the Transition Integrity Project asked six people who fucking hate Donald Trump something about Donald Trump and the answer is not looking so good for Donald Trump.
Transition Integrity Project?
More like the Transition Rigged Project.
So even though Joe Biden's supporters are right now — I mean right now as I write this — burning down a whole bunch of Democrat-run cities and Joe Biden has said almost nothing to stop them and PLENTY to encourage them, the Transition Rigged Project talked to six people who fucking hate Donald Trump and came to this bottom line [emphasis added]:
In every exercise, both teams sought to mobilize their supporters to take to the streets. Team Biden repeatedly called for peaceful protests, while Team Trump encouraged provocateurs to incite violence, then used the resulting chaos to justify sending federalized Guard units or active-duty military personnel into American cities to "restore order," leading to still more violence. (The exercises underscored the tremendous power enjoyed by an incumbent president: Biden can call a news conference, but Trump can call in the 82nd Airborne.)
Yep, the 82nd Airborne, y'all.
Here's something else the Transition Rigged Project war gamed:
In the "narrow Biden win" scenario, Trump refused to leave office and was ultimately escorted out by the Secret Service — but only after pardoning himself and his family and burning incriminating documents.
Let me tell you what's happening here…
If Trump wins, the organized left, and you can bet that includes media outlets like the Washington Post, intend to declare war on us. On you and I.
Not political war.
War-war.
That's what they're doing now.
That's what the Democrat Party's and the media's Brownshirts in Black Lives Matter and Antifa are doing right now in Kenosha and Rochester and Minneapolis and Portland and will do in any other place where an excuse can be found or manufactured.
The war is a hot war. If Trump wins re-election it's going to get hotter.
The Washington Post is warning us — not just that there will be a war if Trump loses, but that we will be blamed for the war.
Hey, we warned you if you didn't pay for protection your store would burn down.
Hey, we warned you if you didn't vote for Joe Biden your store and your home and your car and your life would burn down.
This is not a drill.
This is a threat.
Take this threat seriously.
Prepare yourself.
Prepare yourself before it's too late to prepare yourself.
They are tolerant of everything except dissenting values and opinions, Big Tech, Mainstream Media, and of course those liberal politicians that want to control mankind's every move, they are reprobates, meaning, of course, they are tolerant of nothing that matters, only themselves." Blood has surely Flow in the streets, and unless the people are free to live their lives as God intended, the alternative mayhem, death, and destruction, it's called hell on earth–tribulation and we are here now, prepare yourself for the ride, it will be bumpy.
"All political language is designed to make lies sound truthful and murder respectable." Just look at some of our modern-day examples: torture is "enhanced interrogation techniques"; murder is "collateral damage"; the aggression initiation of war is a "pre-emptive strike"; the theft of taxpayers' money is a "bailout", and the theft of depositors' money in a bank is a "haircut" or "bail-in".In a blatant example of Newspeak, the New World Order controllers (through the psychiatric DSM V) have tried to rename pedophiles as "minor-attracted persons" and redefine pedophilia as "sexual orientation". This makes no sense since sexual orientation has to do with gender, not age, with whether you are attracted to males or females, not how old they are. There are even organizations (like B4UAct.org) which are claiming that pedophiles are being unfairly stigmatized for their feelings!
2 Corinthians 4:8-11 New King James Version (NKJV)
8 We are hard-pressed on every side, yet not crushed; we are perplexed, but not in despair; 9 persecuted, but not forsaken; struck down, but not destroyed— 10 always carrying about in the body the dying of the Lord Jesus, that the life of Jesus also may be manifested in our body. 11 For we who live are always delivered to death for Jesus' sake, that the life of Jesus also may be manifested in our mortal flesh.
2 Timothy 3:1-5…
But understand this, that in the last days there will come times of difficulty. For people will be lovers of self, lovers of money, proud, arrogant, abusive, disobedient to their parents, ungrateful, unholy, heartless, unappeasable, slanderous, without self-control, brutal, not loving good, treacherous, reckless, swollen with conceit, lovers of pleasure rather than lovers of God, having the appearance of godliness, but denying its power. Avoid such people…
HNewsWire-"To kill with sword and with famine and with pestilence"…
To enforce the climate change carbon taxes, governments of the world will wield "swords" (i.e. government weapons) against the citizens. Understanding the environmentalist movement, and watching the governments of the world walk lockstep into the "APOCALYPSE"……
"Who are the four horsemen of the apocalypse?"

The four horsemen of the Apocalypse are described in Revelation chapter 6, verses 1-8. The four horsemen are symbolic descriptions of different events that will take place in the end times. The first horseman of the Apocalypse is mentioned in Revelation 6:2: "I looked, and there before me was a white horse! Its rider held a bow, and he was given a crown, and he rode out as a conqueror bent on conquest." This first horseman likely refers to the Antichrist, who will be given authority and will conquer all who oppose him. The antichrist is the false imitator of the true Christ, who will also return on a white horse (Revelation 19:11-16).
The second horseman of the Apocalypse appears in Revelation 6:4, "Then another horse came out, a fiery red one. Its rider was given the power to take peace from the earth and to make men slay each other. To him was given a large sword." The second horseman refers to terrible warfare that will break out in the end times. The third horseman is described in Revelation 6:5-6, "…and there before me was a black horse! Its rider was holding a pair of scales in his hand. Then I heard what sounded like a voice among the four living creatures, saying, 'A quart of wheat for a day's wages, and three quarts of barley for a day's wages, and do not damage the oil and the wine!'" The third horseman of the Apocalypse refers to a great famine that will take place, likely as a result of the wars from the second horseman.
The fourth horseman is mentioned in Revelation 6:8, "I looked, and there before me was a pale horse! Its rider was named Death, and Hades was following close behind him. They were given power over a fourth of the earth to kill by sword, famine, and plague, and by the wild beasts of the earth." The fourth horseman of the Apocalypse is symbolic of death and devastation. It seems to be a combination of the previous horsemen. The fourth horseman of the Apocalypse will bring further warfare and terrible famines along with awful plagues and diseases. What is most amazing, or perhaps terrifying, is that the four horsemen of the Apocalypse are just "precursors" of even worse judgments that come later in the tribulation (Revelation chapters 8–9 and 16).
According to Biblical scholars, there are four "horsemen" that represent four of the Seals prophesied in the Book of Revelation, which describes the complete destruction of human civilization as God's wrath is unleashed upon those who serve Satan. The fourth of these horsemen is known as "Death," and it is usually described as a horseman riding a "pale horse." But there's a key translation problem that's causing almost everyone to miss a bigger truth that needs to be pointed out.
The passage from Revelation (6:7-8) is typically translated like this: (English Standard Version)
And I looked, and behold, a pale horse! And its rider's name was Death, and Hades followed him. And they were given authority over a fourth of the earth, to kill with sword and with famine and with pestilence and by wild beasts of the earth.
However, I have done an in-depth analysis and learned this is a mistranslation. In the original Hebrew text, the color of the horse is not "pale" but rather chloros, the Greek word for "green,"( It is the environmental movement ) sharing the same word root as "chlorophyll," the molecule of photosynthesis for all green plants on our planet. The environmental movement has declared war on carbon dioxide, the "miracle" molecule of life which powers the photosynthesis process that requires chlorophyll (and produces oxygen as a byproduct of plant respiration). Carbon dioxide might even be called the "God molecule" since it is the very basis of nearly all food webs and living ecosystems on the planet. Yet the environmental movement has declared this "God molecule" to be a pollutant… and now promises to banish this molecule by dimming the sun with geoengineering efforts, literally "blocking the light" that powers all plant life on Earth.
As predicted in revelations, a collapse in the food supply will result in the immediate "famine" that are directly cited in the passage, followed by "pestilence" or disease. Indeed, if the Green New Deal now being pushed by elected officials were to become a reality, it would result in mass death, starvation, pestilence, and even economic destruction. It's interesting when you connect the dots, the masses are opposed to God's blueprint and therefore will bring destruction upon the earth intentionally. Me, I, mine, narcissists generation will bring total destruction upon God's people, only the chosen will survive, we live in evil times, dress appropriately, put on the full armor of God!
As Time Goes on There Will Be a Lot of Politicians, Police Officers, Judges That Will Take Cover in Other Words They Are Going to Remain Neutral Out for Fear for Their Lives. You Are On Your Own, Prepare For The Worst, Pray for the Best –Tribulations Will Be Very Ugly
I Want Everyone to Know, Never Take Anyone's Word for the Gospel, Especially Revelations, Here's How It Works. When You're in the Word God Will Speak to You Through His Holy Spirit He Will Move You in the Direction He Wants You to Go. Please Stop Looking For That Individual Here on Earth That Has All the Answers, They're Not Here and That Confuse You.. That Includes Anything I Say, Always Test Every Spirit. Every Word That Is Uttered Out of Any Man's Mouth Must Be Verified Through the Holy Spirit… Stevieray Hansen
I Have Never Seen The Righteous Forsaken or Begging For Rain…
The World Is In Big Trouble, for Those That Believe We Will Go Back to Some Sense of Normal Life Here on Earth, You Will Be Sadly Disappointed, Seven and Half Years of Hell on Earth Which Began January 1, 2020
"Our courts oppose the righteous, and justice is nowhere to be found. Truth stumbles in the streets, and honesty has been outlawed" (Isa. 59:14, NLT)…We Turned Our Backs On GOD, Now We Have Been Left To Our Own Devices, Enjoy…
While Mainstream Media Continues to Push a False Narrative, Big Tech Has Keep the Truth From Coming out by Shadow Banning Conservatives, Christians, and Like-Minded People, Those Death Attributed to the Coronavirus Is a Result of Those Mentioned, They Truly Are Evil…
Source: HNewsWire breitbart HNewsWire
StevieRay Hansen
Editor, HNewsWire.com
Watchmen does not confuse truth with consensus The Watchmen does not confuse God's word with the word of those in power…
In police-state fashion, Big Tech took the list of accused (including this site), declared all those named guilty and promptly shadow-banned, de-platformed or de-monetized us all without coming clean about how they engineered the crushing of dissent, Now more than ever big Tech has exposed there hand engaging in devious underhanded tactics to make the sinister look saintly, one of Satan's greatest weapons happens to be deceit…
The accumulating death toll from Covid-19 can be seen minute-by-minute on cable news channels. But there's another death toll few seem to care much about: the number of poverty-related deaths being set in motion by deliberately plunging millions of Americans into poverty and despair.
American health care, as we call it today, and for all its high-tech miracles, has evolved into one of the most atrocious rackets the world has ever seen. By racket, I mean an enterprise organized explicitly to make money dishonestly.
All the official reassurances won't be worth a bucket of warm spit. The Globals are behind the CoronaVirus, It Is a Man-Made Bioweapon.
For those of you who care, Google and your favorite social media platforms have misled you, and now we all pay a heavy price for trusting the ungodly, Google and company, They knew exactly what they were doing, removing our history while preparing you to accept the New World Order playbook, Enjoy.
Daily Devotional: Poet Thomas Hardy said that prayer is useless because there's no one to pray to except "that dreaming, dark, dumb thing that turns…
Read More
We make every effort to acknowledge sources used in our news articles. In a few cases, the sources were lost due to a technological glitch. If you believe we have not given sufficient credit for your source material, please contact us, and we will be more than happy to link to your article.