Advisory: Be careful of what you read on social media. The algorithms used by these platforms have no regard for Biblical truth. They target your emotions to keep you engaged on their site so their advertisers can drop more ads. These platforms exist to enrich their stockholders. Consider God's promise to Believers in James 1:5, "If any of you lacks wisdom, you should ask God, who gives generously to all without finding fault, and it will be given to you."
Whistleblowing ER Docs Urge "Open Up Society Now" Because "Lockdowns Are Weakening Our Immune Systems"
Dr. Daniel W. Erickson of Bakersfield, California, is a former emergency-room physician who co-owns, with his partner Dr. Artin Massih, Accelerated Urgent Care in Bakersfield.
They are experienced medical professionals who have 40 years of hands-on experience in dealing with viruses and respiratory infections.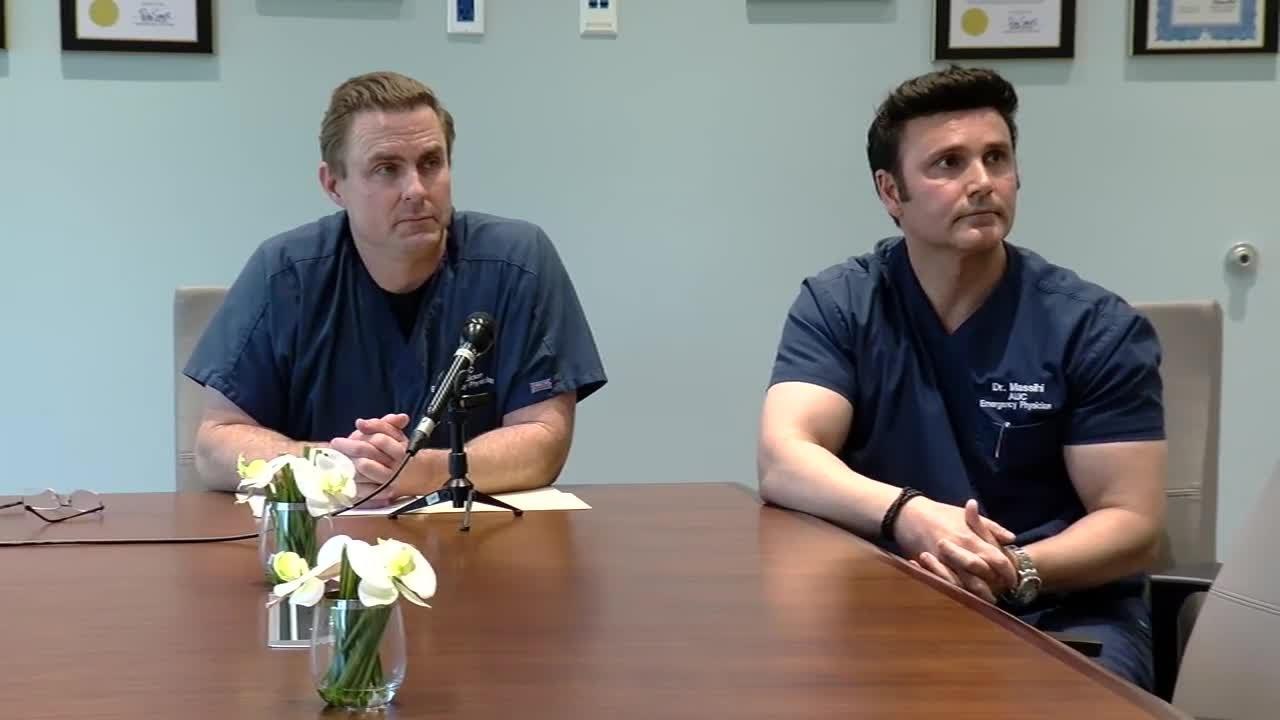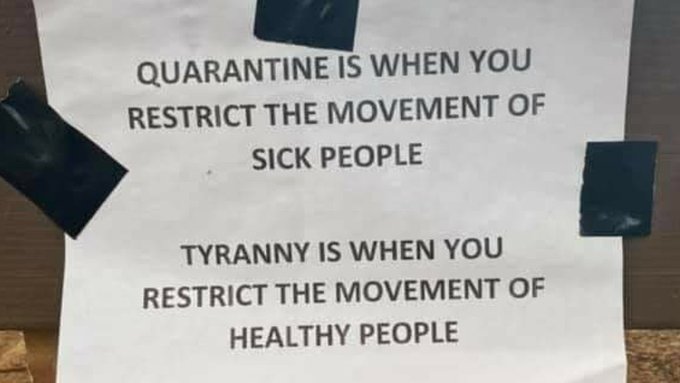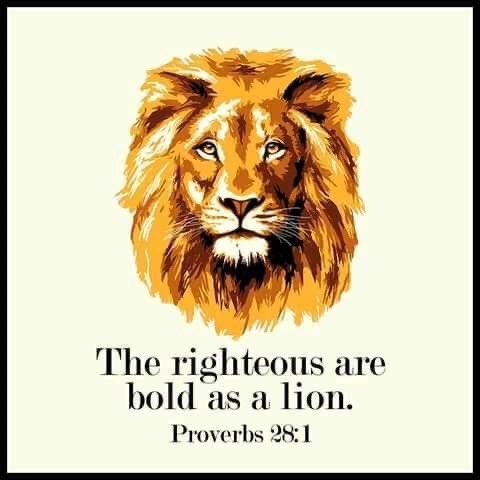 Watching the news in China in January, they knew the virus was on its way. They ordered many COVID-19 tests because they knew they would need them. They tested many thousands of people, and discovered for themselves what epidemiologists around the world are saying: COVID-19 came here earlier than previously believed, is more ubiquitous, and ultimately for the general population less deadly than we thought.
While this realization is gradually dawning on people around the world, they went public with their findings, which are not generated out of a predictive model but rather the actual facts of the case. In the course of their press conference, they addressed the question of whether or not California should have shut down much of its economy. Their answer is no. They conclude with the need to open up immediately, on grounds of health and human rights.
"If you're going to dance on someone's constitutional rights you better have a good reason, you better have a really good reason, not just a theory," he said.

"The data is showing us it's time to lift (the stay-at-home orders) so if we don't lift, what is the reason?"
Here are some selected quotes from their interview with a hostile reporter (emphasis added).
We'd like to look at how we've responded as a nation, and why you responded. Our first initial response two months ago was a little bit of fear: [the government] decided to shut down travel to and from China. These are good ideas when you don't have any facts. [Governments] decided to keep people at home and isolate them. Typically you quarantine the sick. When someone has measles you quarantine them. We've never seen where we quarantine the healthy.

So that's kind of how we started. We don't know what's going on, we see this new virus. How should we respond? So we did that initially, and over the last couple months we've gained a lot of data typically. We're going to go over the numbers a little bit to kind of help you see how widespread COVID is, and see how we should be responding to it based on its prevalence throughout society—or the existence of the cases that we already know about….

So if you look at California—these numbers are from yesterday—we have 33,865 COVID cases, out of a total of 280,900 total tested. That's 12% of Californians were positive for COVID. So we don't, the initial—as you guys know, the initial models were woefully inaccurate. They predicted millions of cases of death – not of prevalence or incidence – but death.

That is not materializing. What is materializing is, in the state of California is 12% positives.

You have a 0.03% chance of dying from COVID in the state of California. Does that necessitate sheltering in place? Does that necessitate shutting down medical systems? Does that necessitate people being out of work?

96% of people in California who get COVID would recover, with almost no significant sequelae; or no significant continuing medical problems. Two months ago we didn't know this. The more you test, the more positives you get. The prevalence number goes up, and the death rate stays the same. So [the death rate] gets smaller and smaller and smaller. And as we move through this data—what I want you to see is—millions of cases, small death. Millions of cases, small death.

We extrapolate data, we test people, and then we extrapolate for the entire community based on the numbers. The initial models were so inaccurate they're not even correct. And some of them were based on social distancing and still predicted hundreds of thousands of deaths, which has been inaccurate. In New York the ones they tested they found 39% positive. So if they tested the whole state would we indeed have 7.5 million cases? We don't know; we will never test the entire state. So we extrapolate out; we use the data we have because it's the most we have versus a predictive model that has been nowhere in the ballpark of accurate. How many deaths do they have? 19,410 out of 19 million people, which is a 0.1% chance of dying from COVID in the state of New York. If you are indeed diagnosed with COVID-19, 92% of you will recover.

We've tested over 4 million… which gives us a 19.6% positive out of those who are tested for COVID-19. So if this is a typical extrapolation 328 million people times 19.6 is 64 million. That's a significant amount of people with COVID; it's similar to the flu. If you study the numbers in 2017 and 2018 we had 50 to 60 million with the flu. And we had a similar death rate in the deaths the United States were 43,545—similar to the flu of 2017-2018. We always have between 37,000 and 60,000 deaths in the United States, every single year. No pandemic talk. No shelter-in-place. No shutting down businesses…

We do thousands of flu tests every year. We don't report every one, because the flu is ubiquitous and to that note we have a flu vaccine. How many people even get the flu vaccine? The flu is dangerous, it kills people. Just because you have a vaccine doesn't mean it's gonna be everywhere and it doesn't mean everyone's going to take it… I would say probably 50% of the public doesn't even want it. Just because you have a vaccine—unless you forced it on the public—doesn't mean they're going to take it.

Norway has locked down; Sweden does not have lock down. What happened in those two countries? Are they vastly different? Did Sweden have a massive outbreak of cases? Did Norway have nothing? Let's look at the numbers. Sweden has 15,322 cases of COVID—21% of all those tested came out positive for COVID. What's the population of Sweden? About 10.4 million. So if we extrapolate out the data about 2 million cases of COVID in Sweden. They did a little bit of social distancing; they would wear masks and separate; they went to schools; stores were open. They were almost about their normal daily life with a little bit of social distancing. They had how many deaths? 1,765. California's had 1,220 with isolation. No isolation: 1,765. We have more people. Norway: its next-door neighbor. These are two Scandinavian nations; we can compare them as they are similar. 4.9% of all COVID tests were positive in Norway. Population of Norway: 5.4 million. So if we extrapolate the data, as we've been doing, which is the best we can do at this point, they have about 1.3 million cases. Now their deaths as a total number, were 182. So you have a 0.003 chance of death as a citizen of Norway and a 97% recovery. Their numbers are a little bit better. Does it necessitate shutdown, loss of jobs, destruction of the oil company, furloughing doctors?

I wanted to talk about the effects of COVID-19, the secondary effects. COVID-19 is one aspect of our health sector. What has it caused to have us be involved in social isolation? What does it cause that we are seeing the community respond to? Child molestation is increasing at a severe rate. We could go over multiple cases of children who have been molested due to angry family members who are intoxicated, who are home, who have no paycheck. Spousal abuse: we are seeing people coming in here with black eyes and cuts on their face. It's an obvious abuse of case. These are things that will affect them for a lifetime, not for a season. Alcoholism, anxiety, depression, suicide. Suicide is spiking; education is dropped off; economic collapse. Medical industry we're all suffering because our staff isn't here and we have no volume. We have clinics from Fresno to San Diego and these things are spiking in our community. These things will affect people for a lifetime, not for a season.

I'd like to go over some basic things about how the immune system functions so people have a good understanding. The immune system is built by exposure to antigens: viruses, bacteria. When you're a little child crawling on the ground, putting stuff in your mouth, viruses and bacteria come in. You form an antigen antibody complex. You form IgG IgM. This is how your immune system is built. You don't take a small child put them in bubble wrap in a room and say, "go have a healthy immune system."

This is immunology, microbiology 101. This is the basis of what we've known for years. When you take human beings and you say, "go into your house, clean all your counters—Lysol them down you're gonna kill 99% of viruses and bacteria; wear a mask; don't go outside," what does it do to our immune system? Our immune system is used to touching. We share bacteria. Staphylococcus, streptococcal, bacteria, viruses.

Sheltering in place decreases your immune system. And then as we all come out of shelter in place with a lower immune system and start trading viruses, bacteria—what do you think is going to happen? Disease is going to spike. And then you've got diseases spike—amongst a hospital system with furloughed doctors and nurses. This is not the combination we want to set up for a healthy society. It doesn't make any sense.

…Did we respond appropriately? Initially the response, fine shut it down, but as the data comes across—and we say now, wait a second, we've never, ever responded like this in the history of the country why are we doing this now? Any time you have something new in the community medical community it sparks fear—and I would have done what Dr. Fauci did—so we both would have initially. Because the first thing you do is, you want to make sure you limit liability—and deaths—and I think what they did was brilliant, initially. But you know, looking at theories and models—which is what these folks use—is very different than the way the actual virus presents itself throughout communities….

Nobody talks about the fact that coronavirus lives on plastics for three days and we're all sheltering in place. Where'd you get your water bottles from? Costco. Where did you get that plastic shovel from? Home Depot. If I swab things in your home I would likely find COVID-19. And so you think you're protected. Do you see the lack of consistency here? Do you think you're protected from COVID when you wear gloves that transfer disease everywhere? Those gloves have bacteria all over them. We wear masks in an acute setting to protect us. We're not wearing masks. Why is that? Because we understand microbiology; we understand immunology; and we want strong immune systems. I don't want to hide in my home, develop a weak immune system, and then come out and get disease.

When someone dies in this country right now they're not talking about the high blood pressure, the diabetes, the stroke. They say they died from COVID. We've been to hundreds of autopsies. You don't talk about one thing, you talk about comorbidities. COVID was part of it, it is not the reason they died folks. When I'm writing up my death report I'm being pressured to add COVID.

Why is that? Why are we being pressured to add COVID? To maybe increase the numbers, and make it look a little bit worse than it is. We're being pressured in-house to add COVID to the diagnostic list when we think it has nothing to do with the actual cause of death. The actual cause of death was not COVID, but it's being reported as one of the disease processes and being added to the death list. COVID didn't kill them, 25 years of tobacco use killed.

There's two ways to get rid of virus: either burns itself out or herd immunity. For hundreds of years we relied on herd immunity. Viruses kill people, end of story. The flu kills people. COVID kills people. But for the rest of us we develop herd immunity. We developed the ability to take this virus in and defeat it and for the vast majority 95% of those around the globe. Do you want your immune system built or do you want it not built? The building blocks of your immune system is a virus and bacteria. There's normal bacteria in normal flora that we have to be exposed to bacteria and viruses that are not virulent are our friends. They protect us against bad bacteria and bad viruses.

Right now, if you look at Dr. Erikson's skin or my skin we have strep, we have stuff—they protect us against opportunistic infections. That's why for the first three to six months [babies are] extremely vulnerable to opportunistic infection. Which is why, when we see a little baby in the ER with fever who is one month old, you do a spinal tap, you do a chest x-ray, you do blood cultures, you do urine cultures. But if you had a fever I wouldn't do that for you. Why? Because that baby does not have the normal bacteria and flora from the community, whereas you do. I guarantee when we reopen there's going to be a huge, huge amount of illness that's going to be rampant because our immune systems have weakened. That's just basic immunology.

Do we need to still shelter in place? Our answer is emphatically no. Do we need businesses to be shut down? Emphatically no. Do we need to have it, do we need to test them, and get them back to work? Yes, we do. The the secondary effects that we went over—the child abuse, alcoholism, loss of revenue—all these are, in our opinion, a significantly more detrimental thing to society than a virus that has proven similar in nature to the seasonal flu we have every year.

We also need to put measures in place so economic shutdown like this does not happen again. We want to make sure we understand that quarantining the sick is what we do, not quarantine the healthy. We need to make sure if you're gonna dance on someone's constitutional rights you better have a good reason. You better have a really good scientific reason, and not just theory.

One of the most important things is we need our hospitals back up. We need our furloughed doctors back. We need our nurses back. Because when we lift this thing, we're gonna need all hands on deck. I know the local hospitals have closed two floors. Folks, that's not the situation you want. We're essentially setting ourselves up to have minimal staff, and we're going to have significant disease. That's the wrong combination.

I've talked to our local head of the Health Department and he's waiting… for the powers that be to lift. Because the data is showing it's time to lift. I would start slowly [open up schools sporting events] I think we need to open up the schools start getting kids back to the immune system you know and the major events the sporting events these are non-essential let's get back to those slowly let's start with schools let's start with cafe Rio and the pizza place here… Does that make sense to you guys and I think I can go into Costco and I can shop with people and there's probably a couple hundred people but I can't go in Cafe Rio so big businesses are open little businesses are not….

Eventually we treat this like we treat flu. Which is if you have the flu and you're feeling fever and body aches you just stay home if you have coughing or shortness of breath—COVID is more of a respiratory thing—you stay home. You don't get tested, even when people come with flu a lot of times we don't test them. We go, "you have flu. Here's a medication." You have COVID, go home, let it resolve and come back negative.

If you have no symptoms you should be able to return to work. Are you an asymptomatic viral spreader? Maybe, but we can't test all of humanity. Sure we're gonna miss cases of coronavirus, just like we miss cases of the flu. It would be nice to capture every coronavirus patient, but is that realistic? Are we gonna keep the economy shut down for two years and vaccinate everybody? That's an unrealistic expectation. You're going to cause financial ruin, domestic violence, suicide, rape, violence and what are you going to get out of it? You're still going to miss a lot of cases. So we need to treat this like the flu, which is familiar, and eventually this will mutate and become less and less virulent…

I don't need a double-blind clinically controlled trial to tell me if sheltering in place is appropriate, that is a college-level understanding of microbiology. A lot of times in medicine you have to make you have to make educated decisions with the data that you have. I can sit up in the 47th-floor in the penthouse and say we should do this, this, and this, but I haven't seen a patient for 20 years—that's not realistic.

If you're healthy and you don't have significant comorbidities and you know you're not immunodeficient and you're not elderly you should be able to go out without any gloves and without a mask. If you are those things you should either shelter in place or wear a mask and gloves. I don't think everybody needs to wear the masks and gloves because it reduces your bacterial flora… and your bacterial flora and your viruses your friends that protect you from other diseases [if they] end up going away and now you're more likely to get opportunistic infections infections that are hoping you don't have your good bugs fighting for you.
The videos are embedded below. ..
While Mainstream Media Continues to Push a False Narrative, Big Tech Keep the Truth From Coming out by Shadow Banning Conservatives, Christians, and Like-Minded People, Those Death Attributed to the Coronavirus Is a Result of Those Mentioned, They Truly Are Evil…
Israeli Professor Debunks Government Claims That Lockdowns Slow Coronavirus Infection, Proves Worldwide Decline In Spread
Professor Isaac Ben-Israel (also known as Yitzhak Ben Israel) published an English translation of his analysis on worldwide coronavirus infection decline, The End of Exponential Growth: The Decline in the Spread of Coronavirus.
As I wrote last week, professor Ben-Israel published a Hebrew paper comparing the rates of coronavirus infections in the U.S., the U.K., Sweden, Italy, Israel, Switzerland, France, Germany, and Spain over an eight-week period. His team's graphs showed a contradiction to what Americans would have expected to see after listening to our governors' lockdown orders: irrespective of whether a country quarantined like Israel, or went about business as usual like Sweden, coronavirus peaked and subsided in the exact same way. In the exact, same, way. Ben-Israel's graphs show that all countries experienced seemingly identical coronavirus infection patterns, with the number of infected peaking in the sixth week and rapidly subsiding by the eighth week.
Professor Isaac Ben-Israel has provided Townhall with a copy of the English version of his study.
"Our analysis shows that this is a constant pattern across countries. Surprisingly, this pattern is common to countries that have taken a severe lockdown, including an economy paralysis, as well as to countries that implemented a far more lenient policy and have continued in ordinary life," writes Professor Isaac Ben-Israel in the introduction of the translated study. His conclusion is simple: coronavirus "declines even without a complete lockdown."
Israeli Professor Debunks Government Claims That Lockdowns Slow Coronavirus Infection, Proves…Professor Isaac Ben-Israel (also known as Yitzhak Ben Israel) publishedtownhall.com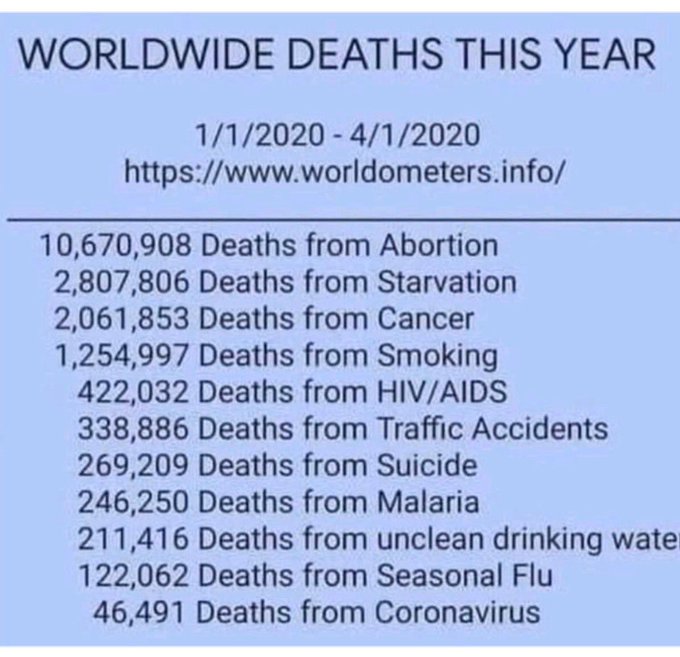 This is exactly what Hitler did to Germany. He slowly took over their Constitution and enacted Marshall Law to "protect" the people…
COVID-19 Patients Need Oxygen Therapy Not Ventilator
Another whistleblower, a doctor treating Coronavirus patients himself has come out with a startling disclosure saying COVID-19 patients need Oxygen therapy not Ventilator and that we may be treating the wrong disease. He says the patients symptoms resemble High Altitude Sickness and not Pneumonia.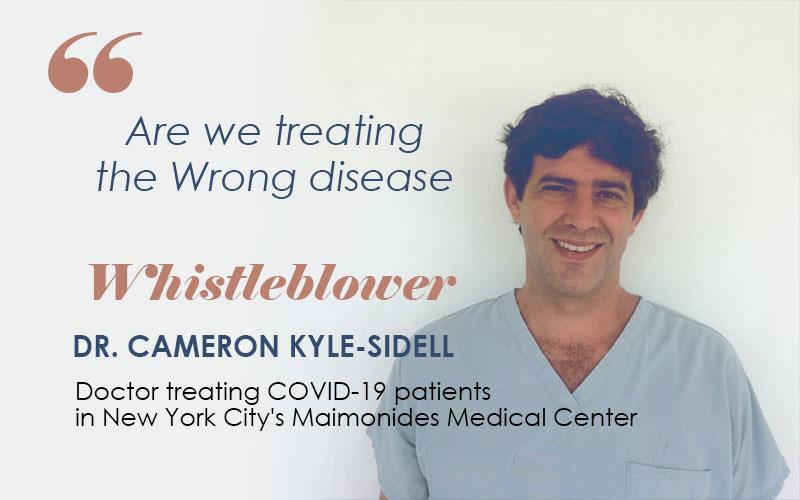 Dr. Cameron Kyle-Sidell is a doctor treating COVID-19 patients in New York City's Maimonides Medical Center. Nine days ago Dr. Cameron opened an Intensive Care Unit to care for COVID-19 patients in New York City. Here is what he learned in his own words:
"I am a physician who has been working at the bedside of COVID+ patients in NYC. I believe we are treating the wrong disease and that we must change what we are doing if we want to save as many lives as possible."

"In February, South Korean physicians reported that critical Covid-19 patients responded well to oxygen therapy without a ventilator. Patients are getting multiple organ damage from hypoxia. It's not the pneumonia that's the killer, it's the cellular oxygen deprivation. And we are hurting these patients with ventilators."
The past 48 hours or so have seen a huge revelation: COVID-19 causes prolonged and progressive hypoxia (starving your body of oxygen) by binding to the heme groups in hemoglobin in your red blood cells. People are simply desaturating (losing o2 in their blood), and that's what eventually leads to organ failures that kill them, not any form of ARDS or pneumonia. All the damage to the lungs you see in CT scans are from the release of oxidative iron from the hemes, this overwhelms the natural defenses against pulmonary oxidative stress and causes that nice, always-bilateral ground glass opacity in the lungs.
Patients returning for re-hospitalization days or weeks after recovery suffering from apparent delayed post-hypoxic leukoencephalopathy strengthen the notion COVID-19 patients are suffering from hypoxia despite no signs of respiratory 'tire out' or fatigue.
Earlier, GreatGameIndia reported, a Montana based physician Dr. Annie Bukacek, MD, blowing the whistle on how the Centers for Disease Control and Prevention (CDC) is exaggerating the COVID-19 death toll by manipulating Coronavirus death certificates.
The CDC counts both true COVID-19 cases and speculative guesses of COVID-19 the same. They call it death by COVID-19. They automatically overestimate the real death numbers, by their own admission. Prior to COVID-19, people were more likely to get an accurate cause of death written on their death certificate if they died in the hospital. Why more accurate when a patient dies in the hospital? Because hospital staff has physical examination findings labs, radiologic studies, et cetera, to make a good educated guess. It is estimated that 60 percent of people die in the hospital. But even [with] those in-hospital deaths, the cause of death is not always clear, especially in someone with multiple health conditions, each of which could cause the death.
Backlash Against Politicians and their cohorts, MSM and big evil tech…
You do recall, don't you, that the governors and mayors who imposed the lockdowns never asked their citizens about their views about instantly getting rid of all rights and freedoms. They didn't consult legislatures. They didn't consult a range of expert opinion or pay attention to any serious demographic data that showed how utterly preposterous it was to force non-vulnerable populations into house arrest while trapping vulnerable populations in nursing homes that became Covid-soaked killing fields. Google that and see what response you get, I can tell you Google hides the truth, as they do on their YouTube platform…
They thought nothing of shattering business confidence, violating contractual rights, wrecking tens of millions of lives, prohibiting freedom in association, tanking the stock market, blowing all budgets, shutting down international travel, and even closing the churches. Amazing. Every government executive except a few became a tin-pot dictator and so we will give credit where credit is due, mainstream media and especially high tech, Twitter, Facebook, you know the list of tyrants that are turning this country into hell on earth. Enjoy…
The first hint of the possible backlash came from Henry Kissinger who warned in the Wall Street Journal on April 8: "Nations cohere and flourish on the belief that their institutions can foresee calamity, arrest its impact and restore stability. When the Covid-19 pandemic is over, many countries' institutions will be perceived as having failed."
Yes, that's quite an understatement.
From testing failures to policy failures to profligate fiscal and monetary policies to straight up brutalism in its shutdown antics, the reputation of government in general will not fare well. When the dust settles on this, a whole generation of leaders could be wiped out, provided we return to democratic forms of government, which surely we will. Left or right, Republican or Democrat, there will be a serious price to pay. Politicians acted rashly for fear of their political futures. They will find that they made the wrong choice.
"Our courts oppose the righteous, and justice is nowhere to be found. Truth stumbles in the streets, and honesty has been outlawed" (Isa. 59:14, NLT)…We Turned Our Backs On GOD, Now We Have Been Left To Our Own Devices, Enjoy…
Do you think an entire nation-wide lockdown can defeat #Coronavirus?YesNoVote344 votes•6 hours left56:10 AM – Apr 13, 2020Twitter Ads info and privacySee GreatGameIndia's other Tweets
Similar claims have also been made by Senator Dr. Scott Jensen from Minnesota who said Hospitals are getting paid more to list patients as COVID-19.
"Right now Medicare is determining that if you have a COVID-19 admission to the hospital you get $13,000. If that COVID-19 patient goes on a ventilator you get $39,000, three times as much. Nobody can tell me after 35 years in the world of medicine that sometimes those kinds of things impact on what we do."
Dr. Jensen received a 7-page document coaching him to fill out death certificates with a COVID-19 diagnosis without a lab test confirming the diagnosis.
A Montana based physician has blown the whistle on how the Centers for Disease Control and Prevention (CDC) is exaggerating the COVID-19 death toll by manipulating Coronavirus death certificates. Dr. Annie Bukacek, MD, is a longtime Montana physician with over 30 years of experience practicing medicine. Signing death certificates is a routine part of her job.
American health care, as we call it today, and for all its high-tech miracles, has evolved into one of the most atrocious rackets the world has ever seen. By racket, I mean an enterprise organized explicitly to make money dishonestly.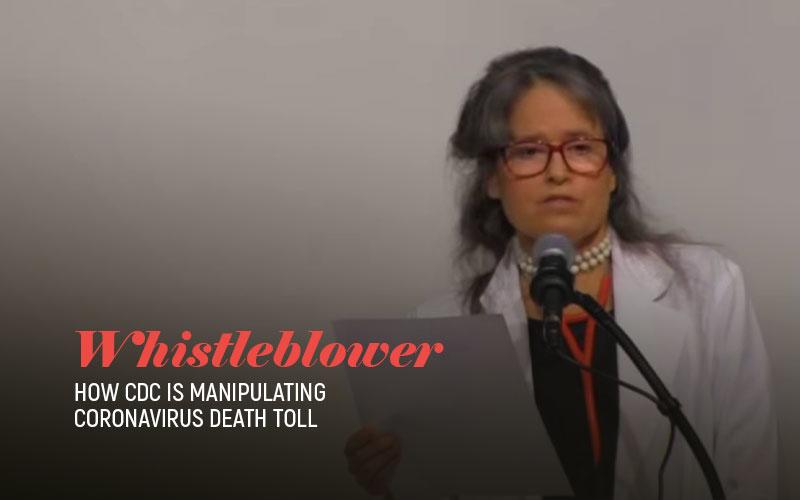 Whistleblower (Dr. Annie Bukacek)
In a brief video presentation, Dr. Bukacek blows the whistle on the way the CDC is instructing physicians to exaggerate COVID 19 deaths on death certificates:
Few people know how much individual power and leeway is given to the physician, coroner, or medical examiner, signing the death certificate. How do I know this? I've been filling out death certificates for over 30 years.

More often than we want to admit, we don't know with certainty the cause of death when we fill out death certificates. That is just life. We are doctors, not God. Autopsies are rarely performed and even when an autopsy is done the actual cause of death is not always clear. Physicians make their best guesstimate and fill out the form. Then that listed cause of death… is entered into a vital records data bank to use for statistical analysis, which then gives out inaccurate numbers, as you can imagine. Those inaccurate numbers then become accepted as factual information even though much of it is false.

So even before we heard of COVID-19, death certificates were based on assumptions and educated guesses that go unquestioned. When it comes to COVID-19 there is the additional data skewer, that is –get this— there is no universal definition of COVID-19 death. The Centers for Disease Control, updated from yesterday, April 4th, still states that mortality, quote unquote, data includes both confirmed and presumptive positive cases of COVID-19. That's from their website.

Translation? The CDC counts both true COVID-19 cases and speculative guesses of COVID-19 the same. They call it death by COVID-19. They automatically overestimate the real death numbers, by their own admission. Prior to COVID-19, people were more likely to get an accurate cause of death written on their death certificate if they died in the hospital. Why more accurate when a patient dies in the hospital? Because hospital staff has physical examination findings labs, radiologic studies, et cetera, to make a good educated guess. It is estimated that 60 percent of people die in the hospital. But even [with] those in-hospital deaths, the cause of death is not always clear, especially in someone with multiple health conditions, each of which could cause the death.
Bukacek refers to a March 24 CDC memo from Steven Schwartz, director of the Division of Vital Statistics for the National Center for Health Statistics, titled "COVID-19 Alert No. 2."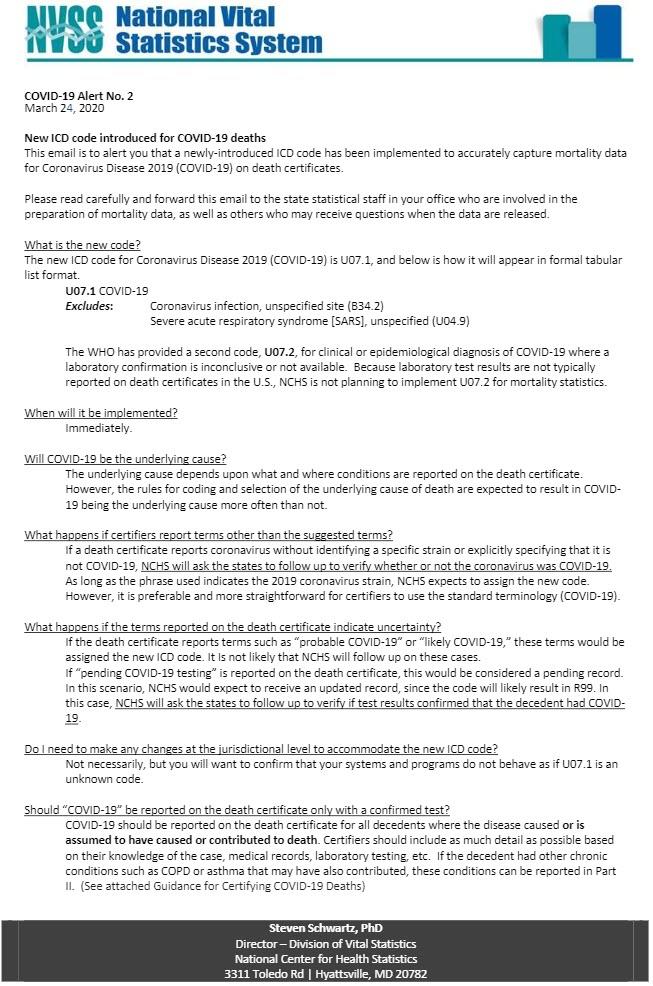 "The assumption of COVID-19 death," she says, "can be made even without testing. Based on assumption alone the death can be reported to the public as another COVID-19 casualty."
There is a question-and-answer section on the memo.
One question is, "Will COVID-19 be the underlying cause?"
The answer is:
"The underlying cause depends upon what and where conditions are reported on the death certificate. However, the rules for coding and selection of the underlying cause of death are expected to result in COVID-19 being the underlying cause more often than not."
Another question is, "Should 'COVID-19' be reported on the death certificate only with a confirmed test?"
The answer is:
"COVID-19 should be reported on the death certificate for all decedents where the disease caused or is assumed to have caused or contributed to death."

"You could see how these statistics have been made to look really scary when it is so easy to add false numbers to the official database," Bukacek says. "Those false numbers are sanctioned by the CDC."

"The real number of COVID-19 deaths are not what most people are told and what they then think," she says.

"How many people have actually died from COVID-19 is anyone's guess… but based on how death certificates are being filled out, you can be certain the number is substantially lower than what we are being told. Based on inaccurate, incomplete data people are being terrorized by fear-mongers into relinquishing cherished freedoms."
The CDC's role in the way it is handling the Coronavirus crisis has come under a lot of suspicions. Earlier the CDC was caught covering-up a contamination of its lab when Health officials who paid a flying visit were blocked entry into the lab. The matter is now under investigation.
Watch the full presentation below:
Although, an emerging body of evidence suggests shutting down an entire nation may not be a good idea after all to combat such a virus. As Ariel Pablos-Mendez, M.D., MPH a professor of Medicine at Columbia University Medical Center, New York and former head of global health at the U.S. Agency for International Development (USAID) explains:
At the end of the day, super-spreader COVID-19 is likely to infect a majority of the population, no matter how far apart we stay from one another in the coming weeks. The good news is that once immune, most people can go back to work. Our containment efforts must focus on the most vulnerable: the elderly and patients with underlying cardiopulmonary diseases.
We need to flatten the curve for the elderly but accelerate herd immunity for the healthy so that we don't kill the economy trying to outrun the pandemic in lockdown. While home isolation for one month might stop an outbreak, it merely sets the clock back as the virus may return if it is not globally defeated.
Former Congressman Ron Paul has called on President Trump to fire Dr. Anthony Fauci, the administration's senior scientific adviser on the coronavirus task force.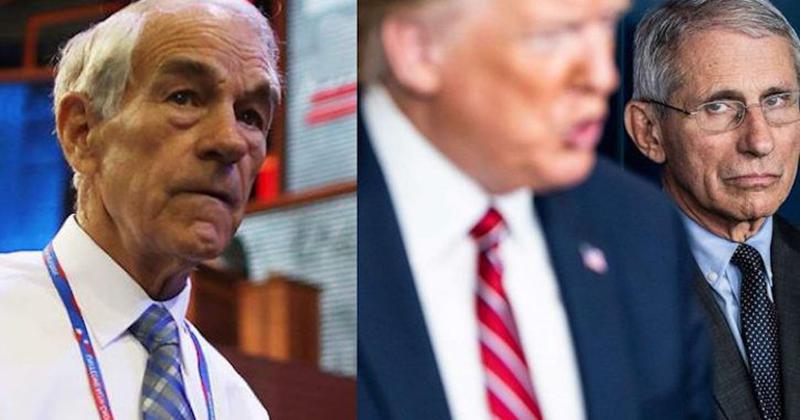 Paul, who has regularly expressed his reservations over allowing the government to enforce a lock-down, says Fauci needs to be stopped before he is given "total control" over the American people.
"He should be fired, but if you don't do it in the literal sense, the people have to fire him," Paul said, adding "They have to fire him by saying 'he's a fraud.'"
"The plan that they have is when things are getting back to normal, people can return to their work, and they do things and go to the golf course if they get a stamp of approval," Paul continued.
"Your liberties are there if you get a proper stamp from the government. It's an excuse to have total control over the people," Paul urged.
Fauci Should Be Fired

If Not By Trump, Then By The American People

Watch the whole show: https://youtu.be/sVKBvDqPuBw 3,0141:42 PM – Apr 9, 2020Twitter Ads info and privacy1,807 people are talking about this
Fauci, the director of the National Institute of Allergy and Infectious Diseases, said this week that Americans probably should never shake hands again.
"When you gradually come back, you don't jump into it with both feet. You say, what are the things you could still do and still approach normal? One of them is absolute compulsive hand-washing. The other is you don't ever shake anybody's hands." Fauci told the Wall Street Journal.
"I don't think we should ever shake hands ever again, to be honest with you. Not only would it be good to prevent coronavirus disease; it probably would decrease instances of influenza dramatically in this country," Fauci added.
Fauci, who has warned that the virus could kill up to 200,000 Americans, previously said that the United States will not come out of lockdown until there are no "new cases" of coronavirus.
It was an about-turn from the doctor's earlier downplaying of the virus, when he initially claimed that COVID-19 was comparable to the bad flu.
Some have warned that Fauci, as well as his task force colleague Dr. Deborah Birx, both have questionable big money conflicts of interest where solutions to the coronavirus pandemic are concerned.
This Pestilent Is Revealing to All What Many of Us Have Known for a Long Time: This Godless Nation Was Designed by the Un-Godly to Fail and so Its Failure Was Not Just Predictable but Inevitable
Look At How Ridiculously Wrong All The COVID-19 Models Were
The dotted line on the chart below indicates the current trend of beds needed for COVID-19 in New York.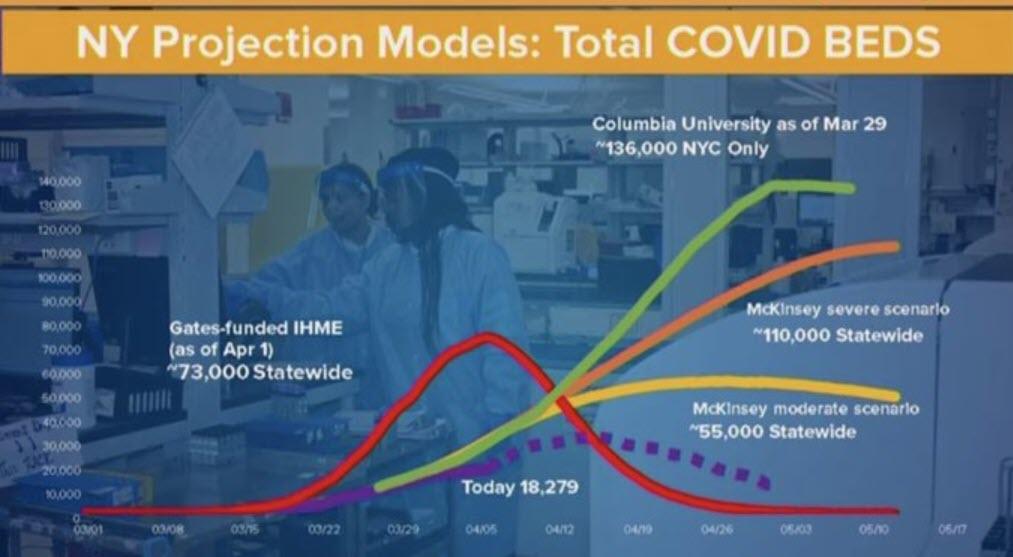 At present, only 18,279 are in use.
The professional forecasters all projected that beds would be a multiple of the beds actually needed.
Notice not one model came in under the actual number.
These are all professional fear-mongers who alarmed the country about a virus that appears to be in line with a severe flu season.
Can they really be that incompetent?
Some may be but I called the evil Tony Fauci out a month ago on his phony projections: Why is Dr. Anthony Fauci, Director of the National Institute of Allergy and Infectious Diseases, Lying to Congress and the American People?
When COVID-19 broke out in the US in early February, the CDC sent states TAINTED TEST KITS that were seeded with the virus – confirmed by federal officials.
CDC Sent Useless Test Kits To States, Tainted With CoronavirusTainted test kits provided to the states by the CDC created huge inaccuracies in COVID-19 reports, exacerbating policies leading to further destruction of the U.S. economy. Who will hold these…technocracy.news
Source: HNewsWire CensoredNews ZeroHedge
StevieRay Hansen
Editor, HNewsWire.com
Watchmen does not confuse truth with consensus The Watchmen does not confuse God's word with the word of those in power…
All the official reassurances won't be worth a bucket of warm spit. The Globals are behind the CoronaVirus, It Is a Man-Made Bioweapon.
The Bill and Melinda Gates Foundation Have NOT Got The Memo Yet, "Pestilences" Has No Cure
The Coronavirus Was Most Certainly Produced by Crazy (Un-Godly) Men in Laboratories, WGO and CDC Knew All Along That the Coronavirus Was a Bioweapon, There're in Charge?
Well-known medical expert Bill Gates did an AMA on Reddit https://www.gatesnotes.com/Health/A-coronavirus-AMA?WT.mc_id=20200319223000_Coronavirus-AMA_BG-LI&WT.tsrc=BGLI&linkId=84658834 (transcribed here), in which he casually drops some chilling ideas into the conversation: Ummm, people of God! Am I late? Did I miss this? Did we see this already? Digital certificates to identify those who got the #Covid19 vaccines and TO DO BUSINESS?
Eventually we will have some digital certificates to show who has recovered or been tested recently or when we have a vaccine who has received it.
All in all, our freedoms are being swamped. Big corporations and states alike are setting boundaries on individual rights on a flimsy pretext.
Is anyone in the media reporting that? Of course not. Instead we're getting fawning celebrity-based drivel like this in the Independent, trying to convince us "we're all in this together", or weasel-worded nonsense like this from Jonathan Freedland in The Guardian where he mourns Johnson's "libertarian" spirit and reluctance to impose social control. That would be the mass-surveilling, drone executing, war-supporting type of libertarian. A crass and obvious example of narrative management.
digital certificates

Even members of the alt-media are falling for this, with prominent voices hailing the measures as necessary or demanding "further action" (one usually sane analyst is advocating locking all of those "probably infected" inside empty sports stadiums to be "medically monitored"). Somehow former Goldman Sachs banker and Hedge Fund manager Rishi Sunak is being praised as some kind of Nye Bevan figure. It's almost literally insane.
If a mandatory vaccination program were to be implemented again in the U.S. for ("Chinese virus") COVID-19, the government would have to reassure the public its previous negligence of such side effects would not be repeated, an unlikely scenario after the corporate breach of trust exposed on Wall Street in recent years involving large pharmaceutical firms. Regardless, Big Pharma is already partnering with the U.S. Army to develop a vaccine for the coronavirus which would have to be tested and evaluated before licensing by the Food and Drug Administration (FDA) and recommended for use by the Centers for Disease Control and Prevention (CDC), both of which partner with the WHO whose largest financial contributor is the U.S. government.
One of the WHO's other largest benefactors is the Bill and Melinda Gates Foundation with whom it has a partnership on vaccinations. The billionaire Microsoft Corporation founder has used his enormous wealth to dodge paying taxes under the guise of philanthropy and his 'charitable' private ventures have mostly focused on producing vaccines for developing countries and purportedly tackling global poverty, especially in Africa. On the surface, this may appear to be benevolent work, but like many so-called altruistic projects, it is a scheme which allows ultra-wealthy plutocrats like Gates to influence global policy and obtain political power with no accountability by investing in "fixing" the social problems caused by the very system which made them rich, with the expansion of neoliberalism as their real agenda. The consequences of this can be seen with charitable projects involving Gates in the Congo which forced its local agribusiness into using GMO seeds which only benefited private companies like Monsanto.
More disturbing is that in regards to environmental concerns about man-made climate change, Gates has made public his views on curbing human population growth as a solution. At a 2010 TED Conference, Gates stated:
"First we got population. The world today has 6.8 billion people. That's headed up to about 9 billion. Now if we do a really great job on new vaccines, health care, reproductive health services, we lower that by perhaps 10 or 15 percent."
To put it another way, one of the world's wealthiest men admitted in public he believes vaccines should be used for depopulation, just as he is financially investing in both developing and delivering them to countries in the global south. The misanthropic myth of 'overpopulation' pushed by Gates and the elite not only suggests that depopulation is a solution for slowing the warming of the climate but retains the logic of an essential component of eugenics with the implicit idea that the quality of life for the human species can be improved by discouraging human reproduction. Since developing countries have the highest child mortality rates, families are more likely to be larger because children are less likely to survive. Hence, the inherent racism and classism in such a misconception.
Given that the vast majority of carbon emissions are produced by a shortlist of fossil fuel companies and the world's largest polluter is the U.S. military, promoting this dangerous fallacy is the perfect way for the ruling elite to shift the responsibility for climate change onto the world's poor. Unfortunately, this dangerous falsehood has been popularized in the mainstream environmental movement and pseudo-left with examples such as BirthStrike, a group of mostly female activists protesting the lack of regulations on the ecological crisis by refusing to bear children that has been irresponsibly endorsed by popular "progressive" politicians such as U.S. Congresswoman Alexandria Ocasio-Cortez (D-NY). 'AOC' is also the face of the Democratic Party's Green New Deal which has troubling ties to the United Nations Agenda 21 sustainable development program that calls for "achieving a more sustainable population."
The false notion of "overpopulation" became a misguided cornerstone of the modern-day environmental movement thanks to the publication of German scientist Paul Ehrlich's best-selling book The Population Bomb in 1968, an alarmist diatribe that has in the years since become famous for its inaccurate doomsday predictions as a result of the mistaken belief which never came to fruition. Today's doom merchants regarding the climate, no doubt a serious issue, are in many respects channeling Ehrlich's false prophecies which are considered a modern rehash of the influential 18th-century British economist and philosopher, Thomas Malthus. No single scholar was more loathed by Karl Marx and the working-class movement than Malthus, whose pseudo-scientific theories about demography were thought to have been intellectually defeated until they found new life in Ehrlich's eco-fascism. As much as today's 'population bombers' like Bill Gates may shun the more explicitly racist Malthusian ideas that the global north should contain the population of developing countries, they still tacitly endorse them by arguing that the size of the population itself is a source a poverty and climate change.
Bill Gates has cited business tycoon John D. Rockefeller, the richest man in American history who had an even greater monopoly on the oil business as Gates had at one time on the computer industry, as an inspiration in using his wealth to invest in medical research as a focus of his philanthropy. However, Gates has something else in common with the Rockefeller family in his views on population, as the Rockefeller Foundation was the single largest donor to the American eugenics movement in the 1920s and 30s and helped establish its German branch, even subsidizing the Kaiser Wilhelm Institute of Anthropology, Human Heredity, and Eugenics that Nazi physician Josef Mengele worked in prior to his wartime experiments. Despite the fact that a line can be traced from the American eugenics movement to the Nazi regime's programs, which Nuremberg defendants even tried to use as justification for their atrocities in court, Rockefeller's grandson John Rockefeller III continued the family legacy of interest in demography with the founding of the Population Council NGO which conducts research in "reproductive health" (sterilization) in developing countries. The Nazi government was also the first to ever pass legislation safeguarding the environment which they equated with German national identity, another unexpected intersection between brown and green politics.
In an astonishing coincidence, the Gates Foundation hosted an event just last October with the Johns Hopkins Center for Health Security and the World Economic Forum called Event 201, a pandemic simulation that gathered elite figures in government, business and health experts to plan for the possibility of a worldwide outbreak. Gates himself has warned of pandemics for years and ominously wrote that the world should "prepare for epidemics the way the military prepares for war." The Event 201 fictional scenario just so happened to be a coronavirus called CAPS from Brazilian pigs which infected people globally and after a year and half in the exercise caused tens of millions of deaths and set off a worldwide financial crash. Since the outset of the real COVID-19 coronavirus, Gates himself has stepped down from Microsoft to focus on his philanthropy while his foundation is busy working on a vaccine.
Many have observed that some characteristics of COVID-19 bear a resemblance to HIV that could not have happened organically. The recent documentary Cold Case Hammarskjöld, which won an award at last year's Sundance film festival, puts forth a chilling theory that a South African white supremacist organization deliberately spread HIV/AIDS among black Africans through vaccines in previous decades. The film begins as an investigation of the mysterious plane crash in Northern Rhodesia which killed Swedish diplomat and United Nations Secretary-General Dag Hammarskjöld in 1961. In 1998, a document authored by a shadowy paramilitary organization called the South African Institute for Maritime Research (SAIMR) was uncovered by the Truth and Reconciliation Commission justice assembly in post-apartheid South Africa which indicated that Hammarskjöld was the victim of an assassination. Not only do the filmmakers discover in their inquiry the distinct likelihood that the plane was shot down by a Belgian mercenary employed by SAIMR which was operating under orders from MI6 and the CIA, but the more stunning revelation is a recorded confession from a former SAIMR soldier to having deliberately spread HIV/AIDS to black Africans through immunization. If what is claimed about SAIMR is true and that they were connected with Western intelligence, that the COVID-19 virus could be something deliberately spread is not outside the realm of possibility.
Maybe it will prove to be the case that the yellow press's version of the coronavirus beginning with the zoonotic transfer of the disease after the consumption of a pangolin or wild bat by a 'patient zero' in Wuhan is accurate. Nevertheless, the pandemic should be a chilling reminder of the elite's eco-fascist agenda and the continuous danger that the military-industrial complex puts the world's population is by continuing to conduct dangerous research into deadly pathogens where the risk vastly outweighs the benefits. If the outbreak has led many to be suspicious of the official story, it is exactly because of the history of U.S. biological warfare and the elite's potentially genocidal and pessimistic worldview that the only way to prevent the demise of humanity is by thinning the herd.
Bill Evil Gates and The "Chinese virus"

Serious question… Can anyone explain how 'Chinese Virus' is racist but 'Russian Collusion' is not?
StevieRay Hansen
the127.org
The more I learned about the plight of the kids leaving foster care, the more concerned I became. Most of them didn't have a support system. One study found that within a year of leaving the foster care system, 66 percent of the kids were homeless, in jail or dead. A staggering 80 percent of the prison population had come out of foster care. Girls in foster care were 600 percent more likely than their peers to get pregnant before age 21. The Lazy H ranch is located on 609 acres of scenic hill country near Mason, Texas. Through a personalized mentoring approach, we help young men who are aging out of state foster care programs to discover God's unique plan for their lives while setting personal, educational and vocational goals for the future.
Whether completing a GED, a college degree or technical certification, every member receives professional job placement assistance along with ongoing spiritual leadership training to prepare for the responsibilities of an adult life.
The 127 Faith Foundation understands the pain and sorrow associated with being a throwaway child, We push this throwaway child towards bettering their education, be it junior-college are going for a Masters's degree. This program is about them because they determine by the grace of God if they're going to be a pillar in the community or a burden on society. Some of the strongholds orphans deal with are: fear, resentment, bitterness, unforgiveness, apathy, unbelief, depression, anxiety, lust, anger, pride, and greed. Many of these strongholds do open the door to addiction. Please Help The 127 https://the127.org/
PayPal.Me/the127faithfoundatio
HNewsWire: In a message published on the HHS website, Secretary Xavier Becerra announced the prolongation of the emergency. Other information was not provided. He stated that…
Read More
We make every effort to acknowledge sources used in our news articles. In a few cases, the sources were lost due to a technological glitch. If you believe we have not given sufficient credit for your source material, please contact us, and we will be more than happy to link to your article.