Advisory: Be careful of what you read on social media. The algorithms used by these platforms have no regard for Biblical truth. They target your emotions to keep you engaged on their site so their advertisers can drop more ads. These platforms exist to enrich their stockholders. Consider God's promise to Believers in James 1:5, "If any of you lacks wisdom, you should ask God, who gives generously to all without finding fault, and it will be given to you."
HNewsWire: Red Flag laws become a self-fulfilling prophecy for the state. The politicians have already proven they will unthinkingly write these laws, and law enforcement personnel will undoubtedly continue to subject themselves to the dangers of enforcing these laws. I am asking everyone to count the risks, and prepare for the worst knowing that the government has decided to invade homes, steal property, and disarm citizens. The public trust has been dashed to pieces in the face of Red Flag laws.
The current reigning "competitor" to biblical morality in our society is the social consensus. In other words, our morality is shaped and changed by the culture around us. It should be easy to see that if social consensus is our moral compass, then we have built our morality on a foundation of shifting sand. Social consensus is just that—a consensus. It's a picture of the general social mores of the day. A generation or two ago, homosexuality, divorce, and adultery were still not accepted, even considered sinful. Nowadays, both homosexuality and divorce are normal and adultery isn't as stigmatized as it once was. Basically, what we have with social consensus is what happened to the Israelites a couple of generations after conquering the Promised Land: "Everyone did what was right in his own eyes" (Judges 17:6). The people abandoned God, and within two generations they were doing what was evil in the sight of God.
So why should the Bible be our source for morality? Because without it, we are like ships adrift at sea. At the end of the Sermon on the Mount, our Lord said these words: "Everyone then who hears these words of mine and does them will be like a wise man who built his house on the rock. And the rain fell, and the floods came, and the winds blew and beat on that house, but it did not fall, because it had been founded on the rock" (Matthew 7:24-25). The Word of God, the Bible, is the only rock upon which to build morality.
It's the same thing every time we have a mass shooting in America.
Before the shell casings have time to cool the same people are calling for more gun control. Their solution for mass killings is to disarm all of the law-abiding citizens so everyone can feel better about themselves thinking they did something. The people calling for these new laws are the same people that fight for the right to murder a million babies a year so it is hard to take them seriously when they complain about a lot of people being killed. Perhaps if we simply relabeled these mass shootings as post-natal abortions it would be more acceptable to certain people. The problem is that taking guns away from law-abiding people does not change the way potentially dangerous people feel. If they want to hurt someone, they will find a way.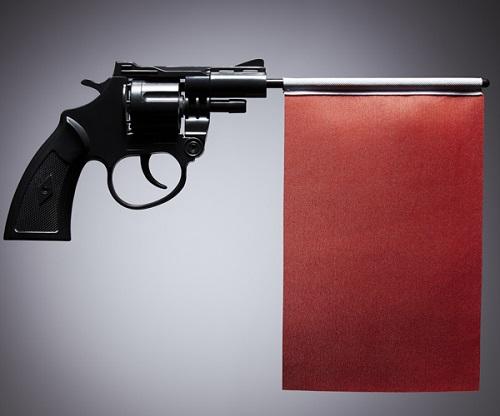 When these things happen we immediately see new legislation to try to curb the ability of people to commit these types of crimes. New red flag laws are one of the things being pushed today as a cure-all. The idea is to identify people who might pose a threat to society and take away their guns before they can do something. The problem is that laws such as this only apply to certain people in practice. Are police officers, government agents, and certain politicians going to be relieved of their weapons if they are accused of being a threat by someone? I seriously doubt it. These types of laws are only to disarm those the government wants to disarm.
The other problem is that Congress can pass any laws that it wants to but any law that is repugnant to the Constitution is automatically null and void. They have no legal authority to enforce it and citizens have no legal obligation to obey it, and this does not even take into account the due process issues.
Guns have been available in this country since it was founded. They were even easier to get 40 or 50 years ago than they are today. The basic gun itself has not changed that much in the past half-century. So why have we suddenly been inundated with mass shootings over the past 30 years?
When a person decides to commit a crime such as this he has some deep-seated reason for it. It may not be a good reason but he has a reason. When a person has reached a point where they have no concern for the lives of others, we have to question their morality. Thousands of people walk around every day in this country carrying a gun without shooting anyone. So why does one person out of these thousands decide to kill people? At some point, they have been led to believe it is alright. They have been instilled with the belief that it is justified according to the way they feel.
A person's belief system determines if they are willing to harm another person and under what conditions they are willing to do so. The lower a person's ethics and morality are, the quicker they are willing to do bad things. A person's ethics and morality are learned qualities they gather from those around them and from the places they are educated. Unless a person is a born sociopath, they learn to hurt others from people who think it is alright.
If one wanted to argue the issue they could probably make the case that our learning institutions are at least partially to blame for the shootings we now have to deal with. Universities are now actively teaching kids that they should physically attack those that have a different view than they do. Conservatives are now openly attacked on campuses and in the streets across the country. Schools are actively promoting degeneracy to young impressionable children.
This is what happens when you teach kids that their feelings are more important than rational thought. Our feelings are very volatile things. They can sway from one extreme to another for many reasons. When you teach kids that it is alright to act on these feelings, they can do things without thinking about the act or the consequences.
You can take away as many guns as you want, it will not change the way some people think. If they cannot use a gun they will use a knife. If they cannot use a knife they will use a hammer. If they want to kill lots of people and don't have a gun they will use a bomb. If they cannot get a bomb they will use a vehicle. If they cannot use a vehicle they will use an airplane. There is always something else they can use to act out on their impulses.
Until we once again teach kids the difference between right and wrong, we will continue to see acts of violence in society. The days when people respected one another and restrained their more violent feelings because they understood the consequences, are in our past. Until we regain some sense of ethics and morality in society this will not end. Source
Every time there is any kind of mass shooting, the debate over gun control is revived. Some want to ban citizens from owning guns entirely. Others only want to find a way to prevent unstable people from acquiring guns. The argument seems to go: if criminals and unstable people did not have guns, they would not be able to kill people, or at least not kill as many people. But, is that true? And, if it is true, is making guns illegal, or much more difficult to acquire, the best solution?
The vast majority of gun owners in the United States of America have never harmed another human being using a gun, and never will. People use guns for hunting, for sport, or for an absolute last resort in self-defense. The fact that criminals use guns to commit crimes does not mean guns are the problem. Criminals are the problem. If all the guns in the world were taken away, criminals would find new ways to rob convenience stores, commit muggings, terrify people, and commit horrible atrocities and mass murders. No, gun control is not, in and of itself, the answer.
The people spreading concrete information on the dangers of globalism are accomplishing far more than those sitting around buying bitcoin or passing around Q-cult nonsense.
Birth Pangs
People's hearts are troubled, their minds are in a state of confusion, the Bible tells us a time of great delusion that will come upon the people, that time has arrived, the politicians must come up with more significant and more believable lies in order to bring on the antichrist, we have entered the doorstep Tribulation.
"Unless God has raised you up for this very thing, you will be worn out by the opposition of man and devils"…
StevieRay Hansen
Editor, HNewsWire.com
The Birth Pains Are Growing Stronger….
"Man will ultimately be governed by God or by tyrants."
My name is Steve Meyers and I need to share a vision and warning that the Lord showed me back in April 2007….
Many of you will ask why I waited so long to share the warning. I didn't. I shared the story with everyone that would listen from pastors to friends to family to colleagues. Immediately following the initial vision, I called a close friend. I told him to sit down that I had something to tell him. I needed it documented as I knew this was supernatural and from God. As I witness events unfolding today, I need to share the vision again.
The risk of loss in trading futures and options on futures can be substantial. The author does not guarantee the accuracy of the above information, although it is believed that the sources are reliable and the information accurate. The author assumes no liability or responsibility for direct or indirect, special, consequential or incidental damages or for any other damages relating or arising out of any action taken as a result of any information or advice contained in this commentary. The author disclaims any express or implied liability or responsibility for any action taken, which is solely at the liability and responsibility of the user. Steve Meyers
The silencing of the American people before 2020?
"The human heart is an idol factory."
The Un-Godly — Those That Suppress the Truth, the social media giants built multi-billion dollar empires by giving everyone a voice, but now that they have such a dominant position on the Internet they have decided that many prominent conservative voices should be completely silenced.
Our government has been overthrown. As evidenced by Trump's capitulation on the border, his recent servitude to the GMO industry and his acquiescence to the warmongers, our President has been compromised. Our liberties are being eliminated one by one. Gun confiscation is next. The Constitution is gasping its last breaths. Our borders are destroyed and our culture has been turned upside down by every perversion known to man. The prophet does not confuse truth with consensus. The prophet does not confuse God's word with the word of those who happen to hold power at present, or with the opinion of the majority. This is because powerholders and the majority can fall victim to a lying spirit-and this means a power that actually seizes the majority of experts, the political leadership, and the public.
https://hnewswire.com/life-as-you-have-known-it-will-never-be-the-same-again/
The Left, a broad term for Liberal Socialist Democrats that can only be explained fully by using the Bible explanation of the human race is as follows. A servant of Satan, because you are either saved or lost. This election has brought out the true nature of who you serve. Simply put, it's Donald Trump, Conservatives, and Christians against the rest of the world. The Left's Love applies only to those who believe as they do. They Love evil and commit Anarchy against those who love good. They are governed by lies and never tell the truth. On this Friday, Inaugural Day for the swearing-in of Donald Trump as the 45th President of the United States the Left wants to commit widespread Anarchy to shut down the swearing-in ceremony. Their goal of transforming America, which was founded in Judea Christian values into a Pagan Nation is almost complete. Their goal has always been the total removal of God from American society and the downfall of America. Donald Trump says he is a Presbyterian, but he left off the USA, an apostate church.
Be gentle with your skin. Our soaps are kind to your skin and create a creamy, silky lather that is nourishing. Small batches are made by hand. We only use the best natural ingredients. There are no chemicals, phthalates, parabens, sodium laurel sulfate, or detergents. GraniteRidgeSoapworks
Use the code HNEWS10 to receive 10% off your first purchase.
Everything done in dark will be brought to light, being biblically bankrupt will not exclude the elitist.
Let Me Make This Abundantly Clear. (I Am Apolitical) While I Have a General Distaste for Politicians No Matter the Party They Belong To, I Am Unashamedly Politically a Bible Believing Conservative Christian. I Have a Severe Distrust of Government. I Believe It Is the Most Inefficient and Ineffective Way to Accomplish Most Things. While I Strongly Disagree with Liberals/Progressives and Conservative on Most Political Issues, and While I Believe Liberals/Progressives and Most Politicians Are Terribly Misguided and Naive About What Big Government Will Eventually Result In, I Strive to Not Question Their Motives. at the Same Time, While I Find Myself in Agreement with Conservative Politicians on Some Issues, I Do Not Believe Electing Republicans Is the Answer to Everything. for Me, Very Sadly, the Main Difference Between Republicans and Democrats Is How Quickly They Want to Drive the Car Towards the Cliff. Simply Put, I Do Not Believe the Government Is the Solution for Everything. I Do Not Place Any Faith, Trust, or Hope in Any Politicians to Fix What Is Wrong with the World. "Come Lord Jesus!" (Revelation 22:20) StevieRay Hansen
HYPER-REPROBATES…
Thanks to people like Pastor Steven Anderson and the choir of preachers he has assembled within the New Independent Fundamentalist Baptist movement there has been a resurgence in what is called the Reprobate Doctrine. A Biblical doctrine that demonstrates in scripture, that God will turn people over to their vile lifestyles as a curse, blinding them to salvation in Jesus, giving them over to a devil's hell for eternity. A doctrine that I believe is completely Biblical and defined by the Apostle Paul in Romans 1 is unmistakably visceral language.
Tagged Under: Banks, tribulation, hnewswire StevieRay Hansen, HNewsWire, antichrist,digital gulag, antichrists, Apple, Bible, Big Tech, bigotry, Christian baker, Christianity, Christians, Colorado, Colorado Civil Rights Commission, conservatives, deep state, demonic assault, end of days, end times, Facebook, First Amendment, free speech, Google, hate groups, Hate speech,Electronic Prison, Birth Pains, banned, bias, Big Tech, Censorship, Collapse, content publishers, digital tyranny, Donald Trump, election fraud, evil, freedom of speech, Google, impotence, meddling, oppressed, President Trump, speech police, tech giants, technocrats, thought control, Trump, Tyranny
Jesus chastised religious leaders in the first century for not knowing the time of His arrival. Will we make the same mistake today? Christ stated how His second coming would be preceded by global events signifying the end of our age. We may not know the day or the hour, but we can know the season!
"And it shall come to pass afterward, that I will pour out my spirit upon all flesh; and your sons and your daughters shall prophesy, your old men shall dream dreams, your young men shall see visions." (Joel 2:28.)
Education is useless without the bible (Daniel Webster)
"Courage is as "fear that has said its prayers."
John Wesley who said that what we tolerate in our generation, will be embraced by the next. Wesley is 100% correct! We are living in sick times.
Usually, the Lord doth no great thing for or against his people, without giving warning of it before it comes.
They perverted justice among themselves (v. 7): "You turn judgment to wormwood, that is, you make your administrations of justice bitter and nauseous, and highly displeasing both to God and man.'' That fruit has become a weed, a weed in the garden; as nothing is more venerable, nothing more valuable, than justice duly administered, so nothing is more hurtful, nothing more abominable, than designedly doing wrong under color and pretense of doing right. Corruptio optimi est pessima —The best, when corrupted, becomes the worst.
It is impossible to find anyone in the Bible who was a power for God who did not have enemies and was not hated.
2 Corinthians 4:8-11 New King James Version (NKJV)
8 We are hard-pressed on every side, yet not crushed; we are perplexed, but not in despair; 9 persecuted, but not forsaken; struck down, but not destroyed— 10 always carrying about in the body the dying of the Lord Jesus, that the life of Jesus also may be manifested in our body. 11 For we who live are always delivered to death for Jesus' sake, that the life of Jesus also may be manifested in our mortal flesh.
We make every effort to acknowledge sources used in our news articles. In a few cases, the sources were lost due to a technological glitch. If you believe we have not given sufficient credit for your source material, please contact us, and we will be more than happy to link to your article.