The current reigning "competitor" to biblical morality in our society is the social consensus. In other words, our morality is shaped and changed by the culture around us. It should be easy to see that if social consensus is our moral compass, then we have built our morality on a foundation of shifting sand. Social consensus is just that—a consensus. It's a picture of the general social mores of the day. A generation or two ago, homosexuality, divorce, and adultery were still not accepted, even considered sinful. Nowadays, both homosexuality and divorce are normal and adultery isn't as stigmatized as it once was. Basically, what we have with social consensus is what happened to the Israelites a couple of generations after conquering the Promised Land: "Everyone did what was right in his own eyes" (Judges 17:6). The people abandoned God, and within two generations they were doing what was evil in the sight of God.
So why should the Bible be our source for morality? Because without it, we are like ships adrift at sea. At the end of the Sermon on the Mount, our Lord said these words: "Everyone then who hears these words of mine and does them will be like a wise man who built his house on the rock. And the rain fell, and the floods came, and the winds blew and beat on that house, but it did not fall, because it had been founded on the rock" (Matthew 7:24-25). The Word of God, the Bible, is the only rock upon which to build morality.
It's the same thing every time we have a mass shooting in America.
Before the shell casings have time to cool the same people are calling for more gun control. Their solution for mass killings is to disarm all of the law-abiding citizens so everyone can feel better about themselves thinking they did something. The people calling for these new laws are the same people that fight for the right to murder a million babies a year so it is hard to take them seriously when they complain about a lot of people being killed. Perhaps if we simply relabeled these mass shootings as post-natal abortions it would be more acceptable to certain people. The problem is that taking guns away from law-abiding people does not change the way potentially dangerous people feel. If they want to hurt someone, they will find away.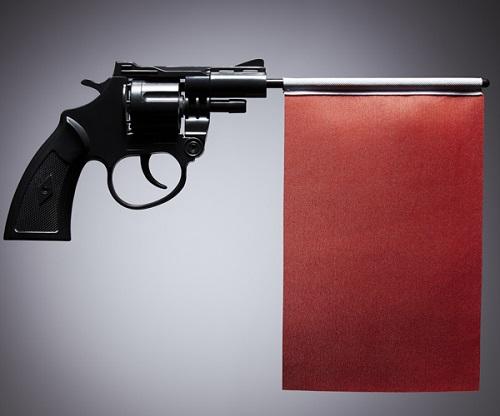 When these things happen we immediately see new legislation to try to curb the ability of people to commit these types of crimes. New red flag laws are one of the things being pushed today as a cure all. The idea is to identify people who might pose a threat to society and take away their guns before they can do something. The problem is that laws such as this only apply to certain people in practice. Are police officers, government agents, and certain politicians going to be relieved of their weapons if they are accused of being a threat by someone? I seriously doubt it. These types of laws are only to disarm those the government wants to disarm.
Affiliate Links
Gun Control
The other problem is that Congress can pass any laws that it wants to but any law that is repugnant to the Constitution is automatically null and void. They have no legal authority to enforce it and citizens have no legal obligation to obey it, and this does not even take into account the due process issues.
Guns have been available in this country since it was founded. They were even easier to get 40 or 50 years ago than they are today. The basic gun itself has not changed that much in the past half-century. So why have we suddenly been inundated with mass shootings over the past 30 years?
When a person decides to commit a crime such as this he has some deep-seated reason for it. It may not be a good reason but he has a reason. When a person has reached a point where they have no concern for the lives of others, we have to question their morality. Thousands of people walk around every day in this country carrying a gun without shooting anyone. So why does one person out of these thousands decide to kill people? At some point, they have been led to believe it is alright. They have been instilled with the belief that it is justified according to the way they feel.
A persons belief system determines if they are willing to harm another person and under what conditions they are willing to do so. The lower a persons ethics and morality are, the quicker they are willing to do bad things. A person's ethics and morality are learned qualities they gather from those around them and from the places they are educated. Unless a person is a born sociopath, they learn to hurt others from people who think it is alright.
If one wanted to argue the issue they could probably make the case that our learning institutions are at least partially to blame for the shootings we now have to deal with. Universities are now actively teaching kids that they should physically attack those that have a different view than they do. Conservatives are now openly attacked on campuses and in the streets across the country. Schools are actively promoting degeneracy to young impressionable children.
This is what happens when you teach kids that their feelings are more important than rational thought. Our feelings are very volatile things. They can sway from one extreme to another for many reasons. When you teach kids that it is alright to act on these feelings, they can do things without thinking about the act or the consequences.
You can take away as many guns as you want, it will not change the way some people think. If they cannot use a gun they will use a knife. If they cannot use a knife they will use a hammer. If they want to kill lots of people and don't have a gun they will use a bomb. If they cannot get a bomb they will use a vehicle. If they cannot use a vehicle they will use an airplane. There is always something else they can use to act out on their impulses.
Affiliate Links
Brain Control
Until we once again teach kids the difference between right and wrong, we will continue to see acts of violence in society. The days when people respected one another and restrained their more violent feelings because they understood the consequences, are in our past. Until we regain some sense of ethics and morality in society this will not end. Source
Every time there is any kind of mass shooting, the debate over gun control is revived. Some want to ban citizens from owning guns entirely. Others only want to find a way to prevent unstable people from acquiring guns. The argument seems to go: if criminals and unstable people did not have guns, they would not be able to kill people, or at least not kill as many people. But, is that true? And, if it is true, is making guns illegal, or much more difficult to acquire, the best solution?
Affiliate Links
Trending Authors
The vast majority of gun owners in the United States of America have never harmed another human being using a gun, and never will. People use guns for hunting, for sport, or for an absolute last resort in self-defense. The fact that criminals use guns to commit crimes does not mean guns are the problem. Criminals are the problem. If all the guns in the world were taken away, criminals would find new ways to rob convenience stores, commit muggings, terrify people, and commit horrible atrocities and mass murders. No, gun control is not, in and of itself, the answer.
The people spreading concrete information on the dangers of globalism are accomplishing far more than those sitting around buying bitcoin or passing around Q-cult nonsense.
StevieRay Hansen
Editor, HNewsWire.com
Birth Pangs
Jesus chastised religious leaders in the first century for not knowing the time of His arrival. Will we make the same mistake today? Christ stated how His second coming would be preceded by global events signifying the end of our age. We may not know the day or the hour, but we can know the season!
"And it shall come to pass afterward, that I will pour out my spirit upon all flesh; and your sons and your daughters shall prophesy, your old men shall dream dreams, your young men shall see visions." (Joel 2:28.)
Education is useless without the bible (Daniel Webster)
"Courage is as "fear that has said its prayers."
John Wesley who said that what we tolerate in our generation, will be embraced by the next. Wesley is 100% correct! We are living in sick times.
Usually, the Lord doth no great thing for or against his people, without giving warning of it before it comes.
They perverted justice among themselves (v. 7): "You turn judgment to wormwood, that is, you make your administrations of justice bitter and nauseous, and highly displeasing both to God and man.'' That fruit has become a weed, a weed in the garden; as nothing is more venerable, nothing more valuable, than justice duly administered, so nothing is more hurtful, nothing more abominable, than designedly doing wrong under color and pretense of doing right. Corruptio optimi est pessima —The best, when corrupted, becomes the worst.
It is impossible to find anyone in the Bible who was a power for God who did not have enemies and was not hated.
2 Corinthians 4:8-11 New King James Version (NKJV)
8 We are hard-pressed on every side, yet not crushed; we are perplexed, but not in despair; 9 persecuted, but not forsaken; struck down, but not destroyed— 10 always carrying about in the body the dying of the Lord Jesus, that the life of Jesus also may be manifested in our body. 11 For we who live are always delivered to death for Jesus' sake, that the life of Jesus also may be manifested in our mortal flesh.