Advisory: Be careful of what you read on social media. The algorithms used by these platforms have no regard for Biblical truth. They target your emotions to keep you engaged on their site so their advertisers can drop more ads. These platforms exist to enrich their stockholders. Consider God's promise to Believers in James 1:5, "If any of you lacks wisdom, you should ask God, who gives generously to all without finding fault, and it will be given to you."
All the official reassurances will not be worth a bucket of warm spit. The Globalists are behind the Corona-virus. It is a man-made bio-weapon.
American health care, as we call it today, and for all its high-tech miracles, has evolved into one of the most atrocious rackets the world has ever seen. By racket, I mean an enterprise organized explicitly to make dishonest money.
Elitist Plan Going Forward … You Are at the Mercy of These Worthless Godless Satan Soldiers Including Any Law Enforcement Atty. Gen.'s or Cops Obeying Orders That Are Contrary to God's Laws…
More than 900 pages of newly released top secret documents on the pandemic expose for the first time through official materials how the US funded deadly coronavirus research at the Wuhan lab through an organization called the EcoHealth Alliance.
Newly released documents provide details of U.S.-funded research on several types of coronaviruses at the Wuhan Institute of Virology in China.
The Intercept has obtained more than 900 pages of documents detailing the work of EcoHealth Alliance, a U.S.-based health organization that used federal money to fund bat coronavirus research at the Chinese laboratory.
Although our regular readers would know much of this information and documents and more has already been published by GreatGameIndia since the beginning of the declared pandemic (as the embedded links in the article would show).
Ultimate Proof: Covid-19 Was Planned to Usher in the New World Order.
The trove of documents includes two previously unpublished grant proposals that were funded by the National Institute of Allergy and Infectious Diseases, as well as project updates relating to EcoHealth Alliance's research, which has been scrutinized amid increased interest in the origins of the pandemic.
The documents were released in connection with ongoing Freedom of Information Act litigation by The Intercept against the National Institutes of Health. The Intercept is making the full documents available to the public.
"This is a road map to the high-risk research that could have led to the current pandemic," said Gary Ruskin, executive director of U.S. Right To Know, a group that has been investigating the origins of Covid-19.
One of the grants, titled "Understanding the Risk of Bat Coronavirus Emergence," outlines an ambitious effort led by EcoHealth Alliance President Peter Daszak to screen thousands of bat samples for novel coronaviruses. The research also involved screening people who work with live animals.
The documents contain several critical details about the research in Wuhan, including the fact that key experimental work with humanized mice was conducted at a biosafety level 3 lab at Wuhan University Center for Animal Experiment — and not at the Wuhan Institute of Virology, as was previously assumed.
The bat coronavirus grant provided EcoHealth Alliance with a total of $3.1 million, including $599,000 that the Wuhan Institute of Virology used in part to identify and alter bat coronaviruses likely to infect humans.
Even before the pandemic, many scientists were concerned about the potential dangers associated with such experiments.
The grant proposal acknowledges some of those dangers:
"Fieldwork involves the highest risk of exposure to SARS or other CoVs, while working in caves with high bat density overhead and the potential for fecal dust to be inhaled."
Alina Chan, a molecular biologist at the Broad Institute said, "In this proposal, they actually point out that they know how risky this work is. They keep talking about people potentially getting bitten — and they kept records of everyone who got bitten. Does EcoHealth have those records? And if not, how can they possibly rule out a research-related accident?"
According to Richard Ebright, a molecular biologist at Rutgers University, the documents contain critical information about the research done in Wuhan, including about the creation of novel viruses.
"The viruses they constructed were tested for their ability to infect mice that were engineered to display human type receptors on their cell," Ebright wrote to The Intercept after reviewing the documents.
Ebright also said the documents make it clear that two different types of novel coronaviruses were able to infect humanized mice.
"While they were working on SARS-related coronavirus, they were carrying out a parallel project at the same time on MERS-related coronavirus," Ebright said, referring to the virus that causes Middle East Respiratory Syndrome.
The grant was initially awarded for a five-year period — from 2014 to 2019. Funding was renewed in 2019 but suspended by the Trump administration in April 2020.
The second grant, "Understanding Risk of Zoonotic Virus Emergence in Emerging Infectious Disease Hotspots of Southeast Asia," was awarded in August 2020 and extends through 2025.
The proposal, written in 2019, often seems prescient, focusing on scaling up and deploying resources in Asia in case of an outbreak of an "emergent infectious disease" and referring to Asia as "this hottest of the EID hotspots."
Meanwhile, controversial British scientist Peter Daszak has been removed from the COVID-19 commission looking at the origins of the pandemic after helping secretly denounce the lab leak theory while failing to mention his close ties to the same facility.
BOOM! Head of WHO Origin Investigation Team Admits Communist China Ordered Them What to Write in Report.
Although, the mainstream media is only now veering towards the lab leak theory, there is ample evidence as has been published by GreatGameIndia which show that the pandemic was infact planned all along. Source: humansarefree.
The Pentagon gave $39 million to a charity that funded controversial coronavirus research at a Chinese lab accused of being the source for Covid-19, federal data reveals. The news comes as the charity's chief, British-born scientist Dr. Peter Daszak, was exposed in an alleged conflict of interest and back-room campaign to discredit lab leak theories.
The charity, EcoHealth Alliance (EHA), has come under intense scrutiny after it emerged that it had been using federal grants to fund research into coronaviruses at the Wuhan Institute of Virology in China.
The U.S. nonprofit, set up to research new diseases, has also partly funded deeply controversial 'gain of function' experiments, where dangerous viruses are made more infectious to study their effect on human cells.
A political storm broke when former president Donald Trump canceled a $3.7 million grant to the charity last year amid claims that Covid-19 was created in, or leaked from, the Wuhan lab funded by EHA.
But federal grant data assembled by independent researchers shows that the charity has received more than $123 million from the government – from 2017 to 2020 – and that one of its biggest funders is the Department of Defense, funneling almost $39 million to the organization since 2013.
Exactly how much of that money went toward research at the Wuhan Institute of Virology is unknown.
Federal grant data assembled by independent researchers shows that the charity has received more than $123 million from the government – and that one of its biggest funders is the Department of Defense, funneling almost $39million to the organization since 2013.
Grants from the Pentagon included $6,491,025 from the Defense Threat Reduction Agency (DTRA) from 2017 to 2020 with the description: 'Understanding the risk of bat-borne zoonotic disease emergence in Western Asia.'
The grant was categorized as 'scientific research – combating weapons of mass destruction.'
The majority of the DoD funding came from the DTRA, a military branch with a mission to 'counter and deter weapons of mass destruction and improvised threat networks.'
EHA also received $64.7 million from the US Agency for International Development (USAID), $13 million from Health and Human Services, which includes the National Institutes of Health and Centers for Disease Control, $2.3 million from the Department of Homeland Security, and $2.6 million from the National Science Foundation.
A government funding figure of $3.4 million was widely reported, after White House chief medical advisor Anthony Fauci was questioned in a Senate hearing on how much money the National Institutes of Health sent to the Wuhan lab via its grants to EcoHealth Alliance in 2019.
But the total grant figures including Pentagon funding dwarf that number.
Researchers James Baratta and Mariamne Everett assembled grant filings from US government agencies to EHA, which were published on popular science site Independent Science News in December.
The site found EHA's declaration of its vast military funding is nestled deep in the 'Privacy Policy' section of its website, under the title 'EcoHealth Alliance Policy Regarding Conflict of Interest in Research'.
In the disclosure EHA says it is 'the recipient of various grant awards from federal agencies including the National Institute of Health, the National Science Foundation, US Fish and Wildlife Service, and the US Agency for International Development and the Department of Defense.'
It does not disclose the size of its DoD funding.
In 2014 the Obama administration outlawed gain of function research, such as the experiments funded by EHA, after concerns were raised among scientists that it could lead to a global pandemic from a genetically enhanced virus escaping a lab.
But EHA reportedly continued to legally fund the practice, using a loophole that allowed for the research in cases 'urgently necessary to protect the public health or national security.'
One notable EHA 'policy advisor' is David Franz, a former commander at the principal US government biowarfare and biodefense facility Fort Detrick.
Franz was an official in the United Nations Special Commission which inspected for bioweapons in Iraq.
The charity's head, Daszak, has been accused of orchestrating a behind-the-scenes 'bullying' campaign to ensure the blame for covid-19 did not fall on the Wuhan lab he funded.
The 55-year-old worked closely with the lab's so-called 'bat woman,' Shi Zhengli, in their studies of coronaviruses.
In February 2020 Daszak persuaded more than two dozen other scientists to sign off on a letter he had written to highly respected medical journal The Lancet, that was seen as so influential that it cowed most experts into refusing even to consider that the virus could have been man-made and escaped from the Wuhan institute.
Former high-level Clinton administration staffer Jamie Metzl, who now sits on the World Health Organization's advisory committee on human genome editing, told DailyMail.com that the Lancet letter 'was scientific propaganda and a form of thuggery and intimidation.'
Freedom of Information Act disclosures revealed Daszak tried to distance his charity from the letter to make it appear it was coming from 'a community supporting our colleagues.'
The charity chief told his fellow signatories in an email that the letter would not be sent under the EcoHealth logo 'and will not be identifiable as coming from any one organization or person.'
The joint letter, published in the journal on February 19 last year, praised the Chinese 'who continue to save lives and protect global health during the challenge of the Covid-19 outbreak' and added 'We stand together to strongly condemn conspiracy theories suggesting that Covid-19 does not have a natural origin.'
Despite his close connections to the Chinese lab, Daszak was also picked by the World Health Organization (WHO) to be part of its 13-member team that was tasked with finding the cause of the pandemic which began in Wuhan, a city of some 11 million people in Central China.
Metzl told DailyMail.com the appointment was a 'massive and outrageous conflict of interest,' allowing a man who had significant financial and reputational stakes in discrediting lab leak theories to investigate those theories.
Prominent scientists have criticized the WHO probe, which dismissed lab leak theories, as lackluster and incomplete.
In a Freedom of Information disclosure of Fauci's emails obtained by Buzzfeed last month, Daszak thanked the White House doctor for pushing back on the theory that covid-19 was man made.
'I just wanted to say a personal thank you on behalf of our staff and collaborators, for publicly standing up and stating that the scientific evidence supports a natural origin for COVID-19 from a bat-to-human spillover, not a lab release from the Wuhan Institute of Virology,' Daszak wrote in April 2020.
Fauci says the emails have been taken out of context.
EHA's most recent financial statements filed with the IRS say that around 90 per cent of its funding comes from government sources.
The 2019 report says Daszak was paid a total $410,801 for the year, including $311,815 base pay, $42,250 bonus, $24,500 deferred compensation and $32,236 nontaxable benefits.
Satan Soldier Fauci Pal Daszak Knew All Along That the Chinese Had Developed a Killer Corona-Virus…
American health care, as we call it today, and for all its high-tech miracles, has evolved into one of the most atrocious rackets the world has ever seen. By racket, I mean an enterprise organized explicitly to make money dishonestly.
"Three great forces rule the world: stupidity, fear and greed," is particularly apt in the Covid era.
All the official reassurances won't be worth a bucket of warm spit. The Globals are behind the CoronaVirus, It Is a Man-Made Bio-weapon.
EcoHealth Alliance President Peter Daszak – who collaborated with the Wuhan Institute of Virology on research funded by Dr. Anthony Fauci's National Institute of Allergy and Infectious Disease – appears to boast about the manipulation of "killer" SARS-like corona-viruses carried out by his "colleagues in China" in a clip unearthed by The National Pulse.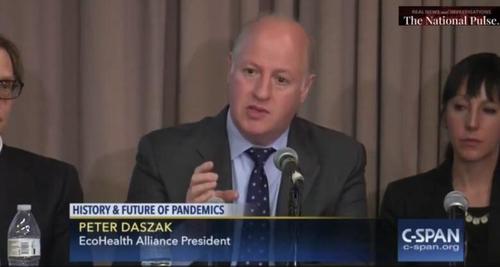 Daszak made the admission at a 2016 forum discussing "emerging infectious diseases and the next pandemic," which appears to be at odds with Fauci's repeated denial of funding gain-of-function research at the Wuhan Institute of Virology.
While describing how his organization sequences deadly viruses, Daszak describes the process of "insert[ing] spike proteins" into viruses to see if they can "bind to human cells" as being carried out by his "colleagues in China":
"Then when you get a sequence of a virus, and it looks like a relative of a known nasty pathogen, just like we did with SARS. We found other coronaviruses in bats, a whole host of them, some of them looked very similar to SARS. So we sequenced the spike protein: the protein that attaches to cells. Then we…

Well I didn't do this work, but my colleagues in China did the work. You create pseudo particles, you insert the spike proteins from those viruses, see if they bind to human cells. At each step of this you move closer and closer to this virus could really become pathogenic in people.

"You end up with a small number of viruses that really do look like killers," he adds.
The comments follow growing evidence that Fauci's NIAID has deep financial and personnel ties to the Wuhan Institute of Virology – and that Daszak's EcoHealth alliance was one of the primary proxies funneling the money to the Chinese Communist Party lab.
Over a dozen research papers carried out under a $3.7 million National Institute of Allergy and Infectious Disease (NIAID) grant list the Wuhan Lab's Center for Emerging Infectious Diseases Director Shi Zhengli as a co-author alongside Daszak. Shi has included these Fauci-backed grants on her resume.
The Wuhan lab has also listed the National Institutes of Health (NIH) as one of its "partners," secretly erasing the mention in March 2021.
Let Me Make This Abundantly Clear. (I Am Apolitical) While I Have a General Distaste for Politicians No Matter the Party They Belong To, I Am Unashamedly Politically a Bible Believing Conservative Christian. I Have a Severe Distrust of Government. I Believe It Is the Most Inefficient and Ineffective Way to Accomplish Most Things. While I Strongly Disagree with Liberals/Progressives and Conservative on Most Political Issues, and While I Believe Liberals/Progressives and Most Politicians Are Terribly Misguided and Naive About What Big Government Will Eventually Result In, I Strive to Not Question Their Motives. at the Same Time, While I Find Myself in Agreement with Conservative Politicians on Some Issues, I Do Not Believe Electing Republicans Is the Answer to Everything. for Me, Very Sadly, the Main Difference Between Republicans and Democrats Is How Quickly They Want to Drive the Car Towards the Cliff. Simply Put, I Do Not Believe the Government Is the Solution for Everything. I Do Not Place Any Faith, Trust, or Hope in Any Politicians to Fix What Is Wrong with the World. "Come Lord Jesus!" (Revelation 22:20)
If you're complying with a government whose objective is Genocide, you're going along with your own execution. Read More
"When the History of This Madness is Written, Reputations Will Be Slaughtered and There Will Be Blood in the Gutter "
Source: HNewsWire HNewsWire HNewsWire principia-scientific
Please Do Not Post Hnewswire Articles on Gab, Parler, FaceBook, Reddit or Twatter Social Media Platform, We Are Not Comfortable With Their Anti-Christian — Anti-American Nazi Philosophy. StevieRay Hansen
It is impossible to find anyone in the Bible who was a power for God who did not have enemies and was not hated.
StevieRay Hansen
Editor,
HNewsWire.com
[email protected]
Bow down to Satan Soldiers… Comply… Submit to The Anti GOD Coup?
If you have not noticed, those in power accuse others of the nefarious things they are doing themselves. This is likely the directive at the Ministry of Truth, "Take the script and flip it."
"My job is protecting children. It has taken me from big cities to rural outposts, from ghettos to penthouses, and from courtrooms into demonic battlefields. But whatever the venue, the truth remains constant: Some humans intentionally hurt children. They commit unspeakable acts—for their pleasure, their profit, or both." ~ StevieRay Hansen, CEO Of The 127 Faith Foundation
The 127 Faith Foundation: We do not solicit donations from "those on disability, on a fixed income, or those who cannot afford to give." Please Pray!
Or, make checks payable to:
The 127 Faith Foundation
PO Box 127
Pontotoc, TX 76869
We make every effort to acknowledge sources used in our news articles. In a few cases, the sources were lost due to a technological glitch. If you believe we have not given sufficient credit for your source material, please contact us, and we will be more than happy to link to your article.