Advisory: Be careful of what you read on social media. The algorithms used by these platforms have no regard for Biblical truth. They target your emotions to keep you engaged on their site so their advertisers can drop more ads. These platforms exist to enrich their stockholders. Consider God's promise to Believers in James 1:5, "If any of you lacks wisdom, you should ask God, who gives generously to all without finding fault, and it will be given to you."
People's hearts are troubled, their minds are in a state of confusion, the Bible tells us a time of great delusion that will come upon the people, that time has arrived, the politicians must come up with more significant and more believable lies in order to bring on the antichrist, we have entered the doorstep Tribulation…
As COVID-19 blankets the globe – now having officially infected over 800,000 people in 179 countries, causing over 39,000 deaths – scientists are tracking a multitude of strains, according to USA Today.
The virus has undergone over a hundred tiny mutations that act like genetic fingerprints – allowing researchers to see how the virus is migrating and splitting into similar but new subtypes, which can be seen at the website NextStrain.org.
(for more on "strain" vs "mutation" and why the terminology is causing confusion, see this thread from NextStrain's Trevor Bedford)
Labs around the world are turning their sequencing machines, most about the size of a desktop printer, to the task of rapidly sequencing the genomes of virus samples taken from people sick with COVID-19. The information is uploaded to a website called NextStrain.org that shows how the virus is migrating and splitting into similar but new subtypes. –USA Today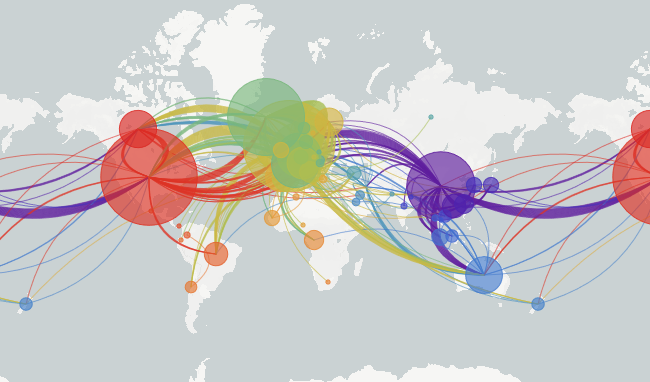 Frequent sequencing of the virus has allowed researchers to draw several conclusions; for example, social distancing and shelter-in-place orders appear to be working in some areas, and that the virus doesn't appear to be growing more lethal as it evolves.
"The virus mutates so slowly that the virus strains are fundamentally very similar to each other," said infectious disease specialist Charlies Chiu of the University of California, San Francisco School of Medicine. "The outbreaks are trackable. We have the ability to do genomic sequencing almost in real-time to see what strains or lineages are circulating," he added.
Chiu also believes that it's unlikely that the difference in strains is responsible for the virus hitting people differently – with most some feeling only slightly under the weather for a day or two, 15% needing hospitalization, and a mortality rate that varies by country (and likely by testing rates).
SARS-CoV-2, the virus that causes the COVID-19 illness, began circulating in China around mid-November or mid-December. Its genome is made up of approximately 30,000 base pairs – while a human has over 3 billion. According to the report, the virus's most divergent strains contain only 11 base pair changes.
So far, most cases on the U.S. West Coast are linked to a strain first identified in Washington state. It may have come from a man who had been in Wuhan, China, the virus' epicenter, and returned home on Jan. 15. It is only three mutations away from the original Wuhan strain, according to work done early in the outbreak by Trevor Bedford, a computational biologist at Fred Hutch, a medical research center in Seattle.

On the East Coast there are several strains, including the one from Washington and others that appear to have made their way from China to Europe and then to New York and beyond, Chiu said. –USA Today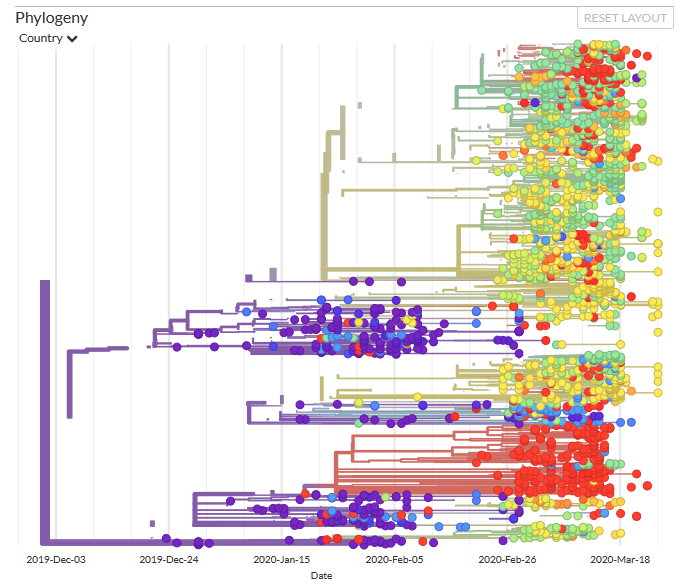 Of note, the general public should probably leave the analysis of the above 'phylogenetic tree' to the experts, as they can be "a little dangerous" to decipher, according to professor Kristian Anderson of Scripps Research – a nonprofit biomedical science research facility in La Jolla, California.
"This is the first time phylogenetic trees have been all over Twitter," he said, adding "Remember, we're seeing a very small glimpse into the much larger pandemic. We have half a million described cases right now but maybe 1,000 genomes sequenced. So there are a lot of lineages we're missing."
Anderson added that COVID-19 does not mutate very fast – in fact, it's 8-10 times slower than the influenza virus and closer to other coronaviruses such as Middle East Respiratory Syndrome (MERS) and Severe Acute Respiratory Syndrome (SARS).
Lastly, and perhaps the best news of the report – it's not expected to spontaneously evolve into a more deadly form, as it's under no pressure to evolve due to its hyper-virulent nature.
Read the rest of the report here.
The word translated "pestilence" is often translated as "plague" or "disaster" in new versions of the English Bible. However, because the word is often paired with both of those, it may imply greater devastation than a mere physical disease. Pestilence incorporates any and all forms of public and mass destruction and often accompanies famine (Ezekiel 7:15) or war (Jeremiah 21:9). Jesus forewarned of pestilence when He described the end times (Luke 21:11). PESTILENCE IS CONTAGIOUS, VIRULENT, AND DEVASTATING…
Resilient "superbug" pathogens are seeing a boom in the United States, with lethal infections on the rise even as health officials take "aggressive" steps to rein them in, the Center for Disease Control (CDC) said in a new report. In its latest "Antibiotic Resistance Threats" assessment, the CDC found an alarming rise in drug-resilient infections, surging from 2 to nearly 3 million per year since its last report in 2013. Those infections now kill 35,000 people each year, adding 12,000 annual fatalities to the CDC's previous assessment.
Over the past few days, the mainstream press has vigorously pushed back against a theory about the origins of the coronavirus that has now infected as many as 70,000+ people in Wuhan alone (depending on whom you believe). The theory is that China obtained the coronavirus via a Canadian research program, and started molding it into a bioweapon at the Institute of Virology in Wuhan. Politifact pointed the finger at Zero Hedge, in particular, though the story was widely shared across independent-leaning media.
Asked about the virus while traveling abroad last week, Trump said: "We have it totally under control". In a separate Twitter posting, he offered reassurance but scant detail for his confidence.
Watchmen, of today, are called to speak the word of the Lord from within the court, mounting an internal critique. The pressures on Nathan to keep silent after David seized Bathsheba and sent her husband to his death must have been enormous. He could have vented himself in a scathing editorial and then kept his head down. From all appearances, though, Nathan had free access to the court, was a friend of David, and a close adviser. It is said that prophets spoke truth to power, but that goes beyond cliché when we realize that prophets spoke the truth face to face with power, to powerful men and women whom the prophets knew intimately, frequently from their own position of power. SRH…
The theory is that the virus, which was developed by infectious disease experts to function as a bio-weapon, originated in the Wuhan-based lab of Dr. Peng Zhou, China's preeminent researcher of bat immune systems, specifically in how their immune systems adapt to the presence of viruses like coronavirus and other destructive viruses. Somehow, the virus escaped from the lab, and the Hunan fish market where the virus supposedly originated is merely a ruse.
Now, a respected epidemiologist who recently caught flack for claiming in a twitter threat that the virus appeared to be much more contagious than initially believed is pointing out irregularities in the virus's genome that suggest it might have been genetically engineered for the purposes of a weapon, and not just any weapon but the deadliest one of all.
In "Uncanny similarity of unique inserts in the 2019-nCoV spike protein to HIV-1 gp120 and Gag", Indian researchers are baffled by segments of the virus's RNA that have no relation to other coronaviruses like SARS, and instead, appear to be closer to HIV. The virus even responds to treatment by HIV medications.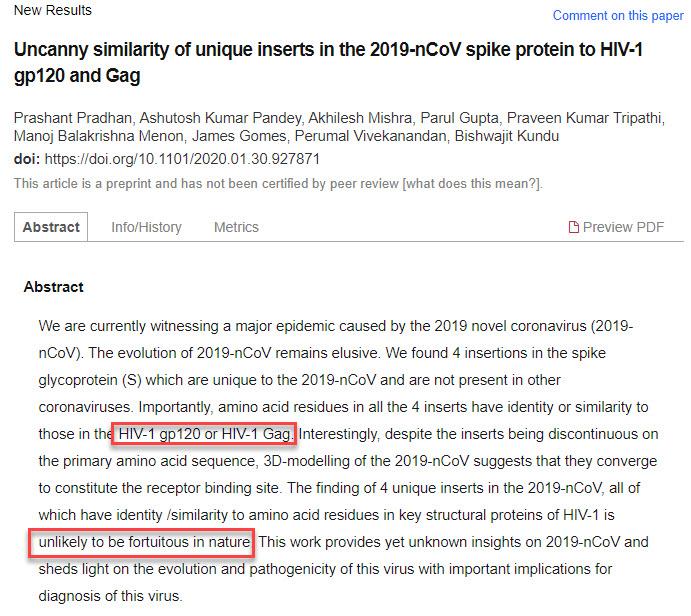 For those pressed for time, here are the key findings from the paper, which first focuses on the unique nature of 2019-nCoV, and then observe four amino acid sequences in the Wuhan Coronavirus which are homologous to amino acid sequences in HIV1:
Our phylogenetic tree of full-length coronaviruses suggests that 2019-nCoV is closely related to SARS CoV [Fig1].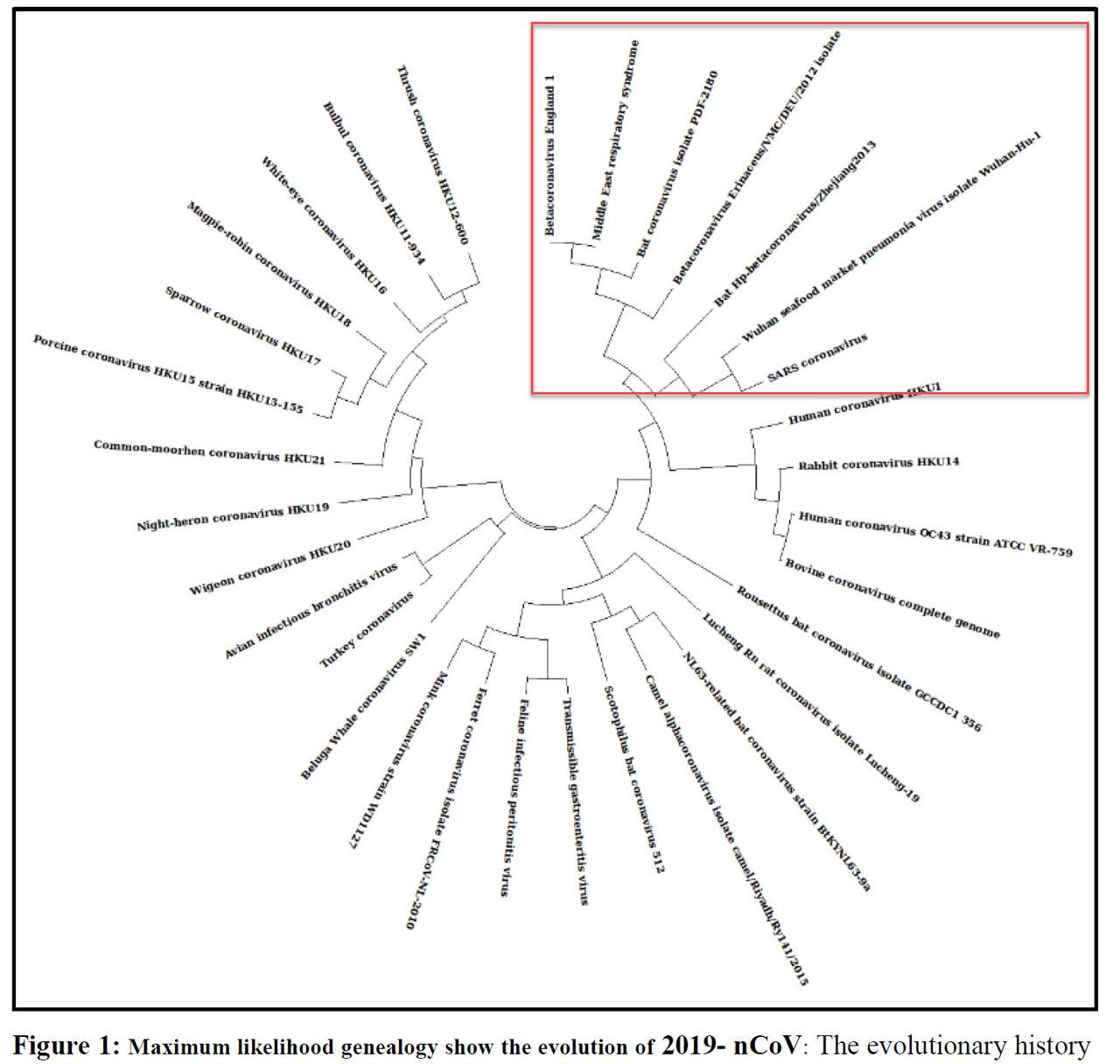 In addition, other recent studies have linked the 2019-nCoV to SARS CoV. We, therefore, compared the spike glycoprotein sequences of the 2019-nCoV to that of the SARS CoV (NCBI Accession number: AY390556.1). On careful examination of the sequence alignment, we found that the 2019- nCoV spike glycoprotein contains 4 insertions [Fig.2]. To further investigate if these inserts are present in any other coronavirus, we performed multiple sequence alignment of the spike glycoprotein amino acid sequences of all available coronaviruses (n=55) [refer Table S.File1] in NCBI RefSeq (ncbi.nlm.nih.gov) this includes one sequence of 2019-nCoV[Fig.S1]. We found that these 4 insertions [inserts 1, 2, 3 and 4] are unique to 2019-nCoV and are not present in other coronaviruses analyzed. Another group from China had documented three insertions comparing fewer spike glycoprotein sequences of coronaviruses. Another group from China had documented three insertions comparing fewer spike glycoprotein sequences of coronaviruses (Zhou et al., 2020).
We then translated the aligned genome and found that these inserts are present in all Wuhan 2019-nCoV viruses except the 2019-nCoV virus of Bat as a host [Fig.S4]. Intrigued by the 4 highly conserved inserts unique to 2019-nCoV we wanted to understand their origin. For this purpose, we used the 2019-nCoV local alignment with each insert as a query against all virus genomes and considered hits with 100% sequence coverage. Surprisingly, each of the four inserts aligned with short segments of the Human immunodeficiency Virus-1 (HIV-1) proteins. The amino acid positions of the inserts in 2019-nCoV and the corresponding residues in HIV-1 gp120 and HIV-1 Gag are shown in Table 1.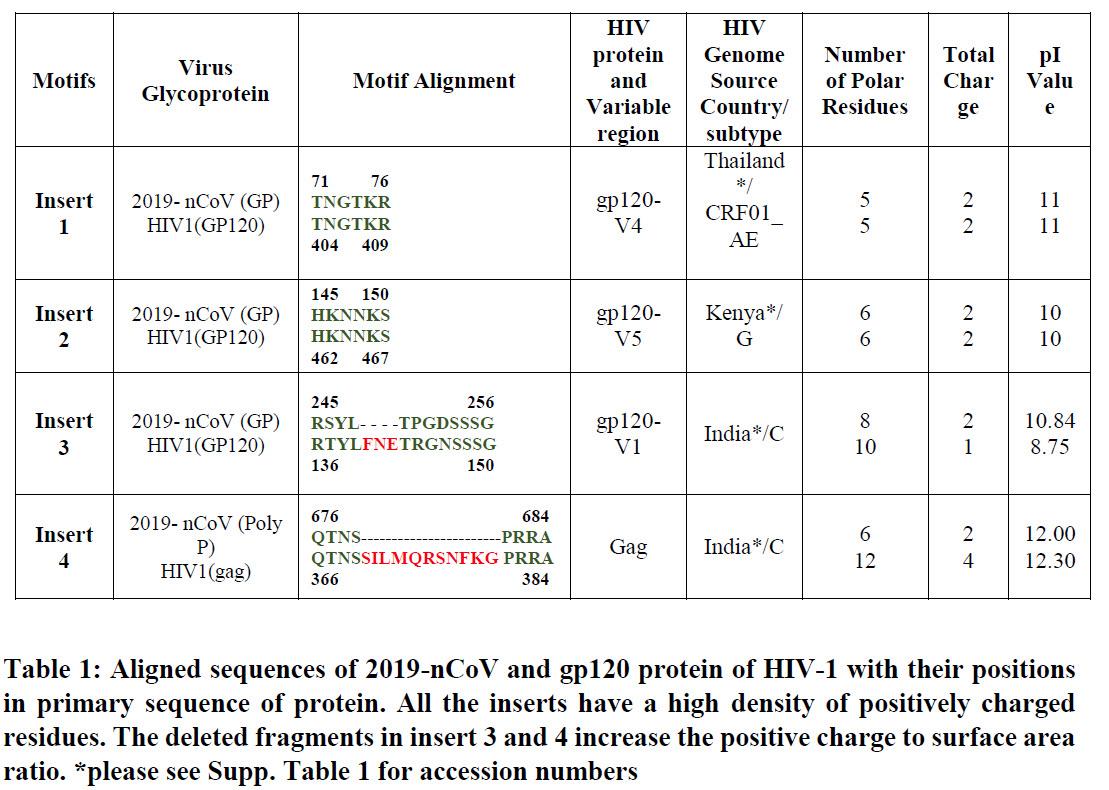 The first 3 inserts (insert 1,2 and 3) aligned to short segments of amino acid residues in HIV-1 gp120. The insert 4 aligned to HIV-1 Gag. The insert 1 (6 amino acid residues) and insert 2 (6 amino acid residues) in the spike glycoprotein of 2019-nCoV are 100% identical to the residues mapped to HIV-1 gp120. The insert 3 (12 amino acid residues) in 2019- nCoV maps to HIV-1 gp120 with gaps [see Table 1]. The insert 4 (8 amino acid residues) maps to HIV-1 Gag with gaps.
Everything is right on schedule and, now, the time is come to remove one of the final obstacles standing in the way of a New World Order: The United States Constitution – even if, over the course of many decades, it has already been greatly diminished by the B.E.A.S.T. system; or, more specifically, Bullshit Emerging As Strategic Totalitarianism (B.E.A.S.T.).
U.S. Administration Still Lying to the Public by Claiming It's All Under Control
The Book Long-Journey-Home-Stevie-Hansen
Coronavirus ("Chinese virus") kills the oldest and has no respect for authority
Many of the most powerful people in the world are old, and coronavirus does not discriminate based on social status. Deaths are now hitting at high levels (not of death but of status), which can change the political conflicts of our world: https://nextstrain.org/ncov
Now a global pestilence has erupted, and in Luke 21 we were specifically warned to watch for "pestilences" in the last days.
This Pestilent Is Revealing to All What Many of Us Have Known for a Long Time: This Godless Nation Was Designed by the Un-Godly to Fail and so Its Failure Was Not Just Predictable but Inevitable
The 127 Faith Foundation understands the pain and sorrow associated with being a throwaway child, We push this throwaway child towards bettering their education, be it junior-college are going for a Masters's degree. This program is about them because they determine by the grace of God if they're going to be a pillar in the community or a burden on society. Some of the strongholds orphans deal with are: fear, resentment, bitterness, unforgiveness, apathy, unbelief, depression, anxiety, lust, anger, pride, and greed. Many of these strongholds do open the door to addiction. Please Help The 127 https://the127.org/
Source: HNewsWire CensoredNews ZeroHedge
StevieRay Hansen
Editor, HNewsWire.com
Watchmen does not confuse truth with consensus The Watchmen does not confuse God's word with the word of those in power…
The Bill and Melinda Gates Foundation Have NOT Got The Memo Yet, "Pestilences" Has No Cure
The Coronavirus Was Most Certainly Produced by Crazy (Un-Godly) Men in Laboratories, WGO and CDC Knew All Along That the Coronavirus Was a Bioweapon, There're in Charge?
Well-known medical expert Bill Gates did an AMA on Reddit https://www.gatesnotes.com/Health/A-coronavirus-AMA?WT.mc_id=20200319223000_Coronavirus-AMA_BG-LI&WT.tsrc=BGLI&linkId=84658834 (transcribed here), in which he casually drops some chilling ideas into the conversation:
Eventually, we will have some digital certificates to show who has recovered or been tested recently or when we have a vaccine who has received it.
Bill Evil Gates and The "Chinese virus"
All in all, our freedoms are being swamped. Big corporations and states alike are setting boundaries on individual rights on a flimsy pretext.
Is anyone in the media reporting that? Of course not. Instead, we're getting fawning celebrity-based drivel like this in the Independent, trying to convince us "we're all in this together", or weasel-worded nonsense like this from Jonathan Freedland in The Guardian where he mourns Johnson's "libertarian" spirit and reluctance to impose social control. That would be the mass-surveilling, drone executing, war-supporting type of libertarian. A crass and obvious example of narrative management.
Even members of the alt-media are falling for this, with prominent voices hailing the measures as necessary or demanding "further action" (one usually sane analyst is advocating locking all of those "probably infected" inside empty sports stadiums to be "medically monitored"). Somehow former Goldman Sachs banker and Hedge Fund manager Rishi Sunak is being praised as some kind of Nye Bevan figure. It's almost literally insane.
If a mandatory vaccination program were to be implemented again in the U.S. for ("Chinese virus") COVID-19, the government would have to reassure the public its previous negligence of such side effects would not be repeated, an unlikely scenario after the corporate breach of trust exposed on Wall Street in recent years involving large pharmaceutical firms. Regardless, Big Pharma is already partnering with the U.S. Army to develop a vaccine for the coronavirus which would have to be tested and evaluated before licensing by the Food and Drug Administration (FDA) and recommended for use by the Centers for Disease Control and Prevention (CDC), both of which partner with the WHO whose largest financial contributor is the U.S. government.
tribulation, antichrist, Christianity, Christians, end times, Death Angel, hate groups, Electronic Prison, StevieRay Hansen, CoronaVirus, NWO
We make every effort to acknowledge sources used in our news articles. In a few cases, the sources were lost due to a technological glitch. If you believe we have not given sufficient credit for your source material, please contact us, and we will be more than happy to link to your article.