Advisory: The editorial board of HNewsWire adopted the official policy to bypass many social media platforms. Some of these include: Facebook, Instagram, Twitter, Parler, and YouTube. We believe these companies are responsible for many of the spiritual ills our world faces today. In some cases, however, we have allowed our guest contributors to include content from their YouTube channel while we search for alternatives.
Image Unraveled or Maybe The Truth About Gates The Monster Finally Comes Out…
Five years ago, he warned us against a global plandemic. He said that an infectious disease was humanity's biggest threat. The BMGF is working tirelessly on vaccines to combat these diseases.
The most common accusations against Gates is that he's a pedophile billionaire who wants to block out the sun, implant chips into our brains, control the population through vaccines, and even remove the "spiritual" part of our brains.
Gates Can't Escape the Facts:
For example, there is a team of Harvard scientists who are openly experimenting with blocking out the sun to curb climate change. And they are funded, in part, by Bill Gates.
But is this a plot to control the human race, or save it? it's an evil plan.
Most controversial was his relationship with child sex trafficker Jeffrey Epstein.
According to The New Times, Gates met with Epstein many times after he was convicted of sex offenses. He rode in his jet, and he's even stayed at Epstein's infamous Manhattan penthouse late into the night.
In the span of about two weeks, the public goodwill that Gates long enjoyed has mostly evaporated. But as Bloomberg reminds us in a lengthy feature about Gates' sudden loss of public support, Gates wasn't always so revered. In the early days, before he the propaganda machine, Gates was seen as a "ruthless nerd-turned-tycoon".
In fact, as Bloomberg tells it, Gates' initial interest in philanthropy was part of an attempt to white wash his image after some pretty aggressive behavior in the 1980s, including stabbing his co-founder in the back while he was undergoing cancer treatment.
It's easy to forget that Bill Gates wasn't always so publicly revered. During the heyday of the PC revolution, he was the ruthless nerd-turned-tycoon who brutally and profanely berated underlings and allegedly tried to slash Microsoft cofounder Paul Allen's equity in the company while he was undergoing cancer treatment in the early 1980s. (Gates has said his recollection of events differed from Allen's.) Windows software, his flagship creation, was a buggy mess that frustrated millions of consumers, and Steve Jobs groused that Gates and his team showed "no shame" and "no taste" in ripping off Apple's products. Even the judge who oversaw Microsoft's crippling turn-of-the-century monopoly trial said Gates had "a Napoleonic concept of himself and his company, an arrogance that derives from power and unalloyed success."
By the 2000s, though, the world's richest man seemed to have realized he had to change this Redmond-robber-baron narrative—and that his wealth could help. He stepped down as Microsoft's CEO and shifted his attention to what would become the Bill and Melinda Gates Foundation, which eventually gave away more than $50 billion to fight malaria and AIDS and boost childhood vaccination rates, earning the couple widespread praise, not to mention Time's 2005 "Persons of the Year" cover with U2's Bono. Less than a decade after Microsoft's antitrust trial, Gates was making the rounds on Capitol Hill advising lawmakers on U.S. technology competitiveness and health initiatives.
"I was lucky enough in my Microsoft work to accumulate an ownership that was worth a lot of money," he told Charlie Rose in 2008, shortly after switching to full-time focus on his giving pledges. "Warren [Buffett] likes to call that 'claim checks' on society, where you get to say, you know, have a thousand people go build a pyramid for you or do whatever you want."
Nothing can protect a billionaire's reputation from association with Jeffrey Epstein, the pedophile financier, along with #MeToo-inspired reports about "mistreatment" of female Microsoft employees with who he may have been romantically involved. The controversy is spoiling Gates' plans to follow up his COVID-era achievements by doubling-down on his focus on climate change. He has just published a new book, and has been working with other 'global leaders' to invest in green tech.
For a man who has repeatedly insisted that he doesn't care about his "legacy", his divorce from Melinda will likely permanently tarnish his public image. One thing is clear: it's going to be a long time before he appears on another magazine cover with Bono.
Satan Soldier Bill and Dark Princes Melinda Gates are Sick, Delusional Adult…
'Crazy and Evil': Bill Gates Surprised by Plandemic Conspiracies and Hearsay Altering Human Genetics Through Vaccination, and Bill Gates as the Crazy, Want-To-Be Doctor That's Willing to Risk Your Life…
And the president will go along with mandatory vaccination, true to form Biden is sick, there is only one person he cares for 'Biden, and now the horror movie will play out.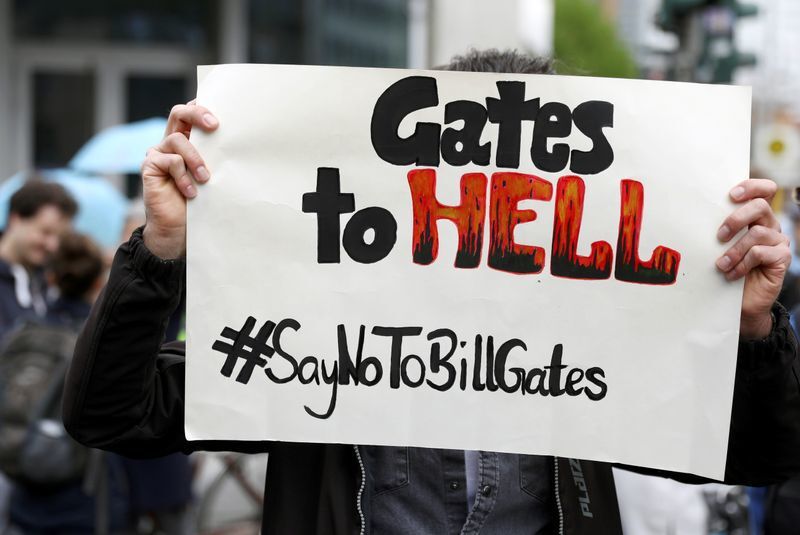 LONDON — Microsoft co-founder turned philanthropist Bill Gates says he has been taken aback by the volume of "crazy" and "evil" conspiracy theories about him spreading on social media during the COVID-19 pandemic, but said on Wednesday he would like to explore what is behind them.
In an interview with Reuters, Gates said the millions of online posts and "crazy conspiracy theories" about him and about top U.S. infectious disease expert Anthony Fauci had likely taken hold in part because of the combination of a frightening viral pandemic and the rise of social media.
"Nobody would have predicted that I and Dr. Fauci would be so prominent in these really evil theories," Gates said.
"I'm very surprised by that. I hope it goes away."
Gates, a billionaire who stepped down as chairman of Microsoft Corp in 2014, has through his philanthropic Bill and Melinda Gates Foundation committed at least $1.75 billion to the global response to the COVID-19 plandemic. That includes support for some makers of vaccines, diagnostics and potential treatments.
Since the plandemic began a year ago, millions of conspiracies have spread over the Internet, fueling misinformation about the corona-virus, its origins and the motives of those working to fight it.
They include claims that Fauci and Gates created the pandemic to try and control people, that they want to profit from the virus' spread, and that they want to use vaccines to insert trackable microchips into people.
"But do people really believe that stuff?," Gates asked.
"We're really going to have to get educated about this over the next year and understand .. how does it change peoples' behaviour and how should we have minimized this?"
Gates praised Fauci and Francis Collins, head of the U.S. National Institutes of Health, as "smart" and "wonderful people", and said he looked forward to seeing them able to work effectively and speak the truth under the new administration of President Joe Biden.
During former President Donald Trump's handling of the plandemic, Gates said, it had "sometimes felt like they were the only sane people in the U.S. government."
"I'm excited about the team that Biden has picked" to tackle the health crisis, Gates said.
Gates said he was also pleased that under Biden, the United States has rejoined the World Health Organization, and "that he's appointed smart people, and the fact that Dr. Fauci won't be suppressed."
If we want our country back we first and foremost need to invite The LORD God Almighty back to lead us in this anti-God Communist Coup. Then arm up. You have God's permission to expose the wicked deeds of darkness and purge the wickedness from earth. Then wear the face God gave you where ever you go. If someone, anyone tries to kidnap you for not obeying some perceived authority they believe supersedes God's will defend your life to the death. This isn't about a virus. This is about faith. Is your faith in God or man?
The more we read, hear, and see regarding this entire situation confirms our worst fears.
COVID 19 was engineered
The solution to the problem was just as hurtful as the problem The contradictions from government have been staggering. The vaccine solution reads like a Frankenstein Novel
Insiders confirm the reasons these things are happening now, we are in fact witnessing mass extinction and huge food shortages are forthcoming.The vaccines contents are very suspicious and not normal, the nano tech, gene therapies which have no place in a free society. Monkey viruses, fetal stem cell DNA are known ingredients of some vector vaccines.
One international patent carries a number 606060, while a bill before congress regarding contact tracing was labeled 6666, and the name of the nano biofilm is Luciferase.
mRNA is a patented synthetic molecule and if it becomes part of your DNA technically your DNA is then owned by the patent holders. LOOK IT UP!
What do we do? Well, Forced vaccinations are in direct violation of Nuremburg Code which is International Law.
While mainstream media continues to push a false narrative, Big Tech has kept the truth from coming out by shadow banning conservatives, Christians, and like-minded people. The deaths attributed to the Coronavirus are a result of powerful forces. They are truly evil.
What Dr.Fauci Did to This Country and Helped Implement Around the World is Unfathomable and They Should All Be Dealt With as War Criminals , Crimes Against Humanity
Source: HNewsWire HNewsWire ZeroHedge
Please do not post HNewsWire articles on Parler, Facebook, Reddit or Twatter social media platforms. We are not comfortable with their anti-Christian — anti-American Nazi philosophy.
It is impossible to find anyone in the Bible who was a power for God who did not have enemies and was not hated.
StevieRay Hansen
Editor,
HNewsWire.com
[email protected]
"My job is protecting children. It has taken me from big cities to rural outposts, from ghettos to penthouses, and from courtrooms into demonic battlefields. But whatever the venue, the truth remains constant: Some humans intentionally hurt children. They commit unspeakable acts—for their pleasure, their profit, or both." ~ StevieRay Hansen, CEO The 127 Faith Foundation
The 127 Faith Foundation: We do not solicit donations from "those on disability, on a fixed income, or those who cannot afford to give." Please Pray!
Amazon "Wish List" for The 127 Faith Foundation
The 127 Faith Foundation: We do not solicit donations from "those on disability, on a fixed income, or those who cannot afford to give." Please Pray!
Or, make checks payable to:
The 127 Faith Foundation
PO Box 127
Pontotoc, TX 76869
The number of Orphans aging out of Child Protective Custody has grown at an alarming rate. The 127 Faith Foundation receives many requests each week to house them at our ranch. Our prayer is that the good people of our country will step up to the challenge and offer financial support for "the least among us." We need your help! StevieRay Hansen, Founder, The 127 Faith Foundation
It's interesting to me you don't find the words plague(s) and pestilence in the New Testament under any context other than the judgment of God. …
Read More
We make every effort to acknowledge sources used in our news articles. In a few cases, the sources were lost due to a technological glitch. If you believe we have not given sufficient credit for your source material, please contact us, and we will be more than happy to link to your article.