Advisory: The editorial board of HNewsWire adopted the official policy to bypass many social media platforms. Some of these include: Facebook, Instagram, Twitter, Parler, and YouTube. We believe these companies are responsible for many of the spiritual ills our world faces today. In some cases, however, we have allowed our guest contributors to include content from their YouTube channel while we search for alternatives.
One of the coronavirus fears was the possibility of super-spreaders. That possible fear is now a reality…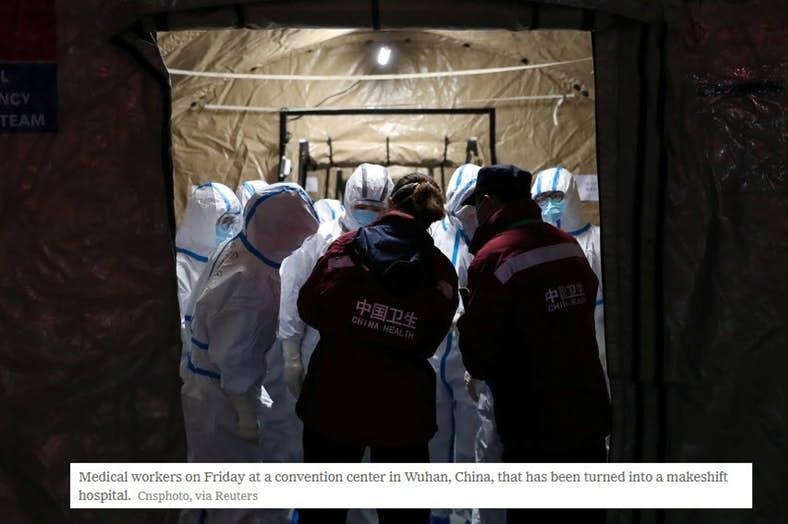 Disturbing Details
A New Report on 138 Coronavirus Cases Reveals Disturbing Details including the emergence of a super-spreader.
One patient, admitted to a hospital in Wuhan, China, infected at least 10 health care workers and four other patients [actual suspect total is 57 see study below].

The patient who infected so many health workers had been placed in a surgical ward because of abdominal symptoms, and the coronavirus was not initially suspected. Four other patients in that ward also contracted the disease, presumably from the first patient.

The incident was a chilling reminder of the "super-spreaders" in outbreaks of other coronavirus diseases, SARS and MERS — patients who infected huge numbers of other people, sometimes dozens. The phenomenon is poorly understood and unpredictable, an epidemiologist's nightmare. Super-spreaders led to considerable transmission of MERS and SARS inside hospitals.
Super-Spreader Infects 40 Health Care Workers
The JAMA Report, published on Friday, is among the most comprehensive articles to date about people infected with the newly identified virus.
Of the 138 patients, 57 (41.3%) were presumed to have been infected in hospital, including 17 patients (12.3%) who were already hospitalized for other reasons and 40 health care workers (29%). Of the hospitalized patients, 7 patients were from the surgical department, 5 were from internal medicine, and 5 were from the oncology department. Of the infected health care workers, 31 (77.5%) worked on general wards, 7 (17.5%) in the emergency department, and 2 (5%) in the ICU. One patient in the current study presented with abdominal symptoms and was admitted to the surgical department. More than 10 health care workers in this department were presumed to have been infected by this patient. Patient-to-patient transmission also was presumed to have occurred, and at least 4 hospitalized patients in the same ward were infected, and all presented with atypical abdominal symptoms. One of the 4 patients had fever and was diagnosed as having nCoV infection during hospitalization. Then, the patient was isolated. Subsequently, the other 3 patients in the same ward had fever, presented with abdominal symptoms, and were diagnosed as having nCoV infection.

The data in this study suggest rapid person-to-person transmission of 2019-nCoV may have occurred. The main reason is derived from the estimation of the basic reproductive number (R0) based on a previous study.

In this single-center case series of 138 hospitalized patients with confirmed NCIP in Wuhan, China, presumed hospital-related transmission of 2019-nCoV was suspected in 41% of patients, 26% of patients received ICU care, and mortality was 4.3%.
JAMA Video
"Fatality rate in a normal Flu is about 0.1%. When you get into the pandemics, of 1957 and 1968, it goes up to 0.8% to 1.2%. The 1918 pandemic, the famous Spanish Flu, you go up to as much as 2.0%…

I think I can say we don't know everything about this virus, but it is evolving in a way that it looks like it is adapting itself to infecting much better but we are going to start seeing a diminution in the overall death rate…

The r0 of this one is supposedly somewhere around 2.0, 2.5, 3.0 depending upon how you model it. Which means that it is a virus that is quite good at transmitting from one person to another."
Massaged Numbers?

#coronavirus is master of math!
1/30: 170/7821 = 2,1%,
1/31: 213/9800 = 2,1%,
2/01: 259/11880 = 2,1%,
2/02: 304/14401 = 2,1%,
2/03: 361/17238 = 2,1%,
2/04: 429/20471 = 2,1%,
2/05: 493/24441 = 2,1%
2/06: 564/28605 = 2,1%

Right now: 724/34677 AGAIN = 2,1%…
58411:57 AM – Feb 8, 2020Twitter Ads info and privacy363 people are talking about this
You have to laugh… China's virus mortality data is as massaged as its GDP and PMIs…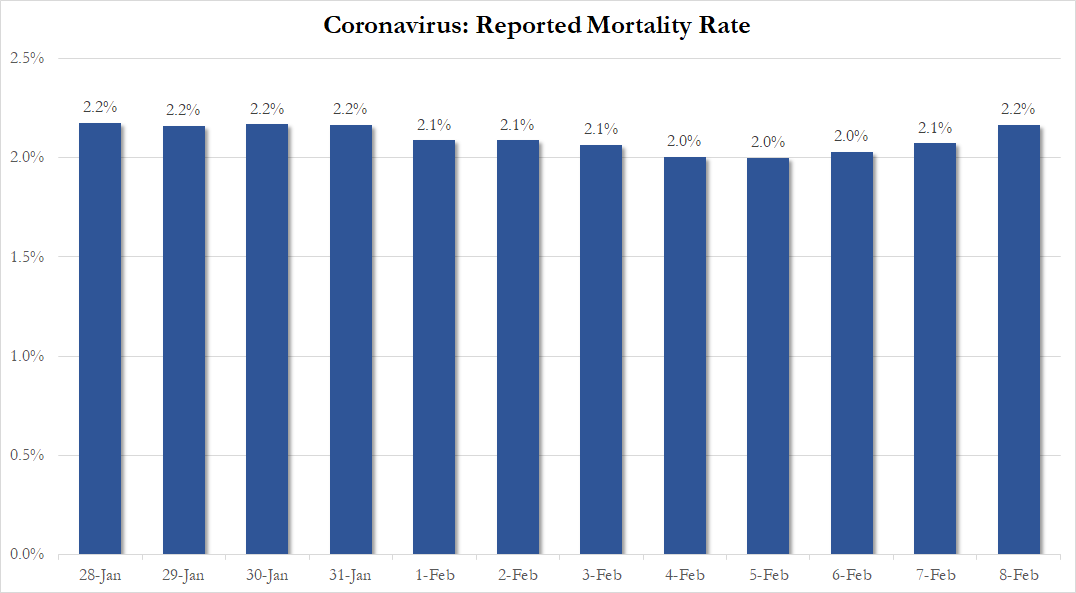 Or Not Enough Test Kits?

Scott Gottlieb, MD✔@ScottGottliebMD
The numbers of new #coronavirus cases out of China remain relatively linear, varying from day to day within a narrow band. Tonight's update is no different. It suggests that testing capacity may be influencing the reported cases more than epidemiology.2,1524:33 PM – Feb 7, 2020Twitter Ads info and privacy848 people are talking about this
Terminal 3 in Copenhagen Closed

ALERT Terminal 3 of Copenhagen Airport closed after Chinese woman picked up by ambulance with Coronavirus symptoms https://www.airlive.net/alert-terminal-3-of-copenhagen-airport-closed-after-chinese-woman-picked-up-by-ambulance-with-coronavirus-symptoms/ …ALERT Terminal 3 of Copenhagen Airport closed after Chinese woman picked up by ambulance with…A Chinese woman has been picked up by ambulance at Copenhagen Airport with Coronavirus symptoms. After arriving at Copenhagen Airport, a Chinese woman was picked up by an ambulance The plane landed…airlive.net644:54 AM – Feb 7, 2020Twitter Ads info and privacy78 people are talking about this
Shanghai Empty
Downtown of Shanghai, a city with 24 million people and it is totally empty!
China ignores offers of help from the C.D.C. and W.H.O.
China probably wants and needs US assistance, but it absolutely does not want US reporting or any investigation into the alleged number of deaths.
The streets in Shanghai, population 24 million, are empty.

60 million people are quarantined not even able to leave their houses. That is equivalent to no one in California, Illinois, and Wisconsin being locked in, unable to go to work. The economic hit will be enormous.
I just cannot believe this would happen over the reported 700 dead.
Source: HNewsWire CensoredNews ZeroHedge
StevieRay Hansen
Editor, HNewsWire.com
Google, No More Electronic Prison: You will see many changes on HNewsWire, one of those changes will be to eliminate Google Ads, the other difference, HNewsWire will NOT post videos on YouTube, it is no longer a question about overreach by the un-godly big tech tyrants. There is no question Big Tech can and will persecute any opposing opinion, they will demoralize, sideline truth seekers and those that speak the truth. The People's Blood is on big tech and mainstream media's hands. Censorship has NOT worked for thousands of years, their evil tactics will not work now, history proves me right, so we watch the drama play out between good (GOD) and evil ( Big Tech MSM ), God has never failed his people, and God will not fail this time…
StevieRay Hansen
In order for sin to work, there has to be a "suppression of the truth."
The World leaders Are Having Trouble With The Truth, and The World Has been "Quarantined" Tribulation Is Here…
Question — Why Are These High-Tech Conglomerates Afraid of the Truth? The answer, Because They Know the American People Have Become Lazy, Like Sheep They Need a Leader and They Chose High-Tech, It Will Be the Downfall of This Country Unless the People Change Course or the Mindset of These High-Tech Elitists stop suppressing the truth. If the people don't wake-up, they will begin to live in the worst nightmare of their lives, "Lost Social Media Reality"…
Demon Virus
Asked about the virus while traveling abroad last week, Trump said: "We have it totally under control". In a separate Twitter posting, he offered reassurance but scant detail for his confidence. By Associated Press Updated On: 05:53 PST, Jan 31, 2020
Yes, are we seeing a slowdown in new virus cases reported this morning. We now have 31,481, which does show a day-to-day decline away from an exponential rate of growth if accurate. Yet for those market participants merrily saying this is "just the flu" (there are some) we also have 4,824, 15% of the total, in critical condition and 638 deaths. Further, one arguably cannot measure the death-rate of any virus against the number of currently sick people: you surely measure it against those who eventually recover vs. those who don't. Given we have 1,563 who have recovered vs. 638 dead (and 4,824 critical) that is a worrying ratio of 29% dead as an end-outcome, which is right up there with the MERS virus from a few years ago – although, yes, there is real reason for us all to hope that number will decline sharply as milder cases will be fully curable. But the simple flu this is not.
WASHINGTON: Wuhan coronavirus: Donald Trump says deadly outbreak 'very well under control' as WHO declares a global emergency. President Donald Trump regaled a friendly New Jersey campaign crowd with his thoughts about impeachment, the economy, the border wall, local politics and much more.
But he was conspicuously quiet on January 28 about one big issue keeping much of the globe on pins and needles: the spread of a deadly new type of coronavirus. It has killed more than 170 people in China, sickened thousands more there and led to a handful of confirmed cases in the US, including the first US case of person-to-person transmission reported on by health officials. The State Department on January 30 advised all US citizens against traveling to China.
Trump, a self-described germaphobe, generally has discussed the virus in broad terms, but he offered some of his most extensive comments on the issue to date during an appearance on January 30 at a Michigan manufacturing plant. "Hopefully, it won't be as bad as some people think it could be, but we're working very closely with them (Chinese) and with a lot of other people and a lot of other countries, he said. "We think we have it very well under control."
The Birth Pains Are Growing Stronger….
One of the signs of ruling class collapse is when they can no longer enforce the rules that maintain them as a ruling class. When the Romans started making exceptions to republican governance, it was a matter of time before someone simply decided the rules no longer applied to them. Perhaps the robot historians will consider Obama our Marius or Sulla. Maybe that person is in the near future. Either way, the rule of law is over and what comes next is the rule of men.
"Man will ultimately be governed by God or by tyrants." as in Nancy Pelosi (D-San Fran-feces)
Our government has been overthrown. As evidenced by Trump's capitulation on the border, his recent servitude to the GMO industry and his acquiescence to the warmongers, our President has been compromised. Our liberties are being eliminated one by one. Gun confiscation is next. The Constitution is gasping its last breaths. Our borders are destroyed and our culture has been turned upside down by every perversion known to man.
The watchman does not confuse truth with consensus. The Watchman does not confuse God's word with the word of those who happen to hold power at present, or with the opinion of the majority. This is because powerholders and the majority can fall victim to a lying spirit-and this means a power that actually seizes the majority of experts, the political leadership, and the public.
Everything is right on schedule and, now, the time is come to remove one of the final obstacles standing in the way of a New World Order: The United States Constitution – even if, over the course of many decades, it has already been greatly diminished by the B.E.A.S.T. system; or, more specifically, Bullshit Emerging As Strategic Totalitarianism (B.E.A.S.T.).
They are tolerant of everything except dissenting values and opinions — meaning, of course, they are tolerant of nothing that matters, only themselves."
The Watchman does not confuse truth with consensus. The watchman does not confuse God's word with the word of those who happen to hold power at present, or with the opinion of the majority. This is because powerholders and the majority can fall victim to a lying spirit-and; this means a power that seizes the majority of experts, the political leadership, and the public.StevieRay Hansen
If you have a news scoop or an interesting story for us, please reach out at [email protected]
Coronavirus, Falsifying Death Toll From Coronavirus, biblical truth, Prophecy, tribulation, antichrist, United Nations Revelation 17 the BEAST+ B.E.A.S.T, US Coronavirus, demon virus, CDC, WHO, end times, No More Electronic Prison, Birth Pains, MSM, High-Tech & Reddit Engaged in Heavy Censorship of Truthful News Sources
The 127 Faith Foundation: We do not solicit donations from "those on disability, on a fixed income, or those who cannot afford to give." Please Pray!
Or, make checks payable to:
The 127 Faith Foundation
PO Box 127
Pontotoc, TX 76869
The number of Orphans aging out of Child Protective Custody has grown at an alarming rate. The 127 Faith Foundation receives many requests each week to house them at our ranch. Our prayer is that the good people of our country will step up to the challenge and offer financial support for "the least among us." We need your help! StevieRay Hansen, Founder, The 127 Faith Foundation
A Strong God Sent Delusion Has Caught Hold of These 'Pretenders', These Pastors Are Christian in Name Only, Hypocrites, Pharisees They Are Evil… Christ-less Christianity…
Read More
We make every effort to acknowledge sources used in our news articles. In a few cases, the sources were lost due to a technological glitch. If you believe we have not given sufficient credit for your source material, please contact us, and we will be more than happy to link to your article.