Advisory: Be careful of what you read on social media. The algorithms used by these platforms have no regard for Biblical truth. They target your emotions to keep you engaged on their site so their advertisers can drop more ads. These platforms exist to enrich their stockholders. Consider God's promise to Believers in James 1:5, "If any of you lacks wisdom, you should ask God, who gives generously to all without finding fault, and it will be given to you."
I have several images of newly constructed Chinese hospitals. Do they look like hospitals?…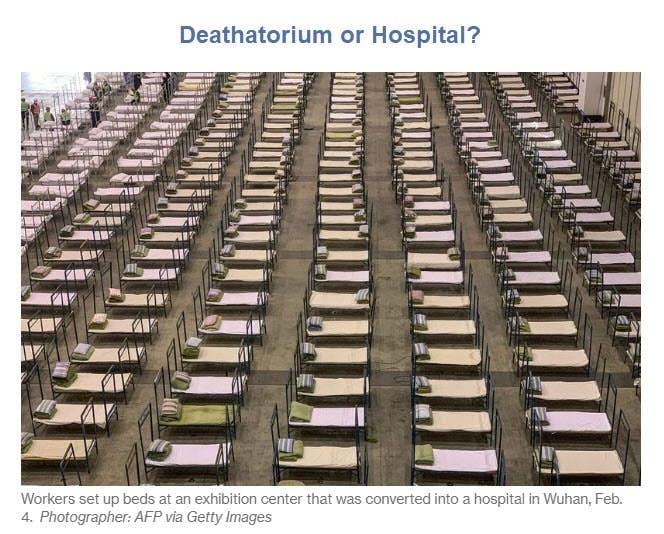 Bloomberg reports China Sacrifices a Province to Save the World From Coronavirus.
People are queuing for eight hours just to get tested for the coronavirus, said the college graduate, John Chen, who's 23. His feverish mother is yet to be tested.

"At first I was upset that the hospitals and officials I called for help weren't willing to do their job, but later I realized that it's not that they are unwilling to help, but that everywhere is way too short of resources," he said.

"I don't blame anyone, because if you grow up in China, you learn that's how the system works."
The lead image is from that article. Here are a couple more.
View of WuhanKeting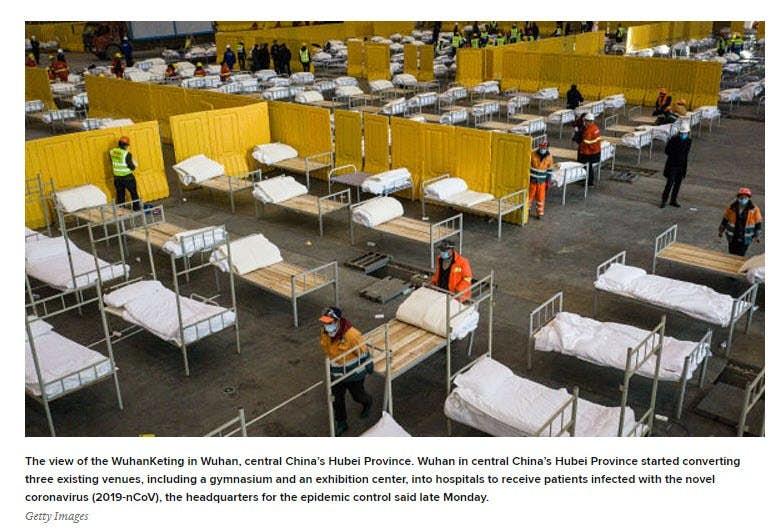 The above image is from China says death toll hits 563 as confirmed cases top 28,000
China's National Health Commission said that as of Wednesday night, a total of 28,018 cases have been confirmed and 563 people have died in the country. There were 3,694 new confirmed cases. There were 73 additional deaths, with most of them in Hubei province.

New York City tests 5 people for potential coronavirus
Pretty Beds Here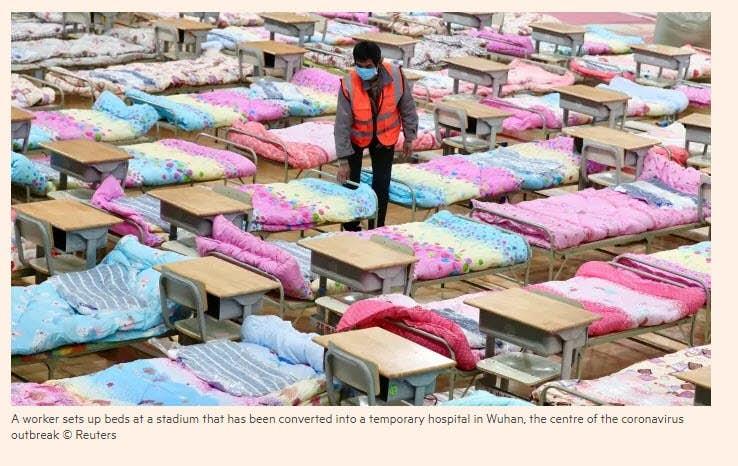 That image is from the FT article WHO expert says China too slow to report coronavirus cases.
The article notes that John Mackenzie, a senior member of the WHO's emergency committee broke ranks and called China's response "reprehensible".
"There must have been more cases happening that we weren't being told about," said Mackenzie.
Previously, Tedros Adhanom Ghebreyesus, the WHO director-general, lavished praise on China for its response.
Questions Abound
Is the world saved?
Is China?
How many have really died?
What about medical supplies?
Are those images of functional hospitals or deathatoriums?
Only 500 Dead?

Zhumadian, a city in Henan province allows one person per household to leave every five days to buy supplies.

Wuhan, Hangzhou, half a dozen other cities with similar restrictions.

And the death count is only 500. Yeah, right. https://moneymaven.io/mishtalk/economics/coronavirus-deaths-surge-no-containment-in-sight-iP0dD3JbI0eQEFdeK7gIsQ …Coronavirus Deaths Surge, No Containment In SightAs the coronavirus "official" death toll nears 500, hospitals in China turn away cases.moneymaven.io383:32 PM – Feb 5, 2020Twitter Ads info and privacy28 people are talking about this
Thousand Bed Hospital Built-in Record Time
Hooray! But No Containment in Sight
As Coronavirus Deaths Surge, No Containment In Sight.
And the WSJ reports Wuhan Coronavirus Hospitals Turn Away All but Most Severe Cases
In light of "All but severe cases turned away," do we have an answer for question 5?
This is truly sad.
Economically, a "Made in China" Economic Hit is Coming Right Up.
As the world stands at the edge of a global pandemic event, the people who are immune to the effects of lies have an opportunity to take action should the virus continue to expand beyond the borders of China. We have a small window of time, perhaps a couple of months, in which we can prepare ourselves for the fallout and ensure we are as protected as we can be. This means taking precautions to prevent viral transmission, increasing the strength of our own immune systems, prepping for the loss of supply lines and freight shipments to retailers, organizing family, friends, and neighbors for mutual aid and security, as well as preparing for the inevitable government attempts at martial law.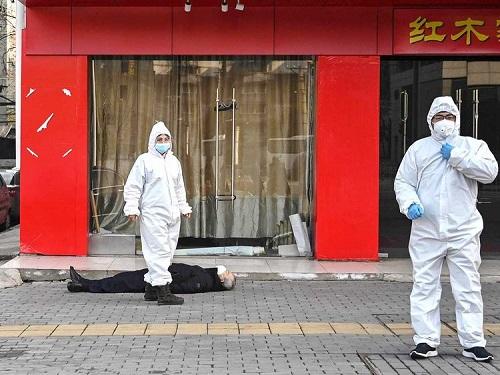 Of course, a person cannot or will not take any of these measures as long as they believe that the virus is not a threat, or they think that the pandemic will have little effect on their daily lives. I have recently seen a discomforting level of propaganda and disinformation agents invading the media and discussion boards related to this issue. Whenever I see such an intense disinformation campaign surrounding an event, this tells me a couple of things:
1) If they are trying to overtly downplay the seriousness of the event while lying about the facts involved, it tells me that the event is a legitimate threat and it will probably get worse as time passes.

2) If they all push the same false narrative and talking points it tells me that this is an organized effort paid for by a larger party with extensive resources.
If the narrative glosses over or hides recently revealed evidence by claiming that the event is "all hype", then it is designed to create inaction in the public – It is designed to make us apathetic, which means there is a concerted conspiracy to harm us. It is not just an attempt to hide the guilt of the people involved in creating the crisis.
So what are some of the most insidious lies being spread right now on the virus threat? Let's go through a quick list of those I've identified so far:
Lie #1: Deaths Caused By The Coronavirus Are Nothing Compared To The Death Rate Of The Average Flu…
This lie seems to be the most common being used to plant seeds of apathy in the public consciousness right now.  I have even heard people on the street regurgitate it verbatim as they try to convince themselves that all is well.  But even using official numbers, which are likely false and greatly reduced, the argument is simply wrong on every level.
Given the WHO's praise of China and condemnation of other countries, I thought it might be interesting to take a look historically at the WHO.
WHO Controversies
West Nile Experiments: A field experiment in the West Nile district allowed researchers to take blood from children 3 times a day, in order to allegedly study local disease-causing mononucleosis. It has been alleged they were actually being infected with contaminated polio vaccines and their antibodies were being studied. Around 45,000 were tested from 1960-1973.
Ebola and HIV Experimentation: It has been alleged that the WHO was aware of a Dr. Hilary Koprowski, a doctor allegedly performing research on AIDS and Ebola by deceiving and infecting Africans with a faux polio vaccine. It was estimated that over a million Africans were infected from 1954-1957. However, his work has been the cause of any disease that has been refuted.
2013–2016 Ebola outbreak: Following the 2014 Ebola outbreak in West Africa, the organization was heavily criticized for its bureaucracy, insufficient financing, regional structure, and staffing profile.
International Agency for Research on Cancer (IARC) controversies: The World Health Organization sub-department, the International Agency for Research on Cancer (IARC), has been criticized for the way it analyses the tendency of certain substances and activities to cause cancer and for having a politically motivated bias when it selects studies for its analysis. Ed Yong, a British science journalist, has criticized the agency and its "confusing" category system for misleading the public. Marcel Kuntz, a French director of research at the French National Centre for Scientific Research, criticized the agency for its classification of potentially carcinogenic substances. He claimed that this classification did not take into account the extent of exposure: for example, red meat is qualified as probably carcinogenic, but the quantity of consumed red meat at which it could become dangerous is not specified.[147]
IARC Cell Phones: Controversies have erupted multiple times when the IARC has classified many things as Class 2a (probable carcinogens) or 2b (possible carcinogen), including cell phone signals, glyphosate, drinking hot beverages, and working as a barber.
Robert Mugabe's role as a goodwill ambassador: On 21 October 2017, the Director-General Tedros Adhanom Ghebreyesus appointed former Zimbabwean president Robert Mugabe as a WHO Goodwill Ambassador to help promote the fight against non-communicable diseases. The appointment address praised Mugabe for his commitment to public health in Zimbabwe. The appointment attracted widespread condemnation and criticism in WHO member states and international organizations due to Robert Mugabe's poor record on human rights and presiding over a decline in Zimbabwe's public health. Due to the outcry, the following day the appointment was revoked.
Source: ZeroHedge HNewsdWire
StevieRay Hansen
Editor, HNewsWire.com
The World leaders Are Having Trouble With The Truth, and The World Has been "Quarantined" Tribulation Is Here…
Question — Why Are These High-Tech Conglomerates Afraid of the Truth? The answer, Because They Know the American People Have Become Lazy, Like Sheep They Need a Leader and They Chose High-Tech, It Will Be the Downfall of This Country Unless the People Change Course or the Mindset of These High-Tech Elitists stop suppressing the truth. If the people don't wake-up, they will begin to live in the worst nightmare of their lives, "Lost Social Media Reality"…
Demon Virus
Asked about the virus while traveling abroad last week, Trump said: "We have it totally under control". In a separate Twitter posting, he offered reassurance but scant detail for his confidence. By Associated Press Updated On: 05:53 PST, Jan 31, 2020
WASHINGTON: Wuhan coronavirus: Donald Trump says deadly outbreak 'very well under control' as WHO declares a global emergency. President Donald Trump regaled a friendly New Jersey campaign crowd with his thoughts about impeachment, the economy, the border wall, local politics and much more.
But he was conspicuously quiet on January 28 about one big issue keeping much of the globe on pins and needles: the spread of a deadly new type of coronavirus. It has killed more than 170 people in China, sickened thousands more there and led to a handful of confirmed cases in the US, including the first US case of person-to-person transmission reported on by health officials. The State Department on January 30 advised all US citizens against traveling to China.
Trump, a self-described germaphobe, generally has discussed the virus in broad terms, but he offered some of his most extensive comments on the issue to date during an appearance on January 30 at a Michigan manufacturing plant. "Hopefully, it won't be as bad as some people think it could be, but we're working very closely with them (Chinese) and with a lot of other people and a lot of other countries, he said. "We think we have it very well under control."
The Birth Pains Are Growing Stronger….
One of the signs of ruling class collapse is when they can no longer enforce the rules that maintain them as a ruling class. When the Romans started making exceptions to republican governance, it was a matter of time before someone simply decided the rules no longer applied to them. Perhaps the robot historians will consider Obama our Marius or Sulla. Maybe that person is in the near future. Either way, the rule of law is over and what comes next is the rule of men.
"Man will ultimately be governed by God or by tyrants." as in Nancy Pelosi (D-San Fran-feces)
Our government has been overthrown. As evidenced by Trump's capitulation on the border, his recent servitude to the GMO industry and his acquiescence to the warmongers, our President has been compromised. Our liberties are being eliminated one by one. Gun confiscation is next. The Constitution is gasping its last breaths. Our borders are destroyed and our culture has been turned upside down by every perversion known to man.
The watchman does not confuse truth with consensus. The Watchman does not confuse God's word with the word of those who happen to hold power at present, or with the opinion of the majority. This is because powerholders and the majority can fall victim to a lying spirit-and this means a power that actually seizes the majority of experts, the political leadership, and the public.
Everything is right on schedule and, now, the time is come to remove one of the final obstacles standing in the way of a New World Order: The United States Constitution – even if, over the course of many decades, it has already been greatly diminished by the B.E.A.S.T. system; or, more specifically, Bullshit Emerging As Strategic Totalitarianism (B.E.A.S.T.).
They are tolerant of everything except dissenting values and opinions — meaning, of course, they are tolerant of nothing that matters, only themselves."
The Watchman does not confuse truth with consensus. The watchman does not confuse God's word with the word of those who happen to hold power at present, or with the opinion of the majority. This is because powerholders and the majority can fall victim to a lying spirit-and; this means a power that seizes the majority of experts, the political leadership, and the public.StevieRay Hansen
If you have a news scoop or an interesting story for us, please reach out at [email protected]
Deathatoriums, Coronavirus, Falsifying Death Toll From Coronavirus, biblical truth, Prophecy, tribulation, antichrist, United Nations Revelation 17 the BEAST+ B.E.A.S.T, US Coronavirus, demon virus, CDC, WHO
https://rumble.com/embed/v20vvz8/?pub=4aes9 SRH: Pale Horse In Play: Mandatory Kill Shots are on the Horizon. Almost Every Government on the Planet Plans on Implementing Forced Kill Shots or…
Read More
We make every effort to acknowledge sources used in our news articles. In a few cases, the sources were lost due to a technological glitch. If you believe we have not given sufficient credit for your source material, please contact us, and we will be more than happy to link to your article.