Advisory: Be careful of what you read on social media. The algorithms used by these platforms have no regard for Biblical truth. They target your emotions to keep you engaged on their site so their advertisers can drop more ads. These platforms exist to enrich their stockholders. Consider God's promise to Believers in James 1:5, "If any of you lacks wisdom, you should ask God, who gives generously to all without finding fault, and it will be given to you."
to Determine What the Best Messaging Would Be to Persuade Americans to Take the COVID-19 Vaccine When It Is Ready, Of Course You'll Have To Register For The Vaccine Which Means They Can Track Your Every Move, Get In Line Sheep People, Anytime Governments Is Going To Give You Something You Should Be Very Concerned, What They Are Not Telling You–There Going To Take Something, In This Case Your Freedom.…
I Find It Ironic That the Same Girly Soy Boys That Are Destroying Americans Cities Come Out of These Universities Indoctrinated From a Bunch of Anti-American, Anti-God Professors, It's the Same Professors That Grew up in the 60s and Got Shut Down Because They Wanted Free Love, Free Drugs Open Society, Put Another Way Hell on Earth, When You Think About It, They Are Actually Getting What They Tried to Get Done in the Hippie 60s, They Are Worthless Bunch of Undesirables They Had Full Access to Our Youth and Turn Those Kids Against Parents and the Establishment…
IN BRIEF
The Facts: The US government and Yale University collaborate in a clinical trial to determine the best messaging to persuade Americans to take the COVID-19 vaccine.
Reflect On: Why do people need to be persuaded? Is it possible they have a lack of trust in public health recommendations for good reason?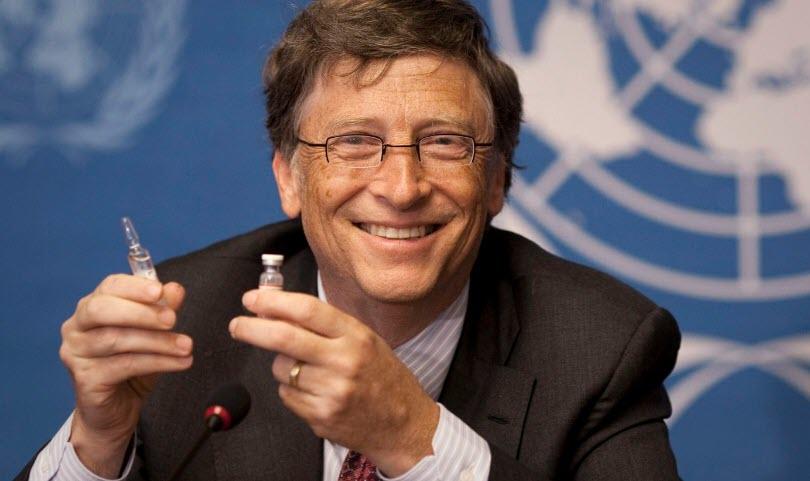 The US Federal government in collaboration with Yale University held clinical trials to determine what the best messaging would be to persuade Americans to take the COVID-19 vaccine when it is ready. The news of this study does show an interest in finding the best way to persuade people into an ideal decision for the Federal government, and likely vaccine makers, and it also shows that a mandatory vaccine campaign may still be the plan B down the road, as opposed to plan A.
The official title of the trial is, "Persuasive Messages for COVID-19 Vaccine Uptake: a Randomized Controlled Trial, Part 1."
According to the brief summary for trial:
This study tests different messages about vaccinating against COVID-19 once the vaccine becomes available. Participants are randomized to 1 of 12 arms, with one control arm and one baseline arm. We will compare the reported willingness to get a COVID-19 vaccine at 3 and 6 months of it becoming available between the 10 intervention arms to the 2 control arms.

Study participants are recruited online by Lucid, which matches census based sampling in online recruitment.
The study essentially looks at the best possible messaging that can be used on Americans, ranging from expressing vaccine benefits, to using messaging about economic impact, making someone feel guilty or embarrassed for not taking the vaccine, and so on.
The study looked at around 4000 participants aged 18 years and up, all of whom had to be US residents of course.
The various 'arms' used in the study when it came to messaging were as follows:
Other: Control message
Other: Baseline message
Other: Personal freedom message
Other: Economic freedom message
Other: Self-interest message
Other: Community interest message
Other: Economic benefit message
Other: Guilt message
Other: Embarrassment message
Other: Anger message
Other: Trust in science message
Other: Not bravery message
Interestingly, the study also looked at various social elements involved in vaccination, see below:
Primary Outcome Measures :
Intention to get COVID-19 vaccine [ Time Frame: Immediately after intervention, in the same survey in which the intervention message is provided ]This is a self reported measure, immediately after the intervention message, of the likelihood of getting a COVID-19 vaccination within 3 months and then 6 months of it becoming available. During analysis, responses among those assigned to different intervention messages will be compared to those in the control group.
Secondary Outcome Measures :
Vaccine confidence scale [ Time Frame: Immediately after intervention, in the same survey in which the intervention message is provided ]This is a validated scale. This scale will be used to assess the impact of the messages on vaccine confidence. (Outcome assessed only for the half of the sample that answers these items post-treatment)
Persuade others item [ Time Frame: Immediately after intervention, in the same survey in which the intervention message is provided ]This is a measure of a willingness to persuade others to take the COVID-19 vaccine.
Fear of those who have not been vaccinated [ Time Frame: Immediately after intervention, in the same survey in which the intervention message is provided ]This is a measure of a comfort with an unvaccinated individual visiting an elderly friend after a vaccine becomes available
Social judgment of those who do not vaccinate [ Time Frame: Immediately after intervention, in the same survey in which the intervention message is provided ]This is a scale composed of 4 items measuring the trustworthiness, selfishness, likeableness, and competence of those who choose not to get vaccinated after a vaccine becomes available.
Why This Matters: As more credible information about vaccinations and their associated dangers circles the internet and informs people, their choice to not vaccinate in certain situations is increasing. As noted by The World Health Organization, even doctors are starting to question and have a lack of trust in vaccines. Because of all of this, I believe pharmaceutical companies now have to work harder to convince people to get vaccines so their profits can stay where they are at. We are seeing the power of free and open media. You can likely guess you would not see a story like this nor honest coverage about vaccines in mainstream media.
The Takeaway: Humanity is waking up to truths that have long been held hidden behind the lack of honest media and government. As we begin to understand what is truly going on behind the scenes, we are beginning to ask even deeper questions. Why have we not be told the full story? Why do we give up our power to those who do not have our best interests at heart? What role are they playing in the awakening of humanity? Who are we? Why are we truly here and why are we not thriving as a global society? What is truly holding us back?
These questions lead us inwards to explore the true nature of who we are. Do we really lack the solutions in our world to allow humanity to thrive? Or is it that human consciousness is suppressed and stuck in a story of separation? Raising human consciousness is the solution we're looking for.
The Vaccine Will Be Mandatory, Welcome to Hell… on Earth, Our Elected Officials Have Become Our Masters, Obey Or FEMA Prison… Update: As expected, Friday's press conference introduced four-star general Gustave Perna, and former Pharma exec Moncef Slaoui who have joined "Operation Warp Speed" to help lead to government-backed effort to develop a vaccine.
Update (5:00 EST): As expected, President Trump said Tuesday evening that all Americans should wear masks and follow other social distancing guidelines. He also promised that vaccines would be coming "much sooner than anybody thought possible."
It's Becoming Very Obvious, When Trump Hold A News Conference (Briefing) He MUST BE Attached To A Lie Detector
""We are asking everybody, when you are not able to socially distance, wear a mask," Trump said. "Whether you like the mask or not, they have an impact."
The US has learned "a great deal" about "the China virus", and unfortunately, things will probably "get worse before they get better" Trump said.
"Some areas of our country are doing very well, others are doing less well," the President said. "It will probably, unfortunately, get worse before it gets better. Something I don't like saying about things, but that's the way it is."
Notably, Trump himself didn't wear a mask during the briefing, a fact that reporters were quick to point out.
The president said two vaccine candidates are already entering the final (and most extensive) phase of clinical trials, with four others not far behind. After talking about the vaccine effort and the "widely available" treatments like remdesivir, Trump added that students should be able to return to school for the upcoming semester, since fewer than 1% of cases have impacted school-age kids, Trump said.
Asked about the possibility of dedicated more federal funds to testing, Trump said he would be in favor of adding more money for testing in the next stimulus bill.
Now, will Trump's supporters listen to the president and start wearing masks indoors and whenever they can't maintain six feet between them and others when outdoors? Or will they continue to resist.
* * *
President Trump is expected to lead tonight's press briefing of the COVID-19 White House Task Force – the first time Trump will lead one of the task force's briefings since he abandoned the daily briefing schedule back in late April.
But Trump's presence isn't the only notable personnel decision. Dr. Fauci and a handful of other task force members have confirmed to CNN that they had not been invited to the briefing, meaning that what we're about to see is very likely to be 100% Trump.
That's not super surprising. The president's advisers have urged him to take a more high-profile approach in leading the virus response against Democratic rival Joe Biden.
"I think it's a great way to get information out to the public," Trump told reporters during a scrum in the Oval Office on Monday, saying he hopes to discuss progress on vaccines and therapies like remdesivir.
Trump has been tweaking his approach lately, even going so far as to belatedly tweet a photo of himself in a face mask Monday, calling wearing one an act of patriotism, after months of resistance to being publicly seen in the coverings.
If You Don't Want to Submit to the a Vaccine Then You Will Be Subject to Social Credit Score, Hell on Earth–Either Way for Christian It's the Coming Persecution…
Using the future tribulation period, the world will be ruled by a godless man presiding over an evil governmental system. The Bible associates this end-times ruler with a terrible beast in Revelation and in Daniel, The day is here– get ready, the virus WILL spreads throughout the US and Europe, governments will respond the same way China's government has; martial law and full-blown concentration camp culture. HELL ON EARTH…
"People who grew up with the Internet saw what a wonderful thing it was for free expression, giving everyone access to a global audience. That's been completely flipped on its head, and now it's one of the most tightly controlled, manipulated places to find information that you could imagine. It's a complete 180 from what it used to be, and that's incredibly sad, because it was, initially, this challenge to old information gatekeepers, this place of free expression, of democratized information, and now it's just controlled by a handful of increasingly authoritarian ideologically partisan tech companies that haven't been held to account by officials in D.C. and aren't bound by any regulation preventing them from who censoring people or interfering in elections."
Technology companies like Google, Facebook, and Twitter and growing increasingly sophisticated in anticipating, intercepting, and suppressing information with the likelihood of going viral
The World Is In Big Trouble, for Those That Believe We Will Go Back to Some Sense of Normal Life Here on Earth, You Will Be Sadly Disappointed, Seven and Half Years of Hell on Earth Which Began January 1, 2020
"Our courts oppose the righteous, and justice is nowhere to be found. Truth stumbles in the streets, and honesty has been outlawed" (Isa. 59:14, NLT)…We Turned Our Backs On GOD, Now We Have Been Left To Our Own Devices, Enjoy…
While Mainstream Media Continues to Push a False Narrative, Big Tech Has Keep the Truth From Coming out by Shadow Banning Conservatives, Christians, and Like-Minded People, Those Death Attributed to the Coronavirus Is a Result of Those Mentioned, They Truly Are Evil…
StevieRay Hansen
Editor, HNewsWire.com
Watchmen does not confuse truth with consensus The Watchmen does not confuse God's word with the word of those in power…
In police-state fashion, Big Tech took the list of accused (including this site), declared all those named guilty and promptly shadow-banned, de-platformed or de-monetized us all without coming clean about how they engineered the crushing of dissent, Now more than ever big Tech has exposed there hand engaging in devious underhanded tactics to make the sinister look saintly, one of Satan's greatest weapons happens to be deceit…
The accumulating death toll from Covid-19 can be seen minute-by-minute on cable news channels. But there's another death toll few seem to care much about: the number of poverty-related deaths being set in motion by deliberately plunging millions of Americans into poverty and despair.
American health care, as we call it today, and for all its high-tech miracles, has evolved into one of the most atrocious rackets the world has ever seen. By racket, I mean an enterprise organized explicitly to make money dishonestly.
All the official reassurances won't be worth a bucket of warm spit. The Globals are behind the CoronaVirus, It Is a Man-Made Bioweapon.
For those of you who care, Google and your favorite social media platforms have misled you, and now we all pay a heavy price for trusting the ungodly, Google and company, They knew exactly what they were doing, removing our history while preparing you to accept the New World Order playbook, Enjoy.
Dinesh Kaushiva Septmeber 30 , 2023 The Democrat Party and Democrat Party controlled Federal Agencies and all other Administrative Agencies and Departments have refused to…
Read More
We make every effort to acknowledge sources used in our news articles. In a few cases, the sources were lost due to a technological glitch. If you believe we have not given sufficient credit for your source material, please contact us, and we will be more than happy to link to your article.