Advisory: Be careful of what you read on social media. The algorithms used by these platforms have no regard for Biblical truth. They target your emotions to keep you engaged on their site so their advertisers can drop more ads. These platforms exist to enrich their stockholders. Consider God's promise to Believers in James 1:5, "If any of you lacks wisdom, you should ask God, who gives generously to all without finding fault, and it will be given to you."
We are given a warning: we are not to be deceived, because these events are only the beginning of birth pains; the end is still to come...
Abortion has been decriminalized across Australia after the last remaining state where it was illegal, New South Wales (NSW), voted to reform its laws.
The bill, passed on Thursday, overturns a 119-year-old law which had been criticized by opponents as archaic.
The legislation had generated weeks of heated debate and deeply divided the state's conservative government.
Previously, abortions were possible in NSW only if a doctor deemed there was "serious risk" to a woman's health.
The legislation was passed 26-14 in the state's upper house after discussions about more than 100 possible amendments. It has already been approved by the upper house.
The law makes it legal for terminations to be conducted up to 22 weeks into a woman's pregnancy – or later if two doctors agree.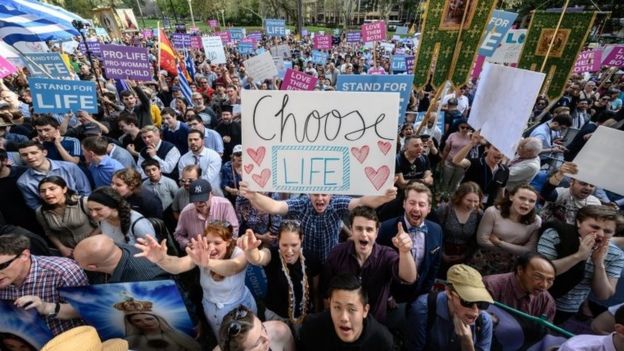 The reform had been strongly opposed by some activists and MPs who raised objections due to their personal beliefs, as well as concerns about late-term abortions.
But last-minute amendments ultimately persuaded some conservative MPs, and the bill drew support from other parties.
"The current law has meant women and doctors have a threat of 10 years in jail for making this decision and that's not okay," said Labor MP Penny Sharpe, one of the bill's co-sponsors. Source
"This is a massive step forward for women in this state." And a slap in the face God! SRH…
Matthew 24:5–8 gives us some important clues for discerning the approach of the end times: "Many will come in my name, claiming, 'I am the Christ,' and will deceive many. You will hear of wars and rumors of wars but see to it that you are not alarmed. Such things must happen, but the end is still to come. Nation will rise against nation, and kingdom against kingdom. There will be famines and earthquakes in various places. All these are the beginning of birth pains." An increase in false messiahs, an increase in warfare, and increases in famines, plagues, and natural disasters—these are signs of the end times. In this passage, though, we are given a warning: we are not to be deceived, because these events are only the beginning of birth pains; the end is still to come.
Australia's government has announced that it would call up 3,000 military reservists to confront an unprecedented bushfire crisis that is producing nightmarish "firenados" – cyclonic fire-tornadoes – and conditions that some are comparing to the aftermath of nuclear warfare.
NEW WEATHER PHENOMENON – THE FIRENADO: What is being described as a 'firenado' formed dangerously close to properties in Queensland, Australia as firefighters rushed to battle more than 100 bushfires in the dry grassland region. 282:36 PM – Jan 1, 2020Twitter Ads info and privacy34 people are talking about this
Just mother nature is a beast. Please please get some rain in this country because it is needed. #AustraliaFires @Petagna @Official_WXUK862:00 PM – Jan 4, 2020Twitter Ads info and privacy34 people are talking about this
On Saturday, beleaguered Prime Minister Scott Morrison sought to reassure the country's population that his government would take unprecedented measures to contain the fires, which have raged since September. According to AFP, Morrison said:
"Today's decision puts more boots on the ground, puts more planes in the sky, puts more ships at sea."
The addition of 3,000 reservists to firefighting efforts, which have already seen the deployment of roughly 2,000 military personnel, amounts to what authorities say is most likely the largest maritime rescue operation in Australia's history, reports the New York Times.
NASA issued this stunning satellite-based visualization of the state of the fires in Australia…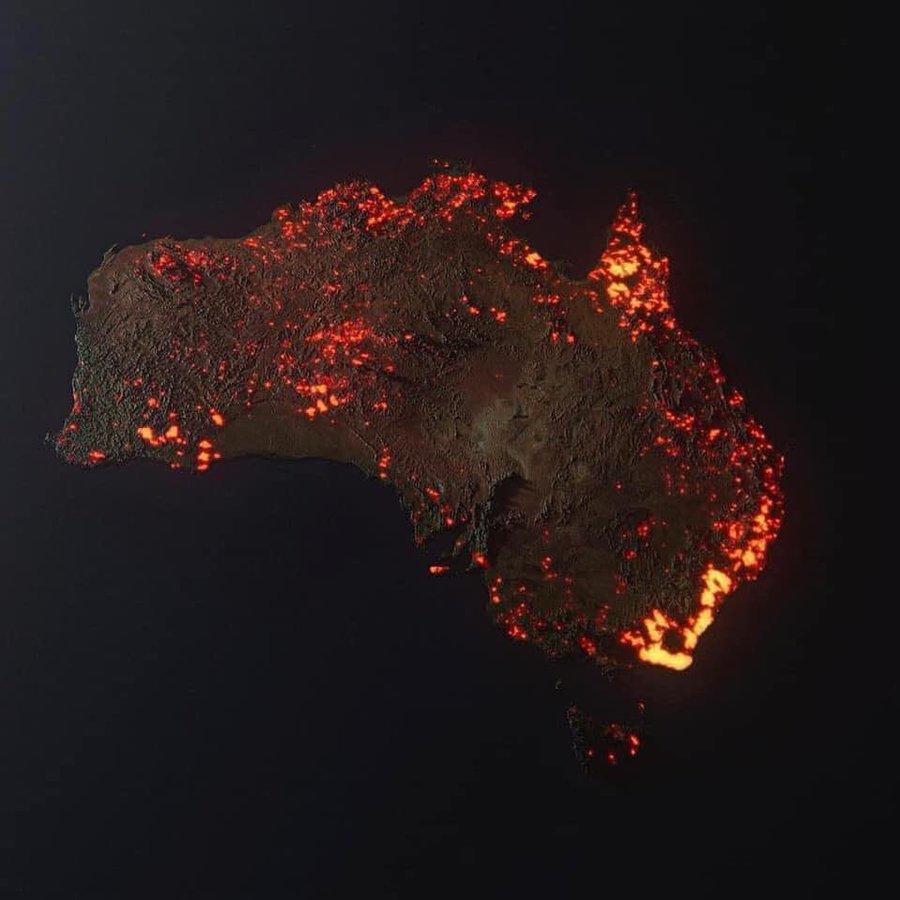 Military aircraft, naval ships, and other material will also be made available to assist evacuation and firefighting efforts.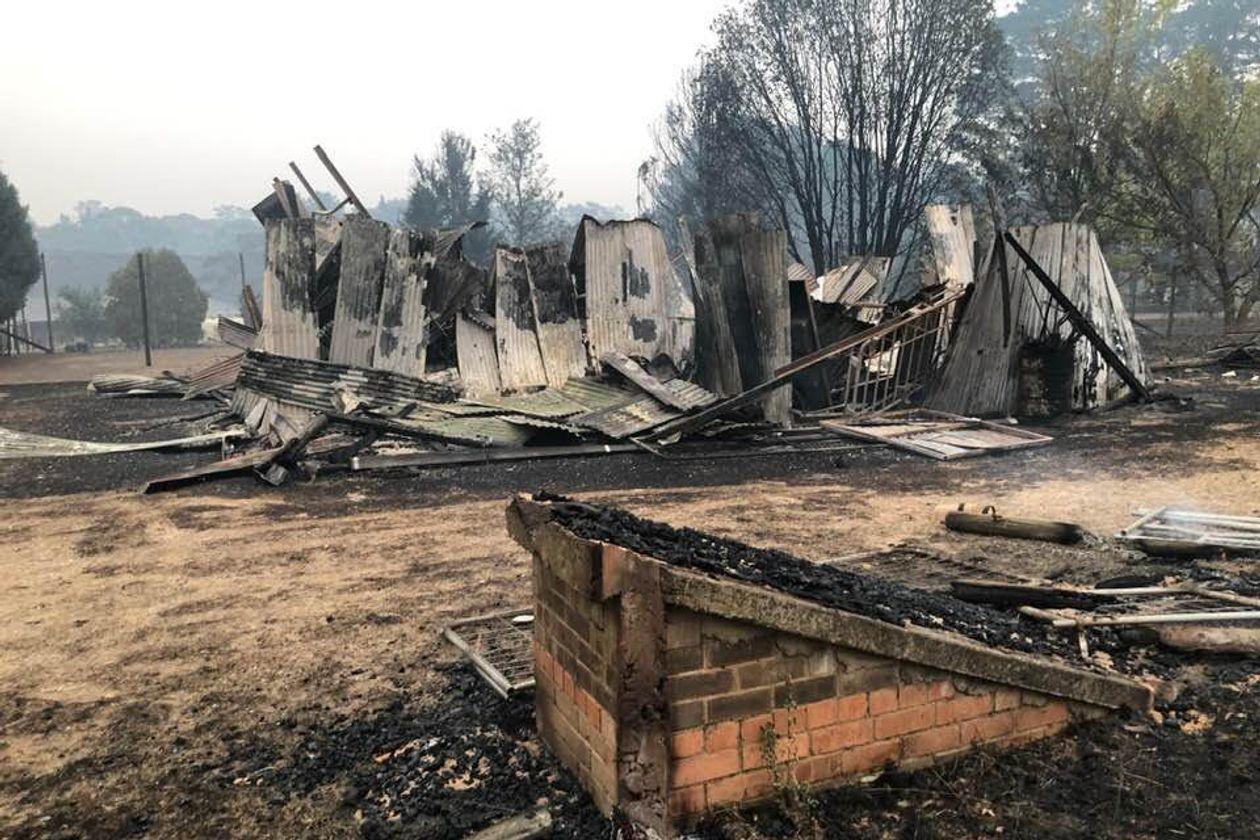 Defense Minister Linda Reynolds said:
"The government has not taken this decision lightly … It is the first time that reserves have been called out in this way in living memory."
The environmental calamity has been stoked by a combination of extreme winds, record-shattering heat waves, and drought-parched forests, grasslands, and brush.
A time-lapse of the pyrocumulus clouds forming above the Currowan fire this evening. It was recorded at around 7 pm on January 4 from Suttons Forest looking toward Bowral.
Thanks to Christopher Mortimer.#nswfires #nswrfs https://twitter.com/mortie23/status/1213376917350404097 …Christopher Mortimer@mortie23Pyrocumulonimbus near Bowral #NSWfires #bushfires2,5103:08 AM – Jan 4, 2020Twitter Ads info and privacy1,455 people are talking about this
Australia's bushfires have also grown so monstrous that they are generating their own weather in the form of pyro-cumulonimbus clouds – dry thunderstorms that create more fires – according to Victoria's Bureau of Meteorology. Fire-generated thunderstorms have appeared over the fires in two different locations. NASA describes them as the "fire-breathing dragon of clouds."

The #AustralianBushfires are so intense they are creating fire-induced thunderstorms capable of starting new fires through lightning, lofting of embers and generation of powerful wind outflows. Aptly named #pyrocumulonimbus @cnni @CNN @CNNweather @CopernicusEU @BOM_au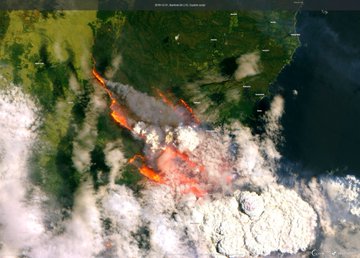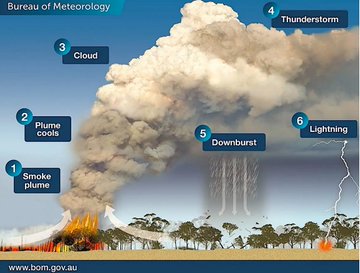 2971:28 AM – Jan 2, 2020Twitter Ads info and privacy227 people are talking about this
The storms have further introduced an unpredictable dynamic to the spread of fires and rapid, erratic changes, CNN reports. Bureau of Meteorology spokesman Neil Bennett told Australia's ABC:
"The prediction of fire weather in terms of wind is critical and when you've got a highly variable wind environment as you do with a thunderstorm, if you have that in the fire environment, those winds become very, very difficult to predict."
The dry thunderstorms have also triggered cyclonic fire-tornadoes, or "firenados," which have ripped through arid regions of southern Australia in recent days.



Incredible footage of a so-called "fire twister" on #KangarooIsland has revealed the intensity of the flames burning near the Ravine Des Casoars Wilderness Protection Area.

: Kangaroo Island resident Brenton filmed this yesterday. #ausfires #SouthAustralia3638:23 PM – Jan 2, 2020Twitter Ads info and privacy427 people are talking about this
On Monday, firefighter Samuel McPaul was killed in a "truly horrific" incident when extreme weather produced by the fire lifted his 12-ton fire truck into the air and dumped it on its roof. Two other firefighters on the scene are being treated for serious burns due to the "freakish" weather incident.

EMERGENCY WARNING: Currowan Fire (Shoalhaven LGA). The fire continues to burn towards a number of areas around Nowra and the Princes Hwy near Fishermans Paradise. This video was taken on Cabbage Tree Lane at Nowra Hill.
Mark Coombe – NSW RFS #nswrfs #nswfires3647:34 PM – Dec 30, 2019Twitter Ads info and privacy281 people are talking about this
Shane Fitzsimmons, the New South Wales Rural Fire Service Commissioner, was visibly shaken when he announced how the truck was flipped in what he described as a "pyro-convective line" of "cyclonic type winds." He said:
"The local crews that were able to catch up with him in the field at the accident scene describe what they experienced as truly horrific. They described it as an extraordinary wind event, describing it as a fire tornado.

We have a completely devastated family, a devastated local community at what just has been an extraordinary loss."
As of Saturday, over 23 lives have been claimed by the deadly fires, which have burned over 12 million acres of land, an area larger than Switzerland. On Saturday, Fire Commissioner of the Rural Fire Service in New South Wales (NSW), Shane Fitzsimmons, confirmed to reporters that over 148 active fires continue to burn in his state, 12 of which are at emergency levels. Meanwhile, in Victoria, authorities say that 50 active fires continue to burn.
Merrin Macleod@merxplat · Jan 4, 2020Replying to @merxplat
According to my phone, this was over Dandongadale
This was over Blowering2316:36 AM – Jan 4, 2020Twitter Ads info and privacy104 people are talking about this
Ecologists fear that nearly 500 million mammals, reptiles and birds—including 8,000 koalas—are estimated to have been killed, although the current death toll is impossible to calculate. The massive loss of life threatens to forever tip the balance for entire species of animals and plants on an island continent where 87 percent of wildlife is endemic to the country, meaning it can only be found in Australia.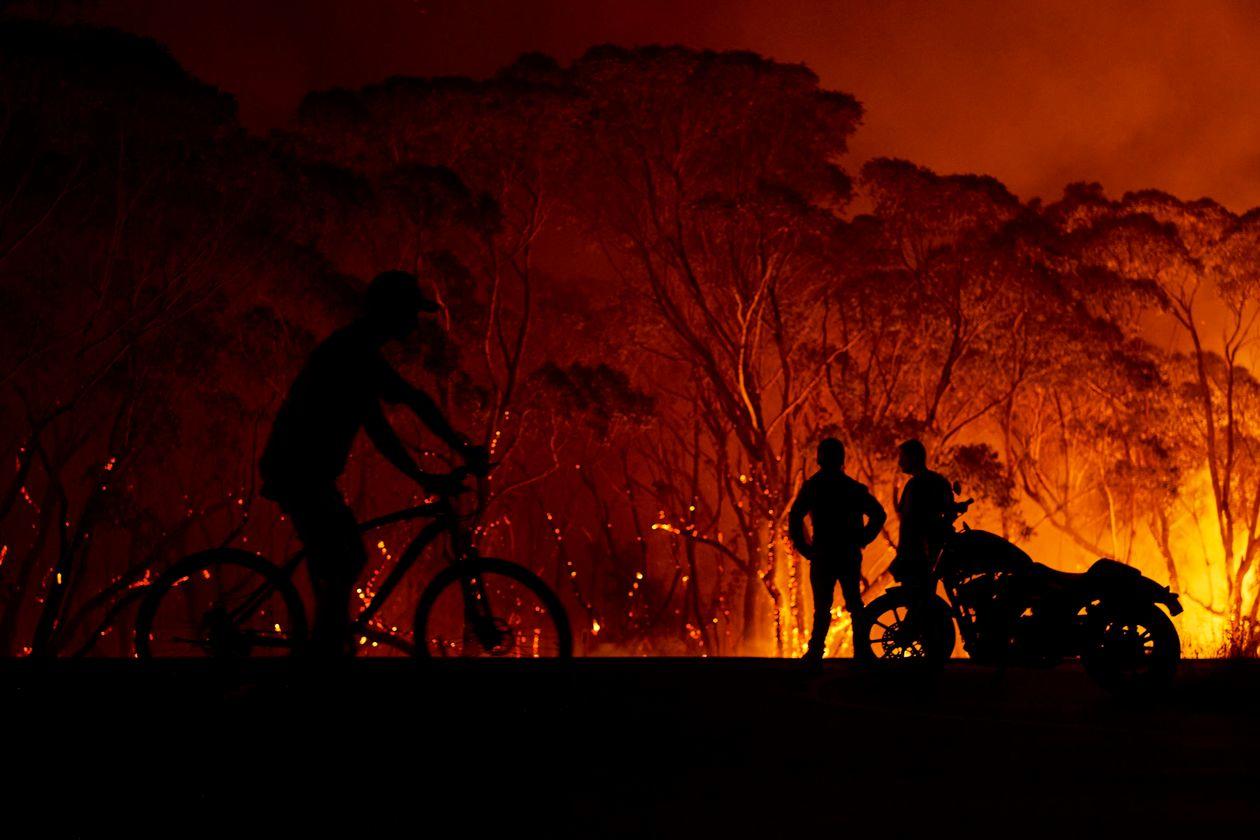 Kangaroos, koalas, wallabies, wombats, potoroos, bandicoots, echidnas, possums, and other species all have populations that live in regions currently being devastated by the fires—and because the fires have extended to the wetlands, dry eucalyptus forests, and even rainforests, the animals have no place to find refuge.
Jim Radford, a research fellow at La Trobe University in Melbourne, told the Times:
"We've never seen fires like this, not to this extent, not all at once, and the reservoir of animals that could come and repopulate the areas, they may not be there."
Many experts are using terms to describe the crisis that would have previously been unimaginable. New Zealand Herald reports that Andrew Constance, the transport minister in NSW, told ABC radio:
"I've got to be honest with you, this isn't a bushfire, it's an atomic bomb.

It's indescribable the hell it's caused and the devastation it's caused."
Perhaps this will add some more context…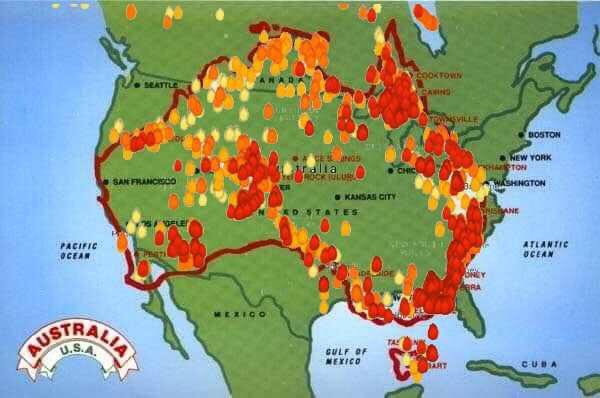 Pestilence is a deadly disaster, In the Bible, pestilence is usually a sign of God's judgment on a nation or people group (Deuteronomy 32:24; 1 Chronicles 21:12; Ezekiel 7:14–15). The God who protects and blesses is also the God who sends disaster and pestilence when it accomplishes His righteous purposes on earth (Isaiah 45:7; Ezekiel 5:16–17; Amos 4:10).
StevieRay Hansen
Editor, HNewsWire.com
God often uses men who are not of the best moral character. Pharaoh, Nebuchadnezzar, Cyrus, Herod, and Trump (amongst others), to accomplish His will in events He orchestrates during human history. We either trust the sovereignty of God or we don't. Nothing happens apart from Him…
The best index to a person's character is how he treats people who can't do him any good, and how he treats people who can't fight back…
The Birth Pains Are Growing Stronger….
One of the signs of ruling class collapse is when they can no longer enforce the rules that maintain them as a ruling class. When the Romans started making exceptions to republican governance, it was a matter of time before someone simply decided the rules no longer applied to them. Perhaps the robot historians will consider Obama our Marius or Sulla. Maybe that person is in the near future. Either way, the rule of law is over and what comes next is the rule of men.
"Don't piss down my back and tell me it's raining." Outlaw Josey Wales
"Man will ultimately be governed by God or by tyrants." as in Nancy Pelosi (D-San Fran-feces)
My name is Steve Meyers and I need to share a vision and warning that the Lord showed me back in April 2007….
Many of you will ask why I waited so long to share the warning. I didn't. I shared the story with everyone that would listen from pastors to friends to family to colleagues. Immediately following the initial vision, I called a close friend. I told him to sit down that I had something to tell him. I needed it documented as I knew this was supernatural and from God. As I witness events unfolding today, I need to share the vision again.
The risk of loss in trading futures and options on futures can be substantial. The author does not guarantee the accuracy of the above information, although it is believed that the sources are reliable and the information accurate. The author assumes no liability or responsibility for direct or indirect, special, consequential or incidental damages or for any other damages relating or arising out of any action taken as a result of any information or advice contained in this commentary. The author disclaims any express or implied liability or responsibility for any action taken, which is solely at the liability and responsibility of the user. Steve Meyers, StevieRay Hansen
Those That Suppress the Truth, the social media giants built multi-billion dollar empires by giving everyone a voice, but now that they have such a dominant position on the Internet they have decided that many prominent conservative voices should be completely silenced.
The 127 Faith Foundation understands the pain and sorrow associated with being a throwaway child, We push this throwaway child towards bettering their education, be it junior-college are going for a Masters's degree. This program is about them because they determine by the grace of God if they're going to be a pillar in the community or a burden on society. Some of the strongholds orphans deal with are: fear, resentment, bitterness, unforgiveness, apathy, unbelief, depression, anxiety, lust, anger, pride, and greed. Many of these strongholds open the door to addiction. Please Help The 127
Our government has been overthrown. As evidenced by Trump's capitulation on the border, his recent servitude to the GMO industry and his acquiescence to the warmongers, our President has been compromised. Our liberties are being eliminated one by one. Gun confiscation is next. The Constitution is gasping its last breaths. Our borders are destroyed and our culture has been turned upside down by every perversion known to man.
They are everyone you can't stand, from gun prohibitionists and Socialists to the corrupt mainstream media, large social media outlets, Hollywood, and our institutions of higher education, to name but a few. They are anyone working against our GOD Given freedoms, rights, constitution, etc.
It's interesting when you connect the dots, the masses are opposed to God's blueprint and therefore will bring destruction upon the earth intentionally. Me, I, mine, narcissists generation will bring total destruction upon God's people, only the chosen will survive, we live in evil times, dress appropriately, put on the full armor of God!….
Force is now the only rule remaining in deep state-controlled America. Everything else has collapsed. There is no free speech, no fair trial, no system of justice, no reasonable expectation of human rights anywhere, no fair elections, no honest news, no honest Wall Street operations, no real public education, no clean food, and threats from the elitist, the power structure that is hell-bent on bringing the New World order into the reality of the sleeping masses, get woke or get yoked, the choice still lives in the people's hands. Next, the AntiChrist will appear with many empty promises, peace, and security, in reality, it's the yoking of mankind, We are on the Doorstep of the Great Tribulations…
The watchman does not confuse truth with consensus. The watchman does not confuse God's word with the word of those who happen to hold power at present, or with the opinion of the majority. This is because powerholders and the majority can fall victim to a lying spirit-and this means a power that actually seizes the majority of experts, the political leadership, and the public.
I just saw the best news site I ever saw in my life. I never saw so much news and videos and links in my life. You have to go to Whatfinger News. , here – https://www.whatfinger.com – click this I bet you found your go-to news site from here on.
'PORTA DOS FONDOS' (TRANSLATES TO "BACK DOOR") HYPER-REPROBATES…
Thanks to people like Pastor Steven Anderson and the choir of preachers he has assembled within the New Independent Fundamentalist Baptist movement there has been a resurgence in what is called the Reprobate Doctrine. A Biblical doctrine that demonstrates in scripture, that God will turn people over to their vile lifestyles as a curse, blinding them to salvation in Jesus, giving them over to a devil's hell for eternity. A doctrine that I believe is completely Biblical and defined by the Apostle Paul in Romans 1 is unmistakably visceral language.
Let Me Make This Abundantly Clear. (I Am Apolitical) While I Have a General Distaste for Electric Cars and Politicians No Matter the Party They Belong To, I Am Unashamedly Politically a Bible Believing Conservative Christian. I Have a Severe Distrust of Government. I Believe It Is the Most Inefficient and Ineffective Way to Accomplish Most Things. While I Strongly Disagree with Liberals/Progressives and Conservative on Most Political Issues, and While I Believe Liberals/Progressives and Most Politicians Are Terribly Misguided and Naive About What Big Government Will Eventually Result In, I Strive to Not Question Their Motives. at the Same Time, While I Find Myself in Agreement with Conservative Politicians on Some Issues, I Do Not Believe Electing Republicans Is the Answer to Everything. for Me, Very Sadly, the Main Difference Between Republicans and Democrats Is How Quickly They Want to Drive the Car Towards the Cliff. Simply Put, I Do Not Believe the Government Is the Solution for Everything. I Do Not Place Any Faith, Trust, or Hope in Any Politicians to Fix What Is Wrong with the World. "Come Lord Jesus!" (Revelation 22:20) The prophet does not confuse truth with consensus. The watchman does not confuse God's word with the word of those who happen to hold power at present, or with the opinion of the majority. This is because powerholders and the majority can fall victim to a lying spirit-and this means a power that actually seizes the majority of experts, the political leadership, and the public.StevieRay Hansen
Source ZeroHedge.com HNewsWire.com
Tagged Under: Iran General Killed tribulation, antichrist, Christianity, Christians, end times, First Amendment, hate groups,Electronic Prison, Birth Pains, Censorship, Collapse, content publishers, digital tyranny, Donald Trump, election fraud, evil, freedom of speech, Google, impotence, meddling, oppressed, President Trump, speech police, tech giants, Trump, Tyranny
The 127 Faith Foundation: We do not solicit donations from "those on disability, on a fixed income, or those who cannot afford to give." Please Pray!
Or, make checks payable to:
The 127 Faith Foundation
PO Box 127
Pontotoc, TX 76869
The number of Orphans aging out of Child Protective Custody has grown at an alarming rate. The 127 Faith Foundation receives many requests each week to house them at our ranch. Our prayer is that the good people of our country will step up to the challenge and offer financial support for "the least among us." We need your help! StevieRay Hansen, Founder, The 127 Faith Foundation
Featured Story: World renowned CV19 critical care and pulmonary expert Dr. Pierre Kory says the data is clear the CV19 injections are "not safe, not…
Read More
We make every effort to acknowledge sources used in our news articles. In a few cases, the sources were lost due to a technological glitch. If you believe we have not given sufficient credit for your source material, please contact us, and we will be more than happy to link to your article.