Advisory: Be careful of what you read on social media. The algorithms used by these platforms have no regard for Biblical truth. They target your emotions to keep you engaged on their site so their advertisers can drop more ads. These platforms exist to enrich their stockholders. Consider God's promise to Believers in James 1:5, "If any of you lacks wisdom, you should ask God, who gives generously to all without finding fault, and it will be given to you."
Mr.Cyrus Trump talks the talk but he does not walk the Christian walk. As I've said before, he's got those heretics (prosperity gospel lunatics) around him, advising him and of course, they come up short when it comes to God's desires for mankind. God uses ungodly men to complete his plan, I believe we're witnessing another chapter in the book, now as we watch Mr. Trump play every card in the deck to his advantage.
The Jewish Temple Mount movement is excited over the recent election of Donald Trump. They know very well that rebuilding the Jewish temple in today's world would be a dangerous and politically incorrect task. In their view, if there is any modern political leader with the guts and determination to stand behind such a project, it could be President Trump. Biblically, many Christians affirm that the Jewish temple will be rebuilt at some point in the End Times. Could President Trump's strong pro-Israel stand be the game-changer that could help lay the groundwork? What role would President Putin play in the mix?**The Cyrus Mandate**A number of Christian leaders have been comparing Trump to the Biblical King Cyrus.
Like Joseph and Daniel of the Old Testament who served secular kings, we are called to serve everyone and help them fulfill their divine destiny. Jesus made it clear that people who want to lead or be great must be the servants of all. Serving is the way of leadership in the kingdom. Forcing our way onto the world is not great leadership. Some accuse me of doing this very thing because I speak up on moral issues. It is important that we speak up on issues, but it's also equally important that we love everyone no matter their persuasions. Someday Jesus will rule the world; in the meantime, we should just serve well and let our good works speak of our Father who loves everyone. Evil Exists So Spiritual Warfare Becomes Necessary!
It seems like the Democrats have been trying to figure out a way to remove Donald Trump from office forever. Trump was under investigation even before he won the election, and it has literally been a miracle that his presidency has been able to survive for as long as it has. But now the Democrats think that they have finally got him. A parade of witnesses has come forward testifying that Trump pressured the president of Ukraine to investigate Joe Biden and his son and that Trump withheld key military aid from Ukraine as leverage. Nancy Pelosi, Adam Schiff and other top Democrats believe that this constitutes an "abuse of power", and that this "abuse of power" qualifies as a "high crime or misdemeanor".
Other than Fox News, the mainstream media is solidly behind the Democrats on this, and we have seen a shift in public opinion polls in favor of impeachment. Many conservatives continue to doubt that an impeachment trial will actually happen, but Nancy Pelosi would have never let things get this far if she didn't know for sure that she has the votes that she needs to impeach Trump in the House. At this point, it appears extremely likely that Trump will be impeached, and that will set up a historic trial in the U.S. Senate.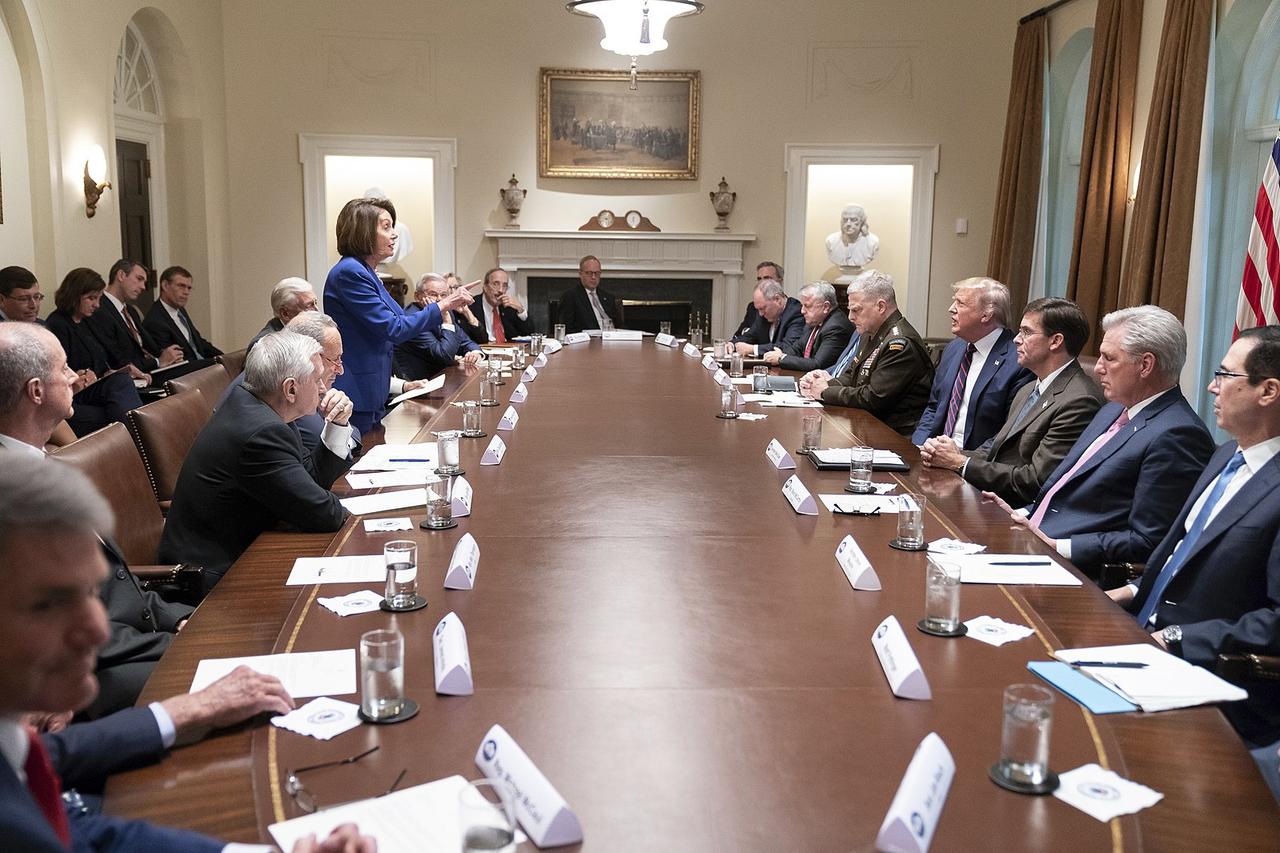 Prediction: Impeachment Will Hurt BOTH Democrats and Republicans
Democrats believe that impeaching Trump will help them win in 2020. They believe that – even if the Senate does not vote to remove Trump – impeachment hearings will air enough dirty laundry that voters will be disgusted and vote blue.
Many Republicans, on the other hand, believe that impeachment will only help Republicans gain ground in the election.
Why?
Because the impeachment of Clinton – with the Senate vote not to remove him as president – actually helped to rally the Democratic base, and led to the Democrats picking up Congressional seats in the next election.  Many Republicans believe that there is "no there there", and that the public will be disgusted by all of the melodramatic blusters with no substance.
Additionally, a tidal wave is about to hit … the Horowitz inspector general report and the Durham/Barr criminal probe.
So my prediction is that the whole impeachment effort will result in Americans losing trust in BOTH parties in the long run, and realizing that neither the DNC or the RNC is on their side …
If you doubt this, watch the poll numbers in a year for how much Americans trust their government. Source
On Tuesday, House impeachment investigators will hear testimony from Lt. Col. Alexander Vindman, and according to a draft of his opening statement, he plans to tell them that he notified his superiors twice regarding his concerns that military aid to Ukraine was being withheld in order to pressure the Ukrainians to investigate the Bidens…
The White House's top expert on Ukraine twice notified superiors about concerns that the president and those working for him were linking foreign aid to Ukraine with investigations that would help President Donald Trump politically, a push that he said could undermine U.S. national security, according to an opening statement obtained by USA TODAY.

The testimony of Lt. Col. Alexander Vindman before the House Foreign Affairs, Intelligence and Oversight committees Tuesday will mark the first time lawmakers investigating the impeachment inquiry will hear from someone who listened to Trump's July 25 call with Ukrainian President Volodymyr Zelensky — the call at the center of the impeachment investigation that included a Trump's request that Ukraine investigate former Vice President Joe Biden.
This is likely to be bombshell testimony, but the American public won't get a chance to hear from Vindman firsthand because the Democrats made a critical strategic mistake.
At the outset of this process, the Democrats decided to keep the proceedings shielded from the American public. This has opened them up to tremendous criticism from Republicans, and it has resulted in them missing opportunity after opportunity to move public opinion more dramatically.
For the past month, the Democrats have looked like they are trying to hide what they are doing, and the process has been deeply unfair to President Trump.
Finally realizing that they have massively screwed up, the Democrats now plan to hold a vote in the House later this week that will make the next phase of the impeachment inquiry more open to the public. In a letter to her fellow Democrats in the House, Nancy Pelosi explained why this move is being made at this time. The following is an excerpt from her letter…
This week, we will bring a resolution to the Floor that affirms the ongoing, existing investigation that is currently being conducted by our committees as part of this impeachment inquiry, including all requests for documents, subpoenas for records and testimony, and any other investigative steps previously taken or to be taken as part of this investigation. This resolution establishes the procedure for hearings that are open to the American people, authorizes the disclosure of deposition transcripts, outlines procedures to transfer evidence to the Judiciary Committee as it considers potential articles of impeachment, and sets forth due process rights for the President and his Counsel.

'We are taking this step to eliminate any doubt as to whether the Trump Administration may withhold documents, prevent witness testimony, disregard duly authorized subpoenas, or continue obstructing the House of Representatives.
If the Democrats are going to be successful, they need to get somewhere around 60 percent of all Americans on their side, because it is at that level where certain Republicans in the U.S. Senate would feel comfortable betraying Trump.
In order to do that, the Democrats desperately need to get these proceedings on television, and this resolution will finally authorize that.
But will this be a case of too little, too late?
We shall see.
Ultimately, the Democrats never should have gone down this road, and even if everything they are alleging is true there is nothing that Trump has done that represents a "high crime or misdemeanor".
And with Republicans in control of the U.S. Senate, you would think that Trump should be feeling quite safe.
Unfortunately, so far only seven Republicans have publicly stated that they have ruled out removing Trump from office, and most Republican Senators are purposely refusing to take any sort of a public stand. Here are a few examples…
Sen. James Risch (R-Idaho): "I'm a juror and I'm comfortable not speaking."
Sen. Lamar Alexander (R-Tenn.): "I'd be a juror, so I have no comment."
Sen. Tim Scott (R-S.C.): "I don't need a strategy for impeachment because I may be a juror someday."
Sen. Susan Collins (R-Maine): "I am very likely to be a juror so to make a predetermined decision on whether or not to convict a president of the United States does not fulfill one's constitutional responsibilities."
So much for loyalty. President Trump recently endorsed Senator Risch, and this is how he is repaying Trump?
If the Republicans in the Senate came together and released a public statement in which they pledged not to remove Trump from office, that would immediately suck all the life out of the impeachment process.
But they are not going to do that. In fact, there are persistent rumors that quite a few Republican Senators are ready to stab Trump in the back.
Whether you support Donald Trump or not, the truth is that every American should be deeply alarmed by what is happening in Washington right now. In 1835, Alexis de Tocqueville warned us that this might happen someday: "A decline of public morals in the United States will probably be marked by the abuse of the power of impeachment as a means of crushing political adversaries or ejecting them from office."
The scenario that he warned about is playing out right in front of us, and if Donald Trump is removed from office it is going to cause irreparable damage to our system of government. Source
They point out that King Cyrus was a leader called and appointed by God. Despite the fact that this Persian King did not know the God of Israel, God appointed him by name with the mandate to fulfill God's divine purposes concerning the nation of Israel. President Trump, like King Cyrus, appears an unlikely champion for God's purposes. Despite the controversies swirling around him, Trump has though already taken action to re-align America with important Biblical values (such as pro-life) as well as making an unusually firm stand alongside the nation of Israel. While several Christian bible teachers have pointed out similarities with Cyrus, few have raised the point that a primary part of Cyrus' divine calling was to order the rebuilding of the Temple in Jerusalem (Isaiah 44:28, Ezra 1:2). If President Trump really has a similar calling to King Cyrus, could it be that God would use this real estate developer turned President to facilitate the greatest property development of modern time – the rebuilding of the Temple?**A Letter from the Sanhedrin**Key figures in Israel's Temple Mount movement certainly is optimistic that Trump's victory could be the catalyst needed to bring their dream to reality. Within days of the election victory, long time Temple Mount advocate and now a prominent member of the Israeli Knesset Rabbi Yehudah Glick issued a public call inviting Trump to visit the Temple Mount. This call was followed days later by an open letter from the re-convened Jewish Sanhedrin.
The open letter addressed BOTH Russian President Putin and the new US President Trump – asking them both to fulfill the Cyrus mandate of enabling the rebuilding of the Temple. Rabbi Hillel Weiss, who serves as spokesman for the Sanhedrin, explained that Donald Trump's rise to power had 'made the eternal Jewish dream a very real possibility'.Trump's strong stand in support of the Jewish claim to Jerusalem and the West Bank (Biblically known as Judea and Samaria) has led to the Sanhedrin to the belief that he could also support full Israeli rights to the Temple Mount. Compared to President Trump, Russian President Vladimir Putin might seem like an even more unlikely Cyrus. Many would instead view him as a potential 'Gog' – one of Israel's great End Time enemies. The Sanhedrin, however, are basing their letter to Putin on unverified positive reports concerning Putin's attitude to the Temple Mount. Visiting the Western Wall in 2012, Putin allegedly disclosed that he was personally praying for the rebuilding of the Temple. On this basis, the Sanhedrin decided to write to both Putin and Trump – inviting them both to fulfill the Cyrus mandate. The optimism of the Sanhedrin is palpable. Rabbi Weiss explains: "We are poised to rebuild the Temple. The political conditions today, in which the two most important national leaders in the world support the Jewish right to Jerusalem as their spiritual inheritance, is historically unprecedented".**Cyrus or the Anti-Christ**While the Sanhedrin is looking for a Cyrus type figure to arise to help support the building of the Third Temple, many Christians tend to link the rebuilding of the Temple not with a Cyrus but rather with the anti-Christ himself.
StevieRay Hansen
Editor, HNewsWire.com
The Birth Pains Are Growing Stronger….
"Unless God has raised you up for this very thing, you will be worn out by the opposition of man and devils"…
My name is Steve Meyers and I need to share a vision and warning that the Lord showed me back in April 2007….
Many of you will ask why I waited so long to share the warning. I didn't. I shared the story with everyone that would listen from pastors to friends to family to colleagues. Immediately following the initial vision, I called a close friend. I told him to sit down that I had something to tell him. I needed it documented as I knew this was supernatural and from God. As I witness events unfolding today, I need to share the vision again.
The silencing of the American people before 2020?
The Un-Godly — Those That Suppress the Truth, the social media giants built multi-billion dollar empires by giving everyone a voice, but now that they have such a dominant position on the Internet they have decided that many prominent conservative voices should be completely silenced.
Trans People, LGBTQE scream and the online publishing platform Medium suspended the accounts of prominent Christians and Conservative figures Mike Cernovich, Jack Posobiec, Laura Loomer and HNewsWire just to mention a few, the list is long and very disturbing-what the majority homosexuals, transgender, liberal screaming has accomplished in the name of inclusion
The fact is, it is not enough for atheists, homosexuals, socialists and cultural leftists to have their own freedom and equality to believe whatever they believe (freedom which most Christians fully support). No, they want to ensure that Christians are not permitted to live out their own faith and convictions without retribution. This is the legacy of the New Tolerance movement. The doors of religious liberty are closing once again in Russia, after a brief twenty-six-year limited window. Are the doors of our four-hundred-year window of liberty closing? Frankly, that answer will be determined by what this generation of Christians in America does in the next ten years. "And the Lord will by no means leave the guilty unpunished."
The light went out in the church, and that's the reason the world got dark. Dark times were perpetrated by the "last one out, turn out the lights" "The church lights have gone OUT".
The Lukewarm Christian
There are numerous pathetic souls who, though they have not severed formal fellowship ties with a local church, nonetheless are so spiritually apathetic as to be practical enemies of the Lord.
Let Me Make This Abundantly Clear. (I Am Apolitical) While I Have a General Distaste for Politicians No Matter the Party They Belong To, I Am Unashamedly Politically a Bible Believing Conservative Christian. I Have a Severe Distrust of Government. I Believe It Is the Most Inefficient and Ineffective Way to Accomplish Most Things. While I Strongly Disagree with Liberals/Progressives and Conservative on Most Political Issues, and While I Believe Liberals/Progressives and Most Politicians Are Terribly Misguided and Naive About What Big Government Will Eventually Result In, I Strive to Not Question Their Motives. at the Same Time, While I Find Myself in Agreement with Conservative Politicians on Some Issues, I Do Not Believe Electing Republicans Is the Answer to Everything. for Me, Very Sadly, the Main Difference Between Republicans and Democrats Is How Quickly They Want to Drive the Car Towards the Cliff. Simply Put, I Do Not Believe the Government Is the Solution for Everything. I Do Not Place Any Faith, Trust, or Hope in Any Politicians to Fix What Is Wrong with the World. "Come Lord Jesus!" (Revelation 22:20) StevieRay Hansen
Our government has been overthrown. As evidenced by Trump's capitulation on the border, his recent servitude to the GMO industry and his acquiescence to the warmongers, our President has been compromised. Our liberties are being eliminated one by one. Gun confiscation is next. The Constitution is gasping its last breaths. Our borders are destroyed and our culture has been turned upside down by every perversion known to man.
Education is useless without the bible (Daniel Webster)
Usually, the Lord doth no great thing for or against his people, without giving warning of it before it comes.
John Wesley who said that what we tolerate in our generation, will be embraced by the next. Wesley is 100% correct! We are living in sick times.
The Left, a broad term for Liberal Socialist Democrats that can only be explained fully by using the Bible explanation of the human race is as follows. A servant of Satan, because you are either saved or lost. This election has brought out the true nature of who you serve. Simply put, it's Donald Trump, Conservatives, and Christians against the rest of the world. The Left's Love applies only to those who believe as they do. They Love evil and commit Anarchy against those who love good. They are governed by lies and never tell the truth. On this Friday, Inaugural Day for the swearing-in of Donald Trump as the 45th President of the United States the Left wants to commit widespread Anarchy to shut down the swearing-in ceremony. Their goal of transforming America, which was founded in Judea Christian values into a Pagan Nation is almost complete. Their goal has always been the total removal of God from American society and the downfall of America. Donald Trump says he is a Presbyterian, but he left off the USA, an apostate church.
Corinthians 4:8-11 New King James Version (NKJV)
We are hard-pressed on every side, yet not crushed; we are perplexed, but not in despair; 9. persecuted, but not forsaken; struck down, but not destroyed— 10. always carrying about in the body the dying of the Lord Jesus, that the life of Jesus also may be manifested in our body. 11. For we who live are always delivered to death for Jesus' sake, that the life of Jesus also may be manifested in our mortal flesh.
Satan has power over (LGBTQE-TRANS PEOPLE). The "sons of disobedience" referred to in Ephesians 2:2 are those who have not trusted Christ as Lord and Savior (cf. Acts 26:18; 2 Corinthians 4:4; Revelation 13:12). The demons are also under the rule of Satan (Matthew 12:24), and one of his titles is "prince of demons" (Matthew 9:34). Satan has a kingdom (Matthew 12:26) and a throne (Revelation 2:13). Satan is called a prince because he is a ruler and possesses the power to manifest evil in the world through influencing people and commanding demons.
HNewsWire- "All political language is designed to make lies sound truthful and murder respectable." Just look at some of our modern-day examples: torture is "enhanced interrogation techniques"; murder is "collateral damage"; the aggression initiation of war is a "pre-emptive strike"; the theft of taxpayers' money is a "bailout", and the theft of depositors' money in a bank is a "haircut" or "bail-in".In a blatant example of Newspeak, the New World Order controllers (through the psychiatric DSM V) have tried to rename pedophiles as "minor-attracted persons" and redefine pedophilia as "sexual orientation". This makes no sense since sexual orientation has to do with gender, not age, with whether you are attracted to males or females, not how old they are. There are even organizations (like B4UAct.org) which are claiming that pedophiles are being unfairly stigmatized for their feelings!
If homosexuality has been posed as healthy, good and normal, in the face of overwhelming evidence to the contrary, so can pedophilia. Pro-pedophilic articles are making their way into academia.
The Cult of LGBTQE-E for EVIL and is often a cover for child-molesting perverts
Tagged Under: abuse, children's health, gender-confused, gender issues, gender madness, the left cult, LGBTQE-E For Evil un-godly Mob, Lunacy, mutilation, transgender, Child molesting perverts LGBTQE- E For Evil, drag queens, perverts
Unfortunately, not all alternative sources are reliable, even some Major Christian (and I use Christian loosely) news sources have been corrupted. They will NOT tell the truth. They just parrot the deceptive narratives perpetrated by those who currently control our government and media. Even those who are honestly trying to present the truth can miss it sometimes. There is so much deception out there. In these last days, you must be wise as serpents and gentle as lambs. It is no time to sleep or slumber. Diligence and vigilance are required. It is critical that you think for yourself and not be a Lemming.
Tagged Under: hnewswire StevieRay Hansen, HNewsWire, antichrist,digital gulag, antichrists, Apple, Bible, Big Tech, bigotry, Christian baker, Christianity, Christians, Colorado, Colorado Civil Rights Commission, conservatives, deep state, demonic assault, end of days, end times, Facebook, First Amendment, free speech, Google, hate groups, Hate speech
The 127 Faith Foundation: We do not solicit donations from "those on disability, on a fixed income, or those who cannot afford to give." Please Pray!
Or, make checks payable to:
The 127 Faith Foundation
PO Box 127
Pontotoc, TX 76869
The number of Orphans aging out of Child Protective Custody has grown at an alarming rate. The 127 Faith Foundation receives many requests each week to house them at our ranch. Our prayer is that the good people of our country will step up to the challenge and offer financial support for "the least among us." We need your help! StevieRay Hansen, Founder, The 127 Faith Foundation
HNewsWire: Our elected officials have turned on the American people, disarming the masses is the beginning of the end for freedom. As Virginia lawmakers prepare…
Read More
We make every effort to acknowledge sources used in our news articles. In a few cases, the sources were lost due to a technological glitch. If you believe we have not given sufficient credit for your source material, please contact us, and we will be more than happy to link to your article.