Advisory: Be careful of what you read on social media. The algorithms used by these platforms have no regard for Biblical truth. They target your emotions to keep you engaged on their site so their advertisers can drop more ads. These platforms exist to enrich their stockholders. Consider God's promise to Believers in James 1:5, "If any of you lacks wisdom, you should ask God, who gives generously to all without finding fault, and it will be given to you."
The Hierarchy of Deep State Escalation That Will End in the Attempted Assassination of President Trump and Engineered Terrorism Across America…. The deep state is at war with America. The CIA is running an attempted coup, and all the CIA's puppet "journalists" (actually nothing more than CIA-run media hacks) are all-in.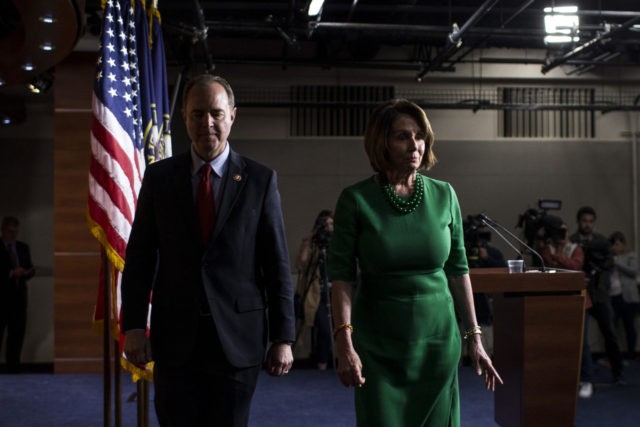 The White House responded to an impeachment resolution released by Speaker Nancy Pelosi on Tuesday, calling it an 'illegitimate sham.'
White House Press Secretary Stephanie Grisham said in a statement:
The resolution put forward by Speaker Pelosi confirms that House Democrats' impeachment has been an illegitimate sham from the start as it lacked any proper authorization by a House vote.
The White House protested that the resolution only allowed House Intelligence Chairman Adam Schiff to hold more "one-sided" hearings without due process for the president, noting that the administration's rights were "undefined, unclear, and uncertain."
"This resolution does nothing to change the fundamental fact that House Democrats refuse to provide basic due process rights to the Administration," the statement read.
Pelosi released the text of the resolution on Tuesday for a proposed vote on Thursday, which would give Schiff the lead role in the investigation.
"The evidence we have already collected paints the picture of a president who abused his power by using multiple levers of government to press a foreign country to interfere in the 2020 election," House Democrats said in a statement.
But the White House noted that Schiff "repeatedly lies to the American people" and that the resolution would only create a new round of hearings without due process for President Trump. Source
Without a desperately needed spiritual awakening, America is on a dangerous slope. Millions must recognize how the enemy is using the Democratic Party with its seductive, totally unrealistic, godless vision for America. It is totally foreign to that of our Founding Fathers and 243-year heritage.
The brutal reality is that the Democratic Party is not the one of even a generation ago. It has become radicalized; hostile to biblical values and religious freedoms; disrespectful to individuals and institutions; unashamed in using profanities and employing intimidation in the media and public square; increasingly irrational, lawless, dishonest, hypocritical, corrupt and mean-spirited (remember the Brett Kavanaugh hearing?); and finally, flippant in dismissing "due process" and our two foundational societal pillars of the sanctity of human life alongside the sanctity of man-woman marriage.
Here's the deal: as we've watched the difficult-to-believe destruction of the 108-year-old Boy Scouts of America because they capitulated to forces the Democratic Party championed, let us consecrate ourselves at this defining time to intercession, gospel proclamation, "salt and light" activism and courageous, uncompromising obedience to God. Extraordinary circumstances require extraordinary measures. "Come out from among them and be separate, says the Lord. Do not touch what is unclean, and I will receive you. I will be a Father to you, and you shall be My sons and daughters, says the Lord Almighty" (2 Corinthians 6:17-18).
The devil is a defeated foe, and no matter how destructive his influence is at this critical time, remember, "The earth belongs to the Lord, and its fullness, the world, and those who dwell in it" (Psalm 24:1).
May God bless the United States of America as we pray and communicate the fact we must return to Him and His ways upon which our nation was founded, a foundation that has resulted in the most blessed and prosperous nation on earth.
Not In God's Plan: Impeachment
Many Americans were ready to forsake all hope of peace. Peace, Peace — but there is no peace, No God, No Peace. The war is actually begun! The next gale that sweeps from DC will bring to our ears the clash of resounding Civil UN-REST! ….. Why stand idle? What is it that gentlemen have become, Cowards? What would they have? Is life so dear, or peace so sweet, as to be purchased at the price of "The Electronic Prison By Big Tech slavery"? Forbid it, Almighty God! I know not what course others may take; but as for me, give me liberty or give me death!"
Nancy Pelosi just took the biggest gamble of her entire political career. If she is ultimately successful, she will be remembered as the woman that removed Donald Trump from the White House, and Democrats will treat her like a hero for the rest of her life. But if she fails and Trump wins in 2020, the backlash that she created when she tried to impeach Trump is likely to be blamed, and she could potentially lose her leadership role in the House. Of course, at that point, she probably wouldn't want to remain in the House much longer, and she would be hated by many Democrats for the rest of her life for subjecting them to four more years of Trump. So it really is all on the line for Nancy Pelosi, and she never should have gone down this road if she wasn't absolutely certain that she could deliver.
People often talk about impeachment as if it were identical to removing the President from office. However, this is not the case. In order to remove a President from office, the House of Representatives first has to impeach him, and then the Senate has to convict him. Note that President Clinton was impeached by the House in 1998, but he was subsequently acquitted by the Senate, so he was not removed from office. The only other President who was impeached by the House was Andrew Johnson in 1868, but he was also acquitted by the Senate. Formally, no US President has ever been removed by impeachment and conviction. When the Republican leadership informed Richard Nixon that impeachment and conviction were inevitable he resigned prematurely and it never came to a vote.
Due to the two-stage procedure of impeachment and conviction, it is not that easy to remove a President from office. What's more, while for impeachment in the House of Representatives only a simple majority of more than 1/2 is needed, a conviction in the Senate requires a 2/3 majority. At present, the Democrats have a 235-198 majority in the House (1 independent, 1 vacancy). In contrast, the Republicans have a 53-47 majority in the Senate (2 independents formally caucus with the Democrats). Assuming that all the Democrats vote for impeachment and conviction, it would take 20 Republican defectors in the Senate to remove the President from office. This equals about 38% of the Republican Senators. So while impeachment is within reach of the Democrats, the hurdle for conviction is much higher.
The Bible makes it clear why God is sending a strong delusion in the end times: "They perish because they refused to love the truth and so be saved. For this reason, God sends them a powerful delusion so that they will believe the lie and so that all will be condemned who have not believed the truth but have delighted in wickedness" (2 Thessalonians 2:10-12). Simply put, God sends a strong delusion to those who chose not to believe the gospel of Christ. Those who take delight in mocking and rejecting Him, He will condemn.
The American Left has been increasingly comfortable in the Democrat Party now for decades, becoming more so after Barack Obama the Marxist took it over when he was elected in 2008. Read More
StevieRay Hansen
Editor, HNewsWire.com
The Birth Pains Are Growing Stronger….
"Unless God has raised you up for this very thing, you will be worn out by the opposition of man and devils"…
My name is Steve Meyers and I need to share a vision and warning that the Lord showed me back in April 2007….
Many of you will ask why I waited so long to share the warning. I didn't. I shared the story with everyone that would listen from pastors to friends to family to colleagues. Immediately following the initial vision, I called a close friend. I told him to sit down that I had something to tell him. I needed it documented as I knew this was supernatural and from God. As I witness events unfolding today, I need to share the vision again.
The silencing of the American people before 2020?
The Un-Godly — Those That Suppress the Truth, the social media giants built multi-billion dollar empires by giving everyone a voice, but now that they have such a dominant position on the Internet they have decided that many prominent conservative voices should be completely silenced.
Trans People, LGBTQE scream and the online publishing platform Medium suspended the accounts of prominent Christians and Conservative figures Mike Cernovich, Jack Posobiec, Laura Loomer and HNewsWire just to mention a few, the list is long and very disturbing-what the majority homosexuals, transgender, liberal screaming has accomplished in the name of inclusion
The fact is, it is not enough for atheists, homosexuals, socialists and cultural leftists to have their own freedom and equality to believe whatever they believe (freedom which most Christians fully support). No, they want to ensure that Christians are not permitted to live out their own faith and convictions without retribution. This is the legacy of the New Tolerance movement. The doors of religious liberty are closing once again in Russia, after a brief twenty-six-year limited window. Are the doors of our four-hundred-year window of liberty closing? Frankly, that answer will be determined by what this generation of Christians in America does in the next ten years. "And the Lord will by no means leave the guilty unpunished."
The light went out in the church, and that's the reason the world got dark. Dark times were perpetuated by the "last one out, turn out the lights" "The church lights have gone OUT".
The Lukewarm Christian
There are numerous pathetic souls who, though they have not severed formal fellowship ties with a local church, nonetheless are so spiritually apathetic as to be practical enemies of the Lord.
Let Me Make This Abundantly Clear. (I Am Apolitical) While I Have a General Distaste for Politicians No Matter the Party They Belong To, I Am Unashamedly Politically a Bible Believing Conservative Christian. I Have a Severe Distrust of Government. I Believe It Is the Most Inefficient and Ineffective Way to Accomplish Most Things. While I Strongly Disagree with Liberals/Progressives and Conservative on Most Political Issues, and While I Believe Liberals/Progressives and Most Politicians Are Terribly Misguided and Naive About What Big Government Will Eventually Result In, I Strive to Not Question Their Motives. at the Same Time, While I Find Myself in Agreement with Conservative Politicians on Some Issues, I Do Not Believe Electing Republicans Is the Answer to Everything. for Me, Very Sadly, the Main Difference Between Republicans and Democrats Is How Quickly They Want to Drive the Car Towards the Cliff. Simply Put, I Do Not Believe the Government Is the Solution for Everything. I Do Not Place Any Faith, Trust, or Hope in Any Politicians to Fix What Is Wrong with the World. "Come Lord Jesus!" (Revelation 22:20) StevieRay Hansen
Our government has been overthrown. As evidenced by Trump's capitulation on the border, his recent servitude to the GMO industry and his acquiescence to the warmongers, our President has been compromised. Our liberties are being eliminated one by one. Gun confiscation is next. The Constitution is gasping its last breaths. Our borders are destroyed and our culture has been turned upside down by every perversion known to man.
Education is useless without the bible (Daniel Webster)
Usually, the Lord doth no great thing for or against his people, without giving warning of it before it comes.
John Wesley who said that what we tolerate in our generation, will be embraced by the next. Wesley is 100% correct! We are living in sick times.
The Left, a broad term for Liberal Socialist Democrats that can only be explained fully by using the Bible explanation of the human race is as follows. A servant of Satan, because you are either saved or lost. This election has brought out the true nature of who you serve. Simply put, it's Donald Trump, Conservatives, and Christians against the rest of the world. The Left's Love applies only to those who believe as they do. They Love evil and commit Anarchy against those who love good. They are governed by lies and never tell the truth. On this Friday, Inaugural Day for the swearing-in of Donald Trump as the 45th President of the United States the Left wants to commit widespread Anarchy to shut down the swearing-in ceremony. Their goal of transforming America, which was founded in Judea Christian values into a Pagan Nation is almost complete. Their goal has always been the total removal of God from American society and the downfall of America. Donald Trump says he is a Presbyterian, but he left off the USA, an apostate church.
Corinthians 4:8-11 New King James Version (NKJV)
We are hard-pressed on every side, yet not crushed; we are perplexed, but not in despair; 9. persecuted, but not forsaken; struck down, but not destroyed— 10. always carrying about in the body the dying of the Lord Jesus, that the life of Jesus also may be manifested in our body. 11. For we who live are always delivered to death for Jesus' sake, that the life of Jesus also may be manifested in our mortal flesh.
Satan has power over (LGBTQE-TRANS PEOPLE). The "sons of disobedience" referred to in Ephesians 2:2 are those who have not trusted Christ as Lord and Savior (cf. Acts 26:18; 2 Corinthians 4:4; Revelation 13:12). The demons are also under the rule of Satan (Matthew 12:24), and one of his titles is "prince of demons" (Matthew 9:34). Satan has a kingdom (Matthew 12:26) and a throne (Revelation 2:13). Satan is called a prince because he is a ruler and possesses the power to manifest evil in the world through influencing people and commanding demons.
HNewsWire- "All political language is designed to make lies sound truthful and murder respectable." Just look at some of our modern-day examples: torture is "enhanced interrogation techniques"; murder is "collateral damage"; the aggression initiation of war is a "pre-emptive strike"; the theft of taxpayers' money is a "bailout", and the theft of depositors' money in a bank is a "haircut" or "bail-in".In a blatant example of Newspeak, the New World Order controllers (through the psychiatric DSM V) have tried to rename pedophiles as "minor-attracted persons" and redefine pedophilia as "sexual orientation". This makes no sense since sexual orientation has to do with gender, not age, with whether you are attracted to males or females, not how old they are. There are even organizations (like B4UAct.org) which are claiming that pedophiles are being unfairly stigmatized for their feelings!
If homosexuality has been posed as healthy, good and normal, in the face of overwhelming evidence to the contrary, so can pedophilia. Pro-pedophilic articles are making their way into academia.
The Cult of LGBTQE-E for EVIL and is often a cover for child-molesting perverts
Tagged Under: abuse, children's health, gender-confused, gender issues, gender madness, the left cult, LGBTQE-E For Evil un-godly Mob, Lunacy, mutilation, transgender, Child molesting perverts LGBTQE- E For Evil, drag queens, perverts
Unfortunately, not all alternative sources are reliable, even some Major Christian (and I use Christian loosely) news sources have been corrupted. They will NOT tell the truth. They just parrot the deceptive narratives perpetrated by those who currently control our government and media. Even those who are honestly trying to present the truth can miss it sometimes. There is so much deception out there. In these last days, you must be wise as serpents and gentle as lambs. It is no time to sleep or slumber. Diligence and vigilance are required. It is critical that you think for yourself and not be a Lemming.
Are you an insider who wants to confidentially reveal wrongdoing or political bias at your company?. Reach out to StevieRay at his secure email address [email protected]
Tagged Under: hnewswire StevieRay Hansen, HNewsWire, antichrist,digital gulag, antichrists, Apple, Bible, Big Tech, bigotry, Christian baker, Christianity, Christians, Colorado, Colorado Civil Rights Commission, conservatives, deep state, demonic assault, end of days, end times, Facebook, First Amendment, free speech, Google, hate groups, Hate speech
The 127 Faith Foundation: We do not solicit donations from "those on disability, on a fixed income, or those who cannot afford to give." Please Pray!
Or, make checks payable to:
The 127 Faith Foundation
PO Box 127
Pontotoc, TX 76869
The number of Orphans aging out of Child Protective Custody has grown at an alarming rate. The 127 Faith Foundation receives many requests each week to house them at our ranch. Our prayer is that the good people of our country will step up to the challenge and offer financial support for "the least among us." We need your help! StevieRay Hansen, Founder, The 127 Faith Foundation
Featured Story: World renowned CV19 critical care and pulmonary expert Dr. Pierre Kory says the data is clear the CV19 injections are "not safe, not…
Read More
We make every effort to acknowledge sources used in our news articles. In a few cases, the sources were lost due to a technological glitch. If you believe we have not given sufficient credit for your source material, please contact us, and we will be more than happy to link to your article.