Advisory: Be careful of what you read on social media. The algorithms used by these platforms have no regard for Biblical truth. They target your emotions to keep you engaged on their site so their advertisers can drop more ads. These platforms exist to enrich their stockholders. Consider God's promise to Believers in James 1:5, "If any of you lacks wisdom, you should ask God, who gives generously to all without finding fault, and it will be given to you."
Source for Pro-Lockdown Efforts Around the World, Giving $500m Since the Pandemic Began…
if You Know What the Phrase "DNA Vaccine" Means. It Refers to What the Experts Are Touting as the Next Generation of Immunizations. Yes, Some People Might Be Leery. if They Have Two or Three Working Brain Cells…
In a wide-ranging interview in the New York Times, Melinda Gates made the following remarkable statement:
"What did surprise us is we hadn't really thought through the economic impacts."
A cynic might observe that one is disinclined to think much about matters than do not affect one personally.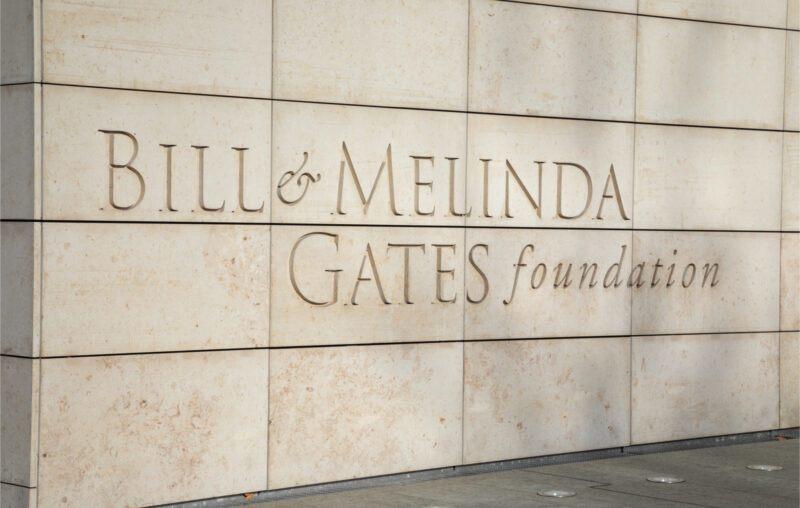 Altering Human Genetics Through Vaccination, and Bill Gates as the Crazy, Want-To-Be Doctor That's Willing to Risk Your Life…
It's a maddening statement, to be sure, as if "economics" is somehow a peripheral concern to the rest of human life and public health. The larger context of the interview reveals the statement to be even more confused. She is somehow under the impression that it is the pandemic and not the lockdowns that are the cause of the economic devastation that includes perhaps 30% of restaurants going under, among many other terrible effects.
She doesn't say that outright but, like many articles in the mainstream press over this year, she very carefully crafts her words to avoid the crucial subject of lockdowns as the primary cause of economic disaster. It's possible that she actually believes this virus is what tanked the world economy on its own but that is a completely unsustainable proposition.
Further, her comments provide a perfect illustration of the core problem all along: most of the people who have been advocating lockdowns in fact have no actual experience in managing pandemics. To many of these, Covid-19 became their new playground to try out an unprecedented experiment in social and economic management: shutting down travel, businesses, schools, churches, and issuing stay-at-home orders that smack of totalitarian impositions.
Here is what she says:
You can project out and think about what a pandemic might be like or look like, but until you live through it, it's pretty hard to know what the reality will be like. So I think we predicted quite well that, depending on what the disease was, it could spread very, very, very quickly. The spread did not surprise us.

What did surprise us is we hadn't really thought through the economic impacts. What happens when you have a pandemic that's running rampant in populations all over the world? The fact that we would all be home, and working from home if we were lucky enough to do that. That was a piece that I think we hadn't really prepared for.
There are plenty of specialists who have lived through pandemics in the past and managed them by maintaining essential social and economic functioning. A major case in point is Donald A. Henderson, who as head of the World Health Organization is given primary credit for the eradication of smallpox. He wrote as follows in 2006:
Experience has shown that communities faced with epidemics or other adverse events respond best and with the least anxiety when the normal social functioning of the community is least disrupted. Strong political and public health leadership to provide reassurance and to ensure that needed medical care services are provided are critical elements. If either is seen to be less than optimal, a manageable epidemic could move toward catastrophe.
Melinda together with her husband Bill have been the major funding source for pro-lockdown efforts around the world, giving $500M since the pandemic began, but also funding a huge range of academic departments, labs, and media venues for many years, during which time they have both sounded the alarm in every possible interview about the coming pathogen. Their favored policy has been lockdown, as if to confuse a biological virus with a computer virus that merely needs to be blocked from hitting the hard drive.
We can look at how this disease traveled around the world and see that the countries who locked down first, they're doing better. Many African countries saw it coming and locked it down early. Their replication rate just never got as high as many other countries. And that is a good thing.
While it is true that Africa is an odd outlier, the claim that this is due entirely to early lockdowns has no support. Those who have looked at the anomaly in Africa point to the very young population (just 3% are over 65), cross immunities with other coronaviruses as the main reason for the low death rate, and stronger overall immunities. Indeed, the demographics alone could account for nearly the whole of the mortality difference with Europe and the U.S. In addition, Melinda says here what Bill has said for years: the only solution to a virus is to suppress it and develop a vaccine – the previously untested experiment that has brought poverty, death, and despair to the entire world. Africa in particular was devastated by lockdowns.
It's still a good thing that she is opening up to the New York Times so that we can gain better perspective on her outlook. There will be a reckoning in the coming year concerning why and how all this happened to us. There will be no chance of suppressing the reality of what has happened. Indeed the center-left press is already starting to admit what AIER has been saying since March 2020. 
Consider this roundup from just the last several days:
Some researchers worrythat the social isolation has inflicted damage to mental health that will outlast even the worst of the pandemic. We may not have a full accounting of the consequences for years to come….There will be significant long term consequences from school closures as well. About half of the country's school districts held remote classes, either exclusively or partially, at the start of the year. This approach has meaningfully reduced educational quality, particularly for children of color.

These losses don't even take into account the direct effects of the lockdowns on the economy. Small businesses have closed their doors at very high rates as the American economy sputtered in response to stay-at-home orders. One study estimates that 60 percent of the millions of jobs lost between January and April were a result of the lockdowns, not the virus itself. The economic uncertainty caused by unemployment comes with its own health risks….

These tragedies have become an ambient backdrop to everyday life: present but forgotten, real but ignored. Perhaps America has simply gotten comfortable ignoring the quiet suffering of others.
When a public-health approach isn't producing the desired outcome, it's time to try something different. Instead of yelling even louder about Christmas than about Thanksgiving, government officials, health professionals, and ordinary Americans alike might try this: Stop all the chastising. Remember that the public is fraying. And consider the possibility that when huge numbers of people indicate through their actions that seeing loved ones in person is nonnegotiable, they need practical ways to reduce risk that go beyond "Just say no."
The state of civil liberties around the world is bleak, according to a new study which found that 87% of the global population were living in nations deemed "closed", "repressed" or "obstructed"…..A number of governments have used the pandemic as an excuse to curtail rights such as free speech, peaceful assembly and freedom of association, according to Civicus Monitor, an alliance of civil society groups which assessed 196 countries.
Lack of child care is likely a big reason more than 850,000 women dropped out of the workforce in September — more than in any other month on record except for this April, Covert reports. Overall, moms have borne a bigger share of the pandemic parenting burden than dads, with 80 percent of mothers of kids under 12 saying they are responsible for the majority of distance learning in their homes in one April survey. And single moms have been the hardest-hit of all: The share of unpartnered moms in the workforce dropped from 76.1 percent in September 2019 to 67.4 percent in September 2020, a significantly larger drop than those seen among partnered parents or single dads, according to a Pew analysis.
Health officials are up against a fatigued public, as well as a number of people who don't believe in the danger of the virus, (Dr. Monica) Gandhi said. But she is also part of a growing number of experts who think there's a better way to engage those who do want to take the pandemic seriously — by taking a lesson from the public health strategy known as harm reduction.
Finally, it's tremendously gratifying that the last column of the mighty genius Walter Williams specifically named the Great Barrington Declaration as the answer:
What about the benefits and costs of dealing with the COVID-19 pandemic? Much of the medical profession and politicians say that lockdowns, social distancing, and mask-wearing are the solutions. CDC data on death rates show if one is under 35, the chances of dying from COVID-19 is much lower than that of being in a bicycle accident. Should we lock down bicycles? Dr. Martin Kulldorff, professor of medicine at Harvard University, biostatistician, and epidemiologist, Dr. Sunetra Gupta, professor at Oxford University and an epidemiologist with expertise in immunology, and Dr. Jay Bhattacharya, professor at Stanford University Medical School, a physician and epidemiologist were the initiators of the Great Barrington Declaration. More than 50,000 scientists and doctors, as well as more than 682,000 ordinary people, have signed the Great Barrington Declaration opposing a second COVID-19 lockdown because they see it doing much more harm than good.
The authors of the Great Barrington Declaration never had any doubt that eventually most everyone would come to see that the traditional principles of public health prevail over the previously untested and now failed policy of lockdowns.
They spoke out when they did as a means of forcing the issue, and their courage will long echo in the annals of history. Now if we could only get Melinda Gates to see it. 
The Face Mask: Powerful Symbol of COVID Oppression, Mask is Not About Health
God Is the Cure the Medical Profession and Our Politicians Are the Disease When the Cure Is Worse Than the Illness, Run…
A few weeks ago face masks were said to be useless and even dangerous against COVID-19. Now, people are urged to wear them and some cities are making them mandatory. Was this complete 180 made for health reasons? Or to create a specific social climate?… The New World Order plan is almost complete, crush the economy and humanity is Crush
Because, right now, the mask is not about health – it is about turning you into a walking, talking agent of fear.
A woman in Manhattan Beach has been caught on video after throwing a hot cup of coffee in a man's face after he refused to put on a mask when she demanded that he don one.
California's new social distancing requirements order people to wear masks in public even when they're outside, especially if they're within six feet of another person. When accosted by the woman, the two men said they didn't believe in masks, and refused when she demanded that they put one on.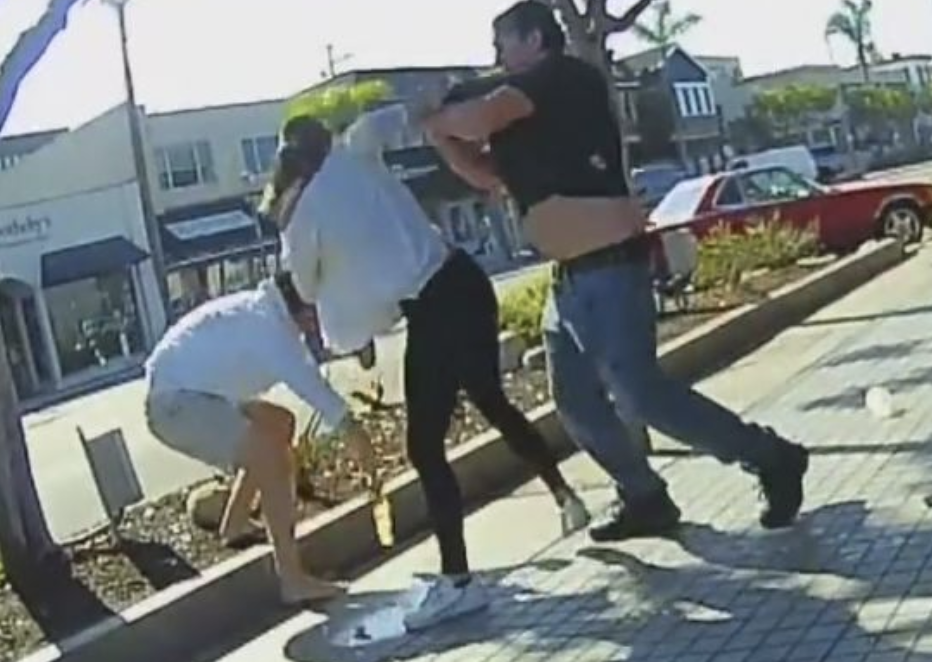 According to a report by Fox 11, James Hernandez and his friend Matthew Roy were eating burritos outside while out in public in Manhattan Beach without masks on. They said they had just sat down to eat when a woman – who was walking with her well-dressed boyfriend – stopped and demanded they put their masks on.
Hernanez caught everything that happened next on camera. He wears a bodycam, he says, because he is frequently accosted for being a Trump supporter, and having the stones to wear his Make America Great Again hat in public.
Here's more from Fox 11:
"Y'all need to be wearing masks," the woman can be heard saying.

"No we don't," Hernandez replies. "We're locals here but were on the other side of the fence, we don't believe in this stuff."

"I hadn't even gotten to start eating the burrito yet before someone wanted to give me a mask lecture," Roy said.
"I guess the guy really wanted to impress his girlfriend because I was pretty dismissive, I thought when I turned my back on them they would just move on, but he wanted to stand there and engage me."

Roy says the woman then stuck her middle finger in his face, and tensions escalated further until she threw her coffee in his face.

Roy immediately gets up, and begins punching the woman's boyfriend in response.

"She decided to slam her coffee into my head and that's when I decided to get up and beat up her boyfriend," Roy said.

"I got a few licks in and I have brothers at home and as soon as the gentleman or the gentler man said stop, I did, I backed off."

The bloodied man called police and reported he'd been assaulted.
The man called the police to report that he had been assaulted (a total alpha move), but after a brief investigation, neither the man, nor Hernandez, nor the woman, were arrested. The couple in the video haven't been identified.
After two months of COVID-19 panic and terror, the world is now being ushered into a "new normal". However, there is nothing "new" nor "normal" about an oppressive police state that haphazardly revokes rights and freedoms while citizens snitch on each other. Nope, such regimes have existed in the past. And, in societies that dare call themselves "free" and "democratic", the "new normal" is an aberration – a slippery slope towards a global totalitarian regime.
Despite the fact that all viruses inevitably peak and phase-out from human circulation, profound and permanent changes are being made to society. And, to the elite, COVID-19 is the perfect opportunity to create a society that is rooted in fear, dehumanization, and widespread distrust of the "other".
Since symbols rule the world, one symbol perfectly embodies this "new normal": The face mask.
A headline from Canada about masks and the "new normal". Equivalent headlines can be found across the world.
Although face masks were deemed useless and even dangerous only weeks ago, they are now being enforced in several cities around the world. What happened?
Did science make a last-minute, game-changing discovery about masks? No. However, those who are profiting from this crisis saw an opportunity: It can be instrumentalized to create a specific social climate. It is about keeping fear, anxiety, and paranoia going. It is about being constantly reminded that things are NOT going back to normal. In short, it is about social engineering.
Here's how the usage of the face mask made an inorganic, unnatural about-face in cities worldwide.
Not Necessary
In the early onset of the pandemic, nearly all organizations and specialists advised against wearing a mask. Here's an infographic made by the World Health Organization (WHO) in late 2019.
"For healthy people wear a mask only if you are taking care of a person with suspected 2019-nCoV infection".
In March 2020, the WHO was still advising against wearing masks.
The World Is In Big Trouble, for Those That Believe We Will Go Back to Some Sense of Normal Life Here on Earth, You Will Be Sadly Disappointed, Seven Years of Hell on Earth Which Began January 1, 2020
"Our courts oppose the righteous, and justice is nowhere to be found. Truth stumbles in the streets, and honesty has been outlawed" (Isa. 59:14, NLT)…We Turned Our Backs On GOD, Now We Have Been Left To Our Own Devices, Enjoy…
While Mainstream Media Continues to Push a False Narrative, Big Tech Has Keep the Truth From Coming out by Shadow Banning Conservatives, Christians, and Like-Minded People, Those Death Attributed to the Coronavirus Is a Result of Those Mentioned, They Truly Are Evil…
Source: HNewsWire ZeroHedge HNewsWire HNewsWire HNewsWire
StevieRay Hansen
Editor, HNewsWire.com
Watchmen does not confuse truth with consensus The Watchmen does not confuse God's word with the word of those in power…
In police-state fashion, Big Tech took the list of accused (including this site), declared all those named guilty and promptly shadow-banned, de-platformed or de-monetized us all without coming clean about how they engineered the crushing of dissent, Now more than ever big Tech has exposed there hand engaging in devious underhanded tactics to make the sinister look saintly, one of Satan's greatest weapons happens to be deceit…
The accumulating death toll from Covid-19 can be seen minute-by-minute on cable news channels. But there's another death toll few seem to care much about: the number of poverty-related deaths being set in motion by deliberately plunging millions of Americans into poverty and despair.
American health care, as we call it today, and for all its high-tech miracles, has evolved into one of the most atrocious rackets the world has ever seen. By racket, I mean an enterprise organized explicitly to make money dishonestly.
All the official reassurances won't be worth a bucket of warm spit. The Globals are behind the CoronaVirus, It Is a Man-Made Bioweapon.
Vaccines–Kill Shot are a putrid amalgam of neurotoxins, animal DNA, disease, baby tissue stolen from murdered infants at birth.. How Godly is this? This is nothing more than sorcery and witchcraft and it is so called in scripture – Read Nahum chapter 3, and Revelation 18:23 to see that the US is about to be destroyed for our crimes against humanity, which are military, spiritual, and medical. The writers and owners of rags like this Christian so called post – and their false premises made to push a luciferins doctrine.. will be judged with the strictest judgment.
People's hearts are troubled, their minds are in a state of confusion, the Bible tells us a time of great delusion that will come upon the people, that time has arrived, the politicians must come up with more significant and more believable lies in order to bring on the antichrist, we have entered the doorstep Tribulation.
"Unless God has raised you up for this very thing, you will be worn out by the opposition of man and devils"… SRH
A Warning
This is what their New World Order looks like, Democrats Lawmaker in California: 'legalize child prostitution' SACRAMENTO – Beginning on Jan. 1, police cannot arrest child prostitutes in the streets of California, except under limited circumstances. And dumb down people wonder why California is burning to the ground, poke God in the eyes enough times and his anger will start to show…
Things To Come: It has been 7 years on 17th/1/2023 since 'the little horn[son]' -the Bibi[baby] son whose name /number adds to 666 renewed the…
Read More
We make every effort to acknowledge sources used in our news articles. In a few cases, the sources were lost due to a technological glitch. If you believe we have not given sufficient credit for your source material, please contact us, and we will be more than happy to link to your article.