Advisory: Be careful of what you read on social media. The algorithms used by these platforms have no regard for Biblical truth. They target your emotions to keep you engaged on their site so their advertisers can drop more ads. These platforms exist to enrich their stockholders. Consider God's promise to Believers in James 1:5, "If any of you lacks wisdom, you should ask God, who gives generously to all without finding fault, and it will be given to you."
A Frightening And Dystopian Future…
This dreary picture is echoed in the New Testament. Jesus said it will be a time of tribulation "such as has not occurred since the beginning of the world until now, nor ever shall" (Matthew 24:21). In fact, Jesus said it will be so terrible that if it were not stopped at the end of seven years, it would result in the destruction of all life (Matthew 24:22). The Apostle John states that the chaos will be so great that the leaders of the world will crawl into caves and cry out for the rocks of the mountains to fall upon them (Revelation 6:15-16).
The Fourth Industrial Revolution, finally, will change not only what we do but also who we are. It will affect our identity and all the issues associated with it.
Speaking at a virtual meeting of the environmental charity Conservation International the other day, Prince William slipped in a codeword to tip his hat to the actual agenda he and his New World Order buddies are promoting.
He said 'All of us, across all sectors of society, and in every corner of the globe must come together to fundamentally reset our relationship with nature and our trajectory as a species.'
That codeword 'reset' tells you everything you need to know about, well, everything. So let's connect all the dots, shall we?
"Saying with a loud voice, Fear God, and give glory to him; for the hour of his judgment is come: and worship him that made heaven, and earth, and the sea, and the fountains of waters.
"And there followed another angel, saying, Babylon is fallen, is fallen, that great city, because she made all nations drink of the wine of the wrath of her fornication." Revelation 14:7,8 (KJB)
The 'great reset' has a lot of working parts, so many in fact that you may be tempted to think they are different events when in fact they are one in the same event.
So today I want to give you a high level overview of the actual and active nefarious plan by the New World Order, happening now, to bring the whole world into submission to the authority of Antichrist.
Many speculate that there is an ongoing effort behind-the-scenes to bring a New World Order, a global government, to the forefront. The work to bring a New World Order is a topic that I do not write about often. In this article, I will primarily focus on whether we can use the Bible to support the notion that there's an ongoing effort to bring a New World Order to the forefront…
In police-state fashion, Big Tech took the list of accused (including this site), declared all those named guilty and promptly shadow-banned, de-platformed or de-monetized us all without coming clean about how they engineered the crushing of dissent.
Corona-virus kills the oldest and has no respect for authority, Many of the most powerful people in the world are old, and corona-virus does not discriminate based on social status. Deaths are now hitting at high levels (not of death but of status), which can change the political conflicts of our world:
The Bible suggests that the Antichrist will someday have an empire whose influence will dominate the earth:
(23) Thus he said, The fourth beast shall be the fourth kingdom upon earth, which shall be diverse from all kingdoms, and shall devour the whole earth, and shall tread it down, and break it in pieces. (24) And the ten horns out of this kingdom are ten kings that shall arise: and another shall rise after them; and he shall be diverse from the first, and he shall subdue three kings. (25) And he shall speak great words against the most High, and shall wear out the saints of the most High, and think to change times and laws: and they shall be given into his hand until a time and times and the dividing of time." (Daniel 7:23-25)
https://hnewswire.com/artificial-intelligence-to-pave-way-for-antichrist/
The Bible also suggests that this empire is likely going to form as a result of Antichrist conquering many countries and from leaders surrendering their power to Antichrist:
"(36) And the king shall do according to his will; and he shall exalt himself, and magnify himself above every god, and shall speak marvellous things against the God of gods, and shall prosper till the indignation be accomplished: for that that is determined shall be done. (37) Neither shall he regard the God of his fathers, nor the desire of women, nor regard any god: for he shall magnify himself above all. (38) But in his estate shall he honour the God of forces: and a god whom his fathers knew not shall he honour with gold, and silver, and with precious stones, and pleasant things. (39) Thus shall he do in the most strong holds with a strange god, whom he shall acknowledge and increase with glory: and he shall cause them to rule over many, and shall divide the land for gain." (Daniel 11:36-39)
"(12) And the ten horns which thou sawest are ten kings, which have received no kingdom as yet; but receive power as kings one hour with the beast. (13) These have one mind, and shall give their power and strength unto the beast." (Revelation 17:12-13)
Based on the verses cited above, it appears that the Antichrist is the main catalyst that brings us a New World Order (global government) rather than the potential efforts of people today. Again, Antichrist will establish his dominance over the world by conquering countries and by persuading leaders to surrender their power to him.
You are going to have difficulty finding a verse in the Old Testament or in the New Testament that explicitly states something like: "watch out because Satan has followers who are working to build a New World Order". However, there may be evidence that Satan has had and continues to have the capacity to work towards bringing a New World Order. The Apostle Paul warned us that Satan has spiritual forces at work to such a major extent that they should be our primary cause of concern
The Great Reset
The Great Reset: Think about COVID-19, the lockdowns, the economic crashes, the mandatory mask wearing, the race riots, ANTIFA, ID2020, Bill Gates, Black Lives Matter, the Declaration Of Human Fraternity, Chrislam, ponder for a moment on all of it.
When you have wrapped your head around all those things, now wrap your head around this.
Everything we have been experiencing, it is all part of the Great Reset, and it is all driving towards the same outcome.
That is, the resetting of the entire world to prepare the people for the arrival of Antichrist. That's how close we are to seeing him step out of the shadows and onto the world stage.
2030 Agenda For Sustainable Development
2030 Agenda for Sustainable Development: This nasty little bit of God-hating peace posturing comes to us straight from the pit of Hell via the United Nations, and it envisions a world at peace without the interference of Almighty God who created it.
Take a look what this plan is, in their own words, all about and you will see what I mean.
"This Agenda is a plan of action for people, planet and prosperity. It also seeks to strengthen universal peace in larger freedom.
We recognise that eradicating poverty in all its forms and dimensions, including extreme poverty, is the greatest global challenge and an indispensable requirement for sustainable development.
All countries and all stakeholders, acting in collaborative partnership, will implement this plan.
We are resolved to free the human race from the tyranny of poverty and want and to heal and secure our planet.
We are determined to take the bold and transformative steps which are urgently needed to shift the world onto a sustainable and resilient path. As we embark on this collective journey, we pledge that no one will be left behind." source
Lol, they say that "no one will be left behind", but in reality they all will be left behind! The prophet Zephaniah tells us what the fate of the United Nations shall be when we return with King Jesus Christ to fight the Battle of Armageddon at the Second Coming.
"Therefore wait ye upon me, saith the LORD, until the day that I rise up to the prey: for my determination is to gather the nations, that I may assemble the kingdoms, to pour upon them mine indignation, even all my fierce anger: for all the earth shall be devoured with the fire of my jealousy." Zephaniah 3:8 (KJB)
The Fourth Industrial Revolution
The Fourth Industrial Revolution: Awake, yet? I hope you are, because this is what the Fourth Industrial Revolution is all about, and yes, it is being brought to us by the exact same group of people that gave us COVID-19, the global lock-downs, the crashing of the world economies, the coronavirus vaccine and the digital Immunity Passport by the ID2020 Alliance.
Everything that has happen since the start of 2020, all these wacky, crazy, 'living in Revelation' events are all from the same people and geared towards bringing about the same end, the New World Order.
This is what all the other stuff has been about, and what it is all leading to. This is not some hazy, far-flung prediction, it is an accurate depiction of what is happening all around us right now.
"Let us hear the conclusion of the whole matter: Fear God, and keep his commandments: for this is the whole duty of man. For God shall bring every work into judgment, with every secret thing, whether it be good, or whether it be evil." Ecclesiastics 12:13,14 (KJB)
Are you starting to see what I am talking about, these are not all different end times agenda items, they are the same agenda item.
Everything you have been watching happen over the last 13 months are different arms of the same beast, and The Beast, who is on his way right now, will be the crown jewel in the ungodly crown of evil.
COVID, lockdowns, vaccines, vaccination passports and everything else are the tools by which this new order is being fashioned.
As Time Goes on There Will Be a Lot of Politicians, Police Officers, Judges That Will Take Cover in Other Words They Are Going to Remain Neutral Out for Fear for Their Lives. You Are On Your Own, Prepare For The Worst, Pray for the Best –Tribulations Will Be Very Ugly
I Want Everyone to Know, Never Take Anyone's Word for the Gospel, Especially Revelations, Here's How It Works. When You're in the Word God Will Speak to You Through His Holy Spirit He Will Move You in the Direction He Wants You to Go. Please Stop Looking for That Individual Here on Earth That Has All the Answers, They're Not Here and That Confuse You.. That Includes Anything I Say Always Test Every Spirit. Every Word That Is Uttered Out of Any Man's Mouth Must Be Verified Through the Holy Spirit… Stevieray Hansen
While Mainstream Media Continues to Push a False Narrative, Big Tech Keep the Truth From Coming out by Shadow Banning Conservatives, Christians, and Like-Minded People, Those Death Attributed to the Coronavirus Is a Result of Those Mentioned, They Truly Are Evil…
Up-Date–Bill Gates Brought US The Personal Computer; Now He Brings US The Mark Of The Beast Under The Guise Of Virus Safety…
"Immunity Certificates" Are Coming – COVID-Survivors To Get 'Special Passports' Enabling Return To 'Normalcy'
American health care, as we call it today, and for all its high-tech miracles, has evolved into one of the most atrocious rackets the world has ever seen. By racket, I mean an enterprise organized explicitly to make money dishonestly.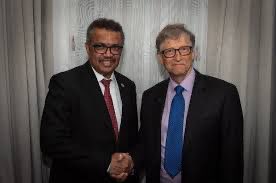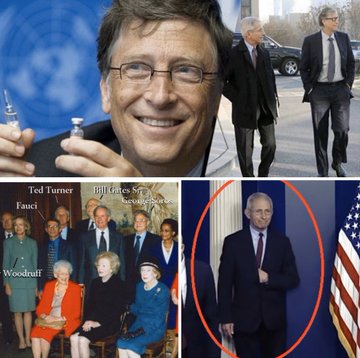 Update: Even more prophetically, billionaire hedge fund manager Bill Ackman tweeted about his "optimism" and the need for
"…Hydroxychloriquine and antibiotics appear to help. There is increasing evidence that the asymptomatic infection rate could be as much as 50X higher than expected.

If this is true, the severity and death rate could be much lower than anticipated, and we could be closer to herd immunity than projected. Highly accurate antibody tests are scaling production and distribution which will definitively answer this question hopefully soon.

One could imagine a world in the next few months where everyone is tested and all but the immune-compromised go back to a socially distanced but more normal life.

We wear bracelets or carry a phone certificate which indicate our status, and track infections where they emerge…"
"Our courts oppose the righteous, and justice is nowhere to be found. Truth stumbles in the streets, and honesty has been outlawed" (Isa. 59:14, NLT)…We Turned Our Backs On GOD, Now We Have Been Left To Our Own Devices, Enjoy…
While Mainstream Media Continues to Push a False Narrative, Big Tech Has Keep the Truth From Coming out by Shadow Banning Conservatives, Christians, and Like-Minded People, Those Death Attributed to the Coronavirus Is a Result of Those Mentioned, They Truly Are Evil…
Source: HNewsWire ZeroHedge HNewsWire HNewsWire humansarefree
PLEASE DO NOT POST HNEWSWIRE ARTICLES ON PARLER, FACE BOOK, REDDIT OR TWATTER SOCIAL MEDIA PLATFORM, WE ARE NOT COMFORTABLE WITH THEIR ANTI-CHRISTIAN — ANTI-AMERICAN NAZI PHILOSOPHY…STEVIERAY HANSEN
StevieRay Hansen
Editor,
HNewsWire.com
[email protected]
Watchmen does not confuse truth with consensus The Watchmen does not confuse God's word with the word of those in power…
In police-state fashion, Big Tech took the list of accused (including this site), declared all those named guilty and promptly shadow-banned, de-platformed or de-monetized us all without coming clean about how they engineered the crushing of dissent, Now more than ever big Tech has exposed there hand engaging in devious underhanded tactics to make the sinister look saintly, one of Satan's greatest weapons happens to be deceit…
This is what their New World Order looks like, Democrats Lawmaker in California: 'legalize child prostitution' SACRAMENTO – Beginning on Jan. 1, police cannot arrest child prostitutes in the streets of California, except under limited circumstances. And dumb down people wonder why California is burning to the ground, poke God in the eyes enough times and his anger will start to show…
The 127 Faith Foundation: We do not solicit donations from "those on disability, on a fixed income, or those who cannot afford to give." Please Pray!
Or, make checks payable to:
The 127 Faith Foundation
PO Box 127
Pontotoc, TX 76869
The number of Orphans aging out of Child Protective Custody has grown at an alarming rate. The 127 Faith Foundation receives many requests each week to house them at our ranch. Our prayer is that the good people of our country will step up to the challenge and offer financial support for "the least among us." We need your help! StevieRay Hansen, Founder, The 127 Faith Foundation
We make every effort to acknowledge sources used in our news articles. In a few cases, the sources were lost due to a technological glitch. If you believe we have not given sufficient credit for your source material, please contact us, and we will be more than happy to link to your article.