Advisory: Be careful of what you read on social media. The algorithms used by these platforms have no regard for Biblical truth. They target your emotions to keep you engaged on their site so their advertisers can drop more ads. These platforms exist to enrich their stockholders. Consider God's promise to Believers in James 1:5, "If any of you lacks wisdom, you should ask God, who gives generously to all without finding fault, and it will be given to you."
America Will Follow With Brutal Enforcement, FEMA Camps Will Come Into Play Soon — Tribulation In Play…
The French government is considering making the COVID-19 vaccine mandatory for everyone aged 24-59 in response to concerns over a "fourth wave" of infections.
As December started, a member of the New York State Assembly proposed a bill to require COVID-19 vaccines for all residents who are able to safely receive it.
In November, the New York State Bar Association recommended the state consider making it mandatory for all residents to get the shot, except those exempted by doctors.
In August, Australia's prime minister suggested the vaccine would be mandatory in his country.
That same month in Virginia, the health commissioner said he planned on mandating the vaccine, but a spokeswoman for the state's governor later said there were no plans to do so, local media reported.
After Prime Minister Jean Castex announced that he would push for the compulsory vaccination of caregivers, the French Senate expressed their desire to expand the measure to cover young and middle-aged adults.
"The body published a report from its Common Mission of Information on Thursday, advocating for mandatory vaccinations of young to middle-aged adults on the grounds it could significantly lower hospitalization rates and deaths," reports RT.

The report issued a stern warning: "act now to limit impact"."
Mandatory vaccines are being pushed partly because the country is lagging behind other European countries in their rollout, with under a quarter of people aged 30-49 having been inoculated and only half of 50-64 year-olds receiving the jab.
The government is also considering sending doctors lists of people who haven't taken the vaccine so they can be pressured into getting it, while the ability for the unvaccinated to submit negative COVID tests in order to be able to travel could also be withdrawn.
This isn't the first time that France has considered imposing draconian measures to make people take the vaccine.
Back in December, a bill was proposed that would have banned unvaccinated people from being able to use basic services like public transport.
The proposed law mandated that citizens have proof of a negative COVID test or "preventative treatment, including the administration of a vaccine" in order to "access transport or to some locations, as well as certain activities."
However, the legislation was dropped after fierce protests. One wonders if French people will have the same reaction to the prospect of mandatory vaccinations.
States have the authority to regulate public health and they have in the past mandated vaccines.
They Already Wanted to Monitor Your Vaccination Records and Tie That to Your Passport, Introduce Mandatory Vaccinations, and Clampdown
on "Misinformation" They Just Didn't Have a Reason Yet, They Are Getting Desperate, Anything Can Happen at This Point, Be Prepared…
A report published by the European Commission in late 2019 reveals that the EU has been looking to increase the scope and power of vaccination programmed since well before the current "plandemic".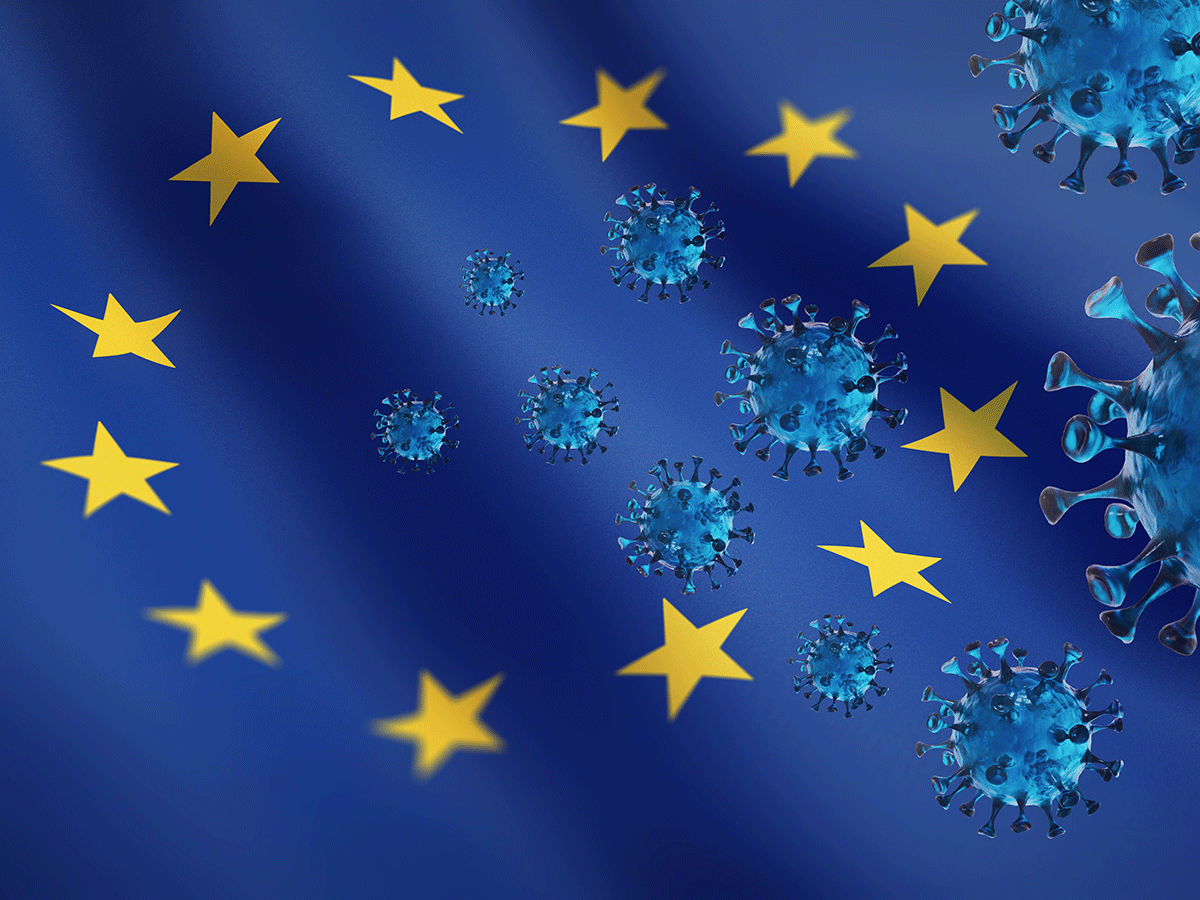 The endpoint of the Roadmap is, among many other things, to introduce a "common vaccination card/passport" for all EU citizens.
This proposal will be appearing before the commission in 2022, with a "feasibility study" set to run from 2019 through 2021 (meaning, as of now, it's about halfway through).
To underline the point: The "vaccination roadmap" is not an improvised response to the Covid19 pandemic, but rather an ongoing plan with roots going back to 2018, when the EU released a survey of the public's attitude toward vaccines titled "2018 State of Vaccine Confidence"
On the back of this research, the EU then commissioned a technical report titled "Designing and implementing an immunisation information system", on – among other things – the plausibility of an EU-wide vaccination monitoring system.
In the 3rd quarter of 2019 these reports were all combined into the latest version of the the "Vaccination Roadmap", a long-term policy plan to spread vaccine "awareness and understanding" whilst counteracting "vaccine myths" and combatting "vaccine hesitancy".
You can read the entire report here, but below are some of the more concerning highlights [emphasis throughout is ours]:
"Examine the feasibility of developing a common vaccinationcard/passport for EU citizens"
"Develop EU guidance for establishing comprehensive electronic immunization information systems for effective monitoring of immunization programmes."
"overcome the legal and technical barriers impeding the interoperability of national immunisation information systems"
On the 12th September 2019, at the joint EU-WHO "Global Vaccination Summit", they announced the "10 Actions Towards Vaccination for All", which cover much of the same ground.
One month later, in October 2019, Event 201 was held.
For those who don't know, Event 201 was a simulated pandemic exercise focusing on a zoonotic novel coronavirus originating in bats. It was sponsored by Johns Hopkins Center for Health Security, the World Economic Forum, and the Bill & Melinda Gates Foundation.
The result of the simulation was seven key suggestions.
In November of 2019, these suggestions were published as a "call to action".
Virginia Plans Mandatory COVID-19 Vaccinations for All Residents, The Politicians Have Been Conditioning the Masses for Quite Some Time Now…
You Will Obey. Once They Got the People to Submit to the Face Mask Bull Crap It Was Game Over…
As Friday's hospitalization numbers across the Sun Belt appear to confirm CDC head Dr. Robert Redfield's assertion that the American COVID-19 outbreak has peaked and is starting to fade, the State of Virginia is setting a new precedent by seriously discussing forcing Virginians to be vaccinated with whatever rushed-to-marked candidate the FDA approves first.
During an interview that aired on Friday, the state's health commissioner said he planned to invoke state law to make vaccinations mandatory – once a western product is available, presumably.
One "who with perversity in his heart continually devises evil." That is, he revels in the natural inclinations of he's own depravity (Jer. 17:9; Mark 7:21-22), and in his activities "spreads strife" among men.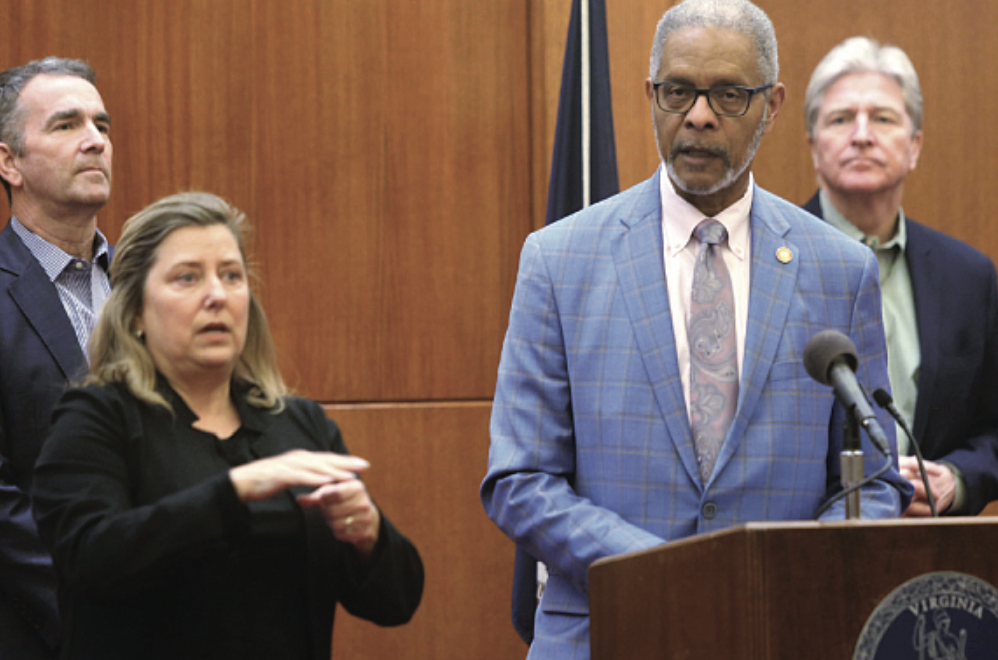 Norman Oliver
Here's more from ABC News 8:
State Health Commissioner Dr. Norman Oliver told 8News on Friday that he plans to mandate coronavirus vaccinations for Virginians once one is made available to the public.

Virginia state law gives the Commissioner of Health the authority to mandate immediate immunizations during a public health crisis if a vaccine is available. Health officials say an immunization could be released as early as 2021.

Dr. Oliver says that, as long as he is still the Health Commissioner, he intends to mandate the coronavirus vaccine.

"It is killing people now, we don't have a treatment for it and if we develop a vaccine that can prevent it from spreading in the community we will save hundreds and hundreds of lives," Oliver said.
Pro-medical-choice activists in the state argue that the issue is a matter of medical choice, and that the hasty "expedited" approval process being implemented by the FDA is grounds for concern. State health authorities insist, meanwhile, that they would never mandate a vaccine that hadn't already proven to be safe.
Virginia Freedom Keepers Director of Communications Kathleen Medaries, a mother of three from Chesterfield, says this is a matter of medical choice.This is not a Republican or Democrat issue. It's not a pro-vaccine or anti-vaccine issue," Medaries said. "For me, it's an issue of being able to assess each vaccine for myself and my family one at a time."

"He shouldn't be the one person to make a decision for all of Virginians,""Medaries responded.
The state's top medical official is opposed to a bill that has been put forth in the state assembly that would create more exemptions to the mandatory vaccination power, allowing exemptions on religious and other grounds.
Oliver believes that COVID-19 is a public health emergency that should take precedent over everything else, and that vaccine-assisted herd immunity is the state's best and only real defense.
The decision comes after Massachusetts said it would make the flu vaccine mandatory this year as part of a campaign to protect the state's medical system. We suspect Virginia and Massachusetts won't be the only states to discuss mandatory COVID and/or flu vaccination in the coming weeks, as the school year begins.https://hnewswire.com/next-forced-vaccinations-digital-certificates-its-coming-the-opposition-will-be-crushed-per-your-government/embed/#?secret=H9oVlpwoR6https://hnewswire.com/majority-of-canadians-think-covid-19-vaccine-should-be-mandatory-new-poll-shows/embed/#?secret=24Q4RMY0FS
While Mainstream Media Continues to Push a False Narrative, Big Tech Keep the Truth From Coming out by Shadow Banning Conservatives, Christians, and Like-Minded People, Those Death Attributed to the Coronavirus Is a Result of Those Mentioned, They Truly Are Evil…
We are quickly reaching the end of reality, we have now entered a state of what God had promised, Hell On Earth (Tribulations)… Galatians 6:7 warns us what happens when we remove the authority of God from our values, our goals, and our laws: Society reaps what it sows as well…
The light went out in the church, and that's the reason the world got dark. Dark times were perpetrated by the "last one out, turn out the lights" "The church lights have gone OUT". What's so Hard to Understand, We Have Taking God out of Society, the End Result "Mayhem"
Satan Soldiers In Italy's Govt Approved Mandatory
COVID Jabs For Health Operators Since early 2020 much of the western world has been subjected to one of the greatest frauds ever committed against humanity, an alleged plandemic of a new corona-virus which authorities have told us develops into a new disease known as Covid-19, All BS.
Italians become first Worldwide Guinea-Pigs for Gates' Social Experiments.
We are now in the midst of the chaos of individual rights created by the Law Decrees related to the pandemic emergency!
In fact, they have aroused strong reactions from civil society against the obligation to impose anti-Covid vaccines (still experimental) on health professionals, but also on people being treated for psychiatric problems, whose informed consent is expressed by public health authorities or guardians, such as in the case of the shameful story of the Florentine girl Yaska (pictured below), denounced by Gospa News and then by the TV program Le Iene, in contrast with the will of the families who do not consider the pharmacological serum safe at all.
In fact, it is the prologue of what could happen from Monday for minors as soon as AIFA (Italian Medicines Agency) authorizes the use of the antiCovid Pfizer serum based on messenger mRNA also for children aged 12 and over. As is well known, this is a full-fledged gene therapy never used before in the history of humanity and considered very dangerous by some experts.
The issue became hotly topical after the alarm launched, reading VAERS data on adverse events, by the American lawyer Robert F. Kennedy about the death of the first vaccinated adolescents in the US and about cases of severe thrombosis and myocarditis with the risk of permanent biological damage for children.
This strategy of Prime Minister Mario Draghi's government was supported by the Minister of Justice Marta Cartabia who, as a constitutional judge, legitimized the 12 compulsory school-age vaccines of the Lorenzin Decree, opening the doors to the business of Big Pharma GlaxoSmithKline which today controls Pfizer's commercial network and therefore it profits on the new antidote against the disease of the SARS-Cov-2 virus.
But it has put a strain on the conscience of some parliamentarians who have given support to Legislative Decree 44/2021 with the final approval that took place in the Chamber of Deputies in recent days (311 votes in favor, 47 against and 2 abstentions), after the green light of the Senate.
The provision governs a vaccination obligation for health and social health personnel who carry out their activities in public and private health, social health and social welfare structures, in pharmacies, para-pharmacies and professional offices.
Furthermore, it exempts vaccine administrators from criminal liability for manslaughter or negligent personal injury if such events occur as a result of vaccination (Article 3).
The Lorenzin Decree on the imposition of 12 school-age vaccines was born from a pilot project of President Barack Obama's Global Health Security Agenda, sponsored by Bill Gates, and facilitated by the scientific ambassador of the Italian government of Matteo Renzi, or Dr. Ranieri Guerra, now deputy director of the World Health Organization, but also investigated for false statements to the prosecutors of Bergamo in relation to the pandemic emergency. As then, even today the Italians risk becoming not only a health but above all a social experiment.
The Assembly of the Council of Europe, last January 21, had in fact approved on a proposal by Jennifer De Temmerman – member of the French Assemblée National, member of the centrist group Libertés et territoires – with a very large majority, a Resolution in favor of the "No" The introduction of the anti-Covid vaccination obligation, as well as his opinion against any vaccination licenses / passports.
The Resolution specifically states that it is necessary to ensure "that citizens are informed that vaccination is not compulsory and that no one at a political, social or other level can press for people to get vaccinated if they do not choose it independently".
The recommendation was also to ensure that "no one is discriminated against unless vaccinated", that "the content of the contracts stipulated with producers is communicated in a transparent manner" and that compensation programs are identified for those who suffer damage from vaccination.
"The measures must not, however, violate the right and freedom of each individual to their physical autonomy and informed consent" and, citing the Oviedo Convention, he stresses that it guarantees rights and dignity "without discrimination".
"Article 5 states that an intervention in the field of health can only be carried out after the person has given informed and free consent. In the case of vaccination hesitation, this implies that it cannot be imposed by force". In case of exceptions provided for by individual national laws, the conditions must be interpreted in the light of the criteria established by the ECHR.
Unfortunately, just recently, the judges of the European Court of Human Rights in Strasbourg, including those involved in social projects financed by the plutarch George Soros (such as Gates speculator on Big Pharma but above all megadonor of the US Democratic Party and close ally of the PD Italian), have sanctioned the legitimacy of the vaccination obligation for minors.
It is also well known that the Council of Europe does not actually have a great political power within the European Union which has been built in such a way as to guarantee in the hands of a politically appointed oligarchy (via the EU parliament) and elective, the European Commission which has already subverted that resolution by designing the Green Pass to travel between the various nations if vaccinated, cured of Covid-19 or with a negative swab, which should come into force starting from next July 1st. But we will talk about this in a future article.
The vaccination requirement leads us to follow the lead of FiloDiritto, a legal information portal that has analyzed the situation in the Old Continent and in some Western countries of the world. Although health competence, at EU level, is the responsibility of the Member States, the European Council – in 2018 – recommended quick and effective solutions against "the rapid spread of disinformation through social media and anti-vaccinists in public" which have contributed to nourish "prejudices, as well as greater mistrust and fears of unproven collateral events".
In reality, however, they have been well demonstrated by various studies after a flood of reports for serious adverse cases, even fatal, so as to trigger the alert of even the EMA itself on heart inflammation.
"The issue, at first only in the media, later had a reflection on the political level, leading to the reform of national legislation on vaccines, increasing the number of those required to maintain the cd. "Herd immunity" and challenging growing skepticism – reads the FiloDiritto website – Currently, 14 countries in the European Union do not provide for any mandatory vaccine, including Portugal, Spain, Ireland, Germany and Sweden.
It should be noted, however, that the German health authorities, while not requiring vaccination, strongly recommend its administration to minors before enrollment in primary school, requiring the display of the Vaccination Booklet".
"The countries that provide for vaccinations, on the other hand, include Latvia – with 13 vaccines – and France, which recently increased the number of those required by law from 3 to 11 – continues the article – In Italy, the Law 119/2017 (the so-called Lorenzin Law) has reintroduced a mediated vaccination obligation: no mass vaccination plans have been prepared, as in the 1960s, but failure to administer childhood, but not in elementary school. In the latter case, minors are reported to the competent ASL and parents may be subject to administrative sanctions".
Once again, the Italians risk becoming the guinea pigs of a pilot project that not even the US has imposed (in fact there continues to be the problem that a high percentage of military and marines reject the vaccine) despite the fact that President Joseph Biden was also elected thanks to the important financial contributions received from Pfizer for the electoral campaign.
In fact, last May 13, the AGI agency reported with prominence the sensational news: «Those fully vaccinated in the United States will no longer have to wear masks or respect social distancing, outdoors and indoors. This is foreseen by the new guidelines of the Centers for Disease and Prevention, CDC, signaling a turning point in the fight against the coronavirus.
Currently over 35% of Americans are fully vaccinated. "Today is a great day for America in our long battle against Covid-19, said President Joe Biden speaking from the Rose Garden of the White House, where he has launched a new call for Americans to be vaccinated:"
The choice is yours, get vaccinated or continue wearing a mask until you are immunized"».
In the meantime, however, Pfizer has asked the American Food and Drug Association for final approval for its Comirnaty vaccine, currently only experimentally authorized. The FDA okay could sanction a further step towards the obligation of vaccines at least in those countries such as Italy where the government is in the hands of a majority of large agreements renamed the "Single Party of Covid", even if the lawyer Alessandro Fusillo , president of the Movimento Libertario, has clearly highlighted in a previous article the reasons for the illegitimacy of this obligation just as the magistrate Angelo Giorgianni, president of the L'Eretico association, did by filing a formal warning against the Ministry of Health and the ASL (local health public agency) of all Italy.
Like the Green Pass being designed in the EU, this is a sneaky strategy to lobby people to choose to get vaccinated out of the suffocating regime of restrictions on freedom of movement and the use of personal protective equipment.
But the only political purpose is another: to favor the business of Big Pharma which under the leadership of the new world emperor of vaccines Bill Gates, able to form a cartel among the multinationals last September, have financed and built the contemporary political class, holographic projection of the New World Order, in an axis between the US – Italy Democrats who, as demonstrated by the 38 WuhanGates investigations by Gospa News, together with the Deep State of the Chinese Communist Party, had a preponderant role in financing the studies on chimeric superviruses of SARS infected with HIV, of which experts of world virology have found traces in SARS-Cov-2.
As the Dominoes Start to Fall, All It Will Take Is One Country Making Vaccines Mandatory Then Every Country in the World Will Follow
Bill Gates Made a Point That the Vaccines Would Be Mandatory, Looks Like MR. Gates Has Some Inside Information, It's Called the 'Plandemic Tyrants Plan' Hell on Earth Compliments of the New World Order.
Australia Prime Minister Puts Citizens On Notice: All Will Likely Undergo Mandatory COVID-19 Vaccinations
For those fearing that all the prior state-enforced social distancing and lockdown protocol which hit a peak in early summer — from arresting surfers on empty beaches, to telling people they can't even jog, to police detaining moms for merely letting their children play on taxpayer bought public playgrounds — would only too easily and hastily transition to a forced vaccination regimen the moment one is rushed out despite safety or the various potential long-term side effect 'unknowns'… well,it's happening:
Australians are likely to face mandatory coronavirus vaccinations if Prime Minister Scott Morrison gets his wish.

The nation is a step closer to gaining access to a vaccine, with the Federal Government securing an international deal to produce a vaccine frontrunner locally if trials succeed.

If that happens, Mr Morrison expects Australians will have to undergo mandatory vaccination.
And no doubt other developed nations will eventually follow suit, given as we've detailed we're already to the point of colleges, schools, and office spaces in many instances requiring as a condition of return to campus or work space a COVID-19 test, or in some cases individuals are subject to weekly tests. Based on the trend, these current testing requirements will seamlessly switch to vaccination requirements, as will apparently likely happen in Australia.Australian Prime Minister Scott Morrison, file image via Bioreports
"I would expect it to be as mandatory as you could possibly make it," PM Morrison told Melbourne radio station 3AW, as reported by the national Australian Broadcasting Corporation on Wednesday.
"There are always exemptions for any vaccine on medical grounds, but that should be the only basis," he added, clearly already attempting to bat down instances of vaccine objectors and other individual liberty or religious-based arguments.
"We are talking about a pandemic that has destroyed the global economy and taken the lives of hundreds of thousands all around the world, and over 430 Australians here," the Australian leader added.
He further confirmed the Australian government had reached deal with Swedish-British pharmaceutical company AstraZeneca to purchase a promising coronavirus vaccine currently under development with Oxford University.
Morrison described that the Federal Government plans manufacture it as soon as it clears clinical trails, and the drug will be free for all Australians.
But as activists who might have legitimate concerns over the federal government mandating that a substance without an established and lengthy track record of medical use be injected in each individual's body as a precondition to participating in society (such as school or entering public buildings) would point out, it will indeed come with a "cost" in terms of freedom of conscience and an individual's right to manage risk and trade-offs for themselves.
As Australia's ABC put it, the government will rely on its "no jab, no play" precedent in terms of 'up to date vaccination' – already in effect and a requirement for children to attend everything from child care to school to a household's ability to get a Family Tax Benefit across most provinces.
Morrison emphasized that anti-vaccination activists will not have a leg to stand on:
During a round of morning media, Mr Morrison repeatedly said he expected pushback from anti-vaccination campaigners.

But he repeatedly said he was the minister who introduced a "no jab, no play" rule, and his stance on vaccinations was clear and would not change.
The Australian Prime Minister at the Astra Zeneca laboratories in Sydney on Wednesday. Image source: AAP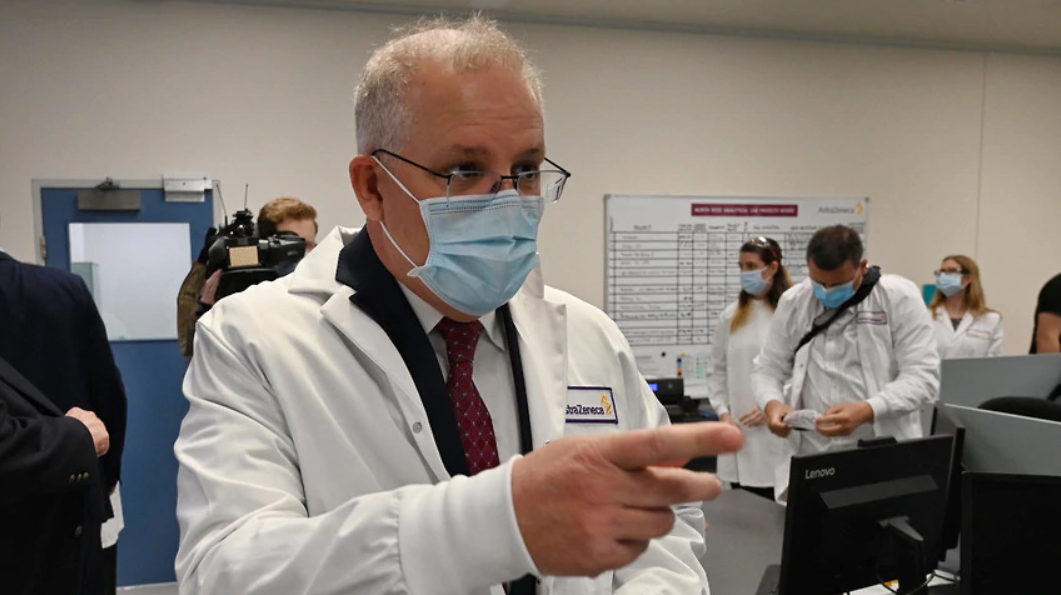 In terms of a timeline, Morrison said he didn't expect a vaccine to be available to the public until sometime next year at the earliest.
An essentially "forced" vaccine program would likely also roll out in the UK, Europe, and Canada, and by then debate would surely be raging in the United States (though the "debate" might be entirely precluded by then) given it remains the world's leader in COVID-19 confirmed infections.
But when Australia and Europe rolls out with mandatory programs, it's only a matter of time before the global hotspot – the US – follows suit, and backed by federal or state laws to boot.
Get ready to "show your papers America". It's coming.
"When the History of This Madness is Written, Reputations Will Be Slaughtered and There Will Be Blood in the Gutter "
There is a huge gap between rhetoric and reality
Source: HNewsWire HNewsWire HNewsWire ZeroHedge HNewsWire HNewsWire HNewsWire
StevieRay Hansen
Editor,
HNewsWire.com
[email protected]
Bow down to Satan Soldiers… Comply… Submit to The Anti GOD Coup?
"Give Me God Given Free Will, Liberty or Give Me Death"
A Professional Athlete Affirms That God Fashioned Adam and Eve. As a Result, All Hell Breaks Loose Christian Banks and Businesses Cancel Sam Brownback, a…
Read More
We make every effort to acknowledge sources used in our news articles. In a few cases, the sources were lost due to a technological glitch. If you believe we have not given sufficient credit for your source material, please contact us, and we will be more than happy to link to your article.