Experience 'Serious' Brain Disorders: UK Neurologists, Now It's a Brain-Virus! Get Your Vaccines Before Your Brain Explodes…
COVID-19 is quite the enigma. For most patients who contract it – especially those under the age of 65, symptoms are mild or non-existent. For symptomatic patients who draw the short straw, the disease can be brutal. Symptoms can include lung issues, heart damage, loss of taste and smell, tingling in fingers and toes, skin disorders, and the fact that it lasts for months in some people.
Now, we find that a small number of recovering COVID-19 patients with mild cases may suffer 'mild to potentially fatal brain disorders' triggered by the virus, according to a new manuscript by neurologists from the UK.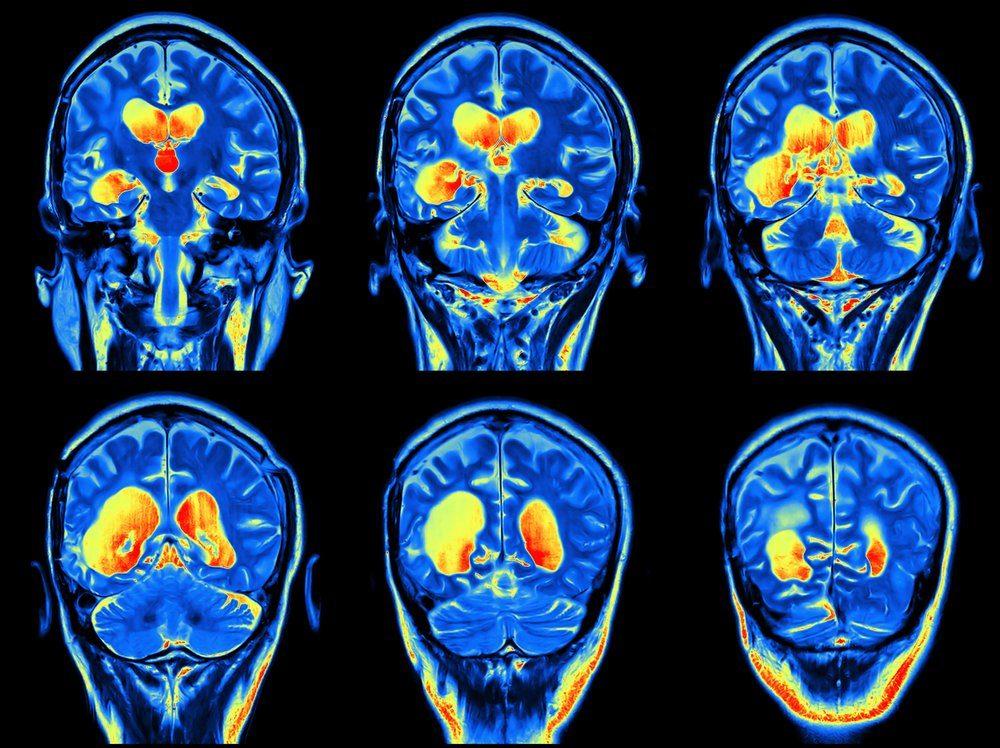 On Wednesday, they published the details of more than 40 patients whose complications ranged "from brain inflammation and delirium to nerve damage and stroke." The neurological issues were some patients' first and primary symptoms. 
The cases, published in the journal Brain, revealed a rise in a life-threatening condition called acute disseminated encephalomyelitis (Adem), as the first wave of infections swept through Britain. At UCL's Institute of Neurology, Adem cases rose from one a month before the pandemic to two or three per week in April and May. One woman, who was 59, died of the complication.

A dozen patients had inflammation of the central nervous system, 10 had brain disease with delirium or psychosis, eight had strokes and a further eight had peripheral nerve problems, mostly diagnosed as Guillain-Barré syndrome, an immune reaction that attacks the nerves and causes paralysis. It is fatal in 5% of cases. –The Guardian
"We're seeing things in the way Covid-19 affects the brain that we haven't seen before with other viruses," said Michael Zandi, a senior author on the study and a consultant at the institute and University College London Hospitals NHS foundation trust (via The Guardian).
"What we've seen with some of these Adem patients, and in other patients, is you can have severe neurology, you can be quite sick, but actually have trivial lung disease," he added.
"Biologically, Adem has some similarities with multiple sclerosis, but it is more severe and usually happens as a one-off. Some patients are left with long-term disability, others can make a good recovery."
One coronavirus patient, a 55-year-old woman with no prior history of mental disorders, began hallucinating the day after she was discharged from the hospital – claiming she saw monkeys and lions in her house. She would also repeatedly remove and put on her coat. The woman was readmitted and gradually improved with the use of antipsychotic medication.
A 47-year-old woman included in the paper reported a headache and numbness in her right hand one week after she began experiencing a cough and a headache. She became drowsy and unresponsive, and required the surgical removal of a portion of her skull to relieve pressure on her swollen brain, according to The Guardian.
"We want clinicians around the world to be alert to these complications of coronavirus," said Zandi, who urged healthcare providers to report cognitive symptoms to neurologists.
"The message is not to put that all down to the recovery, and the psychological aspects of recovery," he said. "The brain does appear to be involved in this illness."
The full range of brain disorders caused by Covid-19 may not have been picked up yet, because many patients in hospitals are too sick to examine in brain scanners or with other procedures. "What we really need now is better research to look at what's really going on in the brain," Zandi said.

One concern is that the virus could leave a minority of the population with subtle brain damage that only becomes apparent in years to come. This may have happened in the wake of the 1918 flu pandemic when up to a million people appeared to develop brain disease. –The Guardian
"It's a concern if some hidden epidemic could occur after Covid where you're going to see delayed effects on the brain, because there could be subtle effects on the brain and slowly things happen over the coming years, but it's far too early for us to judge now," said Zandi. "We hope, obviously, that that's not going to happen, but when you've got such a big pandemic affecting such a vast proportion of the population it's something we need to be alert to."
The World Is In Big Trouble, for Those That Believe We Will Go Back to Some Sense of Normal Life Here on Earth, You Will Be Sadly Disappointed, Seven and Half Years of Hell on Earth Which Began January 1, 2020
"Our courts oppose the righteous, and justice is nowhere to be found. Truth stumbles in the streets, and honesty has been outlawed" (Isa. 59:14, NLT)…We Turned Our Backs On GOD, Now We Have Been Left To Our Own Devices, Enjoy…
While Mainstream Media Continues to Push a False Narrative, Big Tech Has Keep the Truth From Coming out by Shadow Banning Conservatives, Christians, and Like-Minded People, Those Death Attributed to the Coronavirus Is a Result of Those Mentioned, They Truly Are Evil…
StevieRay Hansen
Editor, HNewsWire.com
Watchmen does not confuse truth with consensus The Watchmen does not confuse God's word with the word of those in power…
In police-state fashion, Big Tech took the list of accused (including this site), declared all those named guilty and promptly shadow-banned, de-platformed or de-monetized us all without coming clean about how they engineered the crushing of dissent, Now more than ever big Tech has exposed there hand engaging in devious underhanded tactics to make the sinister look saintly, one of Satan's greatest weapons happens to be deceit…
The accumulating death toll from Covid-19 can be seen minute-by-minute on cable news channels. But there's another death toll few seem to care much about: the number of poverty-related deaths being set in motion by deliberately plunging millions of Americans into poverty and despair.
American health care, as we call it today, and for all its high-tech miracles, has evolved into one of the most atrocious rackets the world has ever seen. By racket, I mean an enterprise organized explicitly to make money dishonestly.
All the official reassurances won't be worth a bucket of warm spit. The Globals are behind the CoronaVirus, It Is a Man-Made Bioweapon.
For those of you who care, Google and your favorite social media platforms have misled you, and now we all pay a heavy price for trusting the ungodly, Google and company, They knew exactly what they were doing, removing our history while preparing you to accept the New World Order playbook, Enjoy.
The role of a watchman: Gives insight into the world at the end of this age. They see the dark gathering clouds on the world's horizon that spell the end of Satan's reign as the god of this world and author of all its evil. This leads them to mount the "walls" of society and shout a warning to any who will hear. To say: "God is sovereign. He will bring a time of judgment on the world to prove that He alone is God. All other gods erected by people to hide His truth will be destroyed."
A national affliction
Today America and Great Britain stand at a crossroads. For more than 200 years they have dominated the world in virtually every arena. As Great Britain retreated from its empire after World War II, America was there to take its place and continue the legacy set by the English through their peak years.
But America's dominant power is under siege from many sectors. Its will to stay the course in Iraq is being tested, its military machine strained under the pressure of the extended fighting. Though it is the primary engine for the world's economy, a weakened dollar and a trade balance deficit are both troubling indicators of a major crisis ahead.
God warns us through the message of the prophets that sins will demand a day of reckoning. People cannot continue worshipping the false gods of materialism and self, blindly stumbling along in their own righteousness, and expect their affluent standard of living to continue.
God's Word confirms there will be an accounting; the lesson of history is that any people who corrupt their moral core will eventually fade from power. God calls on America and Great Britain to wake up, acknowledge their sins, and repent before national calamity descends on them.
"Do this and live"
Amos the prophet walked into the city of Samaria, capital of the northern kingdom of Israel, and boldly told the king and city leaders to repent or face captivity at the hands of the Assyrians. He pointed to neighboring states that had fallen and said, "You are no better than they were."
He rebuked those who did not want to hear a "message of doom." To those who stocked their homes with the finest luxury goods and gourmet foods, trusting that affluence was a sign of God's blessing, he said, "Don't trust in materialism." The citizenry, at all levels, looked only to their comfort and ease and did not grieve "for the affliction of Joseph" (Amos 6:6).
Those who "grieve" and "sigh and cry" over societal sins are called to a unique role. They are part of God's elect, called to the duty of proclaiming the announcement of the Kingdom of God. That message includes the good news of Jesus Christ's return to restore all things (see Acts 3:19-21). The message also contains a warning to repent and receive God's blessing or ignore the warning and face the judgment of God. It is a double-edged message—plain-spoken, yet full of hope.
Fulfilling this role requires courage, perseverance, and a love for the people addressed. One of the best examples of this was the prophet, Jeremiah. Jeremiah spent more than 40 years in the role of a watchman to the nation of Judah, urging people to heed his warnings and return to the ways of God.
Notice this passage: "Stand in the ways and see, and ask for the old paths, where the good way is, and walk-in it; then you will find rest for your souls. But they said, 'We will not walk in it' " (Jeremiah 6:16).
God's main message throughout the Bible is to return to His paths, His teachings, as the solution for the suffering and pain of human life. "Do this and live," He says.
Jeremiah and others like him have stood in the role of a watchman. "Also, I set watchmen over you, saying, 'Listen to the sound of the trumpet!' But they said, 'We will not listen.' Therefore hear, you nations … Behold, I will certainly bring calamity on this people —the fruit of their thoughts, because they have not heeded My words nor My law, but rejected it" (Jeremiah 6:17-19).
Today's watchmen
Examining the concept of watching in the New Testament helps to complete the picture of this role. The Greek word Gregorio, translated as "watch," means to keep awake, to watch, and to take heed. Through neglect or laziness, we could let down and be overcome with sin, or a sudden calamity could overwhelm us spiritually.
Notice in Mark 13:32-37, in Jesus' prophecy of the end time, that He urges His disciples three times to "watch" during the times leading to His second coming. The emphasis is on a personal watch through prayer to know the times.
By prayer and righteous living, we stay tuned to Jesus Christ. Through this way of life one can discern the moral climate of the times and avoid being tossed around with every shifting ideology of modern culture. Walking in God's laws and instruction insulates us from the course of the world and its deceptions.
Revelation 16 describes a massive end-time deception perpetrated by Satan and demons that work through the human instruments called "the Beast" and "the False Prophet" (Revelation 16:13). Their influence gathers the leaders of the earth "to the battle of that great day of God Almighty . . . to the place called in Hebrew, Armageddon" (Revelation 16:14-16).
In our fascination over these otherworldly figures, we can easily skip over Christ's charge: "Behold, I am coming as a thief"—suddenly and unexpectedly. "Blessed is he who watches, and keeps his garments, lest he walks naked and they see his shame" (Revelation 16:15, emphasis added throughout).
Jesus pronounces a blessing for those who, during mankind's darkest moment, watch. That is, they are living prudently and properly. The natural by-product of this close relationship with God is being alert to religious deception. Those who frame their life around the coming Kingdom of God will watch and keep themselves from the wiles of the devil.
This is the end result of fulfilling the role of a watchman within the Body of Christ—to be found standing in the faith, blessed of God at the dawn of His Kingdom on this earth.
Our world is moving toward this time of the global cataclysm. Revelation 16 describes a future moment when people will be caught up in events engineered through the Beast and False Prophet. The former is a political leader of compelling personality and ability; and the other, a religious leader unlike any in modern times.Together they will convince armies to move toward Jerusalem to fight Jesus Christ at His coming.
Warning and hope
This is a time for the watchmen to mount the walls and sound a clear, unmistakable warning message of the dangers facing not just the English-speaking peoples but also the whole world. It is time to make known the hope of the coming Kingdom of God.
Isaiah's message stands bright and clear today: "How beautiful upon the mountains are the feet of him who brings good news, who proclaims peace, who brings glad tidings of good things, who proclaims salvation, who says to Zion, 'Your God reigns!' Your watchmen shall lift up their voices, with their voices they shall sing together; for they shall see eye to eye when the Lord brings back Zion" (Isaiah 52:7).
Come, take your place on the walls, work for the Kingdom and pray for its speedy arrival!
These special servants understand the dangers of the present world. They see the dark clouds gathering on the world's horizon and are moved to proclaim a warning message to all who will hear.
The number of Orphans aging out of Child Protective Custody has grown at an alarming rate. The 127 Faith Foundation receives many requests each week to house them at our ranch. Our prayer is that the good people of our country will step up to the challenge and offer financial support for "the least among us." We need your help! StevieRay Hansen, Founder, The 127 Faith Foundation
We make every effort to acknowledge sources used in our news articles. In a few cases, the sources were lost due to a technological glitch. If you believe we have not given sufficient credit for your source material, please contact us, and we will be more than happy to link to your article.