Advisory: Be careful of what you read on social media. The algorithms used by these platforms have no regard for Biblical truth. They target your emotions to keep you engaged on their site so their advertisers can drop more ads. These platforms exist to enrich their stockholders. Consider God's promise to Believers in James 1:5, "If any of you lacks wisdom, you should ask God, who gives generously to all without finding fault, and it will be given to you."
Salt Lake City Organizer Calling to Pull Trump Out of the White House Before Election Day…
Proverbs 8:13 "The fear of the Lord is to hate evil; Pride and arrogance and the evil way And the perverted mouth, I hate.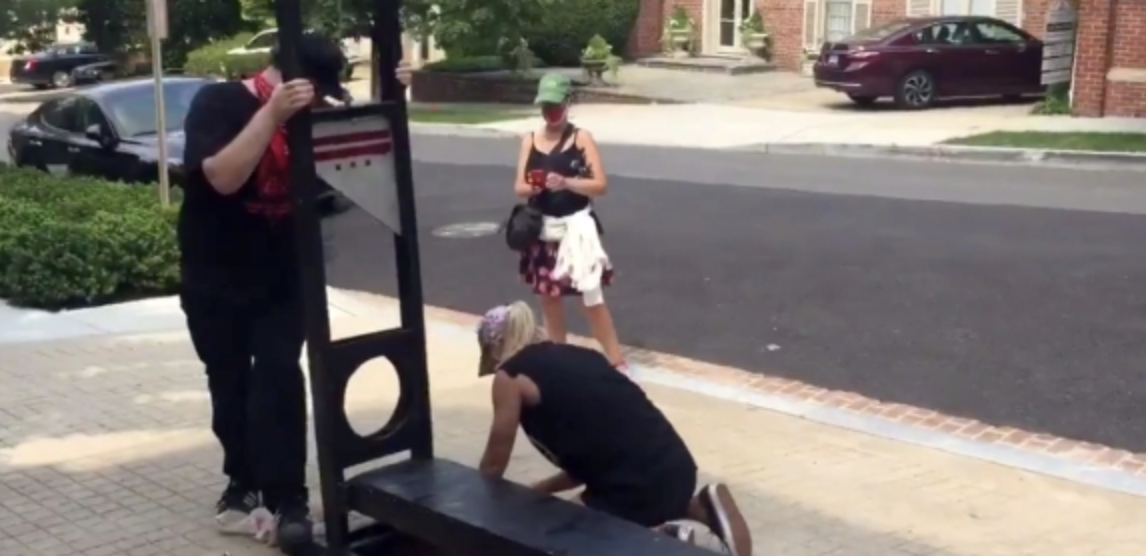 There Is Going To Be WAR, Crowds Are Getting Bigger and Bigger – Tensions Escalating – People Calling Cops Racist Etc.
During his first live interview since being confronted and assaulted outside the White House last night, Rand Paul, the senator who back in June introduced a bill that would end the kind of "no-knock" warrants that contributed to the murder of Breonna Taylor, described the "horrific" experience of being attacked alongside his wife.
Paul is no stranger to confrontation (remember the incident with his neighbor?) but he said he regretted his decision to try to walk back to his hotel. As Paul and his wife and friends walked, the crowd around them started getting bigger and bigger. They were shouting threats, but they were also shouting "say her name" in reference to Breonna Taylor.
"You couldn't reason with this mob, but I'm actually the author of a law to try and get rid of no knock raids. These people were unhinged. I'm not sure we would have made it."
At one point, the mob knocked down one of the officers guarding Paul and his wife. Asked about the types of threats, Paul said he heard members of the crowd bray about trying to kill him and his wife. If the police hadn't been there "we would not be here today, or we would be in a hospital today."
"I truly believe this with every fiber of my being, had they gotten at us they would have gotten us to the ground, we might not have been killed, might just have been injured by being kicked in the head, or kicked in the stomach until we were senseless," he explained.
Later in the interview, he said he feared the mob would have "killed us" if the police hadn't been there to stop them.
"They were inciting a riot and they would have killed us had the police not been there," he said, before profusely thanking the police who stepped up to protect him.
Toward the end of the interview, Paul said he believes the mob that attacked him was partly comprised of paid protesters who arrived in Washington DC from out of state, and were given money for their accommodations so they could come and protest.
"I believe there are going to be people who are involved with the attack on us that actually were paid to come here, are not from Washington, DC, and are sort of paid to be anarchists."
While Americans have a right to peaceably assemble, inciting a riot is a crime, and paid agitators deserve to be arrested, along with whoever is financing them.
"This is disturbing because really, if you're inciting a riot that's a crime, but if you're paying someone to incite a riot that person needs to go to jail as well."

"If you're paying someone to incite a riot, that person needs to go to jail as well. I like being free to be able to take a walk in the park…I don't hear Joe Biden saying anything about it…these are their voters."
Mobs like this are why politicians who are playing footsie with the crypto-communists calling for "de-funding" the police shouldn't be given the opportunity to lead.
"It's become so dangerous for us and I don't hear Joe Biden or Kamala Harris saying one thing about the violence. This mob is their voters. This is the new Democrat party, and if we don't resist this, the United States is going to become Portland. We're going to become Chicago. All of these failed cities Democrats have run, the president said in his speech," he said. "If we allow them to take over the White House, we are going to become Portland, the country will be on fire, we have to have law and order and we have to support the police. I can't say that strong enough."
While Paul acknowledged that he and his wife got out unscathed, he noted that the mob was still out on the street on Friday morning.
"We can't live this way. It's getting worse and worse."
As time goes on there will be a lot of politicians, police officers, judges that will take cover, in other words they are going to remain neutral out for fear for their lives. You are on your own people, prepare to the worst, pray for the best, Tribulations will be very ugly. StevieRay Hansen
Update: 12/6/2020 Force is now the only rule remaining in deep state-controlled America. Everything else has collapsed. There is no free speech, no fair trial, no system of justice, no reasonable expectation of human rights anywhere, no fair elections, no honest news, no honest Wall Street operations, no real public education, no clean food, and threats from the elitist, the power structure that is hell-bent on bringing the New World Order into the reality of the sleeping masses, get woke or get yoked, the choice still lives in the people's hands. Next, the AntiChrist will appear with many empty promises, peace, and security, in reality, it's the yoking of mankind, We are in the Great Tribulations…
HNewsWire: Imagine a future when earth's inhabitants are not humans, but cyborgs-robot like beings with…
People like you are done, Get ready to meet your maker.

fuck christianity it needs to be gone forever

i hope we get rid of christian religion period it needs to be gone

Great article! The Lord has opened my eyes to the truth of this for the past few years. I recently…
Americans Sense Something Is Wrong: Gun Sales Up 72%
Gun sales were up 72% compared to this time last year, with first-time buyers leading the pack. Americans are likely sensing that something is horribly wrong with the rigged system we are forced to live under.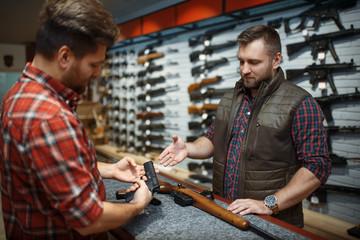 According to a report by the Washington Post, the National Sports Shooting Foundation says that first-time gun buyers played a heavy role in the increase. Women and black Americans have also shown interest in arming themselves this year.
"Nearly 5 million Americans purchased a firearm for the very first time in 2020. NSSF surveyed firearm retailers which reported that 40% of sales were conducted to purchasers who have never previously owned a firearm," the organization said in its analysis, which tracked background checks associated with the sale of a firearm reported by the FBI's National Instant Background Check System.
The World Is In Big Trouble, for Those That Believe We Will Go Back to Some Sense of Normal Life Here on Earth, You Will Be Sadly Disappointed, Seven and Half Years of Hell on Earth Which Began January 1, 2020
"Our courts oppose the righteous, and justice is nowhere to be found. Truth stumbles in the streets, and honesty has been outlawed" (Isa. 59:14, NLT)…We Turned Our Backs On GOD, Now We Have Been Left To Our Own Devices, Enjoy…
While Mainstream Media Continues to Push a False Narrative, Big Tech Has Keep the Truth From Coming out by Shadow Banning Conservatives, Christians, and Like-Minded People, Those Death Attributed to the Coronavirus Is a Result of Those Mentioned, They Truly Are Evil…
StevieRay Hansen
Editor, HNewsWire.com
Watchmen does not confuse truth with consensus The Watchmen does not confuse God's word with the word of those in power…
In police-state fashion, Big Tech took the list of accused (including this site), declared all those named guilty and promptly shadow-banned, de-platformed or de-monetized us all without coming clean about how they engineered the crushing of dissent, Now more than ever big Tech has exposed there hand engaging in devious underhanded tactics to make the sinister look saintly, one of Satan's greatest weapons happens to be deceit…
The accumulating death toll from Covid-19 can be seen minute-by-minute on cable news channels. But there's another death toll few seem to care much about: the number of poverty-related deaths being set in motion by deliberately plunging millions of Americans into poverty and despair.
American health care, as we call it today, and for all its high-tech miracles, has evolved into one of the most atrocious rackets the world has ever seen. By racket, I mean an enterprise organized explicitly to make money dishonestly.
All the official reassurances won't be worth a bucket of warm spit. The Globals are behind the CoronaVirus, It Is a Man-Made Bioweapon.
You do recall, don't you, that the governors and mayors who imposed the lockdowns never asked their citizens about their views about instantly getting rid of all rights and freedoms. They didn't consult legislatures. They didn't consult a range of expert opinion or pay attention to any serious demographic data that showed how utterly preposterous it was to force non-vulnerable populations into house arrest while trapping vulnerable populations in nursing homes that became Covid-soaked killing fields. Google that and see what response you get, I can tell you Google hides the truth, as they do on their YouTube platform…
They thought nothing of shattering business confidence, violating contractual rights, wrecking tens of millions of lives, prohibiting freedom in the association, tanking the stock market, blowing all budgets, shutting down international travel, and even closing the churches. Amazing. Every government executive except a few became a tin-pot dictator and so we will give credit where credit is due, mainstream media, and especially high tech, Twitter, Facebook, you know the list of tyrants that are turning this country into hell on earth. Enjoy…
"People who grew up with the Internet saw what a wonderful thing it was for free expression, giving everyone access to a global audience. That's been completely flipped on its head, and now it's one of the most tightly controlled, manipulated places to find information that you could imagine. It's a complete 180 from what it used to be, and that's incredibly sad, because it was, initially, this challenge to old information gatekeepers, this place of free expression, of democratized information, and now it's just controlled by a handful of increasingly authoritarian ideologically partisan tech companies that haven't been held to account by officials in D.C. and aren't bound by any regulation preventing them from who censoring people or interfering in elections."
Technology companies like Google, Facebook, and Twitter and growing increasingly sophisticated in anticipating, intercepting, and suppressing information with the likelihood of going viral
HNewsWire: Imagine a future when earth's inhabitants are not humans, but cyborgs-robot like beings with both biological and mechanical components. With exosuits for added strength,…
Read More
We make every effort to acknowledge sources used in our news articles. In a few cases, the sources were lost due to a technological glitch. If you believe we have not given sufficient credit for your source material, please contact us, and we will be more than happy to link to your article.