Advisory: Be careful of what you read on social media. The algorithms used by these platforms have no regard for Biblical truth. They target your emotions to keep you engaged on their site so their advertisers can drop more ads. These platforms exist to enrich their stockholders. Consider God's promise to Believers in James 1:5, "If any of you lacks wisdom, you should ask God, who gives generously to all without finding fault, and it will be given to you."
Or We Will Break You down and Destroy You, Get in the Box Car…
German Chancellor Angela Merkel Is Evil, says that freedom of expression must be curtailed in order to keep society free.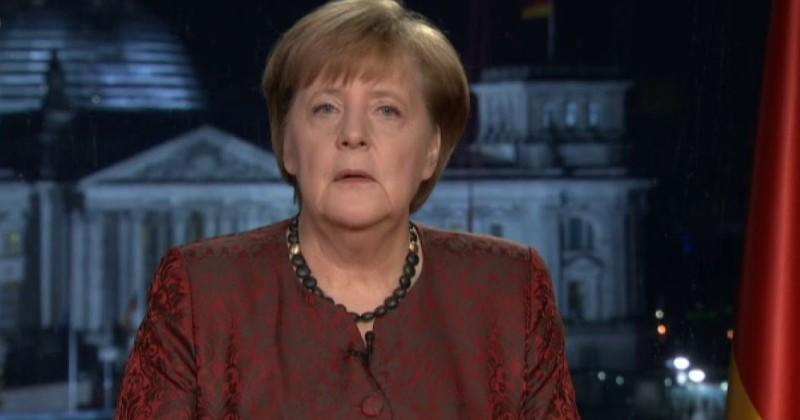 Yes, really.
"For all those who claim that they can no longer express their opinion, I say this to them; If you express a pronounced opinion, you must live with the fact that you will be contradicted," said Merkel during a speech to the German Parliament.

"Expressing an opinion does not come at zero cost, but freedom of expression has limits," she added, as some in the Bundestag could be heard voicing their disagreement.
"Those limits begin where hatred is spread, they begin where the dignity of other people is violated. This house will and must oppose extreme speech otherwise our society will no longer be the free society that it was," said Merkel.
Watch until the end. Angela Merkel says: we have to take away your freedom of speech, or else society won't be free. 15.6K5:13 PM – Nov 28, 2019 · Toronto, OntarioTwitter Ads info and privacy16.1K people are talking about this
Of course, what "violates" the "dignity" of other people is completely subjective and could include all manner of speech that most people would find perfectly acceptable.
The debate over free speech in Germany has intensified since the country accepted over a million migrants from the Middle East and North Africa from 2015 onwards.
Many Germans have found themselves hit with charges of hate speech for pointing out 'hate facts' like migrants being responsible for crimes and sexual assaults
This happened despite the German government's own numbers showing violent crime in Germany rose by 10 percent between 2015 and 2016 and that more than 90 percent of the rise was attributable to young male "refugees."
Lawmakers in one area of Germany even attempted to pass a law that would have jailed people for insulting the EU anthem or burning the EU flag.
As we document in the video below, Germans were subjected to a re-education campaign to encourage them to accept their new reality rather than the government actually addressing their concerns about mass migration. Source
Klara Hitler
Klara Hitler 12 August 1860 – 21 December 1907 was the mother of German politician and leader of the Nazi Party, Adolf Hitler
Date: March 26, 2017 Author: 50 Shades Of Pissed Off
What Happened To Hitler's Frozen Sperm?
According to the Stasi GDR File, the daughter of Hitler is now holding the same office as her father – Chancellor of Germany.
She is said to be one of the most powerful human beings on Earth since she is also the President of the European Union (EU) and head of the powerful Western Economic Block known as the G-8. More concerning is that Hitler's dream of uniting Europe under German/Vatican control is now within his daughter's reach.
In 1954, a child was born, a baby girl, whom the Stasi File identifies as Angela Merkel, today's Chancellor of Germany. Her official birthday is on July 17, 1954. However, the Stasi file which is currently in the Soviet KGB archives records her birth as April 20, 1954. If this secret police citizen's file in the Ministerium für Staatssicherheit (GDR) is correct, then Hitler's daughter, Angela Merkel, was born on Adolph Hitler's birthday – April 20.
Angela Merkel's birth, as detailed in the Stasi file, was based on the research of the German Doctor Karl Klauberg. Klauber was classified as one of the worst Nazi ' Angel of Death ' doctors and was convicted by the Soviet Courts as a 'war criminal'. According to the reports, Doctor Klauberg was released by the Soviets after serving only seven years of his sentence in return for turning over to the KGB his hidden files on his Nazi artificial insemination experiments and, more horrifically, the frozen sperm of the former Nazi Dictator, Adolf Hitler.
Hitler's father, who took the name Hitler, was the illegitimate son of Solomon Rothschild's mistress Anna Maria Schicklgruber. Upon receipt of the Nazi files on artificial insemination, along with Hitler's frozen sperm, the Soviet Politicheskoye Buro (Politburo) authorized the experiments to 'resurrect', 'if possible', childbearing the 'genetic markers' of Adolph Hitler. It was 'reasoned' that the combining of the genes between Hitler's sperm and Eva Braun's closest family would produce for the Soviets a 'near match' of what a child of Hitler and Eva Braun would have been, should one have been born.
Doctor Klauberg brought Gretl Braun to the GDR (Communist East Germany). She was the youngest sister of Hitler's wife, Eva Braun. Gretl Braun was chosen as the 'surrogate' mother of Hitler's offspring using artificial insemination from Hitler's frozen sperm. Gretl Braun was a member of the Social Democratic Party (SPD), whose ideology centered on the principles of Marxism and the interests of the working class and trade unions.
When Doctor Klauberg returned to West Germany, he was promptly imprisoned. He was murdered two years later while still in custody.
FALSE IDENTITY
Soon after the birth of Hitler's baby girl, an agreement between the Soviets, the Americans, and the Vatican was arranged. Hitler's baby was placed under the 'control' of the Catholic Church through its 'connections' with the GDR Lutheran Church which took custody of the baby.
She was given a false date of birth, July 17, and the name Angela Dorothea Kasner, daughter of Horst Kasner, a Lutheran pastor, and his wife, Herland – an English and Latin teacher. There in the countryside at Templin in East Germany, Merkel was raised about 50 miles north of Berlin, the capital of the socialist German Democratic Republic (GDR).
The central theme of the "agreement" of the Western Allied Powers, the Vatican, and the Soviets was that Hitler's daughter would be elevated to international power…but her ascendancy to power would not come until "the Vatican also brought to power a German Pope".
In the wake of the death of Pope John Paul II, the former German Nazi Joseph Ratzinger was nominated. He took the name of Pope Benedict XVI on April 20, 2005, as Vicar of Rome. Is it a coincidence that this date was the anniversary of Adolf Hitler's birthday?
In 1977, Angela Dorothea Kasner became Angela Merkel with her marriage to physicist Ulrich Merkel, but the marriage ended in divorce in 1982.
She was elected Chancellor of Germany shortly after Pope Ratzinger assumed the Leadership of the Roman Church on Hitler's birthday.
MERKEL'S BIOGRAPHY
Merkel didn't enter politics until the age of 35 after the collapse of the Berlin Wall in 1990. She has been reluctant to discuss her past and private life. Her biography stops short of suggesting that her father worked for the Stasi, the notorious East German secret police. But it says his pro-regime attitude helped Angela's career – allowing her to study at an elite school and go on to university, at a time when the children of the clergy were routinely refused admission.
(Here's a picture of Merkel in 1986 on an outing to the Baltic Island of Rugen by members of the DDR version of the Hitler Youth, the FDJ or DDR Jugenverbandes. Sitting near him is little Geli Merkel. Very few people doubt that the man who raised Merkel and is known to the world as her father – was a Stasi spy and part-time organizer. The German chancellor herself was an active Gruppenfuherin in the FDJ.)
The teenage Merkel, like virtually all of her contemporaries, joined the Freie Deutsche Jugend (FDJ), the communist youth organization.
They say birds of a feather flock together, but here's Merkel with a group of skinheads dating from 1992 or 1993.
(One of the people in the photos performs a Nazi salute in the presence of a younger Merkel. At the time, no one thought anything of it but the photos were given a new significance years later.)
If the Soviet record is true, and the evidence is strong, it opens up some amazing possibilities. The undeniable fact is that Angela Merkel came from obscurity to triumviral power as German Chancellor, President of the European Union, and head of the powerful G-8 economic cartel.
In an interview with the newspaper Frankfurter Allgemeine Zeitung in July 2005, Chancellor Angela Merkel admitted to an unusual obsession with the works of composer Richard Wagner, who was a Satanist. Wagner wrote the infamous composition called "Parsifal", which was a favorite of Adolf Hitler as well.
Hitler stated that the music of Wagner occupied his mind. Like Adolf Hitler, Angela Merkel is deeply fascinated with Wagner's "Ride of the Valkyries". The Valkyries were minor female deities that would ride through every battle to gather the most valiant of the slain and carry them off to a place called Valhalla where they would wait to join the army of Odin in the last battle at the end of the world.
Except for the little mustache, Merkel has a striking resemblance to Adolph Hitler.
She is also a dead ringer for her mother – Gretl Braun.
~~~~~~~~~~~~~~~~~~~~~~~~~~~~~~~~~~~~~~
Excerpt from "Was Hitler a Rothschild?"
"Adolf's father, Alois Hitler, was the illegitimate son of Maria Anna Schicklgruber.
It was generally supposed that the father of Alois Hitler (Schicklgruber) was Johann Georg Hiedler. There are some people who seriously doubt that Johann Georg Hiedler was the father of Alois… (an Austrian document was) prepared that proved Maria Anna Schicklgruber was living in Vienna at the time she conceived.
At that time she was employed as a servant in the home of Baron Rothschild. As soon as the family discovered her pregnancy she was sent back home… where Alois was born."
Langer's information came from the high-level Gestapo officer, Hansjurgen Koehler, published in 1940, under the title Inside the Gestapo. He writes about the investigations into Hitler's background carried out by the Austrian Chancellor, Dolfuss, in the family files of Hitler. Koehler actually viewed a copy of the Dolfuss documents which were given to him by Heydrich, the overlord of the Nazi Secret Service. The file, he wrote, "caused such havoc as no file in the world ever caused before" (Inside the Gestapo, p 143).
He also revealed that:
"..The second bundle in the blue file contained the documents collected by Dolfuss. The small-statured, but big-hearted Austrian Chancellor must have known by such a personal file he might be able to check Hitler…His task was not difficult; as ruler of Austria he could easily find out about the personal data and family of Adolf Hitler, who had been born on Austrian soil…
Through the original birth certificates, police registration cards, protocols, etc., all contained in the original file, the Austrian Chancellor succeeded in piecing together the disjointed parts of the puzzle, creating a more or less logical entity.
A little servant girl… (Hitler's grandmother)… came to Vienna and became a domestic servant, mostly working for rather rich families. But she was unlucky; having been seduced, she was about to bear a child. She went home to her village for her confinement…
Where was the little maid serving in Vienna? This was not a very difficult problem. Very early Vienna had instituted the system of compulsory police registration. Both servants and the employers were exposed to heavy fines if they neglected this duty. Chancellor Dolfuss managed to discover the registration card.
The little, innocent maid had been a servant at the…Rothschild mansion. ..and Hitler's unknown grandfather must be probably looked for in this magnificent house. The Dolfuss file stopped at this statement."
Was Hitler's determination to take over Austria anything to do with his desire to destroy records of his lineage?
A correspondent who has extensively researched this subject writes:
"It appears to me that Hitler knew about his connection long before his Chancellorship. Like his father before him, when the going got rough, the Hitlers went to Vienna.
Hitler's father left his home village at an early age to seek his fortune in Vienna. When Hitler was orphaned, after his mother died in December of 1907, he left for Vienna not long after the funeral.
There he seemed to drop out of sight for ten months! What happened during this ten-month stay in Vienna is a complete mystery on which history sheds no light.
It makes sense, now that it has become established that Hitler was a Rothschild, that he and his cousins were getting acquainted, and his potential for future family endeavors was being sized up".
The Rothschilds and the Illuminati produce many offspring out of wedlock in their secret breeding programs and these children are brought up under other names with other parents. Like Bill Clinton, who is almost certainly a Rockefeller produced in the same way, these "ordinary kids from ordinary backgrounds" go on to be extraordinarily successful in their chosen field.
Hitler, too, would have produced unofficial children to maintain his strand of the bloodline and there will obviously be people of his bloodline alive today. (My note: Angela Merkel)
So which Rothschild was the grandfather of Hitler? My thanks to a website correspondent for the additional, updated, information to this article, a man has researched this story in some detail.
Alois, Hitler's father, was born in 1837 in the period when Salomon Mayer was the only Rothschild who lived at the Vienna mansion. Even his wife did not live there because their marriage was so bad that she stayed in Frankfurt.
Their son, Anselm Salomon spent most of his working life in Paris and Frankfurt away from Vienna and his father.
Father Salomon Mayer, living alone at the Vienna mansion where Hitler's grandmother worked, is the prime, most obvious candidate. And Hermann von Goldschmidt, the son of Salomon Mayer's senior clerk, wrote a book, published in 1917, which said of Salomon:
"…by the 1840s he had developed a somewhat reckless enthusiasm for young girls…" and "He had a lecherous passion for very young girls, his adventures with whom had to be hushed up by the police."
And Hitler's grandmother, a young girl working under the same roof would not have been the subject of Salomon's desire? And this same girl became pregnant while working there?
And her grandson becomes the Chancellor of Germany, funded by the Rothschilds, and he started the Second World War which was so vital to the Rothschild-Illuminati agenda?
And the Illuminati are obsessed with putting their bloodlines into power on all "sides" in a conflict? And the Rothschilds are one of their most key bloodlines? And it is all a coincidence?" -Excerpt
To read more click here
EXTRA PHOTOS
https://50shadesofpissedoff.com/2017/03/26/angela-merkel-is-the-daughter-of-hitler-and-hitler-was-a-rothschild-2/
People's hearts are troubled, their minds are in a state of confusion, the Bible tells us a time of great delusion that will come upon the people, that time has arrived, the politicians must come up with more significant and more believable lies in order to bring on the antichrist, we have entered the doorstep Tribulation.
The Mass Dumbing down of Humanity Is Now Confirmed by Scientists
(Natural News) Some mainstream media pundits are finally beginning to notice a disturbing trend that we've been warning about here at Natural News for quite some time now: the trend towards dumbness and idiocracy throughout the West.
In one recent op-ed published by NBC News, author Evan Horowitz pegs this trend as a widespread IQ decline, indicating that intelligence levels are now trending downwards after many decades of moving upwards.
He surmises that the reasons for this decline remain largely unknown, even though there are actually many elephants in the room that remain untouchable within the context of political correctness.
Take artificial water fluoridation, for instance. As we reported, scientific research out of Harvard University found that fluoride chemicals in drinking water lower IQ levels in children.
But did Horowitz mention fluoride as even just a possible factor in the IQ slide? Nope. He similarly avoided talking about crop chemicals that persist on food, which are also associated with decreasing IQ levels among school children.
There's also the great untouchable: vaccination. No fake news writer or correspondent has thus far indicated a willingness to even suggest that vaccines and the chemicals they contain might be harming children's brains – but the truth is that they are.
Back in 2015, Natural News released an extensive compilation of scientific studies and data showing that vaccine chemicals like aluminum, mercury (Thimerosal), and other chemical adjuvants are basically destroying children's brains. But does Horowitz care? Apparently not.
| | |
| --- | --- |
| | Discover how to prevent and reverse heart disease (and other cardio-related events) with this free ebook: Written by popular Natural News writer Vicki Batt, this book includes everything you need to know about preventing heart disease, reversing hypertension, and nurturing your cardiac health without medication. Learn More. |
And let's not forget about the growing litany of pharmaceutical drugs that are constantly hitting the market, as many of these chemical concoctions contain substances that are known to impair childhood development.
For related news, be sure to check out Stupid.news.
"Diversity" and multiculturalism linked to falling IQs throughout the West
There's yet another elephant in the room that Horowitz actually does mention, but subsequently denies as being a legitimate factor in plunging IQ rates, and that's third-world immigration.
Though it's extremely politically incorrect to suggest such, the continued onslaught of "migrants," "refugees," and "undocumented" peoples into Western countries is, in fact, having a detrimental effect on the collective state of intelligence in such nations.
Since, as President Trump revealed while still on the campaign trail, countries south of the U.S. border aren't "sending their best," the general level of social intelligence is on a perpetual slide downwards – with no end in sight.
As explained by Anatoly Karlin, writing for The Unz Review, the "low base" of poorly-educated immigrants that are flooding the U.S. and much of Western Europe is having a net-negative effect on IQ averages, as indicated by quantitative data collected from PISA (Programme for International Student Assessment) tests.
Though such data are sure to be dubbed by the Left as "racist," it speaks for itself: Wherever third-world immigrants are flooding first-world countries, intelligence levels, on the whole, are noticeably decreasing.
"Given the strong dependence between national IQ and economic prosperity, the globalist open borders project presents a serious challenge to the long-term viability of the First World cognitive engines that drive the vast bulk of technological progress – progress that is already threatened by the dysgenic trends embedded in post-Malthusian society and the banal fact that problems tend to get harder, not easier, as you ascend the technological ladder," Karlin writes.
"This is not to even mention the risk of 'institutional contagion' from newcomers who are culturally and perhaps biologically incompatible with that unique blend of individualism and commitment to the commonwealth that facilitated the rise of European civilization."
Karlin's full article is available for your educational enrichment at The Unz Report.
To learn more about how the vaccination scam is damaging children and also contributing to the decline of intelligence, be sure to visit VaccineHolocaust.org.
Sources for this article include: NBCNews.com NaturalNews.com
"Unless God has raised you up for this very thing, you will be worn out by the opposition of man and devils"…
StevieRay Hansen
Editor, HNewsWire.com
The Birth Pains Are Growing Stronger….
"Man will ultimately be governed by God or by tyrants."
My name is Steve Meyers and I need to share a vision and warning that the Lord showed me back in April 2007….
Many of you will ask why I waited so long to share the warning. I didn't. I shared the story with everyone that would listen from pastors to friends to family to colleagues. Immediately following the initial vision, I called a close friend. I told him to sit down that I had something to tell him. I needed it documented as I knew this was supernatural and from God. As I witness events unfolding today, I need to share the vision again.
The risk of loss in trading futures and options on futures can be substantial. The author does not guarantee the accuracy of the above information, although it is believed that the sources are reliable and the information accurate. The author assumes no liability or responsibility for direct or indirect, special, consequential or incidental damages or for any other damages relating or arising out of any action taken as a result of any information or advice contained in this commentary. The author disclaims any express or implied liability or responsibility for any action taken, which is solely at the liability and responsibility of the user. Steve Meyers
The silencing of the American people before 2020?
"The human heart is an idol factory."
The Un-Godly — Those That Suppress the Truth, the social media giants built multi-billion dollar empires by giving everyone a voice, but now that they have such a dominant position on the Internet they have decided that many prominent conservative voices should be completely silenced.
Our government has been overthrown. As evidenced by Trump's capitulation on the border, his recent servitude to the GMO industry and his acquiescence to the warmongers, our President has been compromised. Our liberties are being eliminated one by one. Gun confiscation is next. The Constitution is gasping its last breaths. Our borders are destroyed and our culture has been turned upside down by every perversion known to man.
The Left, a broad term for Liberal Socialist Democrats that can only be explained fully by using the Bible explanation of the human race is as follows. A servant of Satan, because you are either saved or lost. This election has brought out the true nature of who you serve. Simply put, it's Donald Trump, Conservatives, and Christians against the rest of the world. The Left's Love applies only to those who believe as they do. They Love evil and commit Anarchy against those who love good. They are governed by lies and never tell the truth. On this Friday, Inaugural Day for the swearing-in of Donald Trump as the 45th President of the United States the Left wants to commit widespread Anarchy to shut down the swearing-in ceremony. Their goal of transforming America, which was founded in Judea Christian values into a Pagan Nation is almost complete. Their goal has always been the total removal of God from American society and the downfall of America. Donald Trump says he is a Presbyterian, but he left off the USA, an apostate church.
Everything done in dark will be brought to light, being biblically bankrupt will not exclude the elitist.
Let Me Make This Abundantly Clear. (I Am Apolitical) While I Have a General Distaste for Politicians No Matter the Party They Belong To, I Am Unashamedly Politically a Bible Believing Conservative Christian. I Have a Severe Distrust of Government. I Believe It Is the Most Inefficient and Ineffective Way to Accomplish Most Things. While I Strongly Disagree with Liberals/Progressives and Conservative on Most Political Issues, and While I Believe Liberals/Progressives and Most Politicians Are Terribly Misguided and Naive About What Big Government Will Eventually Result In, I Strive to Not Question Their Motives. at the Same Time, While I Find Myself in Agreement with Conservative Politicians on Some Issues, I Do Not Believe Electing Republicans Is the Answer to Everything. for Me, Very Sadly, the Main Difference Between Republicans and Democrats Is How Quickly They Want to Drive the Car Towards the Cliff. Simply Put, I Do Not Believe the Government Is the Solution for Everything. I Do Not Place Any Faith, Trust, or Hope in Any Politicians to Fix What Is Wrong with the World. "Come Lord Jesus!" (Revelation 22:20) StevieRay Hansen
Tagged Under: Germany Angela Merkel, Banks, tribulation, hnewswire StevieRay Hansen, HNewsWire, antichrist,digital gulag, antichrists, Apple, Bible, Big Tech, bigotry, Christian baker, Christianity, Christians, Colorado, Colorado Civil Rights Commission, conservatives, deep state, demonic assault, end of days, end times, Facebook, First Amendment, free speech, Google, hate groups, Hate speech,Electronic Prison, Birth Pains
SRH: There is little doubt that the United States is a country in decline in many ways as 2023 draws to a conclusion. People are…
Read More
We make every effort to acknowledge sources used in our news articles. In a few cases, the sources were lost due to a technological glitch. If you believe we have not given sufficient credit for your source material, please contact us, and we will be more than happy to link to your article.