Advisory: Be careful of what you read on social media. The algorithms used by these platforms have no regard for Biblical truth. They target your emotions to keep you engaged on their site so their advertisers can drop more ads. These platforms exist to enrich their stockholders. Consider God's promise to Believers in James 1:5, "If any of you lacks wisdom, you should ask God, who gives generously to all without finding fault, and it will be given to you."
The Democrats Are on Dangerous Ground, Messing with God Elected can be Deadly, We May Not like MR. Trump, but It's Obvious He Was Hand-Picked by God Almighty and No Amount of Resistance Will Change That Fact, It's Showtime.
Our government has been overthrown. As evidenced by Trump's capitulation on the border, his recent servitude to the GMO industry and his acquiescence to the warmongers, our President has been compromised. Our liberties are being eliminated one by one. Gun confiscation is next. The Constitution is gasping its last breaths. Our borders are destroyed and our culture has been turned upside down by every perversion known to man.
The US House of Representatives has approved a resolution authorizing the impeachment probe of President Donald Trump, despite Republican opposition arguing that the "Soviet-style" bill lacks transparency and due process.
The 232-196 vote ended up being almost entirely along party lines, with only two Democrats voting against and no Republicans voting for the resolution.
The resolution puts House Intelligence Committee chair Adam Schiff (D-California) in charge of the impeachment proceedings while limiting the access of Republican members of Congress and White House attorneys.
It comes following criticism from the GOP that the inquiry launched by Speaker Nancy Pelosi (D-California) 37 days ago has not been properly authorized by a full House vote, breaking with the precedent established by the previous impeachment campaigns in US history.
In speeches on the House floor on Thursday morning, Democrats and Republicans both invoked the Founding Fathers, the Constitution and the defense of duty and democracy. Democrats maintain that Trump abused his power, undermined US national security and the integrity of elections – citing a July phone call with the president of Ukraine.
Kate @kate_kcollins1Replying to @mitchellvii
Why do Democrats keep quoting our founding fathers? I don't think the founding fathers of this country had Impeachment in mind to get revenge for a giant loss.59:56 AM – Oct 31, 2019Twitter Ads info and privacySee Kate 's other Tweets

Kevin McCarthy✔@GOPLeader · 1h
Today is about more than the fairness of the impeachment process. It is about the integrity of our electoral process.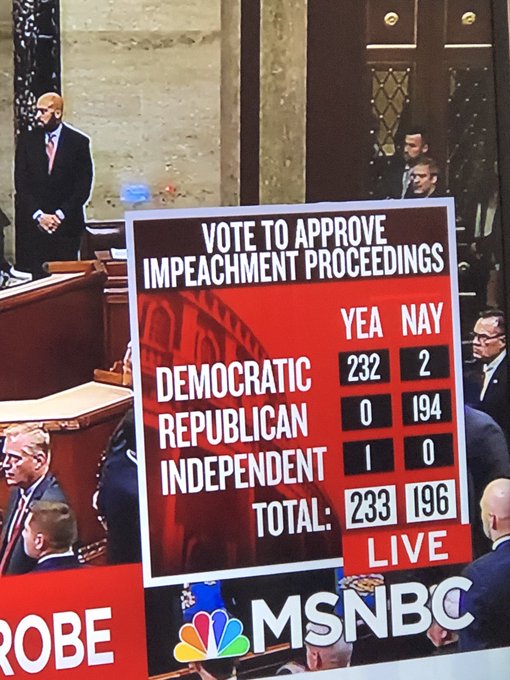 Democrats are trying to impeach the President because they are scared they can't defeat him at the ballot box.
Wrong. Wrong. Wrong.
Why do you think the Founding Fathers included the mechanism of impeachment in the first place? They foresaw that it might be necessary to remove a president who was duly elected. Trump has abused his office and violated the Constitution.29:57 AM – Oct 31, 2019Twitter Ads info and privacySee Cosmos's other Tweets
Trump and the Republicans have pointed out that none of these things are true, and that there was nothing untoward about the call. The White House has released a transcript of the call, which Schiff famously mischaracterized in a "parody" during a committee hearing. The Democrat-led interrogations of the people involved in US-Ukraine relations have been kept a secret, with bits and pieces being leaked to friendly media outlets.
Rep. Steve Scalise brought a poster to visualize his critique of the impeachment proceedings as "Soviet-style." https://abcn.ws/2PxhlSf
799:29 AM – Oct 31, 2019Twitter Ads info and privacy352 people are talking about this
Republicans have called the process an attempt to overturn the 2016 election and influence the 2020 presidential vote, citing a prominent Democrat who said Trump must be impeached or else he will win re-election.
No US president has ever been successfully impeached. Richard Nixon resigned before an impeachment vote. Andrew Johnson and Bill Clinton were impeached in the House but not in the Senate, remaining in office as the result. Source

At present, the Democratic Party only controls one-half of one branch of government — the House of Representatives. But party leaders are showing us what they will do and how they will come after Trump supporters, Christians, and conservatives if they ever retake both chambers of Congress and the Executive Branch.
As the impeachment fervor continues over — something President Trump allegedly did — House Democrats are busy changing the rules and getting rid of any remaining decorum between them and Republicans so they can stage a 'show trial' and convict him largely in secret.
And, of course, this is all occurring with the overt participation of the fake news Washington media.
The only good news is that the Trump administration and the president are fighting back.
"President Trump and his administration reject your baseless, unconstitutional efforts to overturn the democratic process," said a letter — written by White House counsel Pat Cipollone and obtained by Fox News — to House Speaker Nancy Pelosi (D-Calif.)
"Your unprecedented actions have left the president with no choice. In order to fulfill his duties to the American people, the Constitution, the Executive Branch, and all future occupants of the Office of the Presidency, President Trump and his administration cannot participate in your partisan and unconstitutional inquiry under these circumstances," the letter stated further, according to The National Sentinel.
Basically, the refusal to cooperate is premised on three things, The Daily Wire adds:
— The so-called 'impeachment inquiry is not constitutionally valid because there has never been an impeachment resolution returned by a majority of the House Judiciary Committee and referred to the full House, where a majority of members must approve it;
— The pseudo-impeachment inquiry, which is what we have now, merely seeks to overturn the 2016 election and to unduly influence the 2020 election against the president;
— No legitimate basis for an impeachment inquiry even exists, meaning that Trump hasn't done anything that rises to the constitutional definition of 'high crimes and misdemeanors.'
Voters In Key Battleground States Oppose Impeachment: Polls
New polling from several 2020 battleground states reveals that more people oppose than support using impeachment to remove President Trump from office, according to The Hill, which describes the results as "a potential danger sign for Democrats."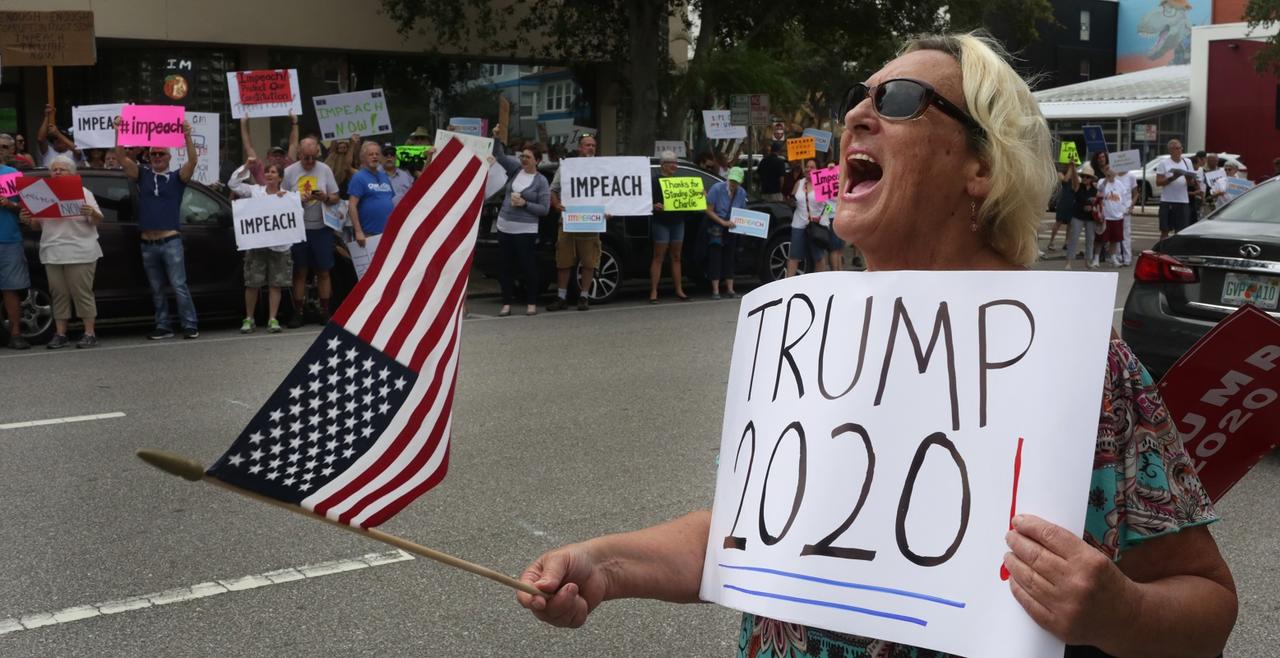 Voters in Wisconsin and Florida – two key states which Trump won in 2016, oppose impeachment. Of note, Wisconsin turned red for the first time in decades, while Florida flipped red again after Obama won the state twice.
In the swing states of Arizona and New Hampshire, most voters similarly oppose impeachment.
A New York Times–Siena College battlegrounds poll released Wednesday found that majorities in Michigan, North Carolina, Pennsylvania, Wisconsin, Arizona and Florida oppose removing the president from office through impeachment. Majorities or pluralities do support an investigation of Trump, however.

Trump's reelection campaign is emboldened by the polling, which it believes shows that Democrats are running against public opinion in the states that matter the most. –The Hill
"We've known for a long time that everybody in California and New York want Trump to be impeached, they've wanted that since the day he came into office," one Trump campaign official told The Hill, adding "But in these states where the election is really going to be fought, we're seeing that voters oppose impeachment, and there's an intensity to that opposition."
Meanwhile, FiveThirtyEight's impeachment polls tracker reveals that 51% of voters across the country support the House impeachment inquiry vs. 42% who don't support it. 47.6% of voters support impeaching and removing Trump vs. 43.4% who oppose it.
According to the report, "some Republicans believe those surveys are overly weighted by left-leaning independents in states that won't matter in 2020" – a theory which may hold water given the polling in swing states.
A Marquette University Law School survey of Wisconsin released last week found 46 percent supporting the impeachment inquiry, but 49 percent opposed. Just 44 percent say Trump should be impeached and removed from office, compared to 51 percent opposed.

And in Wisconsin, support for impeachment is far lower among independent voters. Just 35 percent of independents in Wisconsin say the impeachment hearings are warranted, and 33 percent say Trump should be impeached and removed from office.

Trump won Wisconsin by about 23,000 votes in 2016, in part because late-breaking undecided voters went his way. He was the first GOP presidential candidate to win the state since 1984. –The Hill
"On average, the national polls are showing slightly more support for the impeachment hearings and removal than Wisconsin is," said Charles Franklin, who ran the Marquette University poll. "Independents are a little more reluctant to support impeachment at this point, although that could change as the evidence continues to roll out."
New Hampshire polling, meanwhile, also reflects lower support for impeachment vs. national numbers, after a CNN-University of New Hampshire survey found that 42% support impeaching and removing Trump, while 51% are opposed. Notably, Hillary Clinton won New Hampshire by fewer than 3,000 votes.
And in Arizona, where Trump won by 3.6% over Clinton, an Emerson College poll finds that 50% of respondents oppose impeachment, while 44% support it.
Still, while voters in key swing states may oppose impeachment – the sheer number who do in the first place is concerning according to some Republicans.
"It's not a good thing that bare majorities oppose removing Trump from office in these key states," one GOP pollster told The Hill. "Removing the president from office should be a really big deal, almost unthinkable, and reserved for the biggest scandals or wrongdoing. So only eking out 51 percent or 52 percent opposition in these states isn't good."
"That said, these numbers definitely show that there's lots of room for Democrats to handle this badly and hand Trump a second term," they added.
"These data show that there's still a lot of skepticism that Democrats have proven their case or are doing this for factual reasons rather than for purely partisan reasons. Right now, Trump's numbers in these swing states aren't good. He trails basically any Democrat. But Democrat over-reach on impeachment could give him a message to turn that around." Source
This is what Dems will do to Trump supporters
"The President has done nothing wrong, and the Democrats know it. For purely political reasons, the Democrats have decided their desire to overturn the outcome of the 2016 election allows them to conduct a so-called impeachment inquiry that ignores the fundamental rights guaranteed to every American," White House Press Secretary Stephanie Grisham said.
"These partisan proceedings are an affront to the Constitution—as they are being held behind closed doors and deny the President the right to call witnesses, to cross-examine witnesses, to have access to evidence, and many other basic rights."
Impeachment of a duly-elected president is a very serious thing that can have wide-ranging negative implications for the country, long-term. It can create political and societal divisions that are difficult, if not impossible, to bridge. That's why impeachment has been pursued only sparingly throughout our 250-year history.
And when it is pursued, it must be patently transparent: Americans have to know what it is the president is being accused of, what evidence Congress has amassed in order to bring the charges, and how the process will proceed.
Majority Democrats in the House are trying to change all that. Not only have they not yet voted to begin a formal impeachment inquiry, what inquiries are being made are occurring behind closed doors.
That's why Pelosi is allowing "pencil neck" House Intelligence Committee chair Adam Schiff (D-Calif.) to handle the pseudo-inquiry: So he can claim evidence must be shielded from the public for 'national security' and other bogus reasons.
Democrats are attempting to railroad our president the very same way they will railroad (and worse) the president's supporters if they ever get the chance. Source NewsTarget
StevieRay Hansen
Editor, HNewsWire.com
The Birth Pains Are Growing Stronger….
"Unless God has raised you up for this very thing, you will be worn out by the opposition of man and devils"…
My name is Steve Meyers and I need to share a vision and warning that the Lord showed me back in April 2007….
Many of you will ask why I waited so long to share the warning. I didn't. I shared the story with everyone that would listen from pastors to friends to family to colleagues. Immediately following the initial vision, I called a close friend. I told him to sit down that I had something to tell him. I needed it documented as I knew this was supernatural and from God. As I witness events unfolding today, I need to share the vision again.
The risk of loss in trading futures and options on futures can be substantial. The author does not guarantee the accuracy of the above information, although it is believed that the sources are reliable and the information accurate. The author assumes no liability or responsibility for direct or indirect, special, consequential or incidental damages or for any other damages relating or arising out of any action taken as a result of any information or advice contained in this commentary. The author disclaims any express or implied liability or responsibility for any action taken, which is solely at the liability and responsibility of the user.
The silencing of the American people before 2020?
The Un-Godly — Those That Suppress the Truth, the social media giants built multi-billion dollar empires by giving everyone a voice, but now that they have such a dominant position on the Internet they have decided that many prominent conservative voices should be completely silenced.
Trans People, LGBTQE scream and the online publishing platform Medium suspended the accounts of prominent Christians and Conservative figures Mike Cernovich, Jack Posobiec, Laura Loomer and HNewsWire just to mention a few, the list is long and very disturbing-what the majority homosexuals, transgender, liberal screaming has accomplished in the name of inclusion
The fact is, it is not enough for atheists, homosexuals, socialists and cultural leftists to have their own freedom and equality to believe whatever they believe (freedom which most Christians fully support). No, they want to ensure that Christians are not permitted to live out their own faith and convictions without retribution. This is the legacy of the New Tolerance movement. The doors of religious liberty are closing once again in Russia, after a brief twenty-six-year limited window. Are the doors of our four-hundred-year window of liberty closing? Frankly, that answer will be determined by what this generation of Christians in America does in the next ten years. "And the Lord will by no means leave the guilty unpunished."
The light went out in the church, and that's the reason the world got dark. Dark times were perpetuated by the "last one out, turn out the lights" "The church lights have gone OUT".
The Lukewarm Christian
There are numerous pathetic souls who, though they have not severed formal fellowship ties with a local church, nonetheless are so spiritually apathetic as to be practical enemies of the Lord.
Let Me Make This Abundantly Clear. (I Am Apolitical) While I Have a General Distaste for Politicians No Matter the Party They Belong To, I Am Unashamedly Politically a Bible Believing Conservative Christian. I Have a Severe Distrust of Government. I Believe It Is the Most Inefficient and Ineffective Way to Accomplish Most Things. While I Strongly Disagree with Liberals/Progressives and Conservative on Most Political Issues, and While I Believe Liberals/Progressives and Most Politicians Are Terribly Misguided and Naive About What Big Government Will Eventually Result In, I Strive to Not Question Their Motives. at the Same Time, While I Find Myself in Agreement with Conservative Politicians on Some Issues, I Do Not Believe Electing Republicans Is the Answer to Everything. for Me, Very Sadly, the Main Difference Between Republicans and Democrats Is How Quickly They Want to Drive the Car Towards the Cliff. Simply Put, I Do Not Believe the Government Is the Solution for Everything. I Do Not Place Any Faith, Trust, or Hope in Any Politicians to Fix What Is Wrong with the World. "Come Lord Jesus!" (Revelation 22:20) StevieRay Hansen
Our government has been overthrown. As evidenced by Trump's capitulation on the border, his recent servitude to the GMO industry and his acquiescence to the warmongers, our President has been compromised. Our liberties are being eliminated one by one. Gun confiscation is next. The Constitution is gasping its last breaths. Our borders are destroyed and our culture has been turned upside down by every perversion known to man.
Education is useless without the bible (Daniel Webster)
Usually, the Lord doth no great thing for or against his people, without giving warning of it before it comes.
John Wesley who said that what we tolerate in our generation, will be embraced by the next. Wesley is 100% correct! We are living in sick times.
The Left, a broad term for Liberal Socialist Democrats that can only be explained fully by using the Bible explanation of the human race is as follows. A servant of Satan, because you are either saved or lost. This election has brought out the true nature of who you serve. Simply put, it's Donald Trump, Conservatives, and Christians against the rest of the world. The Left's Love applies only to those who believe as they do. They Love evil and commit Anarchy against those who love good. They are governed by lies and never tell the truth. On this Friday, Inaugural Day for the swearing-in of Donald Trump as the 45th President of the United States the Left wants to commit widespread Anarchy to shut down the swearing-in ceremony. Their goal of transforming America, which was founded in Judea Christian values into a Pagan Nation is almost complete. Their goal has always been the total removal of God from American society and the downfall of America. Donald Trump says he is a Presbyterian, but he left off the USA, an apostate church.
Corinthians 4:8-11 New King James Version (NKJV)
We are hard-pressed on every side, yet not crushed; we are perplexed, but not in despair; 9. persecuted, but not forsaken; struck down, but not destroyed— 10. always carrying about in the body the dying of the Lord Jesus, that the life of Jesus also may be manifested in our body. 11. For we who live are always delivered to death for Jesus' sake, that the life of Jesus also may be manifested in our mortal flesh.
Satan has power over (LGBTQE-TRANS PEOPLE). The "sons of disobedience" referred to in Ephesians 2:2 are those who have not trusted Christ as Lord and Savior (cf. Acts 26:18; 2 Corinthians 4:4; Revelation 13:12). The demons are also under the rule of Satan (Matthew 12:24), and one of his titles is "prince of demons" (Matthew 9:34). Satan has a kingdom (Matthew 12:26) and a throne (Revelation 2:13). Satan is called a prince because he is a ruler and possesses the power to manifest evil in the world through influencing people and commanding demons.
HNewsWire- "All political language is designed to make lies sound truthful and murder respectable." Just look at some of our modern-day examples: torture is "enhanced interrogation techniques"; murder is "collateral damage"; the aggression initiation of war is a "pre-emptive strike"; the theft of taxpayers' money is a "bailout", and the theft of depositors' money in a bank is a "haircut" or "bail-in".In a blatant example of Newspeak, the New World Order controllers (through the psychiatric DSM V) have tried to rename pedophiles as "minor-attracted persons" and redefine pedophilia as "sexual orientation". This makes no sense since sexual orientation has to do with gender, not age, with whether you are attracted to males or females, not how old they are. There are even organizations (like B4UAct.org) which are claiming that pedophiles are being unfairly stigmatized for their feelings!
If homosexuality has been posed as healthy, good and normal, in the face of overwhelming evidence to the contrary, so can pedophilia. Pro-pedophilic articles are making their way into academia.
The Cult of LGBTQE-E for EVIL and is often a cover for child-molesting perverts
Tagged Under: abuse, children's health, gender-confused, gender issues, gender madness, the left cult, LGBTQE-E For Evil un-godly Mob, Lunacy, mutilation, transgender, Child molesting perverts LGBTQE- E For Evil, drag queens, perverts
Unfortunately, not all alternative sources are reliable, even some Major Christian (and I use Christian loosely) news sources have been corrupted. They will NOT tell the truth. They just parrot the deceptive narratives perpetrated by those who currently control our government and media. Even those who are honestly trying to present the truth can miss it sometimes. There is so much deception out there. In these last days, you must be wise as serpents and gentle as lambs. It is no time to sleep or slumber. Diligence and vigilance are required. It is critical that you think for yourself and not be a Lemming.
Tagged Under: hnewswire StevieRay Hansen, HNewsWire, antichrist,digital gulag, antichrists, Apple, Bible, Big Tech, bigotry, Christian baker, Christianity, Christians, Colorado, Colorado Civil Rights Commission, conservatives, deep state, demonic assault, end of days, end times, Facebook, First Amendment, free speech, Google, hate groups, Hate speech
The 127 Faith Foundation: We do not solicit donations from "those on disability, on a fixed income, or those who cannot afford to give." Please Pray!
Or, make checks payable to:
The 127 Faith Foundation
PO Box 127
Pontotoc, TX 76869
The number of Orphans aging out of Child Protective Custody has grown at an alarming rate. The 127 Faith Foundation receives many requests each week to house them at our ranch. Our prayer is that the good people of our country will step up to the challenge and offer financial support for "the least among us." We need your help! StevieRay Hansen, Founder, The 127 Faith Foundation
HNewsWire: Plandemic America has been ruined by Bill Gates, Obama, Joe Biden, and the Satan Soldiers. Evictions might come in waves. There are almost eight…
Read More
We make every effort to acknowledge sources used in our news articles. In a few cases, the sources were lost due to a technological glitch. If you believe we have not given sufficient credit for your source material, please contact us, and we will be more than happy to link to your article.