Advisory: The editorial board of HNewsWire adopted the official policy to bypass many social media platforms. Some of these include: Facebook, Instagram, Twitter, Parler, and YouTube. We believe these companies are responsible for many of the spiritual ills our world faces today. In some cases, however, we have allowed our guest contributors to include content from their YouTube channel while we search for alternatives.
Coming to a Neighborhood Near You…
With 'wartime' tactics and rhetoric increasingly being deployed by government leaders in countries where the outbreak is spreading, and military checkpoints and quarantines being set up, further with talk of putting "the collective interest above all" (HELL ON EARTH) — get ready for more insane Orwellian scenes like this one possibly coming to a neighborhood near you.
An Israeli broadcaster has aired dramatic video in an eerie dystopian sign of where things are possibly headed in terms of securing quarantined zones in urban areas, and at a moment various governments around the world are militarizing their Covid-19 outbreak response planning. Security forces in Tel Aviv are seen in full protective gear surrounding and then subduing to the ground a man who had allegedly violated his home quarantine and made his way to a nearby train station.
"Israel Police stated that a man, 47, was found on Bograshov St. in Tel Aviv after refusing to stay in quarantine," according to The Jerusalem Post. "He had been involved in an attack on security guards at the city's Hahagana train station."
A subsequent Israeli police statement issued Saturday night said: "The police call on the public to listen to directives and instructions from the Health Ministry; not following them disrupts the national effort to fight the outbreak of the virus and its spread in Israel."
This was followed in the same statement with a directive on not "spreading fake news" about coronavirus in Israel:
"Additionally, there is an absolute prohibition on spreading fake news whose sole purpose is to plant panic throughout the public. Relevant and authoritative information, including updates and official directives, will be published only by authorized officials and on the Health Ministry website."
Also on Saturday, Israeli Prime Minister Benjamin Netanyahu revealed the government will utilize counter-terrorism technologies and measures to track coronavirus carriers.
"We will very soon begin using technology… digital means that we have been using in order to fight terrorism," Netanyahu said.
This just as Tel Aviv announced the closures of all restaurants, pubs, theaters and public gathering places – essentially placing the country on lock down. "We are at war with an enemy: the coronavirus," the prime minister said, "an invisible enemy."
Once these "emergency measures" are implemented, they will never ever be repealed.
https://www.jpost.com/HEALTH-SCIENCE/WATCH-LIVE-Netanyahu-addresses-Israels-plans-amid-coronavirus-panic-620971 …Israel plans to use counter-terrorism tools to stop spread of coronavirusCulture and leisure spaces to close down as COVID-19 patients near 200.jpost.com695:58 PM – Mar 14, 2020Twitter Ads info and privacy25 people are talking about this
With 'wartime' tactics and rhetoric increasingly being deployed by government leaders in countries where the outbreak is spreading, and military checkpoints and quarantines being set up, further with talk of putting "the collective interest above all" — get ready for more insane Orwellian scenes like the above to possibly come to a neighborhood near you.
Those That Suppress the Truth Are Responsible…
Our Social Media Platforms Continue to Hide the Truth From the American People, by Shadow Banning. The Blood of People Are on Their Hands, Enjoy Reprobates
The further a society drifts from the truth, the stronger the delusion will take its place. "It is better to be divided by truth than to be united in error. It is better to speak the truth that hurts and then heals, than falsehood that comforts and then kills.
The watchman of today is called to speak the word of the Lord from within the court, mounting an internal critique. Listen up Twitter, Facebook, Google and you judges who corrupt God's laws, you so-called Supreme Court judges who violate the people's faith conscience, times is short: They perverted justice among themselves (v. 7): "You turn judgment to wormwood, that is, you make your administrations of justice bitter and nauseous, and highly displeasing both to God and man.'' That fruit has become a weed, a weed in the garden; as nothing is more venerable, nothing more valuable, than justice duly administered, so nothing is more hurtful, nothing more abominable, than designedly doing wrong under color and pretense of doing right. Corruptio optimi est pessima —The best, when corrupted, becomes the worst. Power corrupts, and it always has ……
Where do we find Watchman, and, specifically, where do we find them in the Bible? What is their physical and social location?
To judge by popular American perceptions, Watchman is easy to recognize. Check the wilderness and woods, because Watchman always stands outside, protesting the system. Look for the shaggy, crazed, wild-eyed guy, the one wearing a hair shirt instead of an Armani suit. Listen to the one who speaks in shrieks and whose personal habits embarrass polite society. Anger is the Watchman characteristic emotion, and the jeremiad his characteristic genre. The Watchman is more at home in the angular world of Flannery O'Connor than in the elegance of John Updike. It's this image of the prophetic outsider that has inspired radicals from the Romantic period on to dress in the mantle of the Watchman.
As U.S. Founding Father Benjamin Franklin said, "Man will ultimately be governed by God or by tyrants." When a culture abuses its democratic power, the result is chaos and ruin. Either a democracy, guided by self-control and morality, keeps itself in check, or it crashes. When the crash happens, control falls to a non-democratic system, either willingly or by force. Cultures that drift from Christianity tend to drift from "true" democracy into other, democracy-flavored political schemes and, eventually, into subjection to tyranny…
Increasingly acting just like communist China and its criminal cover-up of coronavirus infections, the CDC has now pulled all coronavirus testing statistics from its coronavirus update web page, effectively invoking an alarming level of testing secrecy at a time when the American public needs transparency and openness.
With this move, the United States of America now follows communist China in hiding coronavirus testing while censoring independent media websites that tell the truth.
Since the beginning of this outbreak, the CDC's coronavirus page has always shown the number of Americans who have been tested. We've captured numerous screenshots of those numbers, shown below.
But now, the number of Americans tested is nowhere to be found on that page. The CDC is now eliminating important information from its website, clearly as part of an effort to mislead the American people and the media.
The same CDC also withheld coronavirus test kits from the entire country for nearly four weeks
This action by the CDC is likely the result of the discredited agency being exposed for withholding testing kits from the entire country for nearly four weeks (most of February), allowing the virus to multiply while virtually no testing was being conducted anywhere in the country. We covered that story on Feb. 25th in this Natural News article.
Even the mainstream media widely reported that 47 out of 50 states had conducted zero tests for the coronavirus. It was the big, dirty secret that no one was allowed to even mention: America wasn't testing anyone for the coronavirus. Yet the CDC and the White House were declaring America to be among the "most ready" nations in the world to deal with this exploding global pandemic.
How can you deal with the pandemic if you aren't even testing anyone for infections?
So now we have no idea how many tests are being conducted in America, and the CDC seems intent on deliberately causing the spread of the coronavirus by, for example, releasing infected patients into the public — this just happened in San Antonio and it appears to be a deliberate "seeding" of America with the coronavirus by the CDC itself.
Here's what the CDC's coronavirus web page used to look like: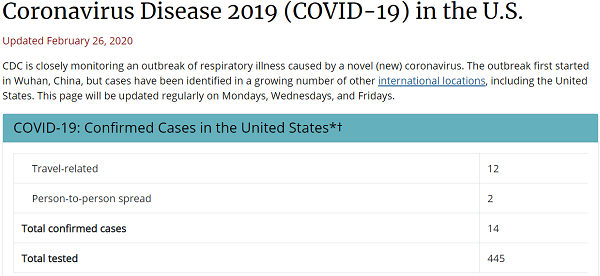 But now the number of people tested has been completely removed: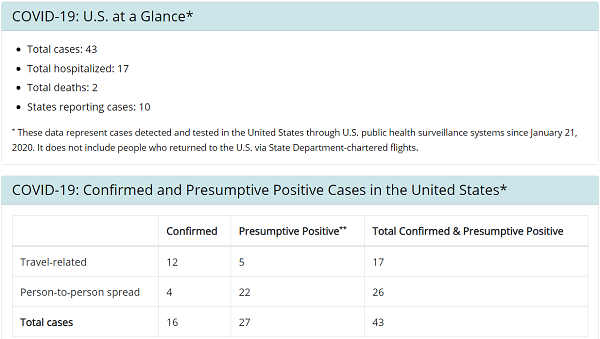 Full Control, The Beast Will Come Alive, The people will come under the yoke "AntiChrist", I mean they are forced to live in a difficult or unhappy state because of that thing (AntiChrist) or person…
I Believe The CoronaVirus Is a False Flag, The Virus Is REAL Man-Made Bioweapon. The Tribulation Has To Begin–China Plunge US Into Mighty Sea Of MAN-MADE Coronavirus For One Reason, The New World Order and The Battle Between Satan and GOD have Beguin…
I Am suggested that the coronavirus is not a naturally occurring disease and that it is a manmade bioweapon cultivated and released to yoke, control the masses, Biblical Prophecy coming to life for all to see. The consequences of the virus in terms of tolls or the extent of the epidemic and the type of media propaganda over this issue that is aimed at increasing fear and panic among people strengthens the speculations that a biological attack has been launched against the world people, with one goal in mind, The New World Order Platform.
All the official reassurances won't be worth a bucket of warm spit. The Globals are behind the CoronaVirus, It Is a Man-Made Bioweapon.
Usually, officials at the CDC choose their words very carefully so that they do not needlessly alarm the public. With that in mind, I would like for you to consider three statements that the CDC's Dr. Nancy Messonnier made about a potential outbreak inside the United States during a press conference on Tuesday…
#1 "It's not so much of a question of if this will happen in this country anymore but a question of when this will happen."
#2 "Disruption to everyday life may be severe."
#3 "We are asking the American public to prepare for the expectation that this might be bad."
Can you ever recall a top CDC official ever making statements this ominous? I certainly can't.
In an article entitled You're Likely to Get the Coronavirus, the Atlantic explains how the coronavirus is particularly dangerous because it may cause no symptoms at all in many carriers of the infection.
Many experts claim that the fear of Coronavirus is overblown. And that mortality might actually be decreasing.
On the other hand, the World Health Organization (WHO) announced yesterday that the mortality rate from the Wuhan Coronavirus (formally known as 2019 nCoV) is 3.4% globally.
The Spanish Flu of 1918 – which killed between tens of millions of people – had a lower mortality rate, estimated by the WHO as between 2 and 3%.
But surely, you say, the Coronavirus is not as contagious as the Spanish Flu …
Unfortunately, it's more contagious. The Center for Infectious Disease Research and Policy notes:
Based on calculations, the authors of the larger study estimate the novel coronavirus has an R0 of 2.2, meaning each case patient could infect more than 2 other people. If accurate, this makes the 2019 nCoV more infectious than the 1918 influenza pandemic virus, which had an R0 of 1.80 (interquartile range: 1.47 to 2.27).
WHO says that the R0 of Coronavirus in China was initially between 2 and 2.5.< But scientists from the Los Alamos National Laboratory said that the R0 for the Coronavirus is actually between 4.7 to 6.6 (although that number drops to between 2.3 and 3 after quarantines and social distancing are implemented).
According to the Director of the US Centers for Disease Control and Prevention, the Director of the National Institute of Allergy and Infectious Diseases and others, Coronavirus can be spread even when people have no symptoms. On the one hand, this is bad news, as it is very hard to screen and locate carriers when they are symptom-free or have only mild, cold or flu-like symptoms.
On the other hand, this means that the real R0 might be much higher than WHO estimates … which would make the mortality rate lower.
If the number of people with Coronavirus is a lot higher than is being reported, that means the mortality is a lot lower … i.e. a smaller percentage of the larger population of people infected have died.
Indeed, China only tests a portion of those who are really sick, and the United States has tested less than 500 people total for Coronavirus (American doctors have to beg to get their sick patients tested).
So far, WHO has rejected the theory that there are more people who have Coronavirus than reported
Coronavirus kills the oldest and has no respect for authority, Many of the most powerful people in the world are old, and coronavirus does not discriminate based on social status. Deaths are now hitting at high levels (not of death but of status), which can change the political conflicts of our world
Now a global pestilence has erupted, and in Luke 21 we were specifically warned to watch for "pestilences" in the last days.
StevieRay Hansen
Editor, HNewsWire.com
The Bill and Melinda Gates Foundation Have NOT Got The Memo Yet, "Pestilences" Has No Cure
https://hnewswire.com/the-bill-and-melinda-gates-foundation-have-not-got-the-memo-yet-pestilences/
"America has become China on Steroids" Set Down and SHUT-UP, Our Social Media Platforms (Reprobates) Continue to Hide the Truth From the American People, by Shadow Banning Alt News Sources. The Blood of the People Is on Their Hands…
The truth is that all of the warnings of alleged 'conspiracy theorists' have turned out to be correct The word translated "pestilence" is often translated as "plague" or "disaster" …
There is a March to death and social media is leading the charge, they are withholding the truth about the coronavirus, You are Marching lockstep into the death spiral…
Quarantine breaker arrested, yoke , AntiChrist, Lock Down Nation, StevieRay Hansen, Pestilence, revelations, disobedience, biblical, food shortage, biblical prophecy, Triblution, CDC, coronavirus, Hospitals
The 127 Faith Foundation: We do not solicit donations from "those on disability, on a fixed income, or those who cannot afford to give." Please Pray!
Or, make checks payable to:
The 127 Faith Foundation
PO Box 127
Pontotoc, TX 76869
The number of Orphans aging out of Child Protective Custody has grown at an alarming rate. The 127 Faith Foundation receives many requests each week to house them at our ranch. Our prayer is that the good people of our country will step up to the challenge and offer financial support for "the least among us." We need your help! StevieRay Hansen, Founder, The 127 Faith Foundation
We make every effort to acknowledge sources used in our news articles. In a few cases, the sources were lost due to a technological glitch. If you believe we have not given sufficient credit for your source material, please contact us, and we will be more than happy to link to your article.