Update: 11/24/21 at 11:01 AM Now 23 Months Into Tribulations the Lawlessness, God Empty Society Will Be the Norm Going Forward, The World is Growing Increasingly Depraved…
Black Supremacist Darrell Brooks Rapped About Being A 'Terrorist' And Called For Violence Against White People
The black supremacist ex-con charged in the deaths of six people at a Wisconsin Christmas parade rapped about being a 'terrorist,' and posted online that 'Hitler was right' to have killed Jews because 'the negroes ... are the true hebrews,' while also calling for violence against white people.
Darrell Brooks Jr, 39, is charged with five counts of first-degree intentional homicide, and has more charges pending according to prosecutors in Waukesha, Wisconsin, after eight-year-old Jackson Sparks was named by relatives as the sixth victim to have died from his injuries after Brooks allegedly plowed into a Christmas parade. More than 60 people were injured in the massacre, which has already become non-news among mainstream outlets.
One person died in the Charlottesville car attack.

Six have died already in the Christmas parade attack in Waukesha, which was carried out by a man who had posted anti-Trump diatribes to social media and shared his support for BLM related causes.

Where is Chris Wray?

— Cernovich (@Cernovich) November 23, 2021
Brooks, an aspiring rapper, left quite the social media footprint in which he posted black nationalist rhetoric, support for Black Lives Matter, and shared memes targeting Trump supporter Kanye West.
In one Facebook post screencapped by the Daily Mail, Brooks - aka "MathBoi Fly" - wrote: "LEARNED ND TAUGHT BEHAVIOR!! so when we start bakk knokkin white people TF out ion wanna hear it...the old white ppl 2, KNOKK DEM TF OUT!! PERIOD.."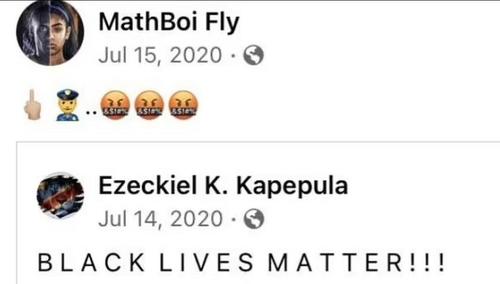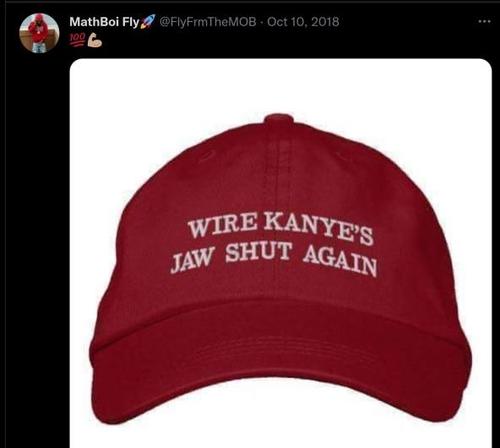 Brooks also shared a meme about Adolf Hitler which claims that negroes are "the true Hebrews," and that America has moved "false white Jews into a state of Israel."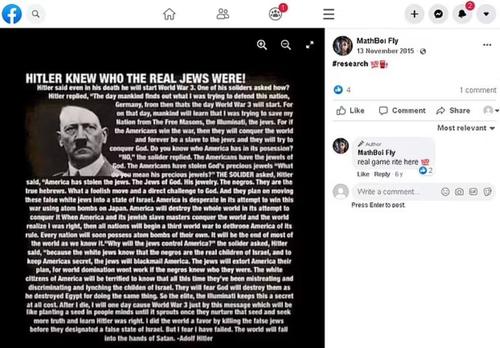 A psychopath with years of Black Hebrew Israelite and anti-white social media posts was just arrested for plowing through a Christmas parade hitting over 60 people but the media wants to talk about Kyle Rittenhouse making a hand gesture one time

— Jack Posobiec ✝️ (@JackPosobiec) November 24, 2021
He also rapped about being a "terrorist" and a "killer in the city," according to The Sun, citing lyrics Brooks posted online.
Wannabe rapper Brooks had said "yeh we terrorists" and "killers in the city" according to his song Loudmouths.

The track - posted to Brooks' soundcloud page under the name MathBoi Fly - goes on "hope you right with god cos casket with you headed for."

Brooks also wrote an anti-Donald Trump rap and declared "f*** the pigs", it emerged on Monday.

One of his songs includes the lyrics: "They gonna need a cleaner for the s*** we did, all my killers Gacey where them bodies hid." -The Sun
In another song, Brooks can be seen waving a gun in front of what appears to be the red SUV used in the attack.
Yes this is Darrell Brooks aka Mathboi Fly rapping with a gun in front the same vehicle used in a mass homicide. Case closed I'd say#Waukesha#waukeshaChristmasParade@FoxNews @benshapiro @cnn pic.twitter.com/zVbZbFsbOU

— TrentCannon (@TheTrentCannon) November 22, 2021
Wisconsin police said on Sunday that there's no evidence that there was a terrorist attack.
Meanwhile...
Kamala Harris visited Jacob Blake in the hospital and raised bail money for violent criminals

She has no plans to visit the families of Waukesha and has not supported any of their fundraisers

— Jack Posobiec ✝️ (@JackPosobiec) November 24, 2021
Source: ZeroHedge
Darrell Brooks, the suspect in custody in the Christmas parade attack in Waukesha, Wisconsin, that already has claimed six lives, is being revealed to be an extremist in more than one way.

At the website Loomered, authored by Laura Loomer, it was revealed his social media was "littered" with anti-white and anti-Jewish posts that even encouraged the "killing" of whites.

"This publication was early to note and report Darrell's ties to Black Lives Matter, and the fact that he used a vehicle to murder people in an act of vehicular jihad," the site explained.

"Laura Loomer posted that the suspect was likely a black Muslim, and now we can exclusively confirm that Darrell Brooks is a supporter of The Five Percent Nation, otherwise known as the Nation of Gods and Earths (NGE or NOGE), a sub-sect of Nation of Islam (NOI)."

The report explains the Five Percent Nation is a "black nationalist movement influenced by Islam. Members of the group call themselves 'Allah's Five Percenters'. The Five Percent Nation preaches black supremacy and teaches that black people are the original inhabitants of planet earth, and that the white man is an evil devil."

Loomer explains the name comes from the "five percent" the Nation of Islam believes are those who are above the 85% who are "uncivilized people, poison animal eaters," and the 10% who are "rich, slave makers."

The "five percent" are those who attribute to themselves being "all wise and know who the living God is, and teach that the Living God is the Sun of man, the Supreme being (the Black Man) of Asia, and Teach freedom, Justice, and Equality to all of the human family on planet Earth."

Brooks also appeared online as rapper MathBoi Fly, and the report explains that derives from the Five Percent Nation "which teaches that Supreme Mathematics and Supreme Alphabet are the key to understanding humans' relationship with the universe. These principles were created and founded by 'Allah the Father', formerly known as Clarence 13X, aka Clarence Edward Smith. The Five Percent Nation is a variation of Nation of Islam's whose followers are predominantly black men. The founder of The Five Percent Nation founded this sub-sect of Nation of Islam after he left the Nation of Islam's Temple Number Seven in Harlem, New York, the same temple in Harlem where Malcolm X was a minister from 1960-1963."
The following article, BREAKING: Suspect Identified In Fatal Waukesha SUV Attack, was first published on Big League Politics.
Suspect Darrell E. Brooks was identified Sunday night as the alleged driver who plowed through a large crowd of people with an SUV in Waukesha, Wisconsin on the same day. A member of the police responding to the scene said that over 20 victims were run over. The same officer said that there were also shots fired, but no gun-related injuries have occurred.
Brooks has been said to be a black male in his late 30s with an extensive prior criminal history.
Armed BLM Protesters Join Socialist Rally for 'Justice' in Kenosha — This Won't End Well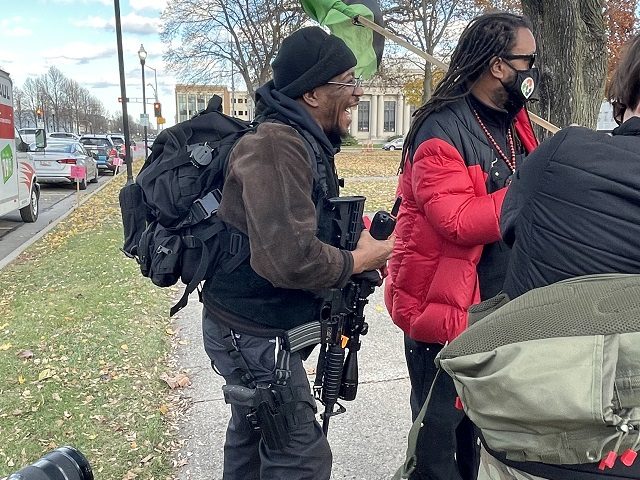 BOB PRICE and RANDY CLARK21 Nov 20212582:59
A group of people armed with pistols and semi-automatic rifles joined a socialist group's march in Kenosha, Wisconsin, on Sunday. The protesters called for "justice" after a jury acquitted Kyle Rittenhouse on all charges on Friday.
A group of about 50 protesters gathered outside the Kenosha County Courthouse on Sunday to march against what they called an injustice in the decision by a jury to find Kyle Rittenhouse not guilty on all charges. The group gathered around the banner of the Party for Socialism and Liberation.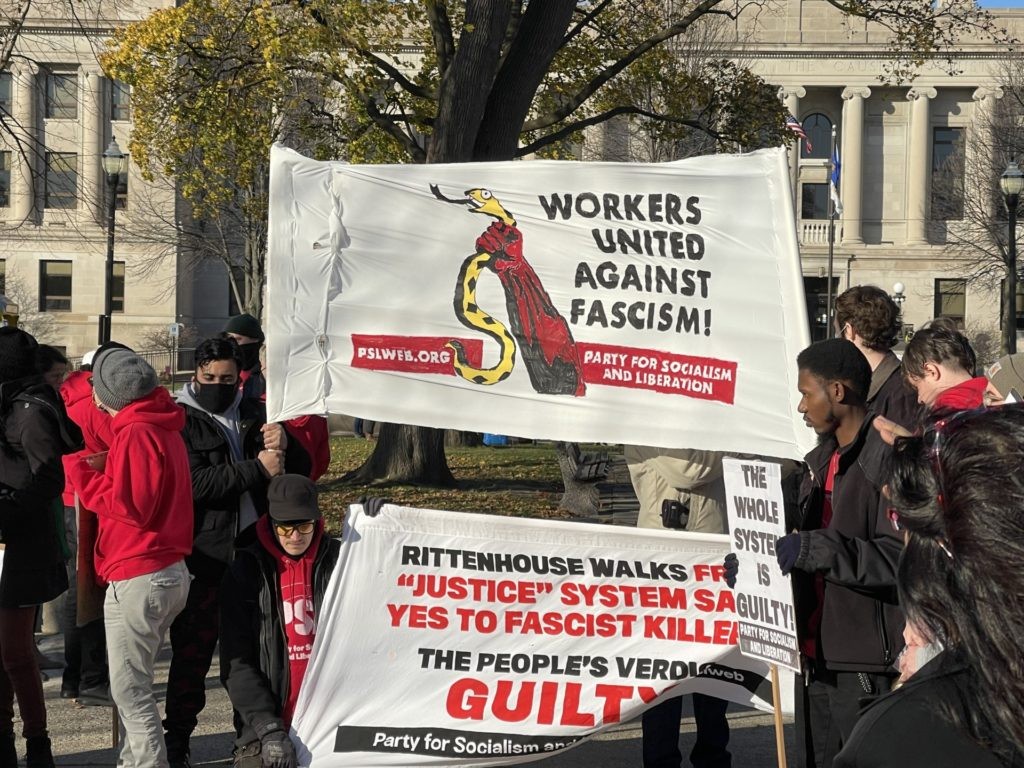 Around 50 protesters gathered near the Kenosha County Courthouse on Sunday to protest the not-guilty verdict handed down to Kyle Rittenhouse. (Photo: Randy Clark/Breitbart Texas)
Joining the group was four armed individuals who said they were from Chicago. The group appeared to have crossed state lines to march with two semi-automatic rifles, and multiple handguns.
One of the armed protesters, Eric Jordan, came to the rally with his 16-year-old daughter, Jade. Both came to the protest armed with semi-automatic rifles. Eric also openly carried a pistol.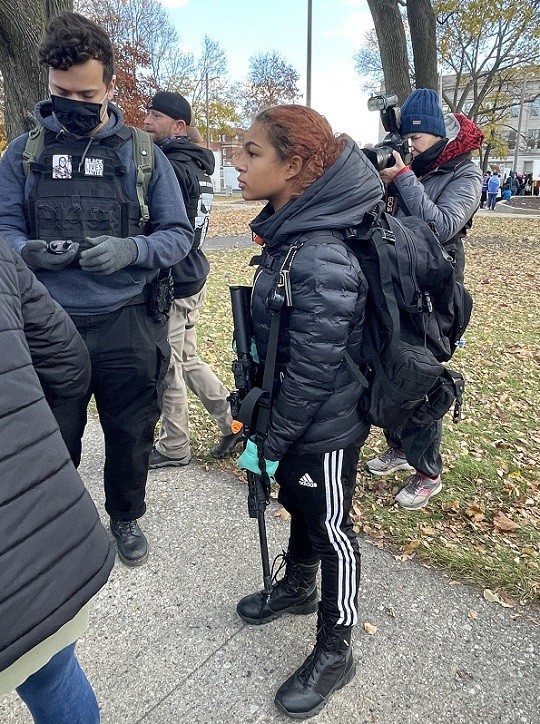 Jade Jordan, a 16-year-old girl, joined the rally armed with a semi-automatic rifle. (Photo: Randy Clark/Breitbart Texas)
Eric Jordan told Breitbart News he came to provide security for the planned march in Kenosha. When asked if he expected resistance, Jordan responded saying, "Just be careful, we need everyone to get home safe." He also indicated he is a veteran.
His daughter, Jade, expressed disappointment in the not-guilty verdict handed to Rittenhouse on Friday.
"I was disappointed at the very least," Jade said. "That means he can still legally be able to get a gun."
Both rifles displayed orange "empty chamber indicators" to show they did not have a round chambered in the rifles.
The father and daughter joined the rest of the marchers who were led through the streets of downtown Kenosha by Jacob Blake's uncle, Justin Blake. The riots in Kenosha last summer followed an incident where Kenosha police officers shot Jacob Blake during a domestic dispute. The shooting left Blake paralyzed. Prosecutors declined to file charges against the officers involved in the incident.
The shooting of Jacob Blake led to days of uncontrolled rioting in Kenosha. Kyle Rittenhouse responded to the riots by volunteering to protect Kenosha businesses being threatened. He ended up shooting three people, killing two in self-defense, the jury ruled on Friday.
'Mass Casualty Event' Reported At Waukesha WI — They (BLM Counter Protest?) as Promised — Civil War...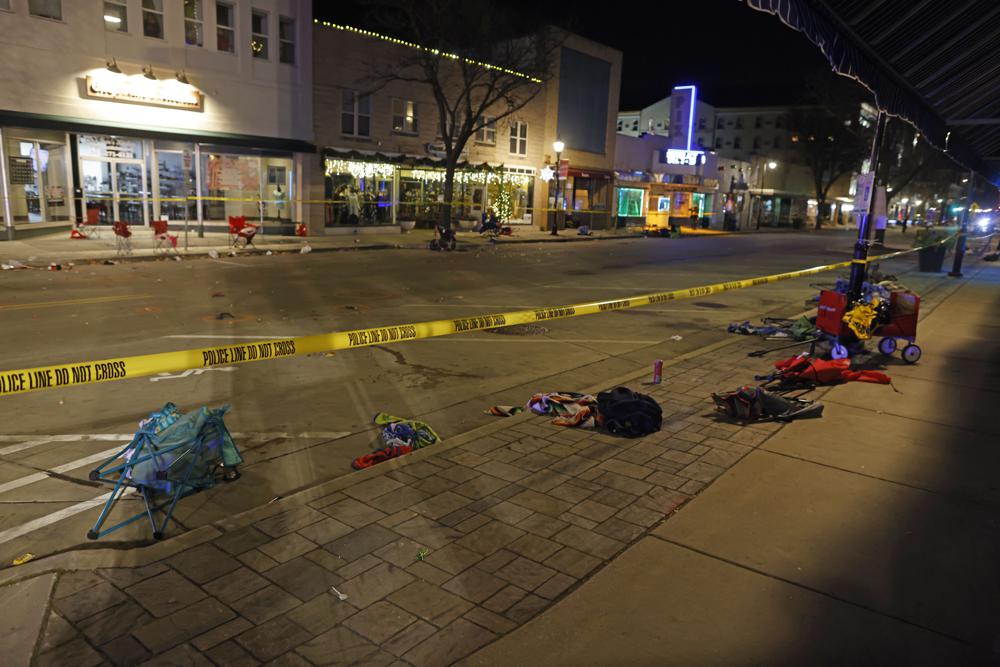 A reported mass casualty event has been reported at the Waukesha, WI Christmas parade, after a red SUV allegedly broke through the police line, plowed through pedestrians, and began firing round out of the window.
This was recorded from the City of Waukesha's Facebook account, which was streaming the parade.

You can see a red SUV speed right past these band members, hear screams and then a law enforcement officer running. @fox6now pic.twitter.com/8lO5oRuP1I— Sam Kraemer (@SamKraemerTV) November 21, 2021
Shots fired at vehicle as possible suspect's vehicle rams barriers in escape from #Waukesha Christmas parade car attack. pic.twitter.com/2UnQcjPSn8— Kyle is free at last, free at last! (@historysbattles) November 21, 2021
"At the Waukesha Holiday parade and a car just broke through the police line, plowing through pedestrians and firing rounds out the window. Family and I are safe. Happened 20 feet in front of us," wrote Twitter user Zach Heisler (@zrheisler).
At the Waukesha Holiday parade and a car just broke through the police line, plowing through pedestrians and firing rounds out the window. Family and I are safe. Happened 20 feet in front of us.— Zach Heisler (@zrheisler) November 21, 2021
#Update: Video of the scene right now in #Waukesha in #Wisconsin after a car ploughed his way through people of crowds, injuring up to at least 30 people. pic.twitter.com/mcQpgGxZDo— Sotiri Dimpinoudis (@Sotiridi1) November 21, 2021
⚠️#URGENT: Mass Causality Incident declared after car plows through parade in downtown Waukesha, Wisconsin#Waukesha l #WI
Dozens of injuries now reported after a suspect reportedly drove through police barricades at the Holiday Parade before opening fire.
Updates to follow! pic.twitter.com/SUvxVcO7vE— Intel Point ALERT (@IntelPointAlert) November 21, 2021
Source: ZeroHedge
No One Needs Enough Gas in the Take to Run Over 30 People!! 8-10 People Should Be Plenty. Ban All High Capacity Gas Tanks Now!
California Nordstrom Ransacked by 80 Looters in Ski Masks With Crowbars: Witnesses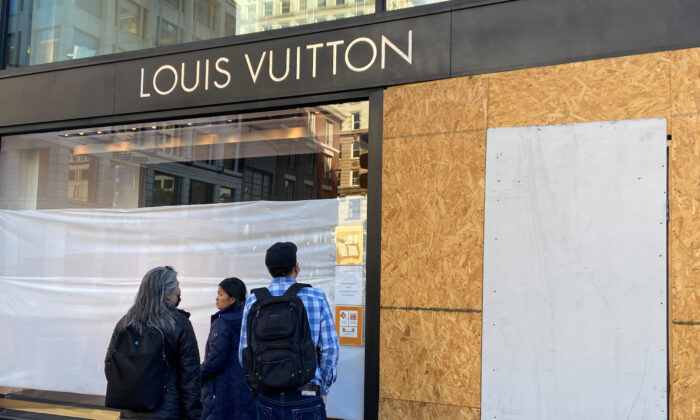 A Nordstrom in Northern California was ransacked by dozens of apparent looters clad in ski masks while armed with crowbars, according to witnesses and video footage.
"We probably saw 50 to 80 people in ski masks crowbars a bunch of weapons," local PF Chang's manager Brett Barrette told KGO-TV, referring to Saturday night's incident in Walnut Creek, located in the San Francisco Bay Area. "They were looting the Nordstrom's right here. And I thought they were going to start beating cars. I had to start locking doors lock the front door lock the back door."
Describing the looters as a "mob of people," Barrette told CBS San Francisco that "police were flying in. It was like a scene out of a movie. It was insane."
Walnut Creek Lt. Ryan Hibbs told KPIX 5, confirming the incident, that dozens of police cars responded to the chaos. Hibbs, citing reports of smashed shelves, noted that the looters were seen getting into vehicles grabbing bags and boxes of items.
In the incident, one employee at the store was hit with pepper spray, while two others were punched and kicked by the looters, Walnut Creek police told NBC News.
Numerous videos posted on Twitter showed the looting unfold Saturday night.
A video uploaded by a local NBC reporter said that she saw about 25 cars blocking the street before passengers rushed into the store en mass in an incident she described as a "flash mob" robbery. Other footage showed officers arresting and handcuffing several suspected looters.
Elaborating in the scene, Barrette said that PF Chang's patrons gathered around to watch the looting unfold, adding that he had to lock the doors if suspects streamed into the business.
"I had to start locking the front door," he said. "Locking the back door. You never know, they could come right in here. It was crazy … All the guests inside were getting concerned. It was a scary scene for a moment."
It's not clear if the looting incident was connected to Black Lives Matter demonstrations that were planned in the wake of Kyle Rittenhouse's acquittal. Last year, during Black Lives Matter-affiliated riots, a number of businesses around the United States, including department stores like Nordstrom, were targeted in what appeared to be coordinated looting incidents.
In May 2020, a Nordstrom in Los Angeles was looted and vandalized amid riots and violence that erupted days after the George Floyd incident.
After Rittenhouse was found not guilty, Black Lives Matter-affiliated protesters outside the Kenosha, Wisconsin, courthouse threatened and promised violence, including to "burn it down." In Portland, Oregon—a city that saw more than 100 days of riots last year—police declared a riot on Friday evening after alleged Antifa radicals organized an attempt to break into the Justice Center.
The Epoch Times has contacted Nordstrom's national media team for comment. Source: theepochtimes
Biden's DOJ Refused To Arrest Man Who Threatened To Kill Matt Gaetz...
The Biden Department of Justice refused to arrest a man who traveled to Washington D.C. with the intent on killing Gaetz. In response, the Florida rep went off.
Florida Republican Rep. Matt Gaetz says Joe Biden's U.S. Department of Justice refused to arrest a man who allegedly threatened to kill him and then traveled to Washington, D.C.
Gaetz detailed the incident during a speech on the House floor and said he had just learned additional details about the threat.
"I thank the gentleman for yielding because I think someone may be trying to kill me," Gaetz Said.
Advertisement
"And if they are successful, I would like my constituents and my family to know who stopped their arrest. Madam Speaker, on October 8, 2021, a Twitter handle, styled, CIA Bob is at your door, tweeted to @RepMattGaetz, 'Looky here, pal. I lived in Portland. Portland has ordered a hit on you. I accepted the contract. Have a good day,'" Gaetz added.
"Following this tweet, this individual traveled to Washington, D.C., and the Capitol Police recommended his arrest," Gaetz continued.
"That's information that was just shared with me by the investigations and threat assessment section of the Protective Services Bureau, and specifically, George [last name], and George shared with me that the Capitol Police recommended the arrest of this individual and that the Department of Justice refused to do so, declined to do so," he said.
"And on the eve of the Attorney General testifying before the Judiciary Committee tomorrow, it is just yet another example of the Department of Justice having a double standard
Update 10/17/21 Most people have little to no conscious awareness of why they do the things they do. Their behavior is on auto-pilot 99% of the time as their subconscious mind steers them toward meeting its own needs. It doesn't matter to the subconscious if its mistaken and the behavior is self-destructive or even dangerous, so long as it thinks it is fulfilling its basic drive to keep you safe among your tribe. "Have I, therefore, become your enemy by telling you the truth?"
Gangs Of LA Sheriff's Deputies Are Running Amok, Bullying Other Cops
The Los Angeles Sheriff's Department is a massive law enforcement agency - it's responsible for policing 153 unincorporated communities and 42 cities across a sizable patch of southern LA County - but it doesn't get nearly as much attention as its neighboring agency, the LAPD, which patrols the City of Los Angeles. Unfortunately for the criminals who wind up in the agency's crosshairs, this lower profile has helped a culture of gang-like fraternities to flourish across the organization that officially are referred to as "secret cliques" or "subgroups", but in reality, they're just gangs.
You know how some people say the police are just the biggest gang? Well, in this case, that's not too far from the truth. According to a recently released report from the RAND Corporation, the county government has singled out at least four gangs with names like "the Banditos" and "the Executioners".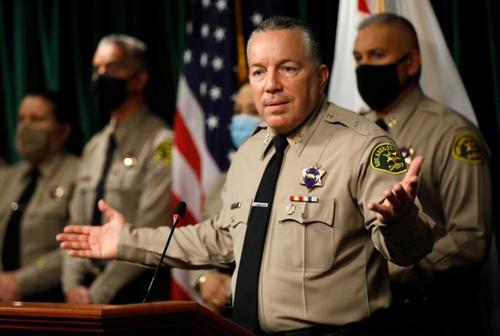 Of the roughly 10,000 sworn personnel in the LASD, roughly one-sixth could be members of these gangs (though the actual figure is probably higher given the source). The "subgroups" have pervasive initiation rituals, tattoos, hand signs. Oftentimes, new members are required to violently assault people in custody. Since 1990, the county has paid out nearly $55MM in "subgroup related judgments" including $21MM in the last decade alone.
Still, it's important to take the complaints with a grain of salt, as RAND even notes in its report that most of the "sub groups" are merely drinking organizations.
In a comment that appears to come from a fellow deputy, the individual says that if these organizations don't constitute criminal gangs, then they're close to it.
"I can't say whether the Regulators or Vikings or Banditos are a criminal street gang, but they're close to it," said one survey respondent who identified obliquely as a "county stakeholder representative." This person continued: "The reason you can't answer that is that it's never been investigated...The culture is so pervasive within the department. There are many people who are in places of management that may have been part of the same cliques, or precursors of them."
One group in particular has been singled out for its bad behavior.
Some complained that the gangs are a threat to other deputies.
The Banditos are a menace to their non-clique colleagues - the report describes "alleged workplace harassment, incivility, intimidation, and retaliation, leading to 'brawls in the parking lot.'"
Almost as troubling, the RAND report claims the Banditos have used violence against inmates in LASD custody as an initiation rite, requiring initiate deputies to use "unnecessary force" before they can receive the clique's tattoo — a skeleton in a Sombrero holding a revolver.
"So you have a kid who wants to be accepted, they would ask are you ready to get your ink? And that meant you had to get into a use-of-force and send an inmate to the hospital, sometimes by breaking the orbital bone."
Oftentimes, supervisors will cover for the deputies when it comes to documenting the use of force allegations.
Sheriff Villanueva has claimed to have cleaned house, but the RAND report contradicts these claims.
Members of the LA County board of supervisors responded to the report with the usual platitudes, and hollow commitments to end the "stranglehold" of the LASD's gangs. Who knows? Maybe this time will be different? Source: ZeroHedge
The world we see today demonstrates what the Bible says would happen in the last days. These evils are the very reason God's judgments fall on the world. Jesus told us that just before His coming the world will be evil like it was in the days of Noah and Lot just before God's judgment suddenly fell on them. From what I observe taking place, we seem to have arrived. If we did not see all the evil rising, the prophetic end of the age judgments would not be imminent.
The world is growing increasingly sinful depraved, irrational and Antichrist. Truth is being stood on its head. The world is turning against any truth given through divine and general revelation. And no wonder, those that reject God follow the father of lies. You do not see many conversions to Christ of the rich and powerful running the world because they are of the Devil. Most of the people who are running this satanic world system were put their by Satan to carry out his Antichrist agenda.
British Woman Threatened With Police Visit For Not Downloading NHS COVID-Tracking App
A British woman says she was threatened with police visiting her home if she did not download the NHS coronavirus 'track and trace' app.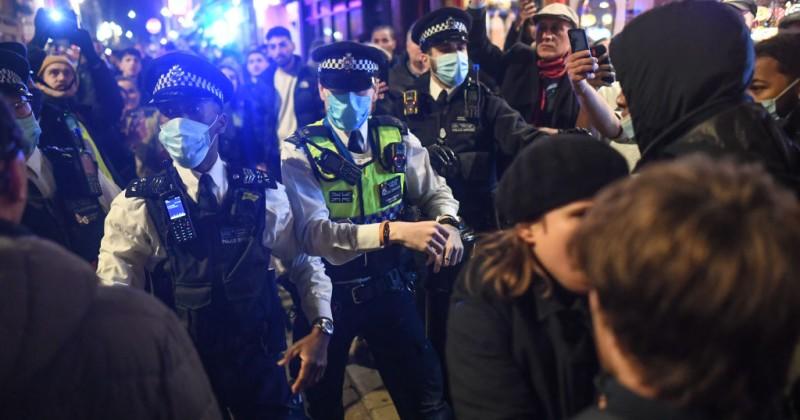 LockdownSkeptics.org features the story of a woman from Skipton who tested positive for COVID-19 and immediately self-isolated.
"This was followed by "in excess" of 20 text messages demanding that she download the NHS App.

She did not do so since she doesn't want to be followed round by it and she's self-isolating anyway.

She was then telephoned by the Test and Trace system and the caller threatened her with a "police check at your address if you do not download the app."

Utterly furious, she ended the phone call and is waiting to see what happens next."
The NHS 'track and trace' app is completely voluntary and authorities have no grounds to enforce its adoption legally. This is yet another example of how bureaucratic control freaks are simply inventing laws and justifying the intimidation others by means of coronavirus hysteria.
As we previously highlighted, authorities appear to be deploying more draconian crackdown measures as more stringent lockdown measures are reintroduced.
This includes cases where police are quizzing people on what they are about to purchase before they enter grocery stores.
As of last night, England entered another debilitating nationwide lockdown that will last until at least December 1st.
UK To Ban Protests Of Two Or More People Ahead Of National Lockdown
U.K. Prime Minister Boris Johnson on Saturday announced a one-month lockdown beginning Nov. 5 through Dec. 2. Under these new measures, people will be confined to their homes except for essential travel, including medical reasons, education, and purchasing food.
Two days before lockdowns begin, The Times sheds new light on just how draconian the UK-wide coronavirus lockdown will be, which prohibits two or more people from protesting.
During England's second national lockdown, the ban on demonstrations, beginning on Thursday, is expected to be passed by MPs in the House of Commons on Wednesday.
On Tuesday, The Times reported that home secretary Priti Patel recently informed law enforcement officials across the country about enforcing the protest ban. Some senior police officials were concerned about the new measures, calling them too draconian for a liberal society.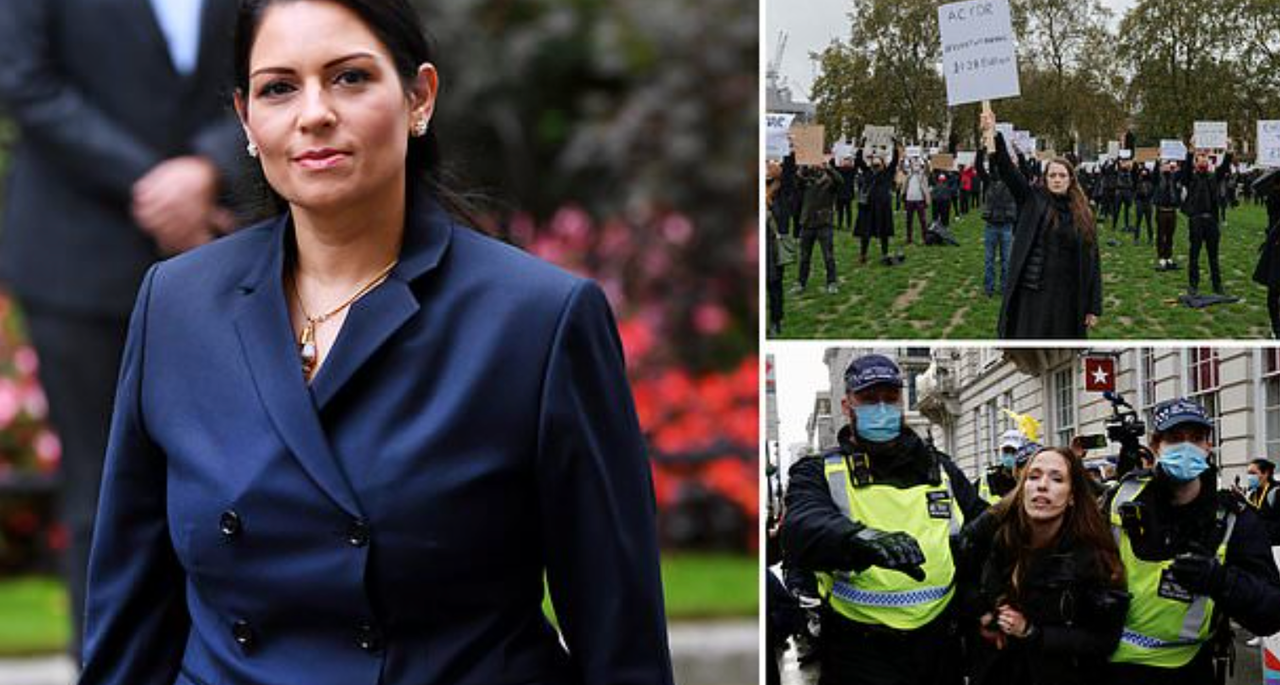 Quoting a Whitehall source, The Times said, "the government was not explicitly banning protests but a previous exemption, which allowed demonstrations to go forward under certain conditions despite the pandemic, would be removed."
In particular, Black Lives Matter protests were allowed during the first round of lockdowns, despite complaints from the public who couldn't travel across town to see their families.
A Home Office spokesman told The Times:
"The right to peaceful protest is one of the cornerstones of our democracy. In these unprecedented circumstances, any gathering risks spreading the disease, leading to more deaths, so it is vital we all play our part in controlling the virus. People must follow the rules on meeting with others, which apply to all gatherings and therefore protests too.
One senior police officer told the Times that the new measure is "going to cause a lot of trouble. People are going to be extremely angry and there are concerns they'll protest the fact they can't protest."
According to RT News, demonstrations have already been reported since the second lockdown was announced over the weekend.
With Europe locking down for a second time to mitigate the virus' spread, people will feel their respective governments are weaponizing the pandemic to deprive them of their freedoms - this is terrible news - and one that will likely lead to continued socio-economic distress for the continent, well into 2021.
The World Is In Big Trouble, for Those That Believe We Will Go Back to Some Sense of Normal Life Here on Earth, You Will Be Sadly Disappointed, Seven Years of Hell on Earth Which Began January 1, 2020
"Our courts oppose the righteous, and justice is nowhere to be found. Truth stumbles in the streets, and honesty has been outlawed" (Isa. 59:14, NLT)…We Turned Our Backs On GOD, Now We Have Been Left To Our Own Devices, Enjoy…
While Mainstream Media Continues to Push a False Narrative, Big Tech Has Keep the Truth From Coming out by Shadow Banning Conservatives, Christians, and Like-Minded People, Those Death Attributed to the Coronavirus Is a Result of Those Mentioned, They Truly Are Evil…
Source: HNewsWire ZeroHedge HNewsWire HNewsWire
StevieRay Hansen
Editor, HNewsWire.com
Watchmen does not confuse truth with consensus The Watchmen does not confuse God's word with the word of those in power…
In police-state fashion, Big Tech took the list of accused (including this site), declared all those named guilty and promptly shadow-banned, de-platformed or de-monetized us all without coming clean about how they engineered the crushing of dissent, Now more than ever big Tech has exposed there hand engaging in devious underhanded tactics to make the sinister look saintly, one of Satan's greatest weapons happens to be deceit…
The accumulating death toll from Covid-19 can be seen minute-by-minute on cable news channels. But there's another death toll few seem to care much about: the number of poverty-related deaths being set in motion by deliberately plunging millions of Americans into poverty and despair.
American health care, as we call it today, and for all its high-tech miracles, has evolved into one of the most atrocious rackets the world has ever seen. By racket, I mean an enterprise organized explicitly to make money dishonestly.
All the official reassurances won't be worth a bucket of warm spit. The Globals are behind the CoronaVirus, It Is a Man-Made Bioweapon.