Advisory: Be careful of what you read on social media. The algorithms used by these platforms have no regard for Biblical truth. They target your emotions to keep you engaged on their site so their advertisers can drop more ads. These platforms exist to enrich their stockholders. Consider God's promise to Believers in James 1:5, "If any of you lacks wisdom, you should ask God, who gives generously to all without finding fault, and it will be given to you."
itself as the "New World Order." Using Their Typical Scare Tactics Against Pres. Trump…
CFR President Says "The World Will Be The Battlefield" After Iran Escalation
The President of the Council on Foreign Relations Richard N. Haass says that "the world will be the battlefield" following a dramatic escalation in tensions between the United States and Iran.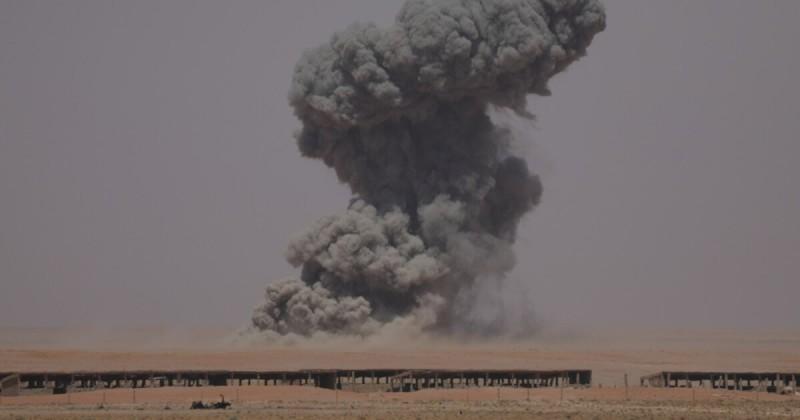 Fears of a wider war are rising after Iran's Quds Force General Qasem Soleimani was killed during an airstrike near Baghdad's airport.
Haass warned that those who thought any war with Iran would look similar to previous military campaigns were being incredibly naive.
Richard N. Haass✔@RichardHaass
Make no mistake: any war with Iran will not look like the 1990 Gulf war or the 2003 Iraq wars. It will be fought throughout the region w a wide range of tools vs a wide range of civilian, economic, & military targets. The region (and possibly the world) will be the battlefield.23.1K9:44 PM – Jan 2, 2020Twitter Ads info and privacy11.4K people are talking about this
He went on to assert that developments would lead to Iraqi authorities exerting great pressure on the U.S. to leave their country.
Richard N. Haass✔@RichardHaass
One sure result of the US strike is that the era of US-Iraq cooperation is over. The US diplomatic & mil presence will end b/c Iraq asks us to depart or our presence is just a target or both. The result will be greater Iranian influence, terrorism, and Iraqi infighting.2,5119:38 PM – Jan 2, 2020Twitter Ads info and privacy1,394 people are talking about this
"One sure result of the US strike is that the era of US-Iraq cooperation is over. The US diplomatic & mil presence will end b/c Iraq asks us to depart or our presence is just a target or both. The result will be greater Iranian influence, terrorism, and Iraqi infighting," said Haas.
Meanwhile, a source described as being in "close contact" with senior security officials in the Trump Administration said that Iran could respond to the killing of Soleimani by launching a massive cyberattack.
A cyberattack inside the U.S. is "the most likely way that Iran could retaliate stateside," according to Axios.
Less then 20 years ago, it was tough to find anyone that would knowledge the CFR existed. After being exposed, they (CFR) now come out as experts on war, banking, morality, and the way you should live your life according to the New World order.
HNewsWire-The CFR was founded in 1921 by establishment mega-bankers and globalist ideologists anxious to get America ensnared in foreign entanglements after the U.S. Senate declined to join the League of Nations. In America, it is among the most powerful organizations representing the public face of the Deep State behind the Deep State. To get some sense of how influential the outfit is, consider the words of then-Secretary of State Hillary Clinton, whose husband and daughter are members, in a 2009 speech at the CFR's new office in Washington. "I am delighted to be here in these new headquarters," she said. "I have been often to, I guess, the mother ship in New York City, but it's good to have an outpost of the Council right here down the street from the State Department. We get a lot of advice from the Council, so this will mean I won't have as far to go to be told what we should be doing and how we should think about the future."
In other words, the unelected CFR establishment sets policy, and the visible government implements it. The same applies to the establishment wing of the Republican Party, which is also dominated by CFR operatives. Knowing how toxic the CFR label has become politically among conservatives, though, a leading CFR "Republican" actually boasted of his dishonesty in concealing his membership from the public.
George W. Bush's Vice President Dick Cheney, for example, was filmed on video bragging: "I've been a member [of the CFR] for a long time, and was actually a director for some period of time. I never mentioned that when I was campaigning for re-election back home in Wyoming." He cackled, and the audience laughed. But he is hardly alone.
Members include virtually the entire establishment. Among others: vast swaths of the Republican and Democrat parties' establishments; countless current and former members of Congress and senior bureaucrats; "journalists," columnists, editors, anchors, commentators, and media execs; CEOs, chairmen, and presidents of mega-banks; multiple Cabinet secretaries in every administration going back generations; current Supreme Court justices; former presidents and vice presidents; Federal Reserve bosses; celebrities; mega-church pastors; military brass; ambassadors, diplomats, and bureaucrats at international organizations; tax-exempt foundation chiefs and executives; leaders and professors at key universities across the country; "intelligence community" bosses who do much of the Deep State's dirty work; and many more. Even some pseudo-conservative "leaders," mostly neocons, are involved in the CFR.
Corporate members include the world's largest bailed-out mega-banks, Big Oil, Big Pharma, crony capitalists, the military-industrial complex, and publishing houses, along with much of the establishment media. Among the mega-banks and financial giants: Goldman Sachs, Bank of America, JPMorgan Chase, American Express, Citigroup, Credit Suisse, Deutsche Bank, Soros Fund Management, Bank of New York Mellon Corporation, Canadian Imperial Bank of Commerce, Crédit Agricole, Rothschild North America, Inc., and more. Military-industrial complex: DynCorp, Booz Allen Hamilton Inc., Raytheon Company, Boeing, Lockheed Martin, and more. Big Oil: ExxonMobil, Shell, Chevron, BP, Hess, and more. Media: News Corp (Fox News, Wall Street Journal, New York Post, National Geographic, and more), Time Warner (CNN, HBO), The Economist, Bloomberg, and more.
Within the CFR, which has fewer than 5,000 members at any given time, there is a core of figures who play a key role in guiding the organization. The late U.S. Admiral Chester Ward, a CFR member for almost 20 years before defecting and blowing the whistle, wrote in his book Kissin­ger on the Couch that within the CFR there exists a "much smaller group but more powerful … made up of Wall Street international bankers and their key agents." Primarily, he continued, the members of this smaller group "want the world banking monopoly from whatever power ends up in control of the global government." This CFR leadership faction, he added, "is headed by the Rockefeller brothers."
The ultimate goal of the CFR, Ward warned, is the global government. "The main purpose of the Council on Foreign Relations is promoting the disarmament of U.S. sovereignty and national independence, and submergence into an all-powerful one-world government," warned the widely respected U.S. admiral. "This lust to surrender the sovereignty and independence of the United States is pervasive throughout most of the membership." Ward also previewed why the CFR's members would be so violently hostile to Trump's campaign promises. "In the entire CFR lexicon, there is no term of revulsion carrying a meaning so deep as 'America First,'" he said. Trump, of course, campaigned on an America First platform to stop globalism.
The subversive agenda to betray the American people and subvert their independence, Constitution, and self-government has been made clear even in the CFR's own propaganda organs such as Foreign Affairs. In April 1974, for example, Richard Gardner, former deputy assistant secretary of state, explained how the agenda for world government would be pursued. "In short, the 'house of world order' will have to be built from the bottom up rather than from the top down," he wrote. "An end run around national sovereignty, eroding it piece by piece, will accomplish much more than the old fashioned frontal assault." Deception and a slow subversion process, then, are the tools of the CFR. The magazine also regularly promotes regional government, illegal war, and other extreme positions. Source
Now, let's look at the negative consequences of the New World Order, clearly a Blueprint against the Christian community and everything that we hold sacred. First, the New World Order will seek to unite the entire world under global leadership, to institute international law and to enforce it. This is nothing new for this has been sought since the founding of the United Nations and the writing of its preamble, but now much more aggressive. Again, we as Christians know that global leadership is essential for the coming Antichrist and his false prophet to come on the scene and lead the entire world to worship him as one who sets himself over all that is worshipped. His argument will be if all religions worship the same God then you should have no problem adding me to your plurality, and then willing to enforce it on all people. Pope Francis speaking to the UN said we need, "Codification and development of international law, the establishment of international norms regarding human rights, advances in humanitarian law, the resolution of numerous conflicts, operations of peace-keeping and reconciliation, and any number of accomplishments in every area of international activity and endeavor." After reading and listening to the speeches of both Pope Francis and Barrack Obama at the United Nations the number of references to international law and international norms with its enforcement was not missed, especially when you consider the number of laws and norms that directly affect the Christian and his or her beliefs, as we shall see.
One of these norms (and eventually international law) is to cause all religions to respect one another's beliefs and practices. Not only did this come through loud and clear in their speeches it is taking root in America and around the world. In fact, there is an international move to see all religions as worshiping the same God.
To deny the fact that we are all sinners and quite evil in the sight of a Holy God is an unforgivable heresy. To deny the fact that we have been made righteous by the blood of the Lamb leaves us in our sins and separated from a holy and righteous God. To deny the fact that no one comes to the Father except through Jesus Christ our Lord makes Him into a liar, destroying the exclusiveness of Christianity. I firmly believe and teach in a polarization between the faithful remnant and the unbelieving world! Yet it appears that through the new international norms set up by the United Nations that once all the terrorists have been soundly defeated, they will then turn their attention to the Christian who refuses to be assimilated into the New World Order. We will be seen, in their own words as "ignorant," and as an "apocalyptic cult." And don't think for a moment that the United Nations won't have the ability to enforce their international laws and international norms.
"It is better to be divided by truth than to be united in error. It is better to speak the truth that hurts and then heals, than falsehood that comforts and then kills. Let me tell you something, friend, it is not loved and it is not friendship if we fail to declare the whole counsel of God. It is better to be hated for telling the truth than to be loved for telling a lie. It is impossible to find anyone in the Bible who was a power for God who did not have enemies and was not hated. It's better to stand alone with the truth, then to be wrong with a multitude. It is better to ultimately succeed with the truth than to temporarily succeed with a lie. There is only one Gospel and Paul said, 'If any man preaches any other gospel unto you than that which we have preached unto you, let him be accursed."
Activism in the liberty movement often requires a painful examination of details. We look at political and economic trends, identify inconsistencies in the mainstream narrative, point out inevitable outcomes of disaster or attempts at collectivist power, and ask – "Who benefits?" Ultimately, the analysts and activists with any sense of observation come to the same conclusion: There is a contingent of financial elites embedded within the political world and the corporate world that have a specific ideology and malicious goals. They create most geopolitical and economic crisis events using puppets in government as well as influence in central banking. They then turn the consequences of these events to their advantage.
This group is identified by their intent as well as their associations. Their intent is utter dominance through globalism to the point that national borders are erased and all trade and governance flow through a single one-world edifice that they seek to control. As Richard N. Gardner, former deputy assistant Secretary of State for International Organizations under Kennedy and Johnson, and a member of the Trilateral Commission, wrote in the April, 1974 issue of the Council on Foreign Relation's (CFR) journal Foreign Affairs (pg. 558) in an article titled 'The Hard Road To World Order':
"In short, the 'house of world order' will have to be built from the bottom up rather than from the top down. It will look like a great 'booming, buzzing confusion,' to use William James' famous description of reality, but an end run around national sovereignty, eroding it piece by piece, will accomplish much more than the old-fashioned frontal assault."
They want to reinvent civilization and mold it into a homogenized and highly micromanaged global hive. Within this collective, they see themselves as not only the future masters of social evolution but also as demigods that are worshiped by the masses. And, they are willing to do almost ANYTHING to achieve this endgame.
In an article I wrote last year titled 'Global Elitists Are Not Human', I outlined the connection between globalist ideology, globalist actions and the psychology of narcissistic sociopaths (narcopaths or psychopaths). I theorized that the globalists are in fact a stark example of tightly organized psychopathy. In other words, like a criminal cartel or cult, they are a group of psychopaths that have unified their efforts to become more efficient predators. And like many psychopaths, they have conjured elaborate philosophical explanations for their abhorrent activities to the point that they seem to have developed their own disturbing brand of religion.
There comes a moment in the life of many liberty movement activists or analysts when they are confronted with this reality: The reality that we are not fighting a faceless "system" that was built passively by mistake, or built in the name of mere random greed. No, the system is only an extension of a greater agenda and the weapon of a conspiratorial army. What we are really fighting are very evil people with psychopathic desires to dominate and destroy. Attempt to change the system without removing the cabal behind it, and you will fail every time.
This is where we hit a wall of indecision and find ourselves at an impasse on solutions within the movement. There are even some people who argue that "nothing can be done".
This is, of course, a lie. Something can indeed be done. We can fight and remove the elites from the equation entirely. In fact, we have no choice but to fight if we hope to retain any semblance of our sovereignty or foundational principles. But sadly, there are people in the movement with some influence who do not seem to understand the difference between fighting to survive, and fighting to succeed.
StevieRay Hansen
Editor, HNewsWire.com
God often uses men who are not of the best moral character. Pharaoh, Nebuchadnezzar, Cyrus, Herod, and Trump (amongst others), to accomplish His will in events He orchestrates during human history. We either trust the sovereignty of God or we don't. Nothing happens apart from Him…
The best index to a person's character is how he treats people who can't do him any good, and how he treats people who can't fight back…
The Birth Pains Are Growing Stronger….
One of the signs of ruling class collapse is when they can no longer enforce the rules that maintain them as a ruling class. When the Romans started making exceptions to republican governance, it was a matter of time before someone simply decided the rules no longer applied to them. Perhaps the robot historians will consider Obama our Marius or Sulla. Maybe that person is in the near future. Either way, the rule of law is over and what comes next is the rule of men.
"Don't piss down my back and tell me it's raining." Outlaw Josey Wales
"Man will ultimately be governed by God or by tyrants." as in Nancy Pelosi (D-San Fran-feces)
My name is Steve Meyers and I need to share a vision and warning that the Lord showed me back in April 2007….
Many of you will ask why I waited so long to share the warning. I didn't. I shared the story with everyone that would listen from pastors to friends to family to colleagues. Immediately following the initial vision, I called a close friend. I told him to sit down that I had something to tell him. I needed it documented as I knew this was supernatural and from God. As I witness events unfolding today, I need to share the vision again.
The risk of loss in trading futures and options on futures can be substantial. The author does not guarantee the accuracy of the above information, although it is believed that the sources are reliable and the information accurate. The author assumes no liability or responsibility for direct or indirect, special, consequential or incidental damages or for any other damages relating or arising out of any action taken as a result of any information or advice contained in this commentary. The author disclaims any express or implied liability or responsibility for any action taken, which is solely at the liability and responsibility of the user. Steve Meyers, StevieRay Hansen
Those That Suppress the Truth, the social media giants built multi-billion dollar empires by giving everyone a voice, but now that they have such a dominant position on the Internet they have decided that many prominent conservative voices should be completely silenced.
The 127 Faith Foundation understands the pain and sorrow associated with being a throwaway child, We push this throwaway child towards bettering their education, be it junior-college are going for a Masters's degree. This program is about them because they determine by the grace of God if they're going to be a pillar in the community or a burden on society. Some of the strongholds orphans deal with are: fear, resentment, bitterness, unforgiveness, apathy, unbelief, depression, anxiety, lust, anger, pride, and greed. Many of these strongholds open the door to addiction. Please Help The 127
Our government has been overthrown. As evidenced by Trump's capitulation on the border, his recent servitude to the GMO industry and his acquiescence to the warmongers, our President has been compromised. Our liberties are being eliminated one by one. Gun confiscation is next. The Constitution is gasping its last breaths. Our borders are destroyed and our culture has been turned upside down by every perversion known to man.
They are everyone you can't stand, from gun prohibitionists and Socialists to the corrupt mainstream media, large social media outlets, Hollywood, and our institutions of higher education, to name but a few. They are anyone working against our GOD Given freedoms, rights, constitution, etc.
It's interesting when you connect the dots, the masses are opposed to God's blueprint and therefore will bring destruction upon the earth intentionally. Me, I, mine, narcissists generation will bring total destruction upon God's people, only the chosen will survive, we live in evil times, dress appropriately, put on the full armor of God!….
Force is now the only rule remaining in deep state-controlled America. Everything else has collapsed. There is no free speech, no fair trial, no system of justice, no reasonable expectation of human rights anywhere, no fair elections, no honest news, no honest Wall Street operations, no real public education, no clean food, and threats from the elitist, the power structure that is hell-bent on bringing the New World order into the reality of the sleeping masses, get woke or get yoked, the choice still lives in the people's hands. Next, the AntiChrist will appear with many empty promises, peace, and security, in reality, it's the yoking of mankind, We are on the Doorstep of the Great Tribulations…
The watchman does not confuse truth with consensus. The watchman does not confuse God's word with the word of those who happen to hold power at present, or with the opinion of the majority. This is because powerholders and the majority can fall victim to a lying spirit-and this means a power that actually seizes the majority of experts, the political leadership, and the public.
I just saw the best news site I ever saw in my life. I never saw so much news and videos and links in my life. You have to go to Whatfinger News. , here – https://www.whatfinger.com – click this I bet you found your go-to news site from here on.
'PORTA DOS FONDOS' (TRANSLATES TO "BACK DOOR") HYPER-REPROBATES…
Thanks to people like Pastor Steven Anderson and the choir of preachers he has assembled within the New Independent Fundamentalist Baptist movement there has been a resurgence in what is called the Reprobate Doctrine. A Biblical doctrine that demonstrates in scripture, that God will turn people over to their vile lifestyles as a curse, blinding them to salvation in Jesus, giving them over to a devil's hell for eternity. A doctrine that I believe is completely Biblical and defined by the Apostle Paul in Romans 1 is unmistakably visceral language.
Let Me Make This Abundantly Clear. (I Am Apolitical) While I Have a General Distaste for Electric Cars and Politicians No Matter the Party They Belong To, I Am Unashamedly Politically a Bible Believing Conservative Christian. I Have a Severe Distrust of Government. I Believe It Is the Most Inefficient and Ineffective Way to Accomplish Most Things. While I Strongly Disagree with Liberals/Progressives and Conservative on Most Political Issues, and While I Believe Liberals/Progressives and Most Politicians Are Terribly Misguided and Naive About What Big Government Will Eventually Result In, I Strive to Not Question Their Motives. at the Same Time, While I Find Myself in Agreement with Conservative Politicians on Some Issues, I Do Not Believe Electing Republicans Is the Answer to Everything. for Me, Very Sadly, the Main Difference Between Republicans and Democrats Is How Quickly They Want to Drive the Car Towards the Cliff. Simply Put, I Do Not Believe the Government Is the Solution for Everything. I Do Not Place Any Faith, Trust, or Hope in Any Politicians to Fix What Is Wrong with the World. "Come Lord Jesus!" (Revelation 22:20) The prophet does not confuse truth with consensus. The watchman does not confuse God's word with the word of those who happen to hold power at present, or with the opinion of the majority. This is because powerholders and the majority can fall victim to a lying spirit-and this means a power that actually seizes the majority of experts, the political leadership, and the public.StevieRay Hansen
Tagged Under: Iran general killed, Trump, Tyranny
The 127 Faith Foundation: We do not solicit donations from "those on disability, on a fixed income, or those who cannot afford to give." Please Pray!
Or, make checks payable to:
The 127 Faith Foundation
PO Box 127
Pontotoc, TX 76869
The number of Orphans aging out of Child Protective Custody has grown at an alarming rate. The 127 Faith Foundation receives many requests each week to house them at our ranch. Our prayer is that the good people of our country will step up to the challenge and offer financial support for "the least among us." We need your help! StevieRay Hansen, Founder, The 127 Faith Foundation
We make every effort to acknowledge sources used in our news articles. In a few cases, the sources were lost due to a technological glitch. If you believe we have not given sufficient credit for your source material, please contact us, and we will be more than happy to link to your article.