Advisory: The editorial board of HNewsWire adopted the official policy to bypass many social media platforms. Some of these include: Facebook, Instagram, Twitter, Parler, and YouTube. We believe these companies are responsible for many of the spiritual ills our world faces today. In some cases, however, we have allowed our guest contributors to include content from their YouTube channel while we search for alternatives.
Every few days another country blows up, as their citizens take to the streets with little warning and no apparent interest in a quick settlement. Here's the first part of the "War…Civil Unrest" section of today's DollarCollapse.com links list. As you can see, the peasants have grabbed their pitchforks and besieged their betters on four continents over a wide range of issues, which implies that the stated cause in each case is just an excuse.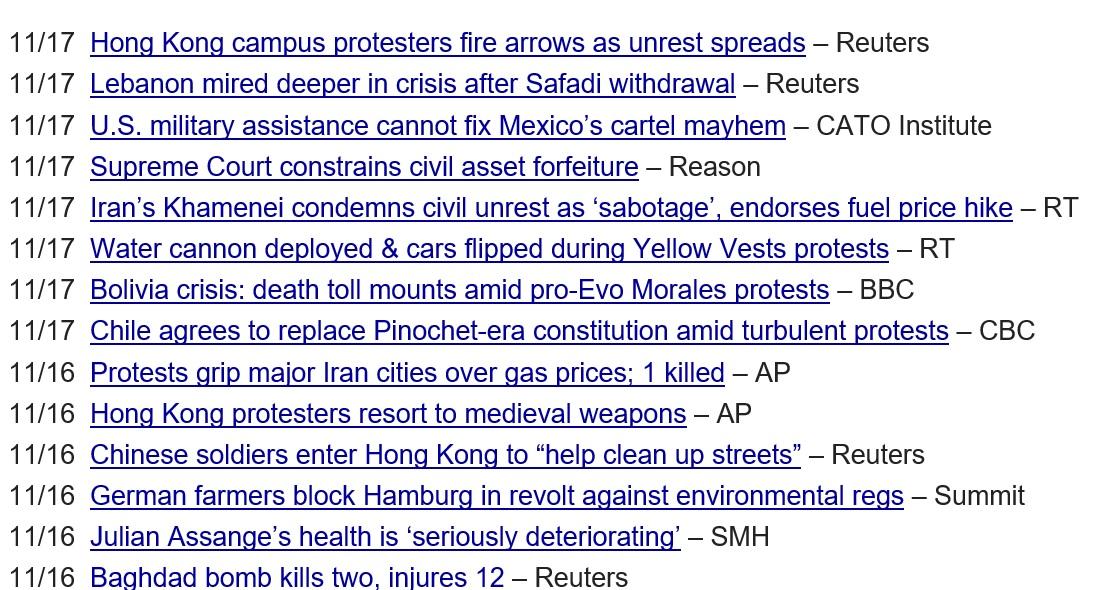 The real grievance is the sense that an unresponsive elite is sucking up all the available wealth, leaving the vast majority with (at best) zero upward mobility and at worst a return to the servitude their parents only recently escaped. To test the truth of this, watch what happens when a chastened government caves on the initial issue — and instead of heading back home the protesters ramp it up.
Who even remembers what pulled France's Yellow Vests into the streets? The Macron government has spent months apologizing and offering big new spending programs aimed at the protesters' stated concerns. Yet today's headline is about water cannons and flipped cars. Hong Kong repealed the law that ignited its riots back in June, yet today the story is protesters shooting police with arrows (!) and Chinese soldiers deploying to help "clean up the streets." Uh-huh.
Why is this happening now?
Because artificially easy money enriches the people who own the stocks, bonds and real estate that rise in value when interest rates go down. This expands the already painfully wide gap between rich and poor and turns the already high level of background resentment into a powder keg. Then it's just a matter of provocation. And there's always another provocation coming.
Looked at this way, the current wave of unrest is not easily fixed because the immediate remedy is even more easy money. In other words, reinstate the gas price subsidy and borrow whatever is necessary to cover the cost. Or increase welfare spending to make life slightly easier for protesters, at the cost of higher deficits. Then cut interest rates to finance all the new debt.
The result? Even more new money flowing into the elite via rising financial asset prices. Which further widens the gap between rich and poor.
Not a single government is responding to protests with "Ok, we'll take a bunch of real wealth from the oligarchs and give it to the protesters." That solution obviously won't fly with the various versions of deep state/military-industrial complex that are in charge out there. Easy money, in contrast:
1) is technically doable,

2) appears at first glance to help the 99%, and

3) actually further enriches the 1%.
So no one objects, the problem gets worse, and the next round of unrest is even bigger.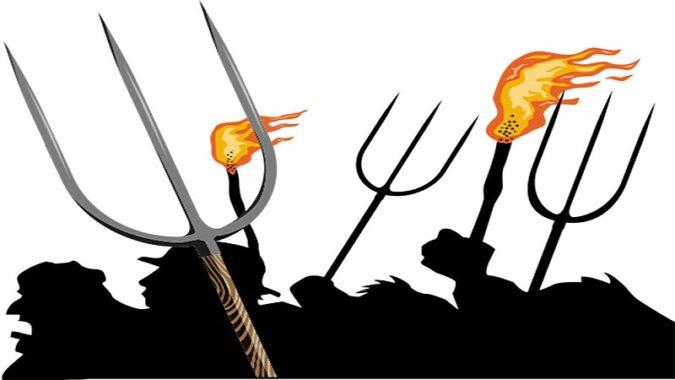 This may not be immediately apparent, but most people will get it eventually, by which time a peaceful solution will be far out of reach. Civil unrest is our new normal. Source
The role of a watchman: Gives insight into the world at the end of this age. They see the dark gathering clouds on the world's horizon that spell the end of Satan's reign as the god of this world and author of all its evil. This leads them to mount the "walls" of society and shout a warning to any who will hear. To say: "God is sovereign. He will bring a time of judgment on the world to prove that He alone is God. All other gods erected by people to hide His truth will be destroyed."
A national affliction
Today America and Great Britain stand at a crossroads. For more than 200 years they have dominated the world in virtually every arena. As Great Britain retreated from its empire after World War II, America was there to take its place and continue the legacy set by the English through their peak years.
But America's dominant power is under siege from many sectors. Its will to stay the course in Iraq is being tested, its military machine strained under the pressure of the extended fighting. Though it is the primary engine for the world's economy, a weakened dollar and a trade balance deficit are both troubling indicators of a major crisis ahead.
God warns us through the message of the prophets that sins will demand a day of reckoning. People cannot continue worshipping the false gods of materialism and self, blindly stumbling along in their own righteousness, and expect their affluent standard of living to continue.
God's Word confirms there will be an accounting; the lesson of history is that any people who corrupt their moral core will eventually fade from power. God calls on America and Great Britain to wake up, acknowledge their sins, and repent before national calamity descends on them.
"Do this and live"
Amos the prophet walked into the city of Samaria, capital of the northern kingdom of Israel, and boldly told the king and city leaders to repent or face captivity at the hands of the Assyrians. He pointed to neighboring states that had fallen and said, "You are no better than they were."
He rebuked those who did not want to hear a "message of doom." To those who stocked their homes with the finest luxury goods and gourmet foods, trusting that affluence was a sign of God's blessing, he said, "Don't trust in materialism." The citizenry, at all levels, looked only to their comfort and ease and did not grieve "for the affliction of Joseph" (Amos 6:6).
Those who "grieve" and "sigh and cry" over societal sins are called to a unique role. They are part of God's elect, called to the duty of proclaiming the announcement of the Kingdom of God. That message includes the good news of Jesus Christ's return to restore all things (see Acts 3:19-21). The message also contains a warning to repent and receive God's blessing or ignore the warning and face the judgment of God. It is a double-edged message—plain-spoken, yet full of hope.
Fulfilling this role requires courage, perseverance, and a love for the people addressed. One of the best examples of this was the prophet, Jeremiah. Jeremiah spent more than 40 years in the role of a watchman to the nation of Judah, urging people to heed his warnings and return to the ways of God.
Notice this passage: "Stand in the ways and see, and ask for the old paths, where the good way is, and walk-in it; then you will find rest for your souls. But they said, 'We will not walk in it' " (Jeremiah 6:16).
God's main message throughout the Bible is to return to His paths, His teachings, as the solution for the suffering and pain of human life. "Do this and live," He says.
Jeremiah and others like him have stood in the role of a watchman. "Also, I set watchmen over you, saying, 'Listen to the sound of the trumpet!' But they said, 'We will not listen.' Therefore hear, you nations … Behold, I will certainly bring calamity on this people —the fruit of their thoughts, because they have not heeded My words nor My law, but rejected it" (Jeremiah 6:17-19).
Today's watchmen
Examining the concept of watching in the New Testament helps to complete the picture of this role. The Greek word Gregorio, translated as "watch," means to keep awake, to watch, and to take heed. Through neglect or laziness, we could let down and be overcome with sin, or a sudden calamity could overwhelm us spiritually.
Notice in Mark 13:32-37, in Jesus' prophecy of the end time, that He urges His disciples three times to "watch" during the times leading to His second coming. The emphasis is on a personal watch through prayer to know the times.
By prayer and righteous living, we stay tuned to Jesus Christ. Through this way of life one can discern the moral climate of the times and avoid being tossed around with every shifting ideology of modern culture. Walking in God's laws and instruction insulates us from the course of the world and its deceptions.
Revelation 16 describes a massive end-time deception perpetrated by Satan and demons that work through the human instruments called "the Beast" and "the False Prophet" (Revelation 16:13). Their influence gathers the leaders of the earth "to the battle of that great day of God Almighty . . . to the place called in Hebrew, Armageddon" (Revelation 16:14-16).
In our fascination over these otherworldly figures, we can easily skip over Christ's charge: "Behold, I am coming as a thief"—suddenly and unexpectedly. "Blessed is he who watches, and keeps his garments, lest he walks naked and they see his shame" (Revelation 16:15, emphasis added throughout).
Jesus pronounces a blessing for those who, during mankind's darkest moment, watch. That is, they are living prudently and properly. The natural by-product of this close relationship with God is being alert to religious deception. Those who frame their life around the coming Kingdom of God will watch and keep themselves from the wiles of the devil.
This is the end result of fulfilling the role of a watchman within the Body of Christ—to be found standing in the faith, blessed of God at the dawn of His Kingdom on this earth.
Our world is moving toward this time of the global cataclysm. Revelation 16 describes a future moment when people will be caught up in events engineered through the Beast and False Prophet. The former is a political leader of compelling personality and ability; and the other, a religious leader unlike any in modern times.Together they will convince armies to move toward Jerusalem to fight Jesus Christ at His coming.
Warning and hope
This is a time for the watchmen to mount the walls and sound a clear, unmistakable warning message of the dangers facing not just the English-speaking peoples but also the whole world. It is time to make known the hope of the coming Kingdom of God.
Isaiah's message stands bright and clear today: "How beautiful upon the mountains are the feet of him who brings good news, who proclaims peace, who brings glad tidings of good things, who proclaims salvation, who says to Zion, 'Your God reigns!' Your watchmen shall lift up their voices, with their voices they shall sing together; for they shall see eye to eye when the Lord brings back Zion" (Isaiah 52:7).
Come, take your place on the walls, work for the Kingdom and pray for its speedy arrival!
These special servants understand the dangers of the present world. They see the dark clouds gathering on the world's horizon and are moved to proclaim a warning message to all who will hear.
The Origins of Our, God Has Been Replaced with Self
The further a society drifts from the truth, the stronger the delusion will take its place
It is crucial that every Christian understands the spiritual battle. There is no way to get out of it. Awareness of the spiritual battle around us is very important. Not only awareness, but vigilance, preparedness, courage, and the right weaponry are crucial elements of engaging in spiritual warfare.
Why has the United States now arrived at the brink of a veritable civil war? Almost every cultural and social institution — universities, the public schools, the NFL, the Oscars, the Tonys, the Grammys, late-night television, public restaurants, coffee shops, movies, TV, stand-up comedy — has been not just politicized but also weaponized against GOD.
Meanwhile, the naturally progressive, more enlightened, and certainly cooler and hipper transcended their parents' parochialism and therefore plugged in properly to the global project. And they felt that they were rightly compensated for both their talent and their ideological commitment to building a better post-American, globalized world.
GOD truth and spiritual reawakening are crucial. The masters of the universe of Silicon Valley did not, as promised, bring us new-age tranquility, but rather only greater speed and intensity to do what we always do. Trolling, doxing, and phishing were just new versions of what Jesus warned about in the Sermon on the Mount. Spiritual transcendence is the timeless water of life; technology is simply the delivery pump. We confused the two. That water can be delivered ever more rapidly does not mean it ever changes its essence. High tech has become the great delusion.
While the nation is split on an array of political issues, voters on both sides of the aisle blamed media, politicians, special interests and social networks for the increasingly deep divide between the Right and the Left.
Some 81 percent of survey respondents named special interests and social media as being key contributors to America's vitriolic political landscape. Politicians and mainstream media outlets like CNN and MSNBC were also named as top influences in America's unrest.
President Trump warns that the country is heading into another civil war. Desperate globalists will try to turn over the chessboard once they realize they're losing. How politically active we are will determine how hard of a crash landing we'll experience!
Last night, Trump quoted Pastor Robert Jeffress, tweeting, "If the Democrats are successful in removing the President from office (which they will never be), it will cause a Civil War like a fracture in this Nation from which our Country will never heal."
Painter responded by claiming that the tweet alone was enough to have Trump removed from office.
"A president who threatens civil war if the political process does not support him cannot be allowed to command the United States military. He should be removed from office immediately," he tweeted. Source

A president who threatens civil war if the political process does not support him cannot be allowed to command the United States military. He should be removed from office immediately.38.5K7:20 AM – Sep 30, 2019 · Mendota Heights, MNTwitter Ads info and privacy12K people are talking about this

Last year, State Department official Keith Mines said that there was a 60 percent chance the United States would enter a civil war within the next 10 to 15 years. But many experts believe that the civil war has already started.
It is not a secret that social media networks like Facebook, Twitter, and YouTube have been actively conspiring to suppress conservatives. Their acts of blatant and unjustified censorship have been the subject of much scrutiny.
Facebook has come under fire for similar unceremonious and unwarranted bans and suspensions, and for censoring a wide variety of content, including information on vaccines and advertisements for conservative politicians.
The mainstream media, of course, has long been accused of pushing propaganda and creating their own version of events to supplement their agenda. The Covington Catholic scandal is plenty of proof of that.
As has been reported, former Secretary of State and Vietnam War era traitor John Kerry is doing what is consistent with his history – working directly with enemies of the U.S. (Iran) to undermine U.S. foreign policy and destabilize U.S. national security.
Then there are local and state officials defying the Constitution's Supremacy Clause. Their "sanctuary" cities are nothing more than havens for criminals, endangering citizens and violating federal law.
If these intentional actions do not amount to Treason, a concerted war against liberty and the people of the United States, our national security, and the Republic itself, it is hard to imagine what would be.
President Trump must take drastic and radical action, to include purging all major government entities and agencies of Obama holdovers and socialist Republicans, if a successful outcome – victory – is to be achieved at the federal level."
The un-godly threaten the peace by advocating programs intended to deny the rights of average people to speak and worship freely and to defend themselves. Never mind that millions of Americans are ready to hazard life and limb to preserve these rights. Moreover, many of them vowed to do so when they served in the armed forces. When push comes to shove, they will not shy away from defending their families, their homes, their values, and their country.
War is coming; civil wars against corruption and other problems first. We see it happening already in Saudi Arabia. It seems very likely in the United States. It must happen in Western Europe if the natives of nations like Sweden, Germany, France, Italy, the Netherlands, Greece, Spain (etc.) are to save themselves from their traitorous leaders' policies of collective national suicide through mass immigration. The globalists have an agenda – destroy nation-states with Islam and socialism, foment WWIII in the failure, and impose a dictatorial One World Government over a much-reduced population in the aftermath. Just watch the news. Pay attention, because it's going to get rough.
"If you undermine the moral authority that the government or the military or the police forces have, you win. Then they become the enemy to everybody … it may not goad you into an armed insurgency, but it will goad you into a certain acceptance. And once the guerrillas reach acceptance, they have a path to win."
The Army conducts 'Robin Sage' Special Forces exercises in North Carolina in 2018. 'Robin Sage' is the military's unconventional warfare exercise and the final test of over a year's worth of training for aspiring Special Forces soldiers. By US Army Special Operations Command
Advance notice has become a critical part of the annual program since one soldier was killed and another was wounded in 2002 by a Moore County deputy who mistook Robin Sage exercises for criminal activity.
A similar Fort Bragg military exercise in 1997 created panic in Charlotte, when uptown residents were terrified by the sounds of 100 commandos attacking a warehouse. The "urban warfare" assault incorporated helicopters and "simulated bombs and gunfire," the Charlotte Observer reported.
The exercises starting next week will involve engagements against a fictitious country known as Pineland, officials said. Staging areas will be largely on private land in 10 of the 21 counties, but the others may feel some impact, officials said.
The 21 counties include Alamance, Anson, Cabarrus, Chatham, Cumberland, Davidson, Davie, Guilford, Harnett, Hoke, Lee, Montgomery, Moore, Randolph, Richmond, Robeson, Rowan, Scotland, Stanly, Union, and Wake counties, officials said.
America is a nation of thousands if not millions of laws, yet it is a lawless nation.
A lawless nation is no nation at all. It is merely a Third-world backwater where those in power who lord over the people and abuse them for their own gain, for the gain of the bureaucrat class, and for the benefit of the banksters and the crony corporations who fund the charade elections every two or four years.
So those thousands or millions of laws written "for our benefit" – at least that's what we're told each time another edict from the District of Criminals becomes "law" – are employed against us while those in power are given a pass on them. Beyond that, those in power make the laws arbitrary by enforcing them or not enforcing them on a whim.
Totalitarianism evolves from the breakdown of law and order through a synthetic and secretly directed make-believe democratic process. The breakdown of law and order is political cancer that must be concealed in order to extend the system until the rape is over. Concealing the breakdown of law and order in the United States is of the very highest priority. It is the hidden national agenda.
Without laws to create civil societies, no city, no state, no nation, no people and no civilization can long endure the vagaries of lawlessness. In the early hours of 2018, California Governor Jerry Brown defied Federal Laws by making our most populated and most overrun state a "Sanctuary State" for all illegal aliens to live, work, and utilize all welfare services paid for by American taxpayers. California's 2.5 to 3.5 million illegal aliens enjoy immunity from laws that prohibit illegal migration, murder, rape, and non-payment income taxes. Brown invited them to hide from the law in California. Last year, Chicago Mayor Rahm Emanuel, by mayoral decree, created a "Sanctuary City" for all illegal aliens to work, play, live and operate with immunity from deportation.
While the nation is split on an array of political issues, voters on both sides of the aisle blamed media, politicians, special interests and social networks for the increasingly deep divide between the Right and the Left.
Some 81 percent of survey respondents named special interests and social media as being key contributors to America's vitriolic political landscape. Politicians and mainstream media outlets like CNN and MSNBC were also named as top influences in America's unrest.
President Trump warns that the country is heading into another civil war. Desperate globalists will try to turn over the chessboard once they realize they're losing. How politically active we are will determine how hard of a crash landing we'll experience!
Last night, Trump quoted Pastor Robert Jeffress, tweeting, "If the Democrats are successful in removing the President from office (which they will never be), it will cause a Civil War like a fracture in this Nation from which our Country will never heal."
Painter responded by claiming that the tweet alone was enough to have Trump removed from office.
People's hearts are troubled, their minds are in a state of confusion, the Bible tells us a time of great delusion that will come upon the people, that time has arrived, the politicians must come up with more significant and more believable lies in order to bring on the antichrist
StevieRay Hansen
Editor, HNewsWire.com
The Birth Pains Are Growing Stronger….
"Unless God has raised you up for this very thing, you will be worn out by the opposition of man and devils"…
My name is Steve Meyers and I need to share a vision and warning that the Lord showed me back in April 2007….
Many of you will ask why I waited so long to share the warning. I didn't. I shared the story with everyone that would listen from pastors to friends to family to colleagues. Immediately following the initial vision, I called a close friend. I told him to sit down that I had something to tell him. I needed it documented as I knew this was supernatural and from God. As I witness events unfolding today, I need to share the vision again.
The risk of loss in trading futures and options on futures can be substantial. The author does not guarantee the accuracy of the above information, although it is believed that the sources are reliable and the information accurate. The author assumes no liability or responsibility for direct or indirect, special, consequential or incidental damages or for any other damages relating or arising out of any action taken as a result of any information or advice contained in this commentary. The author disclaims any express or implied liability or responsibility for any action taken, which is solely at the liability and responsibility of the user. Steve Meyers
The silencing of the American people before 2020?
"The human heart is an idol factory."
The Un-Godly — Those That Suppress the Truth, the social media giants built multi-billion dollar empires by giving everyone a voice, but now that they have such a dominant position on the Internet they have decided that many prominent conservative voices should be completely silenced.
Our government has been overthrown. As evidenced by Trump's capitulation on the border, his recent servitude to the GMO industry and his acquiescence to the warmongers, our President has been compromised. Our liberties are being eliminated one by one. Gun confiscation is next. The Constitution is gasping its last breaths. Our borders are destroyed and our culture has been turned upside down by every perversion known to man.
The Left, a broad term for Liberal Socialist Democrats that can only be explained fully by using the Bible explanation of the human race is as follows. A servant of Satan, because you are either saved or lost. This election has brought out the true nature of who you serve. Simply put, it's Donald Trump, Conservatives, and Christians against the rest of the world. The Left's Love applies only to those who believe as they do. They Love evil and commit Anarchy against those who love good. They are governed by lies and never tell the truth. On this Friday, Inaugural Day for the swearing-in of Donald Trump as the 45th President of the United States the Left wants to commit widespread Anarchy to shut down the swearing-in ceremony. Their goal of transforming America, which was founded in Judea Christian values into a Pagan Nation is almost complete. Their goal has always been the total removal of God from American society and the downfall of America. Donald Trump says he is a Presbyterian, but he left off the USA, an apostate church.
Everything done in dark will be brought to light, being biblically bankrupt will not exclude the elitist.
The 127 Faith Foundation: We do not solicit donations from "those on disability, on a fixed income, or those who cannot afford to give." Please Pray!
Or, make checks payable to:
The 127 Faith Foundation
PO Box 127
Pontotoc, TX 76869
The number of Orphans aging out of Child Protective Custody has grown at an alarming rate. The 127 Faith Foundation receives many requests each week to house them at our ranch. Our prayer is that the good people of our country will step up to the challenge and offer financial support for "the least among us." We need your help! StevieRay Hansen, Founder, The 127 Faith Foundation
Dr. Jessica Rose has given another presentation based on her analysis of the CDC and FDA VAERS (Vaccine Adverse Event Reporting System) data. Dr. Jessica…
Read More
We make every effort to acknowledge sources used in our news articles. In a few cases, the sources were lost due to a technological glitch. If you believe we have not given sufficient credit for your source material, please contact us, and we will be more than happy to link to your article.