Advisory: Be careful of what you read on social media. The algorithms used by these platforms have no regard for Biblical truth. They target your emotions to keep you engaged on their site so their advertisers can drop more ads. These platforms exist to enrich their stockholders. Consider God's promise to Believers in James 1:5, "If any of you lacks wisdom, you should ask God, who gives generously to all without finding fault, and it will be given to you."
People's hearts are troubled, their minds are in a state of confusion, the Bible tells us a time of great delusion that will come upon the people, that time has arrived, the politicians must come up with more significant and more believable lies in order to bring on the antichrist, we have entered the doorstep tribulations.
Ages and Ages of Rage
Monday morning and we here we go again for another "dramatic week". There are going to be monthly PMIs to look at in particular: will we see any further deterioration, or will growth start to pick up as an early Christmas present? And there are of course rate meetings for the Fed, and the BOJ, and the BOC: the former will cut, with the real issue, is if they will signal more soon or not given they are already deep in Repo Madness; and will the giant BOJ wake up from slumber like a giant Kaiju and start throwing markets into turmoil again?  
Plus there is the Brexit circus. Will the EU grant the UK an extension until end-January 2020, or a more flexible date, or will France veto that and insist on a very short extension? Almost certainly they will insist that the newly reopened Withdrawal Agreement is this time firmly shut – so if the British Parliament then decides to merrily reopen it from its end and unilaterally start ramming amendments into it, it will not be doing so with EU approval. As such, and just as pertinently, will PM BoJo get his December election or not? The greater likelihood is not, as Labour appears to be desperate for an election – just not now – although the Lib Dems may be prepared to allow one given they see this as a way to prevent any further movement towards Brexit in the short term. (Though what do they think the election campaign will be about? The price of cheese?) Note that the latest opinion poll for the Observer has the Tories on 40% (+3 on the week), Labour unchanged on 24%, and the Lib Dems on 15% (-1), with the Brexit Party on 10% (-2).
In Europe, we have just seen the AfD surge to second place in state elections in Germany's Thuringia with 24% of the vote, double what it got last time, putting it 1ppt ahead of Chancellor Merkel's CDU, with the Far Left Die Linke in the first place. The AfD is nowhere near power as nobody will co-operate with them, but that 24% outcome is all the more remarkable given an attack on a synagogue and neo-Nazi death threats through the campaign.
In China, Chairman Xi Jinping will be presiding over the long-expected Communist Party Plenum, which is usually looked to for policy guidance. Market expectations this time are that all the focus will be on politics and control, and none will be on market-based reforms. Tellingly, this weekend saw China disband a three-year-old Global Forum on Steel Excess Capacity after nobody has been prepared to cut back on capacity: China is claiming it alone has, but this somehow overlooks that its net steel output is upon three years ago, at a record high, and still growing.
On Ukraine-Gate the US impeachment wagon continues to trundle along, with supporters claiming it is laden with damning evidence, and opponents arguing it has exactly as much weight as Russia-Gate did. Perhaps the apparent elimination of IS leader Abu Bakr al-Baghdadi by US special forces will tip the Washington political balance slightly back towards consensus…but perhaps not, as the Washington Post ("Truth Dies in Darkness") changes its headline description of al-Baghdadi–who presided over torture, mass murder and rape, slavery, and genocide–from "Terrorist-in-chief" to "Austere Religious Scholar" and then finally to "Extremist Leader". Could they not perhaps have settled on "populist?", he wondered sarcastically?
Enough minutiae about Fed policy: our house view remains they are going all the way back to zero. Enough minutiae about PMIs: it is obvious that broad swathes of the economy are slowing down.
The global backdrop remains of slowing growth, increased financial vulnerability in places, and yet an institutional architecture that is either in denial or has no firm idea of what policy mix to use to stop this happening. And, crucially, global populations that are not content to just sit and wait for something better to turn up eventually.
Indeed, consider that we now have mass public unrest (on and off) in France, Spain and that 24% AfD vote in Germany, and Brexit in the UK; Algeria; Iraq: Lebanon; Egypt; Russia; Hong Kong; Venezuela; Chile; Ecuador; and Bolivia. Plus deepening polarization in the US – and one could add the middle-class disruption of the Extinction Rebellion in Australia, Canada, and others.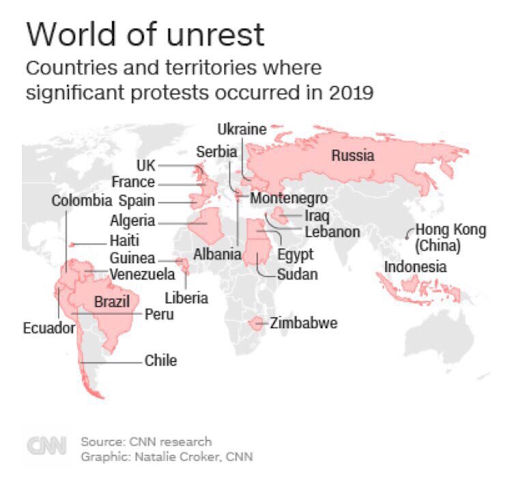 In short, there isn't a continent that isn't seeing unrest in some form, and as Branko Milanovic notes today, one wonders if this isn't all a little 1968-ish.
When you look at Chile, Ecuador, Venezuela, Bolivia, Hong Kong, Spain, France, Algeria, Iraq, Lebanon, Egypt, Russia…you sort of wonder if 2019-20 will be a new (global) 1968.5375:17 PM – Oct 27, 2019Twitter Ads info and privacy186 people are talking about this
Of course, one can't usually join dots that simply, but if this is 1968-redux then consider the historical echoes. The Prague Spring was violently crushed by Soviet Tanks and the West was powerless to prevent it. Meanwhile, student uprisings in the West produced social reforms and a policy swing to the Left. Along with the Vietnam War, that contributed to the end of the USD peg to gold and the first phase of the global Bretton Woods order – and then to very high inflation in the 1970s, which was ultimately ended by the Volcker Fed and the current phase of deflationary neoliberal globalisation that is once again pushing people out onto the streets.
In short, regardless of what the Fed does this week, or the BOJ; and whatever the PMIs print at; and whatever the EU or Boris give and get, we still face Ages and Ages of Rage in a market that is still largely pricing for the calm of the status quo ante. Source
The phrase "the time of Jacob's trouble" is a quote from Jeremiah 30:7 which says, "Alas! for that day is great, so that none is like it: it is even the time of Jacob's trouble, but he shall be saved out of it" (KJV).
In the previous verses of Jeremiah 30, we find that the Lord is speaking to Jeremiah the prophet about Judah and Israel (30:3-4). In verse 3, the Lord promises that one day in the future, He will bring both Judah and Israel back to the land that He had promised their forefathers. Verse 5 describes a time of great fear and trembling. Verse 6 describes this time in a way that pictures men going through the pains of childbirth, again indicating a time of agony. But there is hope for Judah and Israel, for though this is called "the time of Jacob's distress" (NASB), the Lord promises He will save Jacob (referring to Judah and Israel) out of this time of great trouble (verse 7).
In Jeremiah 30:10-11 the Lord says, "'I will surely save you out of a distant place, your descendants from the land of their exile. Jacob will again have peace and security, and no one will make him afraid. I am with you and will save you,' declares the LORD."
Also, the Lord says He will destroy the nations who held Judah and Israel in captivity, and He will never allow Jacob to be completely destroyed. However, it should be noted that the Lord describes this as a time of discipline for His people. He says of Jacob, "Though I completely destroy all the nations among which I scatter you, I will not completely destroy you. I will discipline you but only with justice; I will not let you go entirely unpunished."
Jeremiah 30:7 says, "That day is great so that none is like it." The only time period that fits this description is the period of the Tribulation. This time is unparalleled in history.
Jesus described the Tribulation using some of the same imagery as Jeremiah. In Matthew 24:6-8, He stated that the appearance of false Christs, wars, and rumors of wars, famines, and earthquakes are "the beginning of birth pains."
Paul, too, described the Tribulation as birth pains. First Thessalonians 5:3 says, "While people are saying, 'Peace and safety,' destruction will come on them suddenly, as labor pains on a pregnant woman, and they will not escape." This event follows the Rapture and the removal of the Church, in 4:13-18. In 5:9, Paul reemphasizes the absence of the Church from this time period by saying, "For God has not destined us for wrath, but for obtaining salvation through our Lord Jesus Christ." The wrath spoken of here is God's judgment on the unbelieving world and His discipline of Israel during the Tribulation.
These "birth pains" are described in detail in Revelation 6-12 Part of the purpose of the Tribulation is to bring Israel back to the Lord.
For those who have received Christ as Savior from sin, the time of Jacob's trouble is something for which we should praise the Lord, for it demonstrates that God keeps His promises. He has promised us eternal life through Christ our Lord, and He has promised land, seed, and blessing to Abraham and his physical descendants. However, before He fulfills those promises, He will lovingly but firmly discipline the nation of Israel so that they return to Him.
"What is the Great Tribulation?"
The Tribulation is a future time period when the Lord will accomplish at least two aspects of His plan: 1) He will complete His discipline of the nation Israel (Daniel 9:24), and 2) He will judge the unbelieving, godless inhabitants of the earth (Revelation 6 – 18). The length of the Tribulation is seven years. This is determined by an understanding of the seventy weeks of Daniel (Daniel 9:24-27; also see the article on the Tribulation). The Great Tribulation is the last half of the Tribulation period, three and one-half years in length. It is distinguished from the Tribulation period because the Beast, or Antichrist, will be revealed, and the wrath of God will greatly intensify during this time. Thus, it is important at this point to emphasize that the Tribulation and the Great Tribulation are not synonymous terms. Within eschatology (the study of future things), the Tribulation refers to the full seven-year period while the "Great Tribulation" refers to the second half of the Tribulation.
It is Christ Himself who used the phrase "Great Tribulation" with reference to the last half of the Tribulation. In Matthew 24:21, Jesus says, "For then there will be great tribulation, such as has not occurred since the beginning of the world until now, nor ever shall." In this verse, Jesus is referring to the event of Matthew 24:15, which describes the revealing of the abomination of desolation, the man also known as the Antichrist. Also, Jesus in Matthew 24:29-30 states, "Immediately after the tribulation of those days . . . the Son of Man will appear in the sky, and then all the tribes of the earth will mourn, and they will see the Son of Man coming on the clouds of the sky with power and great glory." In this passage, Jesus defines the Great Tribulation (v.21) as beginning with the revealing of the abomination of desolation (v.15) and ending with Christ's second coming (v.30).
Other passages that refer to the Great Tribulation are Daniel 12:1b, which says, "And there will be a time of distress such as never occurred since there was a nation until that time." It seems that Jesus was quoting this verse when He spoke the words recorded in Matthew 24:21. Also referring to the Great Tribulation is Jeremiah 30:7, "Alas! for that day is great, There is none like it, And it is the time of Jacob's distress, But he will be saved from it." The phrase "Jacob's distress" refers to the nation of Israel, which will experience persecution and natural disasters such as have never before been seen.
Considering the information Christ gave us in Matthew 24:15-30, it is easy to conclude that the beginning of the Great Tribulation has much to do with the abomination of desolation, an action of the Antichrist. In Daniel 9:26-27, we find that this man will make a "covenant" (a peace pact) with the world for seven years (one "week"; again, see the article on the Tribulation). Halfway through the seven-year period—" in the middle of the week"—we are told this man will break the covenant he made, stopping sacrifice and grain offering, which specifically refers to his actions in the rebuilt temple of the future. Revelation 13:1-10 gives even more detail concerning the Beast's actions, and just as important, it also verifies the length of time he will be in power. Revelation 13:5 says he will be in power for 42 months, which is three and one-half years, the length of the Great Tribulation.
Revelation offers us the most information about the Great Tribulation. From Revelation 13 when the Beast is revealed until Christ returns in Revelation 19, we are given a picture of God's wrath on the earth because of unbelief and rebellion (Revelation 16-18). It is also a picture of how God disciplines and at the same time protects His people Israel (Revelation 14:1-5) until He keeps His promise to Israel by establishing an earthly kingdom (Revelation 20:4-6).
StevieRay Hansen
Editor, HNewsWire.com
The Birth Pains Are Growing Stronger….
"Unless God has raised you up for this very thing, you will be worn out by the opposition of man and devils"…
My name is Steve Meyers and I need to share a vision and warning that the Lord showed me back in April 2007….
Many of you will ask why I waited so long to share the warning. I didn't. I shared the story with everyone that would listen from pastors to friends to family to colleagues. Immediately following the initial vision, I called a close friend. I told him to sit down that I had something to tell him. I needed it documented as I knew this was supernatural and from God. As I witness events unfolding today, I need to share the vision again.
The silencing of the American people before 2020?
The Un-Godly — Those That Suppress the Truth, the social media giants built multi-billion dollar empires by giving everyone a voice, but now that they have such a dominant position on the Internet they have decided that many prominent conservative voices should be completely silenced.
Trans People, LGBTQE scream and the online publishing platform Medium suspended the accounts of prominent Christians and Conservative figures Mike Cernovich, Jack Posobiec, Laura Loomer and HNewsWire just to mention a few, the list is long and very disturbing-what the majority homosexuals, transgender, liberal screaming has accomplished in the name of inclusion
The fact is, it is not enough for atheists, homosexuals, socialists and cultural leftists to have their own freedom and equality to believe whatever they believe (freedom which most Christians fully support). No, they want to ensure that Christians are not permitted to live out their own faith and convictions without retribution. This is the legacy of the New Tolerance movement. The doors of religious liberty are closing once again in Russia, after a brief twenty-six-year limited window. Are the doors of our four-hundred-year window of liberty closing? Frankly, that answer will be determined by what this generation of Christians in America does in the next ten years. "And the Lord will by no means leave the guilty unpunished."
The light went out in the church, and that's the reason the world got dark. Dark times were perpetrated by the "last one out, turn out the lights" "The church lights have gone OUT".
The Lukewarm Christian
There are numerous pathetic souls who, though they have not severed formal fellowship ties with a local church, nonetheless are so spiritually apathetic as to be practical enemies of the Lord.
Let Me Make This Abundantly Clear. (I Am Apolitical) While I Have a General Distaste for Politicians No Matter the Party They Belong To, I Am Unashamedly Politically a Bible Believing Conservative Christian. I Have a Severe Distrust of Government. I Believe It Is the Most Inefficient and Ineffective Way to Accomplish Most Things. While I Strongly Disagree with Liberals/Progressives and Conservative on Most Political Issues, and While I Believe Liberals/Progressives and Most Politicians Are Terribly Misguided and Naive About What Big Government Will Eventually Result In, I Strive to Not Question Their Motives. at the Same Time, While I Find Myself in Agreement with Conservative Politicians on Some Issues, I Do Not Believe Electing Republicans Is the Answer to Everything. for Me, Very Sadly, the Main Difference Between Republicans and Democrats Is How Quickly They Want to Drive the Car Towards the Cliff. Simply Put, I Do Not Believe the Government Is the Solution for Everything. I Do Not Place Any Faith, Trust, or Hope in Any Politicians to Fix What Is Wrong with the World. "Come Lord Jesus!" (Revelation 22:20) StevieRay Hansen
Our government has been overthrown. As evidenced by Trump's capitulation on the border, his recent servitude to the GMO industry and his acquiescence to the warmongers, our President has been compromised. Our liberties are being eliminated one by one. Gun confiscation is next. The Constitution is gasping its last breaths. Our borders are destroyed and our culture has been turned upside down by every perversion known to man.
Education is useless without the bible (Daniel Webster)
Usually, the Lord doth no great thing for or against his people, without giving warning of it before it comes.
John Wesley who said that what we tolerate in our generation, will be embraced by the next. Wesley is 100% correct! We are living in sick times.
The Left, a broad term for Liberal Socialist Democrats that can only be explained fully by using the Bible explanation of the human race is as follows. A servant of Satan, because you are either saved or lost. This election has brought out the true nature of who you serve. Simply put, it's Donald Trump, Conservatives, and Christians against the rest of the world. The Left's Love applies only to those who believe as they do. They Love evil and commit Anarchy against those who love good. They are governed by lies and never tell the truth. On this Friday, Inaugural Day for the swearing-in of Donald Trump as the 45th President of the United States the Left wants to commit widespread Anarchy to shut down the swearing-in ceremony. Their goal of transforming America, which was founded in Judea Christian values into a Pagan Nation is almost complete. Their goal has always been the total removal of God from American society and the downfall of America. Donald Trump says he is a Presbyterian, but he left off the USA, an apostate church.
Corinthians 4:8-11 New King James Version (NKJV)
We are hard-pressed on every side, yet not crushed; we are perplexed, but not in despair; 9. persecuted, but not forsaken; struck down, but not destroyed— 10. always carrying about in the body the dying of the Lord Jesus, that the life of Jesus also may be manifested in our body. 11. For we who live are always delivered to death for Jesus' sake, that the life of Jesus also may be manifested in our mortal flesh.
Satan has power over (LGBTQE-TRANS PEOPLE). The "sons of disobedience" referred to in Ephesians 2:2 are those who have not trusted Christ as Lord and Savior (cf. Acts 26:18; 2 Corinthians 4:4; Revelation 13:12). The demons are also under the rule of Satan (Matthew 12:24), and one of his titles is "prince of demons" (Matthew 9:34). Satan has a kingdom (Matthew 12:26) and a throne (Revelation 2:13). Satan is called a prince because he is a ruler and possesses the power to manifest evil in the world through influencing people and commanding demons.
HNewsWire- "All political language is designed to make lies sound truthful and murder respectable." Just look at some of our modern-day examples: torture is "enhanced interrogation techniques"; murder is "collateral damage"; the aggression initiation of war is a "pre-emptive strike"; the theft of taxpayers' money is a "bailout", and the theft of depositors' money in a bank is a "haircut" or "bail-in".In a blatant example of Newspeak, the New World Order controllers (through the psychiatric DSM V) have tried to rename pedophiles as "minor-attracted persons" and redefine pedophilia as "sexual orientation". This makes no sense since sexual orientation has to do with gender, not age, with whether you are attracted to males or females, not how old they are. There are even organizations (like B4UAct.org) which are claiming that pedophiles are being unfairly stigmatized for their feelings!
If homosexuality has been posed as healthy, good and normal, in the face of overwhelming evidence to the contrary, so can pedophilia. Pro-pedophilic articles are making their way into academia.
The Cult of LGBTQE-E for EVIL and is often a cover for child-molesting perverts
Tagged Under: abuse, children's health, gender-confused, gender issues, gender madness, the left cult, LGBTQE-E For Evil un-godly Mob, Lunacy, mutilation, transgender, Child molesting perverts LGBTQE- E For Evil, drag queens, perverts
Unfortunately, not all alternative sources are reliable, even some Major Christian (and I use Christian loosely) news sources have been corrupted. They will NOT tell the truth. They just parrot the deceptive narratives perpetrated by those who currently control our government and media. Even those who are honestly trying to present the truth can miss it sometimes. There is so much deception out there. In these last days, you must be wise as serpents and gentle as lambs. It is no time to sleep or slumber. Diligence and vigilance are required. It is critical that you think for yourself and not be a Lemming.
Are you an insider who wants to confidentially reveal wrongdoing or political bias at your company?. Reach out to StevieRay at his secure email address [email protected]
Tagged Under: hnewswire StevieRay Hansen, HNewsWire, antichrist,digital gulag, antichrists, Apple, Bible, Big Tech, bigotry, Christian baker, Christianity, Christians, Colorado, Colorado Civil Rights Commission, conservatives, deep state, demonic assault, end of days, end times, Facebook, First Amendment, free speech, Google, hate groups, Hate speech
Tagged Under: UN, hnewswire StevieRay Hansen, HNewsWire, antichrist,digital gulag, antichrists, Apple, Bible, Big Tech, bigotry, Christian baker, Christianity, Christians, Colorado, Colorado Civil Rights Commission, conservatives, deep state, demonic assault, end of days, end times, Facebook, First Amendment, free speech, Google, hate groups, Hate speech, hatred, hostility, insanity, Instagram, intolerance, Jack Phillips, jesus, Jesus Christ, left cult, Leftists, LGBT mafia, Liberal Mob, lunatics, persecution, Pinterest, prophecy, Southern Poverty Law Center, SPLC, Tribulation, Twitter,Anti Christ, Bible, Blame Game, California, deception, demonic, fascism, free speech, freedom of religion, gender confused, hypocrisy, insanity, insidious gender war, left cult, LGBT, lgbtq, Liberty, lies, Mental illness, nra, oxymoron, religion, religious groups, San Francisco, suicides, terrorists, Tyranny,Big Tech, deception, disinfo, disinformation, Facebook, fake news, freedom of speech, Google, Journalism, lies, mainstream media, manipulation, Microsoft, news cartels, online speech, propaganda, Silicon Valley, tech giants, Twitter
Pharmaceuticals Home Made Pestilence Via Vaccines a.k.a Kill Shots: HNewsWire- Before arriving in San Francisco, the Ruby Princess, a Princess Cruises ship, reported a COVID-19…
Read More
We make every effort to acknowledge sources used in our news articles. In a few cases, the sources were lost due to a technological glitch. If you believe we have not given sufficient credit for your source material, please contact us, and we will be more than happy to link to your article.