Advisory: Be careful of what you read on social media. The algorithms used by these platforms have no regard for Biblical truth. They target your emotions to keep you engaged on their site so their advertisers can drop more ads. These platforms exist to enrich their stockholders. Consider God's promise to Believers in James 1:5, "If any of you lacks wisdom, you should ask God, who gives generously to all without finding fault, and it will be given to you."
Manipulate the COVID 19 Death Numbers in an Effort to Bring on the New World Order, They Have Been Exposed at Every Turn, Be Assured They Are More Dangerous Now Than Ever…
At the time of this writing, the United States currently maintains the highest number of Covid-19 deaths and ranks 11th for the highest deaths per capita. There have been approximately 262,000 recorded Covid-19 deaths in the United States, which is certainly a concerning number.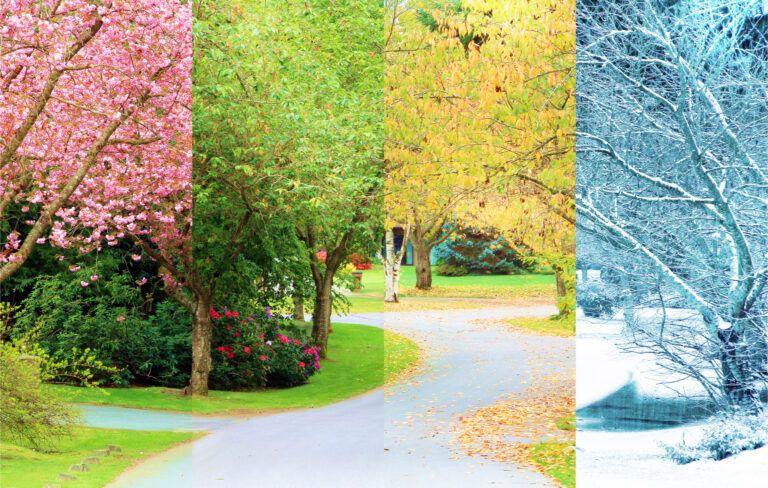 However, a new study (link removed but now available at Archive.org) published by Dr. Genevieve Briand at Johns Hopkins University notes some critical accounting errors done at the national level.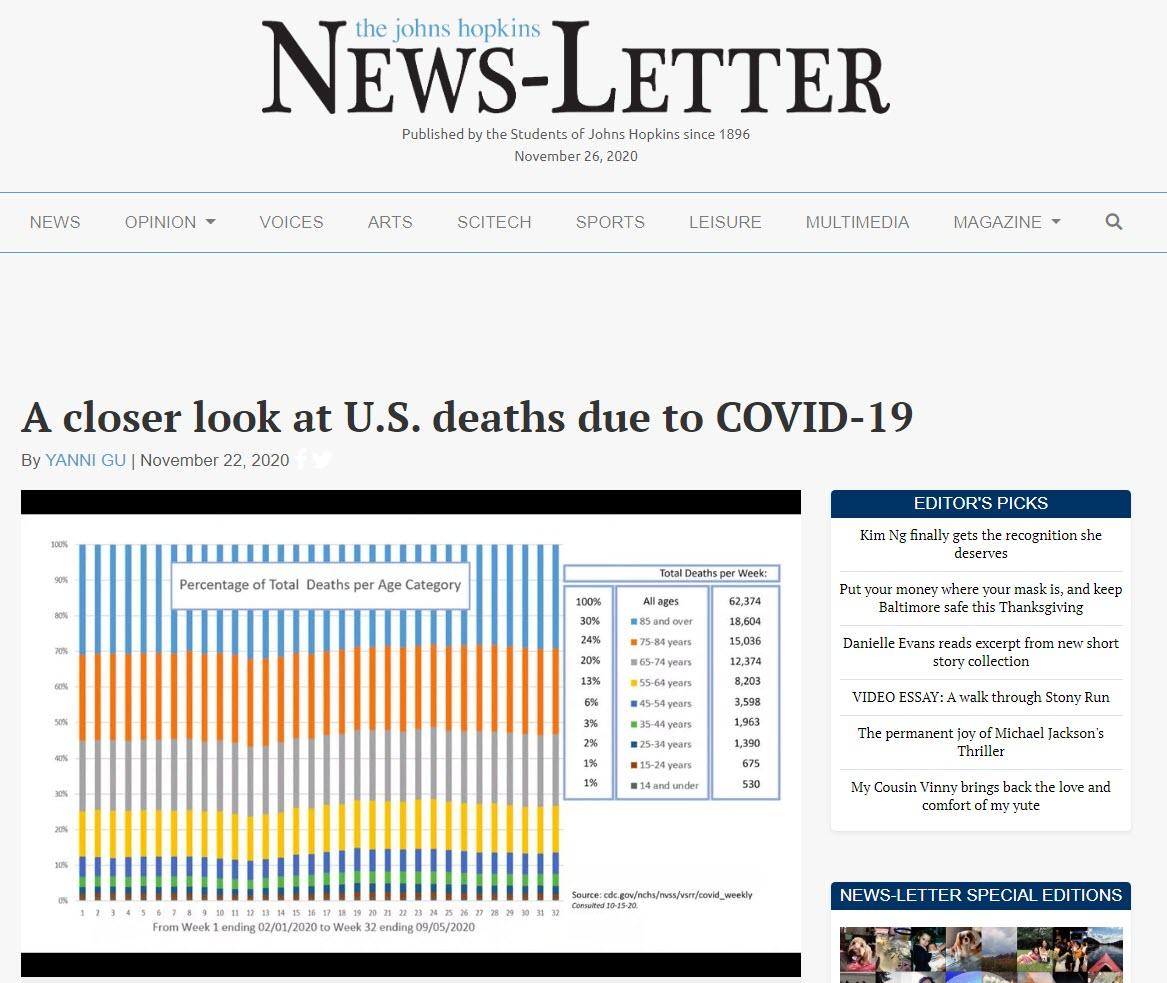 The study – which is still being vetted – simply examines the raw data that should have been questioned months ago.
The overall conclusion is that Covid-19, at least according to collected data, is not the killer disease that it is currently hyped up to be. AIER is not endorsing the study as is without further study, but we are interested in the argument being examined and discussed.
Viewing Covid-19 Deaths in Context
It is already well established that Covid-19 is a disease that is most dangerous to those over the age of 65 and who have preexisting conditions. In the United States, there has been an observed 2.1% mortality rate, with elderly individuals making up over half that number.
Young and healthy people are not by any significant capacity threatened by Covid-19.
One of the most important factors when it comes to Covid-19 is preventing excess death. According to the CDC,
"Estimates of excess deaths can provide information about the burden of mortality potentially related to the COVID-19 pandemic, including deaths that are directly or indirectly attributed to COVID-19. Excess deaths are typically defined as the difference between the observed numbers of deaths in specific time periods and expected numbers of deaths in the same time periods."
Essentially, there is an average number of deaths every year due to a variety of causes that for the most part have remained constant through the years. This includes morbidities such as heart disease, which has long been the leading cause of death, and cancer, which has long plagued our existence. For Covid-19 to be a serious cause of alarm, it would need to significantly increase the number of average deaths.
However, according to the study,
"These data analyses suggest that in contrast to most people's assumptions, the number of deaths by COVID-19 is not alarming. In fact, it has relatively no effect on deaths in the United States."
Total deaths in the United States show no significant change and even mirror past trends of seasonal illness.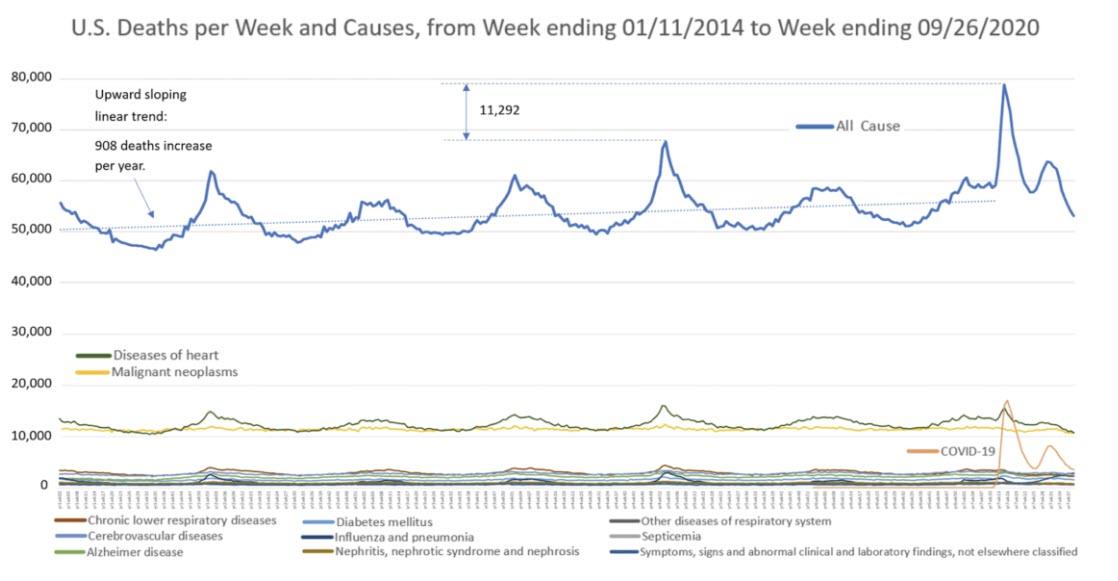 Source: CDC Data, Methodology Included in this Video
According to this graph constructed using data provided by the CDC from the last 6 years, total deaths have remained relatively constant and increases can be explained by various factors such as a larger population. The spikes in deaths in 2020 are consistent with historical trends, only topping 2018 by 11,292 deaths. There have been over 262,000 deaths attributed to Covid-19 in the United States, yet total deaths have not increased in any alarming capacity; they have only mirrored existing trends. In short, according to 6 years of data collected by the CDC, Covid-19 has not led to any significant increase in deaths.
Diving Deeper
What is even more interesting if not more alarming is that the spike in recorded Covid-19 deaths seen in 2020 has coincided with a proportional decrease in death from other diseases.
Yanni Gu writes
"This suggests, according to Briand, that the COVID-19 death toll is misleading. Briand believes that deaths due to heart diseases, respiratory diseases, influenza and pneumonia may instead be recategorized as being due to COVID-19."
Deaths have remained relatively constant, yet reported deaths due to deadly conditions such as heart disease have fallen while reported Covid deaths have risen. This suggests that the current Covid death count is in some capacity relabeled deaths due to other ailments. According to the graph, reported Covid deaths even overtook heart disease as the main cause of death at one point, which should raise suspicion.
This aligns with many other well-established facts about the virus, such as those with comorbidities are the most at risk. According to the CDC, about 94% of Covid deaths occur with comorbidities. This suggests that it could be possible that a large number of deaths could have been mainly due to more serious ailments such as heart disease but categorized as a Covid-19 death, a far less lethal disease.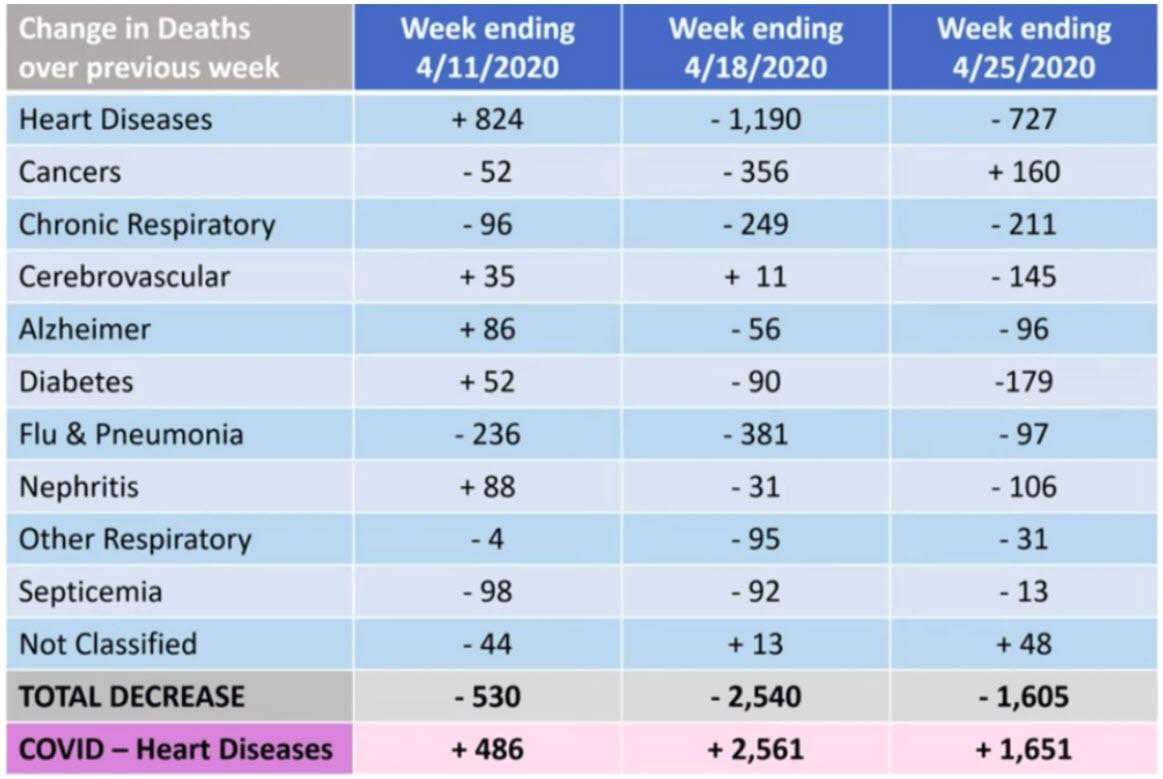 Source: John Hopkins News-Letter, provided by Genevieve Briand
According to this graph provided by the study, deaths labeled under Covid-19 increased while deaths labeled under others decreased. It is important to note that this sample only applies to the month of April as the author notes these were the weeks with the highest reported deaths. Gu writes
"The CDC classified all deaths that are related to COVID-19 simply as COVID-19 deaths. Even patients dying from other underlying diseases but are infected with COVID-19 count as COVID-19 deaths. This is likely the main explanation as to why COVID-19 deaths drastically increased while deaths by all other diseases experienced a significant decrease…

"If [the COVID-19 death toll] was not misleading at all, what we should have observed is an increased number of heart attacks and increased COVID-19 numbers. But a decreased number of heart attacks and all the other death causes doesn't give us a choice but to point to some misclassification," Briand replied."
Furthermore, Briand's research notes that the percentage of death has remained relatively constant through all age groups. Covid death statistics seem to mirror the normal distribution of death amongst age groups, further lending credence to the argument that many Covid deaths are recategorized deaths.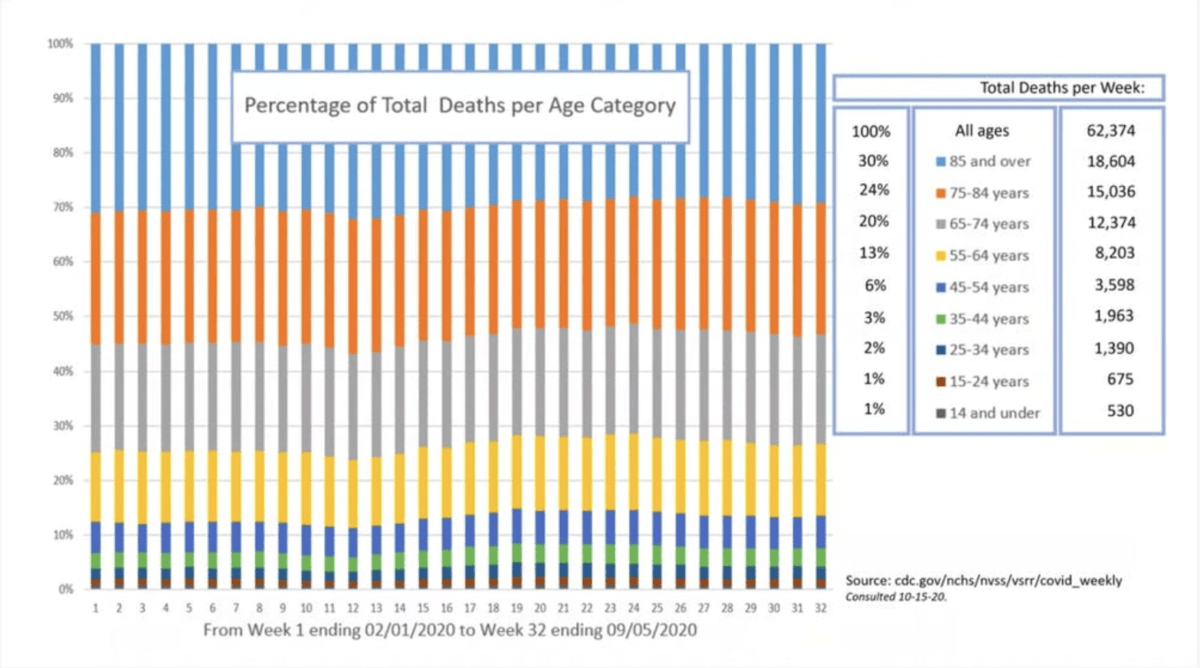 Briand provides this graph constructed from CDC data that shows that deaths amongst various age groups have remained relatively constant.
By simply looking at the raw data presented by the CDC Gu writes that
"All of this points to no evidence that COVID-19 created any excess deaths. Total death numbers are not above normal death numbers. We found no evidence to the contrary," Briand concluded.
Receive a daily recap featuring a curated list of must-read stories.
Briand and likely many others suppose that the extreme emphasis on Covid-19 has led to the unintended classification of the disease as the cause of death. She further stresses that although this data challenges the idea that Covid is an unprecedented and lethal disease, we should still be concerned with mitigating death in general.
However, it is clear that this significant accounting error regarding Covid deaths, if true, is not productive. It has caused mass hysteria and misinformed public policy. Closing down communities to fight a virus that according to the data, has had no significant contribution to total deaths, reduces our overall capacity to build a healthy society.
[ZH: Alex Berenson (@AlexBerenson) noted on Twitter: "Folks: I know a lot of you are referencing this Johns Hopkins paper that's been pulled. Unfortunately it is wrong. The excess deaths are real. Yes, they're very, very skewed by age, but they're real. Pretending otherwise doesn't help."]
Lockdowns have resulted in severe damage to our capacity to improve the general health of society. From the catastrophic economic damage that lowers the standard of living for everyone to surgeries being deemed "unessential," our current policies are not helping in preventing deaths in general; they are likely leading to more. Suicides and substance abuse are up, mental and physical health are down, all due to lockdowns.
The late Dr. Donald Henderson, who led the eradication of smallpox, noted in 2006 that
"Experience has shown that communities faced with epidemics or other adverse events respond best and with the least anxiety when the normal social functioning of the community is least disrupted."
The hysteria over Covid-19 has likely led to the alleged accounting error noted in Briand's study, the reclassification of expected deaths from all causes into Covid deaths.
This Is How Satan Soldiers Control the Narrative, Control the Overhyped Numbers, Through Corporate Entity Such as YouTube, Social Media Platforms Such as Twatter, They'll Just Shadow Banned, or Remove Those Accounts They Do Not Agree With Even Though They Are Factual. It's Time the American People Stop Using YouTube, Social Media Sites That Deliberately Hide the Truth and of Course That Includes the Biggest Offender of All Google…
Source: HNewsWire ZeroHedge HNewsWire HNewsWire HNewsWire
StevieRay Hansen
Editor, HNewsWire.com
Watchmen does not confuse truth with consensus The Watchmen does not confuse God's word with the word of those in power…
We're at the Point in This Country Where Our Government Puts Out the Memo to Inform Those That Go Against the State Narrative — They Will Be Shut Down, Welcome to Hell on Earth, a.k.a. the Great Tribulations, Brought to You by Satan Soldiers…
StevieRay Hansen WatchMan
For Allowing the Ungodly (Politicians, the Unelected Corporations) to Rule Our Lives, Big Pharma Will Be Exempt From COVID-19 Vaccine Liability Claims, You Are Now a Guinea Pig…
The role of a watchman: Gives insight into the world at the end of this age. They see the dark gathering clouds on the world's horizon that spell the end of Satan's reign as the god of this world and author of all its evil. This leads them to mount the "walls" of society and shout a warning to any who will hear. To say: "God is sovereign. He will bring a time of judgment on the world to prove that He alone is God. All other gods erected by people to hide His truth will be destroyed."
A national affliction
Today America and Great Britain stand at a crossroads. For more than 200 years they have dominated the world in virtually every arena. As Great Britain retreated from its empire after World War II, America was there to take its place and continue the legacy set by the English through their peak years.
But America's dominant power is under siege from many sectors. Its will to stay the course in Iraq is being tested, its military machine strained under the pressure of the extended fighting. Though it is the primary engine for the world's economy, a weakened dollar and a trade balance deficit are both troubling indicators of a major crisis ahead.
God warns us through the message of the prophets that sins will demand a day of reckoning. People cannot continue worshipping the false gods of materialism and self, blindly stumbling along in their own righteousness, and expect their affluent standard of living to continue.
God's Word confirms there will be an accounting; the lesson of history is that any people who corrupt their moral core will eventually fade from power. God calls on America and Great Britain to wake up, acknowledge their sins, and repent before national calamity descends on them.
"Do this and live"
Amos the prophet walked into the city of Samaria, capital of the northern kingdom of Israel, and boldly told the king and city leaders to repent or face captivity at the hands of the Assyrians. He pointed to neighboring states that had fallen and said, "You are no better than they were."
He rebuked those who did not want to hear a "message of doom." To those who stocked their homes with the finest luxury goods and gourmet foods, trusting that affluence was a sign of God's blessing, he said, "Don't trust in materialism." The citizenry, at all levels, looked only to their comfort and ease and did not grieve "for the affliction of Joseph" (Amos 6:6).
Those who "grieve" and "sigh and cry" over societal sins are called to a unique role. They are part of God's elect, called to the duty of proclaiming the announcement of the Kingdom of God. That message includes the good news of Jesus Christ's return to restore all things (see Acts 3:19-21). The message also contains a warning to repent and receive God's blessing or ignore the warning and face the judgment of God. It is a double-edged message—plain-spoken, yet full of hope.
Fulfilling this role requires courage, perseverance, and a love for the people addressed. One of the best examples of this was the prophet, Jeremiah. Jeremiah spent more than 40 years in the role of a watchman to the nation of Judah, urging people to heed his warnings and return to the ways of God.
Notice this passage: "Stand in the ways and see, and ask for the old paths, where the good way is, and walk-in it; then you will find rest for your souls. But they said, 'We will not walk in it' " (Jeremiah 6:16).
God's main message throughout the Bible is to return to His paths, His teachings, as the solution for the suffering and pain of human life. "Do this and live," He says.
Jeremiah and others like him have stood in the role of a watchman. "Also, I set watchmen over you, saying, 'Listen to the sound of the trumpet!' But they said, 'We will not listen.' Therefore hear, you nations … Behold, I will certainly bring calamity on this people —the fruit of their thoughts, because they have not heeded My words nor My law, but rejected it" (Jeremiah 6:17-19).
Today's watchmen
Examining the concept of watching in the New Testament helps to complete the picture of this role. The Greek word Gregorio, translated as "watch," means to keep awake, to watch, and to take heed. Through neglect or laziness, we could let down and be overcome with sin, or a sudden calamity could overwhelm us spiritually.
Notice in Mark 13:32-37, in Jesus' prophecy of the end time, that He urges His disciples three times to "watch" during the times leading to His second coming. The emphasis is on a personal watch through prayer to know the times.
By prayer and righteous living, we stay tuned to Jesus Christ. Through this way of life one can discern the moral climate of the times and avoid being tossed around with every shifting ideology of modern culture. Walking in God's laws and instruction insulates us from the course of the world and its deceptions.
Revelation 16 describes a massive end-time deception perpetrated by Satan and demons that work through the human instruments called "the Beast" and "the False Prophet" (Revelation 16:13). Their influence gathers the leaders of the earth "to the battle of that great day of God Almighty . . . to the place called in Hebrew, Armageddon" (Revelation 16:14-16).
In our fascination over these otherworldly figures, we can easily skip over Christ's charge: "Behold, I am coming as a thief"—suddenly and unexpectedly. "Blessed is he who watches, and keeps his garments, lest he walks naked and they see his shame" (Revelation 16:15, emphasis added throughout).
Jesus pronounces a blessing for those who, during mankind's darkest moment, watch. That is, they are living prudently and properly. The natural by-product of this close relationship with God is being alert to religious deception. Those who frame their life around the coming Kingdom of God will watch and keep themselves from the wiles of the devil.
This is the end result of fulfilling the role of a watchman within the Body of Christ—to be found standing in the faith, blessed of God at the dawn of His Kingdom on this earth.
Our world is moving toward this time of the global cataclysm. Revelation 16 describes a future moment when people will be caught up in events engineered through the Beast and False Prophet. The former is a political leader of compelling personality and ability; and the other, a religious leader unlike any in modern times.Together they will convince armies to move toward Jerusalem to fight Jesus Christ at His coming.
Warning and hope
This is a time for the watchmen to mount the walls and sound a clear, unmistakable warning message of the dangers facing not just the English-speaking peoples but also the whole world. It is time to make known the hope of the coming Kingdom of God.
Isaiah's message stands bright and clear today: "How beautiful upon the mountains are the feet of him who brings good news, who proclaims peace, who brings glad tidings of good things, who proclaims salvation, who says to Zion, 'Your God reigns!' Your watchmen shall lift up their voices, with their voices they shall sing together; for they shall see eye to eye when the Lord brings back Zion" (Isaiah 52:7).
Come, take your place on the walls, work for the Kingdom and pray for its speedy arrival!
These special servants understand the dangers of the present world. They see the dark clouds gathering on the world's horizon and are moved to proclaim a warning message to all who will hear.
Things To Come: It has been 7 years on 17th/1/2023 since 'the little horn[son]' -the Bibi[baby] son whose name /number adds to 666 renewed the…
Read More
We make every effort to acknowledge sources used in our news articles. In a few cases, the sources were lost due to a technological glitch. If you believe we have not given sufficient credit for your source material, please contact us, and we will be more than happy to link to your article.