Advisory: Be careful of what you read on social media. The algorithms used by these platforms have no regard for Biblical truth. They target your emotions to keep you engaged on their site so their advertisers can drop more ads. These platforms exist to enrich their stockholders. Consider God's promise to Believers in James 1:5, "If any of you lacks wisdom, you should ask God, who gives generously to all without finding fault, and it will be given to you."
Apparently now they're blaming God for this man-made disaster, According to authorities, the Southern California fire was caused after a dry branch from a eucalyptus tree was carried 30 feet by high winds into power like operated by the city's Department of Water and Power. LA Mayor Eric Garcetti called it an "act of God."
A raging wildfire in a north Los Angeles suburb forced the evacuation of the Ronald Reagan Presidential Library and nearby homes, as dangerous fires fueled by intense Santa Ana winds spread across Southern California's Simi Valley on Wednesday.

WATCH: Outside the Reagan Presidential Library in Simi Valley, California, as a fast-moving wildfire has forced evacuations in the area. https://nbcnews.to/2BSdGGR 65711:03 AM – Oct 30, 2019Twitter Ads info and privacy577 people are talking about this

This is how close the Easy-Fire is to the Ronald Reagan Presidential Library https://cnn.it/336fjg8 1,69710:40 AM – Oct 30, 2019Twitter Ads info and privacy1,263 people are talking about this
The brush fire near the library started before dawn in the Moorpark and Simi Valley neighborhoods, expanding to over 1,300 acres and threatening 6,500 homes according to Ventura County officials.
Library spokeswoman Melissa Giller said around midmorning that the hilltop museum in Simi Valley was not damaged. She said that the flames came within about 30 yards (27 meters) of the property but that it was protected by aircraft dropping water and by a firebreak, a buffer zone that was cleared of brush by goats. –AP
Ablaze also broke out to the east in Riverside County's Jurupa Valley, which led to healthcare workers quickly evacuating elderly people in wheelchairs and gurneys as thick smoke blanketed the area.
According to Giller, the library spokeswoman, hundreds of goats are brought to the grounds each year to eat wildfire-fueling vegetation on the 300-acre property. Ronald and Nancy Reagan are buried next to each other on a hillside at the library.

Air Force One sits on display at #reaganlibrary as the #easyfire burns in the hills of Simi Valley. #latimes @latimes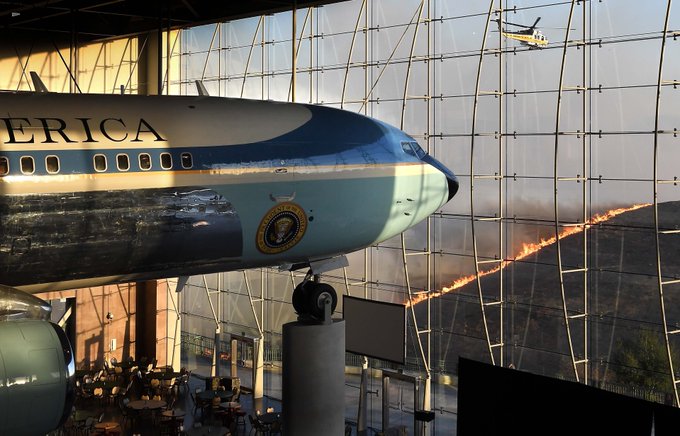 3,37611:56 AM – Oct 30, 2019Twitter Ads info and privacy2,000 people are talking about this
Helicopters and airplanes attacked the blaze as some 800 firefighters battled it on the ground. The flames pushed through sparsely developed hills between suburban tract developments. Ranchers rushed to evacuate horses, goats and other livestock.

Wind gusts up to 68 mph (109 kph) were reported in the area, forecasters said. Other spots elsewhere in Southern California were buffeted by even stronger winds. The wind knocked over a truck along a freeway in Fontana. –AP
Power outages continue
To the North, Californians served by Pacific Gas & Electric Co. (PG&E) were subject to yet another sweeping blackout – the third in a week, aimed at preventing its dated electrical equipment from sparking more fires. Over 900,000 people were without power Wednesday – with some having no power since Saturday according to PG&E.
Across the darkened neighborhoods, people worried about charging cellphones and electric vehicles, finding gasoline and cash, staying warm and keeping their food from spoiling. Some ended up at centers set up by PG&E where people could go to power their electronics and get free water, snacks, flashlights and solar lanterns. –AP
Chef and caterer Jane Sykes says she's had to toss $1,000 of food, including trays of cupcakes, brownies and puff pastry – and that she can't get a good night's sleep without her sleep apnea machine which runs on electricity.
"I don't think PG&E really thought this through," she told the Associated Press.
In Sonoma County north of San Francisco, fire officials reported that a 120-square-mile blaze was 30% contained. It has destroyed 206 structures so far, including 94 homes. Another 90,000 are threatened, while 150,000 people are under evacuation orders.
Winds topped out at 70 mph (112 kph) north of San Francisco Bay and began to ease early Wednesday, but forecasters said the fire danger would remain high because of continuing breezes and dry air.

In Southern California, fire crews continued trying to snuff out a wildfire in the celebrity-studded hills of Los Angeles that destroyed a dozen homes on Monday. About 9,000 people, including Arnold Schwarzenegger and LeBron James, were under evacuation orders. –AP
According to authorities, the Southern California fire was caused after a dry branch from a eucalyptus tree was carried 30 feet by high winds into a power like operated by the city's Department of Water and Power. LA Mayor Eric Garcetti called it an "act of God."
Much of Southern California will be under an extreme red flag warning for high winds through Thursday evening, with some gusts expected to top 80 mph – the strongest winds in years. Source
Take Care of Those Transgender People at the Polls — California to Train Poll Workers to Be Courteous to Trans People in Bid to Woo (LGBTQE-E For Evil) to Polls….
The ungodly have willingly changed God's design for man and woman, we live in dangerous times. New America if the liberals have their way, Gavin Newsom begs DC for money to support an ungodly Ca. states culture and demands the country submit to his demonic view of society, and then we watch the lights go out, and Northern California Burns, the Gov. is a disgrace to humanity.
Why does this keep happening to California year after year? The answer is simple, menkind without God in their hearts are dangerous as you read this article, enormous wildfires are ravaging large portions of northern California, and Governor Gavin Newsom has already declared a statewide emergency. An extreme wind event that began on Saturday evening is pushing the fires along at a staggering rate, and when the winds are howling this ferociously it is exceedingly difficult for firefighters to keep the fires from spreading. It was being reported that on Sunday morning there were sustained winds exceeding 90 mph in northern California with "gusts that topped 100 mph". It was the strongest wind event in several years, and it came at an extremely unfortunate time.
These "hurricane-force Diablo winds" will continue into Monday morning, but that doesn't mean that things will start to get better. As you will see below, another extreme wind event is in the forecast for Tuesday and Wednesday.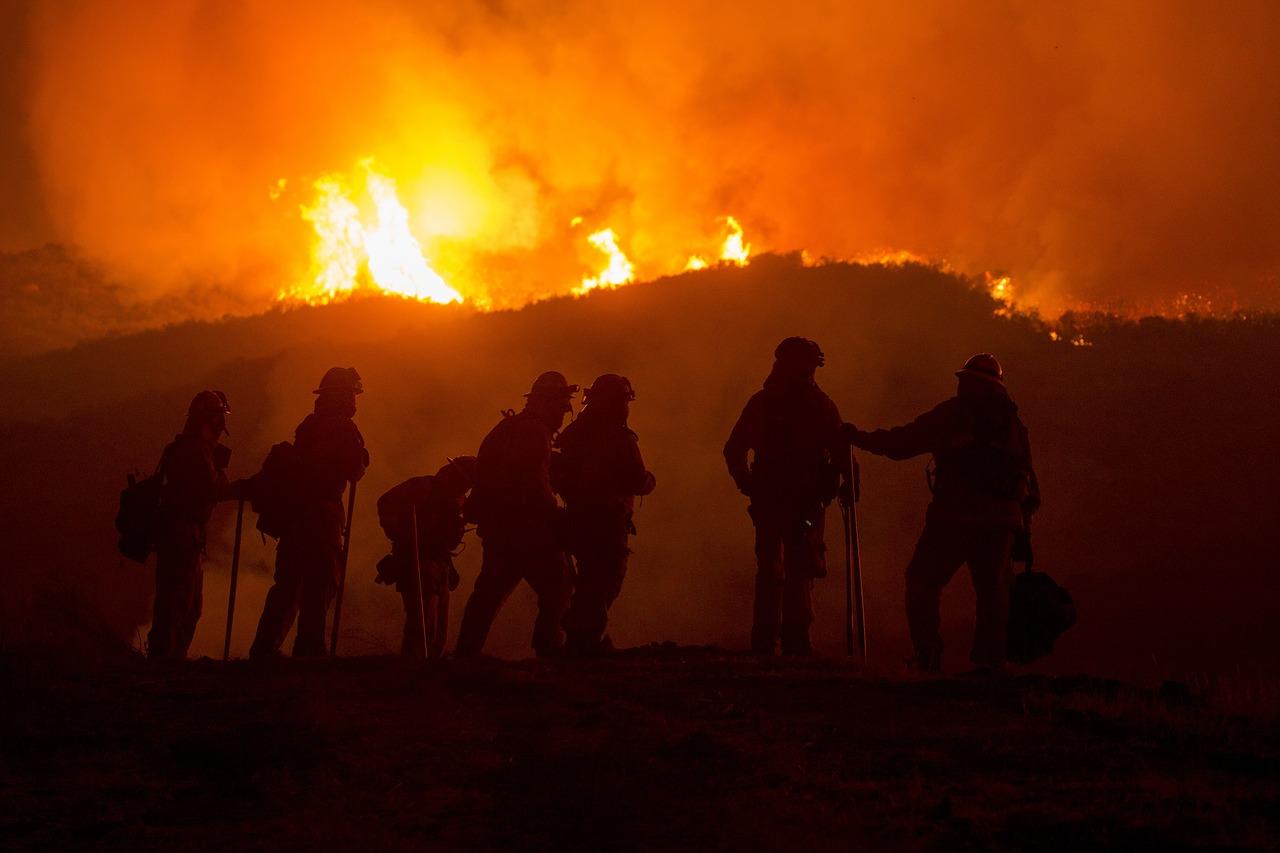 The Kincade Fire is the largest of the wildfires, and according to ABC News it has now "grown to 85 square miles"…
California Fire officials say a rapidly moving fire in Northern California wine country has grown to 85 square miles (220 square kilometers) and destroyed 94 buildings.

Cal Fire spokesman Jonathan Cox called the conditions throughout California "a tinderbox" Sunday and asked people to continue being vigilant in helping to prevent fires from breaking out.
That is an absolutely massive wildfire, and the extremely strong winds are picking up embers from the Kincade Fire and starting blazes in new areas.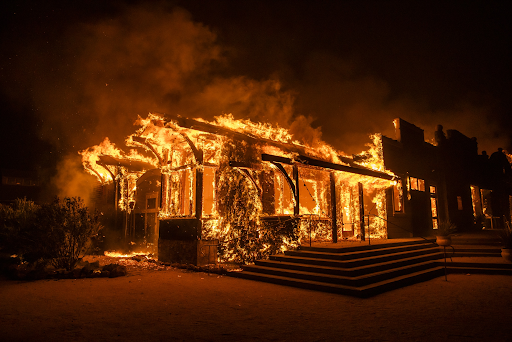 The following is what Cal Fire Captain Robert Foxworthy told reporters on Sunday morning…
"The wind speeds are extreme…The strongest winds I have felt in my career," Cal Fire Capt. Robert Foxworthy told KPIX 5 Sunday morning. "They (the winds) are throwing embers a considerable distance in front of the main fire, causing spot fires, creating a real challenge for the crews fighting the fire."
The Kincade Fire was only about 10 percent contained early on Sunday, but thanks to this extreme wind event the level of containment has now fallen to 5 percent.
In other words, this fire is completely and utterly out of control.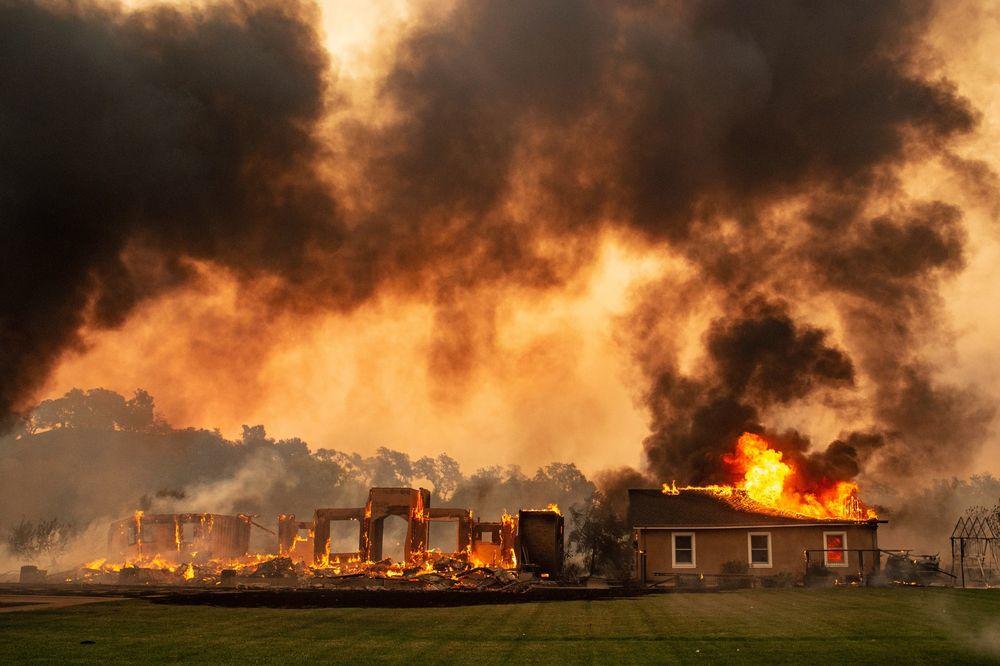 Pacific Gas & Electric is telling us that "nearly 2.7 million people lost electricity" on Sunday, and they are expecting more blackouts in northern California during the week.
Could you imagine being in the dark with no electricity and massive wildfires are raging all around you?
This is a terrifying time for those living in northern California, and approximately 200,000 are currently under mandatory evacuation orders.
According to the Sonoma County Sheriff, nobody can remember another time when there was an evacuation order this large…
Approx 180,000 people under evacuation order due to #KincadeFire. This is the largest evacuation that any of us at the Sheriff's Office can remember. Take care of each other.

"I've heard some people express concerns that we're evacuating too many people," Sonoma County Sheriff Mark Essick said Sunday.

"I think those concerns are not valid at this point."
As Bloomberg reports, power was knocked out in heavily populated areas including Oakland and Berkeley, and almost all of the affluent Marin County north of San Francisco. While the city of San Francisco itself was spared, many of the workers in commuter towns were hit.
In the suburbs of Marin County, street lights were out, gas stations were closed and stores were shuttered. People who charged their phones and computers before the outage hit awoke to slow internet connections as they searched for updates.

In Oakland, long stretches of banks, pharmacies, restaurants, shops and markets were dark. Police patrol cars parked at intersections to help navigate vehicles through darkened traffic lights.

PG&E said it would begin inspections in the rest of its blacked-out territory early Monday morning, returning electricity as quickly as possible.

But while executives said they would try to restore power to everyone who lost it before the next blackout began, they warned that they might not have time. Some customers, they said, might stay in the dark for days.
And it's not just NorCal, Southern California is suffering also with mass evacuations across some of the wealthiest regions in LA…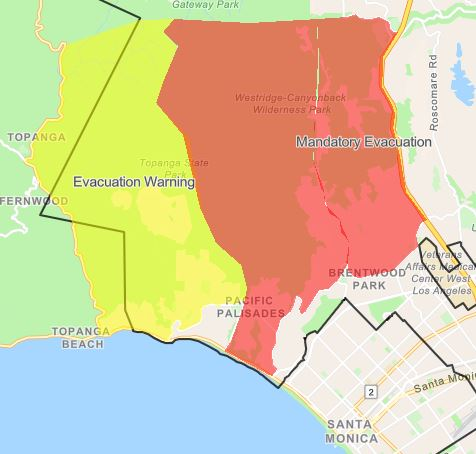 Sadly, most homeowners in California do not have fire insurance, and so when they lose their homes they may find it exceedingly difficult to rebuild.
And after last year's horrific fires, some insurance companies decided not to renew coverage for many of those that did actually have fire insurance…
After last year's devastating wildfires, insurance companies are balking at fire coverage policy renewals for more than 350,000 residents in high-risk areas.

"We are seeing an increasing trend across California where people at risk of wildfires are being non-renewed by their insurer," state Insurance Commissioner Ricardo Lara said in a statement.

The California Department of Insurance "has seen cases where homeowners were paying an annual premium of $800-$1,000 but, upon renewal, saw increases to as high as $2,500-$5,000," a staggering rise of more than 300 percent in most cases.
Insurance companies keep making it really hard for us to have a positive view of them. The entire purpose for insuring our homes is so that if disaster strikes we will be able to rebuild.
Of course, it probably doesn't make much business sense to keep insuring multi-million dollar homes that are built in the middle of a tinderbox if these sorts of wildfires are just going to keep happening year after year after year.
But the truth is that we never used to see fires of such ferocity and intensity year after year. Yes, there have always been wildfires in California, but something has changed.
So why is this happening?
Why is California being absolutely pummeled by unprecedented fires in recent years?
Ultimately, I think that these latest fires will encourage even more people to leave the state, and you certainly can't blame anyone that wants to leave.
The winds that are fueling the rapid growth of these wildfires are expected to die down late on Monday, but then another extreme wind event is coming on Tuesday…
On Sunday afternoon, PG&E announced it's monitoring another extreme-wind event that could trigger yet another power outage Tuesday and Wednesday, the third such blackout in a week and fourth in October. Up to 32 counties in Northern and Central California could be affected.
Any way that you want to look at it, this is going to be a very tough week for northern California. This is what Governor Gavin Newsom said about "the next 72 hours" on Saturday…
"The next 72 hours will be challenging," Gov. Gavin Newsom said on Saturday. "I could sugarcoat it, but I will not."
At this moment, there are some portions of northern California that literally look like "hell on Earth".
So that is the good news.
The devastation caused by these fires is going to be immense, but so far there haven't been any reported deaths.
But the bad news is that these fires are going to keep happening, and the extreme social decay that is pushing so many people to leave the state is only going to intensify.
Yes, the weather is very nice in California in the winter and there are still lots of good jobs, but if I was living in California right now I would be looking to leave as soon as possible. Source
People rally to protest the Trump administration's reported transgender proposal to narrow the definition of gender to male or female at birth, in Los Angeles, California, United States, October 22, 2018. © REUTERS/Lucy Nicholson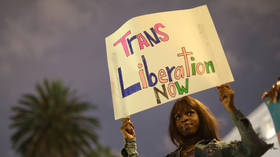 Under a newly announced partnership with an LGBTQ group, California is to make sure that officials won't offend transgender people by being overly inquisitive if their names on voter rolls don't match their gender identity.
California Secretary of State Alex Padilla announced earlier this week that the state would enlist help from the Equality California Institute, an LGTBQ civil rights group, in teaching poll workers what to do if a transgender person shows up to vote and their new identity does not match the one that is on record.
Announcing the partnership, Padilla argued that the insensitive treatment of transgender people at polling stations is what discourages them from voting.
"Every eligible voter has a right to cast a ballot free from any unnecessary burdens or intimidation," he said, adding that election officials "have a duty to facilitate the participation of all eligible voters."What's happening is that they're coming in, [poll workers] are hassling them or asking for additional IDs and not treating them with respect," Rick Zbur, executive director of Equality California, told the San Francisco Chronical. The timing of the training is crucial, Zbur stated, adding that "there's certainly too much at stake next year to let that happen in California." 
To ensure that LGBTQ people feel comfortable, country registrars will hand out "training materials… that promote best practice for poll workers to engage with voters whose gender identity, expression or pronouns do not appear to match their name on the voter roll." The manuals have yet to be developed but are expected to be rolled out ahead of Super Tuesday on March 3, 2020, as the result of which Californians would send 416 pledged delegates to the 2020 Democratic National Convention.
The partnership would also see a "targeted" 'Get Out the Vote' campaign being launched to lure as many LGBTQ community members to the polls as possible.
California has one of the most relaxed forms of voter ID law nationwide, as residents are generally not required to present their IDs before they cast ballots. However, there are several circumstances in which they may be asked to produce ID. For instance, first-time voters who register by mail and do not cite any identification document while doing so might be required to show their IDs.
The initiative, the first of its kind nationally, has sparked mixed reactions online. While some, like Sen. Kamala Harris (D-CA), rejoiced at the move, calling it "terrific news for our transgender community," others slammed it as "a waste of money and time," and an example of pandering to a "special interest group."
Kamala Harris✔@SenKamalaHarris
Terrific news for our transgender community in California. At a time when powerful forces are attempting to silence transgender Americans, California is stepping up the fight. https://www.sfchronicle.com/politics/article/California-to-start-first-in-the-nation-training-14560805.php …California to start first-in-the-nation training to help transgender voters California's secretary of state will announce a first-in-the-nation training program Friday for poll workers to make it easier for transgender voters to cast ballots.sfchronicle.com1,0626:03 PM – Oct 27, 2019Twitter Ads info and privacy326 people are talking about this
"Special interest groups never want equal treatment," one commenter tweeted.
CMB@cmbrvaReplying to @thehill
Um, just like everyone else? No training should be required in order to treat all voters the same regardless of any differences, just don't be a pos.14:36 PM – Oct 27, 2019Twitter Ads info and privacySee CMB's other Tweets
"As a Californian, I wonder why this governor feels the need to always showboat? What about the rest of us over here???" another chimed in.
Joe Dirt@Mstr_DebaterReplying to @thehill
Typical symbolism over substance from the left 4:39 PM – Oct 27, 2019Twitter Ads info and privacySee Joe Dirt's other Tweets
California is home to an estimated 190,000 eligible transgender voters, of whom 150,000 are registered voters. Source
California Legislature Passes Resolution Blaming 'Religious Groups' for Homosexual, Trans Suicides
California morally bankrupt, state of decay, pollution, or incorrectness. In the Bible, corruption is one of the effects of sin that resulted from the fall of man. In the beginning, God created a perfect paradise, free of sickness, pain, and death. Thus, corruption in the Bible is the state of moral contamination and spiritual decay expressed through disobedience toward God. Corruption is closely related to spiritual death. God told Adam that, if he ate from the tree of the knowledge of good and evil, he would "surely die" (Genesis 2:17). Adam didn't die a physical death that day but a spiritual one that involved separation from God (Ephesians 2:1–3). California Needs To Woke
Since they seem perpetually unable to take personal responsibility for their own perverse delusions and the self-violence that often ensues, members of the Cult of LGBTQE are now actively recruiting their leftist politician "allies" to pass anti-free speech "laws" that would specifically persecute Christians for allegedly causing LGBTQE people to commit suicide.
The California legislature continues to take more steps to counter Christianity, and religion in general, with its recent passage of ACR 99. The resolution — which is a direct affront on the Biblical teachings pertaining to sexuality and the need for men to repent, believe the gospel and follow Christ — blames "religious groups" for the "disproportionately high rates" of suicide among homosexuals and so-called transgenders.
The resolution enrolled on September 12, which is entitled, "ACR 99, Low. Civil rights: lesbian, gay, bisexual, transgender, or queer people," formally declares that homosexuality and transgenderism are "part of natural variations that occur in sexual orientation and gender identity."
ACR 99 formalizes the official position of the state legislature in condemning the counseling of individuals to change from living homosexual or transgender lifestyles, citing that such actions have resulted in suicides apart from declaring that such lifestyles are "natural variations."
"The stigma associated with being LGBTQ often created by groups in society, including therapists and religious groups, has caused disproportionately high rates of suicide, attempted suicide, depression, rejection, and isolation amongst LGBTQ and questioning individuals," the resolution states.
The formal declaration calls upon pastors, religious workers, and others to denounce what it considers anti-LGBTQ "stigma" and work toward acceptance and affirmation of those living outside of the Biblical parameters of sexuality.
"That is addressing the stigma often associated with persons who identify as LGBTQ, we call on the people of California–especially its counselors, pastors, religious workers, educators, and legislators–and the institutions of California with great moral influence–especially its churches, universities, colleges, and other schools, counseling centers, activist groups, and religious centers–to model equitable treatment of all people of the state," the resolution reads.
The Bible teaches in Romans 3:23 that "all have sinned, and come short of the glory of God," and in 1 Corinthians 6:9-10 the Scripture states that homosexuals, among others, "will not inherit the kingdom of God," but in verse 11 offers hope that through repentance and faith in Christ they can be saved. Source
"And such were some of you: but ye are washed, but ye are sanctified, but ye are justified in the name of the Lord Jesus, and by the Spirit of our God," 1 Corinthians 6:11 declares.
The principal assembly members who co-authored the resolution include: Sabrina Cervantes, Susan Talamantes Eggman and Todd Gloria, along with the principal senator co-authors: Toni G. Atkins, James Thomas Beall Jr., Cathleen Galgiani, Lena Gonzalez, Mike McGuire, Richard Pan, Anthony Portantino, Henry Stern, Tom Umberg, Bob Wieckowski and Scott Wiener. All are elected Democrats.
The resolution passed California's Senate with a 29-7 vote on September 4, and the state Assembly with a 61-11 vote on September 9.
Christians and others have always been, and will always be, lured by the same three temptations Eve and Jesus experienced. Satan doesn't change his methods; he doesn't have to because they continue to be successful. He tempts us with the lust of the flesh—sexual gratification, gluttony, excessive alcohol consumption, and drugs, both legal and illegal, as well as the "deeds of the flesh" about which Paul warned the Galatians, "sexual immorality, impurity, sensuality, idolatry, sorcery, enmity, strife, jealousy, fits of anger, rivalries, dissensions, divisions, envy, drunkenness, orgies, and things like these" (Galatians 5:19-21). He tempts us with the lust of the eyes—the endless accumulation of "stuff" with which we fill our homes and garages and the insatiable desire for more, better, and newer possessions, which ensnares us and hardens our hearts to the things of God.
Since they seem perpetually unable to take personal responsibility for their own perverse delusions and the self-violence that often ensues, members of the Cult of LGBTQ are now actively recruiting their leftist politician "allies" to pass anti-free speech "laws" that would specifically persecute Christians for allegedly causing LGBTQ people to commit suicide.
According to reports, California – are we really surprised? – is now considering a resolution known as ACR-99 that would declare "being lesbian, gay, bisexual, or transgender" to be "part of natural variations that occur in sexual orientation and gender identity." Its passage would thus make it "illegal" for Christian counselors, as one example, to offer support for people who suffer from gender confusion or same-sex attraction.
Even as multinational corporations like Apple declare transgenders to be a specially protected group that nobody is allowed to question or criticize, ACR-99, which presumably has the full support of Apple, aims to make Christians and others who oppose the LGBTQ agenda second-class "criminals" in the eyes of the law, opening them up to rampant persecution.
"The stigma associated with being LGBTQ often created by groups in society, including therapists and religious groups, has caused disproportionately high rates of suicide, attempted suicide, depression, rejection, and isolation amongst LGBTQ and questioning individuals," claims the California Assembly, which agreed to pass ACR-99 last month.
The Assembly has further called on "the people of California – especially its counselors, pastors, religious workers, educators, and legislators" to join the fight against these mysterious Christians who are somehow responsible for causing LGBTQ people to kill themselves.
For more related news, be sure to check out Gender.news.
The LGBTQE-E for Evil agenda now embodies the very fundamentalist dogma that queers pretend to oppose
Since Homosexuals, lesbians, transgenders, and "pluses" have long pretended to stand against unjust stereotypes, it's more than a little bit ironic that they're now trying to blame their own inclination towards self-destruction on Christians and other "religious" people, making them potential targets of the very same violence and discrimination that LGBTQs have long claimed to oppose.
"There is no reputable, serious research showing people commit suicide because a particular religion refuses to embrace homosexuality. None" points out Glenn Stanton from Focus on the Family.
"It is largely created as an ideological assumption and political cudgel," he adds. "But to even question the assertion will cast you immediately as a heartless stone. Remember, any science that does not permit it to be questioned has become fundamentalist dogmatism."
This is really the crux of the matter: the fact that LGBTQs have become so dogmatic in their perceptions of the world that they're now trying to legislate their own version of "morality" and "justice" upon everyone else – this, again, is the very thing they've long accused their opposition of doing.
In truth, it's the LGBTQE-E for EVIL mafia that's causing most of these suicides because its members continue to reinforce the lie that gender dysphoria in youth always and automatically means that a person is transgender when typically it's just a phase associated with puberty in some kids.
Science fully supports this, having found that as many as 80 percent of young children who are confused about their gender grow out of it naturally by late adolescence – that is, unless the Cult of LGBTQ gets to them first, and convinces them that they're a different gender stuck in the wrong body, leading them to embrace irreversible transition "therapies" like gender-bending drugs and bodily mutilation.
Be sure to check out this earlier piece about how, according to research published in the journal Transgender Health, transgenders are up to 22 times more likely than non-transgenders to think about or attempt suicide.
Sources for this article include: LifeSiteNews.com NaturalNews.comFacebookTwittergoogle_plusShare
Back-To-School Students Are Being Subjected to a Whole New Wave of Transgender Indoctrination and Anti-Christian Lunacy
When a country turns itself into a godless society and then complains their whining falls on deaf ears, they rejected God and now they're children are paying the price….. Essentially, evil is a lack of goodness. Moral evil is not a physical thing; it is a lack or privation of a good thing. As Christian philosopher J. P. Moreland has noted, "Evil is a lack of goodness. It is goodness spoiled. You can have good without evil, but you cannot have evil without good." Or as Christian apologist Greg Koukl has said, "Human freedom was used in such a way as to diminish goodness in the world, and that diminution, that lack of goodness, that is what we call evil."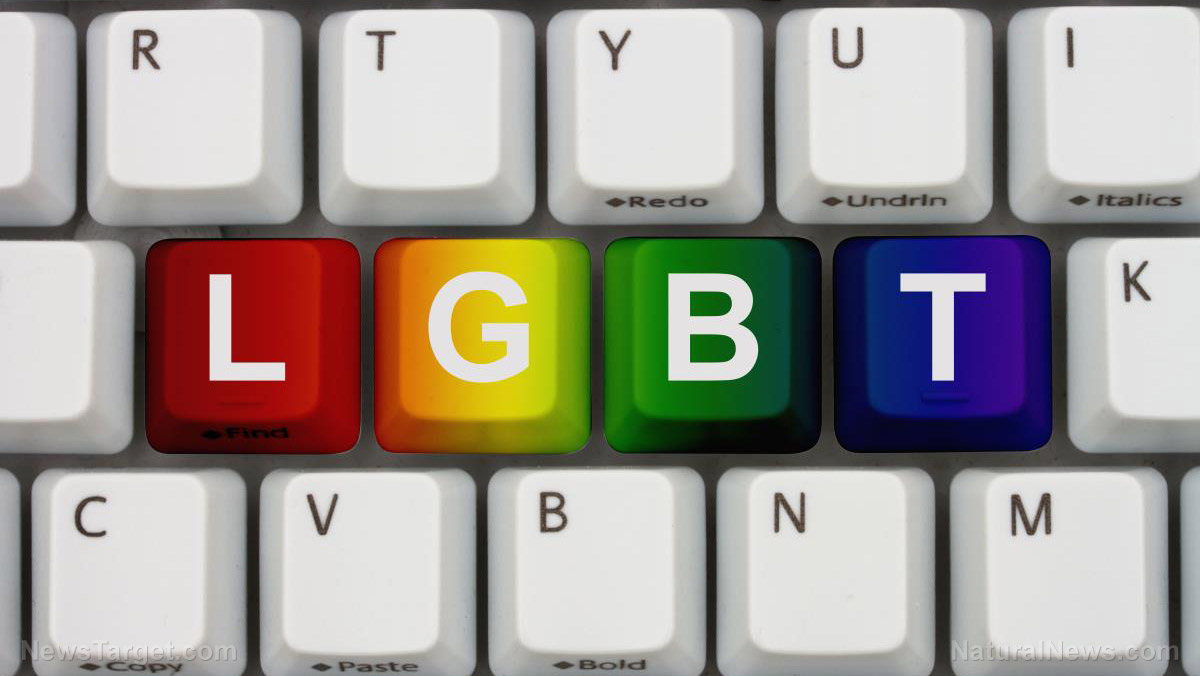 Children attending public schools in the greater Washington, D.C., area of northern Virginia had to endure a barrage of LGBTQ propaganda during their recent back-to-school orientation proceedings.
According to reports, Arlington Public Schools (APS) has implemented a new 'policy implementation procedure,' or PIP, this year that covers topics like "preferred pronouns" for "gender-nonconforming" students, as well as the use of "gender-neutral" sports uniforms.
In compliance with the demands of the Human Rights Campaign (HRC) and the Arlington Gender Identity Allies (AGIA), two pro-LGBTQ activist groups, APS wants to make its schools as LGBTQ-friendly as possible, which means reworking the bathrooms and locker rooms and rejecting the notion of there being only two genders.
Children attending public schools in the greater Washington, D.C., area of northern Virginia had to endure a barrage of LGBTQ propaganda during their recent back-to-school orientation proceedings.
According to reports, Arlington Public Schools (APS) has implemented a new 'policy implementation procedure,' or PIP, this year that covers topics like "preferred pronouns" for "gender-nonconforming" students, as well as the use of "gender-neutral" sports uniforms.
In compliance with the demands of the Human Rights Campaign (HRC) and the Arlington Gender Identity Allies (AGIA), two pro-LGBTQ activist groups, APS wants to make its schools as LGBTQ-friendly as possible, which means reworking the bathrooms and locker rooms and rejecting the notion of there being only two genders.
"A year in the making, the PIP was introduced by Assistant Superintendent Dr. Tara Nattress," reported the Spartan Newsroom, announcing the changes.
"The PIP will include updates to facilities including gender-neutral bathrooms and locker rooms as well as a non-gender-specific dress code and preferred pronoun additions to student files."
For more related news about LGBTQ gender madness, be sure to check out Gender.news.
Arlington public school students will now be allowed to identify as any gender they wish, and basically do whatever they want in the name of "tolerance"
Details from the PIP report itself reveal that APS is aiming to eliminate the idea of gender entirely from its schools. Students who attend will now be allowed to self-identify as any gender they wish, and proceed to use any of the facilities, or engage in any extracurricular activities or sports, that they want.

"Our primary arguments have always concerned parents' rights and girls' protections," Keffler is quoted as saying.
"In the general population of students who do not express gender dysphoria, these new policies obliterate their right to privacy from opposite-sex people seeing them undressed – and vice versa – in bathrooms, locker rooms, and changing areas."
Keffler is also concerned about how the changes might affect Title IX protections specifically for female athletes. As we have been reporting, female athletes are among the most disenfranchised when it comes to the impact of this transgender push, which allows biological males to compete against biological females at an unfair advantage.
Other changes at APS include the addition of transgender children's books to school curriculum, the creation of new resources – taxpayer-funded, of course – to support transgender and "non-binary" students, and an annual event to be held in honor of "Jazz," a transgender girl, which will fulfill the LGBTQ agenda of exposing students to more transgenderism.
To learn more about how deranged leftists want to destroy the innocence of America's youth and turn everyone into an LGBTQ, be sure to check out Evil.news.
Meanwhile, This Is What LGBTQ Organizations Are Doing to Society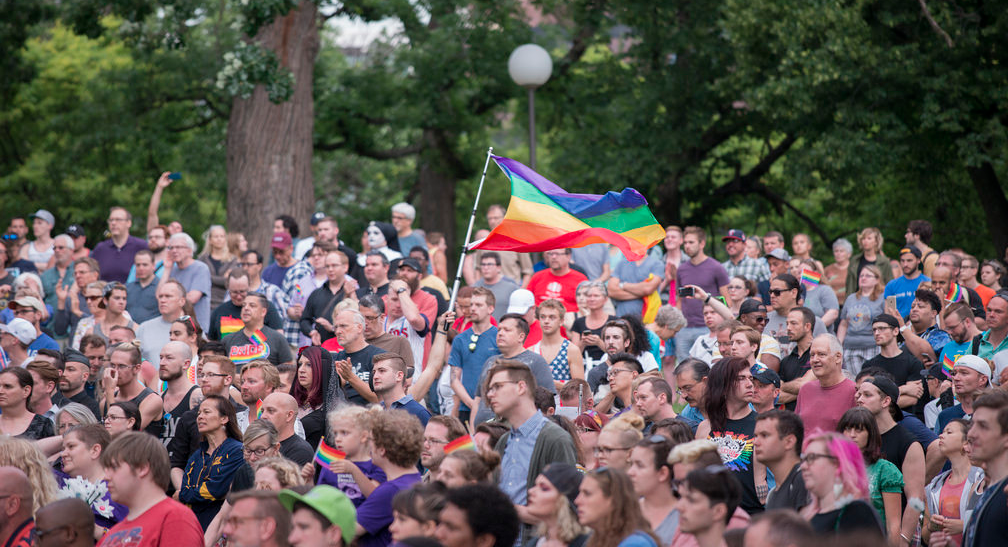 Virtually every week, there seems to be another issue that preoccupies the country. But while our attention is focused on President Donald Trump, Google, Charlottesville, Russia, impeachment, Jeffrey Epstein, the next elections, racism, a trade war with China, the #MeToo movement or something else, LGBTQ organizations are quietly going about their work dismantling ethical norms, making a mockery of education, ruining innocent people's lives and destroying children's innocence. If you think this is overstated, here are some examples:
(Article by Dennis Prager republished from TownHall.com)
StevieRay Hansen
Editor, HNewsWire.com
The Birth Pains Are Growing Stronger….
"Unless God has raised you up for this very thing, you will be worn out by the opposition of man and devils"…
My name is Steve Meyers and I need to share a vision and warning that the Lord showed me back in April 2007….
Many of you will ask why I waited so long to share the warning. I didn't. I shared the story with everyone that would listen from pastors to friends to family to colleagues. Immediately following the initial vision, I called a close friend. I told him to sit down that I had something to tell him. I needed it documented as I knew this was supernatural and from God. As I witness events unfolding today, I need to share the vision again.
The silencing of the American people before 2020?
The Un-Godly — Those That Suppress the Truth, the social media giants built multi-billion dollar empires by giving everyone a voice, but now that they have such a dominant position on the Internet they have decided that many prominent conservative voices should be completely silenced.
Trans People, LGBTQE scream and the online publishing platform Medium suspended the accounts of prominent Christians and Conservative figures Mike Cernovich, Jack Posobiec, Laura Loomer and HNewsWire just to mention a few, the list is long and very disturbing-what the majority homosexuals, transgender, liberal screaming has accomplished in the name of inclusion
The fact is, it is not enough for atheists, homosexuals, socialists and cultural leftists to have their own freedom and equality to believe whatever they believe (freedom which most Christians fully support). No, they want to ensure that Christians are not permitted to live out their own faith and convictions without retribution. This is the legacy of the New Tolerance movement. The doors of religious liberty are closing once again in Russia, after a brief twenty-six-year limited window. Are the doors of our four-hundred-year window of liberty closing? Frankly, that answer will be determined by what this generation of Christians in America does in the next ten years. "And the Lord will by no means leave the guilty unpunished."
The light went out in the church, and that's the reason the world got dark. Dark times were perpetuated by the "last one out, turn out the lights" "The church lights have gone OUT".
The Lukewarm Christian
There are numerous pathetic souls who, though they have not severed formal fellowship ties with a local church, nonetheless are so spiritually apathetic as to be practical enemies of the Lord.
Let Me Make This Abundantly Clear. (I Am Apolitical) While I Have a General Distaste for Politicians No Matter the Party They Belong To, I Am Unashamedly Politically a Bible Believing Conservative Christian. I Have a Severe Distrust of Government. I Believe It Is the Most Inefficient and Ineffective Way to Accomplish Most Things. While I Strongly Disagree with Liberals/Progressives and Conservative on Most Political Issues, and While I Believe Liberals/Progressives and Most Politicians Are Terribly Misguided and Naive About What Big Government Will Eventually Result In, I Strive to Not Question Their Motives. at the Same Time, While I Find Myself in Agreement with Conservative Politicians on Some Issues, I Do Not Believe Electing Republicans Is the Answer to Everything. for Me, Very Sadly, the Main Difference Between Republicans and Democrats Is How Quickly They Want to Drive the Car Towards the Cliff. Simply Put, I Do Not Believe the Government Is the Solution for Everything. I Do Not Place Any Faith, Trust, or Hope in Any Politicians to Fix What Is Wrong with the World. "Come Lord Jesus!" (Revelation 22:20) StevieRay Hansen
Our government has been overthrown. As evidenced by Trump's capitulation on the border, his recent servitude to the GMO industry and his acquiescence to the warmongers, our President has been compromised. Our liberties are being eliminated one by one. Gun confiscation is next. The Constitution is gasping its last breaths. Our borders are destroyed and our culture has been turned upside down by every perversion known to man.
Education is useless without the bible (Daniel Webster)
Usually, the Lord doth no great thing for or against his people, without giving warning of it before it comes.
John Wesley who said that what we tolerate in our generation, will be embraced by the next. Wesley is 100% correct! We are living in sick times.
The Left, a broad term for Liberal Socialist Democrats that can only be explained fully by using the Bible explanation of the human race is as follows. A servant of Satan, because you are either saved or lost. This election has brought out the true nature of who you serve. Simply put, it's Donald Trump, Conservatives, and Christians against the rest of the world. The Left's Love applies only to those who believe as they do. They Love evil and commit Anarchy against those who love good. They are governed by lies and never tell the truth. On this Friday, Inaugural Day for the swearing-in of Donald Trump as the 45th President of the United States the Left wants to commit widespread Anarchy to shut down the swearing-in ceremony. Their goal of transforming America, which was founded in Judea Christian values into a Pagan Nation is almost complete. Their goal has always been the total removal of God from American society and the downfall of America. Donald Trump says he is a Presbyterian, but he left off the USA, an apostate church.
Corinthians 4:8-11 New King James Version (NKJV)
We are hard-pressed on every side, yet not crushed; we are perplexed, but not in despair; 9. persecuted, but not forsaken; struck down, but not destroyed— 10. always carrying about in the body the dying of the Lord Jesus, that the life of Jesus also may be manifested in our body. 11. For we who live are always delivered to death for Jesus' sake, that the life of Jesus also may be manifested in our mortal flesh.
Satan has power over (LGBTQE-TRANS PEOPLE). The "sons of disobedience" referred to in Ephesians 2:2 are those who have not trusted Christ as Lord and Savior (cf. Acts 26:18; 2 Corinthians 4:4; Revelation 13:12). The demons are also under the rule of Satan (Matthew 12:24), and one of his titles is "prince of demons" (Matthew 9:34). Satan has a kingdom (Matthew 12:26) and a throne (Revelation 2:13). Satan is called a prince because he is a ruler and possesses the power to manifest evil in the world through influencing people and commanding demons.
HNewsWire- "All political language is designed to make lies sound truthful and murder respectable." Just look at some of our modern-day examples: torture is "enhanced interrogation techniques"; murder is "collateral damage"; the aggression initiation of war is a "pre-emptive strike"; the theft of taxpayers' money is a "bailout", and the theft of depositors' money in a bank is a "haircut" or "bail-in".In a blatant example of Newspeak, the New World Order controllers (through the psychiatric DSM V) have tried to rename pedophiles as "minor-attracted persons" and redefine pedophilia as "sexual orientation". This makes no sense since sexual orientation has to do with gender, not age, with whether you are attracted to males or females, not how old they are. There are even organizations (like B4UAct.org) which are claiming that pedophiles are being unfairly stigmatized for their feelings!
If homosexuality has been posed as healthy, good and normal, in the face of overwhelming evidence to the contrary, so can pedophilia. Pro-pedophilic articles are making their way into academia.
The Cult of LGBTQE-E for EVIL and is often a cover for child-molesting perverts
Tagged Under: abuse, children's health, gender-confused, gender issues, gender madness, the left cult, LGBTQE-E For Evil un-godly Mob, Lunacy, mutilation, transgender, Child molesting perverts LGBTQE- E For Evil, drag queens, perverts
Unfortunately, not all alternative sources are reliable, even some Major Christian (and I use Christian loosely) news sources have been corrupted. They will NOT tell the truth. They just parrot the deceptive narratives perpetrated by those who currently control our government and media. Even those who are honestly trying to present the truth can miss it sometimes. There is so much deception out there. In these last days, you must be wise as serpents and gentle as lambs. It is no time to sleep or slumber. Diligence and vigilance are required. It is critical that you think for yourself and not be a Lemming.
Tagged Under: hnewswire StevieRay Hansen, HNewsWire, antichrist,digital gulag, antichrists, Apple, Bible, Big Tech, bigotry, Christian baker, Christianity, Christians, Colorado, Colorado Civil Rights Commission, conservatives, deep state, demonic assault, end of days, end times, Facebook, First Amendment, free speech, Google, hate groups, Hate speech
The 127 Faith Foundation: We do not solicit donations from "those on disability, on a fixed income, or those who cannot afford to give." Please Pray!
Or, make checks payable to:
The 127 Faith Foundation
PO Box 127
Pontotoc, TX 76869
The number of Orphans aging out of Child Protective Custody has grown at an alarming rate. The 127 Faith Foundation receives many requests each week to house them at our ranch. Our prayer is that the good people of our country will step up to the challenge and offer financial support for "the least among us." We need your help! StevieRay Hansen, Founder, The 127 Faith Foundation
Featured Story: World renowned CV19 critical care and pulmonary expert Dr. Pierre Kory says the data is clear the CV19 injections are "not safe, not…
Read More
We make every effort to acknowledge sources used in our news articles. In a few cases, the sources were lost due to a technological glitch. If you believe we have not given sufficient credit for your source material, please contact us, and we will be more than happy to link to your article.