Advisory: Be careful of what you read on social media. The algorithms used by these platforms have no regard for Biblical truth. They target your emotions to keep you engaged on their site so their advertisers can drop more ads. These platforms exist to enrich their stockholders. Consider God's promise to Believers in James 1:5, "If any of you lacks wisdom, you should ask God, who gives generously to all without finding fault, and it will be given to you."
We Can't, Per Google, YouTube…
Free speech is one of the pinnacles of a free society. But it's often the first thing to go when a free society is in decline. Certain forms of unsavory speech are deemed as "hate" speech, and speech that doesn't conform to the status quo is regarded as potentially terroristic speech. It's a very slippery slope, but it's how fascism creeps in and topples a nation. The United States is blessed to still maintain some level of free speech, as protected by the First Amendment to the Constitution. But certain elements of this precious liberty are being eroded, as is the freedom to bring up certain topics without serious backlash or ridicule.
Fortunately, in America, you won't necessarily go to jail for talking about almost anything that doesn't involve committing a serious crime. But with the way things are going in society – and if members of society aren't vigilant in fighting it – there could come a time when talking about subjects like the following three outlined below are completely off-limits.
The Bible tells us a Beast is going to rise up and will take over the whole world. Some refer to it as the spirit of Babylon that is going to be throughout the world – a great deception. The masses will believe whatever they are told by the gatekeepers. Not only will they believe what they're told, but they will be sympathizers of what they are told. They will defend it. They will love the Beast and worship the Beast, meaning they will love their new system of government. They will love what is proposed to them. They will love their rescue… and they will love their rescuers.
The prophet Daniel described this New World Order this way.
The beast…and behold a fourth beast, dreadful and terrible, and strong exceedingly; and it had great iron teeth: it devoured and broke in pieces, and stamped the residue with the feet of it: and it was diverse from all the beasts that were before it, and it had ten horns. I considered the horns, and, behold, there came up among them another little horn, before whom there were three of the first horns plucked up by the roots: and, behold, in this horn were eyes like the eyes of man, and a mouth speaking great things. – Daniel 7:7-8

It's Time…
If you've been watching our Youtube video series on the Wuhan Coronavirus (2019nCoV) pandemic, you know that it's time to prepare.
Yes, we can always hope that the latest unconfirmed potential treatment marks an actual turning point (i.e. treating patients with HIV protease inhibitor drugs). But it's much better to be safe than sorry.
You're probably reading this because you tend to think critically, and you trust your own judgment. Weirdly, that sets you apart from the masses.
And so here you are. Not because you're weird, but because it's weird that common sense and prudent caution are so uncommon.
For a whole host of reasons that extend well beyond this emerging pandemic, we think being prepared is a selfless and prudent thing to do. Everyone should seek to be as resilient as possible. Our book Prosper! covers this in much greater detail. It encourages readers to build capital.
Yes, build up your financial capital. But don't ignore social, knowledge, time, material, living, cultural and emotional capital. If you have depth in each of these, you will be truly wealthy, happy and fulfilled — no matter what the universe throws your way.
A pandemic is a hard kick in the pants that will propel many people to finally begin preparing. If you're one of them, don't ignore this important call to action.
For those who are already in good shape — Congratulations! Use this opportunity to re-evaluate your planning, inventory your preps, and then improve upon both if needed.
What We Can Say Publicly & What We Can't
As with our coverage of the Fukushima nuclear disaster back in 2011, we believe it is our duty to make our gifts of sleuthing, clarifying, and decoding freely available to the world. That's what we've done in the past, and we're doing it in spades now — releasing at least one video every day for the past 13 days, keeping the public updated on the evolving coronavirus threat.
But there's certain content that we cannot put out into the public realm.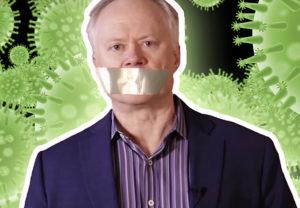 Some of it can put a target on our back for the media to use in accusing us of being "alarmists" or "fearmongers".
Other content may not be sufficiently proven, but we feel is important to consider and monitor as more data comes in. But it's too half-baked to put out to a public audience where some folks might accept it as gospel simply because we shared it.
Often, we just go deeper into a subject than the general public has any interest in going. But our insight-hungry subscribers value this greatly. One thing Peak Prosperity subscribers share in common is that we're all curious, committed life-long learners.
Cutting to the chase: subscriptions are how Adam and I support and run this site. Without our premium subscribers, there would be no site at all.
Google is a monopoly and shares less and less advertising revenue with the content creators that use its platform. The advertising check Peak Prosperity receives are really so tiny as to be laughable. There's no possible way to support this site via ad revenue. If we relied on ad revenue — of which the monthly check could buy us a nice dinner and little else — this would become a hobby site. Adam and I would have to earn a living other way, and maybe write a single article once or twice a month as we could get to it. The PeakProsperity.com experience would be vastly different from the daily publishing programming we have, not to mention the even more valuable vibrant community of intelligent thinkers that is fostered here.
I feel odd having to spell this out. But you'd be surprised how many people decry that we have a revenue model that funds this site's existence. Some of these critics are journalists, too; which is odd to me, because they're in the same business — except a parent company cuts their paycheck.
Denying Ammunition To The Haters
In fast-moving situations like the coronavirus outbreak, the unknowns outweigh the knowns. Quite often the most useful and most actionable material is in the 'unknowns.'
This is where our super-power comes into play: sifting through vast piles of snippets and fragments and assembling them into a coherent (if still incomplete) picture. One with actionable insights to help you make important life decisions.
Sometimes we simply have to avoid handing weapons to our enemies. Early, fast-changing information can (and often is) taken out of context to try to "shoot the messenger". Throughout this pandemic so far, the vast majority of attention we've gotten from the established media has accused us of whipping up fear or being opportunists.
Not a single one of these critics has yet sought to engage in debate on the data we've provided in any of our writings or videos to argue "here's something you got wrong."
Why not? Because they have no interest in whether we have the facts right or wrong.
Instead, they're interested in pushing a narrative that says "don't worry, everything is just fine". In their eyes, our sin is that we happen to think some of the facts ARE indeed worrying. Or at least too important to simply take on faith. It's the oldest trick in the book – when you can't beat the message, attack the messenger.
Just last night, my Wikipedia page, up for more than a decade, was deleted by Wikipedia's editors. I guess if you feel that shooting the messenger isn't enough, try to expunge him from history.
Again, this is all just part of the territory. Like the trolls who sometimes show up in this site's comments section, armed with the latest talking points ("no worse than the flu!") and seeking to swamp or derail the conversation.
Behind our paywall, there are no trolls. Well, maybe once in a blue moon, but we have a rapid and inspiring tribal antibody response that detects and ejects such entrants, so they don't last long. Which means we're free to engage in very open and intelligent wide-ranging conversations.
In our brand new report for our premium subscribers, Adam and I share our own personal preparations for the coronavirus which — for reasons of not arming our critics with more ammunition for "fear-mongering" charges, and for our family's personal safety, and given the fact that what works for us may not be appropriate for everyone — are not things we're willing to broadcast to the public.
Finally, we've learned that when we recommend specific actions that can have an actual impact on supplies, we shoulder an ethical responsibility. We trust our subscribers to avoid hoarding and be otherwise responsible in their purchases, only securing what they need and thereby also being in a position to support others should things become dicey.
On that note, let's review this passage from our book Prosper! because it's important framing for everything that comes next:
Selfless Not Selfish
Another objection we hear to the prospect of preparing and becoming more resilient is that those actions could be seen as being selfish. Instead we see them as being selfless. Those who are not prepared when an emergency strikes are a drain on critical resources, while those who are prepared can be of assistance.
To be among those who can be in a position to render assistance, or at least need none of their own, means that your prior acts of preparation have selflessly removed you from the minus column and placed you on the plus side.
The first steps towards preparedness usually involve addressing your own needs or those of your loved ones, but many people then go beyond that and prepare for others who may not be able to do so, or have not done so, or maybe even will not do so.
But let us put an important qualifier on that; preparing before a crisis hits is responsible and selfless, but trying to accumulate necessary items during a crisis is an act of hoarding. We do not and never will advocate hoarding. Responsible preparations begin long before any trouble appears. Anything else stands a good chance of making things worse, not better.
The news has been full of stories of how people behave when scarcity strikes and they are generally not pretty. People in Boston fought over bottled water just hours after a water main broke in 2010. Nasty fights, too. In Venezuela, as of the writing of this book, desperate people are attempting to buy anything and everything that might remain in the stores as their national currency devalues by the day. This is bringing forth all sorts of government-mandated countermeasures that make it impossible for many families to buy essential items.
We mentioned earlier that time may well be your most valuable asset in becoming resilient. Be aware that many things that are easily available now may be difficult to obtain later. Now, before any big crises have hit, it's very easy to pick up the phone, or click a mouse button, and have the big brown truck of happiness roll up to your doorstep a few days later. Everything you could ever want to buy is currently available and stores are abundantly stocked in most countries. However, we can imagine a large number of possible futures where such easy access to consumer goods and desired items is either much more difficult or impossible.
Only Authoritarians Seek to Censor Truth Tellers
Joe Biden Demands Media Declare Total Obedience to Democrats and Blacklist All Dissenting Voices, Birth Pains …..
For an American politician, Joe Biden plays a pretty good Nazi dictator, as he and his campaign staff prove once again that the Democrat Party no longer embraces core constitutional values such as freedom of expression and speech.
The Biden campaign, already stung by a burgeoning scandal involving the former Veep's corrupt dealings with Ukraine — along with his son, Hunter — sent an angry letter to Dean Baquet, the executive editor of The New York Times, this week complaining about a column in the paper written by investigative author Peter Schweizer.
In it, Schweizer laid out a pattern of multi-year corruption by the Bidens in Ukraine and China, and called on the federal government to investigate and, if needed, indict the former VP if those dealings are found to have violated the law, Breitbart News reports.
The news site adds: The Biden campaign sent its letter to Baquet Wednesday, expressing outrage for printing "a baseless conspiracy theory" and calling Schweizer, author of the book Secret Empires, a "right-wing polemicist." While half of Schweizer's op-ed in the Times addressed Senate Majority Leader Mitch McConnell (R-KY) and Transportation Secretary Elaine Chao's China ties, the Biden campaign did not seem to take issue with that particular coverage.
United Nations secretary-general prepared to fight free speech worldwide
Can darkness and light exist together in the same space? No. Think about walking into a dark room. What happens when we turn on the light? Darkness flees. Light exposes what's in the room. Darkness hides what's there. God says let My light fill your heart and expose your true self. Then you will understand the wisdom that comes from above.
March 11, 2019 (C-Fam) — In a speech to the U.N. Human Rights Council last month, U.N. Secretary-General Antonio Guterres announced that the U.N. system is going after what he calls "hate speech."
In a February 25th speech in Geneva, Guterres said the rights enshrined in the Universal Declaration of Human Rights "belong to everyone, everywhere. They are independent of nationality, gender, sexual orientation, race, religion, belief, or any other status." It should be pointed out that U.N. member states have never agreed that "sexual orientation" is a protected category of nondiscrimination. This is an invention of the U.N. Secretariat and various U.N. committees.
Guterres said he is alarmed, however, "by the shrinking civic space in every region — and every corner of the internet." He said activists and journalists are targeted by "campaigns of misinformation," posing a danger to their lives. This and much else in the speech seems to point to his disapproval of President Donald Trump who, along with the president's supporters, have sharply criticized what they see as the partisan nature of the mainstream media.
The Secretary-General said he is alarmed by "a groundswell of xenophobia, racism, and intolerance — including rising anti-Semitism and anti-Muslim hatred," and that "hate speech is a menace to democratic values, social stability, and peace." He said hate speech "spreads like wildfire through social media, the internet, and conspiracy theories."
World government or global government is the notion of a common political authority for all of humanity, yielding a global government and a single state that exercises authority over the entire Earth.
The United Nations Millennium Assembly in September will gather more heads of state than at any other time in history. Their purpose–gain consensus for the Charter for Global Democracy, which would in effect, transform the UN into a World Government. As if that were not enough, the United Nations is also sponsoring the Millennium World Peace Summit. This summit will gather more than 1000 religious leaders to search for common ground and common values among their respective faiths. This will lay the groundwork for a One World Religion. The UN offers global peace and security as a result of these meetings. Is this going to be Utopia, or will the results be cataclysmic? REALLY…
"Remember, where you have a concentration of power in a few hands, all too frequently, men with the mentality of gangsters gain control. History has proven that…power tends to corrupt; absolute power corrupts absolutely." -British historian, Sir John Dalberg-Acton, 1887
In reference to Trump and to leaders like Victor Orbán of Hungary, Guterres is concerned with a speech that "stigmatizes women, minorities, migrants, refugees, and any so-called 'other.'" He says, "Hate is moving into the mainstream — in liberal democracies and authoritarian states alike."
Under the guise of "human rights," Guterres wants speech stopped that he says presents false information about policy differences. He specifically mentioned policy claims made by opponents to the Global Compact on Migration. He said opponents of the Compact initiated a "flood of lies about the nature and scope of the agreement." What this suggests is Guterres proposes speech he and others on the left disagree with.
The United States has a long history of accepting even vile speech. Many years ago, outright Nazis were allowed to march through the mostly Jewish town of Skokie, Illinois. This was protected by the leftwing ACLU and ultimately by the U.S. Supreme Court.
In recent years, however, conservative speakers deemed "hateful" have been hounded off of taxpayer-supported colleges and universities. Large tech companies now routinely "de-platform" those voices they disagree with, voices that tend to be conservative on public policy issues. Some governments in the European Union have banned certain types of speech. Evangelical preachers have been hassled for preaching on public streets in certain parts of Great Britain. Two years ago, France made certain pro-life speech illegal. In the Colorado baker's case, pro-gay speech has been compelled by the government. Polls in the United States show that young people on the left are willing to limit speech they disagree with.
Experts are concerned that Guterres seems to agree that certain speech that he deems wrong must be stamped out and that he sees it as the role of the United Nations apparatus to silence it.
Lord Christopher Monckton, the former science advisor to British Prime Minister Margaret Thatcher, delivered a scathing refutation of the concept of human-caused global warming at Bethel University in St. Paul, Minnesota. During his presentation, Lord Monckton focused on the UN climate treaty that was being proposed for the United Nations Climate Change Conference in Copenhagen that December. He warned:
I read that treaty. And what it says is this: that a world government is going to be created. The word "government" actually appears as the first of three purposes of the new entity. The second purpose is the transfer of wealth from the countries of the West to third world countries…. And the third purpose of this new entity, this government, is enforcement.
Not just any government, mind you. "They are about to impose a communist world government on the world…..
This country has headed the way of all fallen empires. The time that God warned us about in His Word has come – the "dread release," when even the prayers of godly saints no longer avail. God said, "When the land sinneth against me by trespassing grievously, then will I stretch out my hand upon it… and will cut off man and beast from it: though these three men, Noah, Daniel, and Job, were in it, they should deliver but their own souls by their righteousness, saith the Lord God" (Ezekiel 14:13-14).
God never yet has destroyed society or nation without ample warning. "Surely the Lord God will do nothing, but he revealeth his secret unto his servants the prophets" (Amos 3:7). God warned Abraham of the sudden destruction about to fall on Sodom: "And the Lord said, Shall I hide from Abraham that thing which I do" (Genesis 18:17). He warned Noah, too, that He soon would destroy mankind with a flood: "Noah, being warned of God of things not seen as yet, moved with fear" (Hebrews 11:7).
God warned Samuel of the downfall of Eli's ministry and of the destruction of Shiloh, "And the Lord said to Samuel, Behold, I will do a thing in Israel, at which both the ears of every one that heareth it shall tingle" (1 Samuel 3:11).
Jeremiah prophesied judgment upon Israel because "the Lord hath given me knowledge of it, and I know it: then thou showest me their doings" (Jeremiah 11:18). God also revealed to Daniel what was to come: "Then was the secret revealed unto Daniel in a night vision:" (Daniel 2:19).
In every age, God has communicated His warnings to the people in different ways. He spoke with Moses face-to-face, to Joshua through an angel and to the Old Testament prophets in visions and dreams. And today God is speaking again – loud and clear.
Yes, there are false prophets: crazy, immoral, half-mad, self-proclaimed seers who are also crying judgment. But these people are sent by Satan to discredit the true word of God-sent watchmen. Many American shepherds – or, ministers – have become so blind, lazy and sinful that God has had to call upon secular writers and artists to warn this nation it is dying! Have you seen the prophetic cartoons in our newspapers lately? One depicts the Statue of Liberty standing with her head in her hands, weeping in shame! Another shows a bloody finger inscribing the prophetic writing on the wall: "Anarchy."
Unlike the blind shepherds, these secularists see the grim reality that is now upon us, In New York City and other urban areas, cartoons portray crowds walking over corpses! Bulldozers are avalanched by mountains of white cocaine – and are unable to make a dent in them!
StevieRay Hansen
Editor, HNewsWire.com
The World leaders Are Having Trouble With The Truth, and The World Has been "Quarantined" Tribulation Is Here…
Question — Why Are These High-Tech Conglomerates Afraid of the Truth? The answer, Because They Know the American People Have Become Lazy, Like Sheep They Need a Leader and They Chose High-Tech, It Will Be the Downfall of This Country Unless the People Change Course or the Mindset of These High-Tech Elitists stop suppressing the truth. If the people don't wake-up, they will begin to live in the worst nightmare of their lives, "Lost Social Media Reality"…
Demon Virus
Asked about the virus while traveling abroad last week, Trump said: "We have it totally under control". In a separate Twitter posting, he offered reassurance but scant detail for his confidence. By Associated Press Updated On: 05:53 PST, Jan 31, 2020
WASHINGTON: Wuhan coronavirus: Donald Trump says deadly outbreak 'very well under control' as WHO declares a global emergency. President Donald Trump regaled a friendly New Jersey campaign crowd with his thoughts about impeachment, the economy, the border wall, local politics and much more.
But he was conspicuously quiet on January 28 about one big issue keeping much of the globe on pins and needles: the spread of a deadly new type of coronavirus. It has killed more than 170 people in China, sickened thousands more there and led to a handful of confirmed cases in the US, including the first US case of person-to-person transmission reported on by health officials. The State Department on January 30 advised all US citizens against traveling to China.
Trump, a self-described germaphobe, generally has discussed the virus in broad terms, but he offered some of his most extensive comments on the issue to date during an appearance on January 30 at a Michigan manufacturing plant. "Hopefully, it won't be as bad as some people think it could be, but we're working very closely with them (Chinese) and with a lot of other people and a lot of other countries, he said. "We think we have it very well under control."
The Birth Pains Are Growing Stronger….
One of the signs of ruling class collapse is when they can no longer enforce the rules that maintain them as a ruling class. When the Romans started making exceptions to republican governance, it was a matter of time before someone simply decided the rules no longer applied to them. Perhaps the robot historians will consider Obama our Marius or Sulla. Maybe that person is in the near future. Either way, the rule of law is over and what comes next is the rule of men.
"Man will ultimately be governed by God or by tyrants." as in Nancy Pelosi (D-San Fran-feces)
Our government has been overthrown. As evidenced by Trump's capitulation on the border, his recent servitude to the GMO industry and his acquiescence to the warmongers, our President has been compromised. Our liberties are being eliminated one by one. Gun confiscation is next. The Constitution is gasping its last breaths. Our borders are destroyed and our culture has been turned upside down by every perversion known to man.
The watchman does not confuse truth with consensus. The Watchman does not confuse God's word with the word of those who happen to hold power at present, or with the opinion of the majority. This is because powerholders and the majority can fall victim to a lying spirit-and this means a power that actually seizes the majority of experts, the political leadership, and the public.
Everything is right on schedule and, now, the time is come to remove one of the final obstacles standing in the way of a New World Order: The United States Constitution – even if, over the course of many decades, it has already been greatly diminished by the B.E.A.S.T. system; or, more specifically, Bullshit Emerging As Strategic Totalitarianism (B.E.A.S.T.).
They are tolerant of everything except dissenting values and opinions — meaning, of course, they are tolerant of nothing that matters, only themselves."
Let Me Make This Abundantly Clear. (I Am Apolitical) While I Have a General Distaste for Electric Cars and Politicians No Matter the Party They Belong To, I Am Unashamedly Politically a Bible Believing Conservative Christian. I Have a Severe Distrust of Government. I Believe It Is the Most Inefficient and Ineffective Way to Accomplish Most Things. While I Strongly Disagree with Liberals/Progressives and Conservative on Most Political Issues, and While I Believe Liberals/Progressives and Most Politicians Are Misguided and Naive About What Big Government Will Eventually Result In, I Strive to Not Question Their Motives. At the Same Time, I Find Myself in Agreement with Conservative on Some Issues, and I Do Not Believe Electing Republicans Is the Answer to Everything. Sadly, the Main Difference Between Republicans and Democrats Is How Quickly They Want to Drive the Car Towards the Cliff. Put, I Do Not Believe the Government Is the Solution for Everything. I Do Not Place Any Faith, Trust, or Hope in Any Politicians to Fix What Is Wrong with the World. "Come Lord Jesus!" (Revelation 22:20) SRH…
The Watchman does not confuse truth with consensus. The watchman does not confuse God's word with the word of those who happen to hold power at present, or with the opinion of the majority. This is because powerholders and the majority can fall victim to a lying spirit-and; this means a power that seizes the majority of experts, the political leadership, and the public.StevieRay Hansen
If you have a news scoop or an interesting story for us, please reach out at [email protected]
Coronavirus, Falsifying Death Toll From Coronavirus, biblical truth, Prophecy, tribulation, antichrist, United Nations Revelation 17 the BEAST+ B.E.A.S.T, US Coronavirus
We make every effort to acknowledge sources used in our news articles. In a few cases, the sources were lost due to a technological glitch. If you believe we have not given sufficient credit for your source material, please contact us, and we will be more than happy to link to your article.