Advisory: Be careful of what you read on social media. The algorithms used by these platforms have no regard for Biblical truth. They target your emotions to keep you engaged on their site so their advertisers can drop more ads. These platforms exist to enrich their stockholders. Consider God's promise to Believers in James 1:5, "If any of you lacks wisdom, you should ask God, who gives generously to all without finding fault, and it will be given to you."
Jen Psaki Caught COVID and DISAPPEARED, Despite Being 'Fully Vaccinated' — Gavin Newsom Hasn't Been Seen in Public in Eleven Days
Ever since White House Press Secretary Jen Psaki announced that she had a case of Covid-19, despite being fully vaccinated, she has been absent from the public spotlight. This week her role was taken by Deputy Press Secretary Karine Jean-Pierre, who just might be the least credible person on the planet.
Psaki disclosed on October 31 that she had a "breatkthrough case" of Covid-19 in what she characterized as an abundance of transparency.
"Psaki, who is fully vaccinated, said she has experienced only mild symptoms," NPR reported. "In a statement, she said she had not had contact with senior White House officials since Wednesday — four days before she tested positive — and last saw Biden on Tuesday, when they were wearing masks and were more than six feet apart from each other, outdoors."
"The White House had announced early on Thursday morning that Psaki would not be traveling with Biden to the G-20 summit in Rome due to a family emergency," she said. "That emergency, she said on Sunday, was that members of her household had tested positive for COVID-19."
"Since then, I have quarantined and tested negative (via PCR) for COVID on Wednesday, Thursday, Friday, and Saturday. However, today, I tested positive for COVID," Psaki said.
The last press conference given by Jen Psaki was on October 27.https://www.youtube.com/embed/nRM_OspY0lU?feature=oembed
Former U.S. Secretary of State Colin Powell, who had multiple myeloma, was reported to have died from "complications of Covid," despite the 84-year-old being "fully vaccinated." Powell's passing caused a spike in searches on breakthrough infections.
As of October 18, 2021, the CDC reports that 41,127 patients have been hospitalized or died as a result of breakthrough COVID infections. The CDC saays that there were 10,857 deaths resulting from breakthrough COVID infections.
The CDC claims that there are 189 million fully vaccinated people in the U.S. If mortality rates for these vaccinated Americans were reported the same way 'Covid-related deaths' have been since 2020, we would be reading about tens of thousands of "vaccine-related deaths."
Jen Psaki's disappearance since news of her 'breakthrough infection' accompanies another mysterious shrinking from public view: California Govenor Gavin Newsom.
As reported earlier today, Gavin Newsom hasn't been seen in public for eleven days, since he received a 'mix-and-match' booster shot. Newsom also explained his cancellation of his trip to Rome as a sudden family emergency.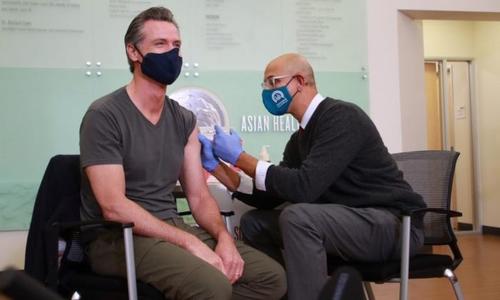 California Governor Gavin Newsom had been on a rampage after surviving his recall election. The embattled governor has punished voters for daring to challenge his authoritarian rule, such as by passing a 'vaccine mandate' for K-12 students.
Then, a 'funny' thing happened. Gavin Newsome's revenge tour stopped. The golden boy of California politics suddenly retreated from the limelight. His public appearances grinded to a halt. The governor suddenly went silent.
The last time Gavin Newsom was seen in public he gave an exortation for all Americans to 'get your booster,' as was said in a post that evening:
Get your booster. pic.twitter.com/xuvX5X6HZu— Gavin Newsom (@GavinNewsom) October 27, 2021
A few days later, Gavin Newsom's planned trip to travel to Glasgow for the now-failed climate conference was canceled.
"California Gov. Gavin Newsom on Friday abruptly canceled his trip to the United Nations Climate Change Conference because of unspecified 'family obligations,' his spokeswoman said on October 29, according to the AP.
"Newsom was scheduled to attend the event next week in Glasgow, Scotland, to highlight his administration's climate change actions," the AP continued. "That includes a proposed ban on the sale of all new gas-powered cars in the state by 2035, a ban on all oil drilling by 2045 and outlawing the sale of new gas-powered lawn equipment by 2024 or whenever state regulators determine is feasible."
"Newsom was to lead a California delegation that included his wife, Jennifer Siebel Newsom, Assembly Speaker Anthony Rendon and 14 other legislators and some of the state's top environmental regulators," the report added.
On October 27, Newsom decided to follow-up his initial Johnson & Johnson vaccination with a Moderna 'booster shot.' You can see from the press conference following the booster shot that Newsom is flushed and does not appear to be well:https://www.youtube.com/embed/shtChOJA0d0?feature=oembed
The Biden administration had previously assured American citizens that a round of the Covid shots would make them 'fully vaccinated.' More recently, public officials like Newsom have urged Americans to get "boosters," even 'mixing and matching' them, as if long-term research supported such a medical approach.
Source: HNewsWire patriotalerts
God Said He Would Confuse the Proud/ Un-Godly, COVID 19 Virus Has the Best Scientists, Doctors Confused, Oh Bill Gates Does Not Have a Market Anymore…
"The LORD will make the pestilence cling to you until He has consumed you from the land where you are entering to possess it. "The LORD will smite you with consumption and with fever and with inflammation and with fiery heat and with the sword and with blight and with mildew, and they will pursue you until you perish.
Plagues are also a sign, along with hostility to Christians, that we are and have been in the End Times, as Jesus Himself says:
10 Then he said to them, "Nation will rise against nation, and kingdom against kingdom. 11 There will be great earthquakes, and in various places famines and pestilences. And there will be terrors and great signs from heaven. 12 But before all this they will lay their hands on you and persecute you, delivering you up to the synagogues and prisons, and you will be brought before kings and governors for my name's sake. 13 This will be your opportunity to bear witness. (Matthew 24)
And the Book of Revelation describes the judgments of the apocalypse in terms of pestilence and plagues:
7 When he opened the fourth seal, I heard the voice of the fourth living creature say, "Come!" 8 And I looked, and behold, a pale horse! And its rider's name was Death, and Hades followed him. And they were given authority over a fourth of the earth, to kill with sword and with famine and with pestilence and by wild beasts of the earth. (Rev. 6:7-8)

15 Then I saw another sign in heaven, great and amazing, seven angels with seven plagues, which are the last, for with them the wrath of God is finished. (Rev 15:15)
But, along with this terrifying judgment of the Law, we also see the Gospel expressed in an Intercessor who stands between us and the plagues.
Corona-virus Mutating Into Something Far More Deadlier, Pestilence Will Not Go Away
No God No Cure, and Vaccine Completely Useless (Bill Gates and Co)… The second Wave Is Coming Get Ready For Global Lock-down, the Elitist Need to Think About What They Have Done and Take Cover, AntiChrist Makes His Appearance Soon…
Update 10/1/21 Supreme Court Justice Kavanaugh Tests Positive For Covid Days Before Supreme Court Term Begins
Supreme Court Justice Brett Kavanaugh has tested positive for Covid-19, the court said in a Friday statement. As a result, he will not attend Justice Barrett's investiture this today.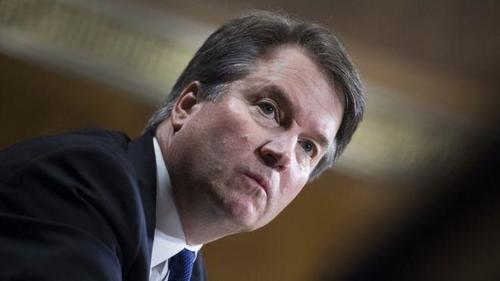 Kavanaugh, 56, is asymptomatic, and has been fully vaccinated against the disease since January.
Full statement below:
On Thursday, per the Court's regular testing protocols, Justice Kavanaugh had a routine Covid test ahead of Justice Barrett's investiture on Friday. On Thursday evening, Justice Kavanaugh was informed that he had tested positive for Covid-19. He has no symptoms and has been fully vaccinated since January. Per current Court testing protocols, all of the Justices were tested Monday morning prior to conference, and all tested negative, including Justice Kavanaugh. Justice Kavanaugh's wife and daughters are also fully vaccinated, and they tested negative on Thursday. As a precaution, Justice and Mrs. Kavanaugh will not attend Justice Barrett's investiture this morning.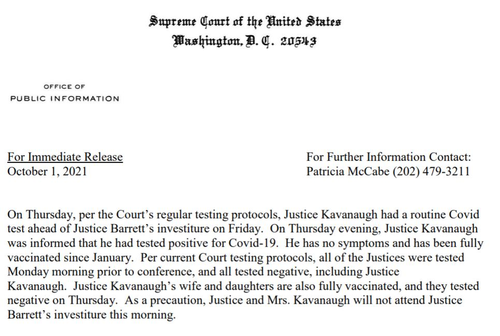 Developing…
Scientists Discover That One Big Assumption That Everyone Has Been Making About COVID-19 May Be Dead Wrong
Yes, those that have had COVID-19 do develop antibodies.
But two new scientific studies have discovered that those antibodies start to fade very, very quickly.
For example, a study that was recently conducted in China found that more than 90 percent of COVID-19 patients experience steep declines in COVID-19 antibodies "within 2 to 3 months"…
A new study from China showed that antibodies faded quickly in both asymptomatic and symptomatic COVID-19 patients during convalescence, raising questions about whether the illness leads to any lasting immunity to the virus afterward.
The study, which focused on 37 asymptomatic and 37 symptomatic patients, showed that more than 90% of both groups showed steep declines in levels of SARS-COV-2–specific immunoglobulin G (IgG) antibodies within 2 to 3 months after the onset of infection, according to a report published yesterday in Nature Medicine. Further, 40% of the asymptomatic group tested negative for IgG antibodies eight weeks after they were released from isolation.
And an extensive study conducted in Spain found that some patients who had initially successfully developed antibodies "no longer had antibodies weeks later"…
A large study from Spain showed that antibodies could disappear weeks after people have tested positive, causing some to question how possible it will be to attain herd immunity.
A study published in the medical journal Lancet showed 14% of people who tested positive for antibodies no longer had antibodies weeks later.
This is devastating news, and it has severe implications for vaccine development…
Such findings have implications for vaccine development since the efficacy of a vaccine hinges on the idea that a dose of weakened or dead virus can prompt your body to generate antibodies that protect you from future infection. If those antibodies are fleeting, a vaccine's protection would be transient too.
Short-lived antibodies also diminish the hopes of achieving widespread or permanent herd immunity.
2nd Congressional Staffer Tests Positive; More Capitol Hill Offices Work Remotely…
Update: 3/15/20 @ 8:45 PM CST–Sunday evening The Hill reports that a second Congressional aide has tested positive for Covid-19.
"A staff member in Rep. David Schweikert's (R-Ariz.) D.C.'s office has tested positive for COVID-19, the congressman said Sunday," according to the report.
The individual is resting "comfortably at home and following guidance from local health officials," Schweikert said in a statement.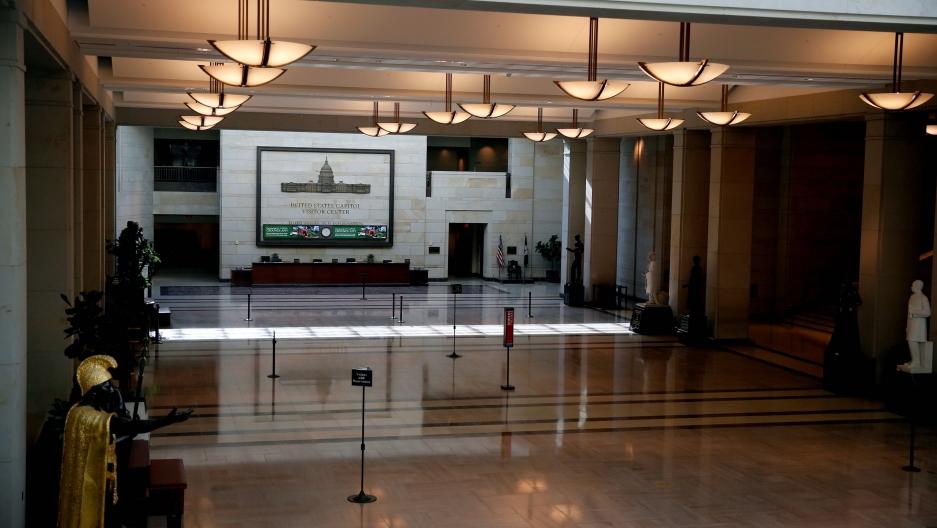 The Capitol visitor's center stands empty. Image source: Reuters.
NHS England ramps up Coronavirus testing
This follows the first known instance of a congressional aide getting the virus after on Thursday Washington state Democratic Senator Maria Cantwell announced the immediate closure of her office due to a confirmed case on her staff.
The Capitol building also closed to all external visitors and the public at that time, amid more and more Congress members announcing they would be working from home.
As Vox describes:
Capitol hallways, usually bustling with visitors at this time of year, are mostly empty as public tours have been canceled. Some members of Congress, including Sens. Lindsey Graham and Ted Cruz, are self-quarantining after coming into contact with individuals diagnosed with Covid-19, the disease caused by the coronavirus, and they're now waiting for the results of their own tests. A handful of House and Senate offices are also making the decision to close down their DC offices and directing staff to work remotely.
At least 16 cases of Covid-19 were confirmed in DC as of Saturday after days before the mayor declared a state of emergency in the city, also with newly announced restrictions on bars and restaurants starting Sunday.
Rep. David Schweikert✔@RepDavid
My statement on COVID-19 and office closures: https://schweikert.house.gov/media-center/press-releases/congressman-schweikert-statement-covid-19 …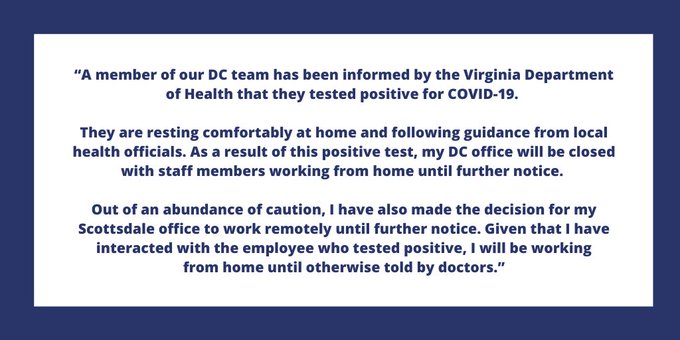 Rep. Schweikert announced his office will be closing until further notice as staff members work remotely. His office in Scottsdale, Arizona is also preparing to work from home out "an abundance of caution."
Many more such announcements for Capitol Hill staffers to "go remote" are expected this week as the crisis continues, and as more confirmed positive cases emerge.
However, House Speaker Nancy Pelosi previously pledged to lawmakers that as "captains of the ship" they would be "the last to leave."
Update: 3/14/20 @ 2:02 PM CST, Now a global pestilence has erupted, and in Luke 21 we were specifically warned to watch for "pestilences" in the last days, "Take Cover"…
Other Congress members and staff members of the President have been taking extreme cautionary measures, isolating themselves for fourteen days because they came in the proximity of someone who might have been in contact with someone who had an infection. Florida Governor Rick Scott has had no contact with Bolsonaro and the sick Brazilian delegation but he decided to self-quarantine "out of an abundance of caution." Senator Lindsey Graham is another one who has decided to self-quarantine, even though he has "no recollection" of direct contact with the Brazilian leader or his aide.
Even if President Trump continues healthily into old age, he is human and is probably not immune to this new strain of the Demon Virus. If an infection in the President becomes evident and testing comes back positive, there will likely be a new level of panic and blame felt throughout the country.
Sources include TheSun.com ImmuneSystem.News HNewsWire NewsTarget
Ivanka Trump is staying home for now after meeting with an Australian official that has tested positive…
Ivanka Trump self-isolated at home on Friday, not going into the White House, after she was photographed with Australian Home Affairs Minister Peter Dutton days before he tested positive for coronavirus.
The White House said Dutton was 'asymptomatic' during his interaction with the first daughter and Ivanka Trump, who serves as an adviser to President Donald Trump, is showing no symptoms, doesn't need to self-quarantine and stayed home out of an abundance of caution.
Things are really starting to get crazy out there.
Miami Mayor Tests Positive After Meeting With President Bolsonaro & His Staff
The Brazilian presidency has slammed initial reports Friday — originating in one of the country's biggest newspapers citing "government sources" — saying President Jair Bolsonaro tested positive for Covid-19. Soon after the Brazilian presidency's Facebook page officially said the test came back "negative," despite Fox News and The Guardian among others reporting that he had the virus. Bolsonaro's son also blasted the media reports as "too many lies".
No doubt the White House breathed a sigh of relief, given Bolsonaro had just dined with President Trump Saturday night at Mar-a-Lago, but still, a close call given a top aide among the Brazilian delegation did test positive Thursday. But guess who did come into contact with both Bolsonaro and the confirmed Covid-19 infected aide?
Miami Mayor Francis Suarez confirmed Friday that he has tested positive for the new coronavirus.

Suarez, 42, said in a statement that he was not feeling any symptoms and advised anyone who shook hands with him or was close to him since Monday to self-isolate for 14 days.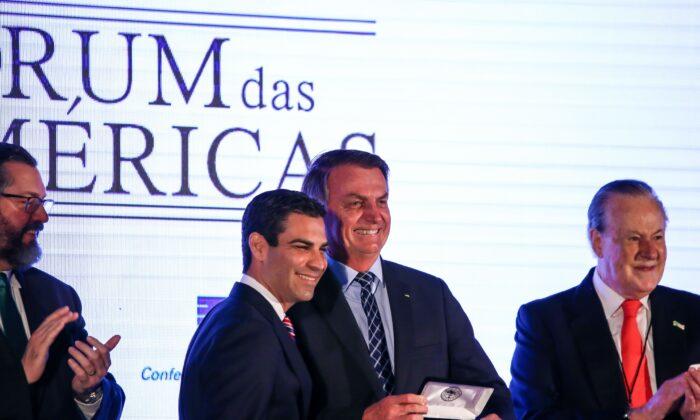 "It is confirmed that I have the coronavirus," Suarez told the Miami Herald earlier in the day Friday. "I did test positive for it."
He's been in isolation since Thursday after it was initially learned that Bolsonaro aide Fabio Wajngarten tested positive for it.
Worrisomely it remains that Suarez, along with Miami-Dade Mayor Carlos Gimenez, Sen. Rick Scott (R-Fla.) and President Trump, all hosted Boslonaro and his staff in South Florida this week, including at a major public event at the Forum Of The Americas at the InterContinental Miami, where Bolsonaro was awarded the keys to the city.

This could have further implications in terms of potential spread in Miami, as NBC Channel 6 reports:
NBC 6 has also learned that Miami commissioners, their staff, and city hall staff have been advised to self-isolate if they came in contact with Suarez. City hall was also decontaminated Thursday night, a source said.
A number of top city officials are now self-isolating after contact with both the Miami mayor and the Brazilian delegation. Source ZeroHedge
U.S. Sen. Ted Cruz of Texas and U.S. Rep. Paul Gosar of Arizona to self-quarantine after potential exposure to COVID-19 at CPAC
U.S. Senator Ted Cruz of Texas (R)
U.S. Sen. Ted Cruz of Texas and U.S. Rep. Paul Gosar of Arizona said Sunday they are putting themselves into self-quarantines after revealing they interacted with a person who tested positive for the coronavirus during a recent conservative event.
Cruz released a statement Sunday evening on Twitter saying that he is not experiencing any symptoms. He says in the statement that medical authorities have told him the chance of getting the virus is low because his interaction with the infected person was very brief.
"Nevertheless, out of an abundance of caution, and because of how frequently I interact with my constituents as part of my job and to give everyone peace of mind, I have decided to remain at my home in Texas this week, until a full 14 days have passed since the CPAC interaction," Cruz says in the statement.
USA Today reports that Gosar says he shook hands several times with the infected individual and that he was with him for an extended period of time. Gosar and three members of his staff are self-quarantining, USA Today reports.
Congressman Paul Gosar of Arizona (R) is self-quarantining along with three of his senior staff.
The Conservative Political Action Conference was held from Feb. 26 to 29 in National Harbor, Maryland. President Trump gave a speech at the event. According to nj.com, the infected person is a 55-year-old male from Englewood, N.J.
CPAC officials say the man had no interaction with Trump, nj.com reports.
The exposure of Cruz and Gosar is making other members of Congress anxious, NBC News reports. Many members of Congress are over the age of 60 and the virus is more dangerous to older people, medical authorities say.
Two Democratic legislators tell NBC that Congress is considering recessing for two weeks because of the spreading virus. So far there have been no changes in the congressional schedule.
"Members are very nervous," a senior Democratic leadership aide tells NBC News. "There's a lot of concern that members could bring it home."
Source The Daily Sheeple
---
Canada's First Lady Tests Positive For The Coronavirus: Live Updates
Summary:
Scott Gottlieb says the US can still avoid "Italy-like" outcome
Cuomo closes Broadway, bans all events in NY with over 500 ppl, reduces venue max capacity by 50%
NCAA cancels 'March Madness'
F1 Australia Grand Prix to be held without the crowd
Trump Campaign tells employees to work from home through Monday
Maryland & Ohio cancel school
Dr. Fauci appears to endorse a European travel ban
Spain, Italy ban short-selling
Charles Barkley to self-quarantine
The UK reports 2 more deaths
NYC declares state of emergency
Cali bans gatherings with more than 250 ppl
China sending a medical team and equipment to Italy
Arsenal manager Mikel Arteta tests positive for Covid-19
Disney closes park in Anaheim
American Air confirms pilot tested positive for Covid-19
Italy closes Catholic churches
NBA player apologizes for making light of virus
Trudeau and wife to self-quarantine after wife reports flu-like symptoms
France death toll climbs to 61
Houston closes schools until the end of the month
Spain death toll climbs to 86
Ohio bans gatherings with more than 100 ppl after confirming 5th case
Gabon, Ghana confirm the first cases of the virus
PA. Gov. Tom Wolf shuts down much of Montgomery County
2nd Utah Jazz player tests positive
Slovakia closes all borders, international airports
NJ cutting off nightclub liquor sales after 10 pm
Deaths in Italy above 1,000
NHL "pauses" play
MLB will delay starting to 2020 season by 2 weeks
Chelsea Football Club player Callum Hudson-Odoi tests positive
Dr. Fauci says test shortage is a major government 'failing'
Rick Scott 2nd Senator to self-quarantine over the virus
Senate cancels recess, will stay open next week
Reporter claims Gobert was careless in the locker room
Premier League to hold emergency talks Friday as clubs push to suspend play
2020 champions league tournament postponed until next year
US Major League soccer suspends play
Trump says we may need to extend the travel ban
Reports claim once again that Merkel is ready to whip out the checkbook
Goldman asks workers in NY to work from home in 'staggered shifts'
EU officials condemned Trump's travel ban
Trump says 'markets are going to be fine'
Spain has approved a €2.8 billion rescue package
Olympic torch lit in front of just 100 spectators
La Liga suspends season after Real Madrid player tests positive
3 F1 racers quarantined
Blackstone advises portfolio companies to draw down revolving credit lines
NHL rumored to be planning a league play suspension as playoffs begin
A passenger on JetBlue flight from NY to FLA tests positive for the virus
Spanish cabinet being tested for coronavirus
Scandinavia begins shuttering schools
Iran reaches out to 3 million Iranians who may have been infected
Market participants wary of dissipating bond market liquidity
Global deaths pass 4,600
Jesus said that the last days would be marked by pestilences. Revelation tells about specific pestilences that will arise during the tribulation period. As we get closer to the beginning of the tribulation, the world seems to be primed for a series of massive global pandemics. The ease and speed of global travel are one of the big factors here.
The other great danger is the rise of superbugs. Over the last hundred years or so, we humans have been inadvertently developing bacteria, viruses, and fungi that are stronger than anything in history. We call them superbugs because they are resistant to antibiotics, antivirals, and antifungal medications. By the extensive use of such drugs, we have made it so that only the strongest of each species survives. And the strong bugs are increasingly difficult to kill.
This is what the UK's Chief Medical Officer, Dame Sally Davies, was talking about when she warned of a coming "superbug apocalypse."
Here's the amazing thing. The Bible predicted this almost two thousand years ago. It's just another example of something that should be crucially important to everyone. The Bible is true! We can trust it. We can trust its warnings and its promises. Even bleak news like this should remind us that our faith in God and heaven is built on a firm foundation.
Update (2230ET): A few hours ago, we reported that PM Justin Trudeau and his wife, Sophie Gregoire, had gone into self-quarantine after his wife had exhibited symptoms of the virus after visiting London recently.
Well, the test results are in. And Gregoire, the first lady of Canada, is positive for Covid-19.
She and the Prime Minister will be self-isolating for 14 days.

NEWS: Sophie Gregoire Trudeau, wife of @JustinTrudeau, has tested positive for coronavirus. The statement below is from the PMs office.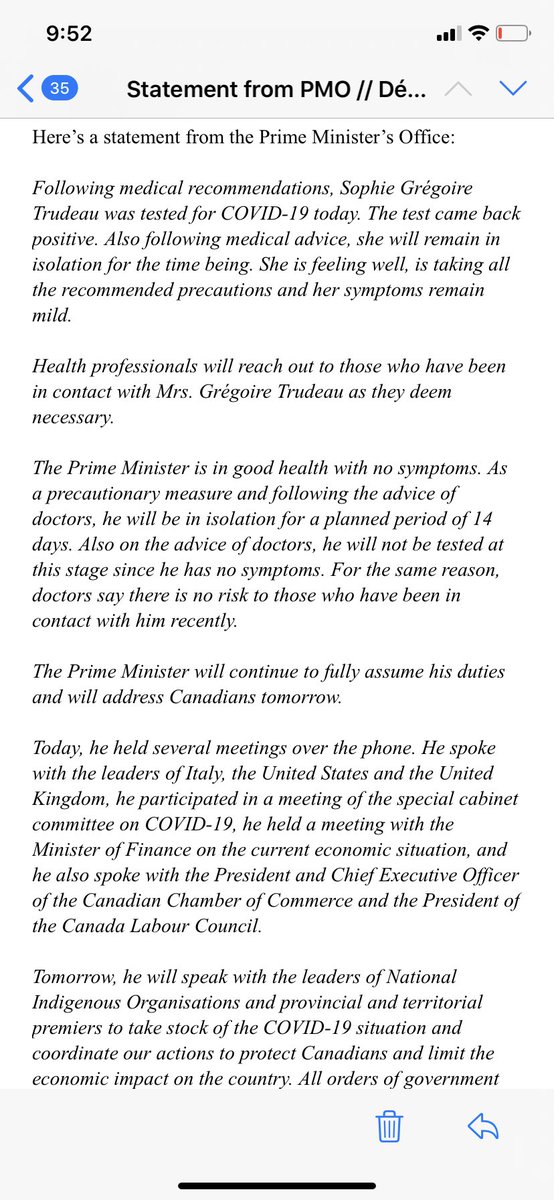 2088:54 PM – Mar 12, 2020Twitter Ads info and privacy249 people are talking about this
As we wait for the Premier League's emergency tomorrow, news has broken that Chelsea Football Club player Callum Hudson-Odoi has tested positive for the virus and will remain in self-isolation. Callum displayed symptoms on Monday morning and hasn't been to the team's training ground since. The rest of the team and its coaching staff will now self-isolate.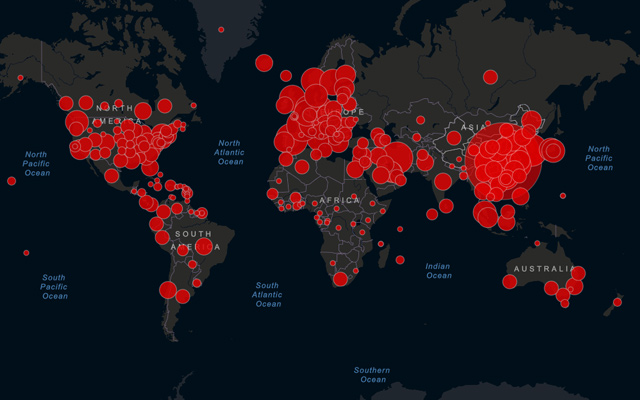 Update (2020ET): The Trump Campaign has asked workers to work from home through Monday.
In other news, Charles Barkley said he plans to self-quarantine after falling ill. He has been tested for the coronavirus but is awaiting the results.
* * *
Update (2000ET): As we mentioned earlier, Arsenal Manager Mikel Arteta has tested positive, and as sports leagues around the world suspend play, the Premier League is reportedly holding emergency crisis talks on Friday, according to the Independent.
Many of the club owners want the play to be shut down and disagree with the decision to continue so far. Some are even pushing for the entire season to be voided.
Also: In further bad news for the airline industry, American Air has confirmed that one of its pilots tested positive for the virus. And Disney has just announced a decision to close theme parks in Florida and Paris – rounding out most of its biggest parks around the world. They closed Disney Land in California earlier today.
* * *
Update (1930ET): Seattle became the first major US city to shutter its school system last night, and just a few hours ago, Maryland and Ohio announced state-wide shutdowns of their own.
Now, the Houston Independent School District, one of the largest in the US with more than 200,000 students, closes all schools until March 30 due to the outbreak.
At least 17 cases of the virus have been diagnosed in the Houston area, most of them directly related to a group that recently traveled to Egypt.
Across the US, the coronavirus panic is intensifying, as people continue to hoard supplies, even nonessentials like toilet paper, in a blind panic.
Attention short-sellers: Apparently Kimberly-Clark makes the only toilet paper in the country, Viva, that nobody wants…..even in a nuclear winter!!!!!!!
435:00 PM – Mar 12, 2020Twitter Ads info and privacy18 people are talking about this
Two new African countries reported their first cases of the virus on Thursday, including Gabon and Ghana.
* * *
Update (1905ET): Spain reports 869 new cases of coronavirus, and 31 new deaths, bringing the national total to 3,146 cases and 86 deaths.
* * *
Update (1845ET): Chatter form earlier today claiming that Dr. Fauci personally signed off on President Trump's travel ban has been confirmed.
FAUCI SAYS EUROPE TRAVEL RESTRICTIONS RIGHT PUBLIC HEALTH CALL
The celebrated epidemiologist said during a recent TV appearance that, if Trump hadn't restricted travel from China, there would have been "many more travel-related cases". Source ZeroHedge

Capitol Building & Congressional Offices Go Into Lockdown After Senate Staffer Tests Positive
With anxiety on the rise about the potential spread of coronavirus on Capitol Hill, especially among Congress' vulnerable and aging members, late Wednesday night it was announced a senate staffer who works on the hill tested positive.
Washington state Democratic senator Maria Cantwell's office said a staffer in her D.C. office tested positive in the first known instance of a congressional staffer getting the virus, prompting Sen. Cantwell to order her office closed for at least the remainder of the week.
"The individual who tested positive for COVID-19 has had no known contact with the senator or other members of Congress," the statement said. "The senator is requesting that testing be done on any other staffers who have been in contact with the individual and show symptoms."Getty Images
Currently, at least seven other members of Congress have out of an abundance of precaution taken steps to isolate themselves after possible instances of exposure.
This includes five Republican lawmakers — Sen. Ted Cruz, Reps. Matt Gaetz, Doug Collins, Paul Gosar and Mark Meadows — who are self-quarantining after attending the Conservative Political Action Conference in National Harbor, Maryland where an infected individual was present. And two Democrats include California Rep. Julia Brownley and Virginia Rep. Don Beyer, who earlier this week said they may have recently interacted with acquaintances who tested positive.
The average Congressional age is around 60-years old, and lawmakers and their staffers often work in a close quarter environment, alarming given that D.C. — already under a newly declared state of emergency after local cases started exploding for the first time days ago — sees a constant influx of international visitors and foreign dignitaries, and also given earlier this week the CDC urged Americans older than 60 to avoid crowds, as the elderly have been shown to be most vulnerable.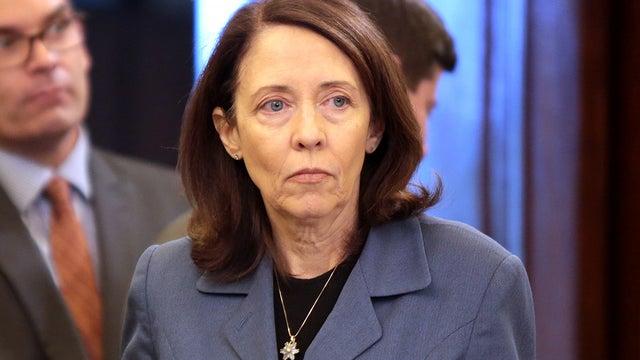 According to The Hill, steps are finally being enacted (but is it too little too late?) to keep crowds away from Congress and staffers:
The House and Senate sergeants-at-ams are also preparing to announce the suspension of all tours in the Capitol in an effort to limit the potential spread of the virus on the hill.

"The two sergeant at arms … are preparing to announce that they will stop tours of the Capitol due to the coronavirus," a source told The Hill.
And the Associated Press confirms Thursday: "Congress is shutting down the US Capitol building to the public until April 1, along with all House and Senate offices over concerns of the coronavirus spreading."
Both chambers will continue to conduct business, but without a public, in-person audience.

The Democratic-led House will vote Thursday on a novel coronavirus response package that would provide support to families affected by the pandemic, including paid sick leave, free testing and funding increases to food security programs. — AP
It must be remembered that at the start of this month nearly 10% of Iranian lawmakers were confirmed with the coronavirus, and top Iranian officials began dying, showing that everyone is vulnerable — even top leaders in societies who might, by and large, live apart from the general population.
Meanwhile, on the same day (Wednesday) that Sen. Cantwell's office made the announcement, and before the closure of the Capitol building to tours:
The U.S. Capitol is packed with tourists
3021:29 PM – Mar 11, 2020Twitter Ads info and privacy219 people are talking about this
It's perhaps only a matter of time before all Congress members and their staff begin working from home to contain the spread on the capitol.
UK Health Minister Tests Positive For COVID-19; Bernie And Biden Cancel Rallies: Live Updates
Summary:
UK Health Minister announces she's tested positive for coronavirus and is self-isolating
Washington State reports two more coronavirus deaths, bringing the total up to 24 and 267 cases.
6th patient dies from Cov-19 in the UK
US CDC Chief: "the US is beyond virus containment in some areas"
Washington State considering "Rapid Lockdown", new benefits announced for workers
The mortality rate in Lombardy hits 8% – higher than Wuhan
Lagarde calls on European governments to embrace "rapid fiscal action."
Austria, Switzerland close borders with Italy
NJ Governor declares state of emergency
North Carolina declares state of emergency
Air Canada latest airline to suspend routes to Italy as traffic expected to plunge due to quarantine
Mass. declares state of emergency after confirming 51 'presumptive' cases; Boston cancels St. Patricks Day Parade
NYC Mayor says outbreak "evolving very rapidly"
Harvard moves classes online
Xi takes a victory lap in Wuhan
Trump says had 'great' meeting with Repubs on the stimulus plan, but no details released
Italy reports 36% jump in deaths, cases climb above 10,000
Three Canadians test positive in Calgary
Spain suspends parliament after lawmaker infected
Austria total cases hit 182
The first case reported in Philly
EU suspends parliament indefinitely
Italian government suspends mortgage payments across the country
CDC says nearly 5,000 tests have been conducted in the US through Monday
National Guard is deploying to New Rochelle, area businesses, schools will close, Cuomo says
New Jersey confirms first death
Trump arrives on Capitol Hill to discuss stimulus plan with Republicans
* * *
Update (1900ET): UK Health Minister Nadine Dorries announced on Tuesday that she has tested positive for coronavirus and is self-isolating, according to Sky News. She's the first MP in the country to be diagnosed with COVID-19.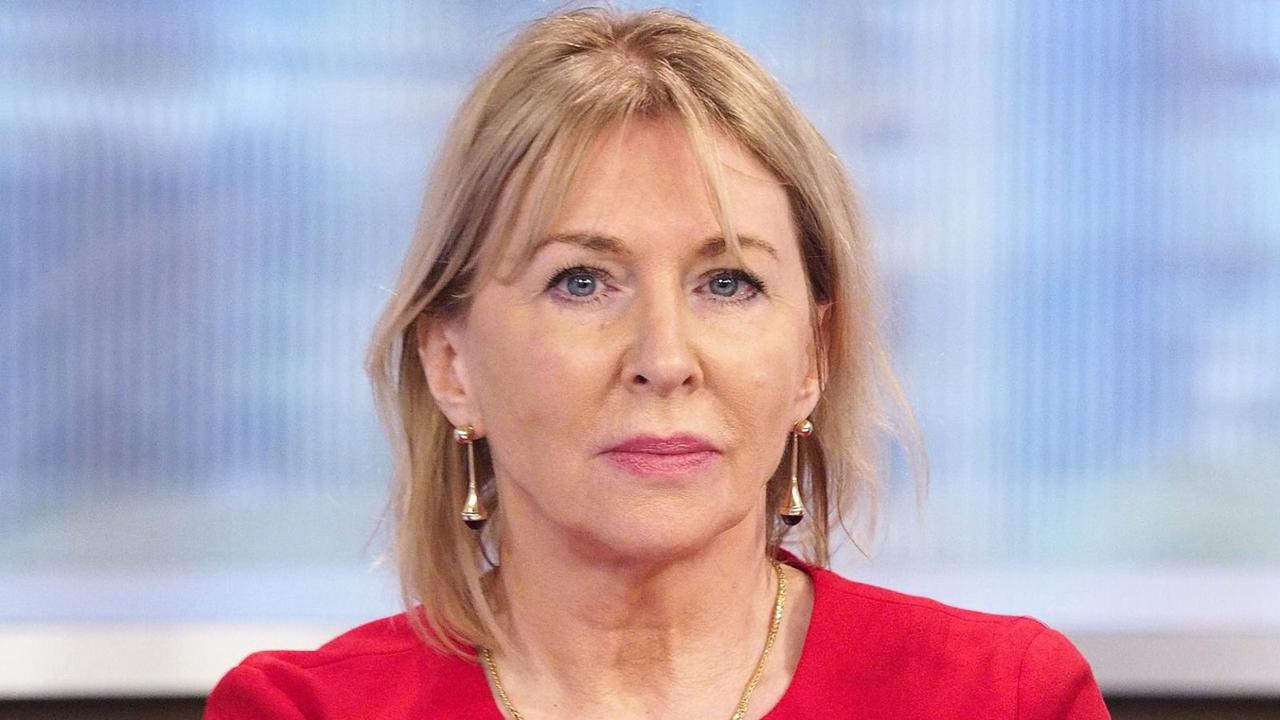 "I can confirm I have tested positive for coronavirus," Dorries said in a statement. "As soon as I was informed I took all the advised precautions and have been self-isolating at home."
Public Health England (PHE) has started detailed contact tracing and the department and my parliamentary office are closely following their advice.

I would like to thank PHE and the wonderful NHS staff who have provided me with advice and support.
Six people have died in the UK so far and there are currently 382 official cases, up 54 from Monday.
* * *
Update (1820ET): A NJ coronavirus patient who died was an employee at the Standardbred Owners Association working in an office-based at the Yonkers Raceway, according to a statement from MGM Resorts. He was last at the track 8 days ago. Pence added that everyone on the 'Grand Princess' would be isolated and quarantined while the crew will be quarantined on the ship offshore, and HHS Secretary Azar said about 450 passengers of the roughly 3,500 passengers and crew had been de-boarded.
* * *
Update (1800ET): Just as VP Pence was beginning the White House coronavirus task force's press conference on Tuesday evening, Washington State confirmed two more deaths, bringing its total to 24, with 267 cases, according to state officials.
* * *
Update (1715ET): Both Bernie Sanders and Joe Biden have canceled their campaign rallies in Ohio tonight as Americans in six mostly Midwestern states vote in the latest round of primaries. The pundits claim Bernie Sanders will need a big upset Tuesday night to remain viable.
Bernie's campaign spokesperson Mike Casca told CNN that the campaign had canceled the planned Cleveland Rally to celebrate "Super Tuesday 2".
In a statement, Casca cited "concern for public safety" because of the coronavirus.
"Out of concern for public health and safety, we are canceling tonight's rally in Cleveland," he said.
Joe Biden's Deputy Campaign Manager Kate Bedingfield announced that his campaign rally, which was also set to be held in Cleveland, had been canceled for similar reasons.

In accordance with guidance from public officials and out of an abundance of caution, our rally in Cleveland, Ohio tonight is canceled. We will continue to consult with public health officials and public health guidance and make announcements about future events 1/

In the coming days. Vice President Biden thanks all of his supporters who wanted to be with us in Cleveland this. Additional details on where Vice President Biden will address the press tonight are forthcoming. 2/25903:39 PM – Mar 10, 2020Twitter Ads info and privacy173 people are talking about this
* * *
Update (1530ET): NYC Mayor Bill de Blasio finished his latest public press update on Tuesday (notice how he and Cuomo are apparently refusing to appear together as they tackle the crisis? It's amazing how petty political rivalries really do trump all) a few hours ago,
De Blasio urged New Yorkers to do whatever they could to avoid crowds – take the subway during off-hours, telecommute if you can. If you're sick, stay home. "Take it seriously," de Blasio said.
He added that he would ask the federal government for another 300,000 N95 respirator masks, primarily for use by health-care workers.
Those who are eligible and who are looking for a way to help out should donate blood, de Blasio said.
Across NYC, case numbers are "evolving very rapidly," de Blasio said. Since private labs started testing on Friday, the number of tests processed has improved rapidly.
In other NY news, NY State's opioid trial, which had been scheduled to begin later this month, has been delayed because of the outbreak, a spokesman for NY AG Letitia James said.
The Boston Globe just reported minutes ago that Mass Gov. Charlie Baker has declared a state of emergency following the outbreak at a conference for employees of biotech company Biogen. The announcement comes alongside the reporting of 51 new "presumptive" positive tests, more than doubling the number of confirmed cases in Massachusetts.
As a reminder…
State of emergency due to coronavirus:

– Colorado
– North Carolina
– Illinois
– Ohio
– New York
– Rhode Island
– New Jersey
– Oregon
– Iowa
– Utah
– Kentucky
– Pennsylvania
– Maryland
– Indiana
– Florida
– California
– Washington2312:56 PM – Mar 10, 2020Twitter Ads info and privacy225 people are talking about this
Earlier, Boston canceled its St Patrick's Day Parade, a huge tourism event for the city.
On a day that has been particularly notable for the number of airlines canceling routes to Italy as sales are expected to plunge given the nationwide quarantine (no one in or out for two weeks, remember?), Air Canada has joined the fray, announcing that it will temporarily suspend all routes to and from Italy.
Meanwhile, some things we missed earlier: Philly reported its first "presumptive" positive; after closing its borders to Italian travelers, Austria reported 70 new cases of the virus on Tuesday, bringing its national total to 182, with 43 cases in Vienna; and this tweet highlighting an alarming fact about the coronavirus-linked mortality rate in Lombardy.
Coronavirus mortality in Lombardy is now 8%, more than double Wuhan! Lombardy health system is completely beyond ability to deliver adequate care – hence rationing who gets ICUs. It's sad, so so sad. #COVID19 Let's not let this happen to us America… https://www.wsj.com/articles/italy-with-elderly-population-has-worlds-highest-death-rate-from-virus-11583785086 …Italy, With Aging Population, Has World's Highest Daily Deaths From VirusCoronavirus has killed 5% of known cases, even higher in the worst-affected region, versus a global average of 3.5%, as doctors warn that a shortage of beds risks exacerbating the situation.wsj.com1,9821:18 PM – Mar 10, 2020Twitter Ads info and privacy1,702 people are talking about this
Let's hope, for Italy's sake, that this quarantine works.
* * *
Update (1420ET): As CNBC just reported, the novel coronavirus has finally hit Wall Street. Barclays on Tuesday confirmed that an employee in its New York City midtown office has tested positive for Covid-19. The employee worked on the second floor. Morgan Stanley said an employee at its Purchase office has contracted the virus, but they started self-quarantining early enough to likely avoid exposing coworkers.
An employee at BlackRock in New York has also tested positive. And let's not forget Steve Cohen's Point72, where a back-office employee who worked on the 14th floor of the firm's NYC office reportedly tested positive.
Meanwhile, North Carolina Gov. Cooper declared a state of emergency Tuesday afternoon, becoming the latest state to do so. The decision activates the Emergency Operations Center to help agencies coordinate their response, while also making it easier to purchase medical supplies, protects consumers from price gouging, and increases county health funds.
Update (1400ET): The last half-hour has been absolutely jam-packed with virus-related news, so we're going to do a quick and dirty review of each key story.
Following reports about American soldiers catching the virus in South Korea and Italy, the Pentagon has just confirmed that three active-duty soldiers have been infected with the virus. The announcement was made during a press conference at the Pentagon on Tuesday.
In another press conference, Washington State Gov. Jay Inslee said Tuesday that the entire state of Washington might need to be quarantined because of the outbreak. With so many expected to be out of work, Inslee said the state would be expanding unemployment benefits to cover anybody who misses work because of the virus.
Governor Jay Inslee✔@GovInslee
We're taking steps to mitigate the impact COVID-19 has on workers and businesses in WA.@ESDwaWorks is expanding benefits to cover workers who need to isolate, quarantine or are temporarily laid off.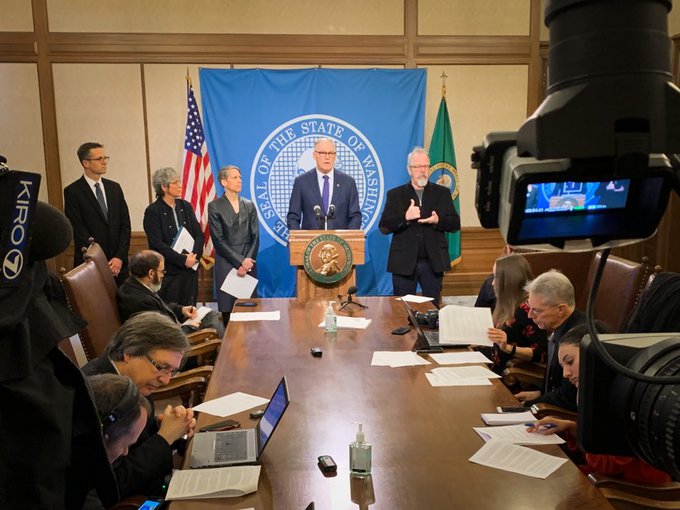 15811:23 AM – Mar 10, 2020Twitter Ads info and privacy83 people are talking about this
Inslee added that state employees will have additional leave available to them.
Governor Jay Inslee✔@GovInslee
WA state employees impacted by COVID-19 will have additional leave available to them.

That way, they don't have to take existing sick, vacation or family leave.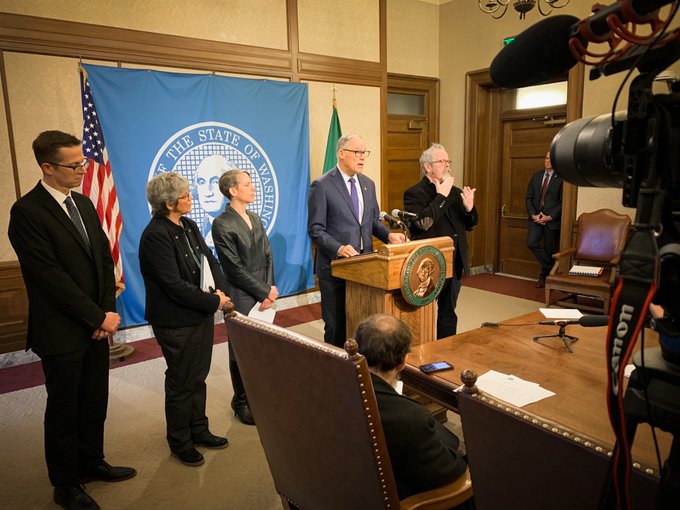 48111:33 AM – Mar 10, 2020Twitter Ads info and privacy150 people are talking about this
Inslee said that cases could increase to 64,000 by May if the state doesn't take action. If necessary, Inslee said the state would implement mandatory restrictions on travel, possibly even a complete quarantine, as Seattle local TV station KOMO reported.
people could be infected with coronavirus in Washington state within two months if actions aren't taken now to stop its spread, Gov. Inslee said Tuesday.
Given the situation at the nursing home in Kirkland, where more than a dozen residents have died and families have been made furious by a perceived lack of communication, the state will also consider imposing new standards on nursing homes in the state.
In Frankfurt, Christine Lagarde demanded "rapid fiscal action" by EU members to battle the virus: Italy is already planning to blow out its deficit to try and compensate for what is now a country-wide lockdown. While German Finance Minister Olaf Scholz is pushing for the country to suspend its constitutional "debt brake" and shake a few more coins out of its federal purse to combat the virus. Talk of a "shadow budget" has been bandied about, as has a standard-looking government rescue package.
After meeting with lawmakers on Capitol Hill, President Trump announced plans to help the cruise line industry and insisted that all Republicans in Congress would back the plan (though some privately expressed their reservations to reporters). Lindsey Graham said that the idea of a 'shale gas' bailout had been raised during the meeting. Beforehand, the Washington Post reported that the administration was indeed devising a plan to bail out American frackers who have been hard-hit by the downturn (and who have also helped the American economy achieve near-total energy independence, but this is often lost on the industry's critics…).

There's been a lot of criticism of the federal government's meandering, indecisive response to the coronavirus outbreak, so it's a relief to see a bold, comprehensive plan emerging to support the fracking industry in these uncertain times https://www.washingtonpost.com/business/2020/03/10/trump-oil-bailout/ …White House likely to pursue federal aid for shale companies hit by oil shock, coronavirus downturnThe White House is considering including federal aid for natural gas companies as it seeks targeted help for certain sectors.washingtonpost.com501:36 PM – Mar 10, 2020Twitter Ads info and privacy27 people are talking about this
Sen. Ron Wyden, who has been criticizing Trump's plans since…well…since before Trump really even had a plan, said Tuesday that Trump's payroll tax relief wouldn't go nearly far enough to encourage consumers to spend. More surprisingly, Mitch McConnell has also reportedly expressed some trepidation about whether this would be the right way to go about it.
However, Trump offered no concrete details about the plan during a set of brief comments with reporters after the meeting's conclusion. More importantly, Trump also advised Americans to "stay calm", asserting "the coronavirus will go away," once again sound too nonchalant about the situation to assuage the market's fears that he isn't taking this seriously enough.
* * *
Update (1310ET): Shortly after an account associated with The League, the right-wing party led by former Deputy PM Matteo Salvini, reported another 135 deaths on Tuesday in Lombardy alone…

Noi con Salvini✔@Noiconsalvini



Altri 135 morti in un giorno solo in Lombardia!
Chiudete tutto, per Dio! … https://www.facebook.com/370275399807892/posts/1565077896994297/ …3511:24 AM – Mar 10, 2020Twitter Ads info and privacy21 people are talking about this
…Italian national health officials confirmed that death toll has climbed 36% in one day, adding 168 deaths to bring the total to 631, while another 977 cases were confirmed, bringing Italy's total confirmed cases above 10,000.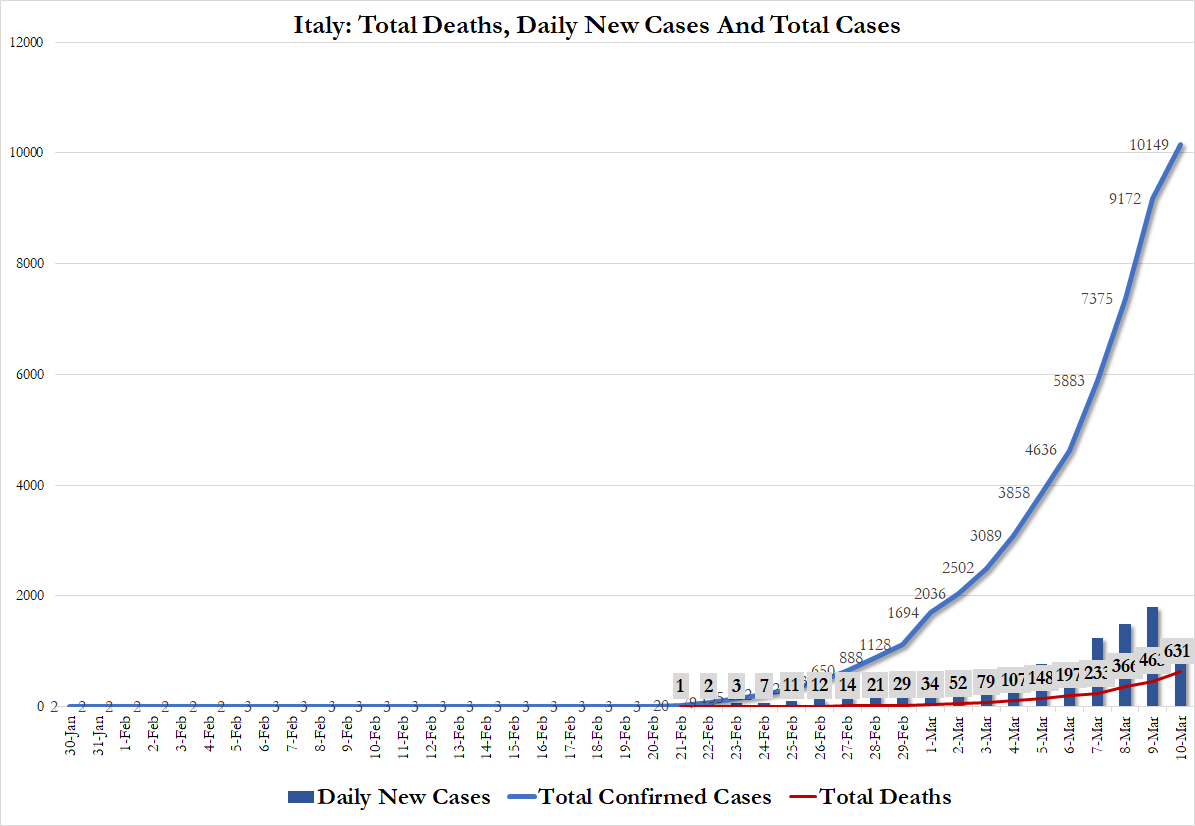 Around the same time, Slovenia announced it would close its borders to Italian travelers, joining Switzerland and Austria. Now, all of Italy's northern neighbors – with the exception of France, which is struggling with its own spiraling outbreak – have closed their borders to Italian travelers. Air France announced Tuesday evening that it would suspend all Italian flights between March 14 and April 3, becoming the latest airline to do so. However, there still appear to be flights taking off from Italy. Here's the schedule from Milan's Malpensa Airport, according to FlightRadar24. Most flights were canceled, but some still made it out.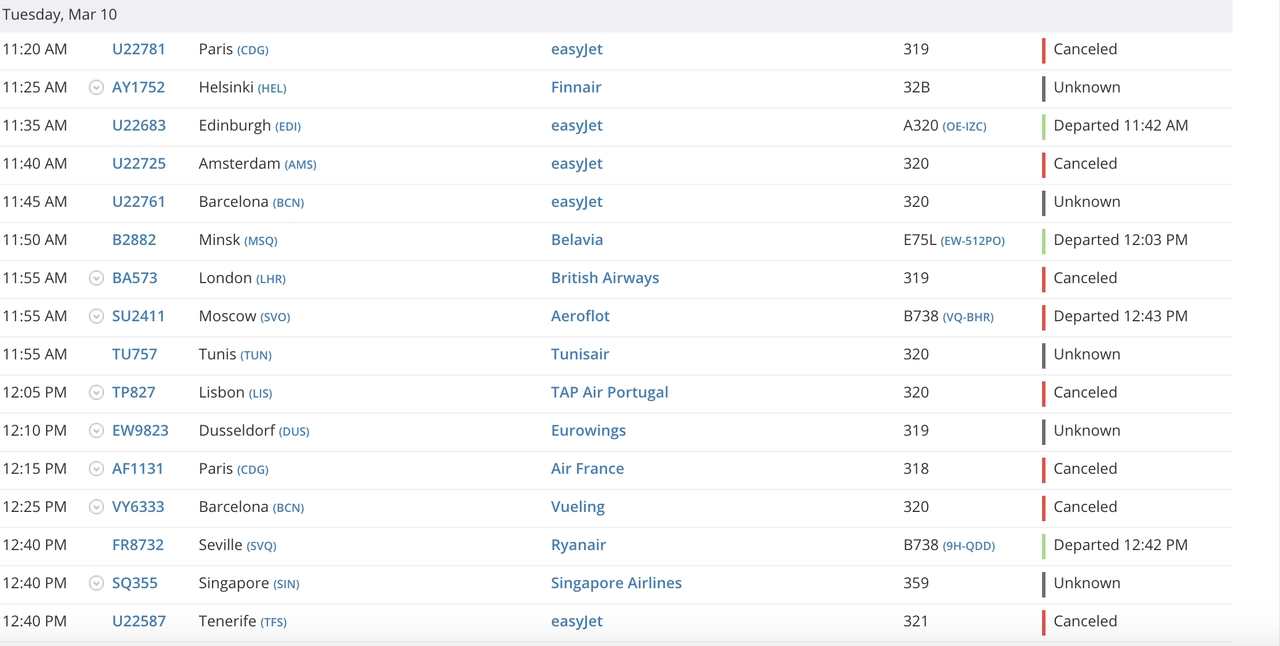 PM Conte, meanwhile, told reporters on Tuesday that he would call on the ECB to do "whatever it takes" (borrowing some familiar phrasing from former ECB chief Mario Draghi) to save the European economy in the face of the outbreak.
Notably, worldwide, the new deaths reported in Italy brought the global death toll north of 1,000, according to AFP.
* * *
Update (1250ET): President Trump has arrived on Capitol Hill to brief Republican lawmakers on the administration's fiscal stimulus agenda, following reports that Trump was basically winging it last night when he promised payroll tax cuts and other measures to help offset the economic shock caused by the coronavirus.
TRUMP IS NOW AT THE US CAPITOL. HE'S BRIEFING REPUBLICANS ON HIS STIMULUS PLAN TO OFFSET THE ECONOMIC IMPACT OF THE CORONAVIRUS.
* * *
Update (1235ET): New York Gov. Andrew Cuomo announced during his daily press update on Tuesday that he is establishing a 'containment zone' in the city of New Rochelle, the epicenter of the state's outbreak. All schools and businesses within one mile of the Westchester town will be closed for two weeks, and the National Guard will be sent in to help local police maintain order.
Watch the rest of Cuomo's update below:
In Albany giving another update on #Coronavirus. WATCH: https://www.pscp.tv/w/cTZieDIyNjcxMDN8MU9kS3JxbUF3ak94WPsEXPiLD1b3WzhK9qaX5M8XjBkJEBMq1T8s3JT2FdLh …Andrew Cuomo @NYGovCuomoIn Albany giving another update on #Coronavirus. WATCH:pscp.tv22311:12 AM – Mar 10, 2020Twitter Ads info and privacy217 people are talking about this
Meanwhile, New Jersey Gov. Phil Murphy has confirmed the state's first coronavirus-related death. Read the full statement below:
First coronavirus death in New Jersey https://twitter.com/GovMurphy/status/1237417699824873475 …Governor Phil Murphy✔@[email protected] and I are sad to report the first death in a case of #COVID19 in New Jersey. Our prayers are with the family during this difficult time. We remain vigilant to doing all we can — across all levels of government — to protect the people of New Jersey.11711:53 AM – Mar 10, 2020Twitter Ads info and privacy91 people are talking about this
* * *
Update (1115ET): CDC Director Robert Redfield told lawmakers this morning during House testimony that "the US is beyond virus containment in some areas"
Additionally, Redfield warned that Europe was the "New China" on the virus front and that US nursing homes were the most vulnerable to the virus.
Redfield's remarks echo comments made by Maryland Gov. Larry Hogan, one of the few remaining "Never Trump" Republicans, who explained that even though the state's six coronavirus cases were all travel related.
"It is going to shift from containment to trying to deal with the situation on the ground," Hogan said. "It starts to escalate pretty rapidly."
At least 73 people in Maryland have tested negative for the new coronavirus as of Monday night.
Later during the presser, Redfield added that roughly 4,850 tests had been carried out through Monday by the CDC, more than double the number reported by the Atlantic on Monday. The US isn't the only major economy that struggled to get enough tests together by the time the virus hit – Japan was also caught flat-footed – but it looks like officials are truly catching up, having sensed the threat to President Trump's reelection prospects if the administration allows the outbreak to become "Trump's Katrina" (just like "Hurricane Maria" and all the other hurricanes that have occurred since Trump's election).
In other news, we neglected to mention earlier that Calgary health officials confirmed three new cases in the Canadian province last night, according to one local newspaper.
Elsewhere, the Swiss government followed Austria's lead on Tuesday and announced that it would ban travelers from Italy, becoming the second of Italy's neighboring states to try and suspend all travel between the two countries, as the Italian government tries to keep its citizens at home.
Earlier in the day, the EU Parliament (Switzerland isn't an EU member though it participates in the single market) announced that it would suspend business indefinitely as local lawmakers around the continent test positive for Covid-19.
Finally, investors try to suss out how bad the fallout will be in the US, here's another chart to help put the outbreak – and various government-led suppression efforts – in context.
Here's the coronavirus data, overlayed with the dates offset by the amounts shown. One of these countries is not like the rest. Everyone else will be Italy in 9-14 days' time.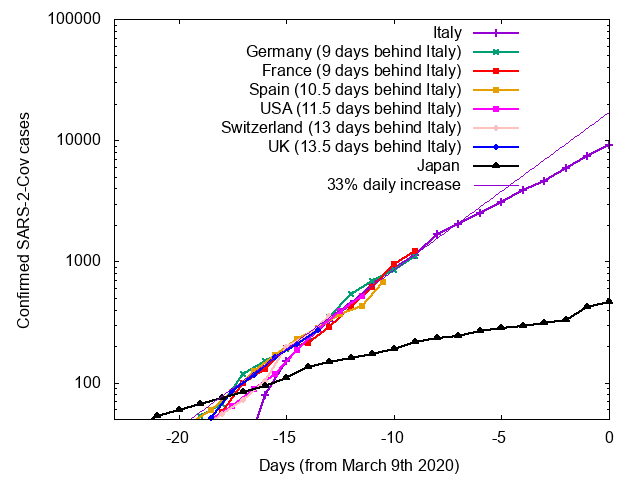 9,1943:54 PM – Mar 9, 2020Twitter Ads info and privacy5,820 people are talking about this
* * *
Update (0950ET): A sixth patient has succumbed to the coronavirus in the UK, BBC News reports.
UK has managed to keep the body count lower than several European peers (notably France and Spain) while Germany only just recorded its first death.
For some context:

UK Corona Virus / COVID-19 Flu Updates & Alerts@COVID_19corona
Coronavirus deaths

China: 3119
Italy: 463
Iran: 237
South Korea: 53
France: 30
Spain: 30
US: 22
Japan: 17
Iraq: 6
UK: 5
Australia: 3
Netherlands: 3
Hong Kong: 3
Switzerland: 2
Germany: 2
San Marino: 2
Canada: 1
Thailand: 1
Egypt: 1
Taiwan: 1
Argentina: 1
Philippines: 1128:34 AM – Mar 10, 2020Twitter Ads info and privacy18 people are talking about this
* * *
Update (0850ET): As the US market open draws near, investors are parsing a flood of coronavirus related news overnight, including the good (President Xi's to Wuhan and a sharp drop in new cases in South Korea), the bad (the US confirmed cases nearing 1,000), and the ugly (Italy's crackdown is starting to resemble China's, as the video below, would suggest).
In another landmark move, Italian government officials announced Tuesday that payments on mortgages will be suspended across Italy due to the coronavirus outbreak, Italy's deputy economy minister said.
"Yes, that will be the case, for individuals and households," said Undersecretary of Finance Laura Castelli during an interview with Radio Anch'io (Me Too).
Italy's banking lobby ABI said on Monday that lenders representing 90% of total banking assets would offer debt moratoriums to small firms and households grappling with financial stresses from the outbreak.
While we've focused on some of the new developments in the US earlier, there's plenty going on in Europe to rattle investor confidence. The number of confirmed coronavirus cases in Spain has doubled in the past few days, prompting the government to shut all schools in Madrid and the surrounding area for 2 weeks.
The Spanish parliament's lower house suspended all activities on Tuesday for at least a week after a lawmaker with the country's right-wing Vox Party was confirmed to have the virus.
MP Javier Ortega Smith was diagnosed with the virus, El Pais newspaper reported, citing sources from with Vox.
Ortega Smith is Vox's No. 2 leader, and in this capacity participated in a large scale political rally last weekend, where we interacted with constituents and other lawmakers, Reuters said.
While the outbreak is rapidly waning in Daegu, Korean Air Lines warned on Tuesday that the coronavirus outbreak could threaten its very survival after more than half of the world restricted passengers entering from South Korea, forcing the company to practically eliminate its international routes. In the US, the largest airlines are allowing passengers to rebook tickets through April 30 without paying fees to change flights citing uncertainty about traveling during the coronavirus outbreak.
Mainland China reported 19 additional coronavirus cases and 17 additional deaths on March 9, another marked drop in daily cases, bringing the total number of cases in China to 80,754 and death toll to 3,136.
Chinese President Xi arrived in Wuhan for the first time following the outbreak, while there were also reports that China's Hubei province is to implement a health code system to start permitting people to travel within the province. All 14 temporary coronavirus hospitals have been shuttered.
In France, Minister of Culture Franck Riester has tested positive for the virus according to France's Health Minister Olivier Véran, who made the revelation during a Monday evening interview with a French news station.
Last night, Italian PM Giuseppe Conte expanded the country's 'lockdown'-lite travel restrictions to all of the country, advising 60 million Italians to "just stay home" until the outbreak is over. In the country, more than 9,000 people have been diagnosed with the virus and 463 have been confirmed dead.
Following in the footsteps of Columbia and NYU (which have canceled classes and, in NYU's case, advised students not to return after an upcoming week-long break), as well as Stanford & Princeton (which have moved all classes online), Harvard is the latest school to move all classes online for the rest of the semester.
According to the official figures, the coronavirus has killed 54 more people in Iran in the past 24 hours, the largest single-day jump in deaths since the virus arrived in Iran early last month, according to Al Jazeera.
As Iran's official death toll climbed 54 to 291, the country also confirmed 881 new cases increasing the total to 8,042.
In a sign that some European countries have grown weary of the EU's warnings that closing borders and restricting travel between Italy would be overreactions, Austria on Tuesday announced that it would ban all travelers from Italy unless they could produce documentation proving they were virus-free. This comes after Israel banned all foreigners from traveling to the country for 2 weeks. The government in Austria, led by conservative Chancellor Sebastian Kurz, the country's youngest-ever leader, has also pushed for schools to close and workers to work from home, as events with more than 100 people have been banned.
Denmark and Serbia joined in by canceling all inbound flights from countries and regions hard-hit by the virus (including Italy), while British Airways has canceled all flights to Italy. Even Kazakhstan has barred entry to travelers from Italy, and will soon add France, Germany, and Spain – three countries where outbreaks are rapidly spiraling out of control – to the list beginning March 12, according to chief sanitary doctor Zhandarbek Bekshin.
The first virus-linked death has been recorded in Lebanon, which just announced its plans to default on a debt payment for the first time as its own domestic financial crisis worsens.
Though it cautioned that this didn't constitute a "stimulus package", Japan released its second package of measures worth about $4 billion in spending to cope with the fallout of the coronavirus outbreak, focusing on providing support to small and mid-sized firms, amid mounting concerns about the fragile economy.
The package of ¥430.8 billion – $4.1 billion – reflects the pressure policymakers are facing to stem the risk of corporate bankruptcies and buttress Japan's listless economy.
Polish President Andrzej Duda said he will not hold large campaign meetings ahead of elections in May to try and stop the spread of the virus, while in the Czech Republic, Prime Minister Andrej Babis, who called on Italy to close its borders, which it eventually did, said he would temporarily close all schools and universities while also banning gatherings of more than 100 people.
NYC-based bankers better have a bugout base in Antarctica, because all the suburban bedroom communities preferred by wealthy financiers have already been infected with the coronavirus: Westchester, New Jersey, Fairfield County, and Long Island (though thankfully not the Hamptons) have all reported cases of the virus (even scarier: a handful of infections have no clear connection to another case, potentially offering a glimpse into what might be a much wider 'community outbreak').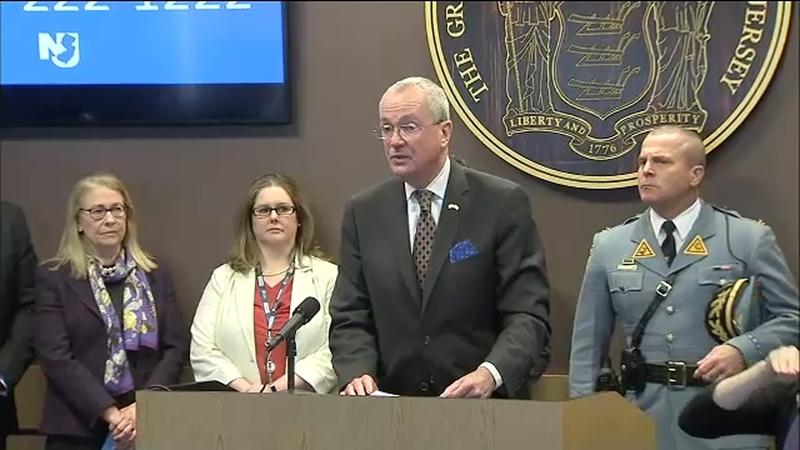 At around 11 pm on Monday, as thousands of financial professionals were probably passed out, exhausted after the most brutal trading day since the financial crisis, New Jersey Gov. and former Goldmanite Phil Murphy declared a state of emergency or some kind of public health emergency in New Jersey, joining Washington, Missouri, Florida, Maryland, New York, and others (in Missouri, St. Louis has activated 'emergency operations).
As President Trump and VP Pence dangle tax cuts and more fiscal stimulus in front of the market and the real economy, state governors and their top public health officials will ultimately be responsible for most of the 'containment' activities in their states.
Murphy's declaration follows an emergency order by Gov. Andrew Cuomo a couple of days ago. Murphy said he based his decision "on the facts on the ground."
"We are acting based on the facts on the ground and by the latest medical science," Murphy said in a video statement on his Twitter account.

"We have been ahead of the curve in terms of our whole-of-government preparations and this declaration will help keep is there," he added.
Since Friday, confirmed cases of the coronavirus in the Tri-State Area have tripled, from 49 to 156. As of Monday afternoon, New York has the most cases of any state in the country, though it hasn't yet recorded any deaths. These cases include dozens in Westchester County, which has become one of the nation's biggest hotspots that's not on a cruise ship.
Among the new cases in NYC is a 7-year-old, an FDNY EMS and, of course, Port Authority executive director Rick Cotton. Department of Health Officials said that some who were in contact with Cotton should adhere to a 14-day quarantine policy, with March 6 being the earliest possible date of concern for transmission.
As of Tuesday morning, at least 729 people in 36 states and Washington DC have tested positive for coronavirus, according to a new database from the New York Times that is committed to tracking every single confirmed case in the US in detail.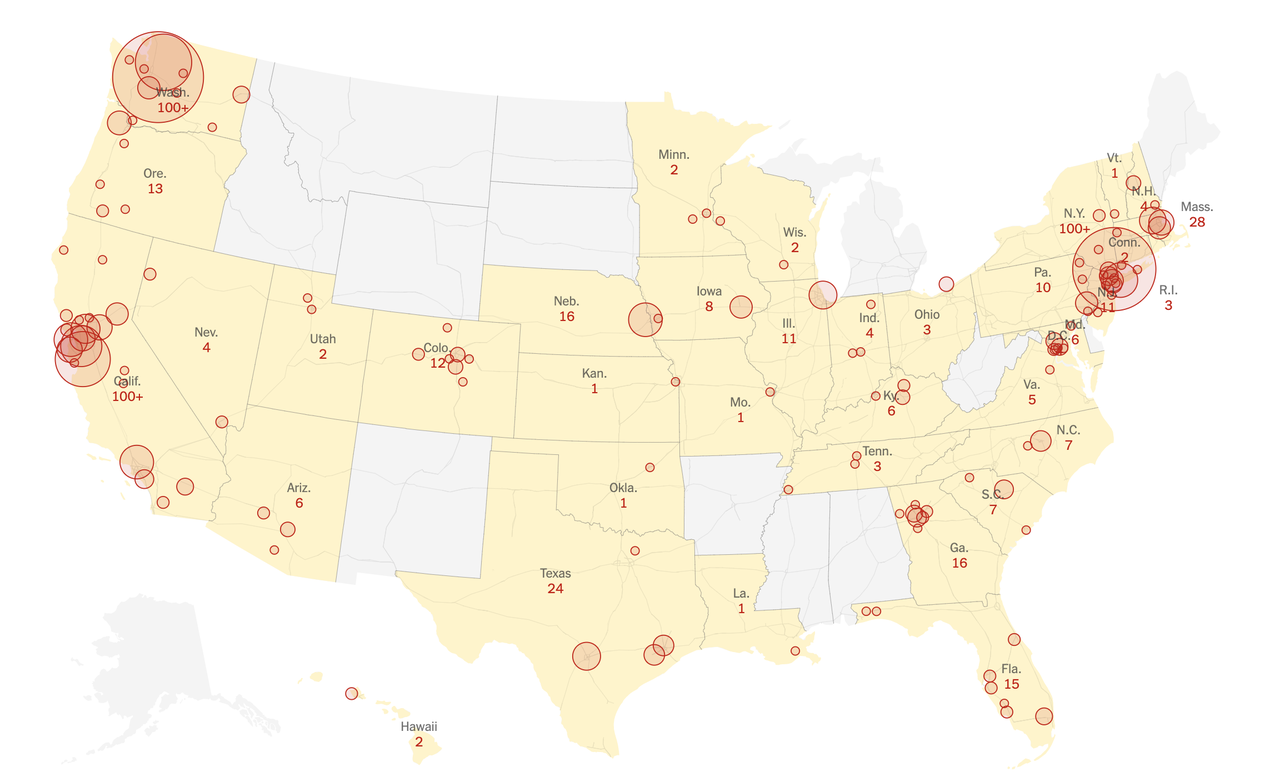 Last night, San Francisco Mayor London Breed confirmed another 5 cases, bringing the country's total to 13. All five patients know each other and are all quarantining at home, according to local media reports.
At a press conference Monday evening where President Trump assured markets that more fiscal stimulus is on the way, Pence and the leaders of the CDC promised that testing capacity has been rapidly expanded as more public and private labs have come online.
Hopefully, America's dismal testing rate will soon see a large bump, exposing the true extent of the outbreak.
America what are you doing https://www.businessinsider.com/coronavirus-testing-covid-19-tests-per-capita-chart-us-behind-2020-3 …
11.6K6:24 PM – Mar 9, 2020Twitter Ads info and privacy5,636 people are talking about this

Rep. Matt Gaetz Quarantined Days After Parading In Gas Mask
Florida Congressman Matt Gaetz, a boisterous Republican firebrand and a staunch ally of the president, made headlines by wearing a gas mask on the floor of the House last week during a stunt to make light of the situation as the House voted on an $8.3 billion coronavirus emergency spending package.
A few days later, he announced that a constituent from his Northwest-Florida district had died:
Gaetz said in a statement published late Friday that he was "extremely saddened to learn of the first fatality in our district."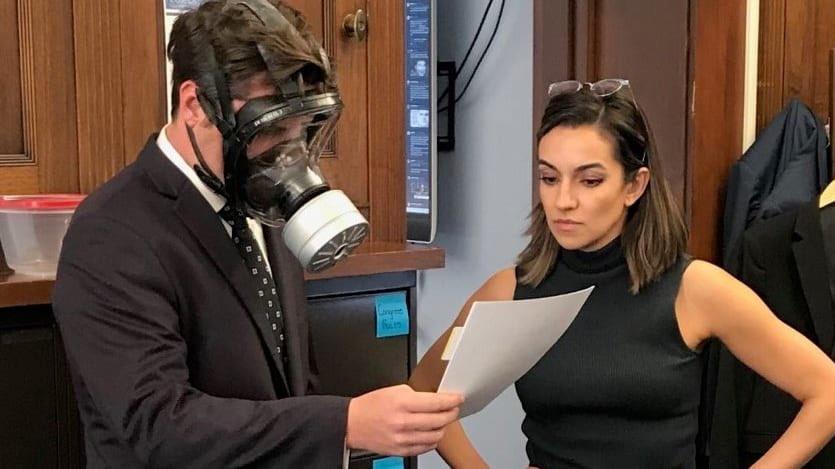 Now, the Congressman is facing the prospect of infection himself after allegedly coming into contact with one of the two CPAC attendees who later tested positive for the virus. In a statement published on twitter, Gaetz said he would be joining Ted Cruz in 'working from home' with his Washington DC office closed (and his Pensacola office remaining open) until the quarantine period is up (since the event was 11 days ago, he only has three days left)
Congressman Gaetz was informed today that he came into contact with a CPAC attendee 11 days ago who tested positive for COVID-19.11.2K2:57 PM – Mar 9, 2020Twitter Ads info and privacy11.3K people are talking about this
Rep. Matt Gaetz✔@RepMattGaetzReplying to @RepMattGaetz
While the Congressman is not experiencing symptoms, he received testing today and expects results soon.

Under doctor's usual precautionary recommendations, he'll remain self-quarantined until the 14-day period expires this week.2,3282:57 PM – Mar 9, 2020Twitter Ads info and privacy2,730 people are talking about this
Rep. Matt Gaetz✔@RepMattGaetzReplying to @RepMattGaetz
Congressman Gaetz had expected COVID-19 to impact Congress, given the elevated frequency of travel and human contact, and demonstrated his concern last week on the House Floor.https://twitter.com/ChadPergram/status/1235316347401314306 …Chad Pergram✔@ChadPergramAhead of coronavirus spending bill vote, GOP FL Rep Matt Gaetz is sitting on the floor, wearing a biohazard mask1,6352:57 PM – Mar 9, 2020Twitter Ads info and privacy2,445 people are talking about this
Rep. Matt Gaetz✔@RepMattGaetzReplying to @RepMattGaetz
Our Washington office will be closed during this time, with our Pensacola office remaining open.1,4532:57 PM – Mar 9, 2020Twitter Ads info and privacy1,242 people are talking about this
For what it's worth, Gaetz is trying to spin the whole episode as a piece of performance art…and that's certainly not the least convincing argument we've heard for why a given gesture constitutes 'performance art'.
Exactly! https://twitter.com/peterschorschfl/status/1236975677359996928 …Peter Schorsch@PeterSchorschFLMe and my writers have lampooned @MattGaetz for what I thought was performance art.

But now that two members of Congress are self-quarantined because of contact at CPAC, maybe Gaetz was more right than we realized. https://twitter.com/Scott_Maxwell/status/1236975114069192704 …1,1247:58 AM – Mar 9, 2020Twitter Ads info and privacy623 people are talking about this
Made light?!?! I was quite serious.

The threat to Congress is real, as I explained based on travel and habits like selfies and handshakes. https://twitter.com/philiprucker/status/1236443731412299778 …Philip Rucker✔@PhilipRuckerRep. Matt Gaetz made light of coronavirus by wearing a gas mask. Now one of his constituents has died. https://www.washingtonpost.com/politics/2020/03/07/matt-gaetz-coronavirus-florida/ …9,83612:07 PM – Mar 8, 2020Twitter Ads info and privacy10.5K people are talking about this
However, as the White House confirmed, Gaetz traveled with President Trump on Airforce One earlier on Monday, just hours before he announced his self-quarantine.
Gaetz was on Air Force One with Trump roughly an hour ago. https://twitter.com/RepMattGaetz/status/1237105148821938179 …Rep. Matt Gaetz✔@RepMattGaetzCongressman Gaetz was informed today that he came into contact with a CPAC attendee 11 days ago who tested positive for COVID-19.26.6K3:04 PM – Mar 9, 2020Twitter Ads info and privacy8,688 people are talking about this
Georgia Congressman Doug Collins, who also announced his plan to self-quarantine until the risk period is over, reportedly shook hands with President Trump on Friday when Trump traveled to Atlanta to visit the CDC, according to CNBC.
Rep. Doug Collins✔@RepDougCollins
This afternoon, I was notified by CPAC that they discovered a photo of myself and the patient who has tested positive for #COVID19.

While I am not experiencing any symptoms, I have decided to self-quarantine out of an abundance of caution.

Full statement →

10.7K2:24 PM – Mar 9, 2020Twitter Ads info and privacy10.8K people are talking about this
Arizona Rep. Paul Gosar, who tweeted earlier that he'd rather die in battle than succumb to a flu-like virus, has also been quarantined (we suspect he was being facetious).

Been thinking about life and mortality today. I'd rather die gloriously in battle than from a virus. In a way, it doesn't matter. But it kinda does.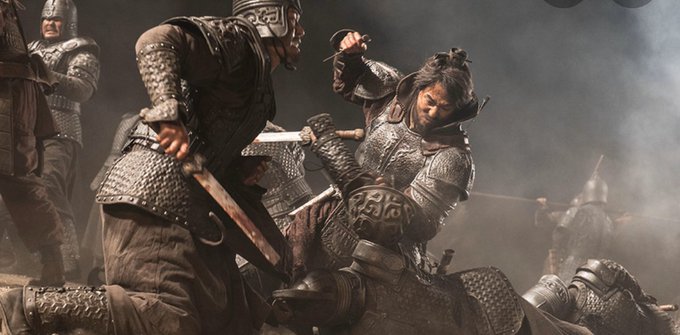 7,56511:27 AM – Mar 9, 2020Twitter Ads info and privacy12.4K people are talking about this
As the twitter user below says: This list is subject to change.
Jeffrey Guterman✔@JeffreyGuterman
Quarantined Members of Congress*
Doug Collins
Ted Cruz
Matt Gaetz
Paul Gosar

* This list is subject to change1,8073:14 PM – Mar 9, 2020Twitter Ads info and privacy736 people are talking about this
Note to lawmakers: be careful what you say and do as the outbreak unfolds: Because soon, you too might be making one of these statements, too.
The big question: Will Trump be tested for the virus now?
Iranian lawmakers and senior regime officials, "Corona Ted" and President of Portugal aren't the only international VIPs to catch – or be exposed to – the coronavirus.
Sveriges Riksbank Deputy Governor and Stockholm University economics professor Martin Floden has tested positive for the novel coronavirus, the virus that causes the illness known as Covid-19, according to Omni Ekonomi.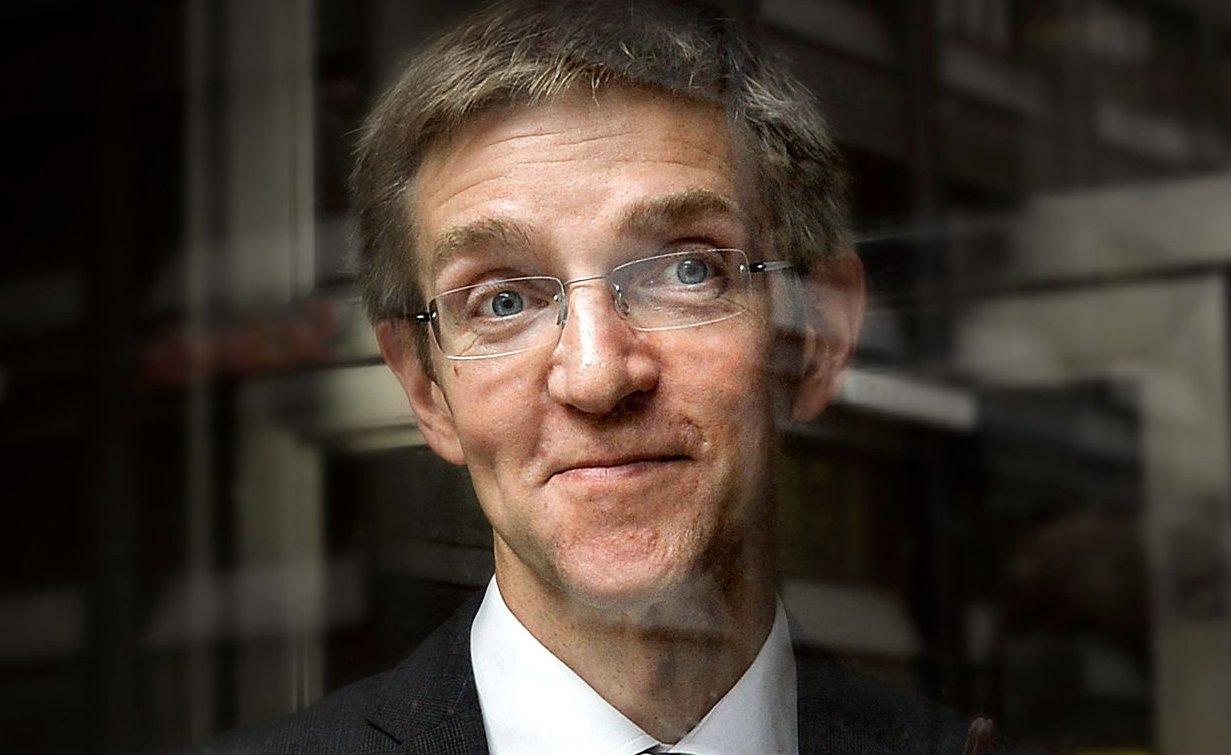 Martin Floden
Sweden has confirmed 203 cases of the virus since January, though no deaths have been recorded. The country's public health officials have been widely praised for tracking down vacationers who visited Italy over the recent holiday only to be infected with the virus.
Bloomberg reported that Floden tested positive for the virus on Friday. He is feeling well and is working from home, according to the Riksbank's spokesman Tomas Lundberg.
Here's more from BBG:
In addition to the recommendations of the country's health agency, "the Riksbank has taken further precautionary measures regarding its employees," the central bank said in its statement. For example, employees who have traveled to the worst-affected areas "must work from home during the two weeks immediately following their return home."

The news comes amid increasing speculation about what measures the central bank may need to take to tackle the impact of the virus. Danske Bank analysts said last week they expect the Riksbank to cut its repo rate by 25 basis points in April, as Swedish workers risk a poor outcome in central wage negotiations amid the fallout from the virus. That easing call was echoed by Capital Economics on Monday.

The Riksbank ended half a decade of negative rates in December, despite a slowdown in the Swedish economy. Since then, some policy makers have signaled they'd rather expand an existing bond-purchase program than once again resort to subzero rates, should there be a need for further stimulus.

Floden is one of 248 people in Sweden to have been diagnosed with the virus, as of Monday. The central bank's next monetary policy meeting is set for April 27.
Hopefully, the rest of the central bank's leadership will remain healthy – for who else will save the Swedish economy if not for its heroic central bankers delivering helicopter money for all.
That Make The Un-godly System Work, Take Cover…
Coronavirus kills the oldest and has no respect for authority
Many of the most powerful people in the world are old, and coronavirus does not discriminate based on social status. Deaths are now hitting at high levels (not of death but of status), which will change the political conflicts of our world.
Ted Cruz Says He Plans To Work From Home After "Brief Interaction" With Coronavirus Patient
A couple of days ago, we reported that two AIPAC attendees were among the individuals in Westchester County who were confirmed to be infected with the coronavirus. The news was particularly startling since VP Mike Pence, Secretary of State Pompeo and a handful of other top Republican figures were in attendance.
Initially, it seemed like Pence & Co. were going to brush off the news. But a few minutes ago, Sen. Ted Cruz released a statement saying he will be staying home in Texas this week after possibly coming into contact with one of the infected individuals at the event.

Today I released the following statement: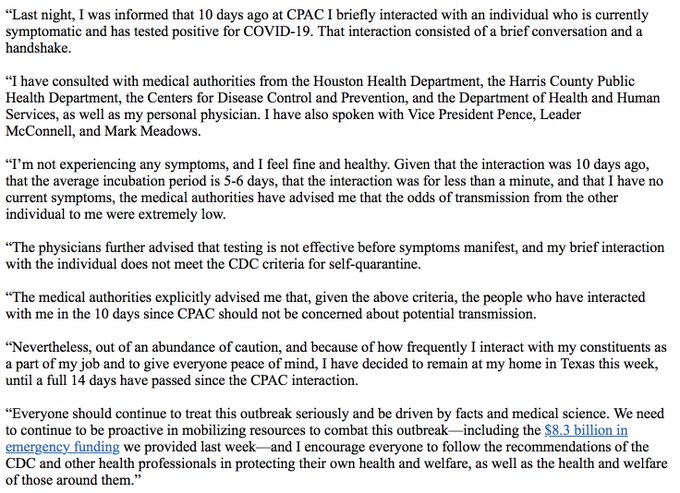 10.6K6:06 PM – Mar 8, 2020Twitter Ads info and privacy7,931 people are talking about this
Though he has no signs of the virus, because of the amount of interaction he has with his constituency, Cruz has decided to stay home until a full 14 days have passed since the event, which was held 10 days ago.
So, unless symptoms emerge, Cruz should be good to go by the end of the week.
However, the incident is almost guaranteed to become grist for members, as well as the first of what could be many lawmaker quarantines, as one twitter user pointed out.
Fortunately, those who have had contact with Cruz in the past 10 days don't have to worry.
Andrew Desiderio✔@AndrewDesiderioReplying to @AndrewDesiderio
I'm recalling a convo I had w/ @marcorubio last week in which he said it was inevitable that a senator/House MBR would either come in contact w/ someone who tested positive for coronavirus or contract it themselves—due to the nature of their jobs (planes, events, handshakes, etc) 2716:18 PM – Mar 8, 2020Twitter Ads info and privacy69 people are talking about this
Though hopefully, this won't become as serious a problem as it is in Iran.
It Will Get Bad People…
If You Have a Health Problem Remember The New York Firefighters, Won't Respond To Coronavirus Calls, Your Taxes At Work …
The New York City Fire Department (FDNY) won't dispatch its firefighters to potential coronavirus calls, as the city leaves it in the hands of EMTs and paramedics, according to the New York Post (which bizarrely opens their article with: "They're not the Bravest when it comes to the coronavirus.")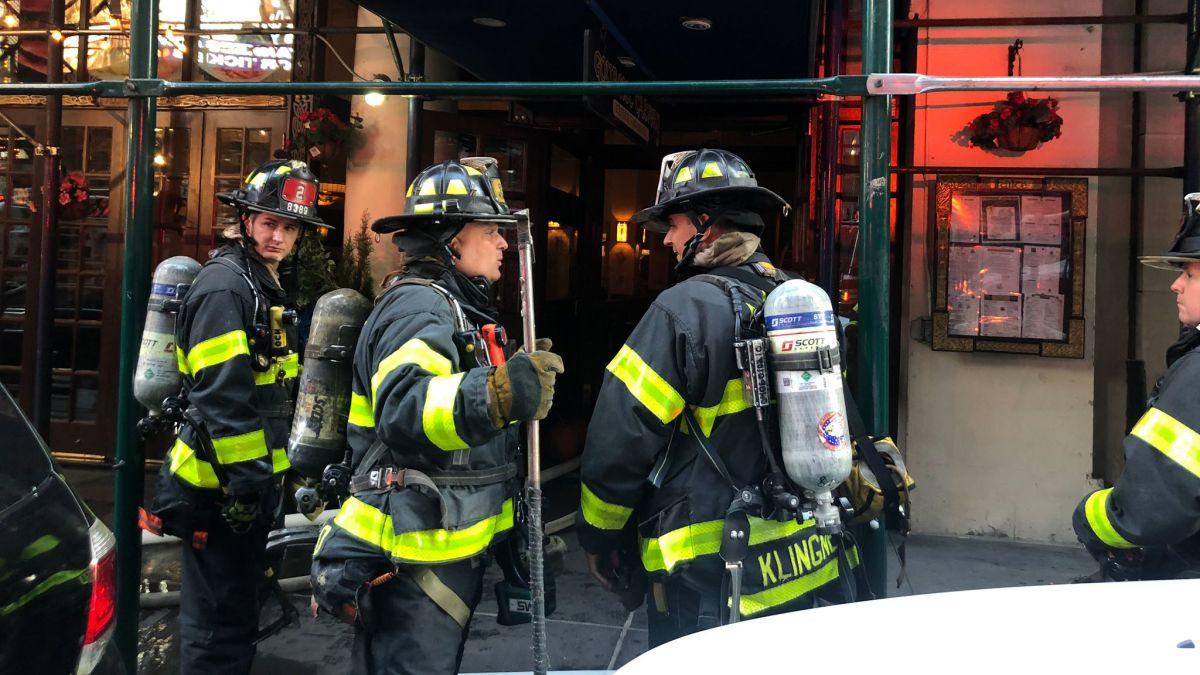 The department issued an order Friday temporarily relieving firefighters from responding to calls of the second highest priority for patients with fever, coughing, difficulty breathing or even those who are unconscious.

A fever, cough and trouble breathing are the most common symptoms of the novel coronavirus, officially called COVID-19. –New York Post.
"Effective immediately, the following call types will temporarily not receive a [certified first responder] response," states paperwork obtained by the New York Daily News.
According to the report, paramedics are shocked at the decision:
"We can't believe they would put out this order during one of the biggest citywide health crises. The fact that they're abdicating all of this is just astounding," said one first responder. "You're talking about people who call themselves the Bravest." Alternatively, you're talking about people whose job it is to fight fires – not contract a hyper-virulent disease that would prevent them from fighting fires… as opposed to an EMT, whose job description includes likely exposure to pathogens.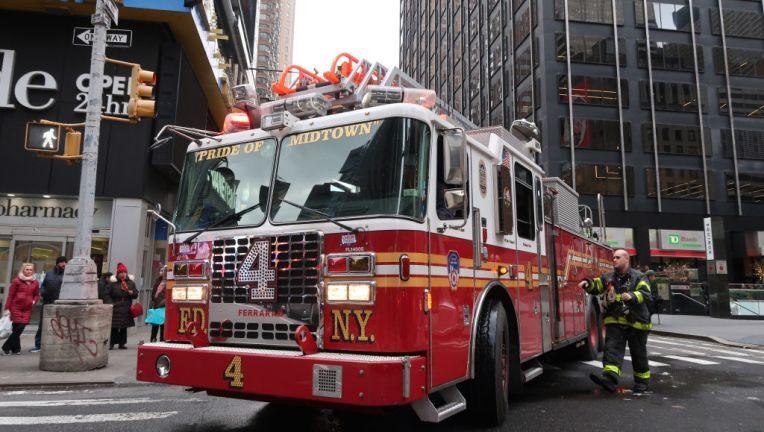 "They would literally lose the firehouse. If you lose the house, the response times go through the roof," said one veteran paramedic, while the Post notes that at least 30 Seattle-area firefighters were placed under quarantine after responding to a nursing home where coronavirus erupted.
"It puts everyone at risk. It puts EMS workers at risk when we don't have the resources. It puts the lives of New Yorkers at risk if they're not on the scene," said EMS lieutenant Anthony Almojera, vice president of Local 3621 of the FDNY Uniformed EMS Officers.
"If this thing really takes off — we have the state of emergency now — these kids aren't going to be able to handle it," said Almojera, noting that there are a lot of rookies in the EMS ranks.
All FDNY firefighters are certified first responders, and will continue to respond to the highest priority cases such as cardiac arrest or choking, said FDNY spokesman Frank Dwyer.

"Firefighters continue to respond to the highest priority medical calls, whether they are potential COVID-19 calls or not including … cardiac and respiratory arrests, choking, and trauma incidents," Dwyer said. –New York Post.
City Councilman Joseph Borelli, who also serves as chairman of the fire and emergency management committee, called the restriction "a smart idea," according to the Post. "It seems like a logical way to reduce the number of people who come in close contact with coronavirus patients," he added. "Someone complaining of flu-like symptoms doesn't need an engine company with five firefighters."
That said, the new order comes amid a "critical shortage" of EMT staff.
StevieRay Hansen
Editor, HNewsWire.com
Our social media platforms (reprobates) continue to hide the truth from the American people, by shadow banning. The blood of GOD's people is on their hands…StevieRay Hansen
The truth is that all of the warnings of alleged 'conspiracy theorists' have turned out to be correct The word translated "pestilence" is often translated as "plague" or "disaster" …
There is a March to death and social media is leading the charge, they are withholding the truth about the coronavirus, You are Marching lockstep into the death spiral…
This day is here– get ready, the virus WILL spreads throughout the US and Europe, governments will respond the same way China's government has; martial law and full-blown concentration camp culture. This would lead to civil war in the US because we are armed and many people will shoot anyone trying to put us into quarantine camps. Europe is mostly screwed. The establishment then suggests that paper money be removed from the system because it is a viral spreader. China is already pushing this solution now. Magically, we find ourselves in a cashless society in a matter of a year or two; which is what the globalists have been demanding for years. Everything goes digital, and thus even local economies become completely centralized as private trade dies. "AntiChrist Is On His Temporary Thorne"
StevieRay Hansen
The truth is that all of the warnings of alleged 'conspiracy theorists' have turned out to be correct The word translated "pestilence" is often translated as "plague" or "disaster" …
The Bible predicts the rise of this type of societal control within the frightening prophecies about the Antichrist, the final world empire called the Beast, and the final economic system using the Mark of the Beast. The electronic tyranny of technocracy that is now being developed and implemented throughout the world is in preparation for the Antichrist's rise to power. As we see this final empire taking shape in our day, we can know for certain that the End Times is upon us and the Coming of Christ is drawing near. Now is the time to turn away from sin and evil and believe in Jesus before it is too late!
The Un-Godly — Those That Suppress the Truth, the social media giants built multi-billion dollar empires by giving everyone a voice, but now that they have such a dominant position on the Internet they have decided that many prominent conservative voices should be completely silenced.
In order for sin to work, there has to be a "suppression of the truth."
The World leaders Are Having Trouble With The Truth, and The World Has been "Quarantined" Tribulation Is Here…
Thousands of People Are Basically Trapped in a Petri Dish of Disease
Demon Virus
Asked about the virus while traveling abroad last week, Trump said: "We have it totally under control". In a separate Twitter posting, he offered reassurance but scant detail for his confidence. By Associated Press Updated On: 05:53 PST, Jan 31, 2020
Yes, are we seeing a slowdown in new virus cases reported this morning. We now have 31,481, which does show a day-to-day decline away from an exponential rate of growth if accurate. Yet for those market participants merrily saying this is "just the flu" (there are some) we also have 4,824, 15% of the total, in critical condition and 638 deaths. Further, one arguably cannot measure the death-rate of any virus against the number of currently sick people: you surely measure it against those who eventually recover vs. those who don't. Given we have 1,563 who have recovered vs. 638 dead (and 4,824 critical) that is a worrying ratio of 29% dead as an end-outcome, which is right up there with the MERS virus from a few years ago – although, yes, there is real reason for us all to hope that number will decline sharply as milder cases will be fully curable. But the simple flu this is not.
WASHINGTON: Wuhan coronavirus: Donald Trump says deadly outbreak 'very well under control' as WHO declares a global emergency. President Donald Trump regaled a friendly New Jersey campaign crowd with his thoughts about impeachment, the economy, the border wall, local politics and much more.
But he was conspicuously quiet on January 28 about one big issue keeping much of the globe on pins and needles: the spread of a deadly new type of coronavirus. It has killed more than 170 people in China, sickened thousands more there and led to a handful of confirmed cases in the US, including the first US case of person-to-person transmission reported on by health officials. The State Department on January 30 advised all US citizens against traveling to China.
Trump, a self-described germaphobe, generally has discussed the virus in broad terms, but he offered some of his most extensive comments on the issue to date during an appearance on January 30 at a Michigan manufacturing plant. "Hopefully, it won't be as bad as some people think it could be, but we're working very closely with them (Chinese) and with a lot of other people and a lot of other countries, he said. "We think we have it very well under control."
The Birth Pains Are Growing Stronger….
One of the signs of ruling class collapse is when they can no longer enforce the rules that maintain them as a ruling class. When the Romans started making exceptions to republican governance, it was a matter of time before someone simply decided the rules no longer applied to them. Perhaps the robot historians will consider Obama our Marius or Sulla. Maybe that person is in the near future. Either way, the rule of law is over and what comes next is the rule of men.
"Man will ultimately be governed by God or by tyrants." as in Nancy Pelosi (D-San Fran-feces)
Our government has been overthrown. As evidenced by Trump's capitulation on the border, his recent servitude to the GMO industry and his acquiescence to the warmongers, our President has been compromised. Our liberties are being eliminated one by one. Gun confiscation is next. The Constitution is gasping its last breaths. Our borders are destroyed and our culture has been turned upside down by every perversion known to man.
The watchman does not confuse truth with consensus. The Watchman does not confuse God's word with the word of those who happen to hold power at present, or with the opinion of the majority. This is because powerholders and the majority can fall victim to a lying spirit-and this means a power that actually seizes the majority of experts, the political leadership, and the public.
Everything is right on schedule and, now, the time is come to remove one of the final obstacles standing in the way of a New World Order: The United States Constitution – even if, over the course of many decades, it has already been greatly diminished by the B.E.A.S.T. system; or, more specifically, Bullshit Emerging As Strategic Totalitarianism (B.E.A.S.T.).
They are tolerant of everything except dissenting values and opinions — meaning, of course, they are tolerant of nothing that matters, only themselves."
The Watchman does not confuse truth with consensus. The watchman does not confuse God's word with the word of those who happen to hold power at present, or with the opinion of the majority. This is because powerholders and the majority can fall victim to a lying spirit-and; this means a power that seizes the majority of experts, the political leadership, and the public.StevieRay Hansen
If you have a news scoop or an interesting story for us, please reach out at [email protected]
StevieRay Hansen, Pestilence, revelations, disobedience, biblical, food shortage, biblical prophecy, Triblution, CDC, coronavirus, Hospitals, infections, outbreak, pandemic, Public Health, virus
We are living in exciting times. The Signposts point to Jesus soon return.
HNewsWire: To counteract the bogus vaccine passports, the UN and WHO mandated that all citizens of the globe get the Gates Trust Stamp (also known as…
Read More
We make every effort to acknowledge sources used in our news articles. In a few cases, the sources were lost due to a technological glitch. If you believe we have not given sufficient credit for your source material, please contact us, and we will be more than happy to link to your article.