If You Really Want to Know What Is Going On You Had to Read MSM News and Google Articles Upside Down
HNewsWire:
People Die From Lack of Truth, Google, YouTube, and the Social Media Platforms Are

Guilty of Misleading the American People, Hell-On Earth

These ungodly behemoths are guilty bias towards Christian and Conservative people…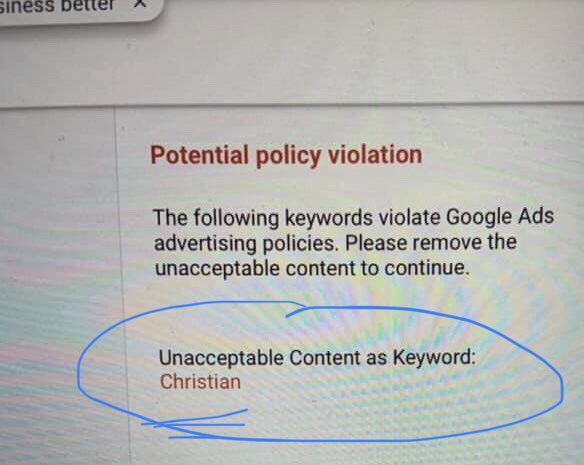 Recently, Chad Robichaux, a Force Reconnaissance Marine and founder of the Mighty Oaks Foundation, which helps military veterans dealing with PTSD, explained on social media that ads posted through Google Ads with the keyword "Christian" included were not allowed. Robichaux tested whether this applied to all religious language and references but found that the term "Muslim" was accepted by Google Ads with no issues. Robichaux's initial tweet showing the "Christian" term being refused can be seen below:
Robichaux then attempted to use the term "Muslim" which was accepted by Google Ads:
Robichaux appeared on Breitbart News Tonight on Tuesday to discuss the incident and the other forms of censorship that his organization has faced. He stated: "One of our YouTube videos might get like 2,000 views, and then we have someone like Allen West come on who's got quite a bit of notoriety and we get, like, 60 views… I would assume there's some suppression there, I can't prove that but what I can prove is this ad, in particular, we're talking about."
Further discussing the banned "Christian" keyword, Robichaux stated: "Honestly, I hope I'm not on the radio station next week badgering them, I hope they do the right thing and change this policy." Listen to the full interview below:
Breitbart News reached out to Robichaux about the issue, he responded stating:
As a faith-based non-profit organization who serves our nation's military warriors and families, Mighty Oaks Foundation's outreach is crucial to our mission. We use and rely on the continued functioning of the major social media platforms daily to deliver our message, including the ability to use Google and YouTube's tools for ads and sharing media and testimony. We produce a program weekly called Mighty Oaks Show, which is based on YouTube and shared and promoted with ads to their platform. Yesterday, our Marketing Team, went to create an ad to promote this week's guest Darrin Dick, the Director & Producer of the new documentary Unforgotten, a story about his veteran grandfather, faith and his memories of the almost forgotten Korean War. When trying to use the keyword, Christian, to help target the ad at our audience, they received this response, "The following keywords violate Google Ads advertising policies. Please remove the unacceptable content to continue. Unacceptable Content as Keyword: "Christian.'" This is the first time we have encountered anything so extreme, it blocked us from proceeding to place the ad without deleting the keyword.

Having the advantage of a front-row seat for the media output of our organization, I have witnessed many issues that may not sound distressing on their own, but in concert with many other faith-based, conservative and patriotic organizations, and in-sight of the negative impact they have had on our growth, these consistent issues become very concerning. First and foremost, posts about issues that our veterans are facing had been declined many times for Facebook "boosts," and classified as political issues of national importance, when our posts have no political alignment to the left or right, our only alignment is with our nation's veterans and the military community. This roadblock becomes critical when you look at the social media landscape, and the reach of our message has been consistently diminished through both search and post algorithms, making ads a necessary evil for us to reach those who may desperately need our message and assistance.
Robichaux further discussed the work that the Mighty Oak Foundation does and how limiting their advertisements can prevent individuals seeking help from finding them:
Ultimately, as a faith-based organization prohibiting us to use the word "Christian" is absolutely crippling to our growth and our ability to reach those who need our help and message. The Mighty Oaks Foundation relies on social platforms to reach the military communities struggling with PTSD, extreme rates of divorce and the 20+ per day suicide epidemic. Since 2011, Mighty Oaks has served over 100,000 active duty military through Spiritual Resiliency Programs and has over 2,750 graduates from our intensive combat trauma program. We host over 30 one-week programs per year for active military, veterans and spouses all for free to include travel to our four ranches in TX, OH, VA and CA. These restrictions and bias may not seem like much to an outsider, or those who don't rely on digital media to reach audiences, but for us, we are being restricted from sharing a lifesaving outreach to those who desperately need our help.
Google referred Breitbart News to a statement released by YouTube on Twitter which confirmed that the company does not allow users to be targeted by religion, without explaining why "muslim" was accepted by the system.
Google's nefarious activities should concern not just conservatives Christian and Republicans, but every American who values free speech and a truly free and open internet.
Google and China are full of bad activities, ideas, and plans fashioned and produced in the corrupt heart of man; and may respect Satan's depths in the Antichrist beast, Revelation 2:24.
Google is competing fiercely against Amazon and Microsoft to build out a cloud computing offering that can compete with AWS, but two employees have reportedly told Bloomberg that Google has abandoned a cloud computing project in China and other politically sensitive countries, largely due to concerns about deteriorating bilateral relations with the US.
According to the workers, the tech giant shut down the project, dubbed internally as "Isolated Region," which tried to meet governments' needs to regulate data inside their borders. According to one of the workers, the decision to terminate the initiative was a "major strategic change," since hundreds of individuals from across the globe worked on the "Isolated Region."
Given the frightening description, it's not hard to deduce the actual purpose of this project: Google would effectively assist China in enforcing its "Great Firewall," which it is currently attempting to extend to Hong Kong.
A Google representative who talked to Bloomberg on the record maintained that the project was canceled for completely harmless reasons.
According to a Google spokesperson, Isolated Region was abandoned because "other methodologies we were actively researching gave better results." She refused to go into specifics about such tactics. "We have a comprehensive strategy to satisfying these criteria, which span data governance, operational processes, and software survival," the spokesperson stated. "Isolated Region was simply one of the options we considered to meet these needs."
"We realized through consumer dialogues and comments from government shareholders in Europe and abroad that alternative ways we were actively exploring provided better results," added the spokesperson. "Google does not and has never provided cloud platform services in China."
According to one of the workers, the strategy included providing cloud services in what Google refers to as "sovereignty sensitive regions," such as China and the European Union, where firms offering services involving the collecting or processing of people's data face stringent regulations.
According to one of the workers, the effort, which started in early 2018, attempted to solve Chinese regulations that require Western corporations to create a joint venture with a Chinese partner company when providing data or networking services. The partner firm would have kept both physical and administrative control over user data in such a partnership. According to the employee, the arrangement was designed to satisfy Chinese authorities while also acting as a barrier between Google's Isolated Region cloud services and the rest of its data center network, which stores and processes emails, documents, images, and other data from its customers.
Isolated Region also attempted to alleviate privacy worries about the US government's possible capacity to conduct covert monitoring of Google's Cloud services by giving over management of user data to third-party organizations in other countries, according to the employee. These concerns grew in March 2018, following the passage of the Clarifying Lawful Overseas Use of Data Act, also known as the CLOUD Act, a federal law that gave U.S. law enforcement agencies more authority to request personal data stored by American technology companies, even if the data is stored on servers located outside of the United States, according to the employee.
Surprisingly, Bloomberg's editors assigned the opening paragraph to the company's contentious business practices surrounding its operations in China and the CCP.
According to one of the workers, several employees raised worry about the Cloud initiative in China and questioned their supervisors about it. However, it is unknown if employee dissent had a role in Google's decision to halt the program in China or elsewhere.
According to the workers, Isolated Region was part of a bigger Google initiative known as "Sharded Google," which attempted to construct new data storage and processing facilities known as "shards" that are walled off from the rest of the company's systems.
All of the major cloud providers are racing to build data centers that are either physically isolated or depend on complicated software to divide information flows.
It's an expensive process, fueled by increased demand on two fronts. One is from companies in certain sectors, such as banking, who need separated gear for security concerns. Another source of concern is legislation requiring data gathered inside a nation to remain within that country, with China being possibly the most restrictive example.
Both of these developments are accelerating. According to David Gilmore, chief executive officer of DataFleets Ltd., an enterprise software provider, more than 100 nations have some kind of data sovereignty legislation in place. State rules in the United States, such as California's new consumer privacy legislation, place further constraints on how cloud providers handle data. "It's just the top of the iceberg," he said.
France and Germany recently launched Gaia-X, an initiative to establish the continent's own data storage infrastructure via the internet without depending on American technological behemoths.
We're eager to learn more about this "data sovereignty" effort. Despite all of BBG's reporting, the reader does not have a clear idea of what this even implies.
And, as we've seen with 'Project Dragonfly,' just because Google deems a project dead doesn't mean it is.
SRH: Be careful of what you read on social media. The algorithms used by these platforms have no regard for Biblical truth. They target your emotions to keep you engaged on their site so their advertisers can drop more ads. These platforms exist to enrich their stockholders. Consider God's promise to Believers in James 1:5, "If any of you lacks wisdom, you should ask God, who gives generously to all without finding fault, and it will be given to you."
Will Putin Fulfill Biblical Prophecy and Attack Israel?