Advisory: Be careful of what you read on social media. The algorithms used by these platforms have no regard for Biblical truth. They target your emotions to keep you engaged on their site so their advertisers can drop more ads. These platforms exist to enrich their stockholders. Consider God's promise to Believers in James 1:5, "If any of you lacks wisdom, you should ask God, who gives generously to all without finding fault, and it will be given to you."
"Unless God has raised you up for this very thing, you will be worn out by the opposition of man and devils"…
America Is Approaching a National Nightmare in 2020…..
With loud chatter of Civil War in the air as the Democratic party and the treasonous bureaucracy they created within our intelligence agencies continue their very real coup attempt against President Donald Trump while attempting to completely negate the vote of the American people, which would fully transform America into a banana republic, we probably shouldn't be the least bit surprised that the US Marines have just put out MARADMINS Number 550/19 titled "MANPOWER GUIDANCE FOR ACTIVATION AND DEACTIVATION OF RESERVE COMPONENT MARINES ORDERED TO ACTIVE DUTY ISO DEFENSE SUPPORT OF CIVIL AUTHORITIES" signed October 3rd.
Found on the official website of the United States Marines, this announcement was put out the same day the Southern Poverty Law Center put out this story warning that militia movement and rhetoric have been elevated all across America following a recent President Trump tweet and the day after this October 2nd story over at NC Renegade titled "Militia's Activating All Across The Country!! We Are Approaching Civil War?". The key section of the Marine Corps MARADMINS reads: "Requests for Federal assistance will come with little warning. As required, the Marine Corps must rapidly mobilize RC units and personnel IAW this MARADMIN in order to respond to threats in the Homeland."
What exactly does that mean? Might it suggest that should civil war break out in the United States, it'll be 'answered' by America's own armed forces? Though Reserve units have previously been deployed in the US numerous times and for a number of different reasons, having them deploy to 'defend civil authorities' is a totally different beast and hints of something serious ahead.
Sponsored solution from the Health Ranger Store: The Big Berkey water filter removes almost 100% of all contaminants using only the power of gravity (no electricity needed, works completely off-grid). Widely consider the ultimate "survival" water filter, the Big Berkey is made of stainless steel and has been laboratory verified for high-efficiency removal of heavy metals by CWC Labs, with tests personally conducted by Mike Adams. Explore more here.
And with all of this coming at a time when Michigan Democratic Representative Rashida Tlaib recently told her constituents that House Democrats were attempting to figure out 'how to arrest Trump officials who resist subpoenas during the impeachment process' as the Daily Caller had reported in this new story, promising 'to take care of them', what the Democrats are calling 'impeachment' is clearly the last gasp globalist attempt to regain control of America with Democratic presidential candidates looking so bad that evil Hillary is likely preparing to run again.
And with antifa terrorists arming up to prepare to defend the leftists/lgbt agenda while calling for a 'black bloc protest' at a President Trump rally in Minneapolis, Minnesota on October 10th, the official Antifa event poster actually claimed 'America Is Canceled!' though Conservatives preparing to defend their families against whatever kind of leftist terror that is unleashed upon America will never allow Antifa's wishes to come to pass. Yet the fact that there are more guns in America than people with our nation of 328 million owning 393 million guns suggests that if another Civil War does begin in America, it'll be downright ugly.
So while we'll continue to pray that cooler heads emerge in America and the masses soon find out the truth about what they've been being lied to about by the mainstream media and Democratic party for a very long time now, we'll also take a look within the rest of this story at more signs America is approaching a 'national nightmare' in 2020.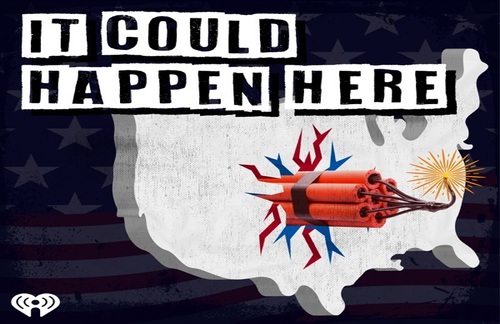 According to Professor Paul Brians, "the Communists want to take over the whole world". While to most Americans, the thought of another Civil War in America in the current day we live in might sound impossible, as Professor Brians points out in the first paragraph of his story, "let us begin by acknowledging that Marxists indeed advocated that all the world should become Communist, but not by hostile takeover. Rather, they advocated a series of national revolutions around the globe which would allow the victorious workers ultimately to join together as one, abolishing the very idea of nationhood".
Sounding similar to what we've been watching as leftists push for the abolishment, or 'canceling', of America in Antifa's words, Democratic politicians have been ceding America's sovereignty and national borders over to 'globalism' for many years now. As this October 2nd story over at the Powdered Wig Society reports, according to former CIA agent Kevin Shipp, what we've been witnessing from Democrats in Congress and the 'operatives' that they installed within President Trump's government has been nothing less than treasonous with their attempts to 'cancel' America and overthrow the results of the 2016 US elections nothing less than a seditious conspiracy to take down America. From the Powdered Wig Society story.:
Ex-CIA agent Kevin Shipp shares his opinion on why the Democrat Party is employing its last hope, impeachment, to prevent President Trump from being reelected and putting many of them in prison for decades to come.

Shipp believes that many deep state operatives are guilty of treason and may very well pay the ultimate price, execution, for their crime against We the People.

I believe there are at least two players who could potentially be indicted for treason – Barack Hussein and Hillary Clinton, both of whom gave aid and comfort to the enemy, Iran and a variety of terrorist groups. The others appear to be guilty of at least seditious conspiracy, conspiring to overthrow a duly elected President, therefore the government of the United States, for which the penalty is up to 20 years in prison per charge, and I believe most can be charged with many counts.

18 U.S. Code §?2384.Seditious conspiracy
If two or more persons in any State or Territory, or in any place subject to the jurisdiction of the United States, conspire to overthrow, put down, or to destroy by force the Government of the United States, or to levy war against them, or to oppose by force the authority thereof, or by force to prevent, hinder, or delay the execution of any law of the United States, or by force to seize, take, or possess any property of the United States contrary to the authority thereof, they shall each be fined under this title or imprisoned not more than twenty years, or both.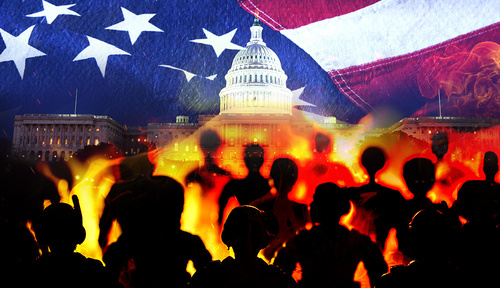 And while the Guardian recently reported that according to Steve Bannon, the so-called 'deep state conspiracy theory' is for 'nut-cases', Bannon also confirmed that we're witnessing a 'coup' in progress though as he says, "there's nothing 'deep' about it. It's right in your face." And yes, with both the 'new world order' and 'globalism' also 'right in our faces now', despite long being called 'tinfoil hat conspiracy', as this new story over at Armageddon News that Steve Quayle linked to on his website Saturday reports, "the elite have made no secret that they wish to destroy American hegemony at all costs. America will likely be exposed to an attack so fierce that nothing will remain to rebuild." From their story.:
Those that are aware of the machinations unfolding in America today see a potentially deadly situation beginning to unfold. The talk of detention camps and foreign soldiers being prepositioned. The Stalinist purge of many top-ranking military officers and arming of government agencies to insane levels. The slow deterioration of our industrial capability and ability of families to feed themselves. The erosion of civil liberties and government attacks on patriotic Americans. The massive spy network established to contain and control the population.

For those who think that a financial collapse causing the loss of their savings and livelihood are the worst that could happen, they might want to consider this possibility.
It has been said before that the goal of economic collapse would be to not only take America down to third world levels but even lower so Americans would have no chance to rebuild and cause the globalists any serious problems in the future. Even with a collapse much of our infrastructure and knowledge and raw materials would still be available to rebuild.

The goal of Agenda 21 is to return large portions of the land to the wilderness and eliminate the human element in these places. When you start to look at the things that some want to happen here a frightening picture begins to form.

– Destroy economy and peoples wealth
– Destroy infrastructure and return the land to wilderness
– Destroy peoples ability to rebuild
– Destroy population to return to sustainable global levels
The only things under human control that could do all of these things is a global pandemic of biblical proportions or a major world war. Either or both could be in the works at this time.

And with Communism needing 'internal conflict', whether Revolution or Civil War, to take over nations while the far left pushes heavily for 'socialism' in America and 'socialism' nearly always leading to Communism and all that comes with it including forced obedience to government, famine, and starvation, we should be very careful about what's now happening in America with Democrats seemingly pushing for Civil War in America so that they can unleash their 'shock troops' upon our nation.
And with the left actually petrified that if President Trump loses the 2020 election, he won't leave office as the Daily Beast reported in this May story titled "Here's a Preview of America's 2020 Nightmare if Trump Loses" while many on the left, including Hillary Clinton, still claim that President Trump is an 'illegitimate president', the 'fireworks' that could be set off in America over the next 14 months to 5 years might be unprecedented.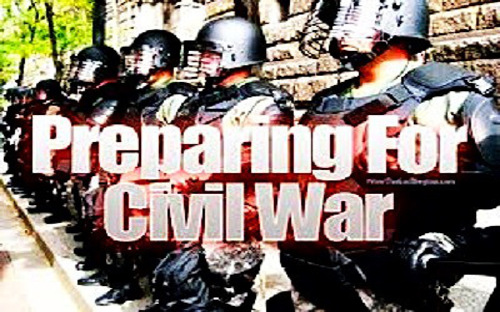 With Democrats and leftists completely convinced that President Trump sold out America to Russia and Vladimir Putin, fully buying into the mainstream media's lies over the past 3 years, and dead set in their belief's that President Trump is a treasonous traitor despite the fact that the MSM has been completely exposed as the liars they are as Susan Duclos had reported in this September 27th ANP story, the fact that the US Marines have put out a notice to reserves that they be needed at any time to 'support civil authorities' at a time when America is approaching a boiling point is deeply concerning. So we'll leave these closing remarks to former CIA agent Kevin Shipp from this story at the Powdered Wig Society.:
"Yes, this is a coup. This is the most shocking violation of the Constitution and criminal activity in history, not just of America, but of a western government. Much of this rise to the level of treason. People need to understand how shocking this is. It was a clear conspiracy. There will be arrests and indictments without question. . . . This was a coup. It was a conspiracy. It was a criminal activity. These people need to be indicted, charged and need to be put in prison, and if they're not, then our Constitution is nothing more than a sham. This was a coup against a duly elected President, and people need to understand how serious this is."

"We have a not so covert civil war going on right now that has been brewing over 60 years. We have the 'Dark Left,' and the DNC is fully involved with all their Congressmen and Senators. There is a Marxist movement within the DNC that is in control right now. You can match up the progressive goals with Marxist documents, and you can see they are one in the same. . . . They have to change and eliminate the Constitution. . . . They want to change the First Amendment and the Second Amendment first of all. Second of all, they despise and are targeting Christianity because of Christianity . . . underlines the Constitution and is mentioned in the Declaration of Independence. That's the second target they have to destroy. Their third target is the founding principles of America. That's our culture. They have to destroy those three things if they are going to overturn our Constitution and turn this into a global Marxist government. That is not an understatement. . . . It's not the same party of JFK. It's now a Marxist party and an umbrella for every victim, twisted and perverted group that has nowhere else to go. This is a mortal blow to the Democrat Party when these things come out."
Shipp warns us, however, that these Marxists will not go down without a fight… literally.

"The danger for 'We the People' is the Dark Left and Dark Left violence. As these indictments begin to come out, and as the players are called out, the violence on what I call the Dark Left, the violence is going to increase to the point where it's going to be very, very bad. There are going to be beatings and probably shootings, and shooting at police. . . . There is going to be a lot of violence coming from the Left in the next year or two. This is one of the reasons you need to exercise your 2nd Amendment rights . . . because of what the Left is going to do with these findings and what is going to be the death knell for the Democrat Party and the death knell for taking over our Constitution and culture. They will exponentially bring up their violence, and Americans need to arm themselves and protect themselves against that."
In the first video below, Mike Adams from his Counter Think Brighteon channel warns that Democrats are ramping things up, seemingly pushing for a 'HOT' civil war here in America in an emergency message in which he strongly urges Christians, Conservatives, Patriots, and other President Trump supporters to prepare for anything in the days ahead, especially now with the US Marines preparing for SOMETHING here in America as well.
In the 2nd and final video below titled "CIVIL WAR 2 in America – WHO WOULD WIN? In-Depth Analysis", a video with well over 1 million views already, the videographer takes an interesting look at what might happen should another Civil War break out in America with the following 3 top-rated comments summing it up.
AndreKiller1993 – 3 months ago: One side has millions of guns and military veterans, the other doesn't know which bathroom to use.

Jamie Jamie – 2 days ago: "I prefer dangerous freedom over peaceful slavery." – Thomas Jefferson

Robert Alexandre – 2 weeks ago: In summation, the U.S., despite its flaws, is the greatest nation on the planet and Patriots WILL ensure that it remains that way. #USMCVeteran

Read more at: AllNewsPipeline.comFacebookTwitterShare NewsTarget
Featured Story
Someone in Impeachmentville is not paying attention. Of course, diverting the rubes is exactly the point of the latest CIA operation to negate the 2016 election. Has nobody noticed that there is a treaty between Ukraine and the USA, signed at Kyiv in 1998 and ratified by the US Senate in 2000? It's an agreement on "Mutual Legal Assistance in Criminal Matters." Here, read the cover letter for yourself:
What part of the following do Nancy Pelosi and the news media not understand?
The Treaty is self-executing. It provides for a broad range of cooperation in criminal matters. Mutual assistance available under the Treaty includes: taking of testimony or statements of persons; providing documents, records, and articles of evidence; serving documents; locating or identifying persons; transferring persons in custody for testimony or other purposes; executing requests for searches and seizures; assisting in proceedings related to restraint, confiscation, forfeiture of assets, restitution, and collection of fines; and any other form of assistance not prohibited by the laws of the requested state… ([etc].
How does this not permit Mr. Trump asking the president of Ukraine for "assistance" in criminal matters arising out of "collusion with Russia," as specified within the scope of Robert Mueller's special prosecutor activities? For instance, the matter of CrowdStrike. The cybersecurity firm was co-founded by Russian ex-pat Dmitri Alperovitch, who also happens to be a senior fellow at the Atlantic Council, an anti-Russian think tank funded by a Ukrainian billionaire, Viktor Pinchuk, who donated at least $25 million to the Clinton Foundation before the 2016 election. Crowdstrike was the company that "examined" the supposedly hacked DNC servers, while somebody in the Obama administration prevented the FBI from ever seeing them. Does this sound a little as part of the origin story of RussiaGate? Is that not exactly the potential criminal matter that the current attorney general, Mr. Barr, is officially investigating?
Sponsored solution from the Health Ranger Store: The Big Berkey water filter removes almost 100% of all contaminants using only the power of gravity (no electricity needed, works completely off-grid). Widely consider the ultimate "survival" water filter, the Big Berkey is made of stainless steel and has been laboratory verified for high-efficiency removal of heavy metals by CWC Labs, with tests personally conducted by Mike Adams. Explore more here.
Perhaps, under the year 2000 treaty, Mr. Trump was within his rights to ask the new President of Ukraine, Volodymyr Zelensky, for assistance on that. And also, the question of former vice-president Joe Biden's levering US aid to Ukraine in his demand to fire the prosecutor investigating the company, Burisma Holdings, that just happened to hire his son, Hunter, to a $64,000-a-month seat on the board of directors, not long after the younger Mr. Biden was kicked out of the US Navy reserve for cocaine use — what a sterling fellow!
The foregoing ought to be self-evident. Speaking of failures to pay attention, Director of National Security (DNI) Joseph McGuire testified in Rep. Adam Schiff's House Intel Committee last Thursday that the "Whistleblower" and his or her allies in the Intelligence Community who fomented the latest crisis "acted in good faith." Admiral McGuire omitted to mention that the IC's Whistleblower complaint rules were surreptitiously changed sometime around August 2019 to allow second-hand hearsay in Urgent Matter" complaints, where formerly it had been prohibited. The change was only posted on an IC website on Sept 24. Did Admiral McGuire not get the memo on that? Was he out of the loop? After all, he is merely in charge of the entirety of US Intelligence operations. Who kept him in the dark?
Now there is yet another new "bombshell" out of the CBS 60-Minutes show (reported by Scott Pelley) alleging that the "Whistleblower" had been placed under federal protection due to "threats" made against him or her. We're to infer that the "Whistleblower" is in a safe space— perhaps hiding out in the CIA's Diversity and Inclusion offices, with some teddy bears, crayons, and chips ahoy to keep the heebie-jeebies away. Only, one of the "Whistleblower's" own lawyers, Mark S. Zaid released a letter today saying that the 60-Minutes report was "not accurate and misinterpreted the contents of our [earlier] letter." Mr. Zaid added in a tweet that CBS was "literally making stuff up."
Well, let CBS and the "Whistleblower's" pro bono lawyers slug that one out in some safe space. More to the point, how long do you suppose the charade of protecting the "Whistleblower's" identity will go on? If impeachment moves to a trial in the Senate, Mr. Trump will enjoy the right of being faced by his accuser. But I don't think we will have to wait that long. Rep. Schiff (D-CA) has already declared that this person will be called into a closed session of his committee. The chance is about zero that his or her identity will remain unknown. By and by, the "whistleblower's" confederates in the CIA will also become known and the perfidy of this latest CIA operation in the ongoing coup will be understood.
UkraineGate is the equivalent of Fort Sumter in Civil War 2.0. Charges have been flying and tempers flaring for three years now, much as they did between 1858 and 1861. Once again, what seems to be at stake is the integrity of the Union. As in the previous enactment, one side is dangerously deluded, and that is liable to lead to its destruction. Source
Read more at Kunstler.com and Chaos.news.FacebookTwittergoogle_plusShare
Should Christians Fight Evil? Engaging in War is not Always Sinful
A time to love, and a time to hate; a time for war, and a time for peace.
The attacks of September 11 and the resulting war against terrorism have brought to the front once again the question of the Christian view of war. The question is particularly complex because it is hard to see how war can be consistent with the biblical emphasis on forgiveness and forbearance and love. This emphasis is perhaps most pointed in the Sermon on the Mount, where Jesus says:
You have heard that it was said, 'An eye for an eye, and a tooth for a tooth.' But I say to you, do not resist an evil person; but whoever slaps you on your right cheek, turn the other to him also. If anyone wants to sue you and take your shirt, let him have your coat also. Whoever forces you to go one mile, go with him two. Give to him who asks of you, and do not turn away from him who wants to borrow from you. You have heard that it was said, 'You shall love your neighbor and hate your enemy.' But I say to you, love your enemies and pray for those who persecute you. (Matthew 5:39-44)
Does Jesus' teaching that we should turn the other cheek and love our enemies mean that it is always wrong to go to war? Should the world have turned the other cheek to Hitler and tried to love him into surrender? When Osama Bin Laden ordered the attack on the World Trade Center, should the U.S. have responded by sending him the Sears Tower as well? Or does Jesus allow a place for both loving our enemies and yet, in certain situations, using force to restrain life-threatening wickedness?
What follows are some of the primary reasons we believe that it is right for the military (and Christians who are a part of the military) to engage in wars that have just caused–namely, self-defense, the restraint of life-threatening evil, and the punishment of nations and individuals who have committed unjust acts of war against one's country. This is called the just war theory. We will close by seeking to explain how this fits with the command to turn the other cheek, love our enemies, and not resist him who is evil.
Pacifism is harmful
To let someone murder when it is in your power to stop them is completely contrary to our moral sentiments. If a Hitler is on the move and seeking to bind the world in tyranny and destroy entire ethnic groups, it would seem very clearly wrong not to oppose him with force (which sometimes is the only effective method). It is true that war itself is harmful and tragic, but pacifism would result in even more harm to the world because it would give wicked people virtually free reign. We, of course, must be open to letting the Bible transform our moral sentiments, but this observation should at least cause us to pause and reflect more deeply before concluding that Jesus is intending to teach pacifism.
Consistent pacifism would have to eliminate the police, not just the military
In fact, if we were to conclude that governments should always turn the other cheek and never resist evil, then we would be logically committing ourselves to get rid of not only the armed forces but also the police force and criminal justice system. Police officers arrest criminals, using force against them if necessary, and put them in jail. That is not turning the other cheek. Does Jesus intend his command to turn the other cheek to apply to the police? Surely not as their primary way of responding to evil. God does not want evil to run about in our society unchecked (cf. in the OT the numerous civil laws and in the NT Romans 13, to be discussed below). If one accepts the legitimacy of police using force in some instances, there can be no objection to the military using force in some instances, either.
Luke 3:14 allows military service
It is significant that John the Baptist did not tell the soldiers to leave the military when they asked him what it meant to repent: "And some soldiers were questioning him, saying, 'And what about us, what shall we do?' And he said to them, 'Do not take money from anyone by force, or accuse anyone falsely, and be content with your wages'" (Luke 3:14). Since it is, therefore, possible to live a godly life and yet be in the military, it must be because engaging in war is not always sinful.
StevieRay Hansen
Editor, HNewsWire.com
"Unless God has raised you up for this very thing, you will be worn out by the opposition of man and devils"…
Let Me Make This Abundantly Clear. (I Am Apolitical) While I Have a General Distaste for Politicians No Matter the Party They Belong To, I Am Unashamedly Politically a Bible Believing Conservative Christian. I Have a Severe Distrust of Government. I Believe It Is the Most Inefficient and Ineffective Way to Accomplish Most Things. While I Strongly Disagree with Liberals/Progressives and Conservative on Most Political Issues, and While I Believe Liberals/Progressives and Most Politicians Are Terribly Misguided and Naive About What Big Government Will Eventually Result In, I Strive to Not Question Their Motives. at the Same Time, While I Find Myself in Agreement with Conservative Politicians on Some Issues, I Do Not Believe Electing Republicans Is the Answer to Everything. for Me, Very Sadly, the Main Difference Between Republicans and Democrats Is How Quickly They Want to Drive the Car Towards the Cliff. Simply Put, I Do Not Believe the Government Is the Solution for Everything. I Do Not Place Any Faith, Trust, or Hope in Any Politicians to Fix What Is Wrong with the World. "Come Lord Jesus!" (Revelation 22:20)
Our government has been overthrown. As evidenced by Trump's capitulation on the border, his recent servitude to the GMO industry and his acquiescence to the warmongers, our President has been compromised. Our liberties are being eliminated one by one. Gun confiscation is next. The Constitution is gasping its last breaths. Our borders are destroyed and our culture has been turned upside down by every perversion known to man.
Education is useless without the bible (Daniel Webster)
Usually, the Lord doth no great thing for or against his people, without giving warning of it before it comes.
John Wesley who said that what we tolerate in our generation, will be embraced by the next. Wesley is 100% correct! We are living in sick times.
The Left, a broad term for Liberal Socialist Democrats that can only be explained fully by using the Bible explanation of the human race is as follows. A servant of Satan, because you are either saved or lost. This election has brought out the true nature of who you serve. Simply put, it's Donald Trump, Conservatives, and Christians against the rest of the world. The Left's Love applies only to those who believe as they do. They Love evil and commit Anarchy against those who love good. They are governed by lies and never tell the truth. On this Friday, Inaugural Day for the swearing-in of Donald Trump as the 45th President of the United States the Left wants to commit widespread Anarchy to shut down the swearing-in ceremony. Their goal of transforming America, which was founded in Judea Christian values into a Pagan Nation is almost complete. Their goal has always been the total removal of God from American society and the downfall of America. Donald Trump says he is a Presbyterian, but he left off the USA, an apostate church.
Corinthians 4:8-11 New King James Version (NKJV)
We are hard-pressed on every side, yet not crushed; we are perplexed, but not in despair; 9. persecuted, but not forsaken; struck down, but not destroyed— 10. always carrying about in the body the dying of the Lord Jesus, that the life of Jesus also may be manifested in our body. 11. For we who live are always delivered to death for Jesus' sake, that the life of Jesus also may be manifested in our mortal flesh.
Satan has power over (LGBTQE-TRANS PEOPLE). The "sons of disobedience" referred to in Ephesians 2:2 are those who have not trusted Christ as Lord and Savior (cf. Acts 26:18; 2 Corinthians 4:4; Revelation 13:12). The demons are also under the rule of Satan (Matthew 12:24), and one of his titles is "prince of demons" (Matthew 9:34). Satan has a kingdom (Matthew 12:26) and a throne (Revelation 2:13). Satan is called a prince because he is a ruler and possesses the power to manifest evil in the world through influencing people and commanding demons.
HNewsWire- "All political language is designed to make lies sound truthful and murder respectable." Just look at some of our modern-day examples: torture is "enhanced interrogation techniques"; murder is "collateral damage"; the aggression initiation of war is a "pre-emptive strike"; the theft of taxpayers' money is a "bailout", and the theft of depositors' money in a bank is a "haircut" or "bail-in".In a blatant example of Newspeak, the New World Order controllers (through the psychiatric DSM V) have tried to rename pedophiles as "minor-attracted persons" and redefine pedophilia as "sexual orientation". This makes no sense since sexual orientation has to do with gender, not age, with whether you are attracted to males or females, not how old they are. There are even organizations (like B4UAct.org) which are claiming that pedophiles are being unfairly stigmatized for their feelings!
If homosexuality has been posed as healthy, good and normal, in the face of overwhelming evidence to the contrary, so can pedophilia. Pro-pedophilic articles are making their way into academia.
The Cult of LGBTQE-E for EVIL and is often a cover for child-molesting perverts
Tagged Under: abuse, children's health, gender-confused, gender issues, gender madness, the left cult, LGBTQE-E For Evil un-godly Mob, Lunacy, mutilation, transgender, Child molesting perverts LGBTQE- E For Evil, drag queens, perverts
Unfortunately, not all alternative sources are reliable, even some Major Christian (and I use Christian loosely) news sources have been corrupted. They will NOT tell the truth. They just parrot the deceptive narratives perpetrated by those who currently control our government and media. Even those who are honestly trying to present the truth can miss it sometimes. There is so much deception out there. In these last days, you must be wise as serpents and gentle as lambs. It is no time to sleep or slumber. Diligence and vigilance are required. It is critical that you think for yourself and not be a Lemming.
Tagged Under: chaos, civil war, Collapse, coup, deep state, Democratic Party, domestic terrorism, government, hillary, Leftists, mainstream media, politics, treasonRECEIVE OUR FREE EM
Daily Devotional: Now, world oligarchs are attempting to reorganize the world's geography, install new leaders, and establish a "New World Order." But, according to C.S.…
Read More
We make every effort to acknowledge sources used in our news articles. In a few cases, the sources were lost due to a technological glitch. If you believe we have not given sufficient credit for your source material, please contact us, and we will be more than happy to link to your article.