Advisory: Be careful of what you read on social media. The algorithms used by these platforms have no regard for Biblical truth. They target your emotions to keep you engaged on their site so their advertisers can drop more ads. These platforms exist to enrich their stockholders. Consider God's promise to Believers in James 1:5, "If any of you lacks wisdom, you should ask God, who gives generously to all without finding fault, and it will be given to you."
HNewsWire: PESTILENCE: This should be front-page news all across America, but of course, the big news networks really don't want to talk about anything other than the impeachment of Donald Trump these days...
The global pig population is being absolutely decimated by a disease that does not have a cure. African Swine Fever, also commonly referred to as "Pig Ebola", is raging out of control in dozens of countries all over the globe. It has a mortality rate of close to 100 percent, and once it hits an area even the pigs that are able to survive the disease are killed off in order to prevent it from spreading elsewhere. Unfortunately, African Swine Fever just continues to pop up in more locations. As you will see below, it is now sweeping through the heavily-populated nation of Indonesia.
Nearly 270 million people live in Indonesia, and they are heavily dependent on pork as a source of protein. But of course the same thing could be said about almost all of the countries where African Swine Fever is currently raging.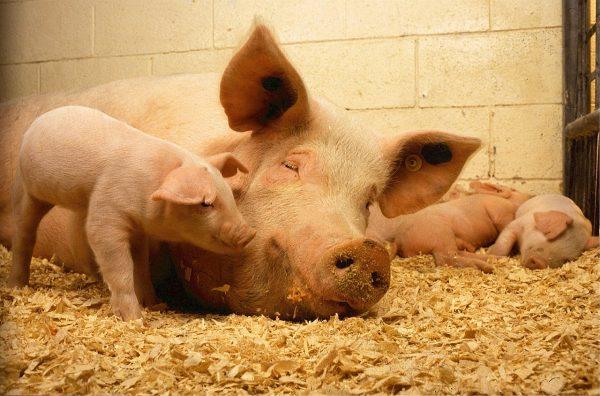 The mainstream media in the U.S. hasn't been properly reporting on this crisis, and that is likely because this disease has not spread to our nation yet.
But let there be no doubt – this is truly a crisis of Biblical proportions. In fact, it has been estimated that this epidemic has already killed about one-fourth of the world's pigs. The following comes from an Australian news source…
Experts say the disease has wiped out an estimated 25 per cent of the world's pig population.

The fever has been reported in around 50 countries, including China, Belgium, Slovakia, Cambodia, North Korea, South Korea, Vietnam and the Philippines.
And this same figure is being quoted by the New York Daily News…
The role of a watchman: Gives insight into the world at the end of this age. They see the dark gathering clouds on the world's horizon that spell the end of Satan's reign as the god of this world and author of all its evil. This leads them to mount the "walls" of society and shout a warning to any who will hear. To say: "God is sovereign. He will bring a time of judgment on the world to prove that He alone is God. All other gods erected by people to hide His truth will be destroyed."
A national affliction
Today America and Great Britain stand at a crossroads. For more than 200 years they have dominated the world in virtually every arena. As Great Britain retreated from its empire after World War II, America was there to take its place and continue the legacy set by the English through their peak years.
But America's dominant power is under siege from many sectors. Its will to stay the course in Iraq is being tested, its military machine strained under the pressure of the extended fighting. Though it is the primary engine for the world's economy, a weakened dollar and a trade balance deficit are both troubling indicators of a major crisis ahead.
God warns us through the message of the prophets that sins will demand a day of reckoning. People cannot continue worshipping the false gods of materialism and self, blindly stumbling along in their own righteousness, and expect their affluent standard of living to continue.
God's Word confirms there will be an accounting; the lesson of history is that any people who corrupt their moral core will eventually fade from power. God calls on America and Great Britain to wake up, acknowledge their sins, and repent before national calamity descends on them.
"Do this and live"
Amos the prophet walked into the city of Samaria, capital of the northern kingdom of Israel, and boldly told the king and city leaders to repent or face captivity at the hands of the Assyrians. He pointed to neighboring states that had fallen and said, "You are no better than they were."
He rebuked those who did not want to hear a "message of doom." To those who stocked their homes with the finest luxury goods and gourmet foods, trusting that affluence was a sign of God's blessing, he said, "Don't trust in materialism." The citizenry, at all levels, looked only to their comfort and ease and did not grieve "for the affliction of Joseph" (Amos 6:6).
Those who "grieve" and "sigh and cry" over societal sins are called to a unique role. They are part of God's elect, called to the duty of proclaiming the announcement of the Kingdom of God. That message includes the good news of Jesus Christ's return to restore all things (see Acts 3:19-21). The message also contains a warning to repent and receive God's blessing or ignore the warning and face the judgment of God. It is a double-edged message—plain-spoken, yet full of hope.
Fulfilling this role requires courage, perseverance, and a love for the people addressed. One of the best examples of this was the prophet, Jeremiah. Jeremiah spent more than 40 years in the role of a watchman to the nation of Judah, urging people to heed his warnings and return to the ways of God.
Notice this passage: "Stand in the ways and see, and ask for the old paths, where the good way is, and walk-in it; then you will find rest for your souls. But they said, 'We will not walk in it' " (Jeremiah 6:16).
God's main message throughout the Bible is to return to His paths, His teachings, as the solution for the suffering and pain of human life. "Do this and live," He says.
Jeremiah and others like him have stood in the role of a watchman. "Also, I set watchmen over you, saying, 'Listen to the sound of the trumpet!' But they said, 'We will not listen.' Therefore hear, you nations … Behold, I will certainly bring calamity on this people —the fruit of their thoughts, because they have not heeded My words nor My law, but rejected it" (Jeremiah 6:17-19).
Today's watchmen
Examining the concept of watching in the New Testament helps to complete the picture of this role. The Greek word Gregorio, translated as "watch," means to keep awake, to watch, and to take heed. Through neglect or laziness, we could let down and be overcome with sin, or a sudden calamity could overwhelm us spiritually.
Notice in Mark 13:32-37, in Jesus' prophecy of the end time, that He urges His disciples three times to "watch" during the times leading to His second coming. The emphasis is on a personal watch through prayer to know the times.
By prayer and righteous living, we stay tuned to Jesus Christ. Through this way of life one can discern the moral climate of the times and avoid being tossed around with every shifting ideology of modern culture. Walking in God's laws and instruction insulates us from the course of the world and its deceptions.
Revelation 16 describes a massive end-time deception perpetrated by Satan and demons that work through the human instruments called "the Beast" and "the False Prophet" (Revelation 16:13). Their influence gathers the leaders of the earth "to the battle of that great day of God Almighty . . . to the place called in Hebrew, Armageddon" (Revelation 16:14-16).
In our fascination over these otherworldly figures, we can easily skip over Christ's charge: "Behold, I am coming as a thief"—suddenly and unexpectedly. "Blessed is he who watches, and keeps his garments, lest he walks naked and they see his shame" (Revelation 16:15, emphasis added throughout).
Jesus pronounces a blessing for those who, during mankind's darkest moment, watch. That is, they are living prudently and properly. The natural by-product of this close relationship with God is being alert to religious deception. Those who frame their life around the coming Kingdom of God will watch and keep themselves from the wiles of the devil.
This is the end result of fulfilling the role of a watchman within the Body of Christ—to be found standing in the faith, blessed of God at the dawn of His Kingdom on this earth.
Our world is moving toward this time of the global cataclysm. Revelation 16 describes a future moment when people will be caught up in events engineered through the Beast and False Prophet. The former is a political leader of compelling personality and ability; and the other, a religious leader unlike any in modern times.Together they will convince armies to move toward Jerusalem to fight Jesus Christ at His coming.
Warning and hope
This is a time for the watchmen to mount the walls and sound a clear, unmistakable warning message of the dangers facing not just the English-speaking peoples but also the whole world. It is time to make known the hope of the coming Kingdom of God.
Isaiah's message stands bright and clear today: "How beautiful upon the mountains are the feet of him who brings good news, who proclaims peace, who brings glad tidings of good things, who proclaims salvation, who says to Zion, 'Your God reigns!' Your watchmen shall lift up their voices, with their voices they shall sing together; for they shall see eye to eye when the Lord brings back Zion" (Isaiah 52:7).
Come, take your place on the walls, work for the Kingdom and pray for its speedy arrival!
These special servants understand the dangers of the present world. They see the dark clouds gathering on the world's horizon and are moved to proclaim a warning message to all who will hear.
African swine fever has been reported in nearly 50 nations — including China, South Korea, the Philippines and Belgium — and it's causing an incredible crisis on a global scale. Alarmingly, more than one-quarter of Earth's pigs have been wiped out by the virulent disease.
This should be front-page news all across America, but of course, the big news networks really don't want to talk about anything other than the impeachment of Donald Trump these days.
Unfortunately, everyone on the entire planet is going to feel the pain of this crisis as it continues to intensify. We are potentially facing a serious global pork shortage, and this disease continues to pop up in new areas. When it recently began spreading in Indonesia, it made headlines all over the globe. The following comes from Reuters…
Nearly 30,000 pigs have died from African swine fever (ASF) in Indonesia's North Sumatra province as of Dec. 15, causing millions of dollars of economic losses as authorities try to quarantine the areas affected, officials said on Wednesday.

The Agriculture Ministry has declared an outbreak of the highly contagious virus in the country and said it is contained only in some parts of North Sumatra, minister Syahrul Yasin Limpo told reporters.
Asian countries rely very heavily on pork to feed their populations, and the severe losses that we are witnessing are not going to be easy to replace. At this point, Indonesia has become the 11th Asian nation where African Swine Fever is spreading…
To date, 11 Asian countries have reported outbreaks since August 2018, including Indonesia, Mongolia, North Korea, South Korea, China, the Philippines, Vietnam, Laos, Cambodia, Myanmar and Timor-Leste.
The epicenter for this crisis is in China. The Chinese produce and eat more pork than anyone else in the world, and it was recently projected that their hog herd "will likely shrink by 55% by the end of the year" due to this disease…
China's hog herd fell by half in the first eight months of 2019 due to a devastating outbreak of African swine fever and will likely shrink by 55% by the end of the year, analysts at Rabobank said on Wednesday.
As I detailed in a previous article, it has been estimated that 150 million pigs have already died in China.
To put that in perspective, there are only about 70 million pigs in the United States right now.
So you could kill every pig in the United States twice and you would still not get to the total that has already died in China because of this epidemic.
Needless to say, pork prices are absolutely soaring in China. They have more than doubled since this time last year, and in November we saw another huge jump in Chinese food inflation. The following comes from Zero Hedge…
As has been the case for the past year, the culprit behind the headline CPI surge was food inflation, which accelerated further to a record +19.1% in November from +15.5% in October, primarily on higher inflation in fresh vegetable and pork prices.
So what is the bottom line?
The bottom line is that this is an extremely serious threat to the global food supply.
Beef, chicken, fish and pork are the four main global sources of protein, and right now pork is already in very short supply in some parts of the world.
And of course, this comes at a time when global weather patterns are going absolutely nuts and we have seen disastrous harvest seasons all over the planet.
We are entering the time of "the perfect storm", and most people have absolutely no idea what is ahead of us.
Even if you don't eat pork, this is a story that you need to keep a very close eye on, because this is going to push up food prices everywhere. Demand for beef, chicken and fish will increase as pork becomes more expensive and consumers turn to other options. And in some of the poorer places around the world, some impoverished families may have to start cutting meat out of their diets entirely.
We have never seen a crisis quite like this in any of our lifetimes. Despite all of our advanced technology, we are still dependent on farmers to produce the food that we eat, and this is truly an existential crisis for the entire global pork industry.
There is no way to spin this to make it sound nicer. Many are hoping that this outbreak will subside eventually, but right now it doesn't look like that will happen.
And once this disease reaches the United States, we will start to experience the same panic that is already sweeping through nearly 50 other nations around the globe. Source
God knows that evil is not combated with love and understanding.
King David Had This Down:
The misfits. The rebels. The troublemakers, The Cowboys. The round pegs in the square holes misfits. The ones who see things totally differently. They're not comfortable with the rules. And they have no respect for the status quo Pharisees "hypocrites". You can quote them, disagree with them, glorify or vilify them. About the only thing you can't do–is ignore them". Because they change things. They push GOD's human race forward and that bothers the politicians and otherworldly liars. And while some may see them as the crazy ones, I see a genius. Because the people who are crazy enough to think they can change the world, are the ones who do. SRH….
StevieRay Hansen
Editor, HNewsWire.com
The best index to a person's character is how he treats people
who can't do him any good, and how he treats people who can't fight back…
The Birth Pains Are Growing Stronger….
"Don't piss down my back and tell me it's raining." Outlaw Josey Wales
"Man will ultimately be governed by God or by tyrants."
My name is Steve Meyers and I need to share a vision and warning that the Lord showed me back in April 2007….
Many of you will ask why I waited so long to share the warning. I didn't. I shared the story with everyone that would listen from pastors to friends to family to colleagues. Immediately following the initial vision, I called a close friend. I told him to sit down that I had something to tell him. I needed it documented as I knew this was supernatural and from God. As I witness events unfolding today, I need to share the vision again.
The risk of loss in trading futures and options on futures can be substantial. The author does not guarantee the accuracy of the above information, although it is believed that the sources are reliable and the information accurate. The author assumes no liability or responsibility for direct or indirect, special, consequential or incidental damages or for any other damages relating or arising out of any action taken as a result of any information or advice contained in this commentary. The author disclaims any express or implied liability or responsibility for any action taken, which is solely at the liability and responsibility of the user. Steve Meyers, StevieRay Hansen
The Un-Godly — Those That Suppress the Truth, the social media giants built multi-billion dollar empires by giving everyone a voice, but now that they have such a dominant position on the Internet they have decided that many prominent conservative voices should be completely silenced.
Our government has been overthrown. As evidenced by Trump's capitulation on the border, his recent servitude to the GMO industry and his acquiescence to the warmongers, our President has been compromised. Our liberties are being eliminated one by one. Gun confiscation is next. The Constitution is gasping its last breaths. Our borders are destroyed and our culture has been turned upside down by every perversion known to man.
It's interesting when you connect the dots, the masses are opposed to God's blueprint and therefore will bring destruction upon the earth intentionally. Me, I, mine, narcissists generation will bring total destruction upon God's people, only the chosen will survive, we live in evil times, dress appropriately, put on the full armor of God!….
Force is now the only rule remaining in deep state-controlled America. Everything else has collapsed. There is no free speech, no fair trial, no system of justice, no reasonable expectation of human rights anywhere, no fair elections, no honest news, no honest Wall Street operations, no real public education, no clean food, and threats from the elitist, the power structure that is hell-bent on bringing the New World order into the reality of the sleeping masses, get woke or get yoked, the choice still lives in the people's hands. Next, the AntiChrist will appear with many empty promises, peace, and security, in reality, it's the yoking of mankind, We are on the Doorstep of the Great Tribulations…
The prophet does not confuse truth with consensus. The prophet does not confuse God's word with the word of those who happen to hold power at present, or with the opinion of the majority. This is because powerholders and the majority can fall victim to a lying spirit-and this means a power that actually seizes the majority of experts, the political leadership, and the public.
'PORTA DOS FONDOS' (TRANSLATES TO "BACK DOOR") HYPER-REPROBATES…
Thanks to people like Pastor Steven Anderson and the choir of preachers he has assembled within the New Independent Fundamentalist Baptist movement there has been a resurgence in what is called the Reprobate Doctrine. A Biblical doctrine that demonstrates in scripture, that God will turn people over to their vile lifestyles as a curse, blinding them to salvation in Jesus, giving them over to a devil's hell for eternity. A doctrine that I believe is completely Biblical and defined by the Apostle Paul in Romans 1 is unmistakably visceral language.
Let Me Make This Abundantly Clear. (I Am Apolitical) While I Have a General Distaste for Electric Cars and Politicians No Matter the Party They Belong To, I Am Unashamedly Politically a Bible Believing Conservative Christian. I Have a Severe Distrust of Government. I Believe It Is the Most Inefficient and Ineffective Way to Accomplish Most Things. While I Strongly Disagree with Liberals/Progressives and Conservative on Most Political Issues, and While I Believe Liberals/Progressives and Most Politicians Are Terribly Misguided and Naive About What Big Government Will Eventually Result In, I Strive to Not Question Their Motives. at the Same Time, While I Find Myself in Agreement with Conservative Politicians on Some Issues, I Do Not Believe Electing Republicans Is the Answer to Everything. for Me, Very Sadly, the Main Difference Between Republicans and Democrats Is How Quickly They Want to Drive the Car Towards the Cliff. Simply Put, I Do Not Believe the Government Is the Solution for Everything. I Do Not Place Any Faith, Trust, or Hope in Any Politicians to Fix What Is Wrong with the World. "Come Lord Jesus!" (Revelation 22:20) The prophet does not confuse truth with consensus. The prophet does not confuse God's word with the word of those who happen to hold power at present, or with the opinion of the majority. This is because power-holders and the majority can fall victim to a lying spirit-and this means a power that actually seizes the majority of experts, the political leadership, and the public.StevieRay Hansen
HNewsWire Live Stream 24/7 News UpDates and World Events Go Live HNewsWire: By Frank Bergman March 19, 2023 New York's Democrat Governor Kathy Hochul……...
Read More
We make every effort to acknowledge sources used in our news articles. In a few cases, the sources were lost due to a technological glitch. If you believe we have not given sufficient credit for your source material, please contact us, and we will be more than happy to link to your article.