The European Union Gave More Than €220,000 in Taxpayer Money to Fund "Demonic Homosexual Drag Queen Projects." as Their Government Crumbles, Money Well Spent!
HNewsWire: It has been discovered that the European Union provided more than €220,000 in public money to sponsor Satan Soldiers "drag queen programs" targeted at young people in a variety of nations.
It was money well spent!
The money was paid to the EU youth program Erasmus+, which, according to research conducted by German MEP Nikolaus Fest, is used to promote drag queen lifestyle events on behalf of an organization that recently declared that "the future is queer."
According to Remix News, "the EU money has been distributed for various "drag" organizations, generally affiliated with pro-transgender ideas."
For example, official documents reveal that the Berlin organization Critical Queer Solidarity got €21,797 in state funds for a "Drag It Up" session. The organization organized the "Drag It Up" conference, which the EU characterizes as a "youth exchange," in Berlin in November 2021, with 38 participants aged 18 to 30.
People, These Drag Queen Are Demon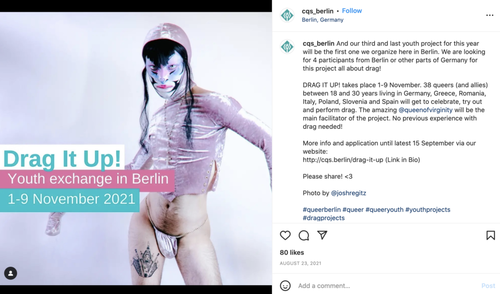 To advertise the youth event, the group posted an explicit picture on its Instagram profile, and on the event's "about page," the organization adds, "We will see drag acts in Berlin, learn from some of Berlin's top drag performers - and get to know their approach."
The funds will be used to fund workshops in which young participants are encouraged to wear cosmetics, wigs, and walk in high heels, as well as "other techniques of blurring and emphasizing standard binary gender norms." Another course promised to assist participants "get to know Berlin's LGBT culture" and educate them "how to cope with toxic masculinity."
Another EU-funded event in Göttingen was a one-week camp in which "trans*, inter*, non-binary, and gender-questioning young people" were educated about a lifestyle (LGBT) that has been shown to contribute to chronic depression and dramatically increased suicide rates.
Meanwhile, citizens in almost every European nation are facing a cost-of-living crisis while the EU spends money on LGBT propaganda programs for youngsters.