Advisory: The editorial board of HNewsWire adopted the official policy to bypass many social media platforms. Some of these include: Facebook, Instagram, Twitter, Parler, and YouTube. We believe these companies are responsible for many of the spiritual ills our world faces today. In some cases, however, we have allowed our guest contributors to include content from their YouTube channel while we search for alternatives.
CDC and WHO are Total Fraud, Coronavirus Outbreak Is a Pestilence, and President Trump tweeted that it's time to buy stocks because the crisis is under control. That's BS!…
In order for sin to work, there has to be a "suppression of the truth."
Market Pukes As California Governor Says State 'Monitoring' 8,400 For Coronavirus; 33 Have Tested Positive; In New York, 700 Asked To 'Self-Isolate': Live Updates
Summary:
WHO says outbreak in Iran likely worse than official numbers suggest; outbreak could go in "any direction"
Cali monitoring 8400, 28 cases in the state
Dozens of hospital staffers who treated US coronavirus patient with 'unknown' origin being 'monitored'
Facebook cancels annual 'F8′ developers' conference
700 in New York asked to 'self-isolate'
Iran confirms 26 deaths, vice president for women and family affairs infected
The Netherlands has confirmed its first case
Northern Ireland confirms first case
Norway confirms three new cases
Germany confirms 14 new cases
Lagarde: Not yet time for ECB to intervene to fight economic backlash of outbreak
HHS says risk to public remains "low"
Italy reports 3 more deaths, bringing total to 17; total cases hit 650
Pence, Azar appoint Mnuchin, Kudlow & Surgeon General Adams to Coronavirus Task Force
Starbucks says it has reopened 85% of Chinese restaurants
Azar: Sonoma case might be 'community transmission'
Salvini meets with Italian president amid national unity government speculation
South Korean new cases surpass China's new cases as SK confirms 505 new cases
China, Japan close school nationwide
CDC fears 'community outbreak' in Sonoma County after discovering first US case of "unknown origin"
CDC says patient from Solano county
Saudi Arabia suspends pilgrimages to Holy Sites
Hawaiian Airlines suspends service to South Korea
Brazil's neighbors take steps to keep virus out
* * *
Update (1535ET): Robert Redfield told Congress on Thursday that the CDC revised its definition for "persons under investigation". In other words, the US is possibly taking a play out of China's playbook to limit the numbers of people declared to be 'under surveillance'.
CDC DIRECTOR REDFIELD TELLS CONGRESS THAT CDC REVISED ITS CASE DEFINITION FOR "PERSONS UNDER INVESTIGATION" FOR CORONAVIRUS
This comes after the NYT reported earlier on Thursday that the patient in California with the case of "unknown origin" wasn't tested for days because of restrictive federal criteria.
* * *
Update (1520ET): The Netherlands has confirmed its first case.
* * *
Update (1515ET): Mike Pence, the new captain of Trump's virus-response team, said that according to the government's "best estimate", the virus threat remains low.
If you keep saying it, it will come true.
* * *
Update (1450ET): 700 people in New York have been asked to 'self-isolate' for two weeks because of coronavirus fears, according to the New York State Health Department.
Over in Italy, Angelo Borelli, the head of the Italian Civil Protection, said 650 people have now tested positive for the virus as total cases increased by roughly 50% on Thursday.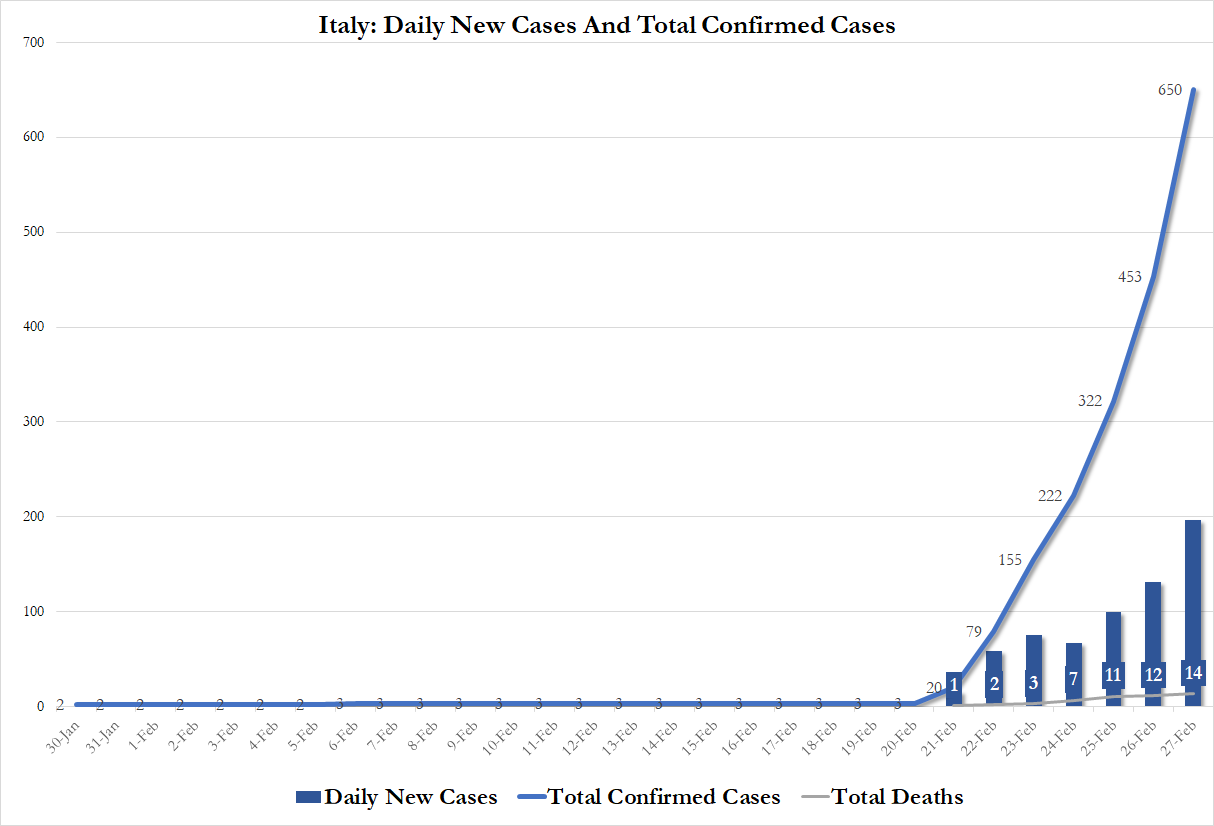 Explaining the sudden jump, Borelli blamed Lombardy for not "properly updating" the Italian Civil Protection Agency – in effect, confirming that local officials were hiding or concealing cases, whether deliberately or inadvertently.
"The big jump from yesterday (Wednesday) is because yesterday we didn't have the latest numbers from Lombardy," he said.
Some 35,000 masks have been sent to the affected areas, he added.
* * *
Update (1430ET): The Modesto Bee reports that UC Davis Medical Center in Sacramento, the hospital where the mysterious coronavirus patient with no link to China is being treated, has told several workers exposed to the virus to stay home and watch for symptoms.
Below, we reported some of the comments from Gov. Newsom's 11 am PT presser. He also insisted that the chances of an outbreak in California are "extremely low", and that the state is not planning on making an emergency declaration.
"Right now, I don't think it's necessary," he said.
Otherwise, the paper added, it's just "business as usual" at the UC Davis Medical Center (we're sure the thousands of freaked-out patients and staff would agree).
The hospital first became entangled in the crisis after local and federal health officials confirmed that the facility on Stockton Boulevard was treating the first US case of COVID-19 from an unknown origin.
* * *
Update (1405ET): France has reported its 38th case, as 20 new confirmations are announced.
FRANCE NOW HAS 38 CONFIRMED CASES OF CORONAVIRUS – FRENCH HEALTH MINISTER
* * *
Update (1355ET): Norway has confirmed three more cases as the flow of coronavirus news accelerates dramatically.
Finally, some good news on Thursday: Apple CEO Tim Cook says he believes China is getting the coronavirus outbreak under control: "It feels to me that China is getting the coronavirus under control" during an interview with Fox Business Network's Susan Li.
* * *
Update (1250ET): Minutes after Newsom's disturbing confirmation, the Trump Administration, in an obvious attempt to pump the market, leaked their plans to use the 'Defense Production Act' to force American companies to start manufacturing protective masks and other medical supplies.

When those kits are available (hopefully within a few days) we'll likely see HUNDREDS of newly confirmed coronavirus cases, and scores more daily.

Before you "bargain hunt" just 10% off an all-time bubble high, think about what THAT will do to stocks.$SPY $QQQ https://twitter.com/megtirrell/status/1233100764555489281 …Meg Tirrell✔@megtirrellCA governor says state public health officials spoke with CDC within the last few hours about testing protocols, and was assured they would be "advanced with urgency." Says CA has just a few hundred testing kits, "simply inadequate." #COVID191912:49 PM – Feb 27, 2020Twitter Ads info and privacySee Mark B. Spiegel's other Tweets
This is critical since the supply chains across China have collapsed.
EXCLUSIVE-TRUMP ADMINISTRATION DISCUSSING USING DEFENSE PRODUCTION ACT TO COMPEL COMPANIES TO RAMP UP MANUFACTURING OF CORONAVIRUS PROTECTIVE MASKS AND CLOTHING -OFFICIALS
Meanwhile, health officials have just confirmed the first case in Northern Ireland, bringing the UK total to 16.
* * *
Update (1345ET): As the hysteria surrounding the mysterious coronavirus case in California with no obvious connection to China mounts, California Gov. Gavin Newsom just confirmed that the state is 'monitoring' 8,400 people. Given the lack of context, the market is clearly assuming the worst, as stocks puke.
He also confirmed that there are 28 people infected in the state. All told 33 people tested positive in the state, but 5 have been moved out-of-state. Whether this includes any new cases is unclear.
Newsom assured the state that the CDC promised to speed processing of coronavirus tests.
He also warned that the state has an "inadequate" supply of testing kits.
"We have just a few hundred testing kits in the state of California … That is simply inadequate," Gov. Newsom said.
Stocks have puked, spoiling the intraday rally.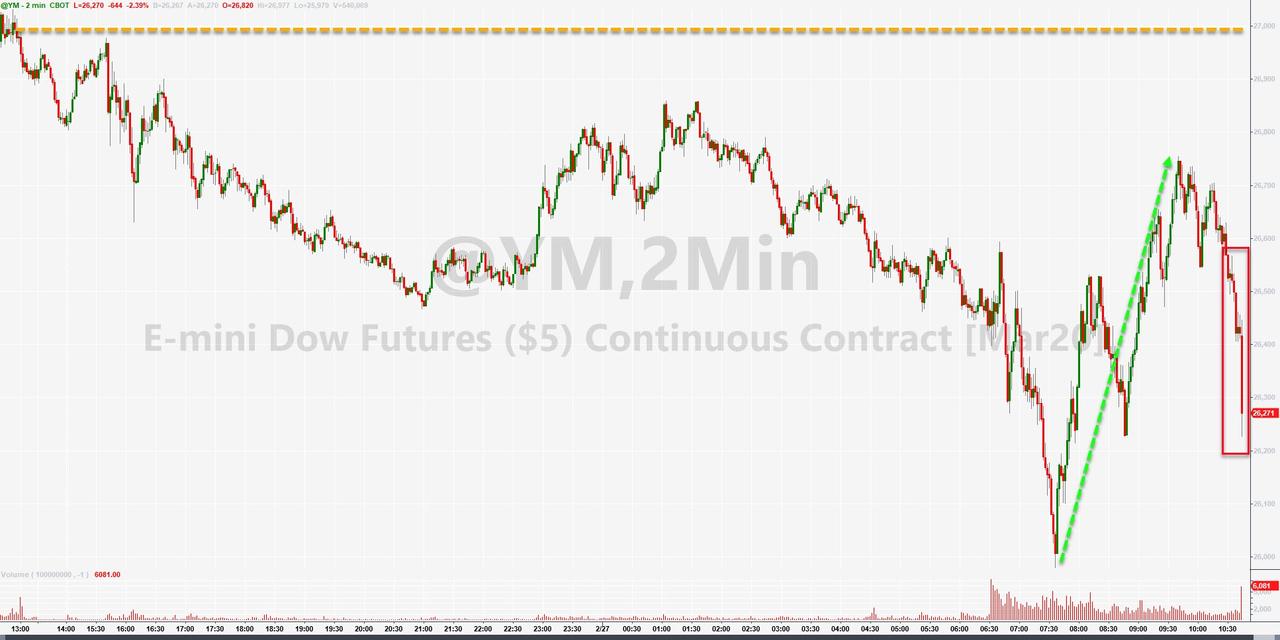 Cali's HHS Secretary assured the public that, other than the shortage of tests, the state is 'well-prepared'.
"It's natural to feel concerned about the novel coronavirus, but I want Californians to know that we have rigorously planned for this public health event," says CA Health and Human Services Secretary Mark Ghaly.
If Californians are freaked out, can't say we blame them.
* * *
Update (1330ET): The German state of North Rhine-Westphalia has confirmed 14 new cases of the virus in the Heinsberg Area, bringing Germany's total to 26.
Here's what Johns Hopkins map and register of confirmed cases looked like at 1:30ET: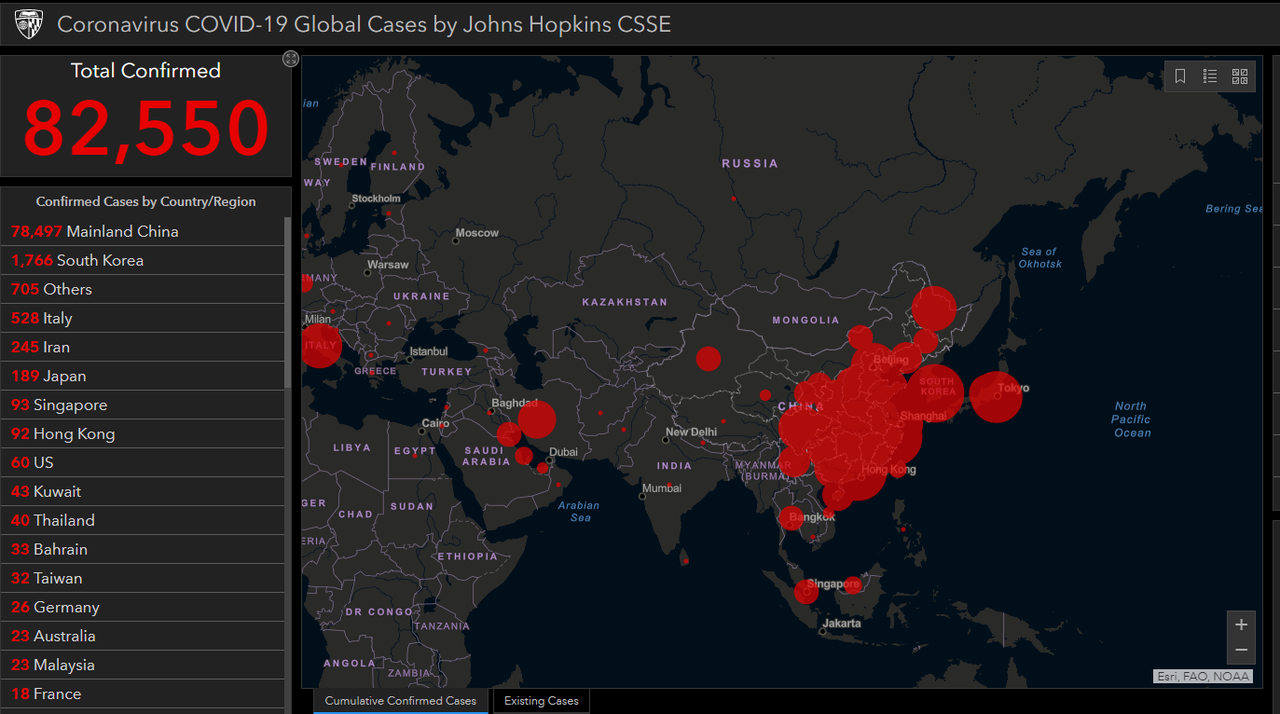 Goldman is also asking some to skip a conference over the virus, Reuters confirms.
* * *
Update (1315ET): Facebook is the latest major tech firm to cancel a conference or employee event. The social media giant said Thursday that it's canceling its annual F8 developer conference, the biggest FB event of the year, over coronavirus concerns, according to CNET.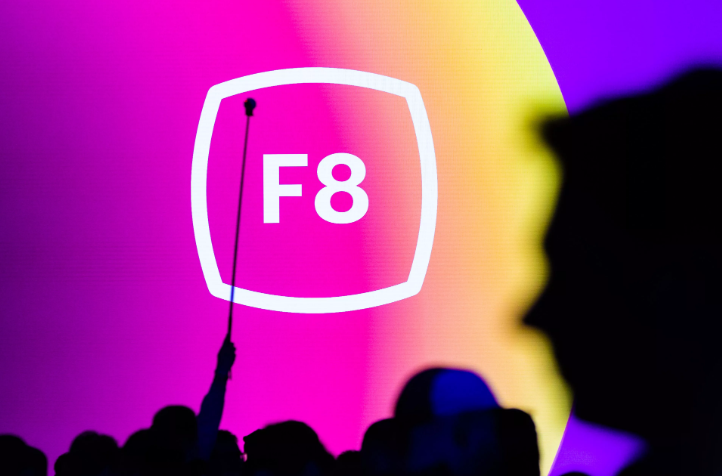 The cancellation will be a major hit for San Jose, where the conference was scheduled to take place at the McEnery Convention Center on May 5 and 6. Last year, the event attracted more than 5,000 developers, creators, and entrepreneurs from all over the world.
Zuckerberg typically delivers a widely covered keynote speech at the conference. With all of the scrutiny the company is facing during this election season, Zuck is passing up an opportunity to potentially take a swing at his critics, or show them up.
The company said it's planning to bring developers together at locally hosted events, videos and live-streamed content.
* * *
Update (1300ET): Dozens of staffers at the California Hospital – believed to be UC Davis Medical Center – who treated the coronavirus patient with the untraceable coronavirus case are reportedly being 'monitored' for symptoms, according to media reports.
We suspect this is part of the CDC and Cali health authorities' efforts to prevent the forewarned "community outbreak."
* * *
Update (1245ET): Italian health officials have reported another three deaths in Northern Italy, bringing the death toll to 17, Reuters reports.
THREE FURTHER DEATHS IN CORONAVIRUS OUTBREAK IN NORTHERN ITALY, BRINGING DEATH TOLL TO 17
As one Twitter user points out…
Today might be the first day since the coronavirus epidemic emerged when the main global story on the subject does not have a BEIJING or SHANGHAI dateline.383:52 AM – Feb 27, 2020Twitter Ads info and privacySee Vincent Lee's other Tweets
Meanwhile, Vice President Mike Pence has added Larry Kudlow, Steve Mnuchin and Surgeon General Jerry Adams to the White House's Coronavirus Task Force.

Phil Mattingly✔@Phil_Mattingly
Treasury Sec. Steve Mnuchin, NEC Director Larry Kudlow and Surgeon General Dr. Jerome Adams added time the Coronavirus Task Force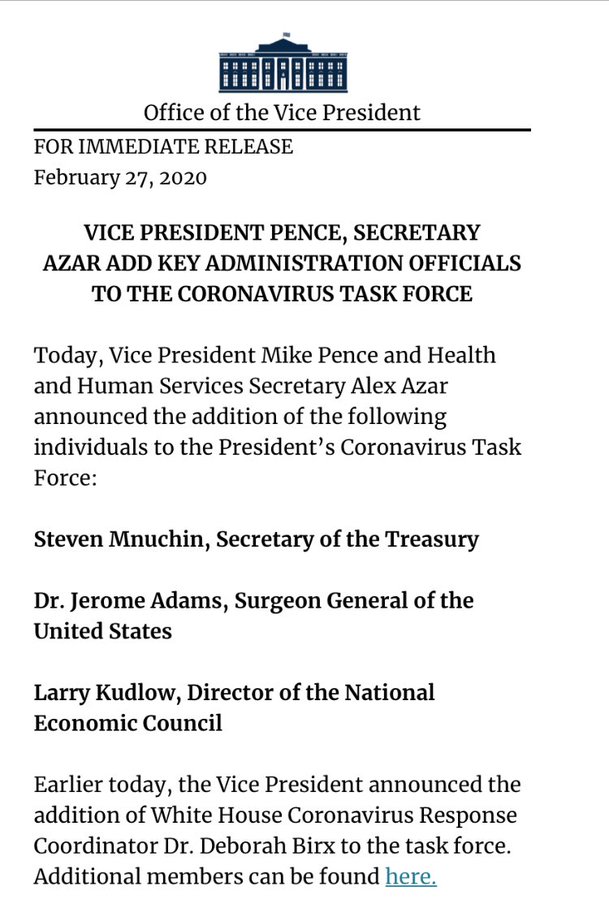 2111:50 AM – Feb 27, 2020Twitter Ads info and privacy56 people are talking about this
Notice how the press release headline includes Pence and Secretary Azar, following all the press questions about Trump being disappointed with Azar's performance, as the former pharmaceutical lobbyist has been criticized for being unfamiliar with key details and slow on his feet during yesterdays' Congressional subcommittee hearing.
Also, it looks like economic concerns will be well-represented during these task force meetings.
OK, I get the Surgeon General.

But Mnuchin?? KUDLOW?????

*PENCE ADDS MNUCHIN, ADAMS, KUDLOW TO VIRUS TASK FORCE1212:03 PM – Feb 27, 2020Twitter Ads info and privacySee Brian Chappatta's other Tweets
* * *
Update (1220ET): An update on the case of "unknown origin" in the US, since it has caused some confusion.
Last night, the Washington Post reported that the case was isolated in Sonoma County. The CDC later warned about the possibility of a community outbreak in the county.
On Thursday, the CDC confirmed that the patient is from Solano County, according to local media reports and a statement from the CDC.
.@CAPublicHealth says the first possible community transmission of coronavirus in California involved an individual who lives in Solano County in the Bay Area.

"The individual had no known exposure to the virus through travel or close contact with a known infected individual."

1657:47 PM – Feb 26, 2020Twitter Ads info and privacy162 people are talking about this
* * *
Update (1150ET): A rare glimpse of bullish economic news out of China: Starbucks says it has reopened 85% of its stores in China, its "second home market," according to a company statement to CNBC.
"I started with day over day growth," he told me, using publicly available data released by China. "[I then] took that data and dumped it into an AI neural net using an RNN [recurrent neural network] model and ran the simulation ten million times. That output dictated the forecast for the following day. Once the following day's output was published, I grabbed that data, added it to the training data, and re-ran ten million times."
The results so far have successfully predicted the following day's publicly-released numbers within 3%, Ross says.
The results were shocking. Horrific, even.
From 50,000 infections and 1,000 deaths after a week to 208,000 infections and almost 4,400 deaths after two weeks, the numbers keep growing as each infected person infects others in turn.
In 30 days, the model says, two million could die. And in just 15 more days, the death toll skyrockets.
But there is good news.
The model doesn't know every factor, which Ross knows.
And multiple doctors and medical professionals say the good news is that the conditions and data fed into the neural network are changing. As those conditions change, the results will change massively.
One important change: the mortality rate.
"If a high proportion of infected persons are asymptomatic, or develop only mild symptoms, these patients may not be reported and the actual number of persons infected in China may be much higher than reported," says Professor Eyal Leshem at Sheba Medical Center in Israel. "This may also mean that the mortality rate (currently estimated at 2% of infected persons) may be much lower." Dr. Eyal Leshem, and his quotations. Sheba Medical Center is recognized as one of the top 10 hospitals worldwide by Newsweek. Very Caring People at this Medical Center…
Wider infection doesn't sound like good news, but if it means that the death rate is only .5% or even .1% … Coronavirus is all of a sudden a much less significant problem.
Also, now that the alarm has gone out, behavior changes.
And that changes the spread of the disease.
"Effective containment of this outbreak in China and prevention of spread to other countries is expected to result in a much lower number infected and deaths than estimated," Leshem says.
Dr. Amesh A. Adalja, a senior scholar at Johns Hopkins Center for Health Security, agrees.
"The death rate is falling as we understand that the majority of cases are not severe and once testing is done on larger groups of the population — not just hospitalized patients — we will see that the breadth of illness argues against this being a severe pandemic."
That's one of the key factors: who are medical doctors seeing? What data are we not getting?
"The reported death rate early in an outbreak is usually inflated because we investigate the sickest people first and many of them die, giving a skewed picture," says Brian Labus, an assistant professor at the UNLV school of public health. "The projections seem unrealistically high. Flu infected about 8% of the population over 7-8 months last year; this model has one-third of Earth's population being infected in 6 weeks."
All these factors combined create potentially large changes in both the rate of infection and mortality and even small changes have huge impacts on computer forecasts, says Dr. Jack Regan, CEO, and founder of LexaGene, which makes automated diagnostic equipment.
"Small changes in transmissibility, case fatality rate, etc., can have big changes in total worldwide mortality rate."
Even so, we're not completely out of the woods yet.
"To date, with every passing day, we have only seen an increase in the number of cases and total deaths," Regan says. "As each sick individual appears to be infecting more than one other – the rate of spread seems to be increasing (i.e. accelerating), making it even more difficult to contain. It appears clear that this disease will continue to spread, and arguably – is unlikely to be contained and as such may very well balloon into a worldwide pandemic."
In other words, despite all medical efforts, Coronavirus is likely to go global.
But, thanks to all those medical efforts, it's unlikely to be as deadly as predicted.
It's worth noting, after all, that the common flu, which has been around forever — and is blamed for killing 50 million people after World War I, is still around. So far this season, the flu has infected 19 million, caused 180,000 hospitalizations, and killed 10,000 … just in the United States.
And no-one's buying masks, closing borders or stopping flights for that.
As for the technologist who created the AI-driven model in the first place? No-one would be happier if its predictions turn out to be just bad dreams.
"Although AI and neural nets can be used to solve for and/or predict for many things, there are always additional variables that need to be added to fine-tune the models," Ross told me. "Hopefully governments will understand that additional proactive action today will result in less reactive action tomorrow."

With global coronavirus infections now topping 80,000 according to "official" numbers, California now has 8,000 people under self-quarantine, which essentially means they're given suggestions to avoid interacting with others.
According to the SF Chronicle, the California Department of Public Health just released this number earlier today. Yet apparently none of these people have been tested for the coronavirus since California isn't releasing any numbers describing how many people are being tested (hint: it's essentially zero).
According to California's Dept. of Public Health coronavirus page, a grand total of "185 persons have been tested to date," but all that testing has been conducted by the CDC in Atlanta. "At this time, the only laboratory testing for the novel coronavirus is being done at the Centers for Disease Control and Prevention's (CDC) laboratory," says the California government's web page.
No TESTING results in "no evidence" of any transmission… it's a miracle of modern medical science
Since virtually no one is being tested for the coronavirus in America, California's Dept. of Public Health is able to claim, "There is no evidence of sustained person-to-person transmission of the virus in the United States" and "However, the health risk to the general public in California remains low. "
Obviously there cannot ever be evidence of "sustained person-to-person transmission" if the people who are infected are never tested. This now appears to be the entire containment strategy of California, Washington, Hawaii, and the CDC.
We call it the, "Don't Test, Don't Tell" approach to pandemic management.
Oh, and as a bonus, California "self-quarantine" protocols are essentially nothing more than giving people suggestions on their behavior, with zero enforcement or monitoring. And as we've already seen in Taiwan, South Korea, Japan and elsewhere, people routinely disobey "voluntary" quarantine rules, or they make excuses for themselves like saying, "But I was only in the grocery store for five minutes…"
The CDC has only tested 426 people in the entire country, including the 185 from California
Following San Francisco's state of emergency declaration yesterday, now Orange County has declared a state of emergency due to the coronavirus, reports Fox 11 out of Los Angeles:
Orange County officials declared a local health emergency Wednesday in response to the coronavirus, which has now infected more than 81,000 people worldwide.
Michelle Steel, chair of the County Board of Supervisors, and board Vice Chair Andrew Do made the announcement at an early afternoon
news conference.
She was quick to note "there are no current incidents reported in the county of Orange," adding yet more confusion to the pattern that an increasing number of cities and counties are declaring emergencies for a global pandemic the entire establishment media claims will never hit America and is no big deal.
Also from Fix 11 LA:
San Diego County officials declared a local emergency in response to the coronavirus on Feb. 14. Officials there stressed that the declaration was not an indication of a greater risk of contracting the virus locally, only an effort to ensure the county was prepared to respond should an outbreak occur.
The CDC has so far tested just 445 people in the entire United States since day one, a number now being tracked in real-time at Pandemic.news, with links to CDC.gov.
Pandemic.news is also putting together a detailed list of public health departments for all 50 states, along with the number of people being tested in those states. The current number for nearly all states is zero.
Korean Air flight attendant working LAX tests positive for the coronavirus
CBS News out of Los Angeles is now reporting a Korean Air flight attendant has tested positive for the coronavirus after working the LAX flight route, spanning "several flights" out of LAX.
Before being diagnosed with the coronavirus, she worked:
– A flight from Tel Aviv, Israel to Seoul, South Korea
– Multiple flights from Seoul to LAX
It's not yet known exactly how many passengers were on those flights, but international flights typically carry 300+ passengers on each flight.
The coronavirus fiasco with the Diamond Princess cruise ship — and its ill-fate evacuation charter flights that spread the infection even further — proves the coronavirus is especially adept at infecting people who share enclosed spaces such as ships or airplanes.
It's abundantly clear there is an uncontrolled outbreak in California right now, and only 200 people have been tested so far
What we are witnessing here is a steady increase in the number of cities and countries declaring emergencies while claiming there is no emergency.
We are told there are no community outbreaks in California, but according to the state's Dept. of Health website page on the coronavirus, only "approximately 200 persons have been tested to date."
Note that California doesn't even know the exact number, and if it's anywhere near 200, that's shockingly small.
More than 8,000 people are currently under self-quarantine in California. Apparently, almost none of them have been tested at all.
It begs the obvious question: How is anyone going to detect coronavirus outbreaks if virtually no one is being tested for the coronavirus in America?
What's astonishing about all this is the fact that the CDC has only tested 426 people in the entire country, according to its own official website: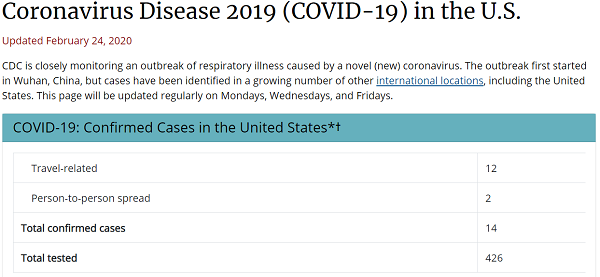 During this same time period, South Korea has managed to test 28,000 people and China has tested hundreds of thousands. Yet in America, where we're all told we have the best medical system in the world, we can only test an average of 16 or 17 people per day?
It's a joke.
Actually, it's a criminally negligent cover-up.
The CDC, we now believe, has ordered U.S. states to halt all testing in order to avoid confirming any "community outbreaks" in the United States. This is being done maliciously, deliberately, putting the lives of Americans at risk in order to control the narrative and try to manage emotions rather than stopping the pandemic.
The official narrative that "this is no worse than the flu" is a calculated lie. It's the equivalent of saying, "Vaccines never harm children" or "All prescription medications are proven safe."
These medical industry lies to get people killed. Large numbers of people… hundreds of thousands each year in the United States alone. And when these same propaganda strategies are applied to a deadly, rapidly exploding biological weapon system like COVID-19 coronavirus, millions of lives are placed at risk in America alone.
Listen to my new podcast here, explaining why an incompetent government allows the coronavirus to spread faster:
Brighteon.com/939796f0-8049-4214-a6c3-7888470be2a7
Summary:
Stocks slide as CDC releases new US case numbers
The number of cases worldwide topping 80,000.
Italy reports 7th death, 200+ confirmed cases
Spain reports 3rd case
WHO says outbreak, not yet a 'pandemic'
WH reportedly considering the expulsion of Chinese journalists in retaliation for WSJ reporters
US consulate in Milan temporarily halts visas
California has 8,000 under 'self-imposed quarantine'
CDC warns Americans against travel to South Korea
Italian finance minister suspends tax payments in virus-hit areas
First cases reported in Oman, Bahrain
WHO kowtows to China in statement
Wuhan issues order to loosen lockdown, then U-turns
NHC says the outbreak is fading, though the situation remains "grim"
2 new cases confirmed in Canada
China approves crackdown on wildlife trade after WHO says virus likely came from bats
An Iranian lawmaker says more than 50 deaths in Qom; officials say 12
Hong Kong bars South Koreans
South Korean cases rise 60 to 893, Daegu city locked down.
* * *
Update (2000ET): The number of cases worldwide topping 80,000…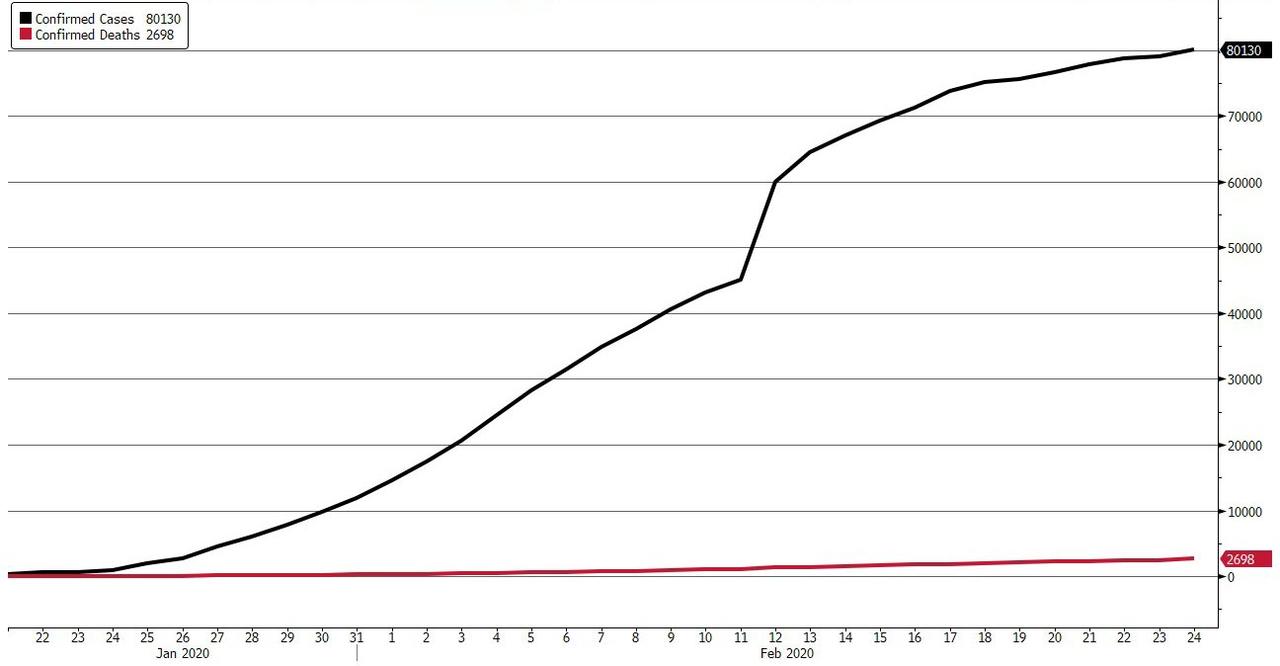 In their latest update, South Korea has admitted 60 more cases, making a total of 893.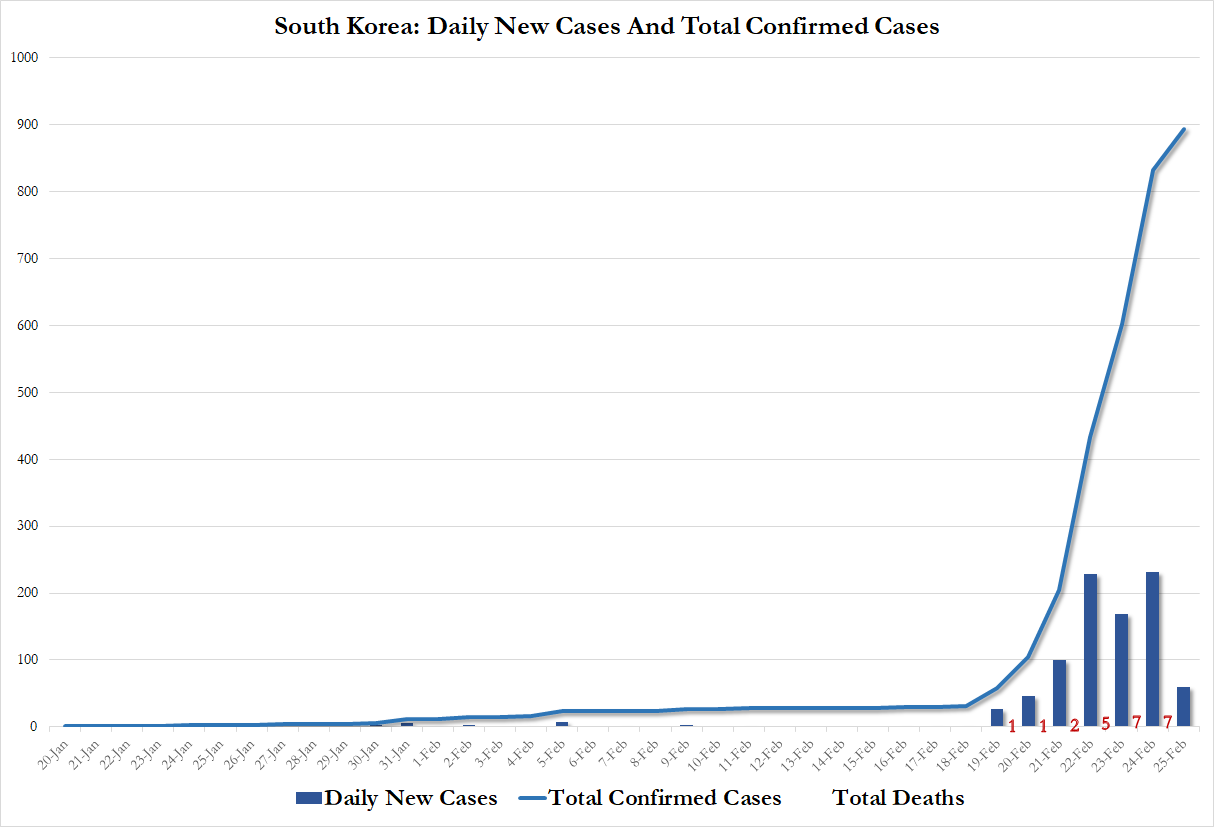 And, as the virus spreads, South Korea is about to go 'full China' on its people as Yonhap reports the cities of Daegu and Gyeongbuk, where the virus is spreading rapidly, have been designated as special disease management areas for infectious diseases.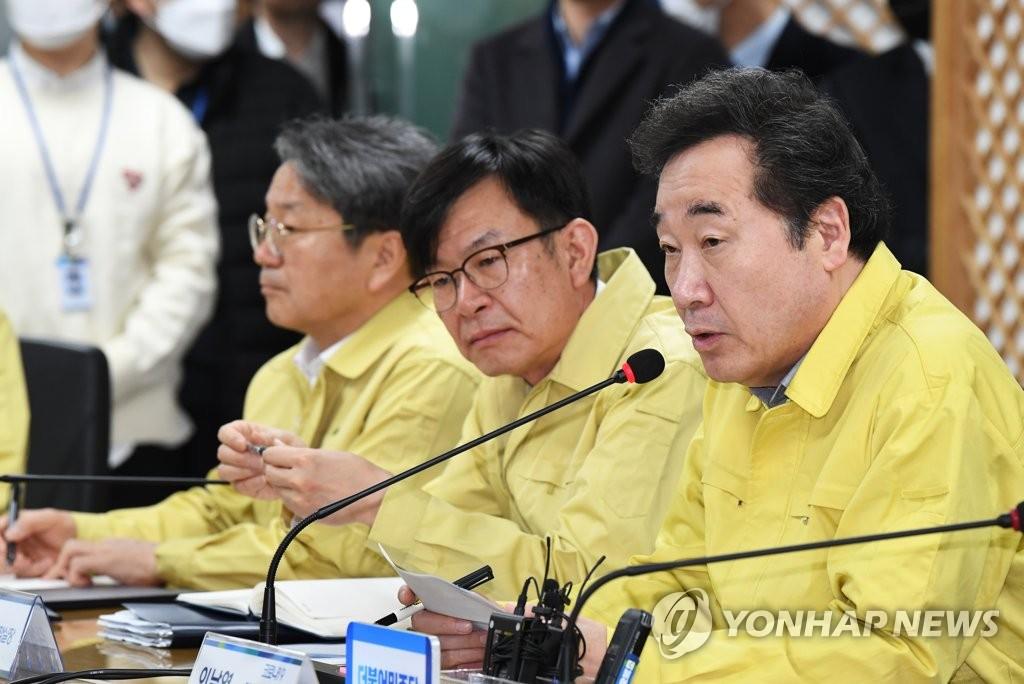 Simply put, this means that as Democratic Party spokesman Hong Ik-pyo explained, "A blockade is being considered by the government, and we are considering using some administrative power in areas such as movement."
Locals have called this a strategy to "enforce the maximum containment policy" – in other words, the full lockdown of a city of 2.5 million people (the 4th largest in the country).
* * *
Update (1845ET): The CDC has outmaneuvered the State Department and issued a travel warning on South Korea.
CDC WARNS AMERICANS ON TRAVEL TO SOUTH KOREA
This just hours after President Trump tweeted that it's time to buy stocks because the crisis is under control.
* * *
Update (1825ET): As we mentioned earlier, the state of California has thousands of individuals under a 'self-imposed quarantine'. But what, exactly, does this mean?
As the SF Chronicle points out, this figure is up from 6,700 last week.
The Press Democrat reports that all of the people under self-imposed quarantine recently visited China, but have no other connection to a sick individual, and have shown no other signs of the virus.
These people returned to the US either on or after Feb. 2 as countries started tightening borders.
While making a case for full-on quarantine might be difficult, Italy and SK have identified cases where the chain of infection is murky. Some haven't traveled abroad. Some visited hot zones weeks ago and are just beginning to show symptoms.
It's certainly something to think about consider that, as we reported earlier, the CDC only has only tested about 400 individuals.
* * *
Update (1745ET): Here's more news while we wait for the new China and South Korea numbers to hit.
In the latest virus-related update out of Europe, Spain just reported its third case, according to Spanish newspaper El Pais.
According to the report, the individual is a "traveler" from Italy.
SPAIN REPORTS 3RD CASE OF COVID-19 TRAVELER FROM ITALY – EL PAIS NEWS
In other virus news, two companies, UAL withdrew its 2020 forecasts on Monday night, citing a "~100%" decline in near-term demand from China. Mastercard also forecasts lower revenue growth, citing the virus impact.
Update (1450ET): We spotted an interesting tidbit at the bottom of a recent update to the Monday's NYT coronavirus liveblog:
The new virus presents Europe with perhaps its greatest challenge since the 2015 migration crisis. It could test the principle of open borders within much of Europe and the vaunted but strained European public health systems.
Could the outbreak present an opening for Matteo Salvini as he struggles to displace the Five Star-PD coalitions and become prime minister?
In a country as badly in need of revenue as Italy, it would take a true disaster to suspend tax collection. Alas, it looks like that has finally happened, as Italy's finance minister suspended tax payments in regions hard-hit by the virus.
* * *
Update (1425ET): Following the CDC confirming 18 new cases in the US, including two that were non-Diamond Princess related, Canadian public health officials have just confirmed that two individuals have tested positive for the virus, bringing the total number of infected in the US's northern neighbor to 11, the Washington Post reports.
Like their American counterparts, Canadian officials insisted that the overall risk to the population remains "low".
In British Columbia, a man in his 40s tested positive for the virus, provincial health officer Bonnie Henry told reporters. He is a close contact of a woman who health officials said last week tested positive for the virus after traveling to Iran, and is in stable condition at home.

Henry described the woman's case as a "sentinel event" because it indicated that there could be "more widespread transmission" of the virus since she had not traveled to China or its neighboring countries.

Earlier Monday, Eileen de Villa, Toronto's medical officer of health, said that a woman in her 20s who recently traveled to China also tested positive for the virus. She arrived in Toronto on Friday and had spent some time in Wuhan, the city at the epicenter of the outbreak.
Earlier, WaPo reported that the White House is alarmed by gaps in the American supply chain that could impact the response to the coronavirus if the outbreak becomes an out-of-control catastrophe.
The US insists that all of the cases in the country so far were infected in China, excerpt for 2, according to the NYT:
All the new cases reported Monday occurred among people who were flown back from Asia to the United States by the State Department, the C.D.C. reported, and nearly all involve former passengers on the Diamond Princess cruise ship docked in Japan. They are in quarantine on military bases in California and Texas.

Twelve other cases occurred in people who had traveled to China, returned on their own and became ill after arriving back in the United States. Two of their close contacts also became infected.

Those 14 people are either isolating at home (under supervision from health officials), being treated at hospitals, or have already done so. Four of those infected people have recovered, been through the quarantine periods and are back out in the world.
* * *
Update (1420ET): We're noting some new info from the CDC about the latest cases diagnosed in the US. Of the 14 non-Diamond Princess-related cases cited earlier, two of them are new: One is in Humboldt County, and the other in Sacramento County, both in California, per the Guardian.
The CDC added that it's preparing for outbreaks that could warrant the closure of schools and universities in the US.
* * *
Update (1350ET): Reports claim Washington is weighing a decision to expel Chinese journalists after Beijing canceled the press credentials of 3 WSJ reporters over an allegedly 'racist' opinion column.
In response to Beijing's decision, the State Department published an official condemnation.

The United States condemns the move by China to expel three @WSJ journalists. Mature, responsible countries understand that a free press reports facts and expresses opinions. China should not restrict #freespeech. https://go.usa.gov/xdUW4 Chinese Action Against Journalists – United States Department of StateThe United States condemns China's expulsion of three Wall Street Journal foreign correspondents. Mature, responsible countries understand that a free press reports facts and expresses opinions. The…state.gov9,43811:27 AM – Feb 19, 2020Twitter Ads info and privacy10.5K people are talking about this
Looks like Bloomberg got the scoop:
Scoop from @nwadhams @SalehaMohsin and @JenniferJJacobs

White House considering retaliating against China's expulsion of WSJ journalists with journalist expulsion of its ownhttps://www.bloomberg.com/news/articles/2020-02-24/u-s-mulls-expelling-chinese-journalists-after-americans-barred …U.S. Mulls Expelling Chinese Journalists After Americans BarredThe U.S. is weighing whether to expel Chinese journalists after China kicked out three Wall Street Journal reporters, part of a push by the Trump administration to show leaders in Beijing that it…bloomberg.com712:48 PM – Feb 24, 2020Twitter Ads info and privacySee Joe Weisenthal's other Tweets
By expelling Chinese journalists, the US would be seeking to show Beijing that it won't stand idly by and tolerate these press restrictions. President Trump, whose administration has been characterized by a deep and abiding animosity toward the press, marks an unusual example of Trump siding with the American media.
It also comes after the State Department last week designed five Chinese media organizations as "foreign missions": these included Xinhua and the PD.
Also, it's notable that the meeting where the administration officials reportedly discussed the retaliation was led by Matt Pottinger, a deputy national security advisor and former WSJ reporter who is purportedly the administration's point man on Asia policy.
The administration's options were to be discussed in a meeting of senior administration leaders at the White House later Monday led by Matt Pottinger, the deputy national security adviser who was once a Wall Street Journal reporter in Beijing, according to U.S. officials familiar with the deliberations.

There's an intense debate over how severely to respond to the expulsions last week. Some advocate ordering dozens — and perhaps hundreds — of Chinese reporters to leave, while others say that's not legally possible or in keeping with American values on freedom of the press, according to several of the officials.

While declining to comment on specific actions under consideration, John Ullyot, a spokesman for the National Security Council, said Friday that China's move against the American reporters was an "egregious act."
It's also notable that WSJ is owned by Trump ally Rupert Murdoch.
In other news, the American consulate in Milan has said it will halt visa approvals until March 2 as the outbreak in Italy worsens.
Can't say we blame them: Here's an update of our chart of the cases in four of the countries with the largest outbreaks outside China.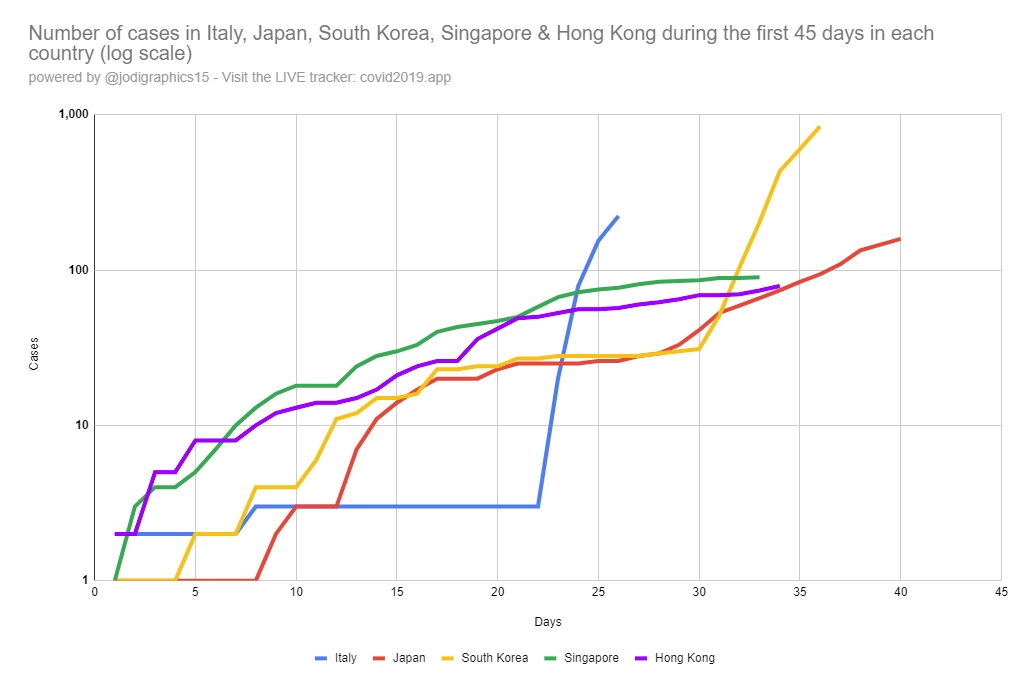 * * *
Update (1340ET): A Chinese airline is reopening domestic flights as Chinese officials start to lower their crisis-level outbreak standards, while UAL said Monday that it wouldn't cancel flights between the US and South Korea.
As China tries to encourage its people to get back to work, it looks like the CCP is now telling villagers that only obedience to The Party will cure the virus.
Update (0835ET): As the WHO team wrapped up its Monday press conference with what was essentially tantamount to a global confidence-building exercise in China's response, a senior official from China's National Health Commission said the coronavirus risk from Wuhan had gone 'way down.'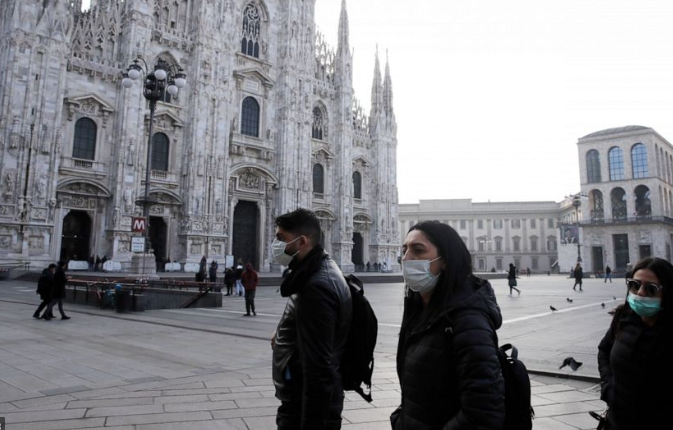 Of course, if that's true, then why did officials cancel a planned easing of the lockdown?
The official added that China has managed to stop the 'rapid rise' of infections in Wuhan, though they haven't stopped the epidemic yet, and that the situation remains "grim and complex" – as President Xi said over the weekend.
Meanwhile, over in Italy, ANSA reports that a sixth person has died.
Even more alarming for football fans across the country: Four Serie A matches were postponed on Sunday, while others on Saturday went ahead.
When American traders logged off on Friday, they might have noticed a few suspicious headlines out of Italy reporting a sudden spike in cases. But anybody who spent the weekend away from their desks and Twitter might be surprised to find that Europe's third-largest economy is now hosting to a genuine crisis.
As we reported over the weekend, more than a dozen towns in Lombardy – the hardest hit region with 167 confirmed cases and 4 deaths – are on complete lockdown. According to the latest update, there are now 219 confirmed cases in Italy, as well as five deaths.
Angelo Borrelli, head of the country's civil protection agency, said Monday during a press briefing that another 91 people are currently in isolation inside their homes.
Following the weekend spike, Italy's neighbors are getting nervous. Austria is exploring border controls, though Germany said Monday that it's not currently considering closing its borders with Italy, an obvious attempt by the de facto leader of the EU to try and quell a continent-wide panic.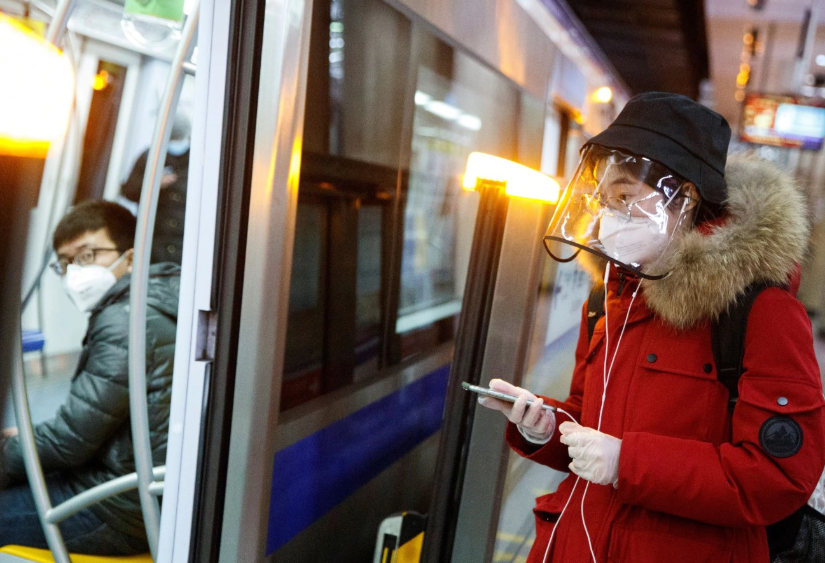 Elsewhere, more countries are tightening restrictions on South Korea. Hong Kong on Monday declared that it would stop non-residents from South Korea from entering Hong Kong.
This has sparked a bemused response from Hong Kongers on twitter:
Our fucking Hong Kong government has just announced that South Koreans will not be allowed to enter HK starting at 6 am tomorrow, but our fucking government has always allowed people from China to enter. What the hell is this going on?96:59 AM – Feb 24, 2020Twitter Ads info and privacySee 邱師奶 CLai.Y's other Tweets
lmao Hong Kong is banning South Koreans from entering Hong Kong as if they'd come to this shithole and get infected with the china virus86:52 AM – Feb 24, 2020Twitter Ads info and privacySee いかす's other Tweets
A recent poll showed that a majority of the people in Hong Kong don't trust the data provided by the Chinese government or the WHO.
* * *
In Italy, it seems like most of the dead fit the profile of elderly patients with co-occurring health problems. One of the two most recent deaths was reported to be a man from the village of Val Alzano Lombardo. He died at the Papa Giovanni XXIII hospital in Bergamo, near Milan. The hospital said the 83-year-old man (reports on his age differ) had a serious underlying health problem, but it didn't specify what it was, according to CNN.
As WHO officials finished off preparations for their big press conference Monday morning, Beijing announced that it would delay the National People's Congress, which had been set for early March. The move was telegraphed by leaked media reports well in advance.
Officials said Monday the key political meetings, originally due to take place from March 5, would be rescheduled. Analysts said the government in Beijing was worried about the optics of holding a large-scale public event while millions are living under lockdown. We agree – that would not be a good look for the CCP right now, especially after all of those videos of police rounding up violators of the lockdown who was probably just trying to find something to eat.
President Xi said one day earlier that China is in a "crisis" that would inevitably impact the country's economy. But whatever the fallout, he promised it would be brief and manageable.
Following the departure of the WHO team from Wuhan, local authorities made an extraordinary decision: all of a sudden, the cities' most senior officials announced a loosening of the city's lockdown. Millions rejoiced.
But they were soon disappointed: Because three hours later, the order was reversed, we assume after Beijing caught wind of it.
According to the SCMP, the retracted announcement was issued by a 'subordinate working group' that didn't have official approval from their superiors. The individuals responsible will be 'reprimanded'. The lockdown has been in effect since Jan. 23.
The order would have allowed non-residents with no symptoms and no contact with infected patients to leave, a decision that would have freed thousands of foreign students.
In other news, Guangdong, China's second worst-hit province, has downgraded its level of alert, with local officials saying the outbreak has mostly been contained to Hubei.
As we reported last night, figures released early Monday in China reported 409 new cases of the novel coronavirus and 150 new deaths from the outbreak on Sunday. That brings the total number of confirmed cases to 77,150, with a death toll of 2,592 (which will be higher if the Iran deaths are confirmed). The majority of new cases, 398, were in Hubei.
In Israel, PM Benjamin Netanyahu is fighting for his political future in a critical upcoming election that could see him jailed if he doesn't hang on to power. So the heavy-handed measures to contain foreigners suspected of carrying the virus are hardly a surprise. In the latest step to contain the virus, Israel will send hundreds of East Asian nationals back to their home countries in the coming days, according to the Israel Airport Authority.
While Iran remains the epicenter of the outbreak in the Middle East, and several neighbors have already closed their borders, the first confirmed case was detected in Bahrain overnight.
Now, just imagine if Trump did that.
Vietnamese airline Bamboo Airways is suspending all flights to South Korea starting from Feb. 26.
In closing, we bring you comments made by Warren Buffett in an interview with CNBC, a clip of which was released on Monday. The 'Oracle of Omaha' said the virus is 'scary stuff'. But it shouldn't impact humans' decisions about whether to buy or sell stocks, Buffett said, alluding to the old Ben Graham axiom that stocks should be bought and held based on the fundamental value of the underlying company.
But as twitter's Mark Spiegel joked, Buffett's remarks had an unexpected connotation:
Humans don't buy stocks anymore, dummy! and STOP listening to reprobates, they are lost in the world of delusion. SRH…
MSM, High-Tech & Reddit Engaged in Heavy Censorship of Truthful News Sources…
It may come as a shock to many Americans but the Centers for Disease Control and Prevention (CDC) will most likely prove rather powerless in halting the spread of the coronavirus. High profile incidents covered by the media often reassures the public that the government stands ready to rush to our aid in case of a national disaster. Following a tornado or hurricane, we often see news coverage of FEMA workers spreading out and moving from door to door offering help to Americans in need. This reassuring media coverage is misleading. Be prepared that in the case of a major crisis, such as the coronavirus pandemic or disaster the government will not be much help. If and when a large "Armageddon" event covering a large area does occur we will quickly become acutely aware that God helps those who help themselves.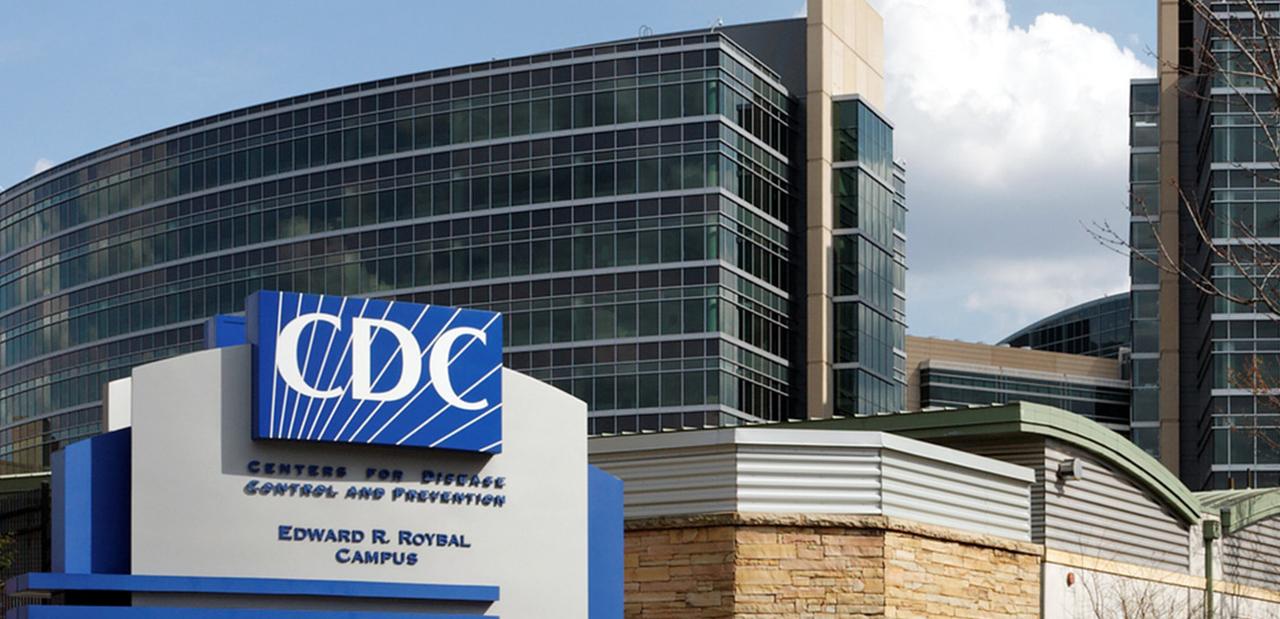 On route to a meeting at the World Health Organization (WHO) in Geneva on Tuesday, Prof Gabriel Leung, the chair of public health medicine at Hong Kong University, told the Guardian an "attack rate" of 60-80% may occur. Currently, the CDC, even with its 11.1 billion dollar budget, is showing that it is powerless to even rapidly conduct a large number of tests on those likely to be carrying the coronavirus. The epicenter of this rapidly spreading killer bug is Wuhan, China and it is far from contained. Much is still unknown about this virus but accompanying its spread has been a great deal of economic damage as businesses are forced to temporarily close. Claims by President Trump the health and the economic toll will soon pass and be very limited may be overly optimistic.
The trend of the government pandering to victims that we have seen develop over the years may be a result of the battering former President Bush took in opinion polls following Hurricane Katrina. The pictures that the media posted following a slow response in handling Katrina victims haunted the Bush administration and painted Bush as being insensitive and out of touch with the plight of poor Americans. At what point did the government become responsible for dispensing sorrow and grief? The bar to show concern for every shooting or incident is currently set so low it impairs what gets done in Washington.
During A Real Disaster, Help Will Be Hard To Find
It appears in our media-driven world, the President has been given the role of consoler in chief and is expected to pour forth sympathy and cast out concern for every American following an incident of destruction or violence. It does not matter if it is an accident, shooting, or some natural disaster. In recent years all this has reached new heights where even in the case of a few deaths it is not uncommon to see the President leaping upon Air Force One and rushing to the scene to sympathize with families and friends. In this politically correct world, it has even gone so far as to the President being expected to weigh in as to minor tragedies that occur throughout the world.
A great deal of time is wasted performing these acts that could be better used and focused on solving many of the real and pressing problems that face America. I contend this pandering is a major disservice to Americans in that it fosters the impression that the government will be there for you if you ever get into a pickle or jam. While reassuring to many the false illusion of a competent and effective government ready to come to your aid comes at the cost of raising unrealistic expectations. I suspect that with the formation of the massive Homeland Security Agency this may be a case of reassuring the masses that their tax money has not been wasted.
A perfect example of just how impotent our government has become was demonstrated following the Boston Marathon bombing. The government threw a huge amount of manpower into searching for the perpetrator but in the end, it was a homeowner checking the tarp on his boat noticing a spot of blood and not the thousands of law enforcement officers that brought the manhunt to an end. No matter how much planning is spent it is silly to think someone can quickly rush to an area they are unfamiliar with and institute actions to efficiently solve massive problems. Do not be fooled, in the case of a real disaster the government is generally not very effective. The real help will come from your neighbors, this has been the case throughout history.
All disasters are not created equal. In all reality, the Federal government would be relatively ineffective and not much help in a major crisis that covered a large area and affecting tens of millions of Americans. Anyone who has ever experienced the frustrations caused by a bad storm with power outages and such will tell you most help comes from nearby and the government is not the answer. People who adopt the attitude that they are a victim following a real disaster and then simply wait for the government to arrive to set things straight is making a huge mistake and are risking the kiss of death.
Social Media Networks Vow To Censor "Misinformation" About Coronavirus, Shouldn't we be able to decide what we believe and what we don't without information being engineered to fit a narrative? Shouldn't we be able to base our pandemic preparedness plan on all the information out there? Instead, we're provided with "narratives" and biased information. That's something we here at The Organic Prepper have warned about repeatedly. If you can't trust your intel, it makes it difficult to make informed decisions. This just makes it seem like there's something to hide…
Yesterday, social media giants like Facebook and Twitter, and search engine Google announced their intentions to censor – um, the crackdown on – so-called "misinformation" about the coronavirus that is spreading across the globe.
MSM, High-Tech & Reddit Engaged in Heavy Censorship of Truthful News Sources
Everything is right on schedule and, now, the time is come to remove one of the final obstacles standing in the way of a New World Order: The United States Constitution – even if, over the course of many decades, it has already been greatly diminished by the B.E.A.S.T. system; or, more specifically, Bullshit Emerging As Strategic Totalitarianism (B.E.A.S.T.).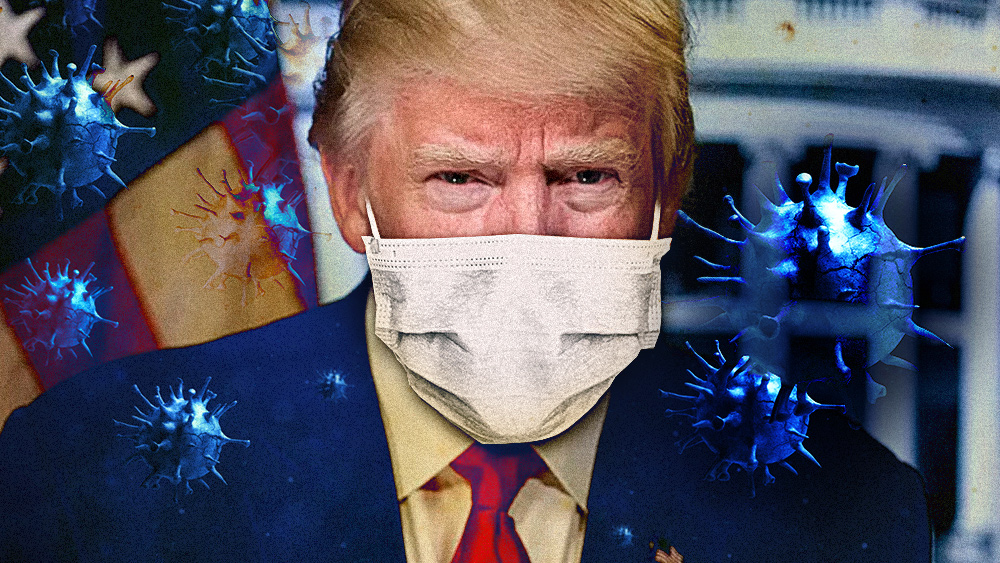 In order for sin to work, there has to be a "suppression of the truth."
The U.S. Centers for Disease Control and Prevention (CDC) is reporting that there are now 34 confirmed cases – and possibly a 35th case – of the Wuhan coronavirus (COVID-19) in the United States, accelerating fears that a widespread outbreak is now occurring on our own native soil.
According to reports, 21 of these 34 cases involve patients who were repatriated from foreign countries by the State Department, and of these, all but three were evacuated from the Diamond Princess cruise ship that is now docked at Yokohama, Japan.
As for the other 13 patients, these are all separate cases that didn't involve the Diamond Princess cruise ship, but rather travel to and from Wuhan.
The most recent confirmed diagnosis occurred in Humboldt County, California, in an individual who recently returned from a trip to mainland China, CDC head Dr. Nancy Messonnier told reporters during a recent phone call.
The Department of Health and Human Services (HHS) says that close contact of this most recent patient is also showing symptoms of the Wuhan coronavirus (COVID-19), but that both individuals "are doing well and self-isolating at home."
Probably due to its proximity to China and massive size, California currently has the highest number of Wuhan coronavirus (COVID-19) cases, with the majority being people who were aboard the Diamond Princess cruise ship. The rest of the cases involve people who recently returned from China, or who had contact with others who did.
CDC caught splitting numbers to hide true coronavirus count
If you take a look at the CDC website yourself, you may notice that the official number isn't quite as high as 34. This is because the CDC has decided to separate the cases involving repatriation from those involving travel to China, claiming that the former "doesn't reflect transmission and risk in general in the U.S.," according to Dr. Messonnier.
This is somewhat deceptive, seeing as how the repatriated cases are reportedly being distributed all across the country, in many cases to mystery locations, for mandatory treatment and quarantine at undisclosed hospitals.
While the CDC claims that these cases aren't a risk to the general public because they're being held in strict isolation rooms where advanced protocols are being taken to avoid further transmission, these are still known coronavirus cases that would seem to belong as part of the official count.
At the same time, federal officials are expecting more cases of the Wuhan coronavirus (COVID-19) to emerge among the other passengers of the Diamond Princess cruise ship who have not yet tested positive for the disease. This makes sense as all of the passengers were in extremely close quarters with one another, eating from the same buffets, and spending time in the same ballrooms and lounge areas.
Officials are also now admitting that it is "possible," and "even likely," that community spread of the virus will occur elsewhere in the U.S., and that more extreme measures like those being taken in places like South Korea and Vietnam may also need to occur here on our own soil in the not-too-distant future.
"The day may come when we will need to take such measures in the United States," admitted the CDC's National Center for Immunization and Respiratory Diseases in a statement to the media.
The decision by the State Department to allow infected repatriated individuals to fly on the same airplanes as uninfected individuals would seem to validate this warning.
U.S. government officials are NOT doing their best to keep the general population calm, what is happening in the rest of the world. There are now empty store shelves in Italy just like there are in China. People are waiting in extremely long lines to buy masks in South Korea just like we saw in Hong Kong. And victims are literally collapsing in public in Iran just like we witnessed in Wuhan. This coronavirus outbreak is rapidly becoming a true global pandemic, and the panic that this has caused on Wall Street resulted in a 1,031 point drop for the Dow Jones Industrial Average on Monday. Fear is rising all over the planet, and many believe that it is just a matter of time before the same things that are happening elsewhere start happening here.
Originally, 99 percent of the confirmed cases were in China, but now the rest of the globe is starting to catch up.
In fact, the number of confirmed cases outside of China has gotten more than 10 times larger over the last three weeks.
If we continue to see that sort of exponential growth we will soon be facing a nightmare of epic proportions.
In Italy, the number of confirmed cases went from a handful to 229 in just a matter of days. Authorities are desperate to stop this sudden outbreak, and so at this point, much of northern Italy is being shut down…
Checkpoints block entry to a dozen towns across northern Italy. Milan's landmark cathedral and opera house lie empty. Venice's Carnival was ordered closed two days early. Schools are shuttered, soccer matches called off.
Realizing that they may have to stay home for an extended period of time, many in northern Italy have been "panic buying" food…
People in several regions of Italy have reacted to coronavirus spreading throughout the country by panic buying, leaving some store shelves empty.
Source: HNewsWire ZeroHedge TargetNews Forbes
StevieRay Hansen
Editor, HNewsWire.com
Google, No More Electronic Prison: You will see many changes on HNewsWire, one of those changes will be to eliminate Google Ads, the other difference, HNewsWire will NOT post videos on YouTube, it is no longer a question about overreach by the un-godly big tech tyrants. There is no question Big Tech can and will persecute any opposing opinion, they will demoralize, sideline truth seekers and those that speak the truth. The People's Blood is on big tech and mainstream media's hands. Censorship has NOT worked for thousands of years, their evil tactics will not work now, history proves me right, so we watch the drama play out between good (GOD) and evil ( Big Tech MSM ), God has never failed his people, and God will not fail this time…
StevieRay Hansen
The truth is that all of the warnings of alleged 'conspiracy theorists' have turned out to be correct The word translated "pestilence" is often translated as "plague" or "disaster" …
The Bible predicts the rise of this type of societal control within the frightening prophecies about the Antichrist, the final world empire called the Beast, and the final economic system using the Mark of the Beast. The electronic tyranny of technocracy that is now being developed and implemented throughout the world is in preparation for the Antichrist's rise to power. As we see this final empire taking shape in our day, we can know for certain that the End Times is upon us and the Coming of Christ is drawing near. Now is the time to turn away from sin and evil and believe in Jesus before it is too late!
The Un-Godly — Those That Suppress the Truth, the social media giants built multi-billion dollar empires by giving everyone a voice, but now that they have such a dominant position on the Internet they have decided that many prominent conservative voices should be completely silenced.
Despite such extreme negligence, hopefully, everything will be okay. But it should be noted that the CDC is telling hospitals that now "is the time to open up your pandemic plans and see that things are in order"…
"This is the time to open up your pandemic plans and see that things are in order," Dr. Anne Schuchat, a top official of the Centers for Disease Control and Prevention, urged hospitals last week as an outbreak of a deadly new coronavirus ravaged much of China.

"For instance," she continued, health-care providers need to plan for a "surge at a hospital, the ability to provide personal protective equipment for your workforce, the administrative controls and so forth that you might put place in a health care setting."
Anyone that assumed that this crisis would be largely confined to China has been proven wrong. At this point, we have already seen significant outbreaks erupt in several other countries in Asia. In fact, there are now eight other nations where "community spread" is taking place…
Japan
Singapore
South Korea
Taiwan
Thailand
Vietnam
Italy
France
Perhaps the most notable outbreak on that list is in South Korea. According to the Guardian, 31 brand new cases were announced on Thursday…
The South Korean city of Daegu was facing an "unprecedented crisis" after coronavirus infections that centred on a controversial "cult" church surged to 38 cases, accounting for nearly half of the country's total.

The city of 2.5 million people, which is two hours south of the capital Seoul, was turned into a ghost town after health officials said the bulk of country's 31 new cases announced on Thursday were linked to a branch of the Shincheonji Church of Jesus.
If we don't want the same thing to happen here, we need to take this virus very seriously.
Unfortunately, that is simply not happening, and all of us could end up paying a great price as a result.
In order for sin to work, there has to be a "suppression of the truth."
The World leaders Are Having Trouble With The Truth, and The World Has been "Quarantined" Tribulation Is Here…
Thousands of People Are Basically Trapped in a Petri Dish of Disease
Demon Virus
Asked about the virus while traveling abroad last week, Trump said: "We have it totally under control". In a separate Twitter posting, he offered reassurance but scant detail for his confidence.
By Associated Press Updated On: 05:53 PST, Jan 31, 2020
Yes, are we seeing a slowdown in new virus cases reported this morning. We now have 31,481, which does show a day-to-day decline away from an exponential rate of growth if accurate. Yet for those market participants merrily saying this is "just the flu" (there are some) we also have 4,824, 15% of the total, in critical condition and 638 deaths. Further, one arguably cannot measure the death-rate of any virus against the number of currently sick people: you surely measure it against those who eventually recover vs. those who don't. Given we have 1,563 who have recovered vs. 638 dead (and 4,824 critical) that is a worrying ratio of 29% dead as an end-outcome, which is right up there with the MERS virus from a few years ago – although, yes, there is real reason for us all to hope that number will decline sharply as milder cases will be fully curable. But the simple flu this is not.
WASHINGTON: Wuhan coronavirus: Donald Trump says deadly outbreak 'very well under control' as WHO declares a global emergency. President Donald Trump regaled a friendly New Jersey campaign crowd with his thoughts about impeachment, the economy, the border wall, local politics and much more.
But he was conspicuously quiet on January 28 about one big issue keeping much of the globe on pins and needles: the spread of a deadly new type of coronavirus. It has killed more than 170 people in China, sickened thousands more there and led to a handful of confirmed cases in the US, including the first US case of person-to-person transmission reported on by health officials. The State Department on January 30 advised all US citizens against traveling to China.
Trump, a self-described germaphobe, generally has discussed the virus in broad terms, but he offered some of his most extensive comments on the issue to date during an appearance on January 30 at a Michigan manufacturing plant. "Hopefully, it won't be as bad as some people think it could be, but we're working very closely with them (Chinese) and with a lot of other people and a lot of other countries, he said. "We think we have it very well under control."
The Birth Pains Are Growing Stronger….
One of the signs of ruling class collapse is when they can no longer enforce the rules that maintain them as a ruling class. When the Romans started making exceptions to republican governance, it was a matter of time before someone simply decided the rules no longer applied to them. Perhaps the robot historians will consider Obama our Marius or Sulla. Maybe that person is in the near future. Either way, the rule of law is over and what comes next is the rule of men.
"Man will ultimately be governed by God or by tyrants." as in Nancy Pelosi (D-San Fran-feces)
Our government has been overthrown. As evidenced by Trump's capitulation on the border, his recent servitude to the GMO industry and his acquiescence to the warmongers, our President has been compromised. Our liberties are being eliminated one by one. Gun confiscation is next. The Constitution is gasping its last breaths. Our borders are destroyed and our culture has been turned upside down by every perversion known to man.
The watchman does not confuse truth with consensus. The Watchman does not confuse God's word with the word of those who happen to hold power at present, or with the opinion of the majority. This is because powerholders and the majority can fall victim to a lying spirit-and this means a power that actually seizes the majority of experts, the political leadership, and the public.
Everything is right on schedule and, now, the time is come to remove one of the final obstacles standing in the way of a New World Order: The United States Constitution – even if, over the course of many decades, it has already been greatly diminished by the B.E.A.S.T. system; or, more specifically, Bullshit Emerging As Strategic Totalitarianism (B.E.A.S.T.).
They are tolerant of everything except dissenting values and opinions — meaning, of course, they are tolerant of nothing that matters, only themselves."
The Watchman does not confuse truth with consensus. The watchman does not confuse God's word with the word of those who happen to hold power at present, or with the opinion of the majority. This is because powerholders and the majority can fall victim to a lying spirit-and; this means a power that seizes the majority of experts, the political leadership, and the public.StevieRay Hansen
If you have a news scoop or an interesting story for us, please reach out at [email protected]
StevieRay Hansen, reprobates, Big Pharma, biowarfare, cdc fraud, cdc lies, coronavirus, coronavirus facts, coronavirus vaccine, facts about coronavirus, fake news, fear-mongering, lab-made coronavirus, mainstream media, measles, panic, propaganda, vaccine fraud, Western medicine
We are living in exciting times. The Signposts point to Jesus soon return.

The 127 Faith Foundation: We do not solicit donations from "those on disability, on a fixed income, or those who cannot afford to give." Please Pray!
Or, make checks payable to:
The 127 Faith Foundation
PO Box 127
Pontotoc, TX 76869
The number of Orphans aging out of Child Protective Custody has grown at an alarming rate. The 127 Faith Foundation receives many requests each week to house them at our ranch. Our prayer is that the good people of our country will step up to the challenge and offer financial support for "the least among us." We need your help! StevieRay Hansen, Founder, The 127 Faith Foundation
A quantitative data analyst has compiled data from Johns Hopkins University Coronavirus Resource Center and published a video showing a dramatic spike in alleged Covid-19 deaths after…
Read More
We make every effort to acknowledge sources used in our news articles. In a few cases, the sources were lost due to a technological glitch. If you believe we have not given sufficient credit for your source material, please contact us, and we will be more than happy to link to your article.