Congressman Van Taylor Paid Her to Keep Quiet About Affair, This Is Not Just a One-off the Whole Political Landscape Is Rotten to the Core, Ugly, Liars, Fornicators We've Elected This Heap of Garbage to Run Our Country — Biden, Trump, Berry Obama The List is LONG
In a text message to Joya that was reviewed by Breitbart News, Taylor expressed he wanted "a long slow rim job" while he had a drink. He then requested her to "deep throat" him "while you stroke my cock and I cum on your tonsils." That text message was first published late Sunday by National File, and is reproduced here: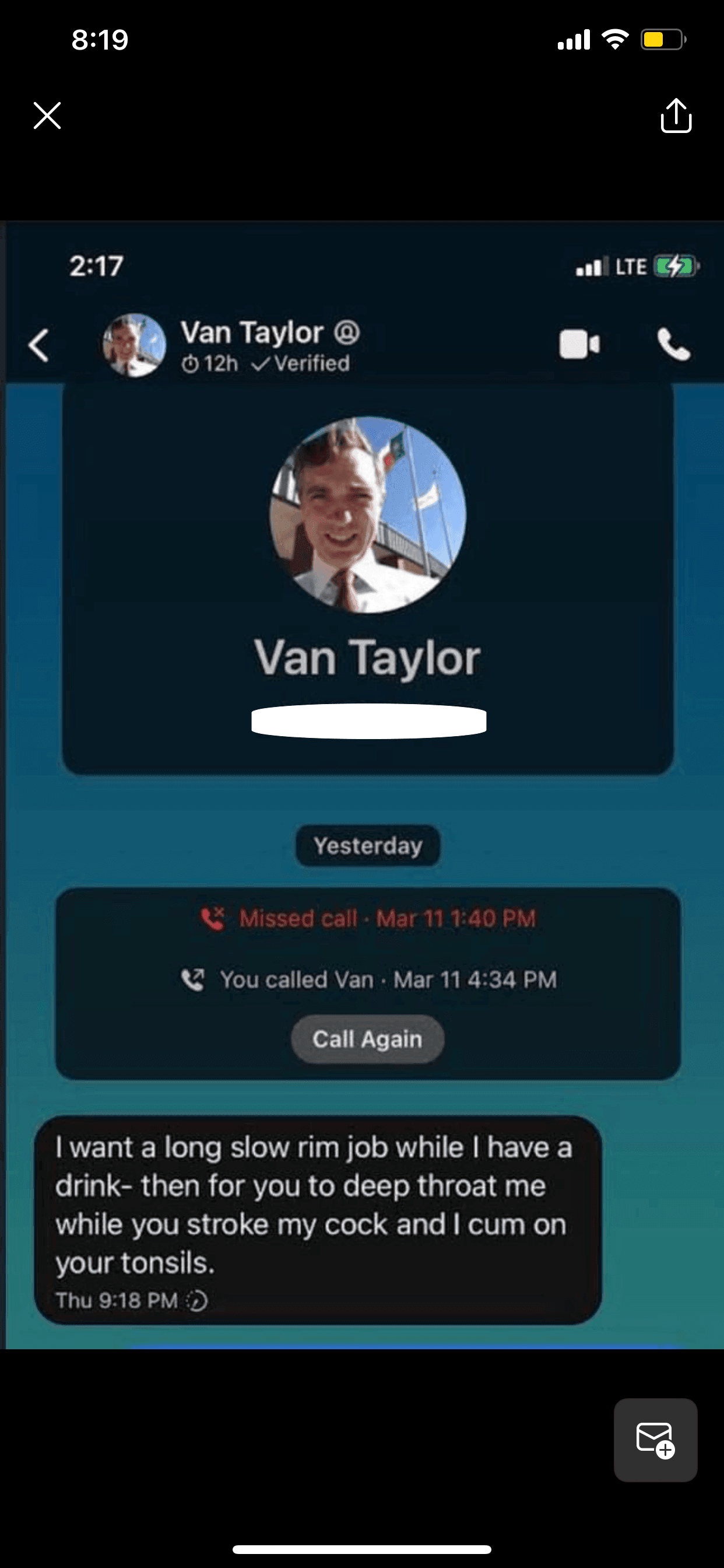 HNewsWire- According to Breitbart News, Texas Rep. Van Taylor (R) reportedly paid $5,000 in hush money to a 'ISIS bride' he was having an affair with during his tenure in Congress.
According to papers given with Breitbart News by 'ISIS bride' Tania Joya, Taylor participated in a wild sexual escapade with Joya from November 2020 to June 2021 – during which she claims Taylor paid her $5,000.
oya had kept their connection a secret until now.
Joya told Breitbart News that she first met Taylor in August 2019 while wanting to become engaged with the district's Preventing Violent Extremism program; Joya believed Taylor could have contacts to enable her engagement.
Taylor is a Republican who is married with three children and was elected to Congress in 2019. He was one of 35 Republicans who voted in support of House Speaker Nancy Pelosi's (D-CA) January 6 Committee establishment. Taylor is seeking re-election in 2022 against four other GOP primary rivals. Tuesday, March 1, is primary day.
Joya informed Breitbart News that her relationship with Taylor started in October 2020 and intensified in November 2020.
"He saw me as his lover." Tania told Breitbart News, "He referred to me as his lover, his mistress." "I informed him that I thought he was handsome. Following that, he would message me nonstop for a full month, every day in October 2020. It was just infuriating. He was insane with want for it."
"He said that he wanted for me to be his devoted, loyal, and permanent mistress," she alleged.
Joya said she feared she was threatened the last time she saw Taylor. Taylor told her, "Oh, you're never going to have a job as a therapist because no one would trust you," she told Breitbart News.
Taylor has declined to speak on many occasions.
Taylor is a married man with three children. He was elected to Congress for the first time as a Republican in 2019. Taylor did vote in support of establishing the January 6 Committee, maybe as a result of his more blue home district.
District three is home to around 913,000 inhabitants who voted for Donald Trump by a margin of 14 points over Hillary Clinton. In 2020, Trump narrowly beat Vice President Joe Biden in the district. Nonetheless, Taylor defeated the Democrat in the 2020 general election with 55% of the vote (42 percent).
District three has apparently shifted to blue in recent years as the white population has dwindled. According to the Cook Political Report, the district's demographics are as follows:
Nowhere has this surge in the population of people of color been more pronounced than Texas' 3rd [Congressional District] held by GOP Rep. Van Taylor. Back in 2010, this district, which takes in the fast growing exurbs north of Dallas (such as Plano and McKinney), was 62 percent white. Today, Census data shows that the white population has dropped almost 13 points to 49.8 percent. Leading the surge in population growth in these exurbs were Asian residents who now make up almost a quarter of the population in the district — up from 15 percent just ten years ago.
The runoff election day will be Tuesday, May 24.
No Allegiance to the People'… Past presidents of the United States and other high profile political leaders have repeatedly issued warnings over the last 214 years that the U.S. government is under the control of an "invisible government owing no allegiance and acknowledging no responsibility to the people." According to six of our former presidents, one vice-president, and a myriad of other high profile political leaders, an invisible government that is "incredibly evil in intent" has been in control of the U.S. government "ever since the days of Andrew Jackson" (since at least 1836). They "virtually run the United States government for their own selfish purposes. They practically control both parties… It operates under cover of a self-created screen [and] seizes our executive officers, legislative bodies, schools, courts, newspapers and every agency created for the public protection As a result, "we……...

Putin: America's politicians will destroy that country and I'll not have to fire a shot.
SRH: It is a pattern evident in nations that rejected God's Word as the ultimate authority in their lives and is a pattern prevailing in many Americans today…
Because of the increase of wickedness, the love of most will grow cold. – Matthew 24:12
Most of the trouble in the world is caused by people wanting to be important.
A Thrilling Ride
Every once in awhile, a book comes across your path that is impossible to put down. A Long Journey Home is not a casual book that you read in a week or earmark to complete at a later date. Once you begin, cancel your schedule, put your phone on silent, find a quiet place where you cannot be disturbed, and complete the journey. Click Here to Purchase on Amazon.com!
HNewsWire: Imagine a future when earth's inhabitants are not humans, but cyborgs-robot like beings with both biological and mechanical components. With exosuits for added strength, ...
Read More

→