Advisory: Be careful of what you read on social media. The algorithms used by these platforms have no regard for Biblical truth. They target your emotions to keep you engaged on their site so their advertisers can drop more ads. These platforms exist to enrich their stockholders. Consider God's promise to Believers in James 1:5, "If any of you lacks wisdom, you should ask God, who gives generously to all without finding fault, and it will be given to you."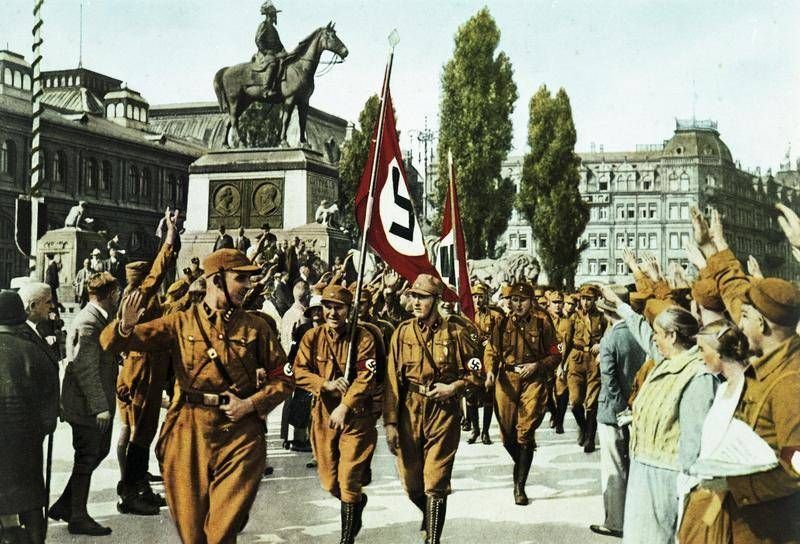 The city's police department says armored vehicles sighted in Windsor are unrelated to recent border protests, a day after police said they "intercepted" a small caravan of trucks suspected of returning to the Ambassador Bridge.
Previously, as part of their crackdown, the police had sent in some armored vehicles to clear the demonstration blockading the border crossing.
The deployment of armoured vehicles in Windsor, Ont., according to Windsor police, is "unrelated to the recent demonstrations and the present situation on Huron Church Road."
The police also shared a tweet from the Canadian Armed Forces' 31 Canadian Brigade Group, which stated that reserve forces will be performing armoured vehicle driver training in the coming days in the London and Windsor districts.
The clarification comes a day after Windsor's mayor and city police announced that they had detained a caravan of trucks accused of attempting to jam the Ambassador Bridge in Windsor once more.
In a press briefing on Feb. 16, Police Chief Pam Mizuno claimed that a small convoy of six to seven transport trucks had been sighted roughly 250 kilometers from Windsor in the previous 24 hours.
"It was discovered that this convoy originated in Ottawa, and it was assumed that this group was on its way to Windsor." This caravan has subsequently circled back eastbound on [Highway 401], according to Mizuno.
Law police "successfully intercepted" the convoy before it returned to the Ambassador Bridge, which connects Windsor and Detroit, according to Mayor Drew Dilkens.
After being delayed for nearly a week by truck drivers and others opposing COVID-19 vaccine regulations, traffic on the Ambassador Bridge reopened on Feb. 14. The blockade was held in support of the Ottawa-based Freedom Convoy, which is protesting the federal government's COVID-19 demands and restrictions.
On Feb. 16, Windsor police said they will continue to open up as many streets as possible, but they did not promise to reopening the main highways leading to the Canada-US border crossing.
"As soon as we are able, we will allow  traffic access to all residents that require access to Huron Church Road," Mizuno added.
She also stated that the police will continue to keep the public informed about the traffic situation and give maps to inform them of any temporary roadblocks.
Windsor police said in a tweet on Feb. 16 that they have improved access for east and westbound traffic on Huron Church Road.
Canadas tactics to intimidate and persecute its citizens are a near mirror image of Germany in march of 1933. Trudeau is adopting the Austrians course of action by subverting the rule of law and imposing fear upon the public. And the New Democratic Party in Canada have shown ample support for this tyrannical agenda; And those who voted for either the NDP or the Liberals are complicit in these crimes against humanity. To think that the Canadian government believes it can get off scott free by saying that they're conducting "drivers training" is an ignorant assumption. They could have conducted such training in any other location; This is clearly a move to mobilize armed forces in areas where demonstrators are successfully causing problems for these tyrants. 1 Peter 4:12-14 says: "Beloved, do not be surprised at the fiery trial when it comes upon you to test you, as though something strange were happening to you. But rejoice insofar as you share Christ's sufferings, that you may also rejoice and be glad when his glory is revealed. If you are insulted for the name of Christ, you are blessed, because the Spirit of glory and of God rests upon you." Stay inquisitive in the word of God, and the world around you.
On Feb. 13, police made further arrests to clear a protest barricade at a key Ontario border crossing, known as the Canada–US crossing, that connects Windsor and Detroit.
The first arrest was made on Feb. 12 at the Ambassador Bridge, when a 27-year-old man was detained "for a criminal offense in relation to the demonstration." Each day, hundreds of millions of dollars in trade pass through the international border crossing between Canada and the United States.
On February 13, more arrests were made. Police said they've made more than 25 arrests, the majority of which are for criminal mischief.
After a court ruling on Feb. 11 gave police broader power to clear the roadblock, police began moving in on the morning of Feb. 12.
Since February 6, protesters have been occupying the site, demanding an end to COVID-19 regulations and restrictions.
On February 12, a number of police units, including Windsor Police, Ontario Provincial Police, the RCMP, and other regional forces, arrived at the scene. The police were highly armed, and armoured trucks and police cars were present at the scene.
On Feb. 12, the majority of the heavy trucks left the site, and police forced demonstrators away from the main road leading to the international bridge.
Barricades have been erected on the road to prevent demonstrators from approaching the bridge.
At the demonstration site, some protester automobiles were fined and towed.
"In the demonstration area, enforcement will continue, and there will be zero tolerance for illegal activities. The public is advised to avoid the area," Windsor Police said in a tweet on Feb. 13 morning.
The protest, according to Sam Helou, a Windsor local who owns a parking lot near the border crossing, is far from ended.
"They're all still coming. I've got a car right here … from British Columbia. He was in Ottawa for a whole week and he just came here right now. This other guy here with the flag is from Scarborough, Ontario." While standing in his parking lot, he stated, "He came all the way here to protest, and they're all telling me it's not over yet,"
Helou stated that he supports the demonstration because "it is about liberties."
"The government cannot take away our freedoms like they have. Enough, we complied with everything, we suffered enough, " he stated.
Due to police roadblocks, the border crossing remains restricted.
Police will decide when cross-border traffic can resume, according to Windsor Mayor Drew Dilkens, who has called the protest blockade illegal.
This is one of several international border crossings that have been blocked by protesters in recent days. Protesters have also blocked border crossings in Manitoba, Alberta, and British Columbia, demanding an end to COVID-19 requirements.
Premier Doug Ford of Ontario announced a state of emergency in his province on Feb. 11 in response to the continuous protests.
Truckers' protests against the federal government's mandate that all truck drivers crossing the Canada–US border get vaccinated for COVID-19 sparked the demonstrations.
Many supporters joined in as truckers created massive convoys to come to Ottawa in late January to protest, and the demonstration expanded to include all COVID-19 regulations and restrictions. Many demonstrators have remained in Ottawa, stating that they will not leave until the government repeals all of its directives.
Protests in Ottawa and at the border are coordinated separately.
It's clear that these police are simply putting on their uniforms for the paycheck, because any true public servant would show full support for the liberty of the public. There's no telling what kind of garbage propaganda is being force fed down the throats of these deranged officers. They lack the minuscule required level of understanding of their surroundings to realize their own personal freedoms are at stake. Soon enough, the fruits of their actions will come to fruition and they'll wish they had never stopped these demonstrations.
The actions taken by these Ottawa police officers are a direct display of their views. Surely, there are many officers that seek to do the right thing and support freedom loving citizens; however at the end of the day their orders trickle down from the top where the globalist sell outs reside. Nevertheless the demonstrations will continue until staged violence occurs, or the tyrannical COVID-19 vaccination mandates are lifted. Many European countries are "walking back" their restrictions, but fail to mention that they don't apply to the unvaccinated. This is the foreshadowing of future persecution on freedom loving citizens globally. Stay inquisitive in the word of God, and the world around you.
HNewsWire: The swamp's mud is as thick as it's ever been. Campaigns against the Uniparty will have to start outside of its headquarters. They replaced…
Read More
We make every effort to acknowledge sources used in our news articles. In a few cases, the sources were lost due to a technological glitch. If you believe we have not given sufficient credit for your source material, please contact us, and we will be more than happy to link to your article.