Watchman Warning: "War With China" Is 2 Years Away, and the Tribulation Time Line Is Drawing Near! , Get Your Affairs in Order With God
WW3 BEGINS…China-led Gog and Magog alliance may have already begun… China's Global Times Warns Retaliation For Houston Consulate Closure Will Cause US "Real Pain" Update (1230ET): US stocks have climbed off their session lows as Beijing has met speculation about the potential for retaliation by closing the American consulate in Wuhan with an ominous silence. But that silence has just been broken, and due to the fact that it's the middle of the night in China, we suspect this statement was intended for US audiences. Global Times editor Hu Xijin, one of Beijing's top English-language mouthpieces, said in a tweet sent just minutes ago that the retaliation by closing the Wuhan consulate would be letting the US off easy. When the time comes, the true retaliation will involve "real pain" for the US. It will also be "unexpected". "Death And Bomb…
HNewsWire: In recent years, at least a few of high-ranking US military commanders have issued warnings about a "coming conflict with China," with the most recent warning being the most unusual, given in the form of a memo by an active four-star general and circulated with an official order.
This instance is especially notable since he took the unusual step of communicating it down via military command and to the main commanders he supervises, emphasizing the importance of the warning:
A four-star Air Force general delivered a memo to his officers on Friday predicting that the United States will be at war with China in two years and instructing them to prepare by firing "a clip" at a target and "aiming for the head."
"I hope I am incorrect," said Gen. Mike Minihan, director of Air Mobility Command, in a memo obtained by NBC News on Friday. "My instincts tell me I'll fight in 2025."
The letter was sent on Friday by General Mike Minihan, a four-star commander. Image courtesy of Getty Images
According to various accounts, Gen. Minihan commands over 50,000 service troops and nearly 500 planes.
The memo is especially concerning because it tells commanders under him to "examine their personal affairs and whether a meeting with their service base legal office should be arranged to ensure they are legally ready and prepared."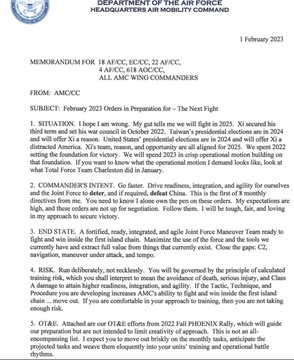 He explained that he believes Beijing intends to move against the self-ruled island of Taiwan within that time frame, which would elicit a significant US military reaction.
The general also recommended "a fortified, ready, integrated, and nimble Joint Force Maneuver Team ready to fight and win within the first island chain." In the message, Gen. Minihan issued an order demanding all major efforts in preparation for a forthcoming China battle to be reported directly to him by Feb. 28.
NBC explained why he believes China would invade Taiwan within the next two years:
According to Minihan's document, because both Taiwan and the United States will hold presidential elections in 2024, the United States will be "distracted," and Chinese President Xi Jinping will have an opportunity to move on Taiwan.
Beijing, for its part, has long asserted that it is solely interested in achieving peaceful reunification with Taiwan through political methods. China has also blamed Washington for militarizing the island, causing current tensions, and for fanning independence forces through high-level trips, including as Nancy Pelosi's very provocative visit to Taipei in August.
Gen. Minihan has a reputation for being one of the Pentagon's most outspoken and hawkish top generals. In his most recent memo, he instructed all Air Mobility Command personnel to "fire a clip into a 7-meter target with the full understanding that unrepentant lethality is most important." Take aim at the head.
Will Putin Fulfill Biblical Prophecy and Attack Israel?