Liz Cheney Voted Out of Congress, Satan's Soldier Proven Liar Bushwacker (Bush) Nor The Cheney Were Unable to Win in Their Home State. There May Be Something to This That Those Evil Doers Might Want to Pay Attention To. The People Are Fed up With Their BS
HNewsWire: The first thing she'll do is sell her Wyoming home. She never truly lived there in the first place. I'd like to see rhino tainted Weapons of Mass Destruction Dick Cheney's face tonight. There is no more legacy with him or his doppelganger, George Bush Jr. This is a solid start toward removing the old corrupt guard. The remainder are clinging to life like an Alabama Tick. I'm counting down the days until the election in November. America, God bless you.
Cheney fell out of favor with the Republican Party and her constituents—70 percent of whom voted for Trump in 2020—for voting to impeach Trump, serving as co-chair of the House committee probing the Jan. 6 Capitol breach, and being one of the former president's most vehement opponents.
And look at what happened to the rest of the anti-Trump Republicans who voted to impeach: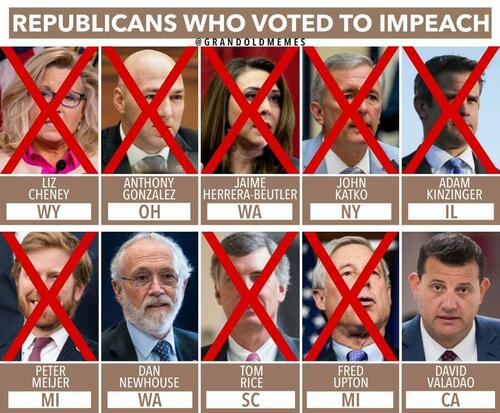 During a rally supporting Hageman in May, the former president begged Wyoming voters to give him the honor of announcing, "Liz, you're fired."
Cheney, the daughter of former Vice President Dick Cheney, was the House's third-ranked Republican, handily winning her final election in 2020. Things changed when she was one of ten Republicans who voted to impeach Trump, whom Democrats accused of sparking the January 6th violence. She later became a member of the January 6th committee, where she presently serves as Vice Chair.
Cheney has been fired by her constituents, according to Decision Desk HQ, with Hageman rolling to a clear win in the primary and a near-certain triumph in November in deep red Wyoming.
According to the Associated Press, Hageman, a natural resources attorney from Fort Laramie, received 60% of the vote with 6% of the votes counted at 9:53 p.m. Cheney received 35% of the vote.
Hageman, who grew up on a ranch in eastern Wyoming's high plains, owns a Cheyenne law business and has experience with water rights and public lands lawsuits. She is senior attorney with the New Civil Liberties Alliance in Washington, D.C., where she focuses on environmental regulations litigation.
Throughout her 11-month campaign, she stressed her Wyoming heritage, her knowledge in natural resources policy, and Trump's endorsement, while traveling 40,000 miles to visit all 23 counties in the state.
Despite raising more than $15 million in campaign contributions, three times those of Hageman, Cheney's high-profile participation in the Jan. 6 proceedings during the summer kept her in Washington, D.C., and in the national spotlight, but not on the campaign trail. This has irritated many Wyoming residents, and Hageman has exploited it in voter meetings.
Constituents derided Cheney as "the Virginian" since she did not qualify as a state resident to obtain a fishing license. The Hageman campaign created a spoof 'Liz For Virginia' website.
The "no such thing as election fraud" cultist was fired. I'm not a math genius, but more than 100% of registered voters are unable to vote! Normal is 50 to 60%. We need less liars in politics, and Wyoming is an excellent place to start.