Texas Private School to Allow Teachers to Conceal Carry, Don't Mess With Our Children, You Will Regret It! The Texas People Have Spoken, Our Children are Sacred
HNewsWire: Students around the United States are returning to school for the fall term. Since the May massacre at an elementary school in Uvalde, Texas, many school districts have attempted to increase security.
Since Uvalde, there has been a greater emphasis on protecting the more than 50 million US public school pupils. Many parents are haunted by the tragedy as they send their children off to school.
Some Democratic politicians and policymakers opposed school "hardening." Meanwhile, Republicans have said that arming teachers and administrators and adding school resource officers are deterrence measures that would allow for a quick response to neutralize active shooter situations, unlike what happened in Uvalde, where video footage shows that it took local police officers 77 minutes to breach the classroom where the shooter was hiding.
According to the Victoria Advocate, a daily newspaper published in Victoria, the latest sign that at least one school is trying something different – rather than inaction – is a private school in Texas that will soon allow teachers certified in a new firearms course to carry weapons on them at all times in school.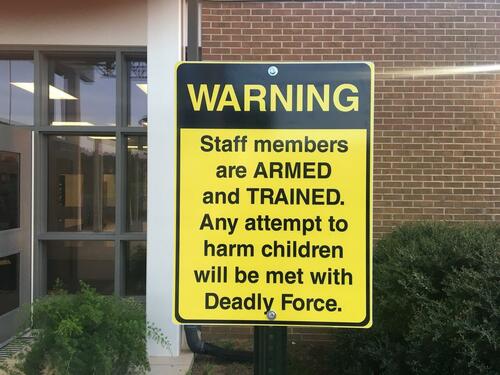 Faith Academy will soon allow school personnel to carry concealed handguns. Training begins in the next couple of weeks and will involve dozens of hours of firearms training, which addresses student protection, interaction with first responders, tactics for denying intruders entry into a school, and increased handgun accuracy.
Faith Academy is planning on implementing a program that will allow teachers and staff to carry weapons at school.

The private Victoria Christian school is joining several area school districts in taking advantage of a Texas law that gives school officials the authority to let private individuals have guns on school premises, which is otherwise illegal.

This provision is often called the "guardian plan" or "guardian program," though that name is not official.

Unlike most of the public school districts that have implemented such a plan, Faith's teachers and staff will have the guns on their person during the school day, according to Principal Larry Long. -- Victoria Advocate
Victoria Christian school is joining several area school districts in Texas and various parts of the country that have begun to harden schools.
Last month, Madison County Schools in North Carolina worked with the local sheriff's office to install AR-15-style rifles in schools across the district so school resource officers could neutralize a threat immediately.
In July, Ohio Governor Mike DeWine signed a new measure to expedite school firearms training for teachers.
Schools that are gun-free zones are favorite targets for mass shooters.
Recent data from Crime Prevention Research Center shows a high percentage of all mass shootings occur in gun-free zones.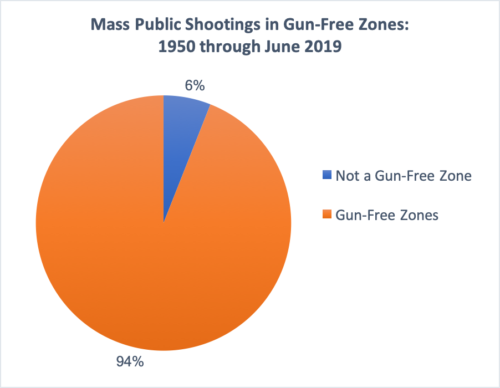 Schools are a soft target. Once bad people understand there are 'good guys and women' with a gun in a school, they will be less likely to go in there and shoot.
SRH: No God, No Peace This Would Seem to Be Obvious. Mental Illness, Mass Shootings, and Homosexuality Have All Been Related to Fatherless Families.
This should be self-evident, right? Links Between Mental Illness and Shootings, and Homosexuality in Homes Without Dads
"Dad starved" guys are more likely to suffer from mental illness, substance abuse, and suicide, according to Warren Farrell, author of "The Boy Crisis: Why Our Boys Are Struggling and What We Can Do About It."
There are major shootings in 53 industrialized nations that are linked to the absence of a male role in the lives of children and young men, and he particularly cited six mass shootings from this century.
When asked about the current spate of school shootings that have claimed more than ten lives, Farrell responded, "From Sandy Hook right up through to the Texas massacre, every single one of those six has been carried out by boys, and every single one of those boys has been 'dad deprived.'"
Mental Illness and Mass Shootings are Linked to Broken Families: Warren Farrell is the author of the book I'll go with Warren Farrell. Mass Shootings Are Linked to Absent Fathers. Sandy Hook Elementary School tragedy in Newtown, Connecticut, and the Robb Elementary School shooting in Uvalde, Texas, were mentioned by Farrell.
He said that, despite growing up in the same media, video game, and firearms-rich milieu as males, girls aren't carrying out any of the mass shootings.
For Farrell, educating legislators about the significance of father figures in children's lives is a personal mission. His efforts have resulted in the adoption of legislation in Florida and Kentucky that recognize the importance of the father's participation in divorce proceedings.
According to the U.S. Census Bureau, the number of single mothers living with their children has increased by 50 percent in the last 50 years.
When it comes to children, the percentage of those who live with their mother alone has increased from 11 percent to 21 percent since 1968.
While speaking during a news conference at West Palm Beach, Florida's Cox Science Center & Aquarium with Florida Gov. Ron DeSantis on June 8, 2022, Gov.
Legislators in Florida recently approved HB 7065, which allocates $70 million in financing for a broad range of family and kid support services via the Department of Juvenile Justice and the Department of Children and Families (DCF).
On April 22, Florida Gov. Ron DeSantis signed into law a plan that would help more than 18 million children in the United States who do not have a father in their lives. When this happens to youngsters, the consequences may be dire: school dropout, criminal behavior, and drug misuse. Sadly, there are those who question the value of fathers and the traditional family unit. This will not be tolerated in our state. I'm glad to report that we're doing all we can to promote Florida's growing trend of father involvement."
Matt Bevin signed into law a measure in 2018 that automatically presumes that both parents would share equal custody of children in the event that they divorce, but also allowing courts to restrict joint custody if one of the parents is unfit.
Farrell praised Florida and Kentucky for taking these efforts, but he argued that the problem of fatherlessness was still being evaded on the whole. Farrell agreed.
Children who spend time with both their mother and father after divorce had better long-term results, according to psychologist Richard Warshak, who discovered that the presence of the father was more essential than time spent with their mother.
He stated Warshak discovered that all the experts agreed that children reared without a daddy had the most difficulties.
reading together as a family "I'm in line with Democratic thinking on these issues," said Farrell, who sat on the board of the National Organization for Women (NOW) in New York City and has lectured all over the globe on women's problems.
John Hickenlooper and Andrew Yang both agreed with Farrell when he traveled to Iowa to meet with the Democratic contenders in the 2020 presidential race about father absence.
Because they were afraid of alienating the feminist base, their campaign managers approached me and said, "Warren, we can't afford for our candidates to speak out on the importance of boys having fathers and a lot of father involvement, because we're afraid to alienate our feminist base,"" he writes in the New York Times.
He had seen this sort of thinking and the marginalization of dads before, having worked in a leadership capacity for a feminist group. According to Farrell, the interests of the mother are more important than those of the children.
For children to function better after a divorce, Farrell recommends that both parents share parenting responsibilities and spend equal amounts of time with their children. Mothers tend to establish limits and praise their children, while fathers impose boundaries and enable their children to take chances, according to Farrell, a researcher in the field of child development.