Advisory: Be careful of what you read on social media. The algorithms used by these platforms have no regard for Biblical truth. They target your emotions to keep you engaged on their site so their advertisers can drop more ads. These platforms exist to enrich their stockholders. Consider God's promise to Believers in James 1:5, "If any of you lacks wisdom, you should ask God, who gives generously to all without finding fault, and it will be given to you."
About This Free Speech Platform at Parler, Something Doesn't Feel Right, Proceed With Caution…
Dan Bongino, co-owner of Parler, told "Hannity" Thursday night that Parler may be up and running by Monday of next week.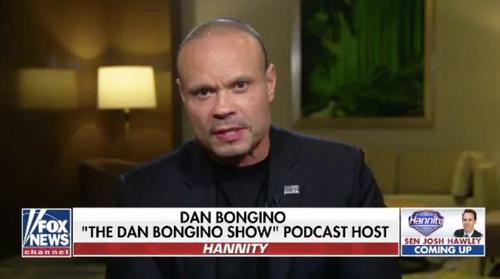 Parler has been offline for nearly a month after Amazon, Apple and Google all removed the app from their platforms for failure to moderate "egregious content" related to the Jan. 6 Capitol riot.
"We're shooting for Monday," Bongino told Hannity.

"Monday looks good. Fingers crossed."
This announcement comes one day after a memo was released explaining why former CEO, John Matze, was terminated by Parler's board of directors.
Matze claimed he was met with "constant resistance" on how Parler should be managed following the site shutdown.
"Over the past few months, I've met constant resistance to my product vision, my strong belief in free speech and my view of how the Parler site should be managed. For example, I advocated for more product stability and what I believe is a more effective approach to content moderation," Matze said in the memo.
In a Facebook video published Wednesday, Bongino said they did not share the same vision for the future of Parler.
"Here's what really happened. We were the ones, in fact, fighting to get Parler back up. There was some really bad decisions made from people on the inside, and listen, this isn't us airing dirty laundry. This is protecting a company that is absolutely committed to free speech, that I put the last year of my life into. Do you actually believe that someone else was on the side of free speech?"
"There were two separate visions for the company," Bongino added. "The relationship with Parler and the CEO did not work out because the CEO's vision was not ours. Everybody clear on that? Our vision was crystal clear. We needed to get up and fight back, some terrible decisions were made in the past that led to this. That led to us getting put down by Amazon and others." Source: zerohedge
Social Media Website Parler Claims to Be a Beacon for Free Speech, That Simply Is Not True
The Sheep People Will Figure This Out When They Shadow Banned or Removed Those Accounts They Do Not Agree With, They Are Hypocrites of the Worst Kind..
Parler Is Banning Users It Doesn't Like
There's a lot more as well. Parler seems to be banning a bunch of people. And it has the right to do so. Which is great. But what's not great is the site continues to pretend that it's some "free speech alternative" to Twitter when it's facing the same exact content moderation issues. And, yes, some people are claiming that Parler's quick trigger finger is mostly about shutting down "left" leaning accounts, but as with Twitter's content moderation, I won't say that for sure unless I see some actual evidence to support it.
HNewsWire Is not a left-wing website and they shut them down?
What I will say is that when politicians like Ted Cruz say he's joining Parler because it doesn't have "censorship," he's wrong. Same with basically every other foolish person screaming about how Parler is about "free speech." It's got the same content moderation questions every platform has. And it's pretty silly for Parler's CEO to refer to Twitter as a "techno-fascist" company for its content moderation policies, when his company appears to be doing basically the same thing. Amusingly, the CEO is also claiming that "If you can say it on the street of New York, you can say it on Parler. Except that later in that same article, he admits: "You can't spam people's comment sections with unrelated content." Except, you kinda can do that on the "street of New York." (I recall there being more than one street in New York, but whatever). Anyway, this was always bogus, as you can see from the fact that so many accounts are being banned.
As I've said before: I think competition is good. And, personally, I'd prefer there to be many more competitors (though, I wish they were interoperable implementations of a protocol, rather than individual silos, but…). So, I have nothing against Parler existing. In fact, I think it's an excellent demonstration of why the concerns about "dominance" by Twitter or other platforms is silly. It's possible to create alternatives, and Parler has shown that it's able to attract a bunch of users. At least for now.
But what no one should do, is think that Parler is somehow any more "pro-free speech" than Twitter is, or that it doesn't pull down content and accounts. Because it does.
The President and a bunch of his supporters have hyped it up, and the latest is that Senator Ted Cruz (and Rep. Devin Nunes) have recently joined it, and like others before them they have hyped up the misleading claim that Parler supports free speech unlike Twitter. Cruz — who has been spewing blatantly false information about "anti-conservative bias" on various internet platforms — even announced his move to Parler… on Twitter, which does not seem to be moderating him at all. Cruz's overwrought speech is full of nonsense that has come to typify his pathetic attempt to win fans among Trump's base.
But, I did want to take a closer look at the claims that Parler supports free speech, because it does so in basically the same way every other platform — including the way Twitter, Youtube and Facebook do: by saying that they can remove your content for any reason they want. Their user agreement includes this:
Parler may remove any content and terminate your access to the Services at any time and for any reason or no reason, although Parler endeavors to allow all free speech that is lawful and does not infringe the legal rights of others. Any invitation made by Parler to you to use the Services or submit content to the Services, or the fact that Parler may receive a benefit from your use of the Services or provision of content to the Services, will not obligate Parler to maintain any content or maintain your access to the Services. Parler will have no liability to you for removing any content, for terminating your access to the Services, or for modifying or terminating the Services, at any time and in any way and for any reason or no reason. Although the Parler Guidelines provide guidance to you regarding content that is not appropriate, Parler is free to remove content and terminate your access to the Services even where the Guidelines have been followed.
Parler should be thankful that it has Section 230 of the CDA to make that possible. And it should probably be ticked off at Cruz, who has been among those threatening to revoke Section 230.
My favorite line is the last one, which says that it can remove content or terminate your account even where you have followed its Guidelines.
Under various proposals to reform Section 230, this would go against the law, but Parler is actually doing the right thing here. If you only limit your moderation powers to what is explicitly in your terms, then people will game those terms and cause problems on your platform. You need the flexibility to deal with bad actors — the flexibility that Section 230's current structure provides.
And while Parler's Community Guidelines are written in a manner that makes it look like they're mimicking 1st Amendment jurisprudence, that's a trick they're playing, because the specifics do not match the reality. First, at the very top, they say that no spam is allowed:
Spam is repetitive content that does not contribute to the conversation. It often comes in the form of multiple posts of repeating content that offer little to no value to the community and platform at large.
And the guidelines tell users:
Avoid repetition in the comment section of posts. Spam applies more heavily to comments then posts.
Do not use language/visuals that are meant to take advantage of others on Parler.
Avoid language/visuals that solicits advertisements on other's posts.
Of course, all of that is 1st Amendment protected speech.
Parler also bans sharing "rumors about other users/people you know are false." And while they couch this as being the same as defamation, the legal standards for defamation go way beyond that. Banning "rumors about other users/people you know are false" will create judgment calls by Parler in determining what stands and what doesn't.
In the section meant to mimic the Supreme Court's (mostly obsolete) "fighting words" doctrine, Parler again says that plenty of 1st Amendment protected speech is barred from its platform.
Any direct and very personal insult with the intention of stirring and upsetting the recipient
Of course, intention is subjective, meaning again that Parler would need to make judgment calls.
Parler, like Gab before it, bans pornography, falsely claiming:
Pornography is considered indecent according to clauses defined by the FCC.
The FCC polices public airwaves, which come from publicly owned, but corporate-held, spectrum. The FCC's determination of indecency has no bearing on the internet (and does have some 1st Amendment issues as well). Parler's definition of porn is… really weird.
Printed text description, or visual material containing the explicit description or display of sexual organs or activity. Porn must meet ALL the following conditions:
Porn does not require nudity
Can be an image, painting, art, or description
It must be morbid or degrading in nature (Prurient)
Of those "conditions" only the last one is actually a "condition." If the others are conditions, does that mean if it does have nudity, it's no longer porn?
There's a lot more where this comes from, but almost all of it appears to be written by someone who did a Wikipedia search on exceptions to the 1st Amendment, but didn't bother to talk to a 1st Amendment lawyer to understand what those exceptions actually meant.
Still, there is a larger point in all of this, which is something we've tried to explain to people over and over again. There is no such thing as not moderating content. First of all, some content moderation is required by law — especially things like child sexual abuse material and copyright infringement. Second, there are international issues that Parler will eventually need to deal with, even if it's an American company. Already, some have pointed out how Parler's user agreement might put users on the legal hook for international issues. Third, without content moderation, your site gets filled with junk, spam, and abuse. Even Parler seems to implicitly recognize this with its terms.
There have been plenty of sites that have sprung up over the years that first promise no moderation until they realize what that means in practice — and then suddenly they realize that some level of content moderation is a necessity. Now, Parler may take a more hands off approach than others, and that's great. Different approaches and different levels of experimentation should be encouraged. But the idea that Parler is somehow taking a substantially different approach than a site like Twitter is nonsense.
On a related note, Parler's sudden burst of attention and usage should serve to highlight another nonsense talking point from the world of Trump: that the existing large platforms (namely: Facebook, Twitter, YouTube, Instagram) and their content moderation decisions are somehow a form of censorship or control of the "public square." The great thing about the internet is that it's still (mostly) open for other entrants to try to build a better mousetrap. So the idea that the other platforms need to be hit with regulations over their content moderation practices seems odd when Parler itself has demonstrated that it's totally possible to build competitors.
As a reminder, please do not post HNewsWire articles on Christian News Network, Now the End Begins, Shoebat, Parler, FakeBook, Reddit or Twatter social media platforms, We are not comfortable with their anti-Christian, anti-American, Nazi philosophy. ~Stevieray Hansen
StevieRay Hansen
Editor,
HNewsWire.com

Watchmen does not confuse truth with consensus. The Watchmen does not confuse God's word with the word of those in power…
In police-state fashion, Big Tech took the list of accused (including this site), declared all those named guilty and promptly shadow-banned, de-platformed or de-monetized us all without coming clean about how they engineered the crushing of dissent. Now more than ever, Big Tech has exposed their hand. They engage in devious underhanded tactics to make the sinister look saintly. One of Satan's greatest weapons happens to be deceit.
The accumulating death toll from Covid-19 can be seen minute-by-minute on cable news channels. But there's another death toll few seem to care much about: the number of poverty-related deaths being set in motion by deliberately plunging millions of Americans into poverty and despair.
American health care, as we call it today, for all its high-tech miracles, has evolved into one of the most atrocious rackets the world has ever seen. By racket, I mean an enterprise organized explicitly to make money dishonestly.
All the official reassurances won't be worth a bucket of warm spit. The Globalists are behind the Corona-virus. It Is a Man-Made Bio-weapon.
We make every effort to acknowledge sources used in our news articles. In a few cases, the sources were lost due to a technological glitch. If you believe we have not given sufficient credit for your source material, please contact us, and we will be more than happy to link to your article.